Made with less than 10 ingredients, this Homemade Raspberry Ice Cream is a lush, fruity and creamy masterpiece. Treat yourself to a well-deserved scoop (or two) of sweet yet slightly tart decadence! If you love this ice cream, you will love my Strawberry Ice Cream and Berry Ripple Ice Cream.
In the last few months, day-to-day life has changed quite a bit. Like most of you, I've worked hard to adjust to a new reality while maintaining sanity. And y'all, it hasn't been easy. I mean, seriously, can we take a moment to celebrate our ability to adapt in the midst of uncertainty? To the parents that have taken on home-schooling, the healthcare professionals that work countless hours and the small businesses continuing to support their communities, I acknowledge you and I thank you.
With all that being said, there are pieces of my so-called "normal" life that I've found myself missing a lot lately. Family visits to the beach and solo trips to the movie theater are high on my "miss list". But, the one I thing I miss the most? Date nights with my husband!
For years, my man and I have made it a point to keep up with regular date nights. One of our go-to spots is Frontera Grill, celebrity chef Rick Bayless' restaurants in Chicago. Each decadent, romantic meal is made even more memorable by our dessert choice: Michigan Raspberry Ice Cream with D'aristi Rum. Each spoonful is life-affirming. Dramatic, I know, but it's that good.
Tonight, I'm bringing the date night to my own home by recreating that refreshingly perfect raspberry ice cream. Shh, don't tell my husband, it's a surprise!
How to Make Raspberry Ice Cream
Since the moment I took the very first bite of that raspberry ice cream, I knew I needed to recreate it. It was crucial that I achieve that fresh, sweet raspberry flavor and smooth texture. And guess what y'all, I did it!
Here's what I used to make it happen:
Raspberries – raspberries have a fresh sweetness to them, but their tart undertone makes them less sweet than a strawberry. Sometimes, they can even have a sort of floral, rose-like note. Their gorgeous color and enchanting flavor make for a stunning Summer treat.
TIP: Be sure to choose plump, dry, firm and uniformly colored raspberries. Avoid any withered, crushed or molded fruit.
Eggs & Eggs Yolks – eggs serve as both the base to our custard and a binder for the other ingredients. It's best to work with room temperature eggs if possible.
Granulated Sugar – can't make ice cream without a few spoonfuls of that sweet, magical fairy dust!
Heavy Whipping Cream – when aerated, HWC forms a smooth whipped cream that lightens the entirety of our mixture.
Half & Half – this is what will layer in that luscious, decadent element that any good ice cream should have.
All-Purpose Flour– flour will thicken the ice cream while in the mixer.
Vanilla Extract – vanilla is quite earthy and its floral notes highlight similar flavors in the raspberries.
Red Food Coloring (optional) – I wanted the color of this ice cream to truly 'POP'. A few drops of food coloring does the trick!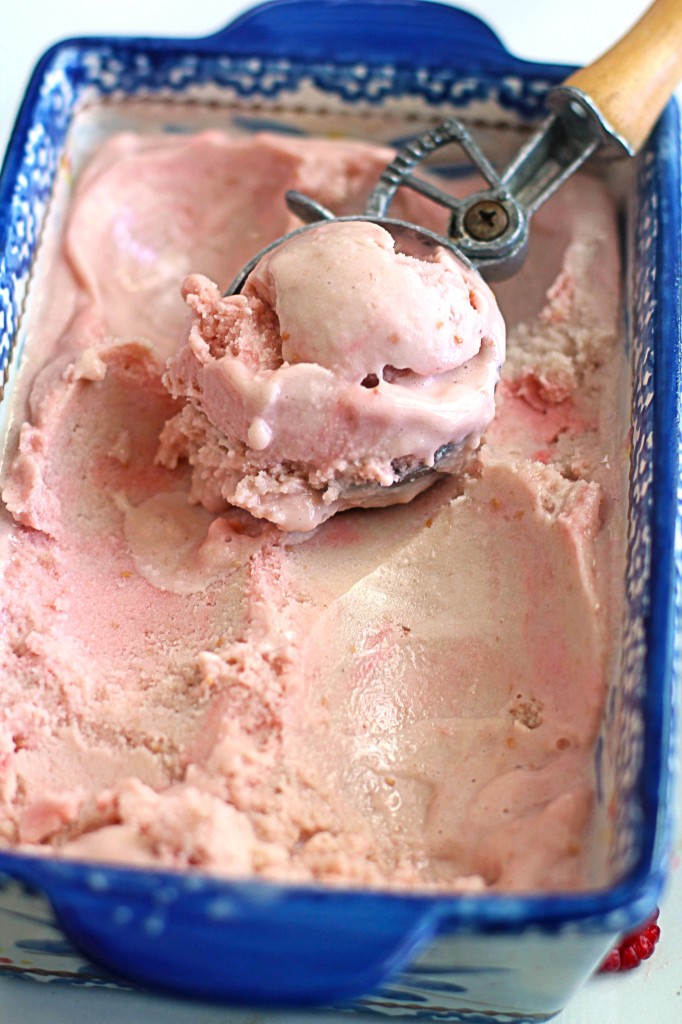 DRESS IT UP!
Listen, this ice cream is incredible as is but, if you're really looking to take things up a notch, you should totally go for it. I love using this recipe to dress up another dessert.
Here are a few of my favorite ideas:
HOW TO STORE HOMEMADE ICE CREAM
If you're someone who enjoys homemade ice cream as much as I do, I'd suggest investing in a high-quality container that can be used year round. This container is a favorite of mine; it's inexpensive and doesn't take up much freezer space.
Looking to share your frozen fare? Spread the love with family and friends by using these biodegradable containers. Be careful though, folks always come back for more!
TIP: This homemade ice cream will last for months in the freezer. Just be sure to keep the container tightly sealed to prevent freezer burn.
GRANDBABY CAKES MOST RAVISHING RASPBERRIES
If you ask me, raspberries are a bit underrated. From rich brownies to cool sorbets, raspberries can do it all. And boy, do they do it well! Care to challenge me on that? Do it by stirring up a few of my BEST raspberry-filled recipes:
Raspberry Ice Cream
Made with less than 10 ingredients, this Homemade Raspberry Ice Cream is a lush, fruity and creamy masterpiece. Treat yourself to a well-deserved scoop (or two) of sweet yet slightly tart decadence! 
Print
Pin
Rate
Ingredients
3

large

eggs

2

large

egg yolks

1 1/2

cups

granulated sugar

2

cups

heavy whipping cream

2

cups

half and half

1

pound

raspberries

pureed with 2 tablespoons of granulated sugar

1

teaspoon

all purpose flour

2

tablespoons

pure vanilla extract

4

drops red food coloring

optional
Instructions
Beat eggs and egg yolks in a medium sized bowl. Next add sugar to the bowl and whisk together.

Add heavy cream and half and half to a large pot and heat to boiling level. Remove from heat.

Slowly add three tablespoons of the hot milk mixture to the egg mixture to temper it and whisk together to combine. Then slowly add in the rest of the milk mixture and continue whisk the entire time to make sure it doesn't scramble.

Add in raspberries and flour and stir to combine.

Place the mixture in the refrigerator for 2-3 hours to chill completely.

Remove mixture from refrigerator and stir in vanilla extract.

Add your mixture to an ice cream maker according to the manufacturer's instructions and freeze.
Notes
You can play around with using different berries for this recipe.
Nutrition
Calories:
509
kcal
|
Carbohydrates:
49
g
|
Protein:
6
g
|
Fat:
32
g
|
Saturated Fat:
19
g
|
Cholesterol:
219
mg
|
Sodium:
77
mg
|
Potassium:
244
mg
|
Fiber:
3
g
|
Sugar:
40
g
|
Vitamin A:
1270
IU
|
Vitamin C:
15.8
mg
|
Calcium:
132
mg
|
Iron:
0.9
mg