This decadent and festive red velvet lava cake bakes up as a tender red velvet cake with an oozing chocolate center! Made with Red Velvet Liqueur, these cakes are mouth-wateringly moist and delicious and perfect for a special occasion dessert. If you love this, you will love this Red Velvet Bundt Cake, Red Velvet Ice Cream, Red Velvet Cake Roll, Red Velvet Cake with Blackberry Cream Cheese Buttercream and Red Velvet Cupcakes.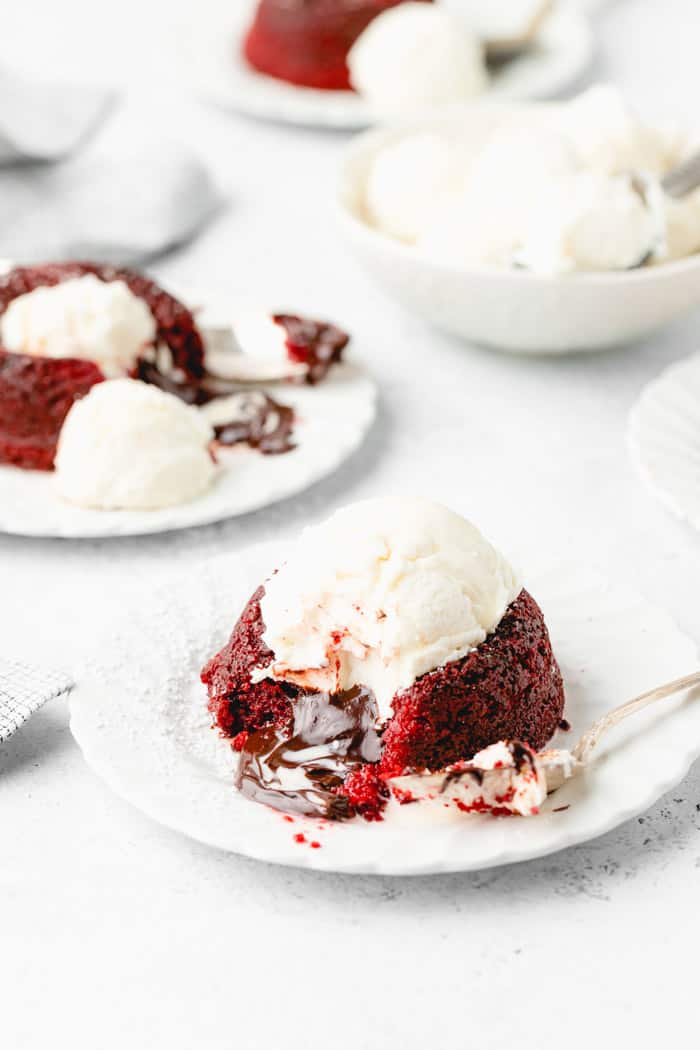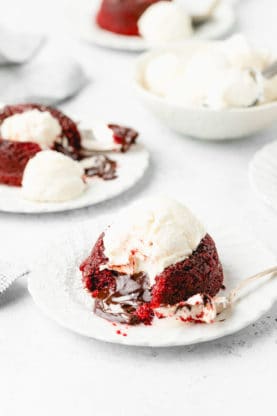 Happy Holidays y'all! 'Tis the season for tasty treats and ill-fitting clothes. Am I right? This time of year I spend about 80% of my time in the kitchen whipping up my favorite baked goods of the season. Winter cobblers, cakes and cookies come flying out of my oven at a rate that you just wouldn't believe.
I mean, every weekend there seems to be a function that requires some sort of tasty contribution. And, let's be honest, who doesn't expect the grandbaby of Grandbaby Cakes to show up with something? If there's one thing you should know about me, it's that I don't like to disappoint.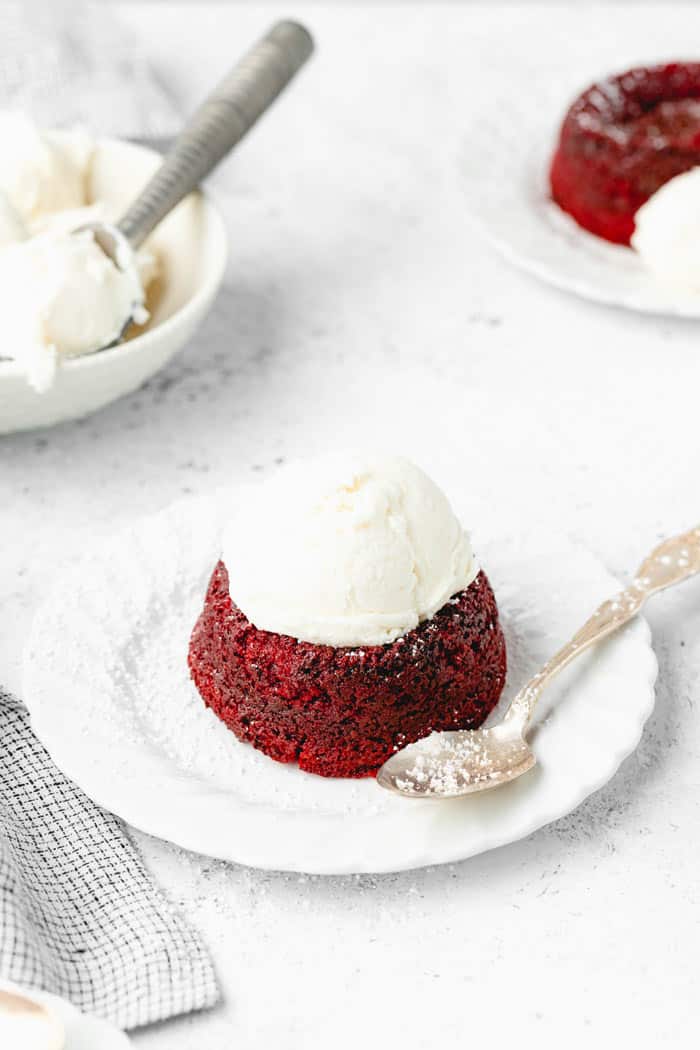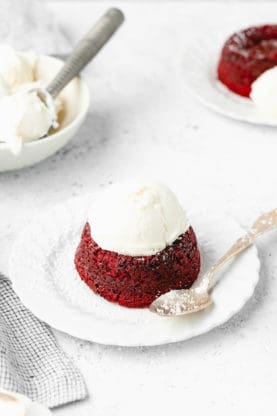 But, this year things are a little different. Instead of holiday gatherings, I'm sure we'll all be spending a bit more time with close family and friends and that's why I developed this recipe. Molten Lava Cakes are decadent treats made to impress! Their individual portion size, impressive presentation and ooey-gooey middle make for an undeniably perfect dessert.
Looking to make your loved one's feel a little extra special and warm this year? A boozy Red Velvet Molten Lava Cake is the way to go!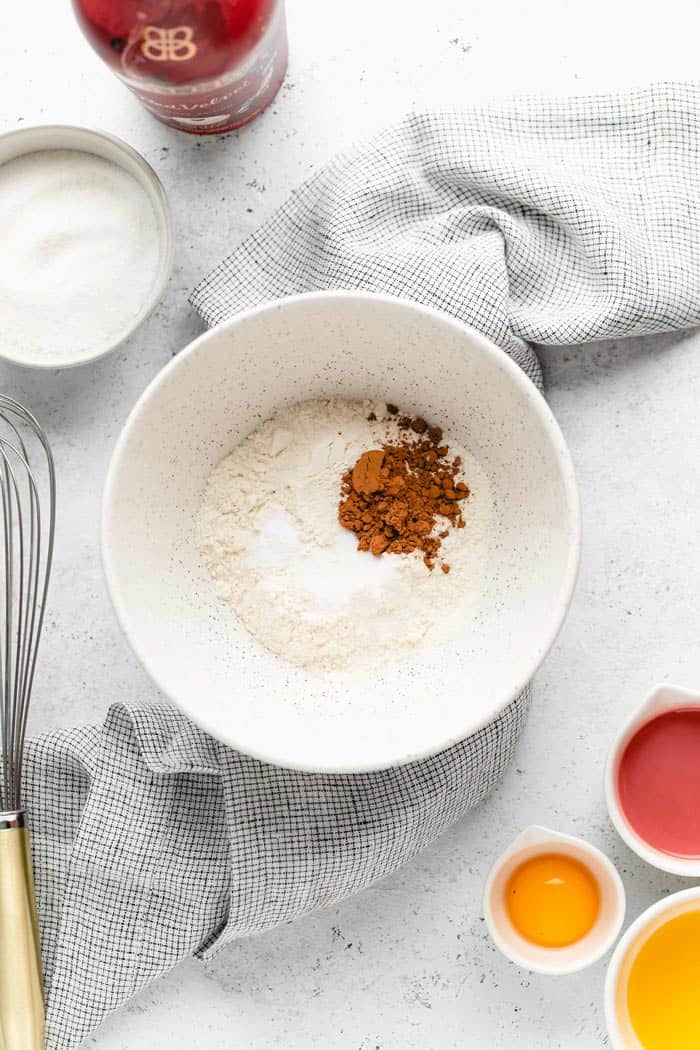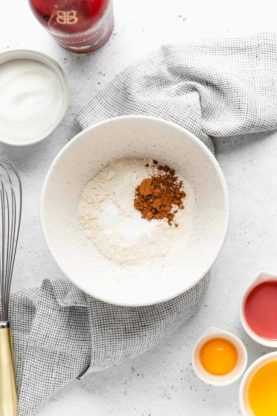 HOW TO MAKE A RED VELVET LAVA CAKE
While developing this recipe I was under no impression that it wasn't one that hadn't been made a dozen times before. I asked myself, how can I make this different? That's when it hit me: booze! Lava cakes are quite rich and adding a bit of alcohol cuts through the chocolate and creates a more balanced experience.
These molten lava cakes are every chocolate lover's dream: fudgy, smooth, cakey, sweet and somehow delicate. Trust me, you need one of these in your life!
Let's talk about ingredients for a minute, shall we?
Bailey's Red Velvet Liqueur is inspired by none other than Georgetown Cupcakes' iconic red velvet cupcake. Sweet, smooth and creamy, this liqueur makes for the perfect grown-up baking boost! If you can't get your hands on this specific flavor, any Bailey's of your choice will work.
Bittersweet Baking Chocolate is what makes up our molten center. Be sure to use a high-quality baking chocolate for maximum results.
Heavy Whipping Cream helps to protect our chocolate from scalding and creates a meltier molten filling.
Unsalted Butter is what makes the world go 'round! And it's also what makes lava cakes a buttery, melt-in-your-mouth experience.
Cake Flour is finely milled and very delicate. When used in cakes, it results in a super tender texture with a fine crumb and an incredible rise.
Unsweetened Cocoa Powder is at its best when dutch-processed. The powder itself should be darker, softer and more aromatic than a lower quality variation.
Granulated Sugar simply sweetens our cakes. Cane sugar works as well.
Apple Cider Vinegar reacts when combined with baking soda and helps the cakes to rise. This is a dense cake, it needs a little extra help. Distilled vinegar will also work.
Egg Yolk contains a high-concentration of fat which gives baked goods an extra-rich flavor and velvety texture. It also serves as a binder for our liquids.
Vanilla Extract adds aroma and heightens all the other flavors as well.
Baking Soda serves as a rising agent, be sure to use fresh, active baking soda.
Salt boosts all the other flavors to the next level! I recommend sticking to kosher salt.
Red Food Coloring is added to create a brighter red coloration. But, because the Bailey's Red Velvet is already a pinkish-red, the cake doesn't need much more coloring. I recommend using about a teaspoon or just omitting completely. Your choice!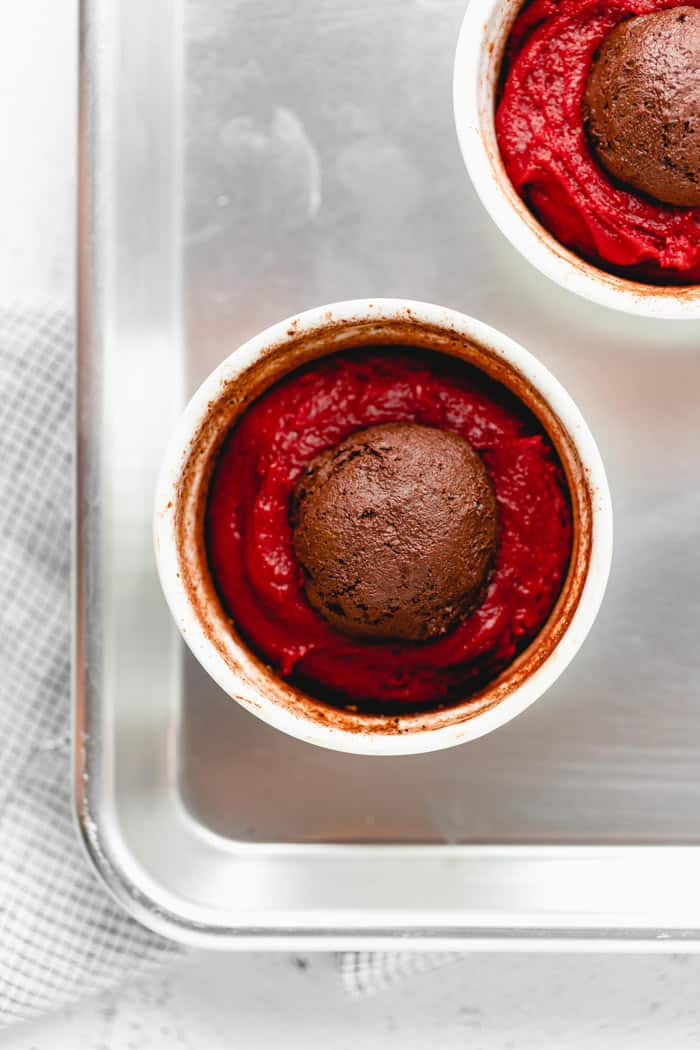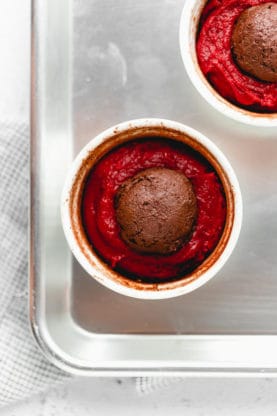 HOW CAN I TELL A MOLTEN LAVA CAKE IS DONE?
Taking your lava cakes out of the oven at the correct moment is crucial for lava success! You'll know when your cake is done when the edges are cooked all around and the center has risen but it's not too puffy. The center should also be slightly soft, yet not jiggly.
Before removing them from the oven, double check the doneness by inserting a toothpick into the sides of the cake; it should come back with a few moist crumbs. Like an undercooked brownie, the center should still be wet.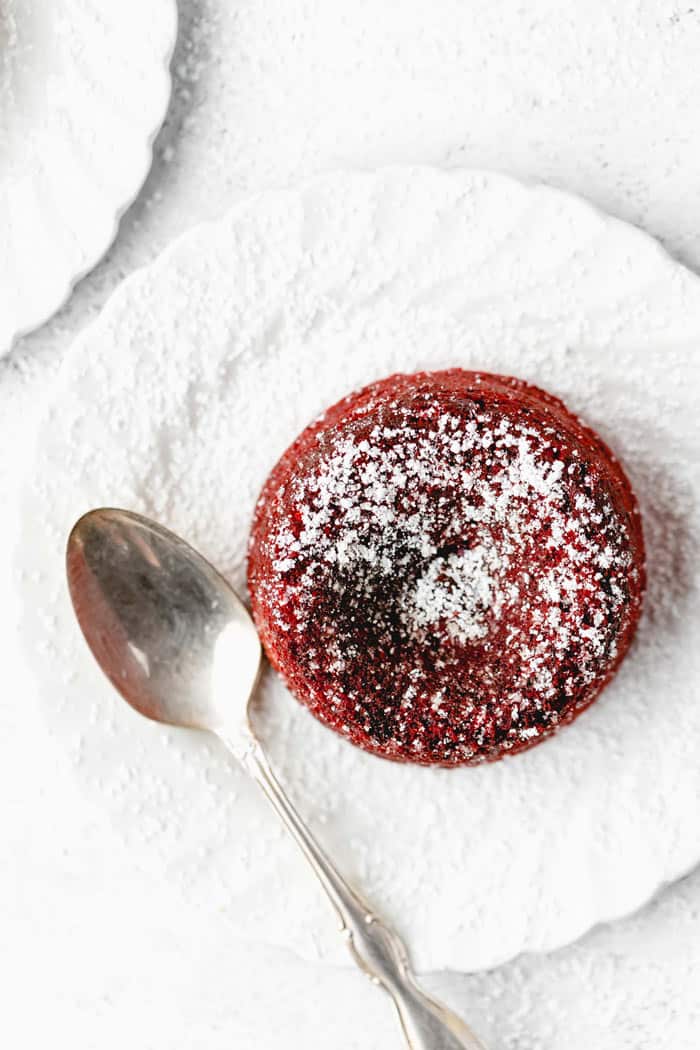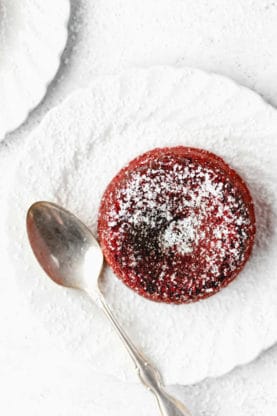 HOW DO I FLIP A MOLTEN LAVA CAKE?
This is arguably the hardest part of making a lava cake. I've had more than my fair share of messy molten disasters! This one moment of truth is what makes or breaks this recipe and I'm here to guide you through it.
Once removed from the oven, allow the lava cakes to sit in the ramekins for about 2-3 minutes. In the meantime, grab your small serving plate and place it on top of the ramekin. Place one hand on the plate and using the other hand (which should have an oven mitt on), quickly flip over the ramekin. Slowly pull up the ramekin and voila, you've got a perfect lava cake!
And ya'll, even if it doesn't go perfectly, don't sweat it! Dust with powdered sugar or layer on a hefty scoop of vanilla ice cream. Flavor is what matters here.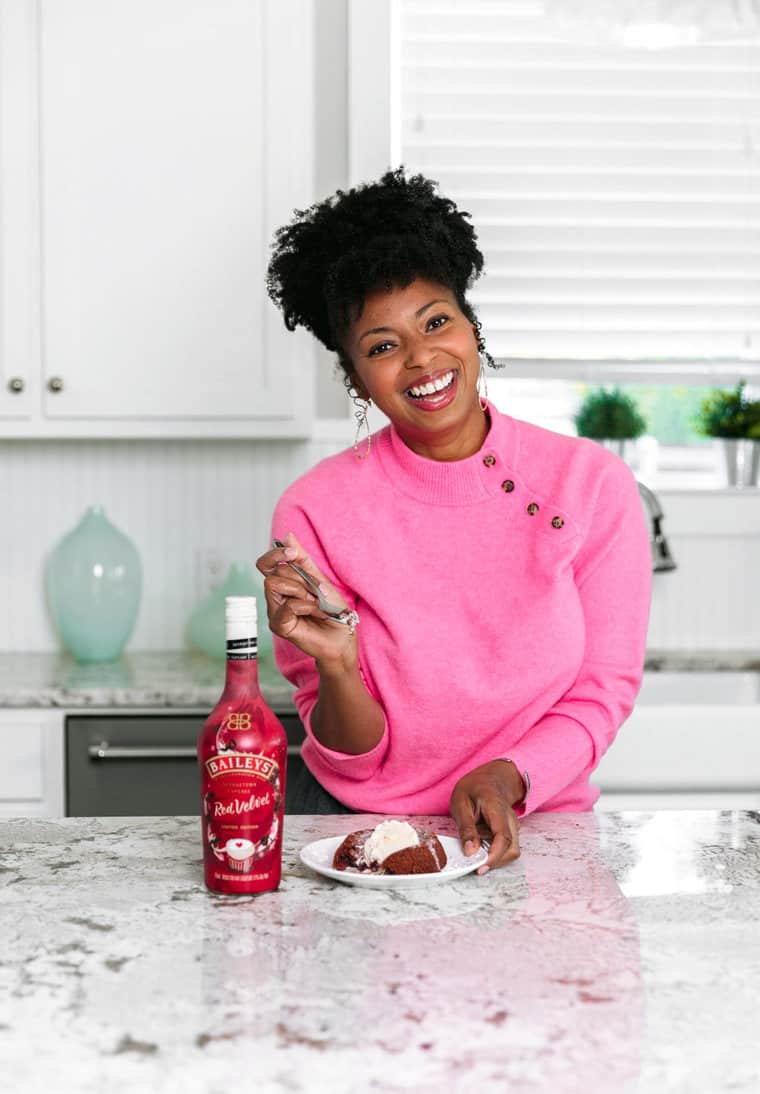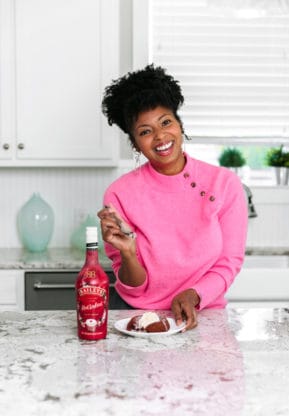 CAN I PREPARE MOLTEN LAVA CAKE AHEAD OF TIME?
Yes! Molten Lava Cakes are prep-ahead friendly! If you have guests coming or you'd like to surprise a loved one with a special dessert, you can refrigerate uncooked lava cake batter in ramekins for up to 24 hours.
If you're planning to do this, I highly recommend you place parchment paper (cut to size) at the button of each ramekin before spraying with non-stick spray. Doing this will ensure that the bottoms don't stick after having sat in there for a while. Cover the ramekins with plastic wrap and refrigerate.
Alternatively, you can keep the prepared batter in its mixing bowl, seal it with plastic wrap and refrigerate for up to 2 days.
Once ready to cook, be sure to allow the batter to sit out for at least 30 minutes. You want the batter to come to room temperature before baking.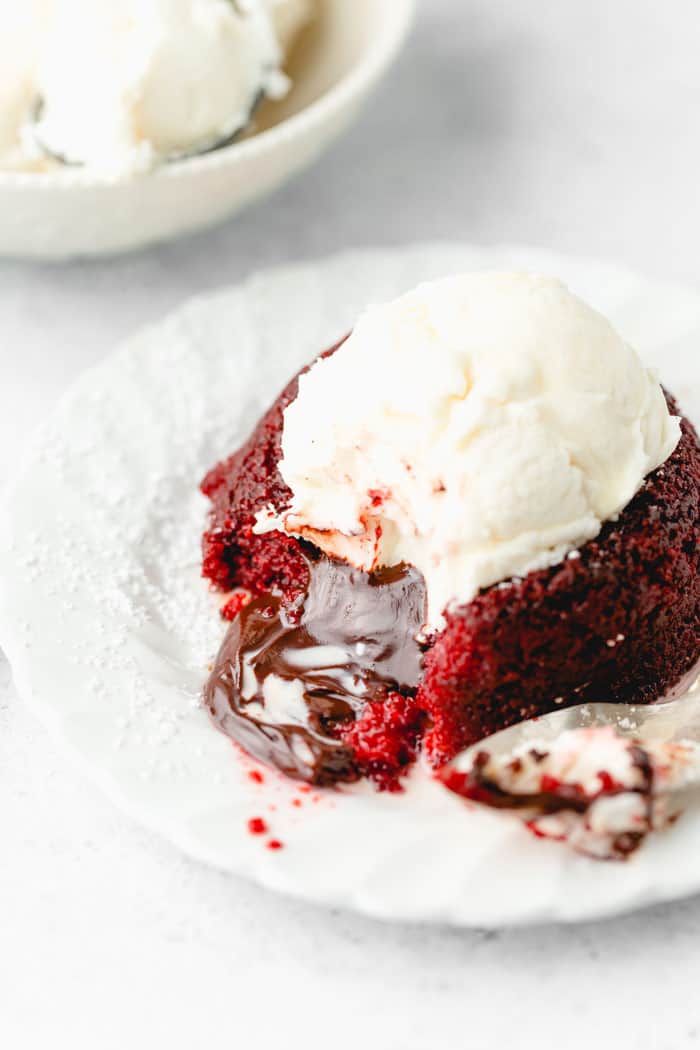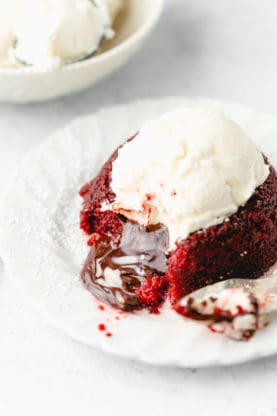 HOW DO YOU STORE LEFTOVER MOLTEN CAKE?
Molten Lava Cakes are best eaten immediately. The longer a lava cake rests, the more time it has to continue cooking. That means your warm, melted chocolate lava in the center will soon disappear.
Although it's ideal to consume it shortly after it comes out of the oven, a lava cake can be stored in the refrigerator. Wrap the individual cakes in plastic wrap and store in the fridge for up to 3 days. Just know that your lava cake will most likely be a chocolate cake minus the molten center once reheated.
To reheat, unwrap the cake and place on a microwave-safe plate. Cover the cake with a damp paper towel and microwave on high for about 40 seconds. Enjoy!
MORE GRANDBABY CAKES RED VELVET RECIPES
Looking for more decadent red velvet recipes? You've come to the right place. Go ahead and treat yourself to a few more of my devilishly delicious recipes: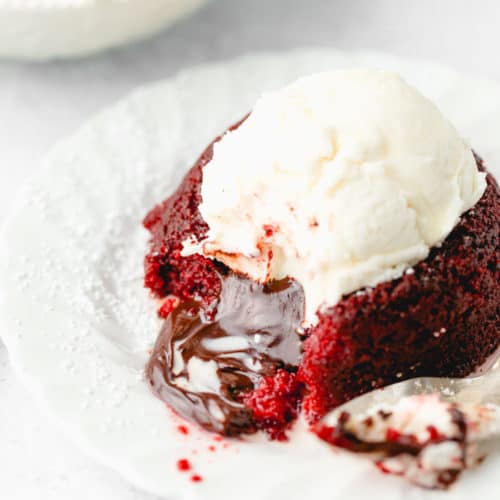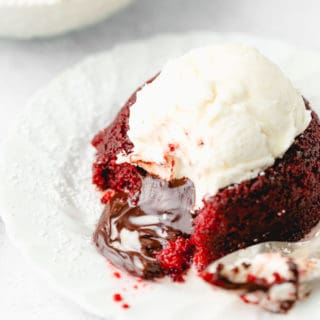 Red Velvet Lava Cake
A diabolically delicious yet festive red velvet molten lava cake with an oozing chocolate center!
Print
Pin
Rate
Ingredients
2

oz

bittersweet chocolate baking bar

finely chopped

1/4

cup

heavy whipping cream

1 1/2

tsp

unsweetened cocoa

plus more for ramekins

1

cup

cake flour

1/2

tsp

salt

1/4

tsp

baking soda

1/2

cup

unsalted butter

melted and cooled

1/2

cup

granulated sugar

6

tbsp

Bailey's Red Velvet

2

tsp

red food coloring

1/2

tsp

vanilla extract

1/2

tsp

apple cider vinegar

1

large egg yolk

1

tbsp

powdered sugar
Instructions
Add bittersweet chocolate and heavy whipping cream in a small microwave-safe bowl. Microwave for 30 seconds then whisk ingredients together until completely smooth.

Add plastic wrap on top of the chocolate and refrigerate for 2 hours until firm.

Preheat the oven to 400°F. Spray 4 (8-ounce) ramekins non stick baking spray then dust around all of them thoroughly with a little unsweetened cocoa, and tap out any excess.

In a medium sized bowl, whisk together cocoa powder, flour, salt and baking soda.

In another separate bowl, whisk together melted butter, granulated sugar, Bailey's Red Velvet, food coloring, vanilla, vinegar, and egg yolk. Pour wet ingredients into dry ingredients and whisk until combined. Evenly divide the batter among the 4 ramekins.

Remove cooled chocolate from the refrigerator. Using a 1 ⅓ inch cookie scoop, scoop chocolate balls and place in the center of each ramekin and press down lightly.

Add ramekins to a baking sheet and bake in preheated oven for about 16-18 minutes (or until the tops spring back when lightly pressed with a finger.

Once ready, remove cakes from the oven and use a thin knife to go around the outer edge of the cake and loosen then invert onto a serving plate. Dust the tops of the cakes with powdered sugar then serve with ice cream and enjoy!
Nutrition
Calories:
645
kcal
|
Carbohydrates:
64
g
|
Protein:
7
g
|
Fat:
39
g
|
Saturated Fat:
23
g
|
Cholesterol:
131
mg
|
Sodium:
383
mg
|
Potassium:
123
mg
|
Fiber:
2
g
|
Sugar:
37
g
|
Vitamin A:
993
IU
|
Calcium:
36
mg
|
Iron:
1
mg