A tender red velvet cake meets a luxurious white chocolate raspberry buttercream filling in this decadent roll cake recipe! This Red Velvet Cake Roll is beautiful for any occasion, from holidays to casual weeknight dinners!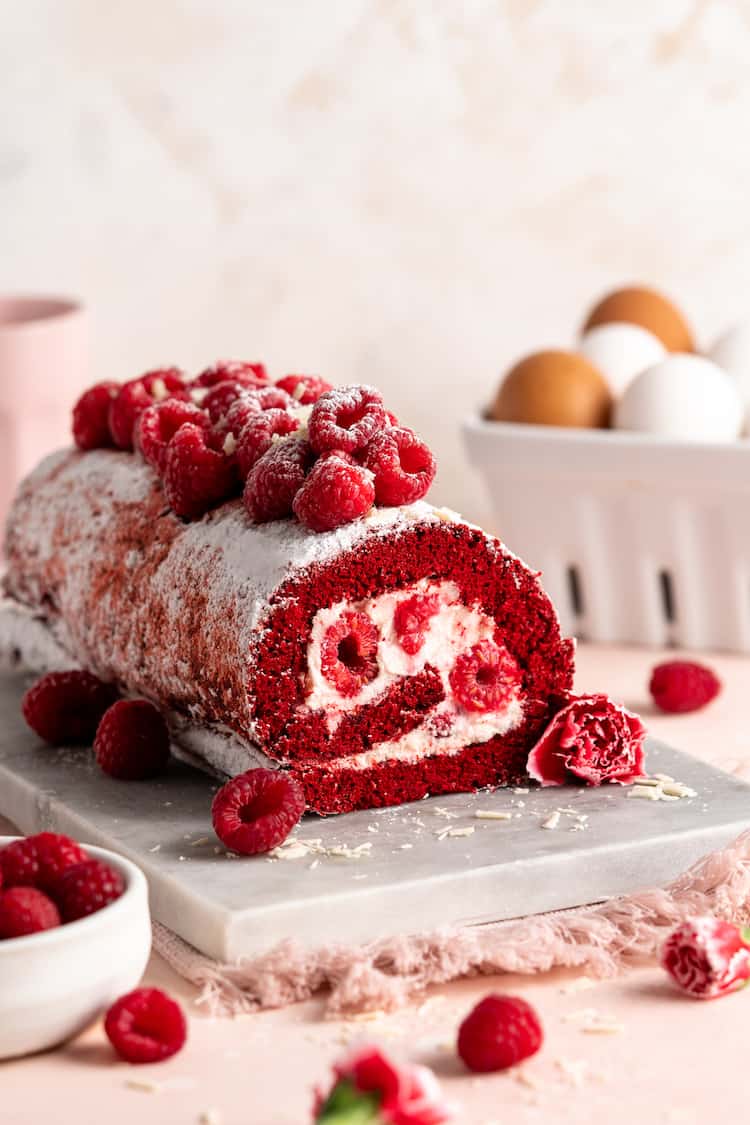 Let's talk cake! Holiday cake recipes are what I live for and today's recipe is a true Christmas miracle. Y'all, this cake would even make the Grinch's heart grow a couple more sizes!
This Red Velvet Cake Roll is light and tender but doesn't fall apart when you roll it into a log. It's a showstopping, flavorful dessert made in less than an hour! With each bite you're transported to a Winter wonderland. Well, only if that wonderland includes moist red velvet cake and fluffy cream cheese frosting of course!
Perks and Highlights for a Red Velvet Cake Roll
Cuisine Inspiration: Southern with a Twist
Primary Cooking Method: Baking
Dietary Info: Vegetarian, Gluten Options Available
Key Flavor: Sweet, Tangy, and Berry-licious
Skill Level: Intermediate
Special Perks:
Color Me Happy: This isn't just any cake roll. It's a visual and culinary spectacle. The vibrant red hue of the cake juxtaposed with the creamy white frosting is a feast for the eyes before it's a party for your taste buds!
Berry-licious Vibrancy: The tangy sweetness of raspberries isn't just a note; it's a whole symphony when paired with the luxuriousness of white chocolate buttercream. It's like finding a surprise berry garden in every bite.
Roll with It: There's something incredibly satisfying about slicing into a cake roll and revealing those perfect spirals. It's an "I made that!" moment every home baker deserves.
White Chocolate Whimsy: If you thought buttercream couldn't get any better, wait until you add white chocolate into the mix. It's rich, it's creamy, it's everything you didn't know you needed.
Flex Your Baking Muscles: This recipe is a fantastic opportunity to show off your skills in the kitchen. From whipping up the sponge to perfecting that roll, it's a baking project that's as fun to make as it is to eat.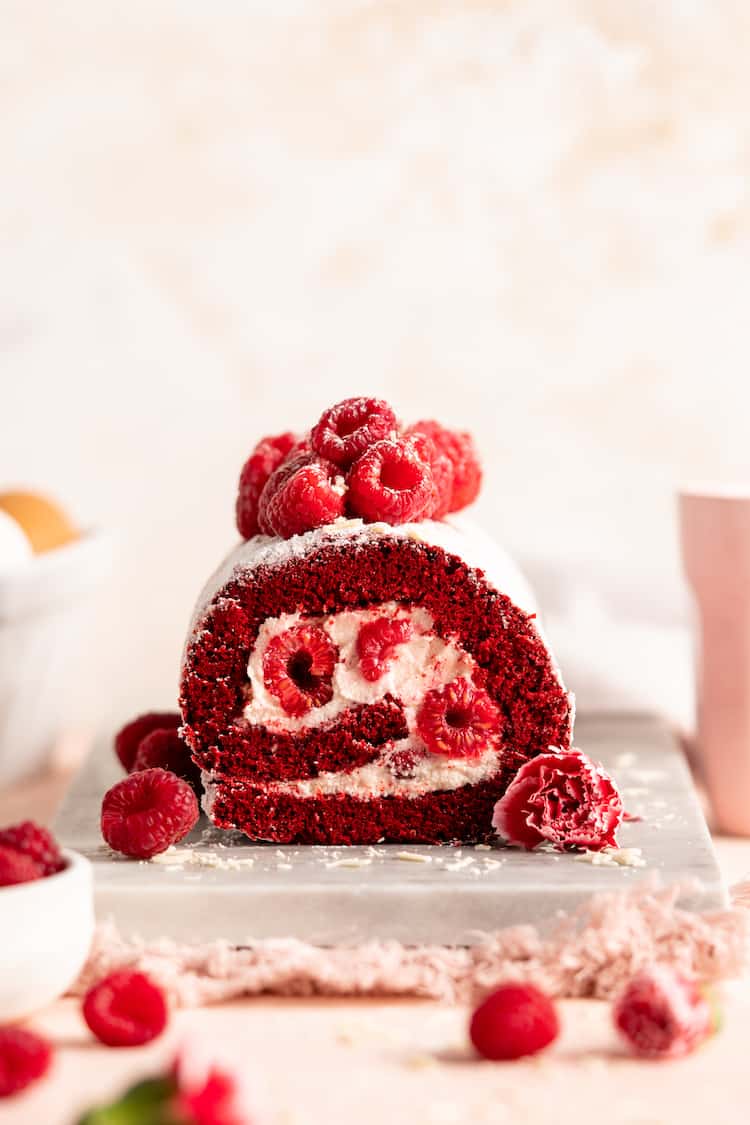 What's a Cake Roll?
A Swiss Roll, jelly roll, roll cake, cream roll, roulade, or Swiss log is a type of rolled sponge cake filled with whipped cream, jam, jelly, or icing. Sliced thin, each piece of cake is light, tender, and flavorful. If you've ever had one of Lil Debbie's chocolate Swiss roll cakes, you know just how good one of these cakes can be!
Ingredients
Powdered Sugar: Not just for sweetening, but for dusting magic onto every slice. It's the snowfall on your red velvet mountain, baby!
Cake Flour: The secret behind the most tender, delicate crumb you've ever tasted. Sifted, to make your cake light as air and smooth as jazz.
Unsweetened Cocoa Powder: Because a hint of chocolatey depth is what takes a red velvet from good to "can't stop, won't stop" levels of delicious.
Baking Powder & Salt: The unsung heroes. One brings the rise; the other, the balance. They're the rhythm section in our cake roll band.
Buttermilk, Vinegar, & Vanilla Extract: The trinity of tang, twang, and a touch of aromatic sweetness. They're the background vocalists hitting those harmonies.
Eggs & Granulated Sugar: Room temp eggs for smooth mixin', and sugar for that sweet lovin'—they're the lead singers here!
Vegetable Oil: Keeps everything moist and rich. Think of it as the stage lights—without it, everything's less dazzling.
Red Food Coloring: The showstopper! Turning your cake roll from a log into a ruby-red masterpiece.
Fresh Raspberries: Little bursts of tangy joy, they're the pop of color and flavor in your buttercream symphony.
White Chocolate & Cream Cheese: Luxurious, creamy, and with a melt-in-your-mouth goodness, this duo is like having VIP passes to the best dessert concert of your life.
Unsalted Butter & More Powdered Sugar: Because what's a buttercream without BUTTER, and the powdered sugar to hold the high notes?
Pinch of Salt: Just a pinch, enough to make all the other flavors stand at attention.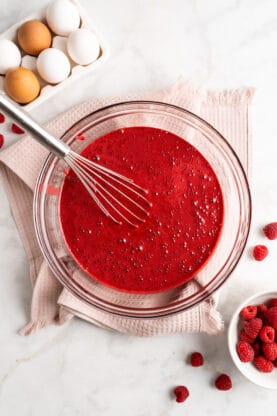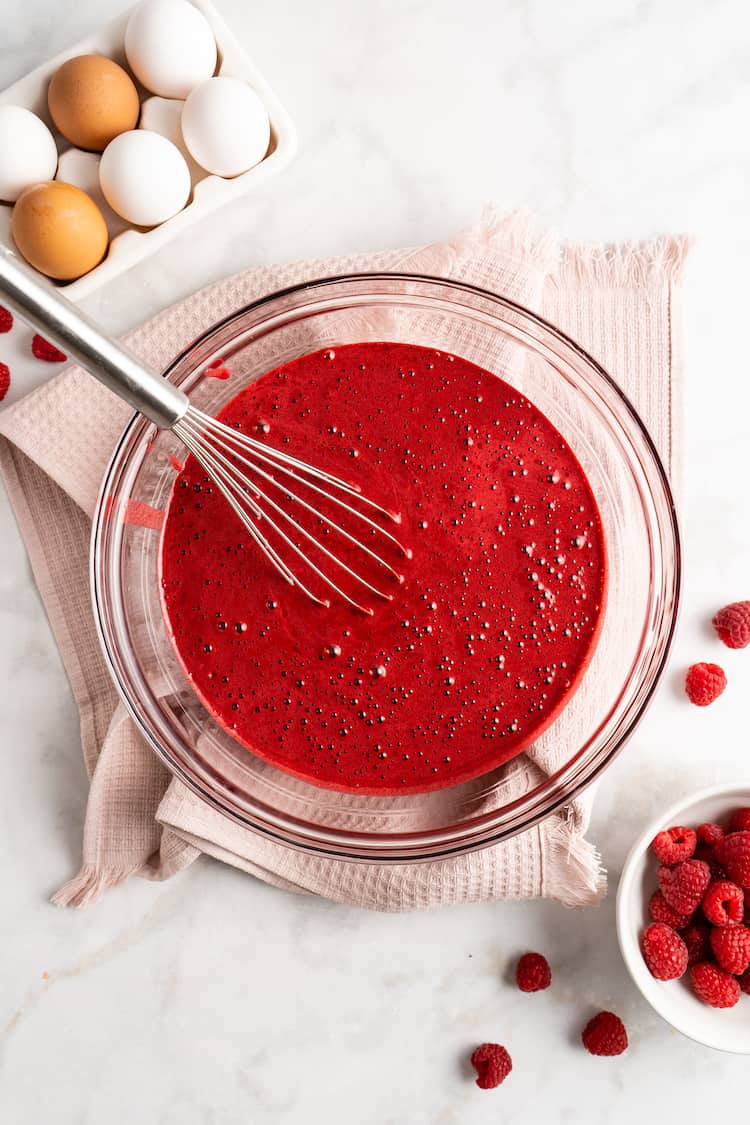 Dark, decadent, and flavorful, red velvet cake is truly made for royalty. Every moist bite is better than the last! Today's recipe features a classic red velvet sponge; it's the perfect base for a delicate and delectable filling.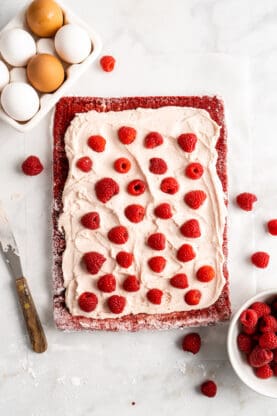 When it came to the filling for this recipe, I knew I wanted something a little different. I needed an icing that would cut through the richness of red velvet, while still offering its own unique touch.
So, what else was I to do but add an extra layer of chocolate? White chocolate is creamy and sweet on its own but add in a bit of cream cheese and you've got a tangy, luscious buttercream.
To add the final touch, I incorporated some raspberry puree. Tart and fruity, raspberries add a delightful brightness to this recipe, as well as a gorgeous color. Put it all together and you've got a smooth, decadent frosting ready to rock and roll!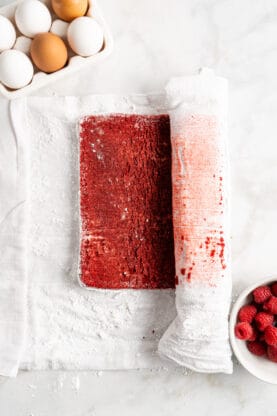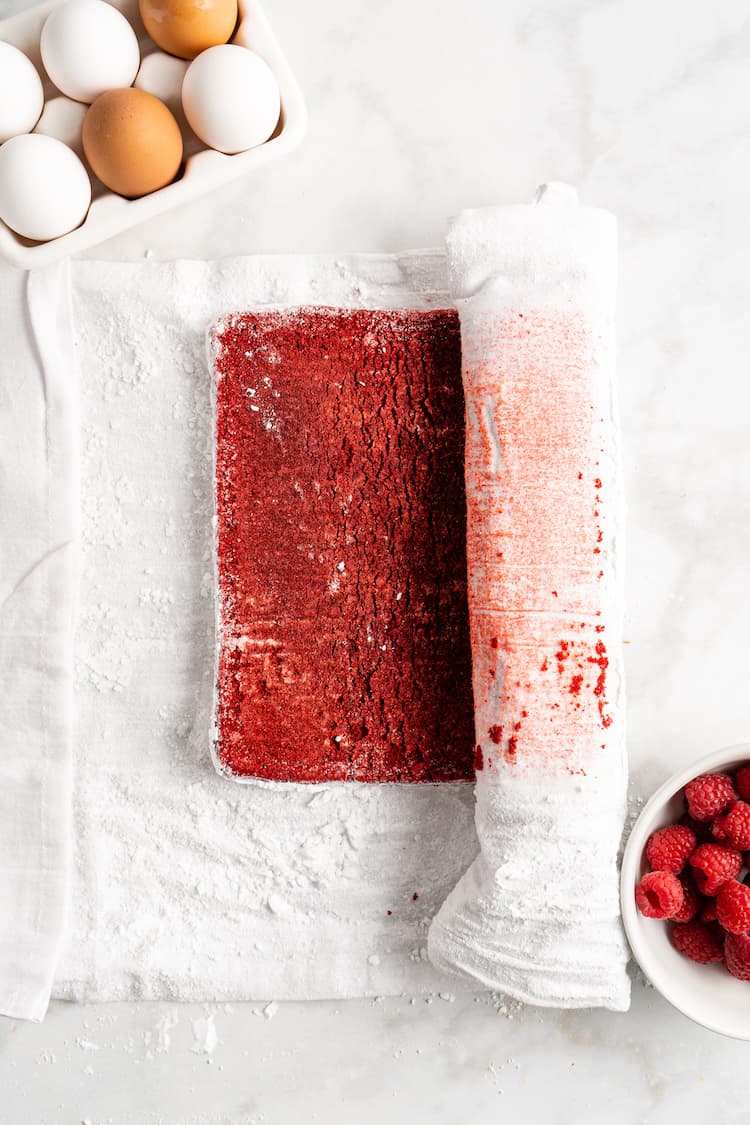 Tips
Make sure you use the correct sized pan. A 10×15 jelly roll pan is necessary for this recipe. This ensures that the cake is the perfect thickness, which prevents breaking or cracking while rolling.

Do not overbake the cake! This will result in a cracked and chewy cake. I'd start checking for doneness after about 10 minutes.

Make the frosting while the cake bakes, then refrigerate it as the cake cools. This will give the filling time to firm up before spreading.

Be patient! Don't rush through the process of rolling, you'll want a tight and neat result.

If the cake cracks a little, don't worry, it's fixable. Once the filling is added and you roll the cake back, it'll sort of "glue" back together.

Any additional imperfections can be covered with a sprinkle of powdered sugar or cocoa powder!
Can This Cake Be Refrigerated and Frozen?
Yes! This cake can be stored in the fridge, if wrapped tightly, for up to 3 days. To keep your cake as fresh as possible, I'd recommend using 2 layers of plastic wrap.
If you'd like to freeze a prepared cake roll, wrap it in plastic wrap and add an extra layer of heavy duty foil or place it in a zip top freezer bag. Your cake will freeze for 2-3 months. Thaw in the fridge overnight before slicing and serving.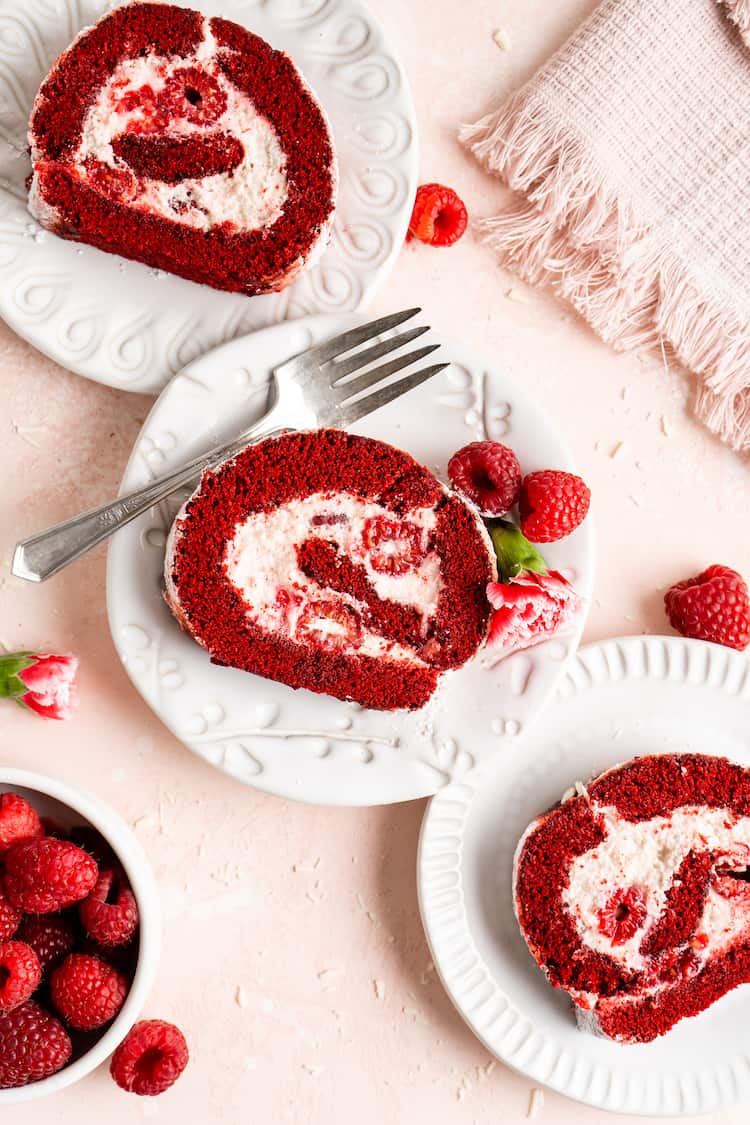 Best Red Velvet Recipes
Let the good times roll! After you've made this delicious cake, go ahead and stir up more of GBC's most ravishing red velvet recipes: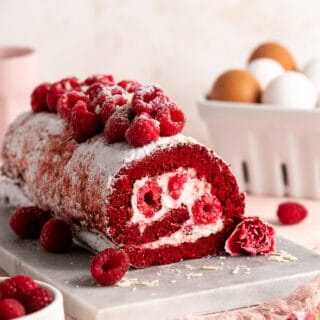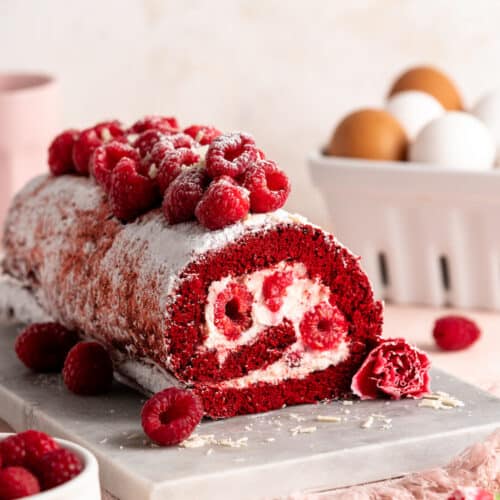 Red Velvet Cake Roll
This Red Velvet Cake Roll starts with a tender moist red velvet cake that's wrapped with a white chocolate raspberry buttercream filling.
Print
Pin
Rate
Ingredients
For the Red Velvet Cake Roll
powdered sugar

3/4

cup

cake flour

sifted

1/4

cup

unsweetened cocoa powder

sifted

1

tsp

baking powder

1/2

tsp

salt

2

tbsp

buttermilk

1

tsp

vinegar

1

tsp

vanilla extract

4

large eggs

room temperature

3/4

cup

granulated sugar

1

tbsp

vegetable oil

1

oz

red food coloring
For the Raspberry White Chocolate Buttercream
1 1/2

cup

fresh raspberries

divided

4

oz

white chocolate

chopped

4

oz

cream cheese

room temperature

1/2

cup

unsalted butter

room temperature

1 1/2

cups

powdered sugar

up to 2 cups/ sifted

pinch of salt
Instructions
For the Red Velvet Cake
Preheat the oven to 350 degrees. Grease a 10 x 15-inch jelly roll pan with vegetable shortening or butter. Line the pan with parchment paper. Grease the paper.

Sprinkle a large rectangle of parchment paper or a thin kitchen towel with powdered sugar and set aside.

In a small bowl, whisk together the cake flour, cocoa powder, baking powder, and salt. Set aside.

In another small bowl, combine the buttermilk, vinegar, and vanilla extract.

In the bowl of a stand mixer fitted with the paddle attachment or using a large bowl and an electric hand mixer, beat the eggs for five minutes. Slowly add the sugar and oil, then beat until well combined. Add the buttermilk mixture and red food coloring and beat again.

Add the flour mixture to the wet ingredients in two increments and beat on low speed until well combined, about 2 minutes.

Pour the batter into the prepared pan and spread evenly to reach all edges. Bake for 11-13 minutes, or until the top of the cake springs back when touched.

Immediately turn the cake out onto the prepared parchment paper or towel and peel off the paper. Very carefully roll up the cake and paper (or towel) together, starting at the narrow end. Place the cake, seam-side down, on a cooling rack to cool to room temperature, about 45 minutes.

While you wait for the cake to cool, prepare the filling.
For the Raspberry white chocolate filling
Blend ½ cup of raspberries until smooth in a heavy duty blender or food processor. Press through a sieve to remove the seeds.

Pour the raspberry puree in a small microwave proof bowl and heat until hot but not boiling. Add the white chocolate and stir until smooth. If lumps remain, return for a few seconds to the microwave. Allow to completely cool.

In the bowl of a stand mixer fitted with a paddle attachment or using a medium-sized bowl and a hand mixer, beat the cream cheese until smooth.

Add the raspberry and white chocolate mixture, then continue to beat until the chocolate is completely incorporated into the cream cheese. Be sure to scrape the sides of the bowl at least once.

Add the butter and beat until the butter is completely incorporated, about 2 minutes. Add the powdered sugar, in intervals of half a cup at a time, along with the salt and beat until the mixture is smooth and fluffy. Start with just the 1 ½ cups, adding the additional ½ if the filling is not thick enough.

Cover and refrigerate until ready to use.
To Assemble
Once cake is completely cooled, unroll the cake and spread the filling over the cake from edge-to-edge, leaving about ¼" on each end. Spread the remaining cup of the fresh raspberries over the top of the filling, making sure to disperse them evenly.

Re-roll the cake without the towel. Wrap the cake in plastic wrap and refrigerate for at least an hour.

Place cake seam-side down on a serving plate of your choice. Sprinkle it with extra powdered sugar and serve!
Notes
If you'd like the ends of your roll cake to look cleaner, use a sharp knife to slice off about ½ an inch of cake off each side. Do this AFTER refrigeration to avoid the filling squeezing out.
Nutrition
Calories:
386
kcal
|
Carbohydrates:
51
g
|
Protein:
6
g
|
Fat:
19
g
|
Saturated Fat:
11
g
|
Polyunsaturated Fat:
1
g
|
Monounsaturated Fat:
5
g
|
Trans Fat:
1
g
|
Cholesterol:
105
mg
|
Sodium:
194
mg
|
Potassium:
190
mg
|
Fiber:
2
g
|
Sugar:
41
g
|
Vitamin A:
545
IU
|
Vitamin C:
5
mg
|
Calcium:
76
mg
|
Iron:
1
mg