Roasted Sweet Potatoes baked to perfection in the oven prove to be as simple as they are delicious! Producing a crispy skin and buttery smooth inside, these sweet potatoes will become a new weeknight staple. Top with butter, brown sugar, maple syrup, or fresh herbs to enhance the flavors in the rest of your dish! If you love potatoes as much as we do, be sure to check out How to Bake a Potato, Twice Baked Potatoes, and my Sweet Potato Grits!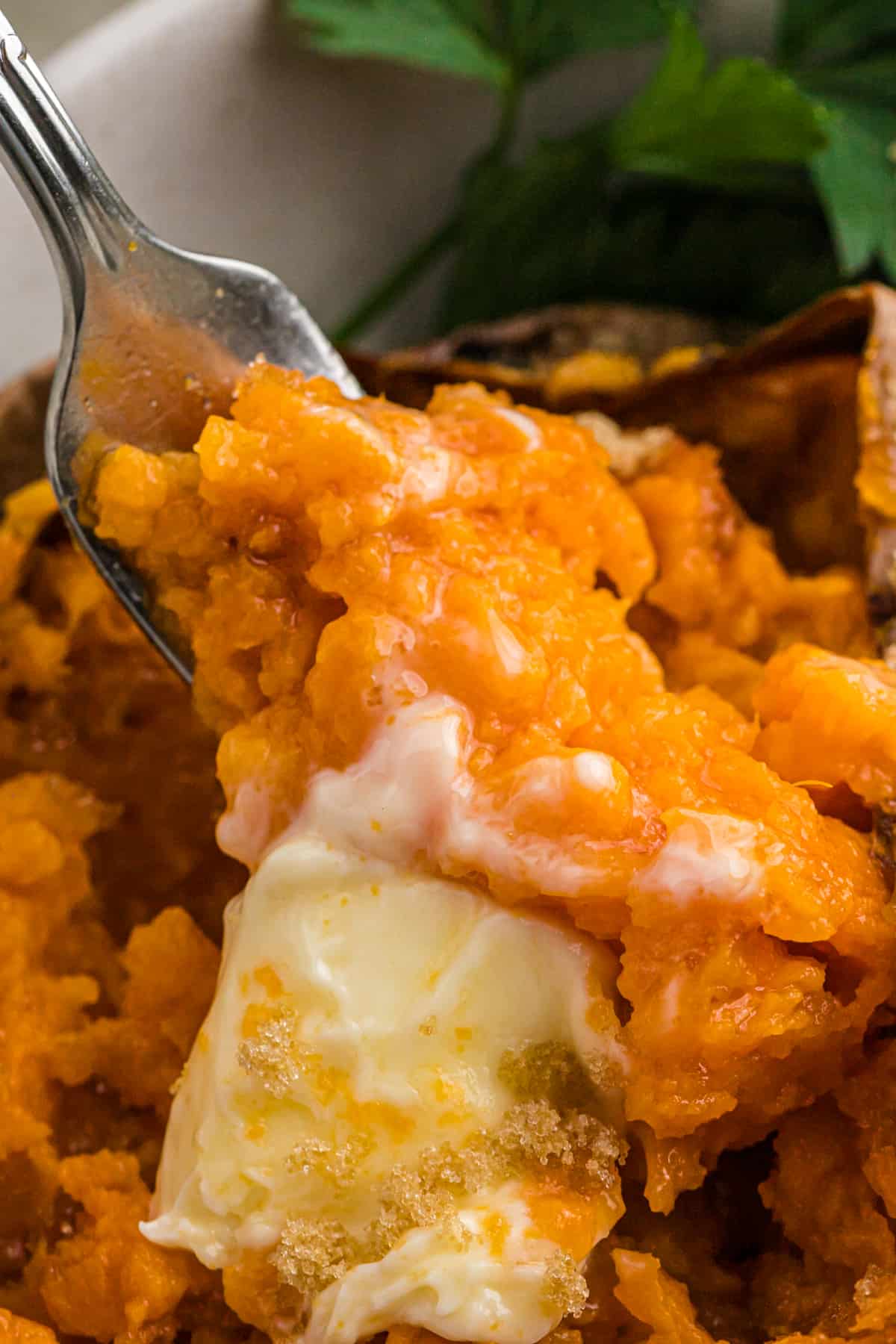 Ever head to a steakhouse and order a beautiful ribeye? Typically you'll get a choice of potato styles as a side and a cooked vegetable. When we're at home cooking up a romantic dinner or even a family affair, the sweet potatoes are what needs to accompany any good steak! You all know I love a good baked potato, but sometimes you need to shake it up with a vibrant pop of color and sweetness. Plus the kids are more likely to give it a try with that orange color.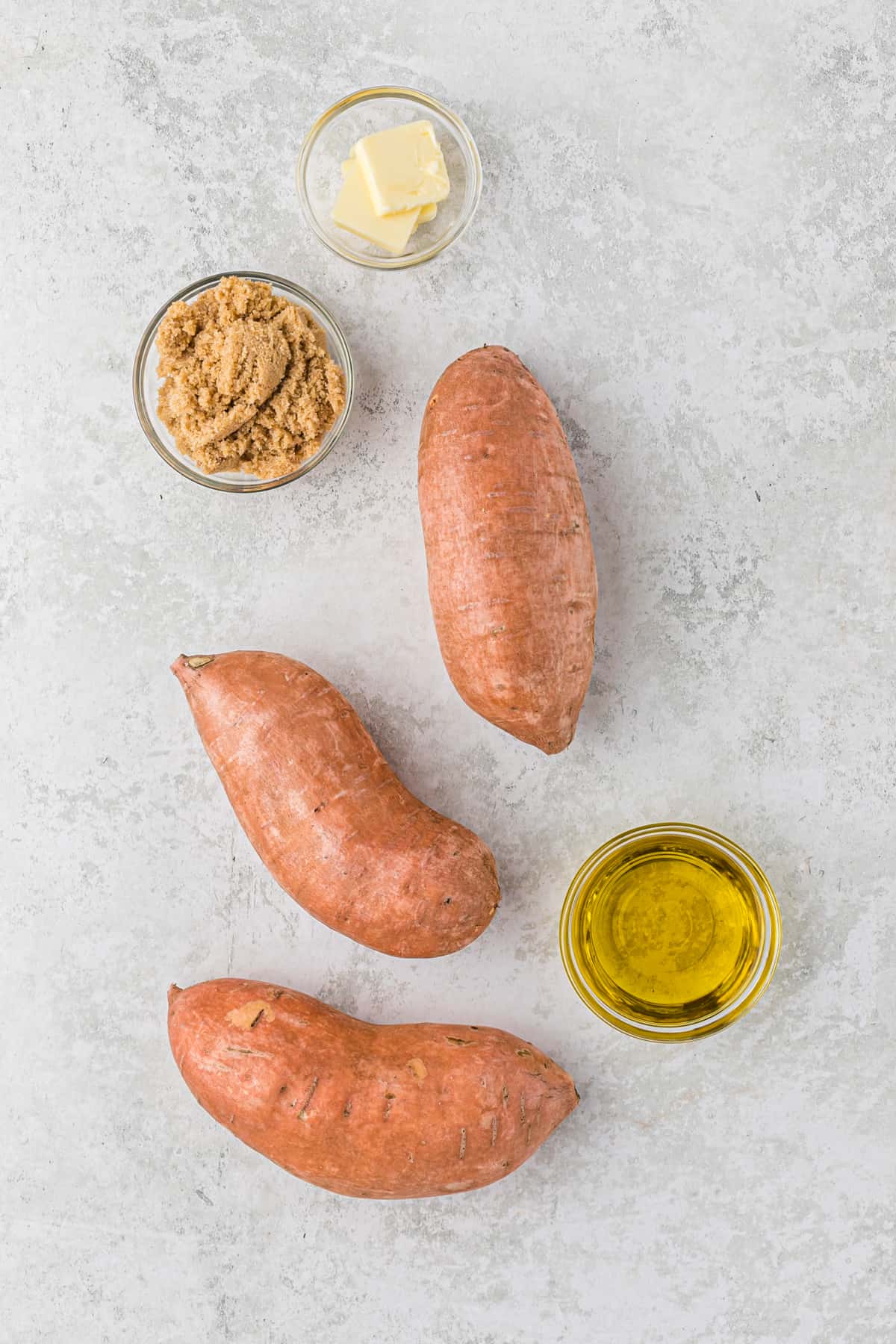 How to Roast a Sweet Potato
Roasting sweet potatoes is as easy as roasting regular whole potatoes. Keep the sweet potato whole and puncture with a fork a few times on all sides. Keep the skin on and roast at a high temperature of 425-450F in the oven to achieve a beautifully crispy skin while also achieving a soft, tender inside. The potatoes will be ready to devour in just 1 hour.
Tips for Working With Potatoes
Always clean your produce. That goes for potatoes, strawberries, any kind of produce where you're going to be potentially eating the "skin". Scrub the sweet potatoes using a soft bristle brush under cold running water. This will help any dirt be removed.
Add escape routes. We're talking about steam here. Ever had a potato explode in your oven before? It's a real thing! The potatoes need to be punctured (typically with a fork) multiple times to give the steam within the potato a route to escape from.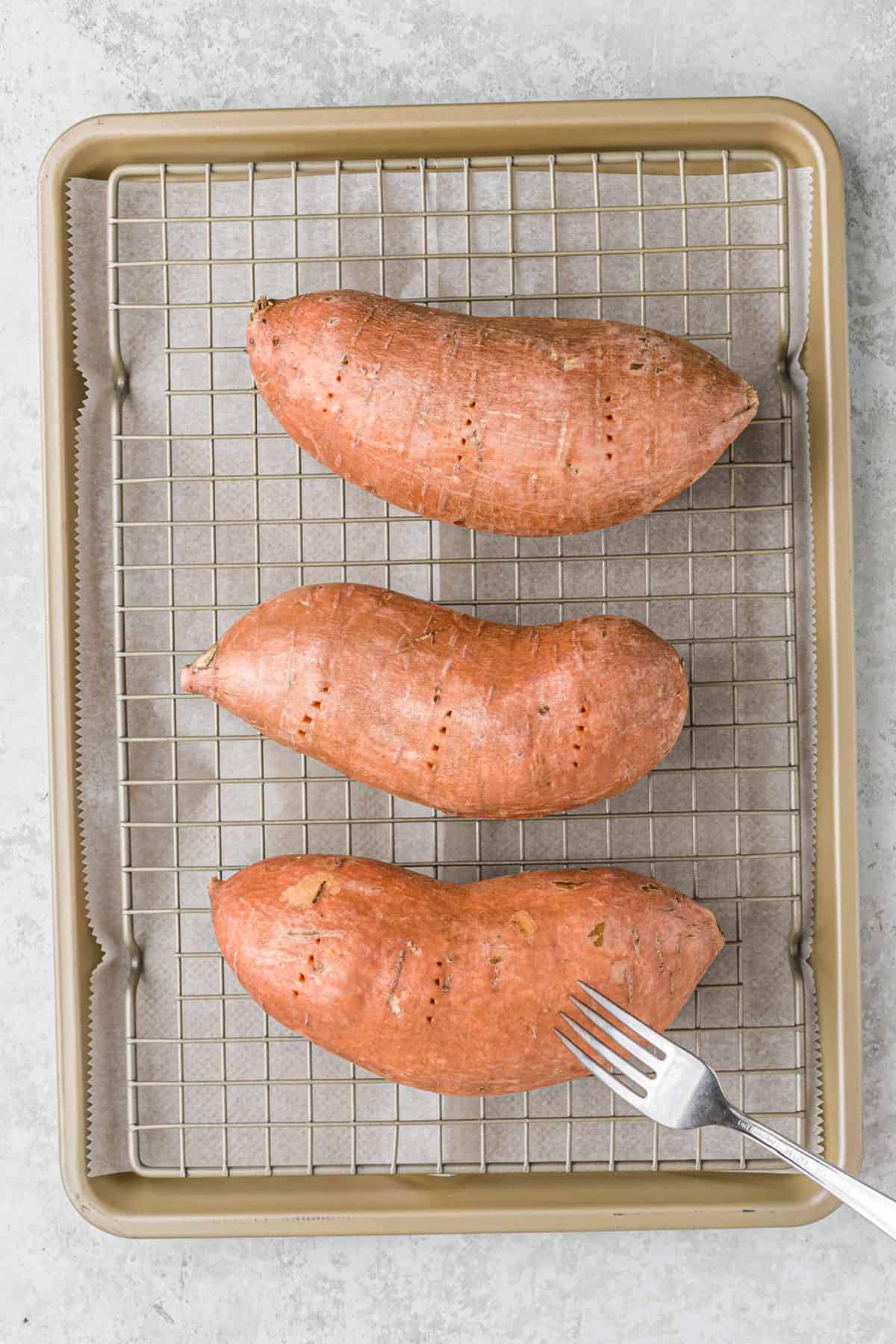 Add oil and seasoning. The skin of potatoes is perfectly safe, and delicious, to eat! Rub the potatoes with oil and season with salt and pepper, or your choice of seasonings. Don't worry about wrapping them in foil either. Just set them on a parchment lined sheet pan for easy cleaning, and bake!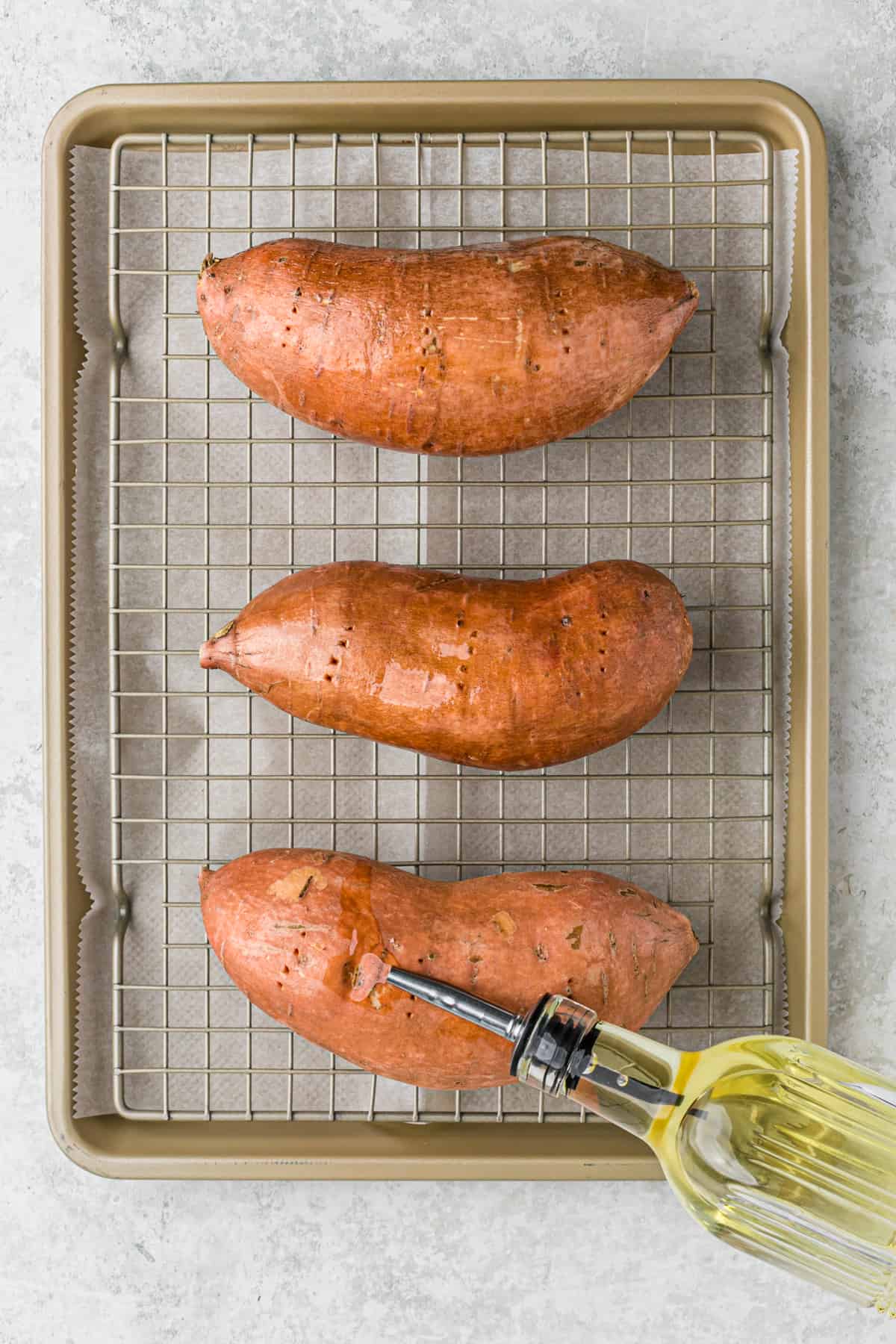 How to Tell if Roasted Sweet Potatoes are Done?
Roasted sweet potatoes will be tender when cooked fully. But those babies are HOT! So how else can you tell if your spud is done? If a fork can easily go in and out of the potato or the internal temperature has reached 211F via an instant read thermometer.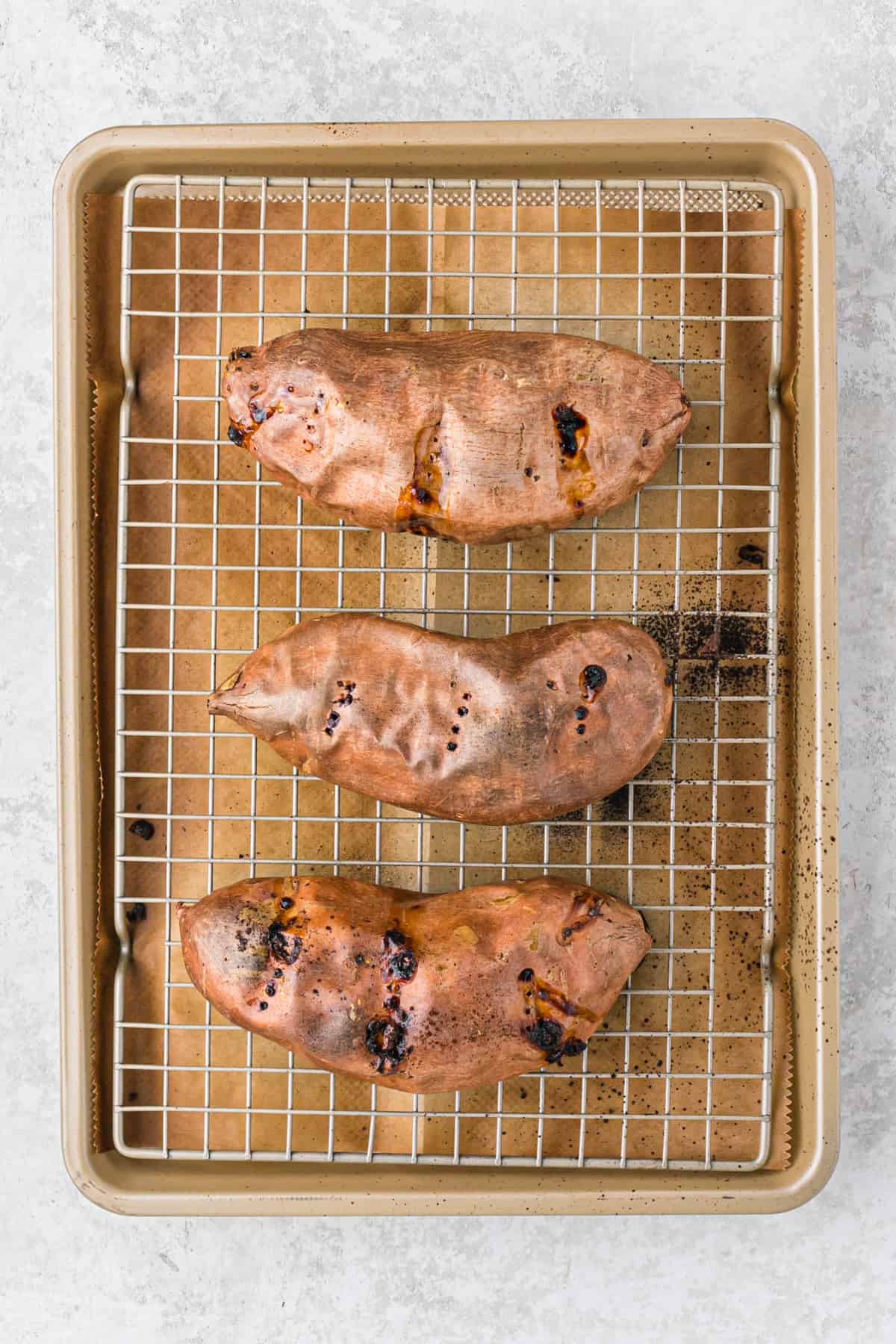 Storing and Reheating Leftovers
Wrap the leftover sweet potatoes in plastic wrap or in an airtight container. Store within the refrigerator for about 3 days. Reheating is as easy as popping into an air fryer with butter or in the microwave for 2 minutes on high. If reheating in an air fryer, split the potato in half, add to the basket with the cut side up, top with a pad of butter and reheat at 380F for 5 minutes.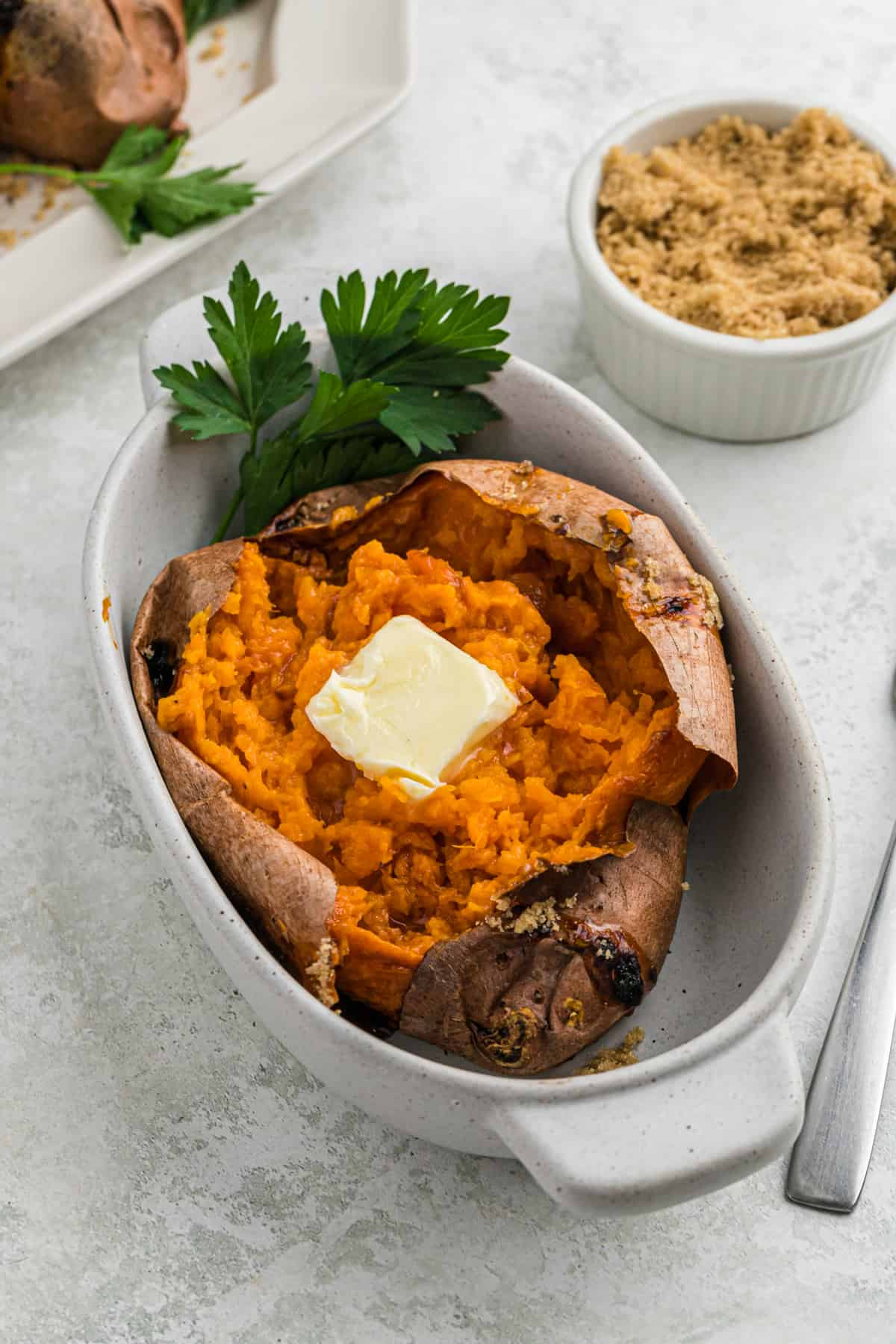 FAQs
Can you eat the skin?
Yes! Just like regular potatoes you could dice these sweet potatoes and saute them, make twice baked sweet potatoes, or fried sweet potato skins. The skins are perfectly safe to consume and even good for you! Sweet potato skins are high in fiber and antioxidants.
Are sweet potatoes healthier than regular potatoes?
Yes and no. Both are perfectly healthy in their own rights. However, sweet potatoes have a higher concentration of Vitamin A while regular potatoes are higher in potassium.
What sweet potatoes are best?
Look for red or orange sweet potatoes for the best flavor profile. 
Do I need to boil the potatoes before roasting?
Not at all! It does not cut down on time nor does it change the taste. Save yourself the dishes and just roast on a sheet pan.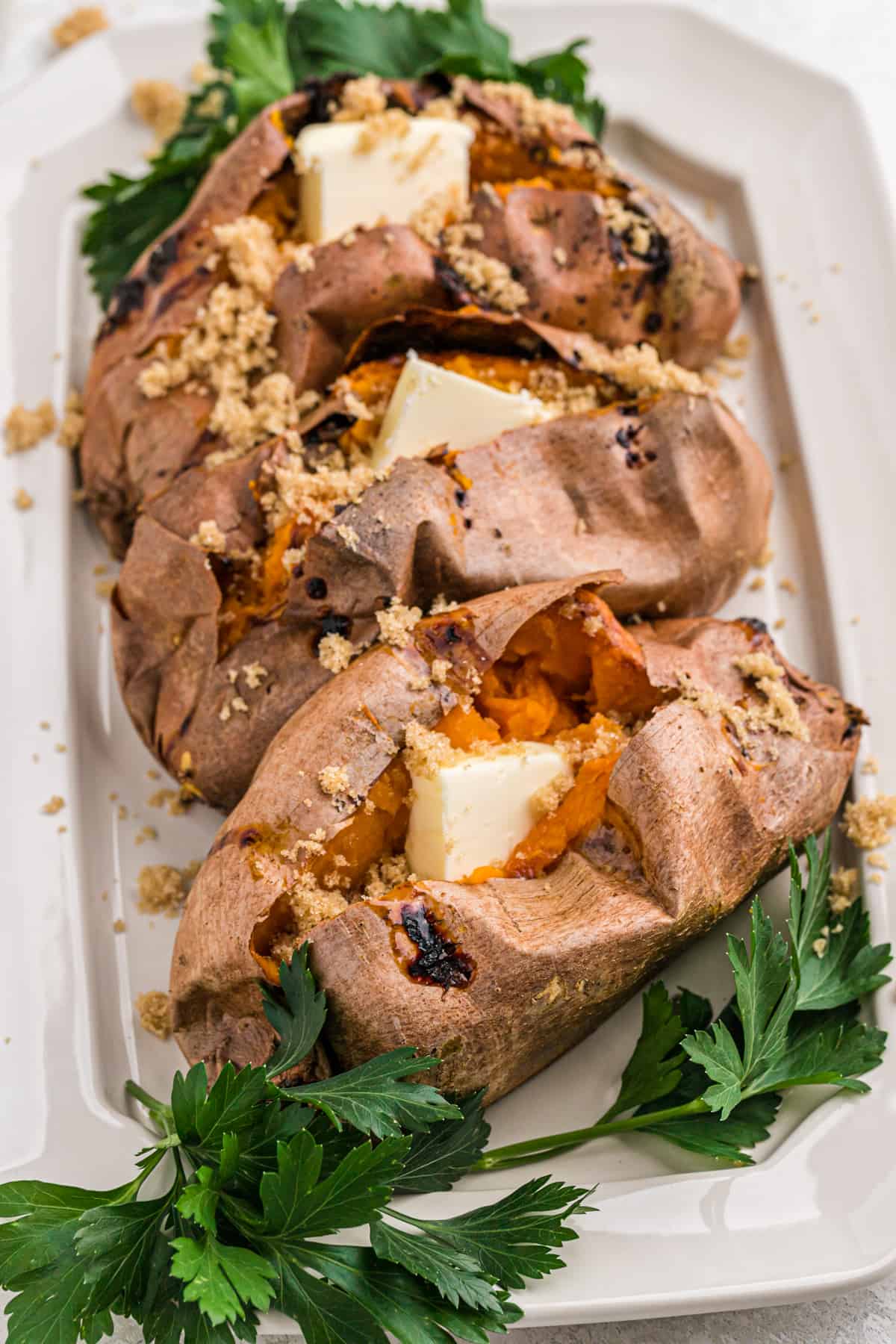 More of Grandbaby Cakes' Sweet Potato Favorites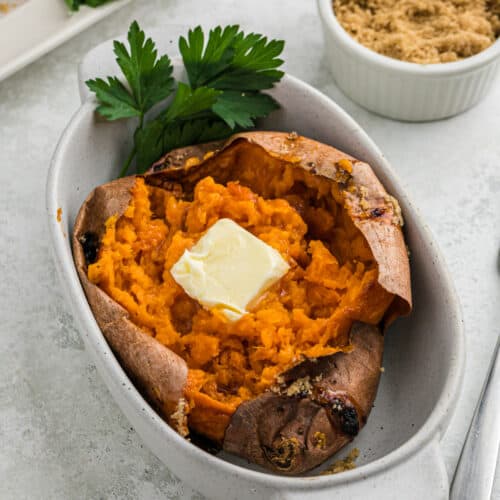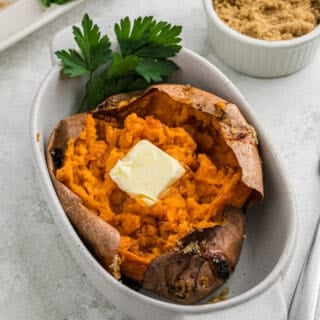 How To Bake A Sweet Potato
Learn how to bake a potato perfectly which has a crisp skin but perfectly fluffy tender inside. This technique will yield a perfect baked potato each and every time!
Print
Pin
Rate
Servings:
3
sweet potatoes
Ingredients
3

sweet potatoes

medium

6

tsp

oil

kosher salt

to taste
Instructions
Preheat oven to 450 degrees.

Begin by scrubbing your sweet potatoes, getting rid of debris and dirt then pat dry.

Next prick each potato all over with a fork making sure to pierce the inside.

Rub down each potato with 2 teaspoons of oil or use the olive oil spray to evenly coat the potatoes.

Sprinkle each potato liberally with salt.

Add each potato to a wire rack inside of a baking pan then place in the oven for 50-70 minutes or until you can easily push through the surface of the potato into the flesh with no resistance. You can even squeeze it with mitted hands and if it gives easily, it's ready to eat!

Cool for 10 minutes then serve them up!
Notes
How to cook a sweet potato in the microwave
If you want to get your potatoes ready faster, the microwave is the best way to speed it up!
You can even still get the baked potato vibe by splitting the time between both appliances.  Add the potato to the microwave for half of the time then pop in the oven to finish it off for that beautiful baked potato feel with less time.
How long to microwave a baked sweet potato
Up to 10 minutes max.  Using oven mitts, begin checking your potato doneness around the 4-5 minute mark so it doesn't shrivel up too much.
Nutrition
Calories:
265
kcal
|
Carbohydrates:
45
g
|
Protein:
4
g
|
Fat:
8
g
|
Saturated Fat:
1
g
|
Polyunsaturated Fat:
2
g
|
Monounsaturated Fat:
5
g
|
Trans Fat:
0.03
g
|
Sodium:
124
mg
|
Potassium:
762
mg
|
Fiber:
7
g
|
Sugar:
9
g
|
Vitamin A:
32063
IU
|
Vitamin C:
5
mg
|
Calcium:
68
mg
|
Iron:
1
mg