This Rosemary Chicken takes foolproof and delicious to a whole new level! The entire chicken is cooked in a slow cooker with incredible flavors like garlic, onion, paprika and thyme resulting in an unbelievable flavor that's beyond irresistible! If you love this, you will also love my Turkey Legs, Baked Turkey Wings, Pollo Asado, Cider Herb Spiced Cornish Hens, Southern Baked Chicken, Lemon Roast Chicken recipe , Slow Cooker Italian Beef, and my Brown Sugar Mississippi Pot Roast where you can create whole meals in one pot or vessel, you will love the ease and flavor of this dinner treat!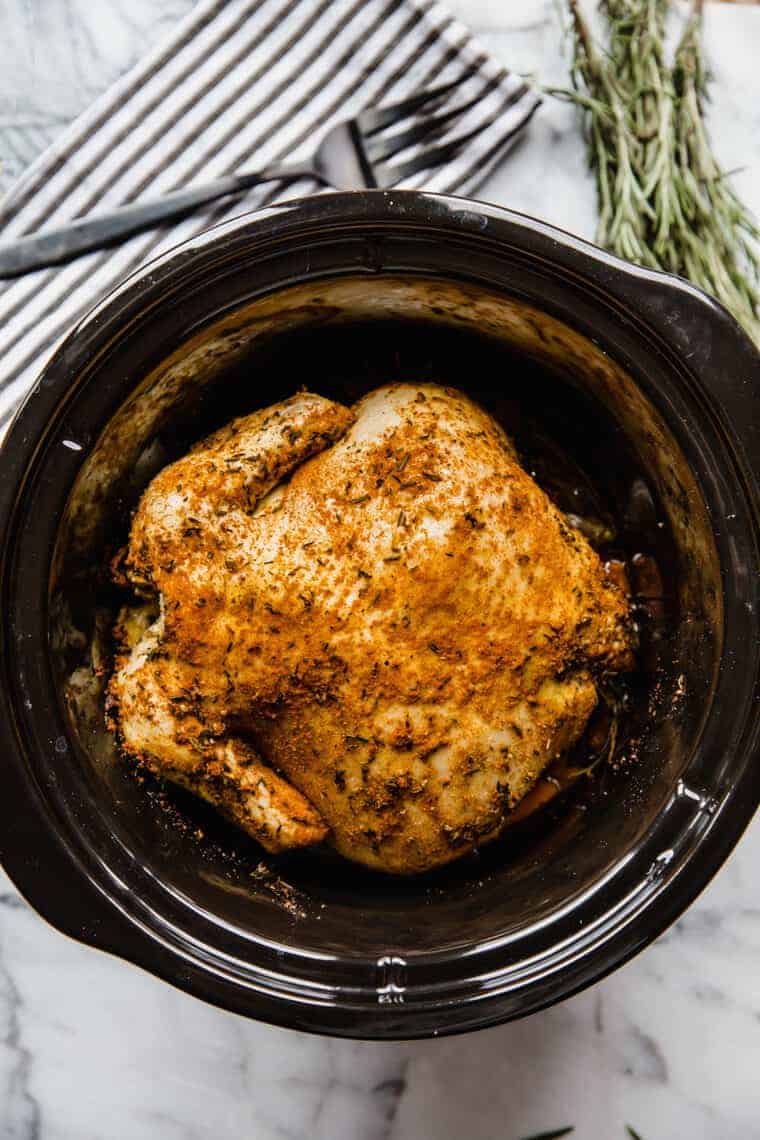 Perfect Rosemary Chicken Recipe Cooked in a Slow Cooker!
Searching through cookbooks, leafing through food magazines and trolling through food blogs proves one thing over and over again: Cooks love making recipes with chicken. While the boneless chicken breast seems to be the choice in most recipes, the whole bird can't be ignored. There's nothing quite like a juicy chicken, perfuming the whole house, to get the drooling started.
This recipe from my amazing friend Gina of SkinnyTaste is one that every home cook should have bookmarked. Although a whole chicken being made in a slow cooker can seem too good to be true, I promise it's simple and delicious. What is it about a roasted chicken that makes people so happy? I roast chickens pretty often. I don't even need to have a recipe in mind because I know there is always something to do with a roasted chicken like chicken noodle soup or chicken salad.
How to Make Slow Cooker Chicken
But what if cooking an entire chicken could be faster, easier, healthy and just as delicious? The slow cooker develops the same flavor while creating the added bonus of incredibly tender meat and less effort.
The fresh rosemary in this recipe adds a tea-like aroma and a piney, earthy flavor that layers beautifully with the other spices. In the end, you're left with pull-apart meat with a light, classic flavor.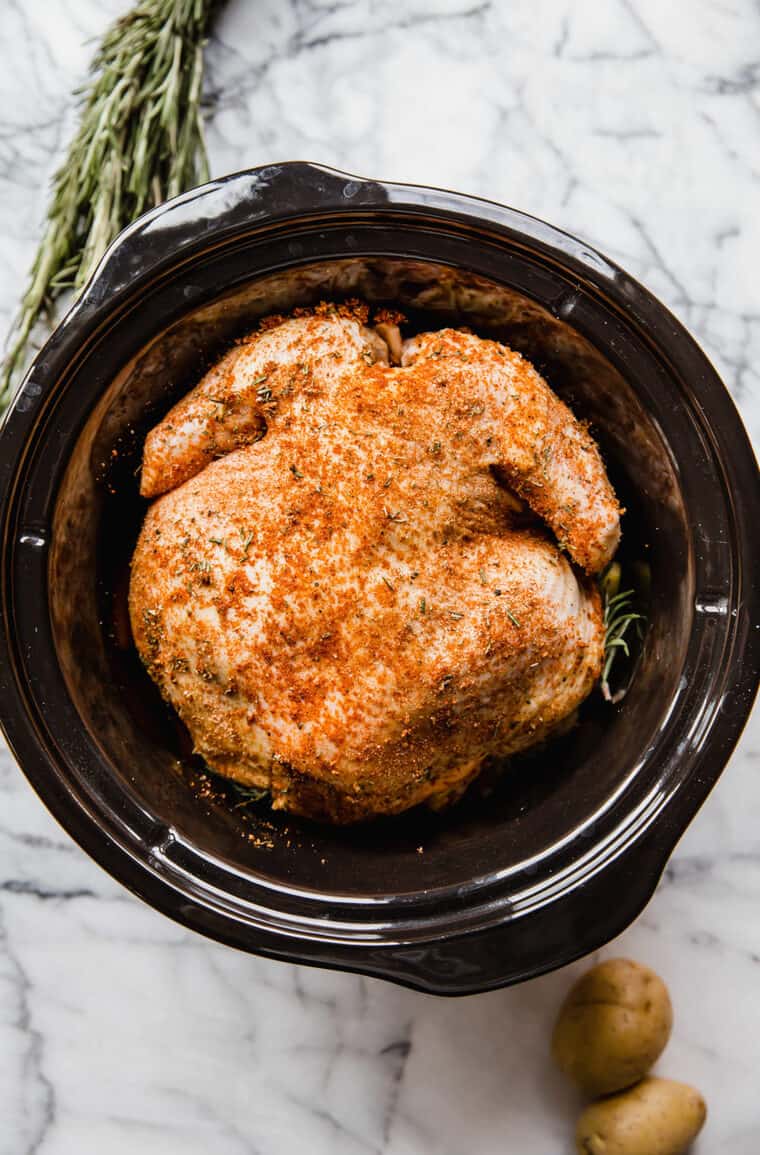 Ingredients for Rosemary Chicken Recipe
In addition to the fresh rosemary, these incredible flavors really help to enhance the herbs:
Paprika (this lovely kick of flavor really enhances this chicken recipe)
Garlic (in powder form to make this even easier)
Onion (in powder form also!)
Dried Thyme (additional herbal essences)
Potatoes and Carrots (turns this dish into an entire one pot meal)
To make this recipe into a full meal you can easily add your favorite root vegetables into the slow cooker. Not to mention, you'll still have leftovers for the soups and sandwiches you know you'll want tomorrow.
As simple as this recipe is, I still have a few extra tips and tricks up my sleeve that I'd like to share with you. After having made this recipe more than a few times over I've made all the mistakes there is to make so that you don't have to. Read carefully as you proceed because you don't wanna miss out.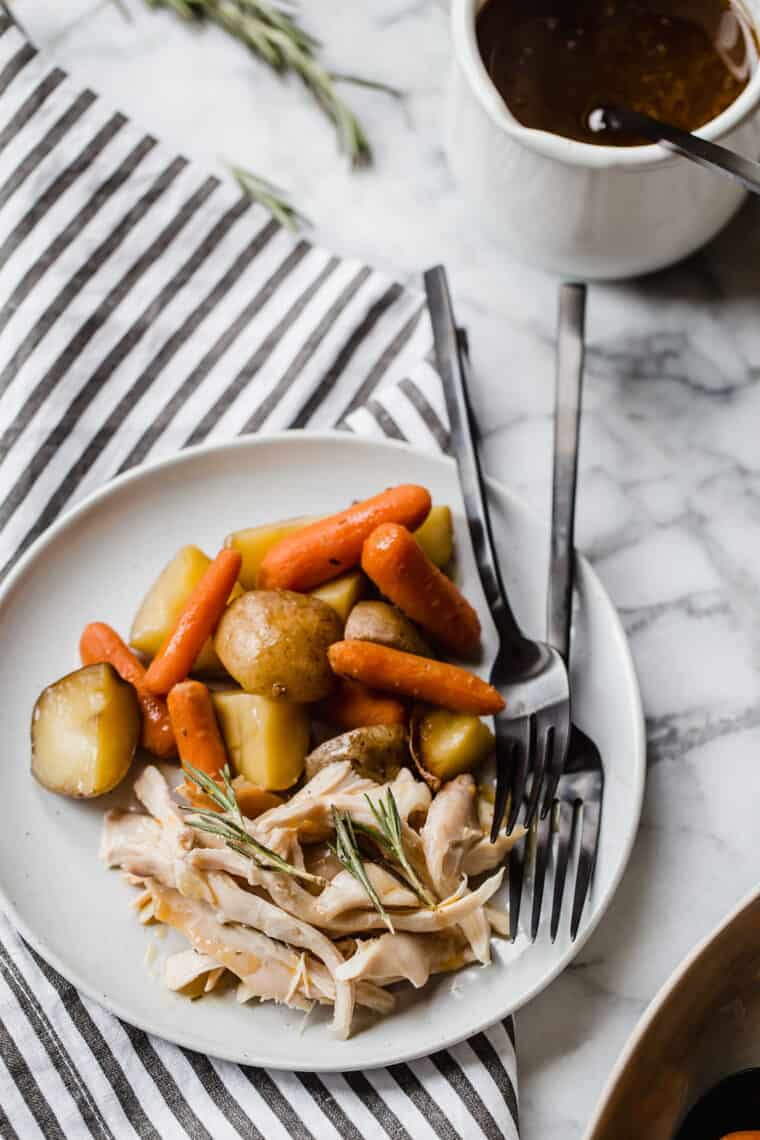 Start With Room Temperature Meat
IMPORTANT TIP: Starting with cold meat is a slow cooker no-no. Room temperature meat is more relaxed and flexible, and the natural juices are evenly distributed.
If you put your chicken in cold there is a strong chance that the meat will seize up and you'll be left with a very dry dinner.
The Trick to Crispy Skin
While the moist environment in the slow cooker makes for seriously juicy chicken, it is not conducive to producing the same browned, crispy skin you'd get from roasting in the oven. Don't get me wrong, the skin is absolutely delicious either way but I understand that for some the lack of crisp texture is a deal breaker.
After the chicken has finished cooking in the slow cooker, transfer it to a baking sheet or dish and pop it under the broiler for about three minutes. It's just enough time to transform the skin, without overcooking your chicken.
Removing the Skin to Lighten Recipe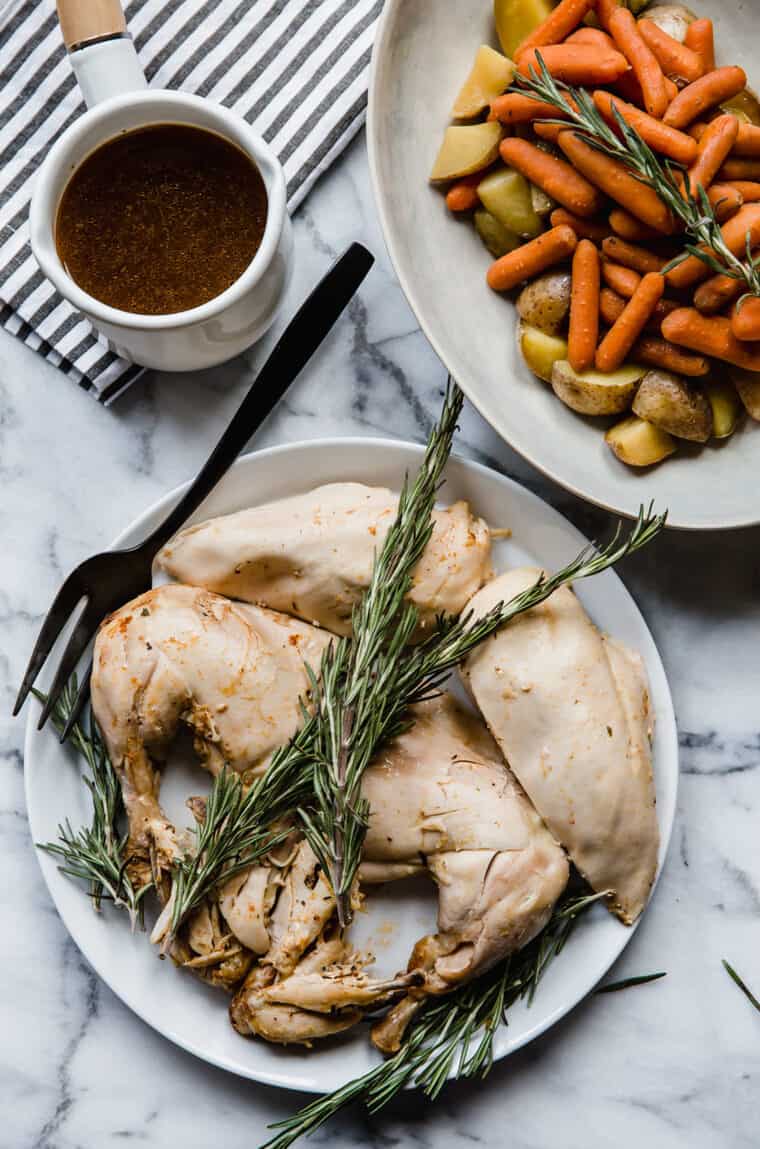 For this recipe, Gina recommends removing the skin to cut down on the fat and calories. The chicken is still incredibly flavorful. She also shreds the chicken. This is of course a personal choice but if you want to make this recipe completely skinny, removing the skin is key.
What to do with Leftovers
After your chicken has been served, you've indulged in seconds and you're ready to clean out the slow cooker before you're lulled into a food coma there's one last step that can't be skipped.
You'll notice a good deal of liquid from the chicken in the bottom of the slow cooker. This stuff is like liquid gold. It's got a more intense and richer flavor than chicken broth and can be used just as you would any other broth or stock. If you want to use this for stock, definitely do so or try this recipe for my aunt's Chicken Stock. Tuck this stuff away in an airtight container in your freezer and save it for a rainy day.
Now that I've given you my best slow-cooker chicken tricks you're ready to get in the kitchen and shake up your weeknight dinner routine. Enjoy!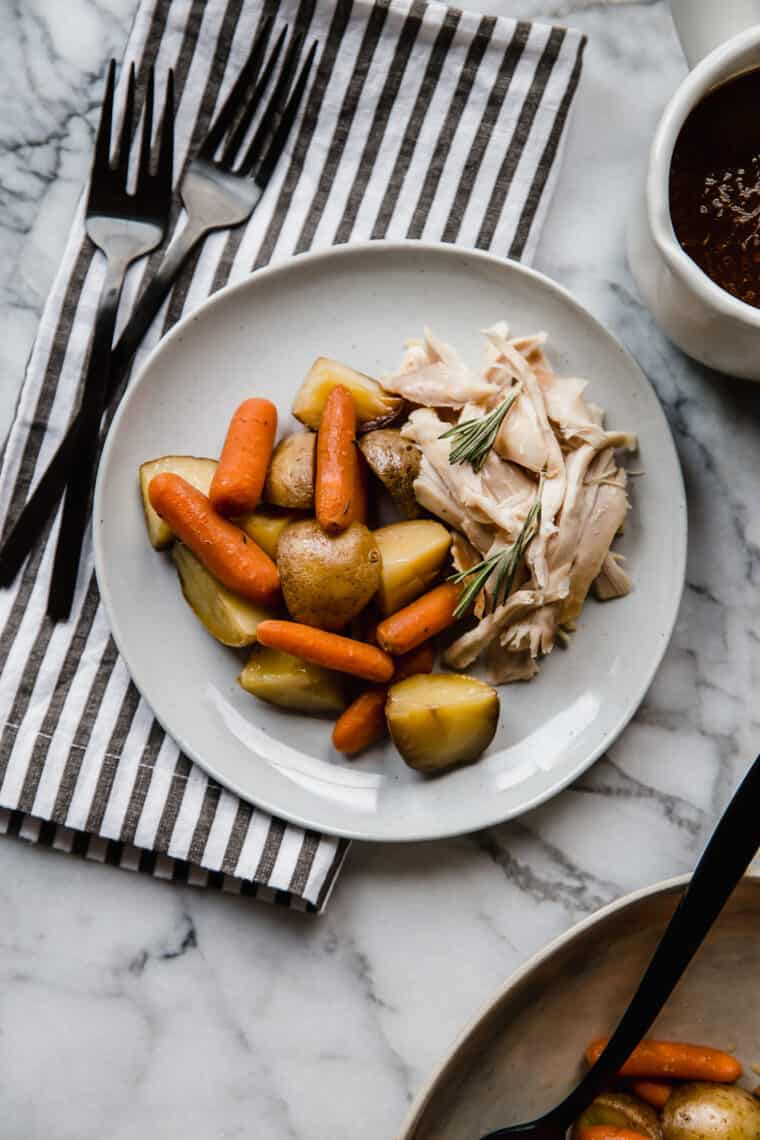 Q&A: Can you Add Lemon to Make Lemon Rosemary Chicken?
Absolutely! By adding just a few lemon halves to the slow cooker, you can really amp up some incredible citrus flavors that brighten this dish even more! I would start with adding 4 quarters from a whole lemon and seeing what you think. If you want additional lemon flavor, add another one until you get that brightness you are craving.
You can also add some lemon zest to the spice mixture and rub over the skin of the chicken.
Q&A: Can you make this as Baked Rosemary Chicken instead of in a Slow Cooker?
Absolutely! I like to roast my chickens at 350 degrees in a roasting pan. Bake for about an hour and a half OR (SUPER IMPORTANT) until your chicken reaches a minimum internal temperature of 180 degrees! Serve it with my auntie's Cornbread Dressing for a true down home meal.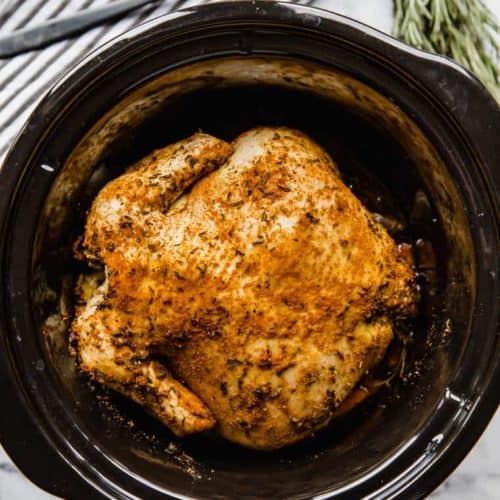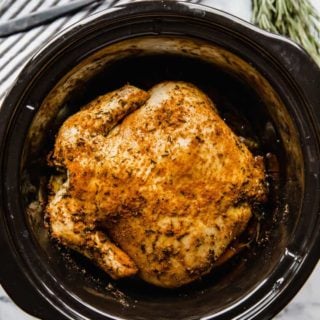 The Most Flavorful Slow Cooker Rosemary Chicken Recipe
This Rosemary Chicken takes easy and delicious to a whole new level!  The entire chicken is cooked in a slow cooker with incredible flavors like garlic, onion, paprika and thyme resulting in an unbelievable flavor that's beyond irresistible! 
Print
Pin
Rate
Ingredients
8

sprigs of fresh rosemary

2

tsp

kosher salt

2

tsp

sweet paprika

1

tsp

garlic powder

1

tsp

onion powder

1

tsp

dried thyme

1/4

tsp

freshly ground black pepper

1

lb

baby Yukon Gold potatoes

quartered

24

baby heirloom carrots

about 1 pound

1

whole chicken (4 lbs)

giblets removed, chicken rinsed and patted dry with paper towels
Instructions
Finely chop enough rosemary leaves to get 1 tablespoon. Set the remaining springs aside. In a small bowl, combine the chopped rosemary, 1 1/2 teaspoons of the salt, the paprika, garlic powder, onion powder, dried thyme and pepper.

Place the potatoes in one side of a 6 quart oval slow cooker and put the carrots in the other side. Season with the remaining 1/2 teaspoon salt. Top with 2 rosemary sprigs.

Rub the spice mixture all over the chicken and stuff the cavity with the remaining 4 rosemary sprigs. Transfer the chicken to the slow cooker, putting it on top of the vegetables, breast side up.

Cover and cook on low for 8 hours, until the chicken is cooked through and falls off the bone and the vegetables are tender. Using a wide spatula, carefully transfer the chicken to a dish or platter. Transfer the vegetables to a separate platter. Discard the skin and rosemary sprigs and carve the chicken. Place the jus in a gravy separator and serve with the chicken and vegetables.
Notes
This dish fits best in a 6 quart oval slow cooker!
Nutrition
Calories:
398
kcal
|
Carbohydrates:
29
g
|
Protein:
44
g
|
Fat:
11
g
|
Saturated Fat:
3
g
|
Cholesterol:
127
mg
|
Sodium:
790
mg
|
Potassium:
1016
mg
|
Fiber:
7
g
|
Sugar:
7
g
|
Vitamin A:
9092
IU
|
Vitamin C:
18
mg
|
Calcium:
85
mg
|
Iron:
7
mg