This Authentic New Orleans Shrimp Po' Boy with Creole Remoulade Sauce will knock your socks off! Crispy cajun fried shrimp are piled on a french baguette and topped with a creole inspired creamy remoulade sauce creating the most delicious and authentic po'boy you will ever taste outside of NOLA! Serve with my New Orleans Beignets , Jambalaya Skillet, Seafood Gumbo or Shrimp Etouffee for a truly creole inspired meal!
Thank you to Demetra of Sweet Savant for this incredible recipe!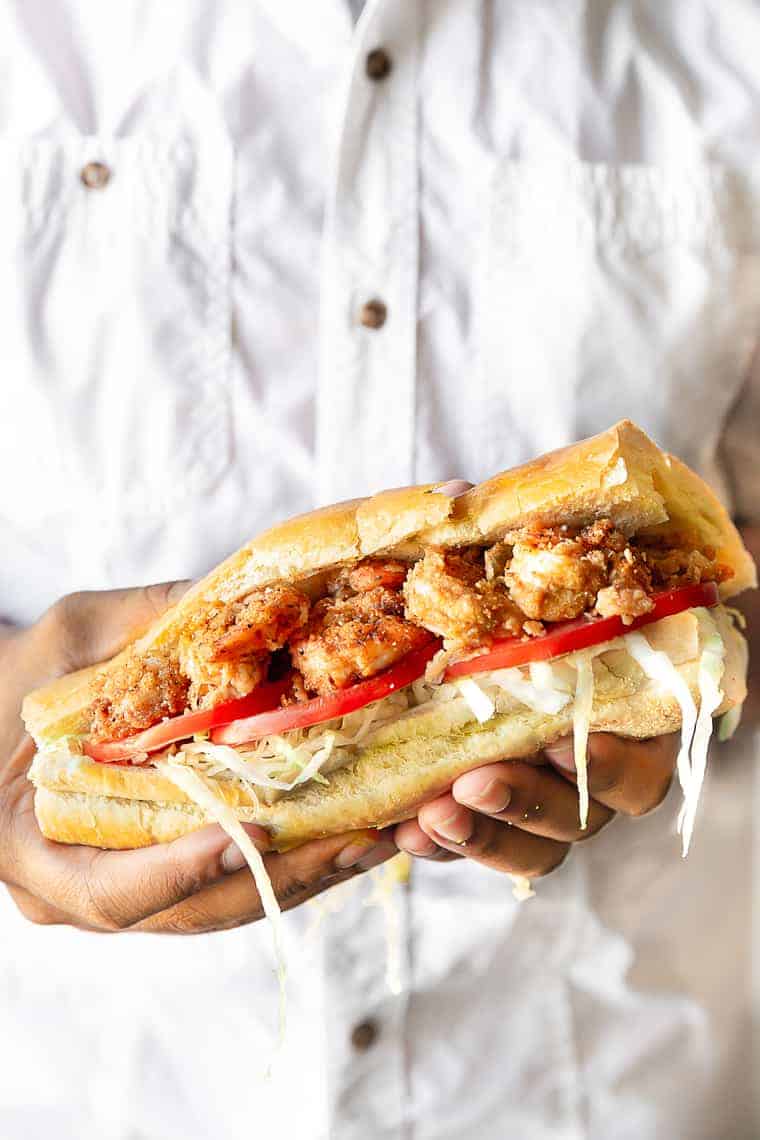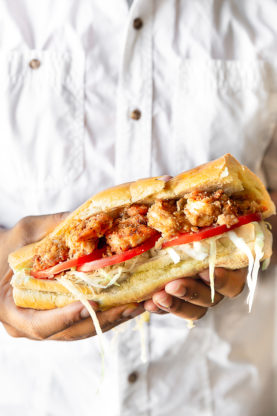 The best sandwich I ever had was a shrimp po'boy in New Orleans from a small cash-only restaurant in The French Quarter. What made that sandwich so good? Maybe it was the plump, crispy fried shrimp that tasted so fresh it must have been swimming in the Gulf of Mexico that morning. It might have been the fresh New Orleans French bread made by a local baker and brought to the restaurant just after sunrise. It may possibly have been the impossibly juicy, ripe tomato that was grown just a few miles up the road. I think what really made it special was that I was enjoying an authentic shrimp po'boy in New Orleans for the first time with my husband and kids, sharing the delicious experience with teens who would be off to college in a just few short years. I was savoring the moment and that amazing sandwich.
What is a Po'Boy?
You can get just about any filling on your po'boy from roast beef and gravy to fried catfish. The sandwich was created in the early 1900s to feed striking streetcar workers and was probably filled with fried potatoes and beef gravy. Fried oysters are another popular filling. A po'boy with half fried shrimp and half fried oysters is called a "peacemaker" (one of those would certainly shut me up for quite a while!)
While you don't have to get dressed up to get a po'boy (most of the sandwich shops are casual joints) you can get your sandwich "dressed". A "dressed" po'boy is topped with lettuce, tomatoes, sliced dill pickle rounds, and mayo.
Let's dig a little deeper into each of the components for a shrimp po'boy sandwich.
What Kind of Shrimp Should You Buy?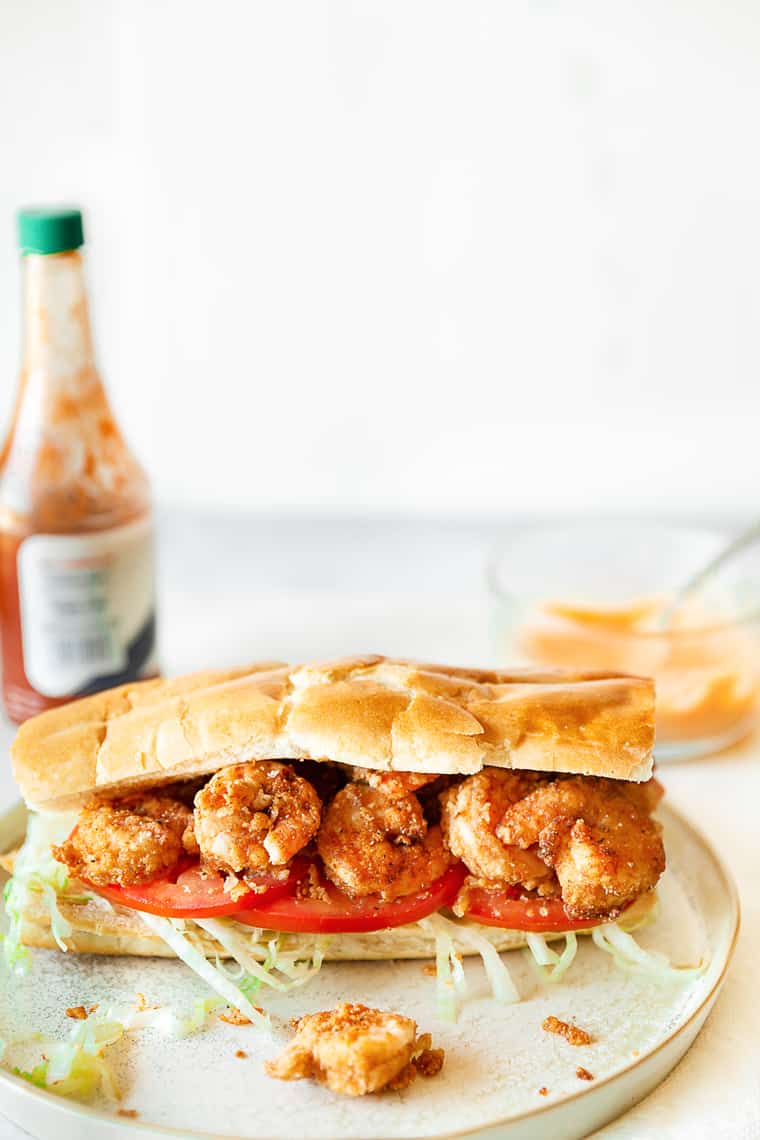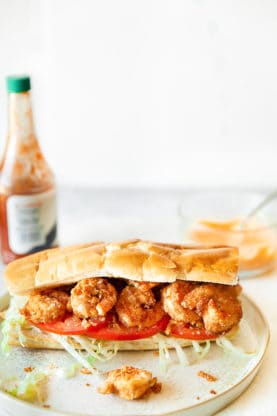 You want plump shrimp you can eat in one bite. If your shrimp are too big they make your sandwich difficult to eat, too small and well, it just doesn't give you that satisfying bite. Look for size 16/20 shrimp meaning there are about sixteen to twenty shrimp per pound. Buy shrimp that are peeled and deveined with the tails off, you don't want any shells getting in the way of this dining experience. Frozen shrimp is a great choice as are "fresh" shrimp found on ice in the fish case. Unless you live in a coastal area these "fresh" shrimp were probably once frozen then thawed before sale. Most shrimp are frozen at sea to keep them fresh longer as shrimp deteriorate quickly after being caught.
How to DRESS Your Shrimp Po'Boy
Iceberg lettuce is really the only way to go for the cool, crisp crunch an authentic po'boy needs. No fancy, frilly lettuce is needed here. Shred the iceberg lettuce thin and pile it on.
No fancy tomatoes either. Use a plump, ripe, juicy and locally grown beefsteak tomato if you can get one. Locally grown tomatoes tend to have a longer time to ripen on the vine since they don't have to travel across a country or two to get to your plate.Dill pickle slices add the perfect slightly sour tang to balance the sweetness of the shrimp.
What's The Best Bread for a Po'Boy
The bread for a shrimp po'boy sandwich is nearly as important as the shrimp. It will be difficult to find the French bread loaves used in New Orleans because it doesn't travel well. Look for French bread loaves with thin, crisp crusts and fluffy interiors. Split the bread down the middle then fill them with shrimpy goodness!
Best Shrimp Po'Boy Sauce : Remoulade Sauce!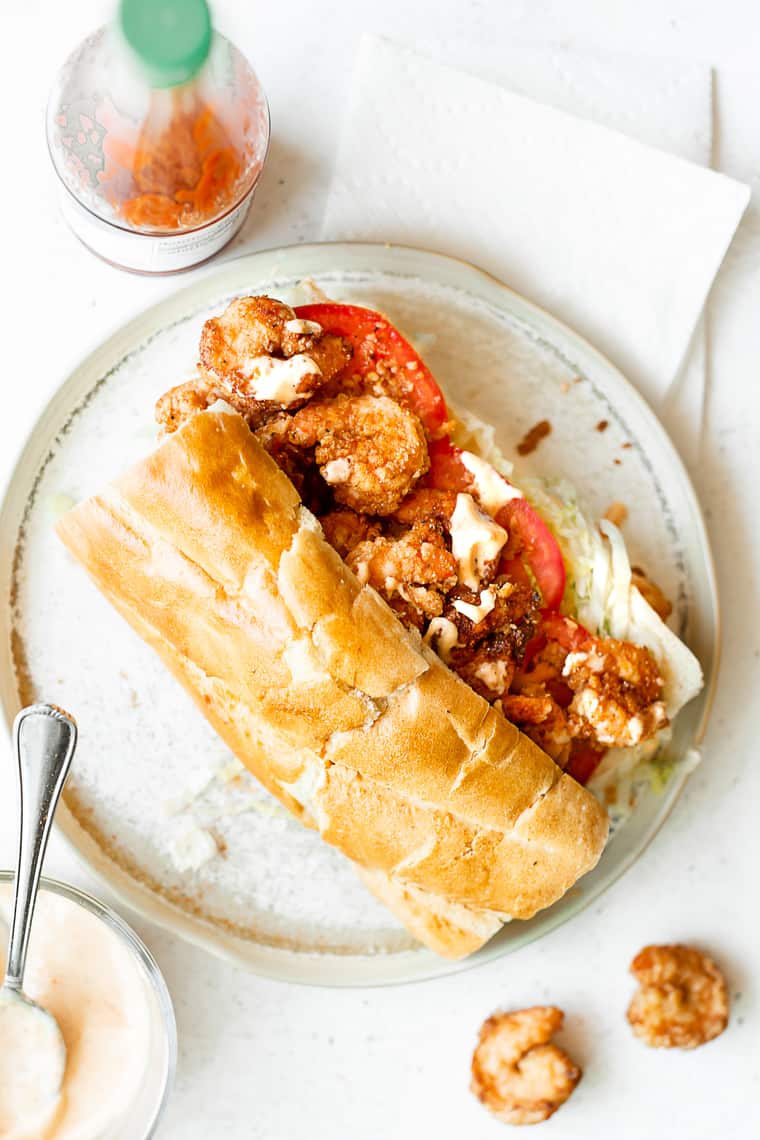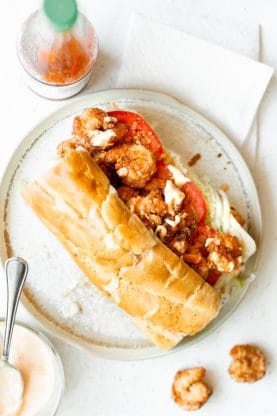 Plain mayonnaise is the classic condiment for a shrimp po'boy but to really take your sandwich to the next level I like to mix up a batch of remoulade sauce. A remoulade sauce is a jazzed up mayo that brings a little more heat and spice to the party. Start with mayonnaise, then add hot sauce, a squeeze of lemon juice and some Creole mustard (you can substitute Dijon mustard in a pinch). Season the remoulade sauce with salt, smashed garlic and Worcestershire sauce. Slather the remoulade onto the cut side of the bread, then start to build your sandwich.
How Do I Cook The Shrimp for the Po'boy
I prefer a light coating of breading on the fried shrimp. You don't want to hide the delicate flavor of the shrimp underneath a thick coating. Bathe the shrimp in buttermilk mixed with a dash of hot sauce. Then lightly dredge them in a combination of seasoned flour and cornmeal. You can double dredge the shrimp for a more substantial cornmeal coating if you like. Let the shrimp rest in the refrigerator for 20 minutes before frying. This helps the coating to stick to the shrimp better. You don't want all of your delicious, crispy coating falling off the shrimp as you fry them. Fry the shrimp just before you are ready to serve the sandwiches. All of your fixin's should be waiting for the shrimp to arrive.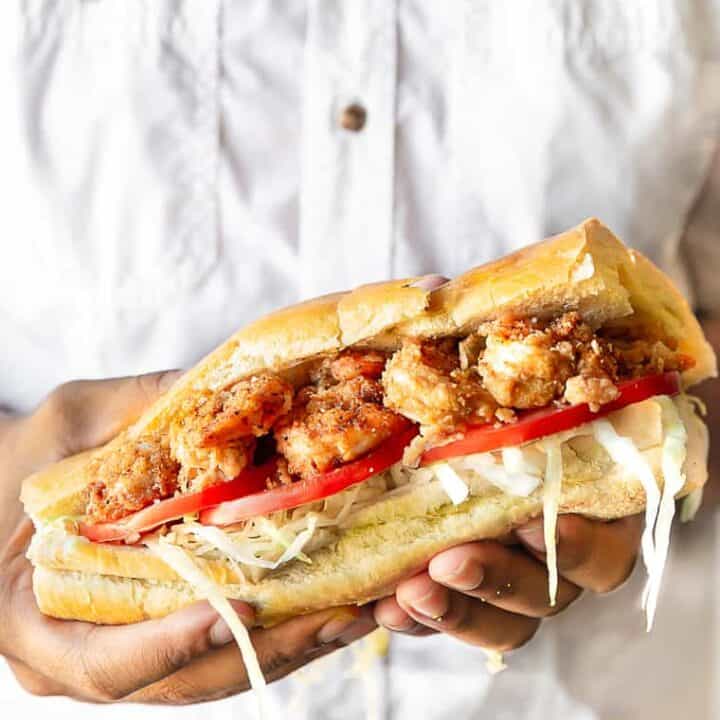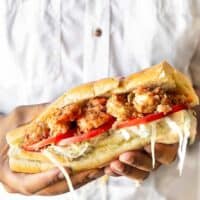 Authentic New Orleans Shrimp Po' Boy with Creole Remoulade Sauce
Crispy cajun fried shrimp are piled on a french baguette and topped with a creole inspired creamy remoulade sauce creating the most delicious and authentic po'boy you will ever taste outside of NOLA! 
Print
Pin
Rate
Ingredients
For the Remoulade Sauce
1

cup

mayonnaise

2

tbsp

dill pickle relish

1

tbsp

fresh lemon juice

2

tsp

hot sauce

2

tsp

capers, roughly chopped

1 1/2

tsp

paprika

1

tsp

Creole or Dijon mustard

1

tsp

Worcestershire sauce

2

garlic cloves, minced
For the Fried Shrimp
3

tsp

kosher salt

2

tsp

paprika

1

tsp

garlic powder

1/2

tsp

cayenne pepper

1/2

tsp

black pepper

2

lbs

raw medium shrimp

(about 45), peeled, deveined and tail off

Canola or Vegetable oil for frying

1 1/2

cup

all purpose flour

1

cup

cornmeal

1

cup

buttermilk

3

tbsp

hot sauce
For the Po'Boy Assembly
4

8 inch long French loaves split horizontally

Dill pickles

for garnish

Shredded iceberg lettuce

Sliced tomatoes
Instructions
For the Remoulade Sauce
Mix everything together and chill in the refrigerator until you are finished frying the shrimp
For the Fried Shrimp
Mix the salt, paprika, garlic powder, cayenne pepper, and black pepper together then divide the spice mixture in half

Season the shrimp with half of the spice mixture

Mix the flour, cornmeal and the rest of the spice mixture together in a bowl

In a separate bowl, mix the buttermilk and hot sauce together

Dip seasoned shrimp in the buttermilk, then coat with flour mixture shaking off any excess. If you like a thicker coating you can repeat this step. Chill the shrimp in the refrigerator for 20 minutes.

Pour the oil into a deep, wide pot to the depth of about 2 inches. Heat the oil to 350° Fahrenheit

Working in batches, fry shrimp until golden brown about 3-4 minutes per batch. Transfer to paper towels to drain.
To Assemble Po'Boy
Build your sandwich with on the French bread with mayonnaise or Remoulade, dress your sandwich with lettuce, tomato, and pickles then pile on the shrimp.
Nutrition
Calories:
2044
kcal
|
Carbohydrates:
281
g
|
Protein:
101
g
|
Fat:
58
g
|
Saturated Fat:
11
g
|
Polyunsaturated Fat:
30
g
|
Monounsaturated Fat:
13
g
|
Trans Fat:
0.1
g
|
Cholesterol:
395
mg
|
Sodium:
5299
mg
|
Potassium:
1442
mg
|
Fiber:
15
g
|
Sugar:
23
g
|
Vitamin A:
1138
IU
|
Vitamin C:
11
mg
|
Calcium:
450
mg
|
Iron:
21
mg