Insanely Delicious Shrimp Etouffee Recipe!!
This is the year everyone! This is the year I finally go to New Orleans and end my constant dreaming about the creole culture, especially its food. From the shrimp and grits, mardi gras king cake and beignets (we all know a little something about Cafe Du Monde) to the shrimp etouffee, I will be getting down on all that the "Big Easy" is known for.
After just a couple visits, I am completely prepared to come back time and time again. Is it too much to say my life mission might be to eat my way through New Orleans? I don't think so.
With this recipe I am paying homage to wonderful flavors and influences that make up Creole and Cajun cuisine. Make this etouffee today, thank me tomorrow.
WHAT IS ETOUFFEE?
Etouffee is a French word that means smothered or suffocated. However, in relation to food, it refers to a method of cooking where seafood is smothered in vegetables with a tomato-based sauce, resulting in a stew-like seafood dish.
Etouffee is basically a spicy stew made with vegetables and seafood in most cases; however, chicken and possibly other poultry (turkey) can also be used.
WHAT THE DIFFERENCE BETWEEN SHRIMP CREOLE AND ETOUFFEE
Shrimp creole and shrimp etouffee are somewhat similar dishes, and some people get the two dishes confused with each other. Shrimp etouffee has more of a gravy consistency which means that its thicker than shrimp creole.
Also, shrimp etoufee is a lot spicier than shrimp creole. Lastly, shrimp creole normally has a tomato base while shirmp etouffee utilizes a roux for its base. Many true foodies and culinary experts will tell you that a true Cajun etouffee does not contain tomatoes. The addition of tomato is a Creole way of preparing the dish.
WHAT IS ETOUFFEE MADE OF? HISTORY OF SHRIMP ETOUFFEE RECIPE
Shrimp etouffee is such a fantastic dish, rich in history and bonkers in flavor. Food historians trace back Louisiana etouffee to the crawfish capital of the world, Breaux Bridges, Louisiana. Etouffee was first served in the Hebert Hotel in the early 1920s when Mrs. Hebert, along with her daughters, Yoli and Marie, made crawfish etouffee using crawfish tails, crawfish fat, onions and pepper. Later on, the Heberts shared their recipe with their friend, Aline Guidry Champagne. Ms. Champagne later opened a restaurant, the RendezVous Café, and began serving the dish there.
Since then, the presence of Etouffee in the South has taken on a life of its own. You can find this signature New Orleans meal at almost any restaurant. Making an etouffee can take some time, but it is truly worth it. Its buttery richness paired with the succulence of the shrimp, just the right amount of cayenne, then served over a bed of fluffy white rice is truly one of the best dishes you'll ever eat.
From the creole seasoning and dashes of hot sauce to the underlying holy trinity of onions, celery and bell peppers simmering in a rich dark roux, this is one of the seafood dish I enjoy the most.
I have enjoyed it at restaurants and sampled a few of the crawfish variety, and sometimes I love making it at home even more so I can vary the flavors and heat according to my personal taste. Also if you want to, you can totally make this into a crawfish etouffee as well.
HOW TO MAKE A ROUX FOR SHRIMP ETOUFFEE
This isn't a difficult dish to make. The roux may seem like the hardest part because you need to ensure that it browns and darkens without burning.
Thoroughly stir in flour to a medium sized pan after melting butter over medium heat. Ensure there are no lumps. Stir frequently for 9-10 minutes. Once you get past making the roux, it is smooth sailing to complete this recipe.
Making this shrimp etouffee has prepared me for NOLA in the next few months. Next I'm making this into Crawfish Etouffee. I am ready so here I come New Orleans!
*Did you make this recipe? Please give it a star rating and leave comments below!*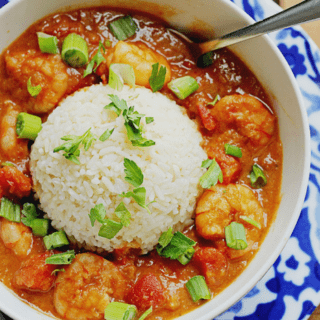 Shrimp Etouffee Recipe
Shrimp Etouffee Recipe - Homemade and delicious, made with an authentic creole flavor and down home taste. Bring Mardi Gras to your home!
Print
Pin
Rate
Ingredients
1/4

cup

salted butter

1/4

cup

all-purpose flour

3/4

cup

chopped onion

1/2

cup

sliced celery

1/2

cup

chopped green peppers

1 1/2

cup

chicken stock

1/2

cup

white wine

1/2

teaspoon

tomato paste

14.5

ounces

diced tomatoes, drained

1 can

1

tablespoon

creole seasoning

1

teaspoon

garlic powder

1/4

teaspoon

cayenne pepper

1

tablespoon

Worcestershire sauce

2

teaspoons

fresh lemon juice

2

teaspoons

hot sauce

1

pound

shrimp

peeled and deveined

Salt and pepper to taste

1

tablespoon

heavy whipping cream

Cooked rice for serving

Garnish with chopped parsley and green onion
Instructions
In a medium sized pan, melt butter over medium heat. Thoroughly stir in flour making sure there are no lumps to begin the roux. Allow the roux to develop, stirring frequently for about 9-10 minutes (until dark but make sure it doesn't burn).

Next stir in onions, celery and green peppers and cook for a few minutes until tender, frequently stirring.

Pour in chicken stock and white wine then add tomato paste and diced tomatoes and whisk together everything.

Season with creole seasoning, garlic powder, cayenne pepper, worcestershire sauce, lemon juice and hot sauce.

Allow the mixture to cook for 10-12 minutes over medium heat to come together and begin to thicken then add the shrimp and salt and pepper to taste. Cook for another 10 minutes on a lower heat with the lid on.

Stir in heavy whipping cream then cook for 2-3 more minutes until thickened. Serve over rice and garnish with chopped parsley and green onion.
Video
Notes
Allow the roux to develop, stirring frequently for about 9-10 minutes (until dark but make sure it doesn't burn).
Nutrition
Calories:
480
kcal
|
Carbohydrates:
27
g
|
Protein:
37
g
|
Fat:
21
g
|
Saturated Fat:
11
g
|
Cholesterol:
432
mg
|
Sodium:
1832
mg
|
Potassium:
769
mg
|
Fiber:
3
g
|
Sugar:
9
g
|
Vitamin A:
1635
IU
|
Vitamin C:
47.7
mg
|
Calcium:
295
mg
|
Iron:
6
mg