This Strawberry Cornmeal Cake has a delicious tartness that shines against the moist, pleasantly coarse texture of cornmeal! The strawberries bake and settle into the top of the cake to create a fresh, sugary topping. Did I mention the heavy dollop of Rosemary & Vanilla Bean-Infused Whipped Cream? To die for! If you love this cake, you will also love Strawberry Shortcake Cake and Strawberry Punch Bowl Cake.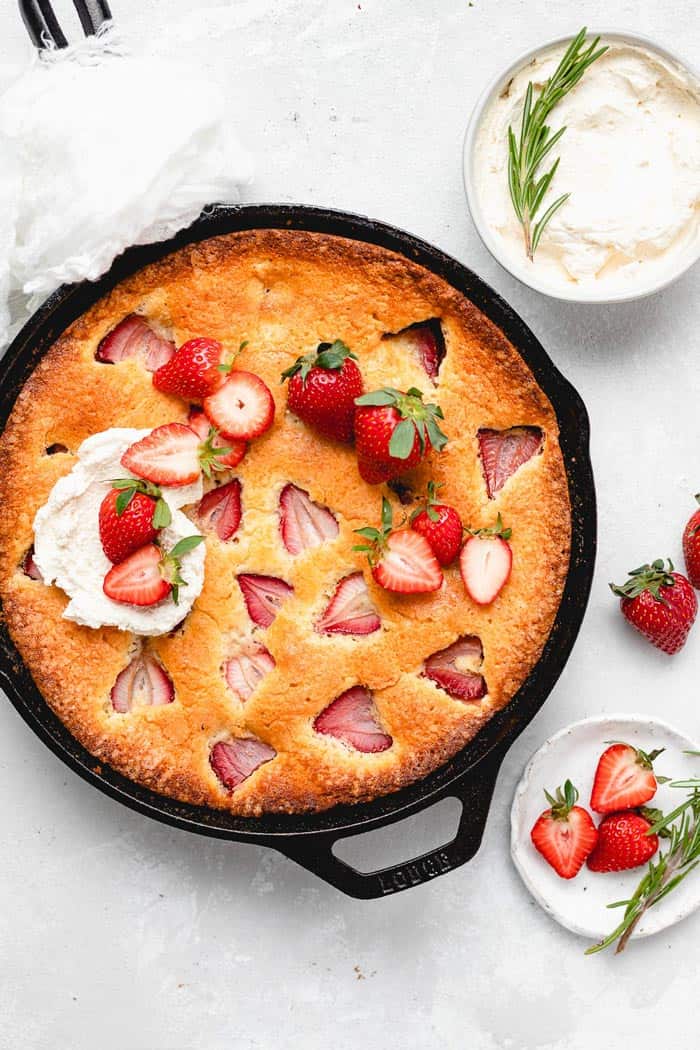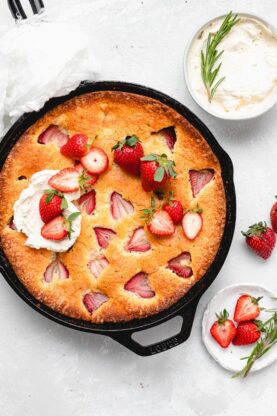 Holy Moly, how is it Spring already?! With last year being what it was (a hot mess), I started this year with the mindset that I would work hard to appreciate the little things, like changing seasons. And y'all, I'm trying! But dang, it's hard! Time seems to be speeding by and I'm having a hard time keeping up.
But, today, I'm pressing the pause button and taking a moment to actually enjoy Spring, radical huh? One of the joys of spring is finding fresh strawberries at the market. lump, vibrant strawberries are intoxicatingly aromatic and, when baked, they turn into pockets of sweet, juicy goodness. Are there two better ingredients to kick off my celebration with? Nope!
This recipe combines a zippy goat cheese flavored cornmeal cake with fresh strawberries baked in a cast-iron pan. I topped off this light, refreshing cake with a hefty dose of rosemary-infused whipped cream and, WOW, is it tasty!
Welcome in Spring with me by stirring up this CRAZY GOOD cake, you won't regret it!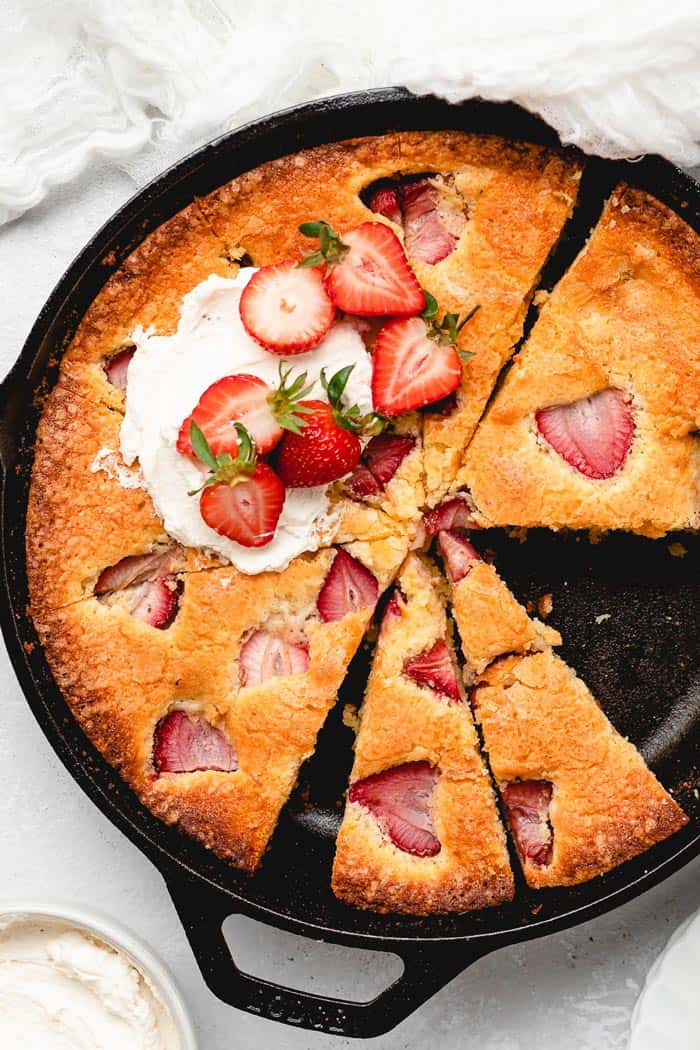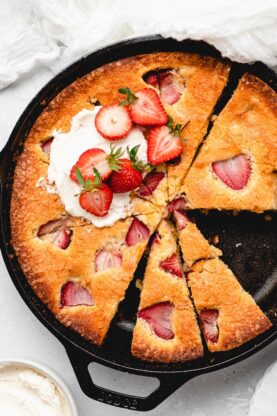 WHAT IS A CORNMEAL CAKE?
Think of cornmeal cake as a cross between a buttery, coarse cornbread and a delicate, melt-in-your-mouth vanilla cake. The subtle grainy texture of this cake creates an interestingly textured bite. Cooking this cake in a cast-iron skillet helps to develop browned, slightly crisp edges that you'll find yourself coming back for over and over!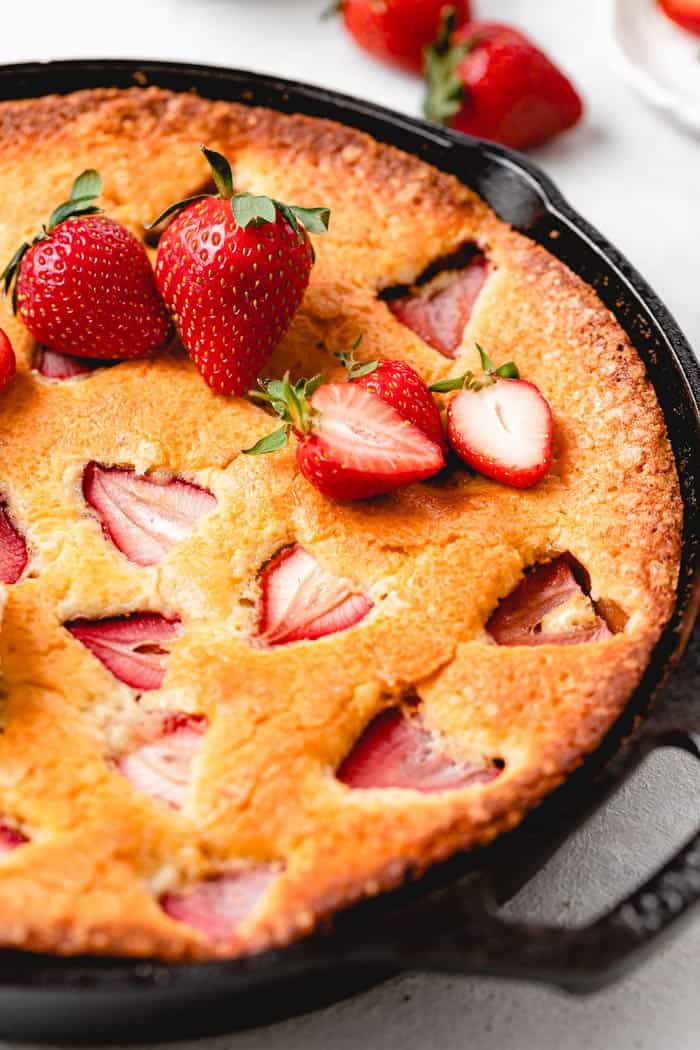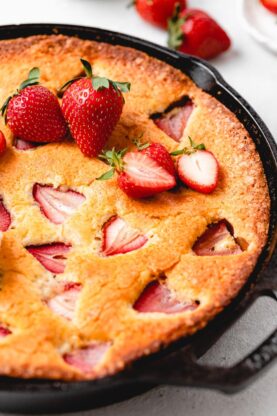 HOW TO MAKE A STRAWBERRY CORNMEAL CAKE
Okay, before we get ahead ourselves, let's take a minute to take a closer look at our ingredients!
Unsalted Butter- It's essential to start with good-quality, room temperature butter.
Granulated Sugar- This cake isn't intended to be overly sweet so there isn't an exuberant amount of sugar in it. Cane sugar works perfectly too.
Eggs- In baking, eggs are always best when room temperature. If you forget to let them sit out for a bit, just let them hang in a bowl of warm water for about 5 minutes.
AP Flour- we want the cake to be as airy and light as possible, so try to take a little extra time to sift the flour.
Yellow Cornmeal- Cornmeal is available on a spectrum of grind sizes. The texture of the corn grain chosen will determine the texture of the resulting bread. I prefer to use a stone-ground variety for a more textured bite but I recommend that you explore and find your own personal preference.
Salt- Kosher salt is preferred; it will enhance all the other flavors.
Buttermilk- tangy and tasty, buttermilk not only tenderizes the cake but also adds a gentle zing to the batter.
Goat Cheese- Goat cheese brings an exciting, delicious flavor to this recipe. Each bite is layered with a rich, smooth texture and a tart, candied taste. So darn good.
Vanilla Paste- Paste offers a more concentrated flavor than extract, as well as an aesthetically pleasing speckle throughout the cake.
Strawberries- These ruby-red confections make for a beautiful pop of color as well as a POP of sweet juice when bitten into.
Turbinado Sugar- Just a sprinkle helps to draw out sugar from the fruit and create a shiny, sugary topping. If you don't have any on hand, feel free to omit it!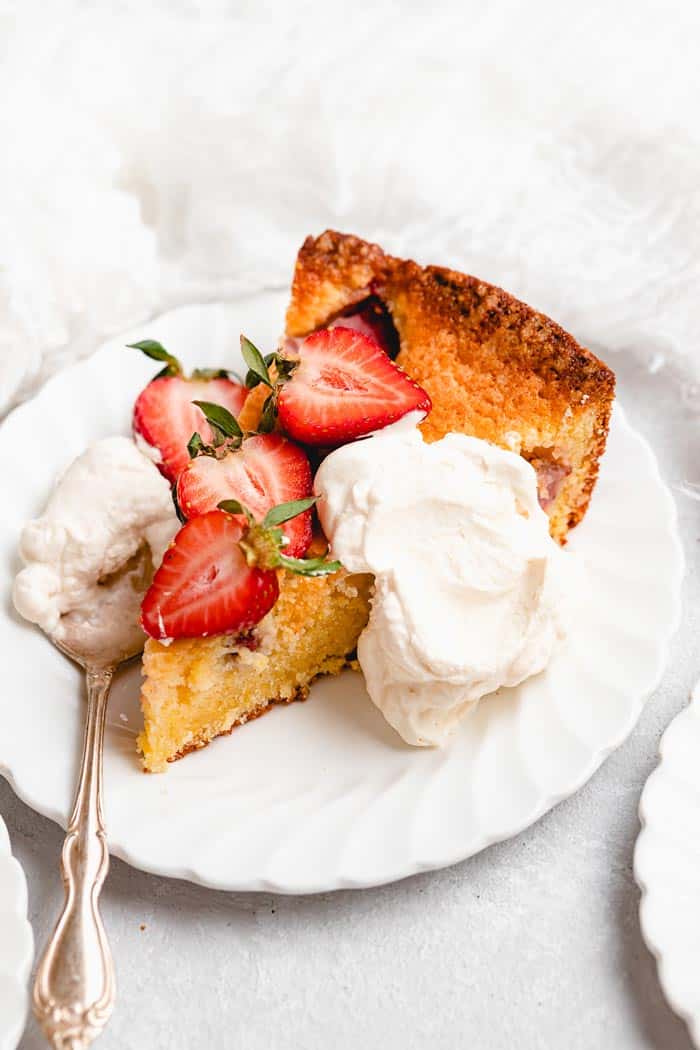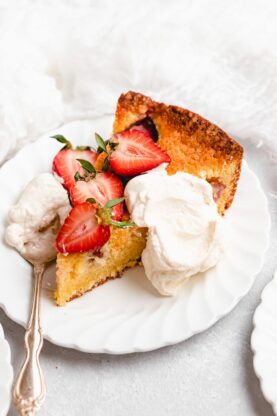 TOP IT OFF!
Just when you thought this recipe couldn't get any better, it does! I chose to top off this (already delicious) cake with a homemade rosemary and vanilla bean-infused whipped cream. I promise you, it's much more simple than it sounds. All you need is heavy cream, powdered sugar, vanilla bean paste and a few sprigs of rosemary to make this herbaceous, decadent cream.
The pronounced lemon-pine flavor of rosemary uplifts the rich cream while the vanilla bean paste adds a gorgeous speckled look. Just a dollop of cream brightens up the entire cake!
TIP: If you're not a fan of rosemary, it can be completely omitted or replaced with thyme or basil.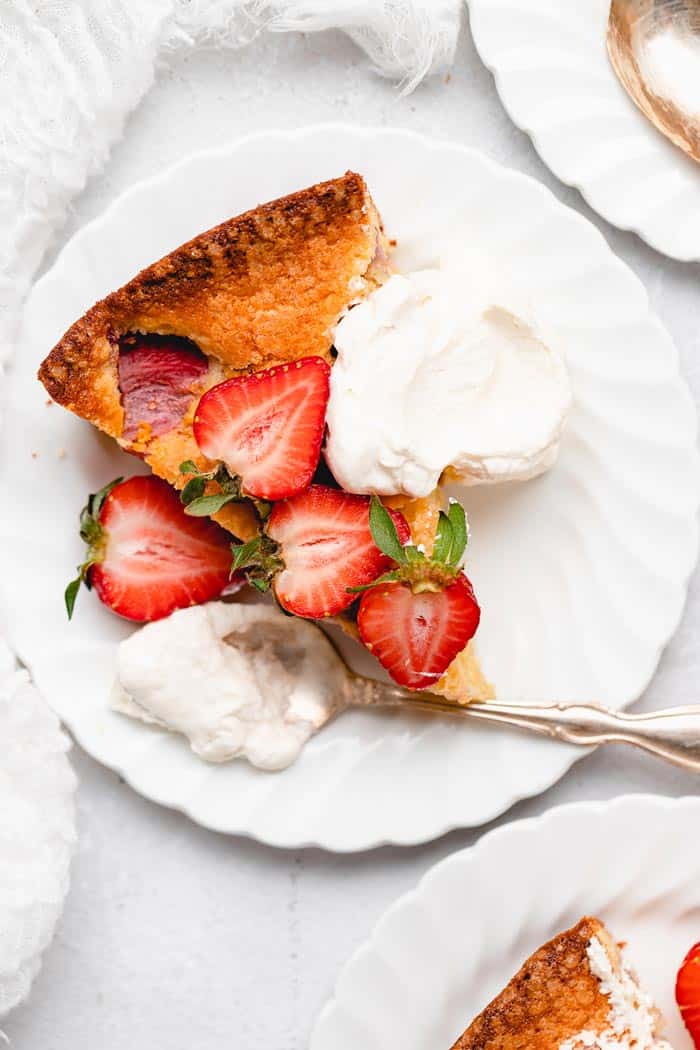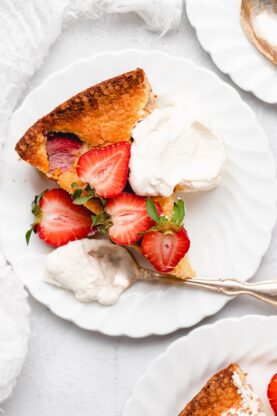 MORE GRANDBABY CAKES SPRINGTIME STRAWBERRY RECIPES
Strawberries are some of the BEST produce that Spring and Summer have to offer. Delightfully bright in color and sweet in flavor, these delectable sprouts are the stars of more than a few of my FAVORITE recipes!
Check 'em out: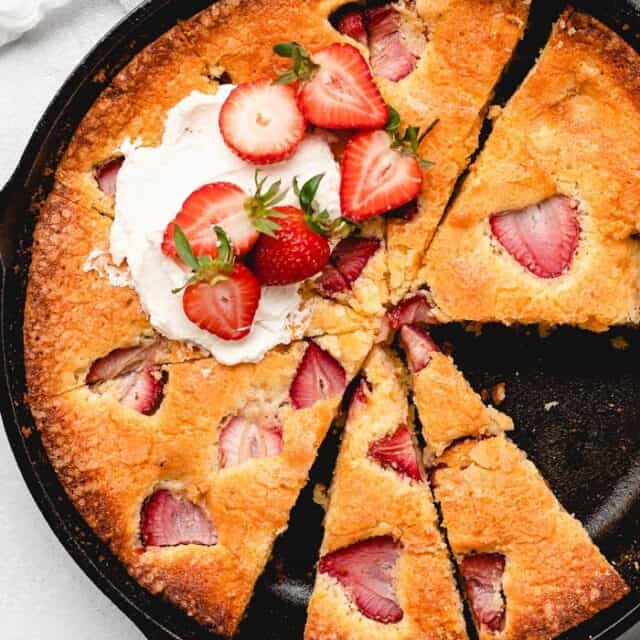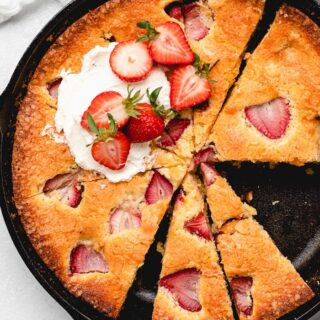 Strawberry Cornmeal Cake
This Strawberry Cornmeal Cake has a delicious tartness that shines against the moist, pleasantly coarse texture of cornmeal with a a crisp sugary topping.
Print
Pin
Rate
Ingredients
For the Cake
3/4

cup

unsalted butter

room temperature

1 1/2

cups

granulated sugar

3

large eggs

room temperature

1

cup

all-purpose flour

sifted

1/2

cup

yellow cornmeal

1/2

tsp

salt

1/3

cup

buttermilk

3

tbsp

plain goat cheese

2

tsp

vanilla paste

1 1/2

cups

fresh strawberries

halved

1/2

cup

fresh rhubarb (optional)

halved

2

tbsp

turbinado sugar
For the Topping
1

cup

heavy whipping cream

1

tsp

vanilla bean paste

1

tbsp

confectioner's sugar

3

fresh rosemary sprigs

up to 4
Instructions
For the Cake
Preheat the oven to 350 degrees. Place a 9" or 10" cast iron skillet in the oven while the batter is prepared.

In a small bowl, combine the dry ingredients: flour, cornmeal and salt. Set aside.

Using the bowl of your stand mixer fitted with a whisk attachment, beat the butter for 2 minutes on high speed. Slowly add the sugar. Cream together the butter and the sugar until light and fluffy, about 5 minutes. Add the eggs 1 at a time, mixing well after each addition, remembering to scrape down the sides of the bowl.

Crumble in the goat cheese and turn the mixer down to low speed.

Slowly add in the dry ingredient mixture, being careful not to over mix. Pour in the buttermilk and vanilla bean paste, mix well to combine all the ingredients.

Remove skillet from the oven and drop a tablespoon of salted butter into the hot skillet, it should sizzle and melt pretty quickly. Once the butter has melted, pour cornmeal cake batter into the hot skillet.

Using a silicone spatula, smooth over the top of the batter. Evenly place strawberries (and rhubarb if using) on top of the cake, then sprinkle with turbinado sugar.

Bake for 45-55 minutes or until a toothpick inserted in the middle comes out clean.

Allow the cake to cool for 10-15 minutes.
For the Whipped Cream
Pour the heavy whipping cream into a small bowl. Add in vanilla bean paste and rosemary sprigs. Stir to combine.

Cover, place in the refrigerator and allow to sit for at least 2 hours. Overnight is best.

Remove infused cream from the fridge. Sprinkle in confectioners sugar.

Beat cream on medium-high speed until thick, stiff peaks form, about 4-5 minutes.
Video
Notes
* If you don't have vanilla bean paste on hand, replace with pure vanilla extract.
* Fine yellow cornmeal is best for this recipe. Stone-ground will also work, the texture will just be a bit more rustic.
Nutrition
Calories:
572
kcal
|
Carbohydrates:
65
g
|
Protein:
7
g
|
Fat:
32
g
|
Saturated Fat:
19
g
|
Trans Fat:
1
g
|
Cholesterol:
151
mg
|
Sodium:
214
mg
|
Potassium:
159
mg
|
Fiber:
2
g
|
Sugar:
45
g
|
Vitamin A:
1143
IU
|
Vitamin C:
16
mg
|
Calcium:
62
mg
|
Iron:
2
mg