This Strawberry Shortcake Cake fills fluffy and moist vanilla cake with sweet, aromatic macerated strawberries and berry hinted Swiss meringue buttercream. Each bite is fruity, tender and melts in your mouth.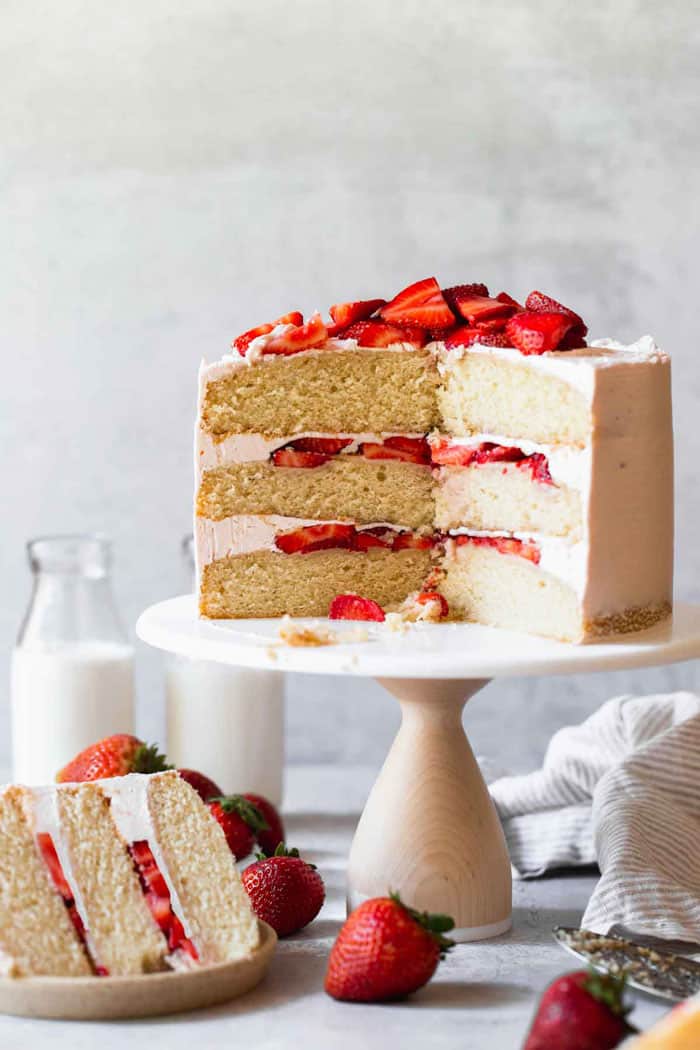 On the rare occasion when I'm trying to clean up my diet, I struggle to give up sugar. Shocking, I know. Saying no to the midnight cookie and wiping frosting off my finger instead of licking it are more difficult than missing a juicy episode of RHOA. And I'm talking drink-throwing, reunion night juicy!
To get myself through those trying times, I rely on nature's candy to get me through. I'm talking about a natural sugar high that can only come from fresh fruit. I absolutely love blueberries, peaches, apples, bananas and just about any other piece of fruit you can name. But, my absolute favorite fruit? Ruby red, pucker your lips strawberries!
Luckily for both you and I, strawberries are back on the scene! Now, I know that a Strawberry Shortcake Cake recipe is far from healthy but I mean, is there a better trio than cake, frosting and strawberries? I think not. It has a light and beautifully fluffy cake similar in texture to my Sour Cream Cake, not like the Cream Cheese Pound Cake so many here love.
So, today we're adopting the old adage of "anything in moderation" because you deserve cake and so do I.
The Heart and Soul of this Strawberry Shortcake Cake Recipe
Cuisine Inspiration: American Dessert Classics
Primary Cooking Method: Baking
Dietary Info: Vegetarian, Contains Dairy and Gluten
Key Flavor: Sweet, Creamy Strawberry
Skill Level: Intermediate
Sweet Highlights:
1. Moist Vanilla Cake: We start with a vanilla cake that's tender, moist, and positively radiating buttery goodness. It's the kind of cake that makes you close your eyes and sigh with dessert satisfaction.
2. Strawberry Swiss Meringue Buttercream: Not your average frosting! This is a silky, cloud-like strawberry embrace that delicately balances sweetness and fruitiness, swirled atop our cake with artistic flair.
3. Macerated Strawberries Filling: Juicy, tender, and bursting with natural sweetness, these berries aren't just a filling; they're a surprise in every bite, making your taste buds dance with summer vibes!
4. Sophisticated and Fun: This isn't just a cake; it's a statement piece. With its stunning layers and gourmet buttercream, it's a joy to both make and eat. Perfect for impressing at any gathering (or, you know, a Tuesday night treat).
5. Versatile in Presentation: Whether you're a "rustic" or "refined" type of baker, this cake can match your style. Dress it up with whole strawberries and mint leaves, or let the layers speak for themselves with a simple yet elegant design.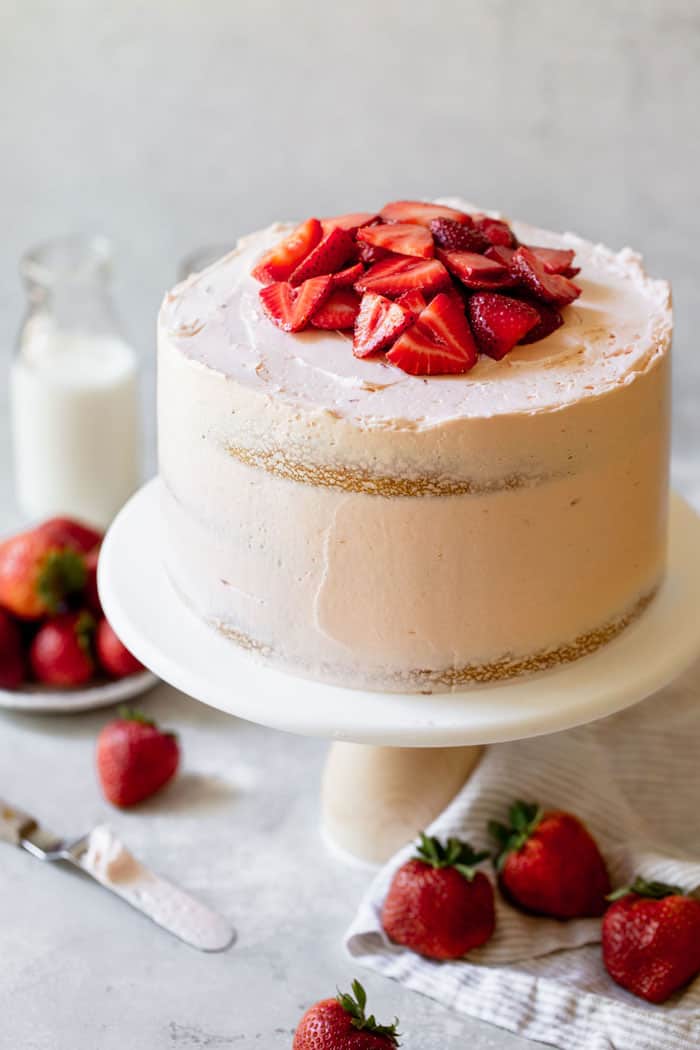 How to Pick the Best Strawberries for this Cake
Did you know that there are more than 600 strawberry varieties? The varying sizes, flavors and textures are astounding! Strawberries are extremely versatile; they're great in salads, desserts, sauces and snacks. They're in season from late April through August so there's no better time than now to take advantage.
When selecting strawberries, look for firm, plump berries that have a shiny, deep red color and intact green stems. Stay away from berries that are dull in color; once picked, strawberries won't continue to ripen.
Ingredients
Time spent in the kitchen baking is therapeutic for me. Sifting flour and mixing batter bring me to my ultimate happy place. This recipe is one that was not only a pure joy to develop but also a joy to share with you all.
Yes, the ingredient list is a bit hefty but don't get overwhelmed. Let's break down a few of the things we're working with:
Sour Cream & Whole Milk
Both ingredients help to add moisture to the cake without thinning out the batter. Adding fat also helps to control browning, activate baking soda and create a creamier texture.
Strawberries
When perfectly ripe, strawberries are sweet, aromatic and herbaceous. I love the way a strawberry seamlessly pairs with the woody, spiced flavors of vanilla.
Granulated Sugar
Similar to a strawberry shortcake, we want this cake to be quite sweet. Granulated sugar will help to develop a caramel-like flavor in both the cake and the macerated berries.
Egg Whites
To balance the decadent cake and sweet berries, it's essential to use a light, airy buttercream frosting. Egg whites allow us to incorporate air into the frosting and create a pillowy soft result. This lightens the cake so it is similar in color to this white cake recipe,
Strawberry Jam
Incorporating strawberry jam into the buttercream adds an extra punch of berry flair.
Red Food Coloring
Want that extra pop of color? A few drops of red food coloring is just what you need!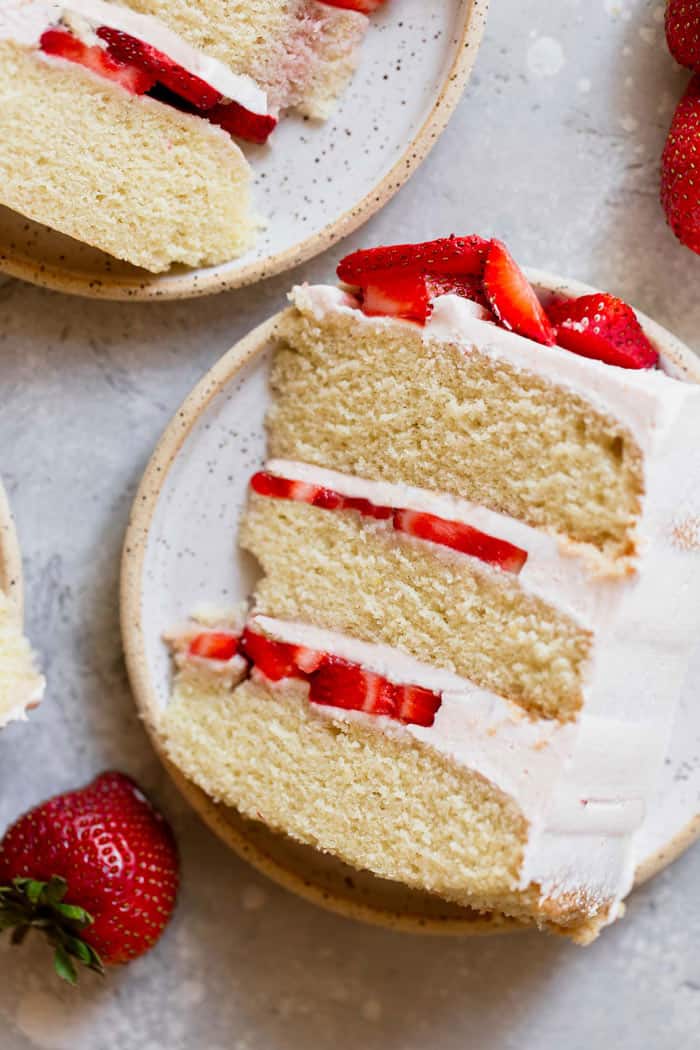 How to Make Strawberry Shortcake Cake
Baking the Cake:
Preheat your oven to 325°F, ready your pans.
Beat oil, butter, and sugar, then add eggs one by one.
Slow-mix in the dry ingredients, followed by sour cream, milk, and vanilla.
Divide the batter among pans, bake for 17-27 minutes, then cool.
Prepping the Berries:
Mix strawberry slices with sugar and vanilla, then let them mingle.
Making the Buttercream:
Warm egg whites, sugar, and salt over simmering water until smooth.
Whisk until stiff peaks form, then blend in butter, vanilla, strawberry jam, and optional food coloring.
Assembling the Cake:
Level the cake layers if needed.
Start with a buttercream dollop on the cake board, add the first cake layer.
Pipe a buttercream dam, add berries, and cover with more buttercream.
Repeat with the next layer, then add the final layer and frost.
Chill for a bit for the crumb coat to set, then finish frosting.
Storage
If you've made it this far, you've put a lot of work in and I'm sure y'all are not looking to waste that. A frosted cake will last 3-4 days at room temperature. Just be sure either use a cake cover or an overturned bowl to protect the cake.
If you prefer refrigeration or freezing, tightly wrap the cake in plastic wrap and aluminum foil. In the fridge, the cake will last 3-4 days. In the freezer, 3 months.
Best Strawberry Recipes
Don't stop here! If you love this Strawberry Shortcake Cake Recipe, make use of the sweetest season of the year by whipping up some of my best berry baked goods: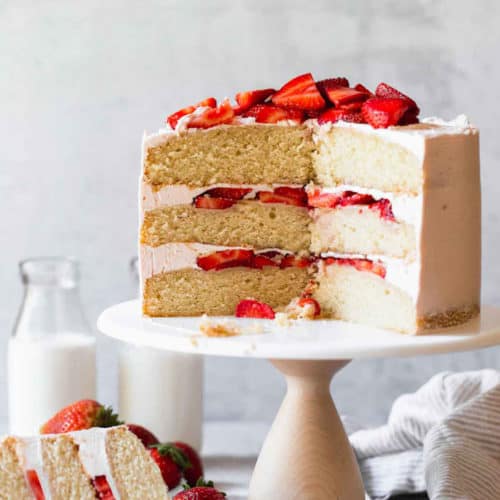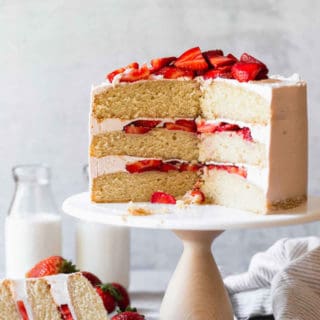 Strawberry Shortcake Cake
This Strawberry Shortcake Cake fills fluffy and moist vanilla cake with sweet, aromatic macerated strawberries and berry hinted Swiss meringue buttercream.
Print
Pin
Rate
Ingredients
For the Vanilla Cake
2/3

cup

vegetable oil

1/3

cup

unsalted butter

room temperature

1 1/2

cup

granulated sugar

3

large eggs

2 3/4

cup

all purpose flour

sifted

1 1/2

tsp

baking powder

1

tsp

salt

1/2

tsp

baking soda

1 1/4

cup

sour cream

room temperature

1/3

cup

whole milk

1

tbsp

vanilla extract

or vanilla paste for a deep vanilla flavor
For the Mascerated Berries
2

cups

sliced strawberries

1/3

cup

granulated sugar

2

tsp

vanilla extract
For the Buttercream
8

large egg whites

2 1/4

cup

granulated sugar

1/4

tsp

salt

3

cup

unsalted butter

(6 sticks or 1 1/2 lbs)

1

tbsp

vanilla extract

3

tbsp

melted strawberry jam

up to 4 tbsp

Optional: red food coloring
Instructions
For the Cake
Start by preheating your oven to 325°F then liberally spray 3 (8-inch) round cake pans with non-stick baking spray or grease and flour.

In your mixer bowl, add oil and butter and beat for 2 minutes on high speed. Slowly add in sugar and beat on high speed for an additional 4-5 minutes until very pale yellow and fluffy. Next, add eggs, one at a time, combining well after each addition and scraping down the sides as needed.

Turn your mixer down to its lowest speed, and slowly add flour into batter in two increments then add baking powder, salt and baking soda. Be careful not to over beat.

Lastly, add sour cream, milk, and vanilla extract, scrape down sides and mix until just combined and turn off mixer.

Evenly pour cake batter into prepared baking pans and place in oven to bake for 17-27 minutes or until a toothpick inserted into the center of the cake comes just barely clean but don't over bake!! I personally start checking the cakes around 16 minutes just to be sure since everyone's oven is different.

Remove cakes from oven and rest in pans for 10-15 minutes. Invert cakes from pans onto cooling racks until cooled.
For the Berries
Stir strawberry slices with sugar and vanilla to combine in a medium sized bowl. Cover and set aside.
For the Buttercream
Put an inch of water in a medium saucepan and bring to a gentle boil. In the bowl of your stand mixer, stir egg whites, sugar and salt until combined.

Place mixing bowl over saucepan but be careful not to let the water touch the bottom of the mixing bowl.

Stir with a spatula until the sugar dissolves and reaches a temp of 160 F, about 5 minutes. While you stir, scrap the sides of the bowl to ensure no sugar grains are lurking on the sides.

Remove mixing bowl from heat and add to stand mixer with whisk attachment. Whisk on medium high speed until stiff peaks form. They will be glossy. This can take up to 10 minutes. The bowl will continue to cool down in the process as well.

Reduce the speed to low and add 1 to 2 tablespoons of butter at a time making sure to mix in thoroughly after each addition. When butter is incorporated, add vanilla extract, strawberry jam and if desired, food coloring to reach a soft pink color, and beat on low until incorporated then frost or refrigerate until ready to frost.
To Assemble
To assemble the cake, use a cake leveler or serrated knife to cut the domes off the top of the cake if desired. Place a dollop of buttercream on your cake board and place the bottom layer of cake on top of that.

Place half of the swiss meringue buttercream in a large piping bag fitted with a large open round tip or with the end cut off. Pipe a thick dam of buttercream along the outside edge of your cake.

Add half of the strawberries to the layer inside of the dam of buttercream. The dam will make sure the berries stay inside.

Pipe another layer of buttercream over the mascerated strawberries and spread evenly with your offset spatula.

Next add your second layer of cake and repeat all steps (creating the dam, adding the berries inside and spreading the buttercream on top).

Finally add the final layer of cake and frost with the remaining buttercream starting with a crumb coat then allow it to set in the refrigerator for 30 minutes before completing your frosting job. Store your cake in the refrigerator and allow slices to come to room temperature for serving.
Notes
Because this cake has berries, it can spoil quickly.  It should be stored in the refrigerator and after 1-2 days, freeze the remaining slices and bring to room temperature when you want to enjoy.
Nutrition
Calories:
562
kcal
|
Carbohydrates:
53
g
|
Protein:
4
g
|
Fat:
38
g
|
Saturated Fat:
25
g
|
Cholesterol:
103
mg
|
Sodium:
205
mg
|
Potassium:
130
mg
|
Fiber:
1
g
|
Sugar:
40
g
|
Vitamin A:
979
IU
|
Vitamin C:
8
mg
|
Calcium:
51
mg
|
Iron:
1
mg