Strawberry Punch Bowl Cake Recipe has perfect layers of moist pound cake, decadent strawberry hinted cream cheese filling, fresh whipped cream and perfectly in season fresh strawberries create the perfect spring dessert!! If you love strawberries especially in recipes like my Strawberry Cornmeal Skillet Cake, Strawberry Shortcake Cake, Strawberry Pound Cake , Strawberry Shortcake Ice Cream or Strawberry Cheesecake, you will adore this recipe!
Disclosure: I partnered with Pyrex for this post, but all opinions expressed here are my own. I am grateful for authentic partnerships like this.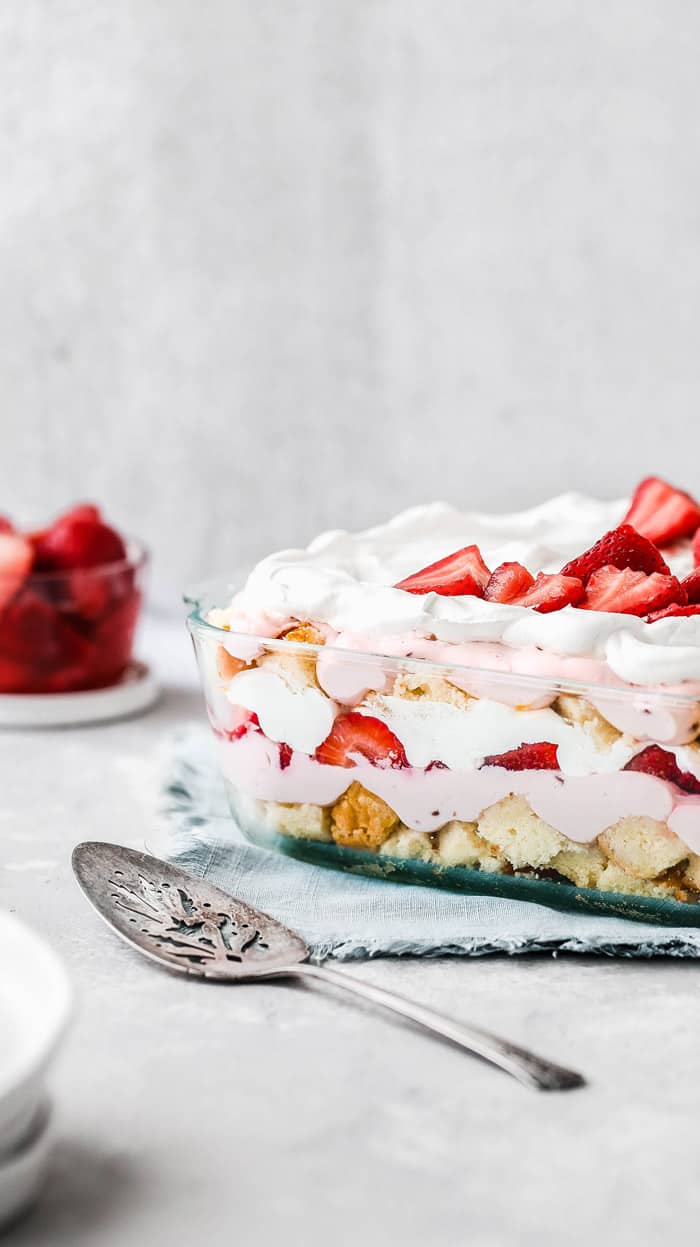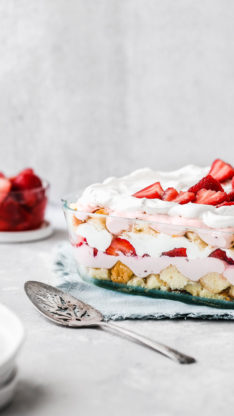 STRAWBERRY PUNCH BOWL CAKE
Spring is one of my favorite times of year in Chicago. As we move through May, the air becomes sweeter and the blossoming greenery promises a beautiful Summer full of new possibilities. Even as I write this, the sun is beaming in through my living room windows, and my anticipation for warmer weather is growing. Get excited with me y'all!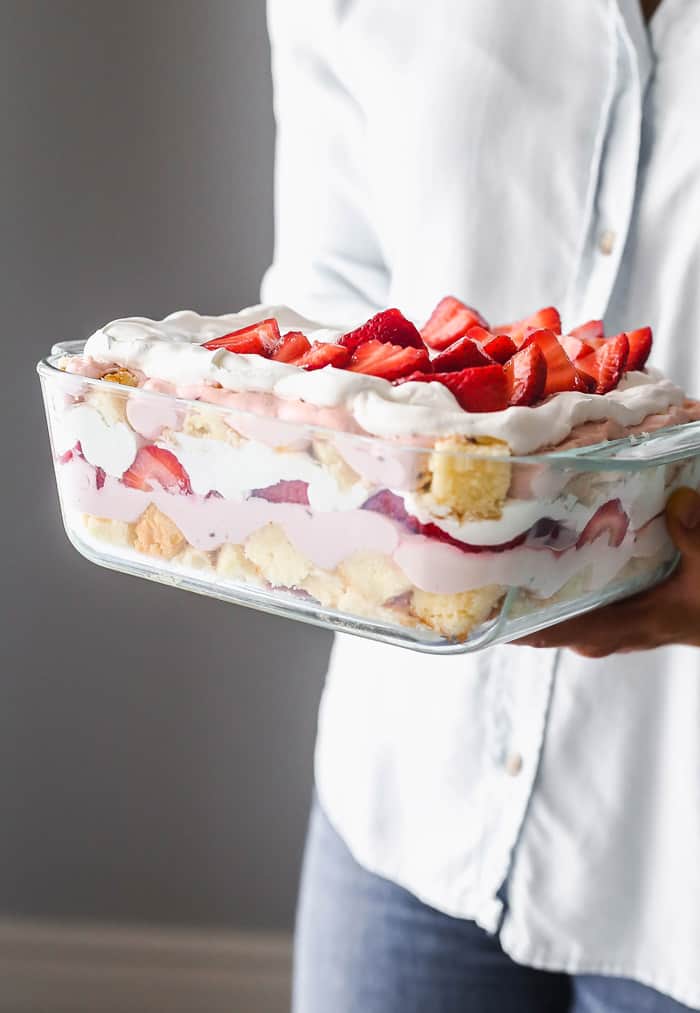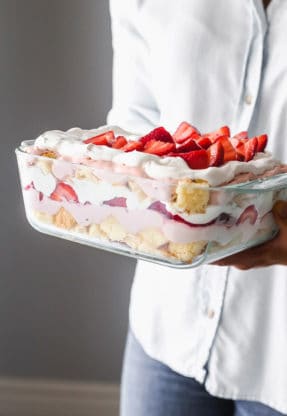 Spring incorporates many different forms of celebration with my favorite being Mother's Day. This year marks my second Mother's Day with my little girl Harmony. I couldn't be more grateful for both her and the opportunity I've been given to be her mom. Becoming a mother has changed my life and given me a new appreciation for each and every one of the women in my life.
I was raised by strong, intelligent women that knew the importance of supporting one another. My Big Mama, Mom and my aunts taught me the importance of balance, confidence, kindness and so much more. Each virtue I was taught made me the woman I am today and allowed me to find success as a businesswoman, a wife, and now, a mother. I look forward to taking all that I have learned and passing it on to Harmony as she grows into the astounding woman I know she's meant to be.
In my family, Mother's Day is always celebrated with a Sunday church service followed by a family brunch. Aunts, Sisters and Cousins gather around the table with their children to share a delicious spread. The fellas usually treat us by either taking the mothers out or attempting to create the feast themselves. If the fellas are so daring, I still always try to assist a bit (since they need it!). You shouldn't be surprised to know that your homegirl always brings dessert. This year is no exception.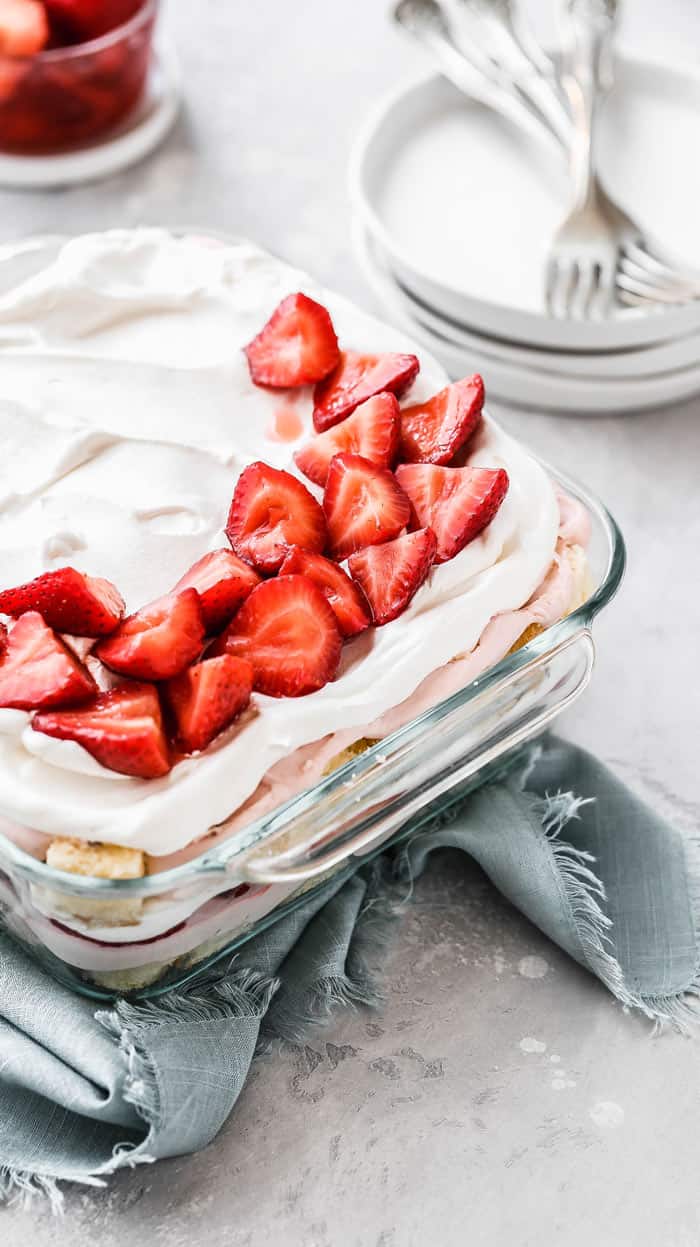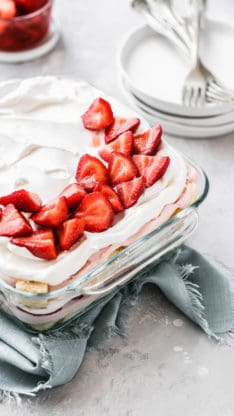 ADDING STRAWBERRIES TO PUNCH BOWL CAKE
With Spring comes new changes to the fruits and vegetables that are available to us. One of my favorite Spring fruits is Strawberry; it's bright coloration, balanced sweetness and crisp texture make for some incredible recipes. The recipe I'm sharing with you today is a true Strawberry masterpiece made even more special by the purpose its serving this year: My Strawberry Shortcake Punch Bowl Cake in new Pyrex Deep bakeware.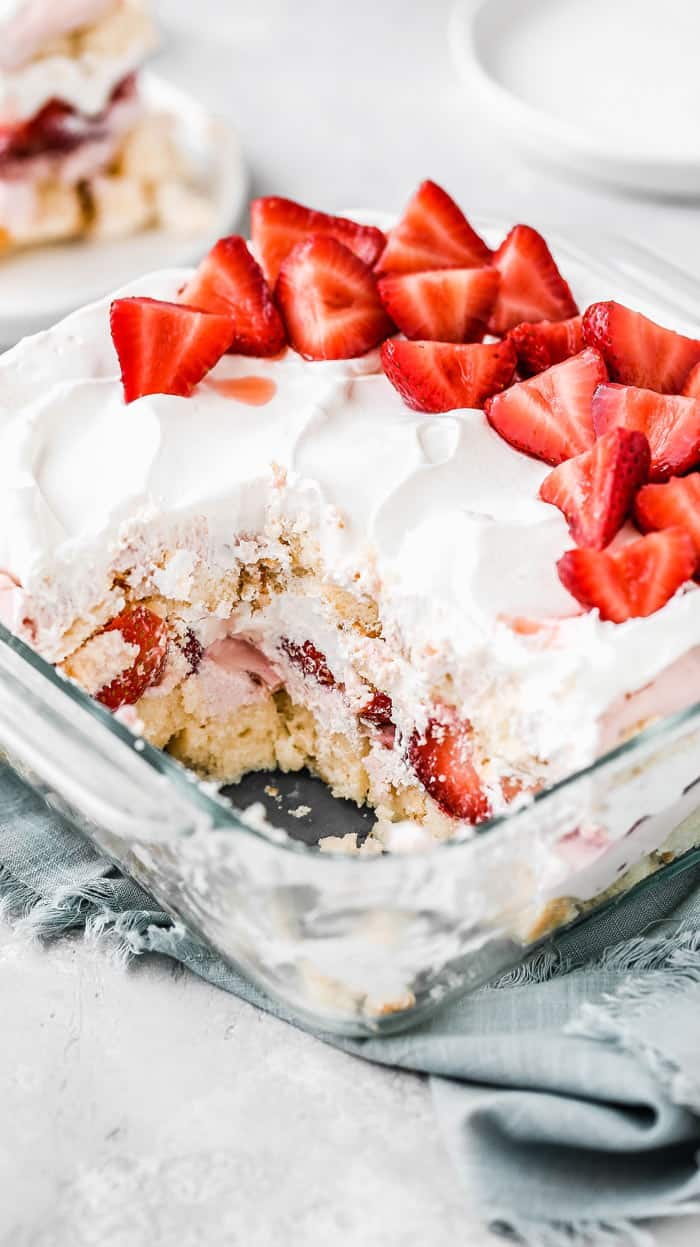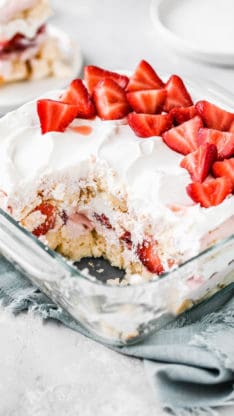 WHAT IS A PUNCH BOWL CAKE?
Yes, it's as good as it sounds. This Strawberry Punch Bowl Cake contains layers of fresh Spring strawberries, moist pound cake, strawberry cream cheese filling and whipped cream. It is the perfect spring dessert.
The strawberries are fresh and crisp without being overwhelmingly sweet. Although the strawberry cream cheese layer might sound interesting, it offers a creaminess and added tang that balances out all the sweet flavors. Both the whipped cream and pound cake create textural elements that play with one another and create a journey on the taste buds. Buckle your seatbelts people.
HOW TO UPGRADE A STRAWBERRY PUNCH BOWL CAKE RECIPE
This year I'm upgrading this recipe and bringing it to a whole new level. If you know me, you know that my obsession with all things Strawberry Shortcake runs deep. It's my achilles heel, my first love and my definition of all things Spring. Mhm, it's that serious folks. So when Pyrex introduced me to their latest product I was beyond thrilled. The new Pyrex Deep bakeware collection is now the deepest glass baking dish collection available in the U.S. They're capable of holding up to fifty percent more than your current glass dishware. Two words: Mic Drop! So as I'm preparing to whip up my classic southern punch bowl cake for this year's Mother's Day festivities, I'm busting out my newest dishware and doubling my layers. My new Pyrex Deep means more room for creamy strawberry goodness without any messy spillover. You can grab them at Walmart, Amazing or Pyrexhome.com.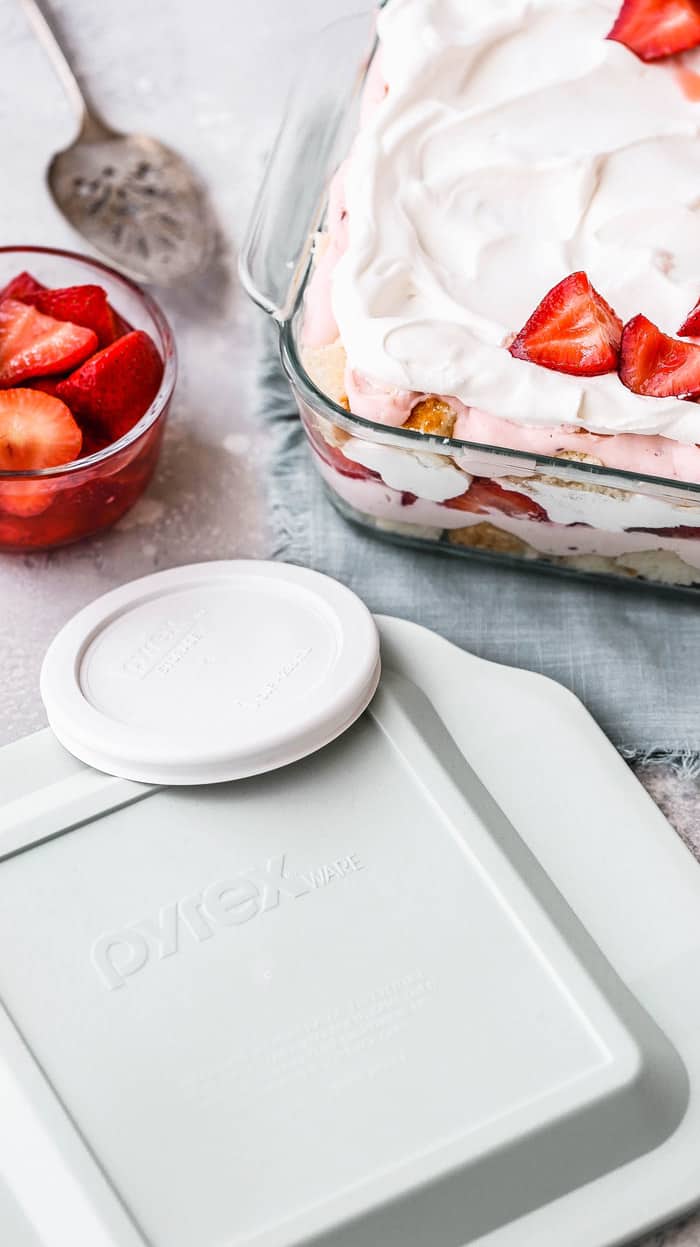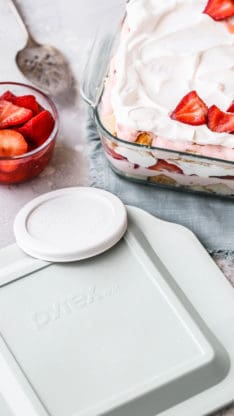 More room in your dishware means bringing more to the table for all of your loved ones to enjoy. I challenge you to explore what new Pyrex Deep can do for you. It could be layered lasagnas, doubled peanut butter stuffed brownies or larger Sunday pot roasts. You finally have the room to have fun in the kitchen by creating larger varieties of the recipes you know and love. Don't be afraid to go crazy. You can learn even more about Pyrex Deep at www.PyrexHome.com.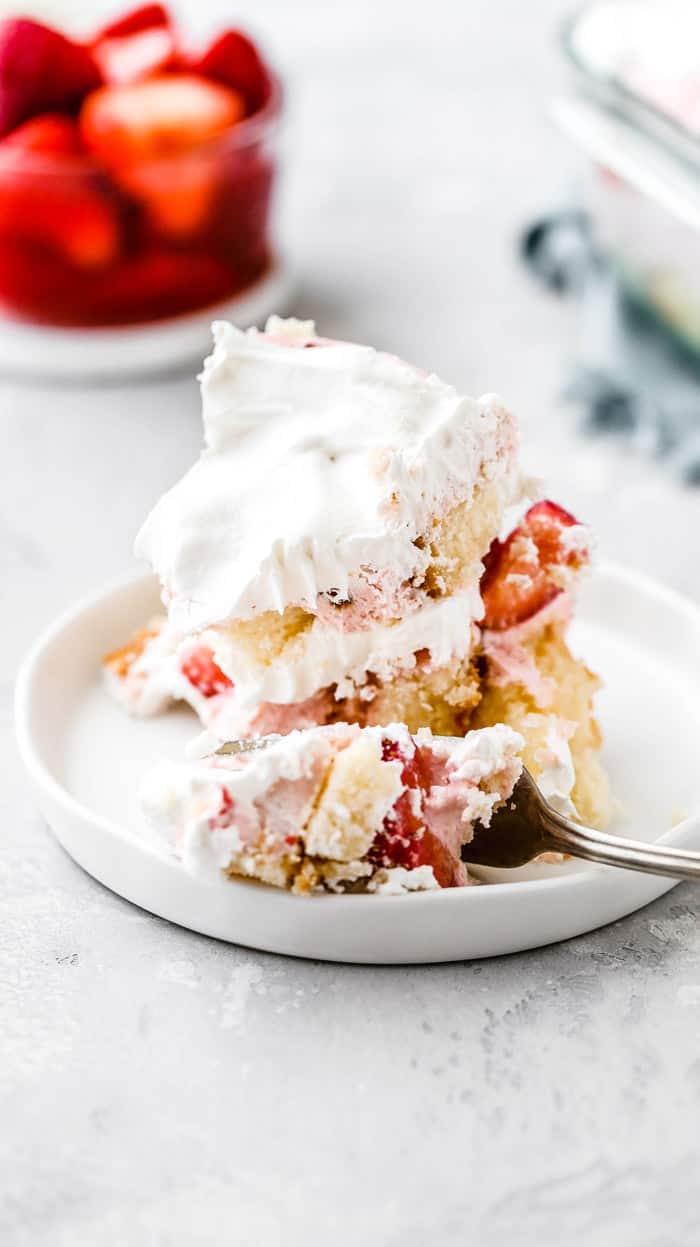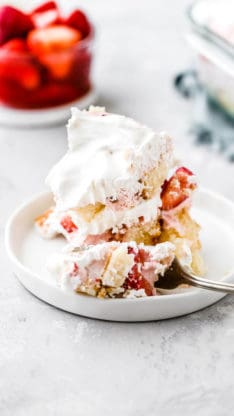 Whether you're celebrating Mother's Day or simply acknowledging all that Spring has to offer I encourage you to appreciate the little things. Take a moment to acknowledge a blossoming tulip, make a phone call to a loved one just to say thank you. To all my fellow Mothers out there: may you be loved, may you be appreciated and may you feel supported not just today but everyday of the year. P.S. And may someone special serve you a big hunk of this punch bowl cake.
*Did you make this recipe? Please give it a star rating and leave comments below!*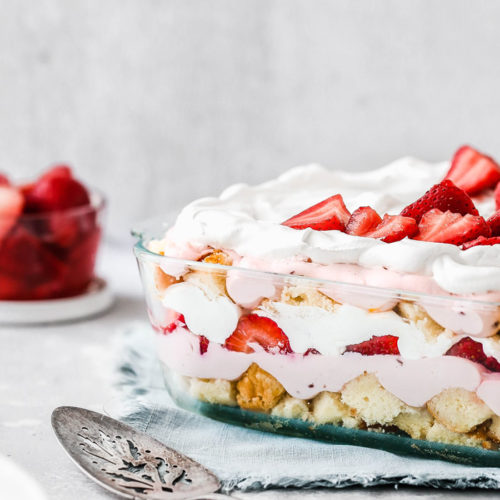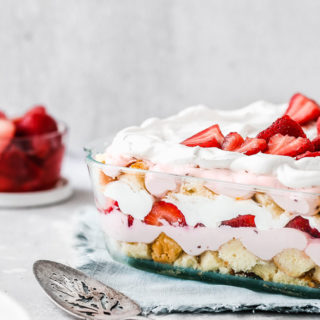 Strawberry Punch Bowl Cake Recipe
Perfect layers of moist pound cake, decadent strawberry hinted cream cheese filling, fresh whipped cream and perfectly in season fresh strawberries create the perfect spring dessert.
Print
Pin
Rate
Ingredients
For the Berries
1

pint

strawberries

sliced

3

tbsp

granulated sugar

1

tbsp

lemon juice

or lime juice
For the Filling
2

cream cheese blocks

16 ounces total

1

cup

sifted powdered sugar

4

tsp

strawberry preserves

melted
Instructions
For the Cake
Once cake has cooled to room temperature in pan, cut cake into cubes and set aside.
For the Berries
In a large bowl, add sliced strawberries, granulated sugar and lemon or lime juice.

Toss together and set aside until natural juices develop.
For the Filling
In a large bowl combine the cream cheese, powdered sugar, and the melted strawberry preserves; beat with an electric mixer on medium speed until blended and smooth.

Add food coloring if you desire it to be a pink color. Stir in a 1/2 cup of whipped cream. Set aside.
To Assemble
Add cubes of cake to bottom of large Pyrex Deep baking dish and sprinkle with some of the orange juice.

Spread a layer of the filling next then add mascerated strawberries then top with whipped cream layer. Repeat the steps as much as possible until you reach the top of the dish then top with whipped cream and garnish with fresh strawberries then refrigerate until serving.
Notes
Cake notes: Cake recipe should be halved and baked in a 8x8" pan and then baked for about 45-55 minutes or until baked through. After cake has cooled then cut cake into cubes.
Nutrition
Calories:
167
kcal
|
Carbohydrates:
29
g
|
Protein:
7
g
|
Fat:
2
g
|
Saturated Fat:
1
g
|
Cholesterol:
22
mg
|
Sodium:
333
mg
|
Potassium:
198
mg
|
Sugar:
23
g
|
Vitamin A:
105
IU
|
Vitamin C:
26.5
mg
|
Calcium:
155
mg
|
Iron:
0.6
mg