This healthier, plant-based vegan fried chicken is made with fleshy fried oyster mushrooms and a crispy crunchy flavorful breading then topped with a spiced syrup!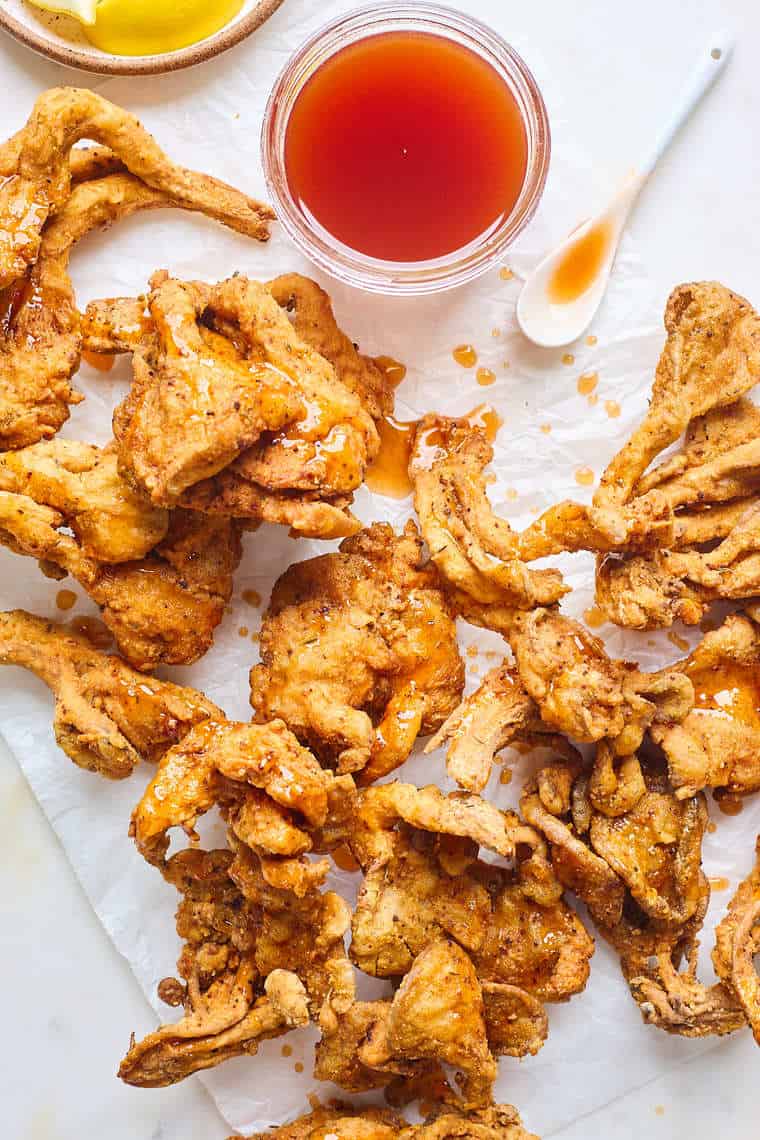 Okay, you might be thinking to yourself: vegan fried chicken? Really? But I'm gonna need y'all to go ahead and check yourselves because today's recipe is spectacular.
Celebrity chef and cookbook author Charity Morgan is gracing us with her Homemade Vegan Fried Chicken with Spicy Maple Syrup and you might just never turn back to the real thing.
Okay, maybe not, but you should at least consider the occasional healthy swap out!
Whether you're a plant-based pro, a newbie, or just looking to shake things up, my girl Charity Morgan and her latest release Unbelievably Vegan have got you covered. Charity, a private chef to the stars, is a mastermind when it comes to creating vegan recipes that never miss the mark on flavor and indulgence.
Unbelievably Vegan is an invaluable source of information on all things meat-free, while still providing the comfort food we all need sometimes.
Today, my followers and I are getting an exclusive (and delicious) opportunity to cook straight out of Charity's increíble new book. This vegan fried chicken recipe is out of this world! Trust me.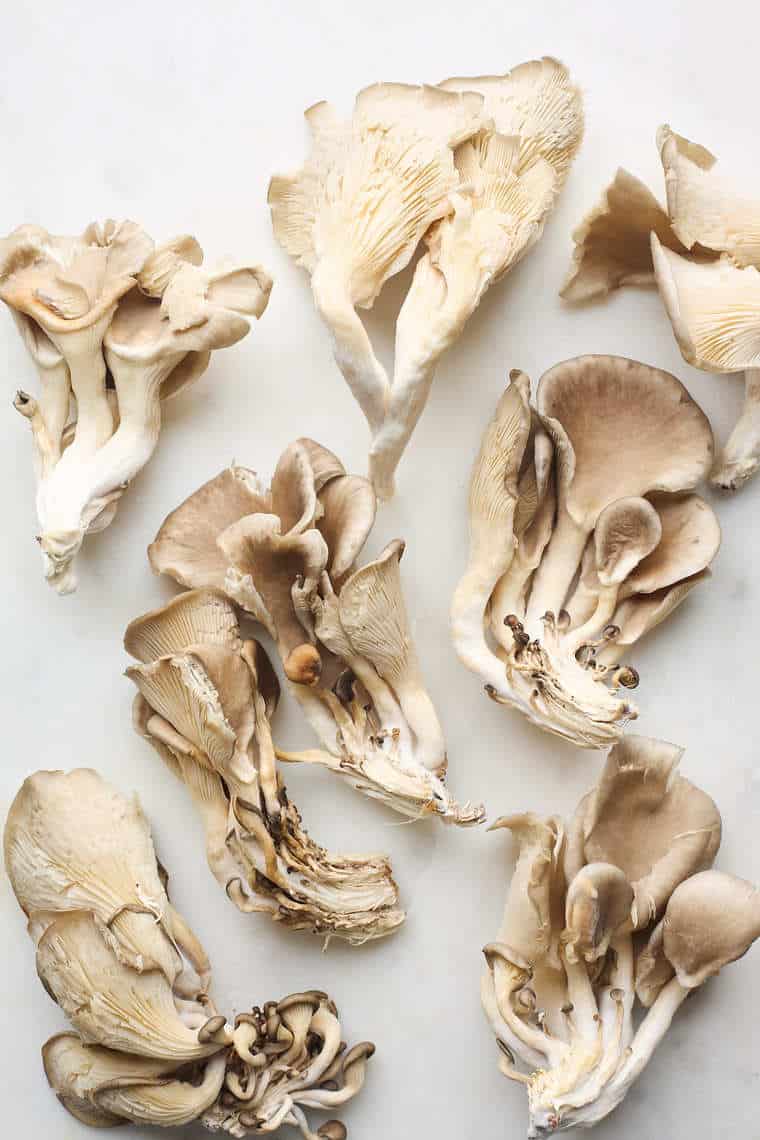 Fried Oyster Mushrooms
Vegan fried chicken recipes can be made with various kinds of "protein". Some folks prefer to use tofu, others cauliflower. But, most often, the best result comes when you use oyster mushrooms.
Oyster Mushrooms do a fantastic job of mimicking the pull-apart, tender texture of dark meat chicken. They're also capable of retaining a whole lot of flavor!
How To Make Vegan Fried Chicken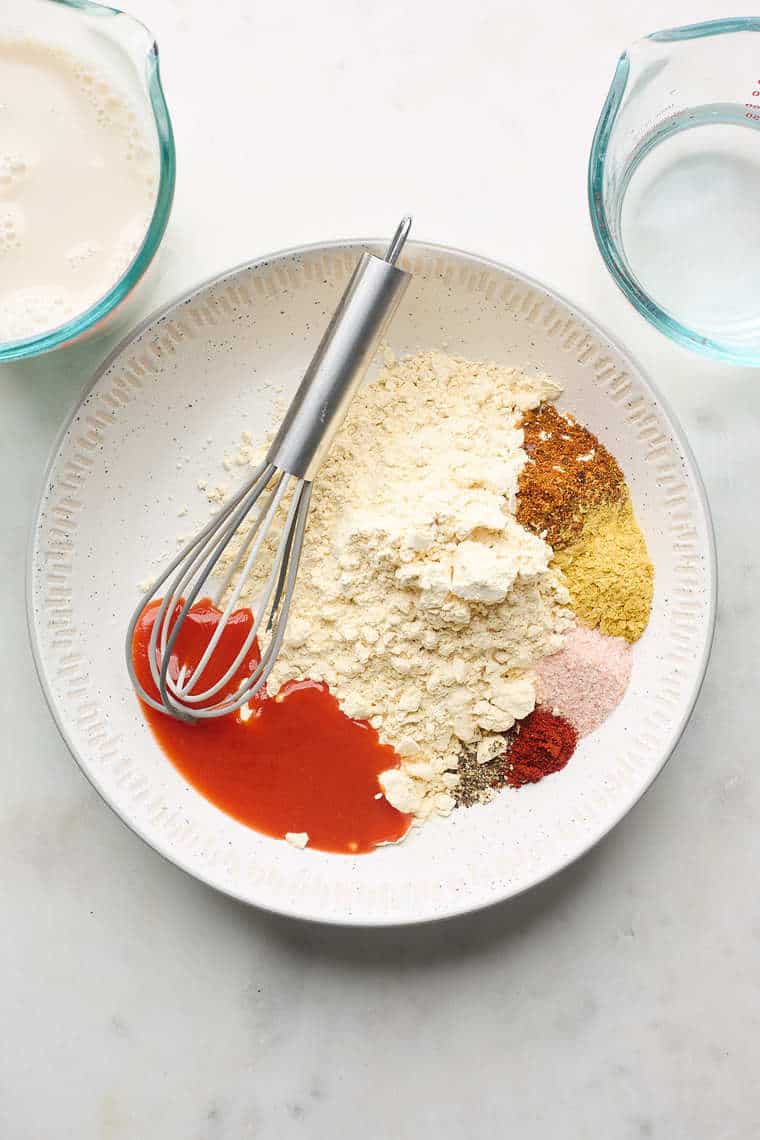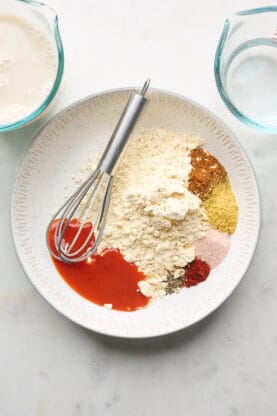 Make Seasoned Flour
This recipe requires a seasoned flour that will really make sure that the coating gets a bunch of flavor in each and every bite. Cajun seasoning is used along with paprika, garlic powder and onion powder.
Fry in a Dutch Oven
Frying in a shallow pan will cause overflow. Prevent a hot mess by using a deep Dutch oven, a deep cast-iron skillet or even a heavy-bottomed stock pot.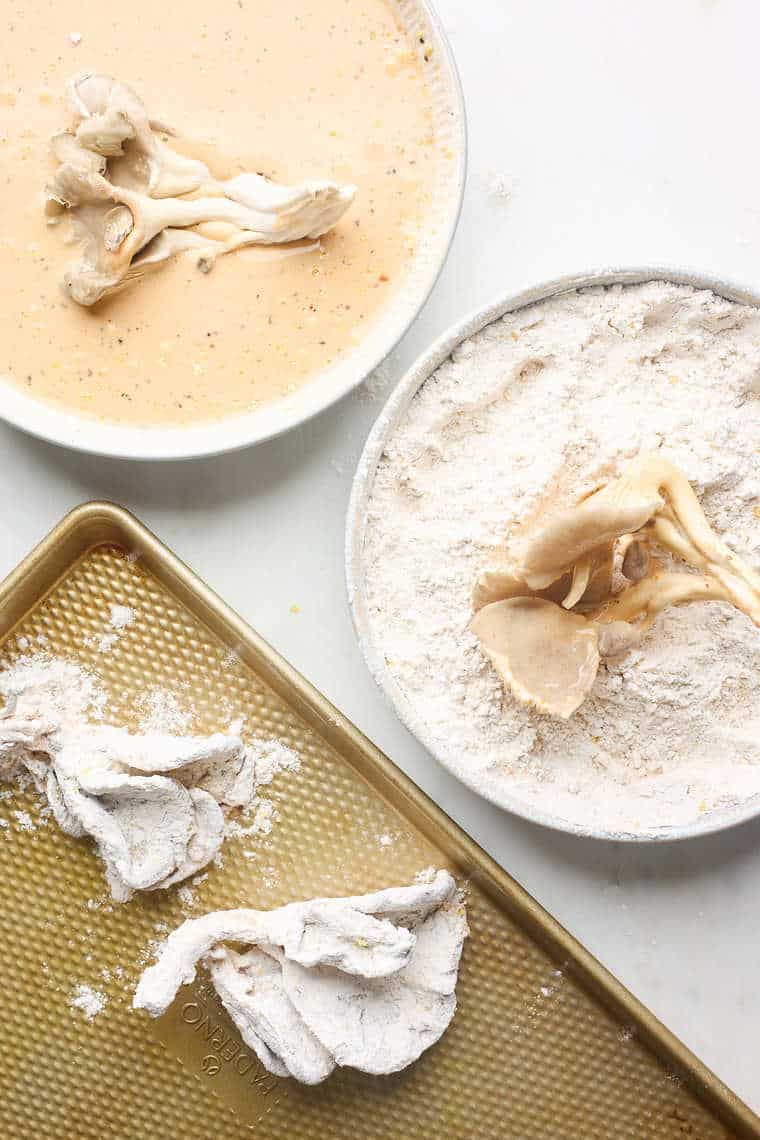 Set Up a Fry Station
Being prepared is the best way to prevent a dangerously chaotic situation. At the center of your fry station should be your Dutch oven, to left, the prepped and ready-to-fry chick'n and to the right, a cooling rack set over a paper towel-lined baking sheet. Be sure to also have stainless-steel tongs or a spider strainer for lowering and removing the chicken from the pot.
Use a Thermometer
You'll need to monitor the temperature of your oil using a deep-fry thermometer; the oil should remain at a steady 350 degrees.
Cool Before Serving
After draining the chick'n, cool it for at least 5-10 minutes. Proper cooling will set the crust and ensure that the mushrooms are fully cooked and settled. If you're frying in batches, preheat the oven to its lowest temperature and keep the chick'n on a baking sheet in there until ready to serve.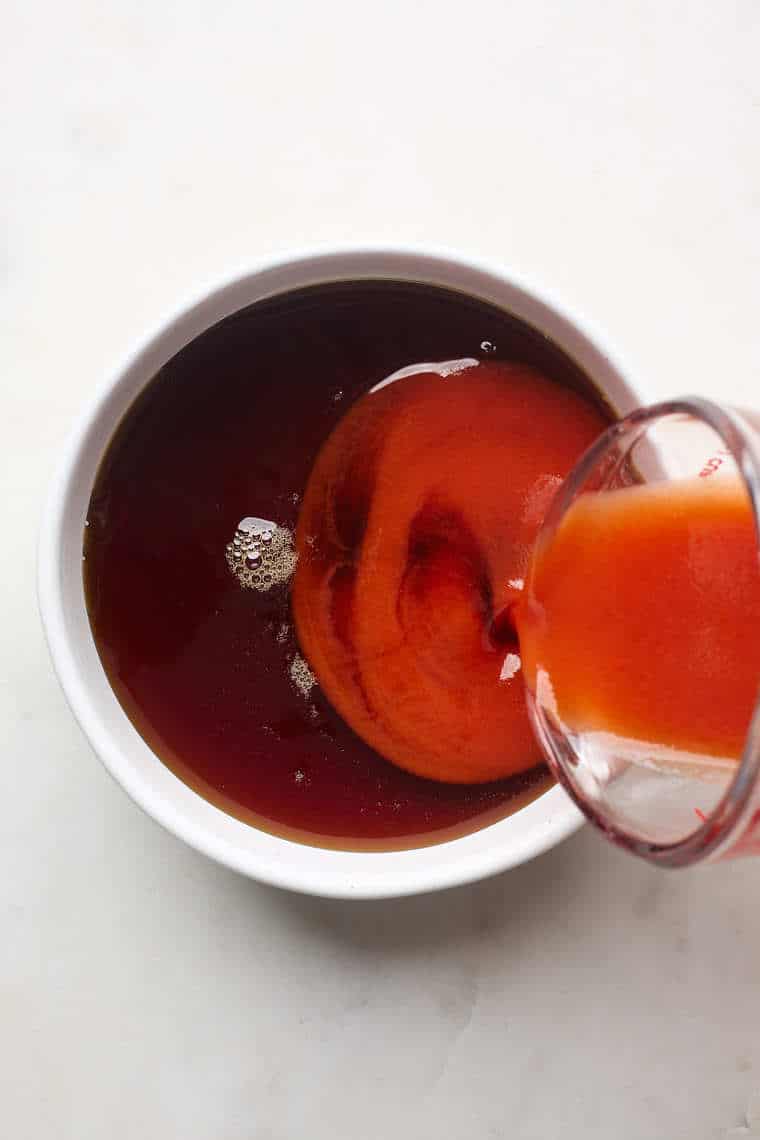 Spicy Maple Syrup Glaze
The chick'n alone is crispy, crunchy, and so well-spiced. But, what takes this recipe over the edge is the spicy maple syrup. I mean, my GOD y'all! That drizzle of sticky heat is straight up addictive.
To make it you'll need:
Maple Syrup

Frank's Red hot sauce
That's it! I'd strongly recommend investing in a high-quality maple syrup: it really makes all the difference. Not only is the taste better but the texture is smoother.
Tips
For less mess,

designate one hand for the wet dredge and one for dry; it'll make for easier clean up.

Best oil for frying mushrooms-

Charity recommends using rice bran oil and I agree; it's flavorless and has a high smoke point. If you can't get your hands on it, peanut or canola oil will also work.

The oyster mushrooms in this recipe can be replaced with

extra firm tofu, seitan, or cauliflower. It will drastically change flavor and texture but in a pinch each of those options can work.

Gluten-free-

This recipe can easily be made gluten-free by swapping out the all purpose flour for a cup for cup variety.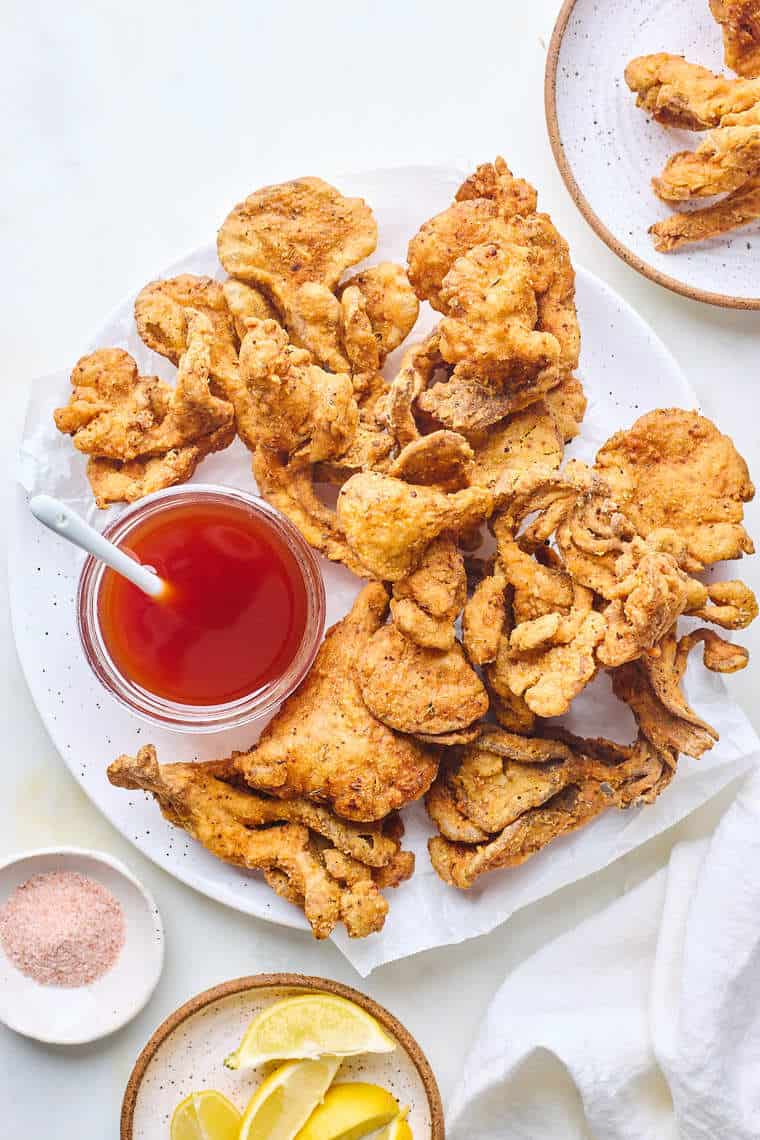 How To Serve It
This homemade vegan chicken is bad all by itself! I could munch on it all day long. Charity serves her recipe with a side of sticky-spicy maple syrup, which is honestly mind-blowing. Add a waffle to the mix and you've just opened up the best brunch spot in town: your kitchen.
Vegan fried chicken will pair well with anything you'd serve regular fried chicken with! Cornbread, greens, biscuits, coleslaw, etc.
Leftover Fried Oyster Mushrooms
Allow any leftover vegan chicken to cool completely on a cooling rack set over a paper towel lined baking sheet. Then, line an airtight container with paper towels and carefully transfer it in. The paper towels will absorb any condensation and keep the chick'n crisp. Leftover fried chicken will keep in the fridge for 2-3 days.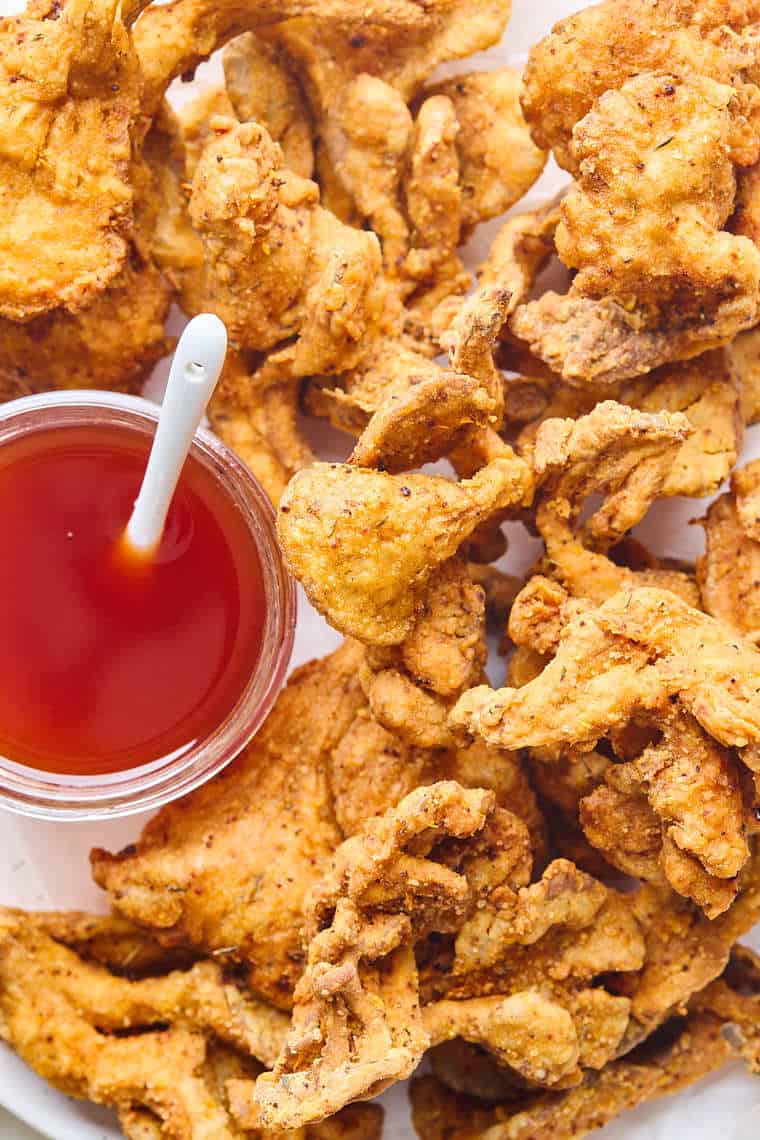 Reheating Instructions
If you're lucky enough to have leftovers AND an air fryer, reheating is a snap. Just toss the vegan fried chick'n in the fryer basket and heat at 375 for 3-4 minutes, or until crisp and heated through.
Don't have any air fryer? All good! Preheat the oven to 375 degrees, place the chick'n on a baking sheet, and heat for about 10 minutes.
Best Vegan Recipes
I may not be a vegan but I'm all about introducing more plant-based meals into me and my family's diets. I mean, a few extra vegetables don't hurt y'all!
So, if you loved this recipe, try out a few more of GBC's vegan-friendly recipes: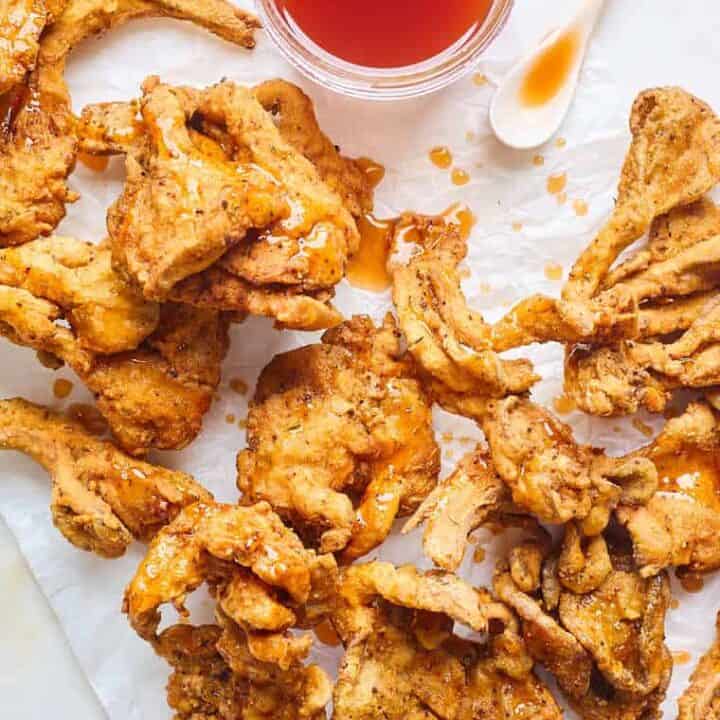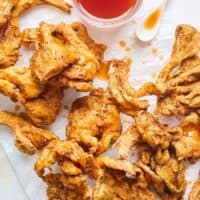 Vegan Fried Chicken
This healthier, plant-based option for fried chicken coupled with spiced syrup and delicate oyster mushrooms makes a perfect party dish for any vegan lover!
Print
Pin
Rate
Ingredients
For the Spicy Maple Syrup
1

cup

pure maple syrup

1/2

cup

hot sauce

Frank's RedHot Sauce
For the Eggz Batter
2

cups

unsweetened unflavored plant-based milk

1

cup

chickpea flour

1/4

cup

hot sauce

Frank's RedHot Sauce

1

tsp

nutritional yeast

1

tsp

fine pink Himalayan salt

or to taste

1/4

tsp

ground black pepper

1/4

tsp

sweet or smoked paprika

1/2

cup

water
For the Seasoned Flour
3

cup

all-purpose flour

or all purpose gluten free flour blend

2

tbsp

cornstarch

2

tbsp

nutritional yeast

1

tbsp

creole-cajun seasoning

2

tsp

dried thyme

2

tsp

garlic powder

2

tsp

onion powder

2

tsp

fine pink Himalayan salt

or to taste

1

tsp

smoked paprika

1/2

tsp

ground black pepper
For the Chick'n
1

lb

fresh oyster mushrooms

broken into large pieces

Neutral oil for frying

rice bran oil was used in the recipe
Instructions
For the Spicy Maple Syrup
Whisk together the maple syrup and hot sauce and set aside.
Make the Eggz Batter
In a medium bowl, whisk together the milk, chickpea flour, hot sauce, nutritional yeast, seasonings and water. Set aside for 10 minutes to thicken.
Make the Seasoned Flour
In a shallow dish, whisk together the flour, cornstarch, nutritional yeast, and seasonings.

Preheat the oven to 200 F or the warming setting. Line a large sheet pan with paper towels.
Make the Chik'n
Working with one piece at a time, dip a mushroom in the batter, then toss it in the seasoned flour, making sure it's evenly coated. Shake off any excess flour. Place on a sheet pan and repeat until all the mushrooms are battered.

In a large pot or Dutch oven, heat 2 inches of oil to 350 F. Add the battered mushroom to the pot a few pieces at a time. (Don't fry too many mushrooms at once- this lowers the temperature of the oil and results in soggy, oil-soaked chik'n). Fry until golden and crispy, 2 to 3 minutes per side. Transfer the fried mushrooms to the prepared sheet pan and keey warm in the oven while frying the remaining mushrooms. Let the temperature of the oil return to 350F before frying each batch, adding more oil if necessary.

Serve warm, drizzled with the spicy maple syrup.
Notes
When coating the mushrooms, use one hand for battering and one hand for dredging in the flour.  This way your mushrooms are beautifully coated without all the mess.
Nutrition
Calories:
553
kcal
|
Carbohydrates:
115
g
|
Protein:
17
g
|
Fat:
4
g
|
Saturated Fat:
1
g
|
Polyunsaturated Fat:
1
g
|
Monounsaturated Fat:
1
g
|
Sodium:
2030
mg
|
Potassium:
875
mg
|
Fiber:
8
g
|
Sugar:
42
g
|
Vitamin A:
1051
IU
|
Vitamin C:
23
mg
|
Calcium:
212
mg
|
Iron:
7
mg