This deliciously creamy and smooth Banana Cheesecake is completely NO BAKE! So easy and so delicious and filled with layers of a wafer crust, silky vanilla custard pudding, creamy cheesecake, fresh banana and whipped cream topping! If you love easy banana desserts like this, definitely try my Banana Pudding Cheesecake Bars, Classic Banana Pudding, and Banana Pudding Milkshakes!
Decadent No Bake Banana Cheesecake Recipe! So Easy and Delicious!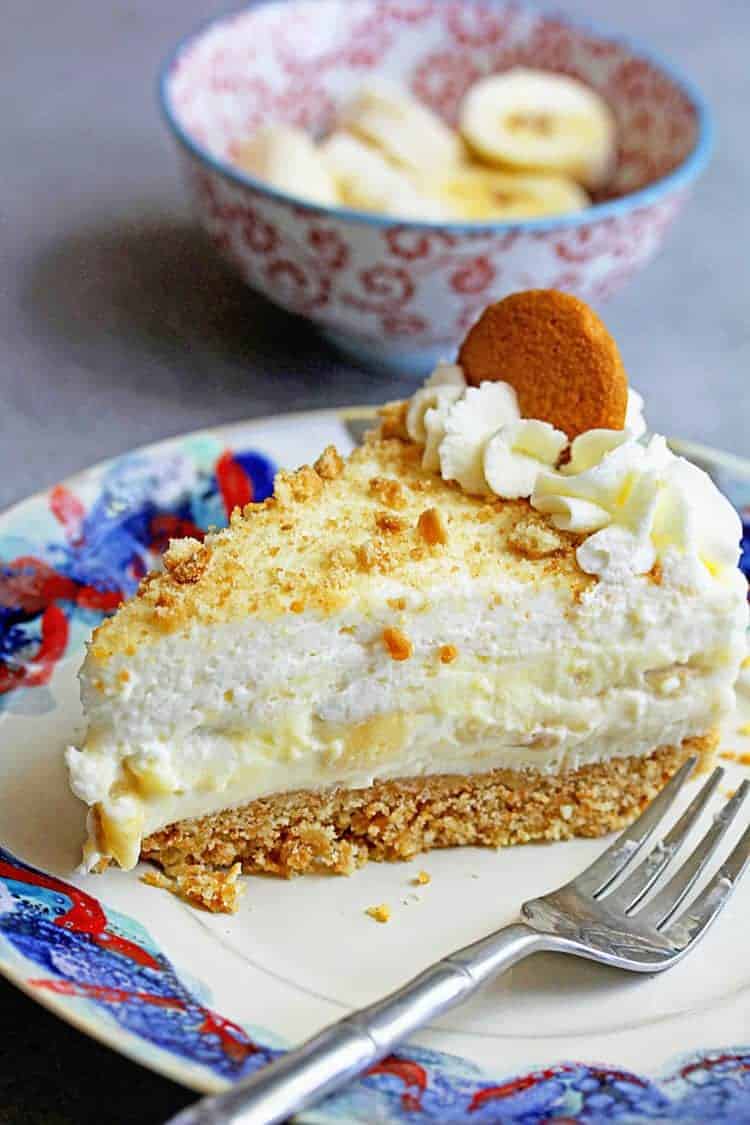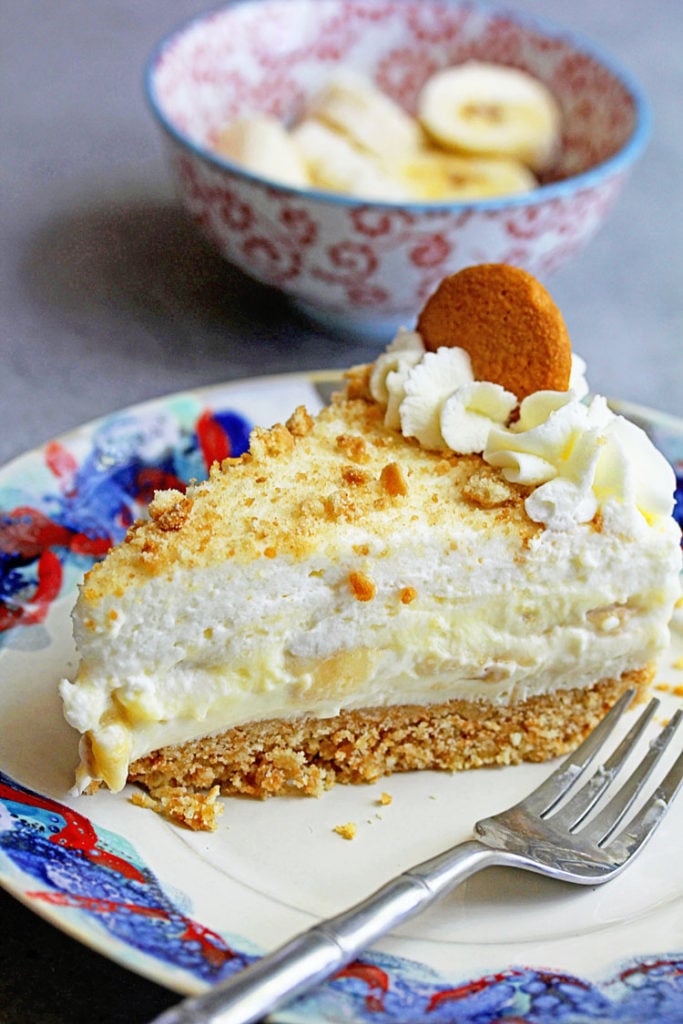 My dear friend Julianne of Beyond Frosting is a genius. She has just written a cookbook that we all desperately need during this season. Her new book No-Bake Treats is a summer miracle.
I have always thought Julianne was a dessert guru and expert when it comes to no-bake treats. She is the master at developing the most inventive and sensational ideas that don't require an oven. It almost makes me want to give up my oven for good, almost. I am in awe of her creativity, and she is the kindest and sweetest person you will ever meet.
When her new cookbook No-Bake Treats landed at my door, I could not wait to make something. My soul is quite southern so you know this No Bake Banana Cheesecake with Banana Cream called at me right away. It looked glorious in the cookbook, and I loved that mine looked exactly the same after I made it.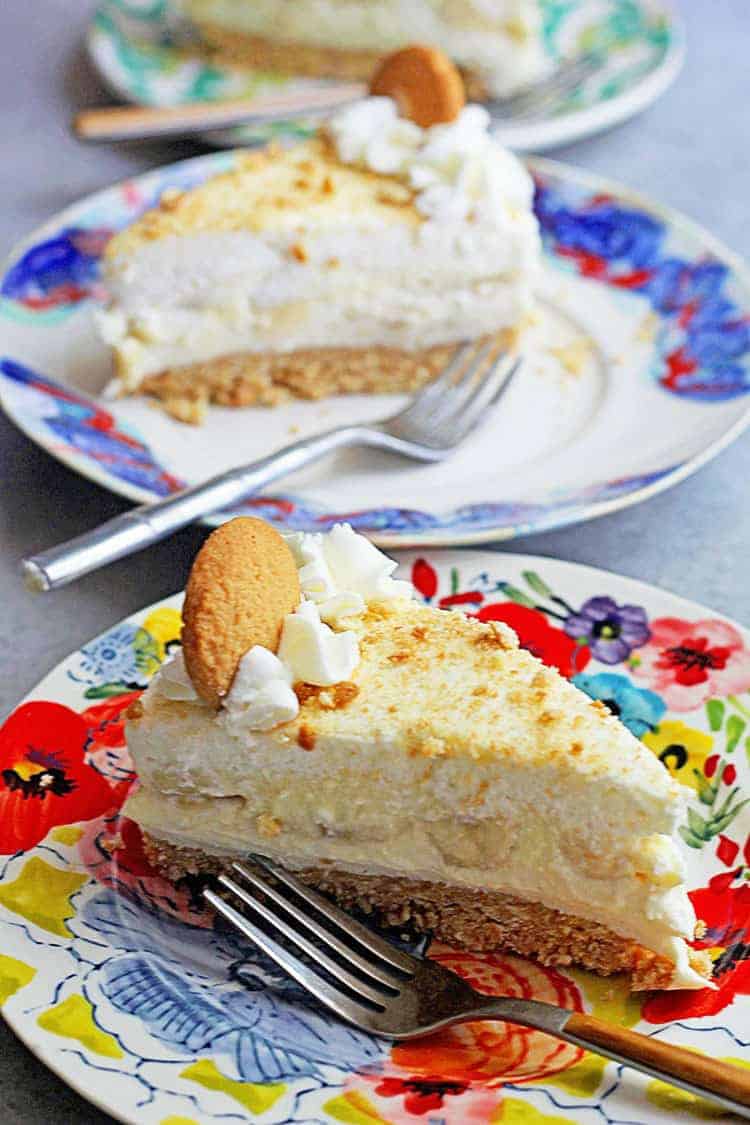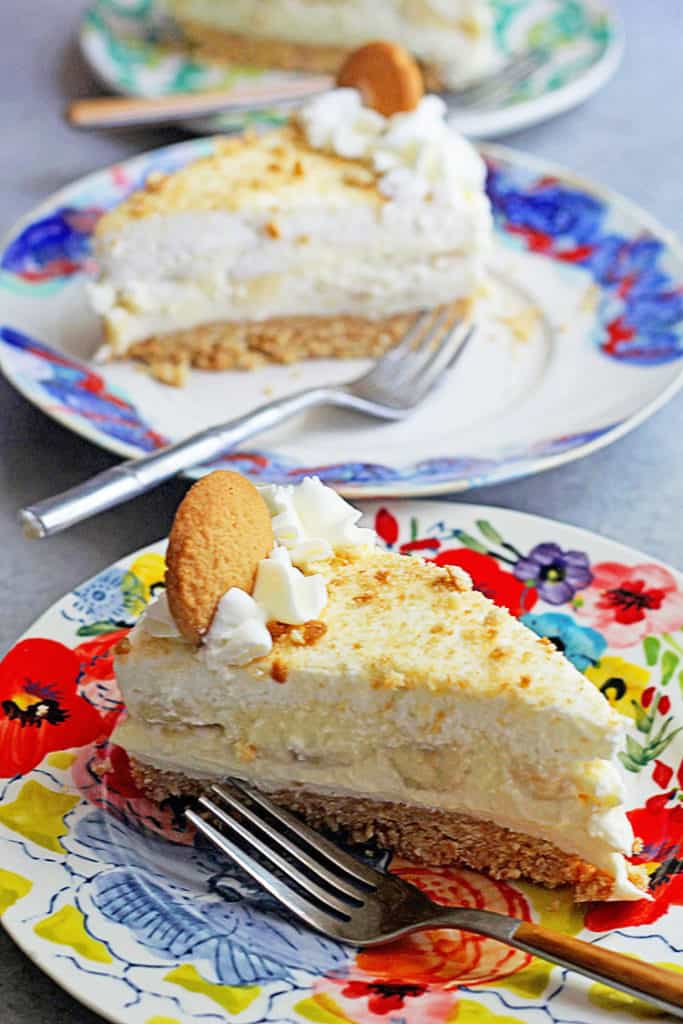 Layers for No-Bake Banana Cream Cheesecake Recipe
This recipe has several distinct layers of deliciousness that melt into each other in the most amazing way.
The crust is a simple bottom layer made with vanilla wafers and butter. Usually you will see simple graham cracker crust bottoms for cheesecakes but this one sets it apart. The wafers are a classic cookie found in most Banana Pudding or Banana Cream recipes.
The cheesecake layer is very similar to other no bake cheesecakes. In fact, it has similar ingredients to my Strawberry No Bake Cheesecake. Ingredients like cream cheese and whipped cream really come together perfectly when made for this layer. It gives you a similar flavor to baked cheesecake except it isn't as stabilized due to the lack of eggs and baking. The cheesecake layer is vanilla flavored.
The cream layer is made over stove top. Because this layer requires egg yolks, you will need to heat it in order to be safe. It will thicken along with a little bit of flour and whipped cream. It is so gloriously smooth and rich and really offsets the cheesecake layer.
In between these layers are slices of banana. You get a delicious bite of banana with each and every taste! It is insanely delicious!!
How To Make No Bake Banana Cheesecake Recipe
Here are some tips for making a perfect Banana Cream Cheesecake recipe!
Tip 1: Make sure your ingredients for your cheesecake layer are at room temperature!
Have you ever tried mixing hold cream cheese in a stand mixer? It is quite quite difficult! You want to make sure that your cream cheese is at room temperature and completely softened before mixing it. The sugar will melt directly into the cream cheese and fluff up making it so smooth and rich. You want the ingredients to become one so starting a room temperature helps a lot!
Tip 2: For the Crust, use the bottom of a measuring cup to evenly layer it!
This trick has been a favorite of mine because it ensures an even crust. When we use our hands, our crusts can be uneven. However by using the bottom of a measuring cup, it elongates the crust and makes sure it is even and beautifully perfect for presentation.
Tip 3: Make Sure Your Ingredients are Cold for Your Whipped Cream
For whipped cream, you will want the opposite of room temperature. You want super cold cream, a cold beater and a cold bowl to make whipped cream.
Tip 4: Remember to Refrigerate Cheesecake!
Before serving, you will need to refrigerate your cheesecake in order for it to set. Don't forget this step!
This No-Bake Banana Cheesecake with Banana Cream turned out beautifully, and I surprised my daddy with the cheesecake because he is a huge banana pudding lover. The flavors were just sensational. The cheesecake has several layers of flavors to enjoy. From the smooth and custardy vanilla pudding to the sensational ripe banana slices to the rich cheesecake layer and of course graham cracker crumbs. Then the whole thing is topped with homemade whipped cream. I could not get enough of this cheesecake y'all.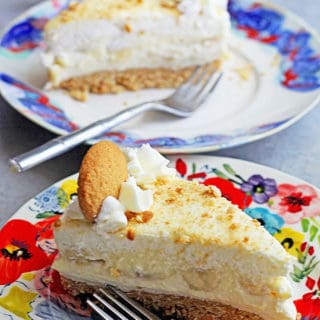 No Bake Banana Cheesecake Recipe
This deliciously creamy and smooth Banana Cheesecake is completely NO BAKE! So easy and so delicious and filled with layers of a wafer crust, silky vanilla custard pudding, creamy cheesecake, fresh banana and whipped cream topping!

Print
Pin
Rate
Ingredients
For the Pudding:
2

large

egg yolks

slightly beaten

1/3

cup

granulated sugar

64 g

2

tbsp

all-purpose flour

16 g

Dash

salt

1 ½

cups

heavy whipping cream

355 ml

½

tsp

vanilla extract
For the Crust:
11

oz

vanilla wafers

312 g

8

tbsp

unsalted butter

115 g
For the Cheesecake:
16

oz

cream cheese, softened

454 g

½

cup

granulated sugar

96 g

2

tbsp

heavy whipping cream

30 ml

1

tsp

vanilla extract
For the Topping:
2

cups

heavy whipping cream

473 ml

1 ½

cups

powdered sugar

195 g

2

whole

bananas

sliced

6-8

vanilla wafers

crushed
Instructions
For the Pudding:
Measure out all of the ingredients for the pudding prior to starting. Place egg yolks in a separate bowl.

In a medium-size saucepan, add sugar, flour and salt, and whisk to combine.

Add the heavy whipping cream and vanilla extract, and heat the mixture on the stove top over medium-low heat. Whisk constantly to dissolve the dry ingredients into the cream mixture.

After 5 or so minutes, once the mixture is warm (but not boiling), pour about ¼ cup of the cream mixture into the egg yolks and whisk vigorously to temper.

Immediately pour the egg yolks into the saucepan and continue whisking over medium-low heat to prevent the eggs from cooking. Whisk until pudding starts to thicken. Once the mixture is thick and bubbly, remove it from the heat.

Strain pudding through a fine sieve into a medium-size bowl. This step is optional, but it will help catch any lumps of ingredients that did not get blended.

Immediately cover the top of the pudding with clear plastic wrap (directly on the surface of the pudding), and poke a few holes with a toothpick. Allow the pudding to cool for 30 minutes at room temperature, and then refrigerate for 2 hours until the pudding is cold.
For the Crust:
Prepare a 9-inch springform pan by lightly greasing the edges of the pan with cooking spray, and then wiping gently with a paper towel.

Grind the wafers into fine crumbs using a food processor or blender. In a microwave-safe bowl, microwave the butter for 45-60 seconds until the butter is melted.

In a separate medium-size bowl, pour the melted butter into the cookie crumbs and stir until there are no dry crumbs left. Pour the crumbs into your springform pan and press firmly into the bottom to create a thick crust.
For the Cheesecake:
Beat cream cheese on medium-high speed for 2-3 minutes until it's light and fluffy.

Slowly add sugar into the cream cheese while continuing to beat the mixture, scraping down the bowl as needed.

Next, add heavy whipping cream and vanilla extract. Beat until the filling is smooth and creamy.

Pour cheesecake filling into the prepared pie crust, cover and refrigerate for 2 hours.
For the Topping:
Prepare the whipped cream by placing the mixing bowl in the freezer for 5-10 minutes to chill. Pour heavy whipping cream into the chilled bowl and use an electric mixer to beat heavy cream on medium-high speed until the cream gets bubbly.

Slowly add powdered sugar and continue beating on high speed until stiff peaks form. Separate out 1 ¼ cups of the whipped cream for piping edge on cake.

To assemble cheesecake, slice bananas about 1/2 inch thick. Start by aligning them on the outside of the cheesecake and work your way in toward the middle. Pour chilled pudding over the top of sliced bananas, spreading evenly. Add whipped cream on top and spread smoothly.

Use the prepared whipped cream to pipe a border along the top of cheesecake. Garnish with crushed vanilla wafers. This cheesecake must be refrigerated for another 2-4 hours before serving to allow all the ingredients to set properly.
Notes
Make sure you start with room temperature ingredients when making your cheesecake layer.  Cream cheese must be room temperature.
However for your whipped cream, ingredients must be cold and the bowl must be cold as well.
Nutrition
Calories:
847
kcal
|
Carbohydrates:
65
g
|
Protein:
6
g
|
Fat:
63
g
|
Saturated Fat:
36
g
|
Cholesterol:
229
mg
|
Sodium:
321
mg
|
Potassium:
154
mg
|
Sugar:
46
g
|
Vitamin A:
2210
IU
|
Vitamin C:
0.5
mg
|
Calcium:
108
mg
|
Iron:
0.3
mg