Ultra-rich homemade fudge brownies and your favorite flavor of ice cream sandwiched together to create the perfect Summer treat! These Brownie Ice Cream Sandwiches are fudgy, creamy, sweet, and oh so indulgent!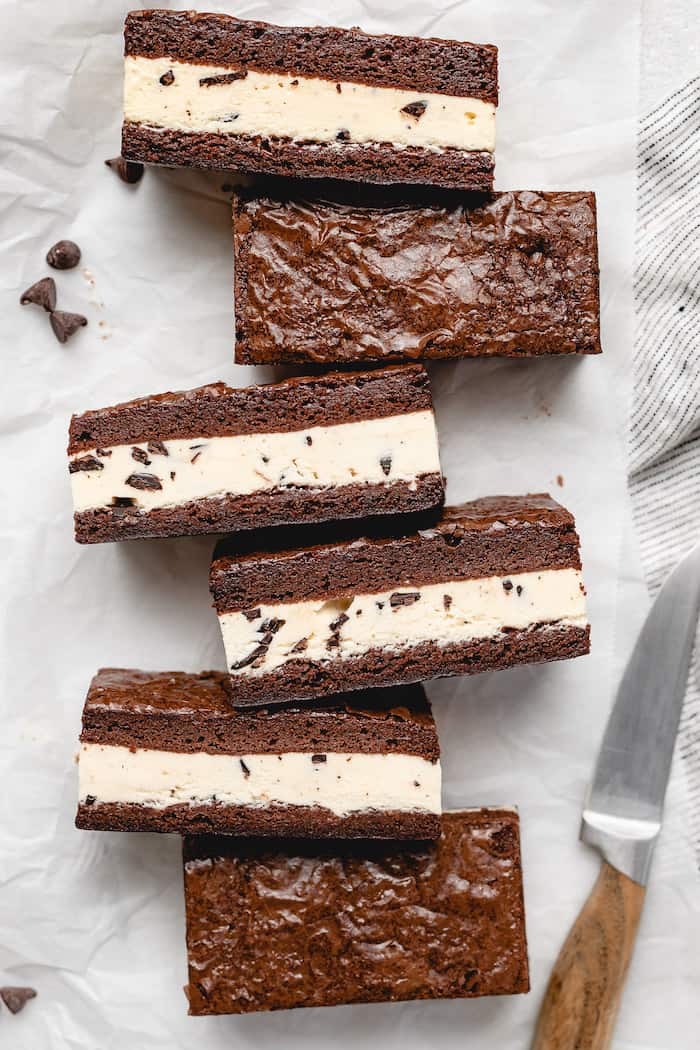 I don't trust anyone who claims they don't love ice cream. How could you possibly make it through sweltering Summers without that ice-cold, refreshing, drip-down-your-hand goodness? The flavor varieties and textures are endless, which means there truly is something for everyone. If you don't like ice cream, you probably just haven't found the right one yet! Or maybe that's just what I need to tell myself.
Today, I'm offering up one of my favorite options: Brownie Ice Cream Sandwiches! Here we have chewy, soft-baked brownie layers with smooth ice cream for a decadent dessert. Seriously, y'all gotta give this recipe a try before the warm-weather (sadly) eludes us again.
Perks and Highlights of the Best Brownie Ice Cream Sandwiches
Cuisine Inspiration: American Comfort
Primary Cooking Method: Baking & Freezing
Dietary Info: Contains Dairy, Gluten, and Sugar
Key Flavor: Rich Chocolatey Goodness with a Hint of whatever flavor ice cream you use!
Skill Level: A Walk in the Park (with an ice cream sandwich in hand)
Special Perks:
Decadent Duo: Why settle for ordinary when you can pair two of life's sweetest pleasures? Rich, chewy brownies meet creamy, dreamy ice cream for a match made in dessert heaven.
Customization Station: Feeling adventurous? Go beyond vanilla and fill these bad boys with your favorite ice cream flavor. Mint chocolate chip, strawberry, or even rocky road – the sky's the limit!
Summer Savior: Beat the heat with the coolest treat! These brownie ice cream sandwiches are your secret weapon against those scorching summer days.
Party Pleasers: Serve these at your next BBQ, birthday bash, or Tuesday night dinner (because why not?), and watch every guest's face light up with joy. Spoiler: You'll never have leftovers.
Memory Makers: Involve the kiddos or take a trip down memory lane. Assembling these treats isn't just cooking; it's an opportunity to create sweet memories (and maybe a little mess).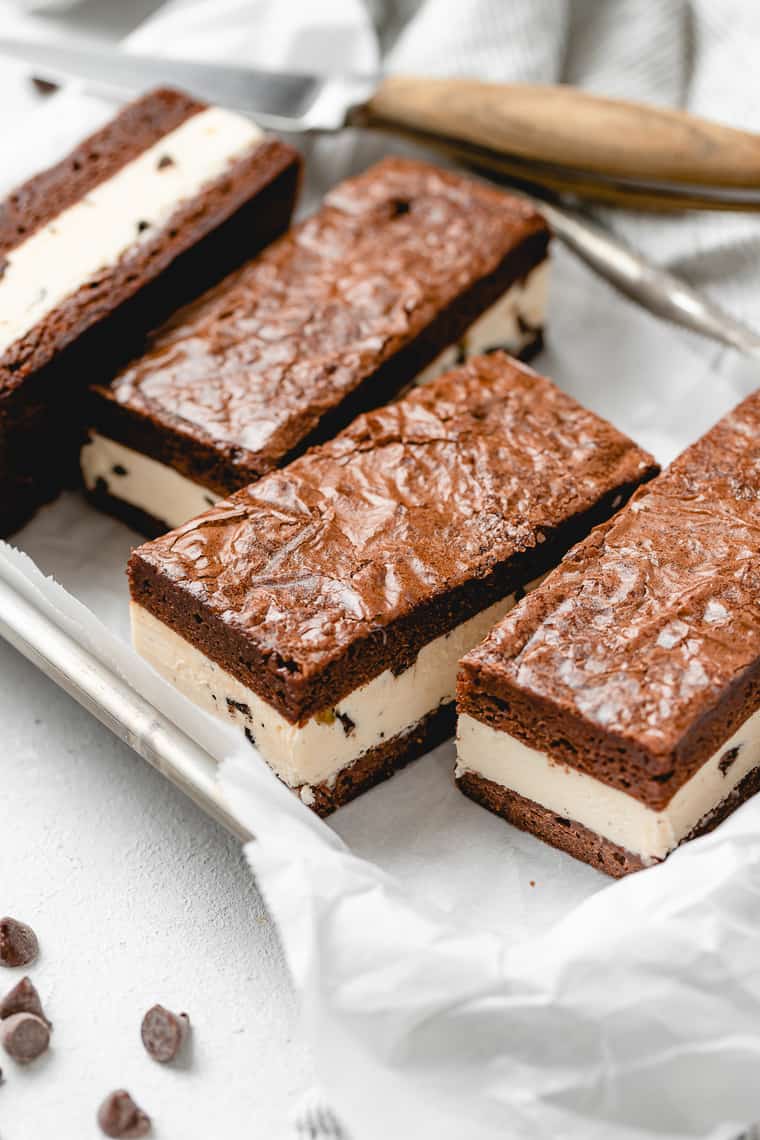 Ingredients
Unsalted Butter (1/2 cup, melted): The unsung hero that gives our brownies that oh-so-gooey texture. Remember, unsalted, because you're the boss of your batter's sodium levels!
Granulated Sugar (3/4 cup): Sweetness in its prime form, making your brownies dessert-worthy. It's not just about the sweet life; granulated sugar also aids in achieving that coveted crispy top!
Light Brown Sugar (1/2 cup, packed): Hello, moisture! Brown sugar, with its molasses touch, brings richness and depth, leading the flavor profile into the realm of caramel goodness.
Eggs (2 large, room temperature): The binding agents! These guys are the peacekeepers, ensuring everything sticks together. They also provide structure and, when at room temperature, they mix more evenly, ensuring your brownies aren't playing the texture lottery.
Vegetable Oil (1 tbsp): A little extra moisture insurance because nobody, I repeat, nobody likes a dry brownie.
Pure Vanilla Extract (2 tsp): The essence of flavor! It's like the hype man for all the other ingredients, enhancing their natural flavors and adding that "something special."
All-Purpose Flour (3/4 cup): The foundation of your brownies. It's the stage upon which all these other ingredients can shine!
Cocoa Powder (1/2 cup): The heart of chocolatey-ness. This is where the brownie gets its iconic flavor and rich color. Opt for a good quality one; your taste buds will thank you.
Salt (1/2 tsp): A pinch of this is like hitting the 'enhance' button on your TV remote; it just makes everything pop! Salt, sweet's secret companion, heightens all the flavors.
Chocolate Chip Ice Cream (1.5 qts): Or go wild with your favorite flavor! This is the co-star alongside your brownies, bringing the chill factor to your sandwich. It's a palate pleaser and the ultimate comfort filler!
How to Make Brownie Ice Cream Sandwiches
The most difficult part of testing these sandwiches was finding the perfect brownie recipe. Before diving in, I knew I needed a brownie that would be soft, tasty, and thin, without being crisp or fragile. A tall order, but I started with my Fudgy Chewy Brownies and built on that base.
From there, here's how it went down:
Make Homemade Brownie Batter.

I prepared my homemade brownie recipe as I normally do, then separated the batter in half. By baking the layers individually we avoid having to manually cut the entire thing in half- it's difficult and unnecessary.

Bake in Two 8×8 Pans or One Layer at a Time.

To save time, I'd recommend baking both layers at the same time. But, if you don't own two of these pans, it's perfectly fine to bake them one at a time. Just be sure to cover the second half of batter as the first half bakes. Once out of the oven, use the parchment paper to carefully lift the layer out of the pan, then wipe it clean. Line the pan with more paper and bake the second half.

Completely Cool the Layers.

Before piling on the ice cream, allow both layers to come to room temperature. If you try to immediately add the ice cream, it will start to melt and make a total mess.

Scoop on the Ice Cream.

While the brownies are cooling, remove the ice cream from the freezer and let it thaw for a bit. Run a large spoon under hot water, then spoon the ice cream onto the bottom layer of brownie. Smooth the ice cream with the back of the spoon (or a spatula) until it's all in one even layer.

Place the Second Square of Brownie On Top.

Gently press the second layer on top of the ice cream, making sure that it's snug.
Cover and Freeze.

Use aluminum foil to tightly cover the pan and freeze the whole thing for at least 12 hours. Overnight is best!

Cut and Serve.

Carefully use the parchment paper to lift the entire block out of the pan. Run a knife under hot water, then slice into eight evenly sized squares. You're gonna need to use a little arm muscle! If the ice cream begins to melt too quickly, place the whole thing back in the freezer, wait 5 minutes, then try again.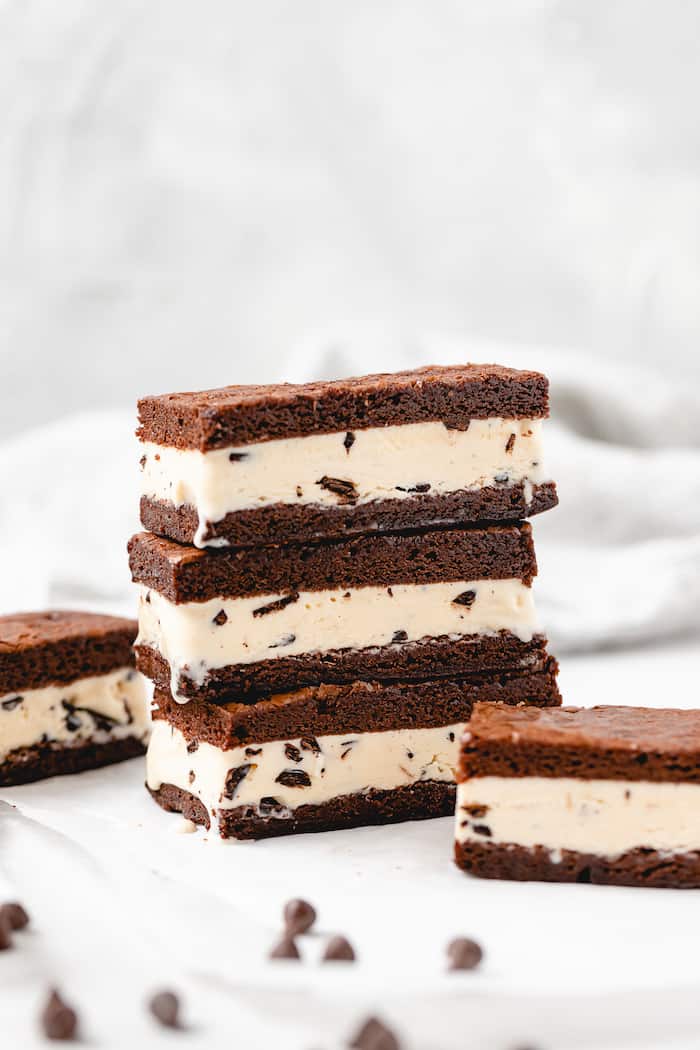 Can I Use Any Kind of Ice Cream?
Yes! This recipe is totally customizable! Feel free to use your favorite ice cream flavor, just about anything goes here. Some of my favorite flavors include:
Let me know what ice cream you chose in the comments below!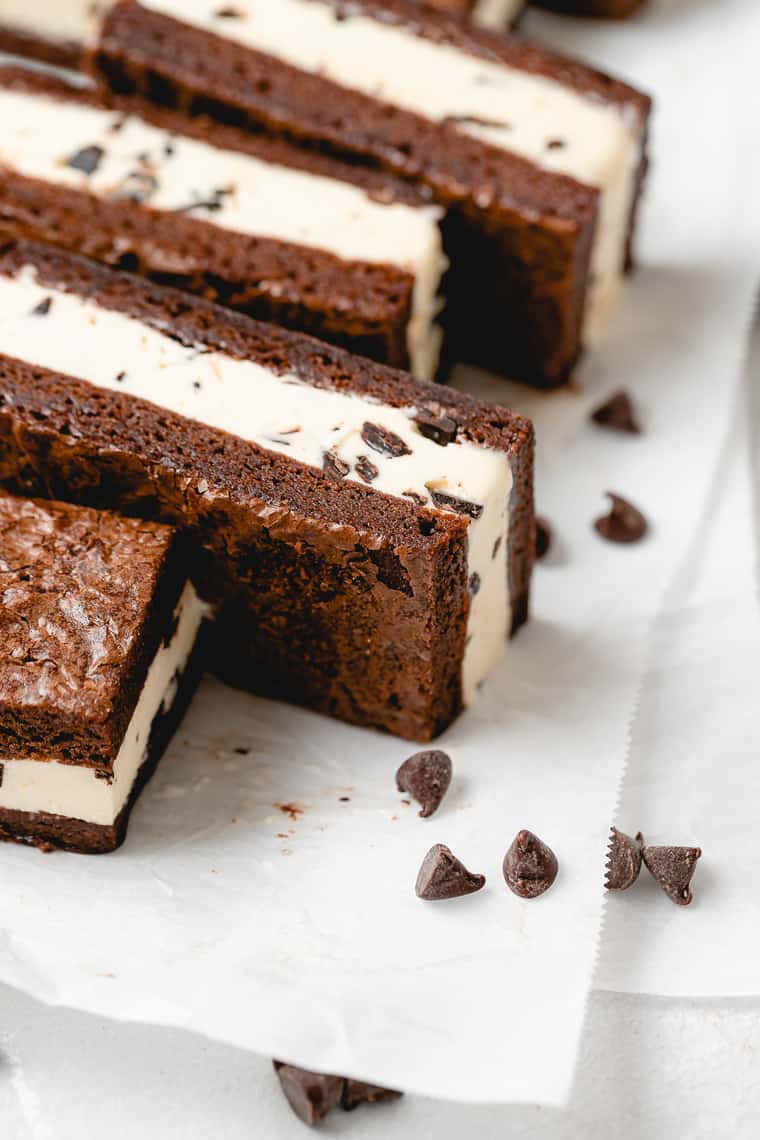 Storage
Wrap each leftover sandwich individually and store in the freezer for up to 1 month. They get a little harder the longer they sit in the freezer– if they're super solid, let them sit out for a few minutes before enjoying. I'd recommend using both plastic wrap and aluminum foil to avoid freezer burn.
My Favorite Ice Cream Recipes
There's no such thing as Summer without bucket loads of ice cream! If you're as crazy about this creamy-cool confection as I am, try out a few more of Grandbaby Cakes' most refreshing flavors!
Oreo Red Velvet Ice Cream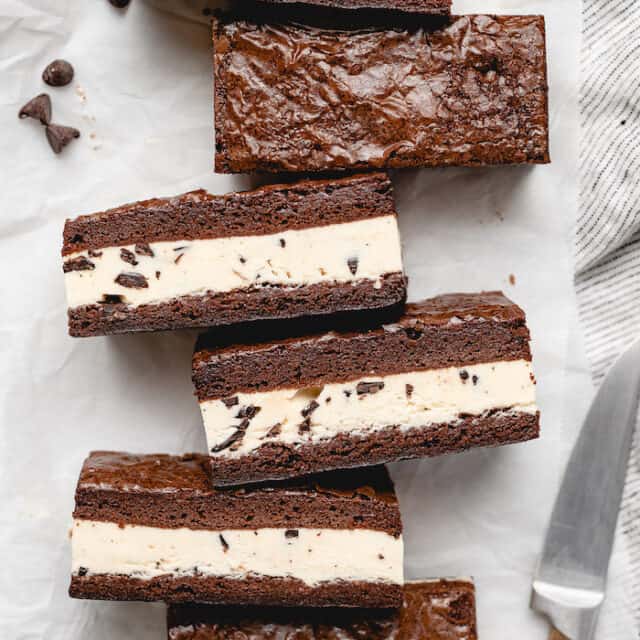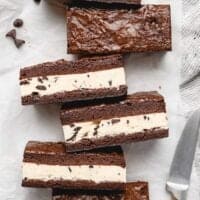 Brownie Ice Cream Sandwiches
In these indulgent Brownie Ice Cream Sandwiches, rich fudge brownies and your fave ice cream get sandwiched together to create the perfect Summer treat!
Print
Pin
Rate
Ingredients
1/2

cup

unsalted butter

melted

3/4

cup

granulated sugar

1/2

cup

light brown sugar

packed

2

large eggs

room temperature

1

tbsp

vegetable oil

2

tsp

pure vanilla extract

3/4

cup

all purpose flour

1/2

cup

cocoa powder

1/2

tsp

salt

1.5

qts

chocolate chip ice cream

or whatever your fave is
Instructions
Preheat the oven to 350 degrees. Grease two 8×8 pans with butter or baking spray, then line the bottom with parchment paper, leaving about 4-6" of paper hanging over the sides.

In a medium sized bowl, add melted butter, granulated sugar and brown sugar and mix with your hand mixer on medium speed.

Add eggs one at a time, mixing after each addition to incorporate. Mix well! This will create the crackled top we all love in brownies.

Mix in oil and vanilla extract.

Combine flour, cocoa powder, and salt in a bowl. Reduce speed of mixer.

In intervals, add flour mixture to wet mixture until all ingredients are incorporated.

Add half the brownie batter to each pan and use a rubber spatula to gently spread it.

Bake for 15 minutes or until a toothpick inserted into the center comes out just barely clean. Don't overbake.

Remove from the oven. Allow brownies to cool for 10 minutes.

Use parchment paper to carefully lift the brownies out onto a cooling rack. Only peel the parchment off one of the halves. Cool until they reach room temperature.

Thaw the ice cream for 5-10 minutes.

Return the first half of the brownie to the pan (the one with the parchment paper on it). Use a large spoon or rubber spatula to spread all the ice cream over the top.

Invert the second half of the brownie and place it over the top. Cover with aluminum foil or plastic wrap and freeze for at least 6 hours. Overnight is best.

When ready to cut, remove from the freezer and thaw for 5-10 minutes. Use the parchment paper to lift the entire block out, then use a sharp knife to cut into 8 even squares. Serve and enjoy!
Notes
STORING HOMEMADE ICE CREAM SANDWICHES 
Wrap each leftover sandwich individually and store in the freezer for up to 1 month. They get a little harder the longer they sit in the freezer– if they're super solid, let them sit out for a few minutes before enjoying. I'd recommend using both plastic wrap and aluminum foil to avoid freezer burn. 
Nutrition
Calories:
682
kcal
|
Carbohydrates:
86
g
|
Protein:
10
g
|
Fat:
35
g
|
Saturated Fat:
22
g
|
Polyunsaturated Fat:
2
g
|
Monounsaturated Fat:
9
g
|
Trans Fat:
1
g
|
Cholesterol:
149
mg
|
Sodium:
378
mg
|
Potassium:
486
mg
|
Fiber:
3
g
|
Sugar:
70
g
|
Vitamin A:
1161
IU
|
Vitamin C:
1
mg
|
Calcium:
257
mg
|
Iron:
2
mg