This Amazing Carrot Cake is perfect for Easter or year round!! Made incredibly delicious and moist with fresh carrots, pineapple, a blend of warm spices and a homemade brown butter cream cheese frosting, this Carrot Cake Recipe is truly the BEST dessert EVER!
HOORAY! THIS CAKE IS THE WINNER OF THE KITCHEN CARROT CAKE SMACKDOWN! FIND OUT MORE ABOUT THE WIN HERE!
If you love carrot cake, you will love this Carrot Cake Cupcake Recipe, Easy Carrot Pound Cake or Orange Carrot Cupcakes!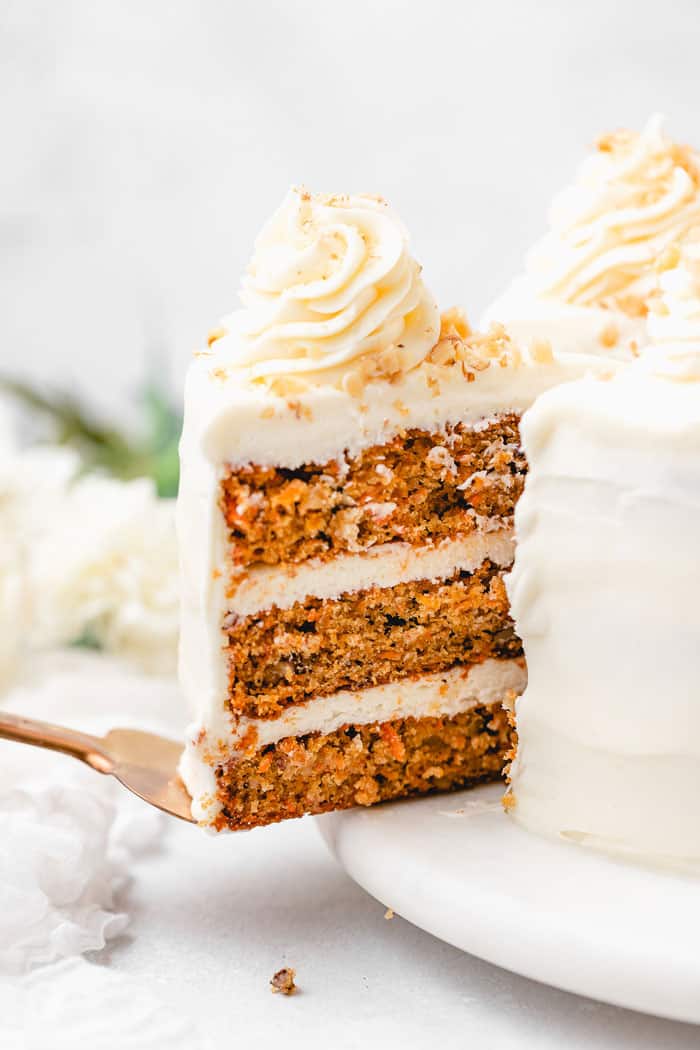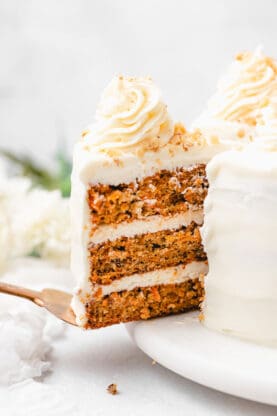 THE BEST CARROT CAKE RECIPE ONLINE!
Y'all, I spent this past week working in LA and let me tell you, I missed the sunshine. The days were warm but never uncomfortably so and the cool breeze was EVERYTHING. I enjoyed stepping out in a t-shirt because it meant shedding the winter coat I've been lugging for months.
Though I was sad to tuck away my sunglasses and yank on my boots, I came home excited for the coming Spring. I've spent the past few days dreaming of budding trees, tulip bulbs and surprisingly, carrot cake. To me, Carrot Cake is synonymous with Spring; the gorgeous, vibrant carrots represent all that's beautiful about the new season.
So, I decided to share with you all the BEST Carrot Cake recipe EVER in the hopes that the seasons will get the hint. Let's welcome in warmer weather with a moist, spiced and oh so decadently creamy Carrot Cake!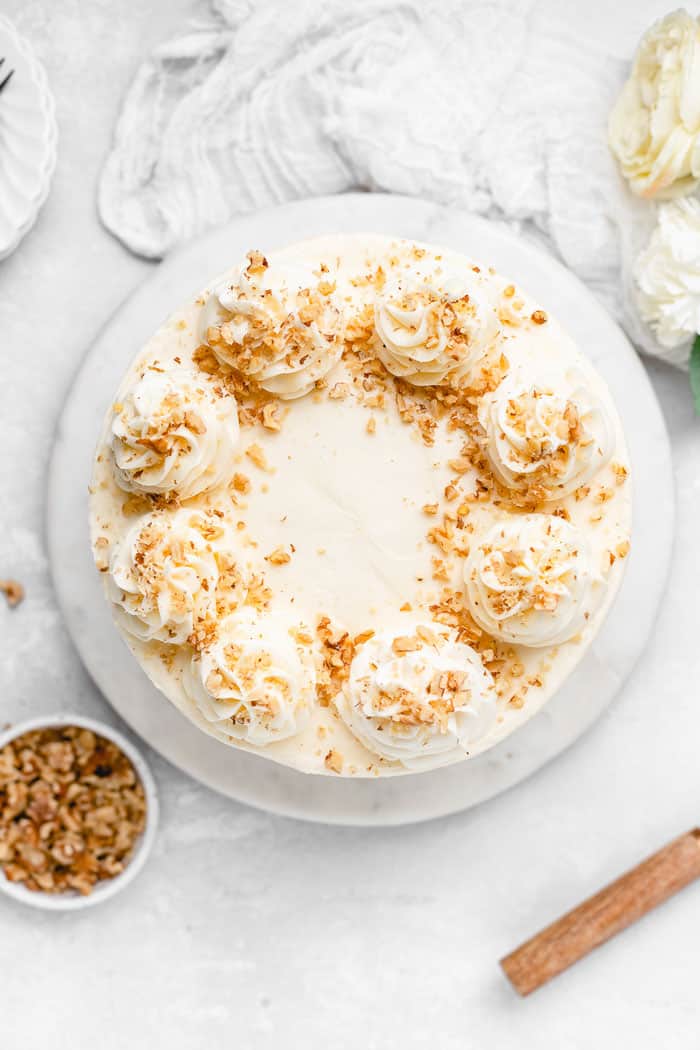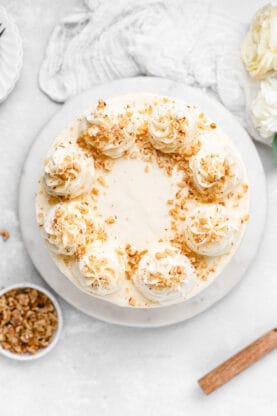 THE HISTORY OF THIS CAKE
Time for a little history lesson y'all! Did you know that carrots have been used as sweeteners in cakes since the medieval period? Recipes for the illustrious carrot cake can be found in recipe books from as early as 1827. The spiced, nutty cake continued to gain popularity throughout WWII; ads were run by the British government that claimed carrots could help you see at night.
These ridiculous ads were run in the hopes that the Royal Airforce would be able to better read a newly developed special radar system.
Carrot Cake made its debut in America during the 1960's and has since become a household favorite. It seems as if no one can deny a moist cake filled with delicious, vibrant orange carrots. Don't even get me started on the sweet cream cheese frosting!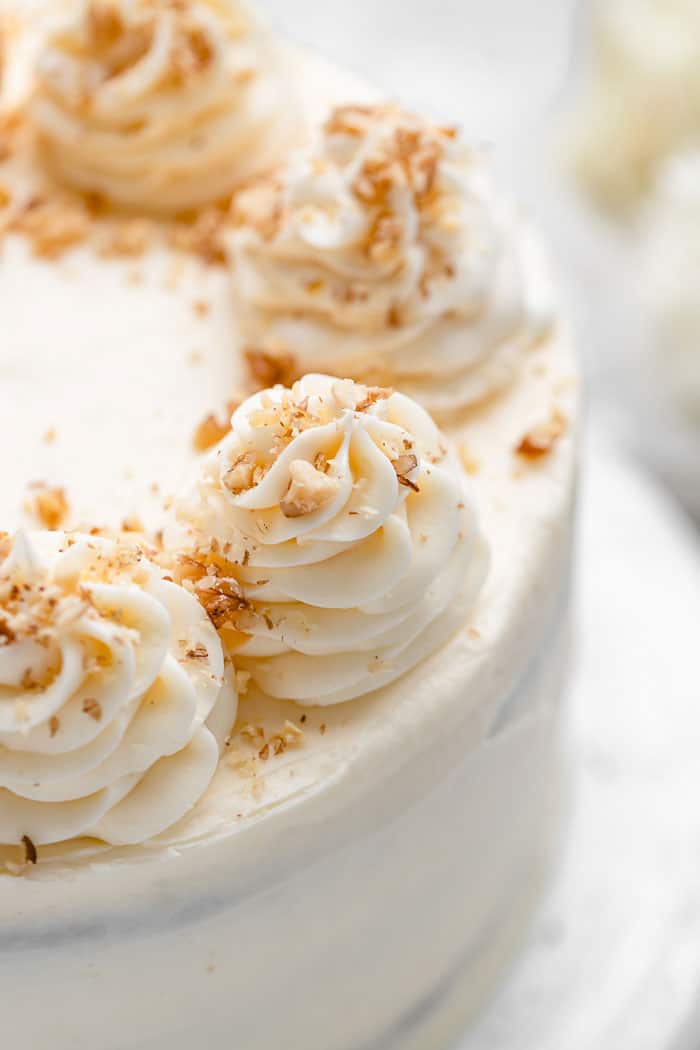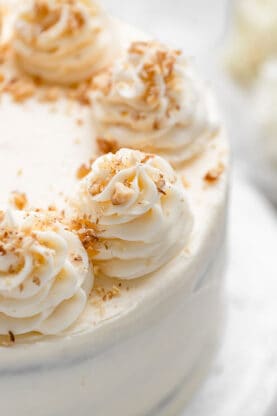 HOW TO MAKE CARROT CAKE RECIPE
Having a better understanding of your ingredients and their purpose in a recipe creates a better outcome. Take a moment to learn about these ingredients, you'll thank me later.
Self-Rising Flour
Carrot Cake can be on the heavier side because of its mix-in: nuts, fruit and carrots. To avoid a dense outcome, I use a self-rising flour which contains baking powder. The additional leavener helps to prevent the development of too much gluten; this means a tender, moist cake. Thank you to Mama Dip for this amazing tip!
Cinnamon, Cloves, Nutmeg and Allspice
This is traditionally a spice-heavy cake; the spice blend layers warmth, a sweetly pungent aroma and peppery overtones.
Vegetable Oil
The purpose of fat in any baking recipe is to add and retain moisture. Oil does the job by coating the protein in flour to prevent it from mixing with the other ingredients; if the protein is compromised, the necessary gluten does not form.
Grated Carrots
I prefer to freshly grate my own carrots because there's a cleaner, more prominent flavor. Carrots should be sweet, earthy and slightly fruity.
Cream Cheese
Does this need an explanation? Every Carrot Cake worth talking about is served up with a tangy, smooth cream cheese frosting.
OPTIONAL: Roasted Walnuts & Crushed Pineapple
I would highly encourage the addition of these two ingredients. Roasted walnuts add a smoky, nutty flavor while also layering in a crunchy textural component. Pineapple simply offers a little extra fruity sweetness to compliment the carrots.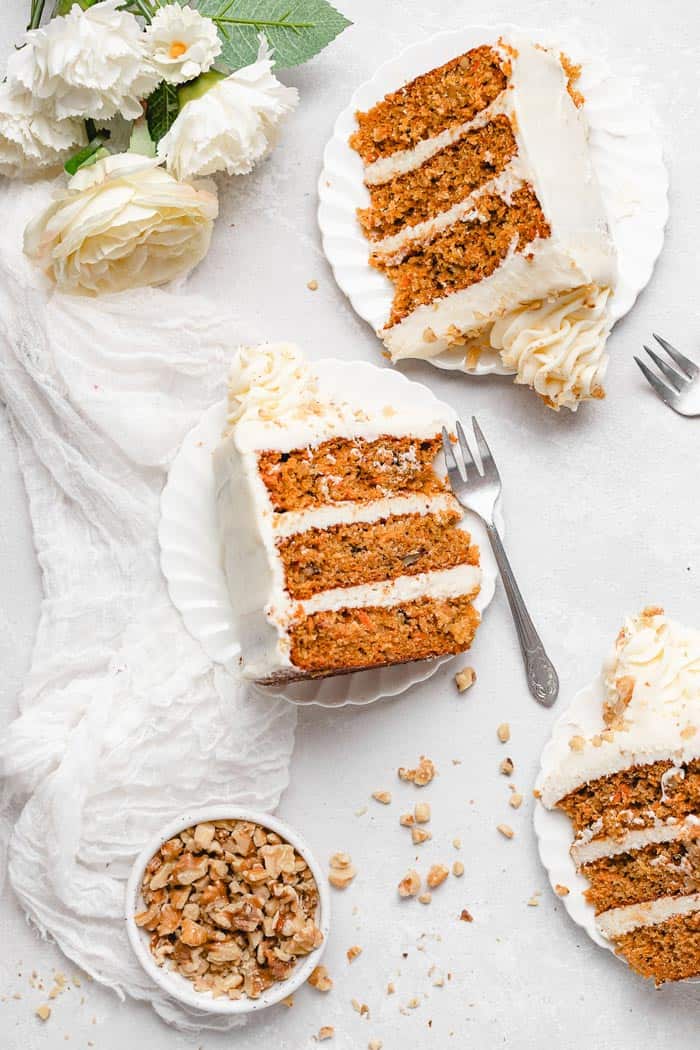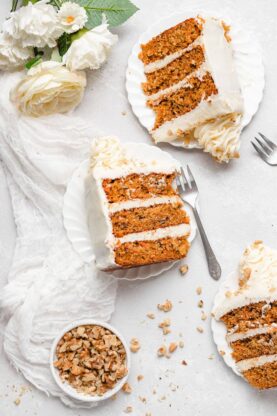 TRIMMING & FROSTING
I often find that assembling and icing a cake is the most difficult part of the whole process. The texture of a cake is finicky, frosting can be runny and patience is always required. But, don't fret just yet! I've got a few tricks up my sleeve to make this much easier for you folks at home.
Chill the Cake
Consider baking the cake layers the day before frosting and allowing them time to properly chill. Cold makes for fewer crumbs and therefore, a smoother layer of frosting.
Once baked and out of the pan, leave the cake out to come to room temperature. Then, wrap the layers in plastic wrap and place in the refrigerator for at least a couple hours.
Use a Knife to Level the Top
If your cake has come out of the oven with a domed top I would suggest giving it a trim. Flat cakes make for easier stacking and a more visually appealing result.
Use a long serrated knife to carefully slice the rounded tops off each layer.
Crumb Coat
After having chilled your layers, apply a thin, even layer of frosting to the top and side of the cake. Refrigerate for at least 15 minutes then, proceed with the final beautifully smooth layer of frosting.
BONUS TIP: This cake is visually quite simple. Jazz it up by decorating with chopped nuts, grated carrots, chocolate chunks or crushed pineapple. Get creative and your cake is sure to be a showstopper!
HOW LONG WILL THIS CAKE KEEP?
Keep your freshly baked Carrot Cake in a dry, cool area and cover with foil or plastic wrap to keep from drying out. At room temperature, the cake will last for 1-2 days.
If refrigerating, Carrot Cake will last for up to a week (properly stored of course). You can even freeze your cake; wrap it tightly in plastic wrap and place it in a heavy-duty freezer bag. The freezer will maintain the quality of the cake for 4-6 months.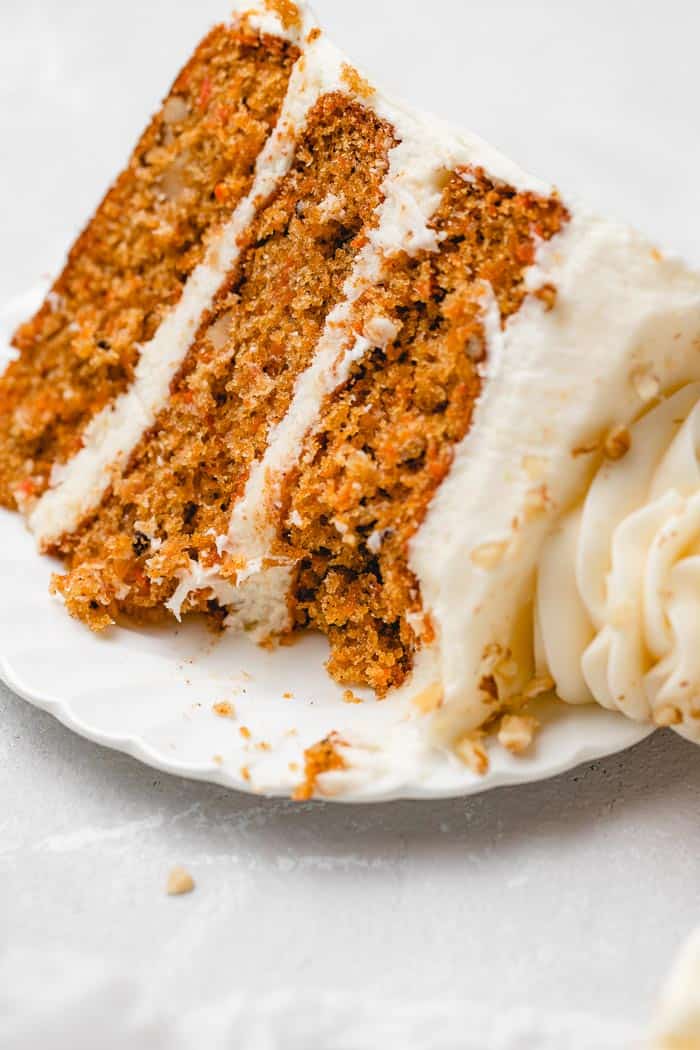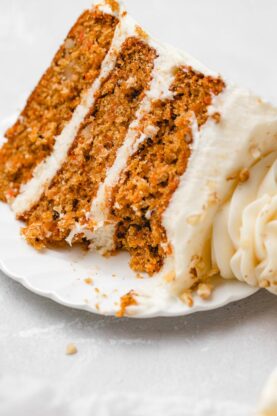 SPRING CARROT RECIPES
Let's keep the Spring celebration going! Here are a few of Grandbaby Cakes' BEST carrot-filled recipes:
ORANGE CARROT CUPCAKES
EASY CARROT CAKE
MANGO CARROT CAKE SWIRL BARS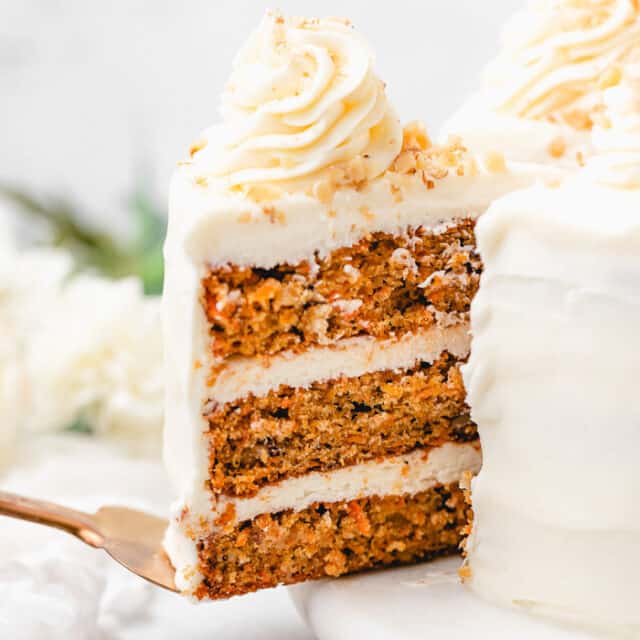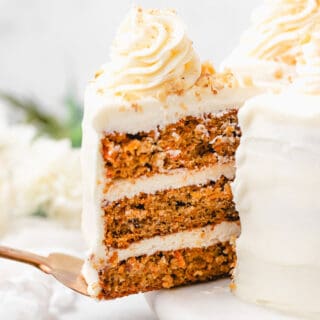 Carrot Cake Recipe
This Amazing Carrot Cake is perfect for Easter or year round!  Made incredibly delicious and moist with fresh carrots, pineapple, a blend of warm spices and a homemade brown butter cream cheese frosting, this Carrot Cake Recipe is truly the BEST dessert EVER!
Print
Pin
Rate
Ingredients
For the Cake
2 1/2

cups

self rising flour

self rising flour usually has salt in it which is why it was omitted here but if you want a bit more you can add 1/4 tsp of salt as well

1 1/2

tsp

ground cinnamon

1/2

tsp

nutmeg

1/2

tsp

ground cloves

1/4

tsp

allspice

1

tsp

baking soda

2

cups

granulated sugar

1

cup

vegetable oil

1

tbsp

vanilla extract

or vanilla paste

4

large eggs

3

cups

grated carrots

1/2

cup

crushed pineapple

you can omit this if you want but I think it is essential/ I ONLY DRAIN PARTIALLY

1

cup

chopped roasted walnuts

optional
For the Frosting
1/2

cup

unsalted butter

16

oz

cream cheese

somewhat softened but still a little stiff/ 16 oz is 2 (8 oz) packages

3 1/2

cups

confectioner's sugar

if you want the frosting more stiff, add another 1/2 cup going up to 4 cups total

pinch of salt

1

tsp

vanilla extract
Instructions
For the Cake
Preheat oven to 350 degrees.

Sift together flour, cinnamon, nutmeg, cloves, allspice and baking soda and set aside.

Next line the bottoms of 3 9" inch round cake pans with parchment paper and lightly grease.

In the bowl of your stand mixer, beat sugar, oil and vanilla together at medium speed. Next add eggs, one at a time, blending after each incorporation.

Next slow down the mixer to lowest speed and add flour mixture in increments.

Fold in carrots, crushed pineapple if desired and walnuts if desired.

Evenly pour batter into cake pans.

Bake for 35-40 minutes or until a toothpick inserted in the center comes out clean.

Cool cake layers in pans for 10 minutes then flip cakes onto cooling racks to cool completely.
For the Frosting
In a small saucepan, add butter and melt over medium heat. Once the butter has fully melted, a white foam will begin to appear over the top of the butter.

Watch carefully as the butter's color changes to brown and the smell of the butter becomes somewhat nutty.

As soon as the butter is an amber brown color, remove from heat and cool in the refrigerator until it the butter has become solid again (can take about an hour or so).

Add cooled brown butter and cream cheese to the bowl of your mixer and beat on high speed until it begins to thicken and fluff.

Next slow down mixer and carefully add in confectioner's sugar. Once all sugar has incorporated, turn mixer back to high to continue whipping.

Add salt and vanilla extract and continue whipping until it is smooth.

Spread frosting between layers and around cake and serve.
Notes
Both the pineapple and nuts are optional in this recipe.  Due to nut allergies in my family, I usually just add the pineapple without the nuts.
If you are adding the nuts, you can also add nuts as a gorgeous garnish to the design of the frosting as well on the outside!
Nutrition
Calories:
511
kcal
|
Carbohydrates:
71
g
|
Protein:
7
g
|
Fat:
23
g
|
Saturated Fat:
11
g
|
Cholesterol:
87
mg
|
Sodium:
194
mg
|
Potassium:
192
mg
|
Fiber:
2
g
|
Sugar:
54
g
|
Vitamin A:
4631
IU
|
Vitamin C:
2
mg
|
Calcium:
57
mg
|
Iron:
1
mg