This Honey Glazed Carrots recipe is fuss-free, nutrient dense and made in less than 20 minutes! Coated with a honey, brown sugar and orange juice sweetened glaze, these carrots are anything but ordinary. If you love this simple side dish, try this Fried Corn, Corn Pudding, Collard Greens and Garlic Mashed Potatoes.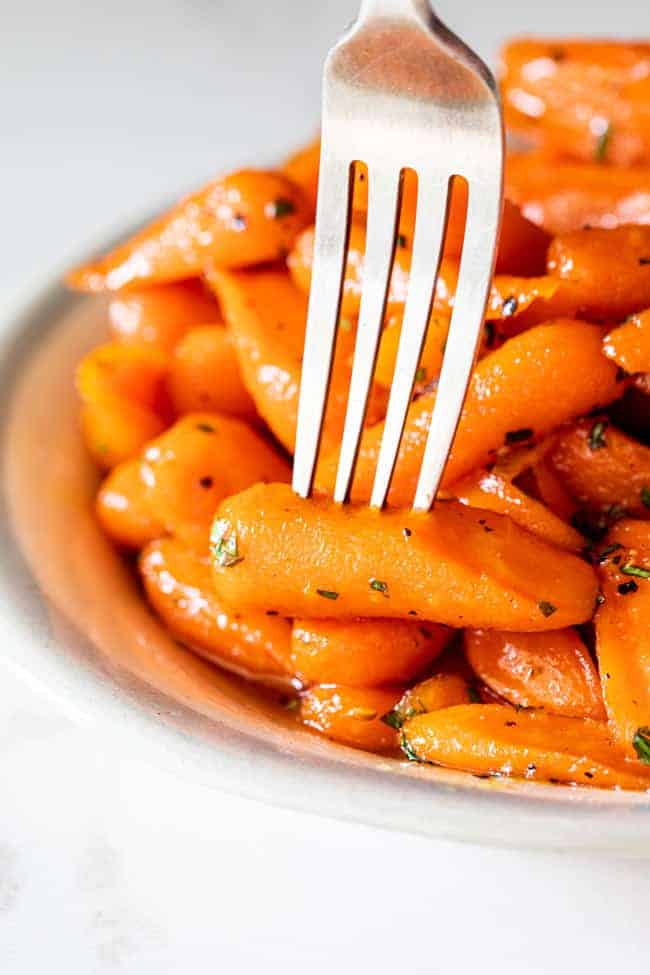 Perfectly Glazed Carrots Recipe Made in Mere Minutes!
After more than a few overly-indulgent holiday meals, I'm ready to reconfigure my diet and set myself up for my healthiest year yet. Healthy diets begin with making healthier everyday choices. I've never been the one to eat salads at lunch and stock my fridge with leafy greens and just steam and saute those greens every single day. I love decadence, flavor and excitement in my food and it can be hard to find that in fruits and veggies.
But, I'm here to report that introducing more nutrients into your meals doesn't have to mean sacrificing flavor! This recipe is the perfect way to incorporate vegetables into your meals while still enjoying something delicious.
Why Eat More Carrots?
At the top of the New Year, I made a commitment to creating a healthier lifestyle for myself and for my family. I'm sure that many of you are riding that wave with me and boy, it's not easy. Integrating more nutrient dense foods is simpler than you might think.
Carrots are a nutritional powerhouse; they are chock-full of Fiber, Vitamin A, Biotin, Potassium and Vitamin B6. Carrots are mainly composed of water and carbs which means they are low-glycemic and extremely low in fat and protein. Integrating this nutritious veggie into your diet is incredibly beneficial and a useful addition to an effective weight-loss diet.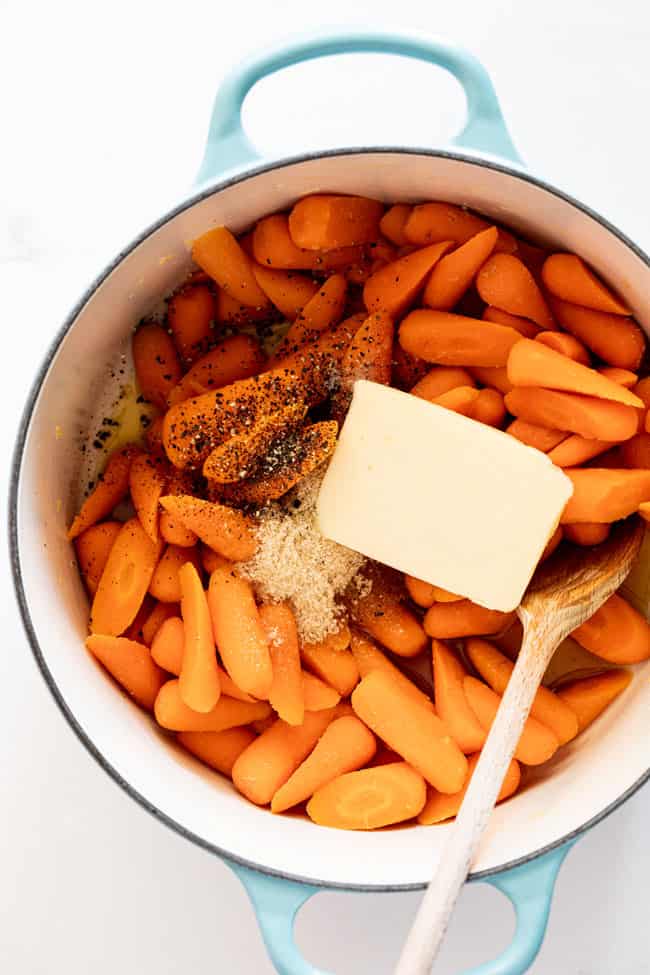 HOW TO MAKE HONEY GLAZED CARROTS
Getting excited about vegetables can be difficult, especially when they're hard to prepare and seemingly harder to make taste good. But I've got good news y'all! These carrots are beyond simple to make and so darn delicious. There are a few unexpected ingredients in this recipe, so let me break it down for you!
Starting with baby carrots eliminates the need for trimming, peeling and cleaning which can take up so much time! A quick boil is all you'll need to cook up these tender little nuggets.
I often find that people are averse to using salted butter because they think it'll over season their food. But, in a recipe that uses a heavy amount of sweetness, using salted butter helps with creating balance and bringing out flavor.
Who doesn't love a bit of sticky-sweet goodness? Honey serves as both a thickener and a sweetener for this glaze. Adding in honey ensures that your glaze will adhere to each carrot and make each bite better than the last.
When cooked, brown sugar caramelizes and creates a deeper molasses like flavor. I love playing with using different forms of sweetness to create a larger depth of flavor.
Citrus is King (or Queen?)! The subtle acidity helps to balance out the sugars and produce a tangy flavor that keeps everyone guessing. A little mystery never hurt anyone.
Okay, I know this one seems strange but hear me out. Vanilla is a natural flavor enhancer that develops a layer of woody, smokey flavor. Even just a dash adds a sweet, perfumed aroma that'll get the mouth watering.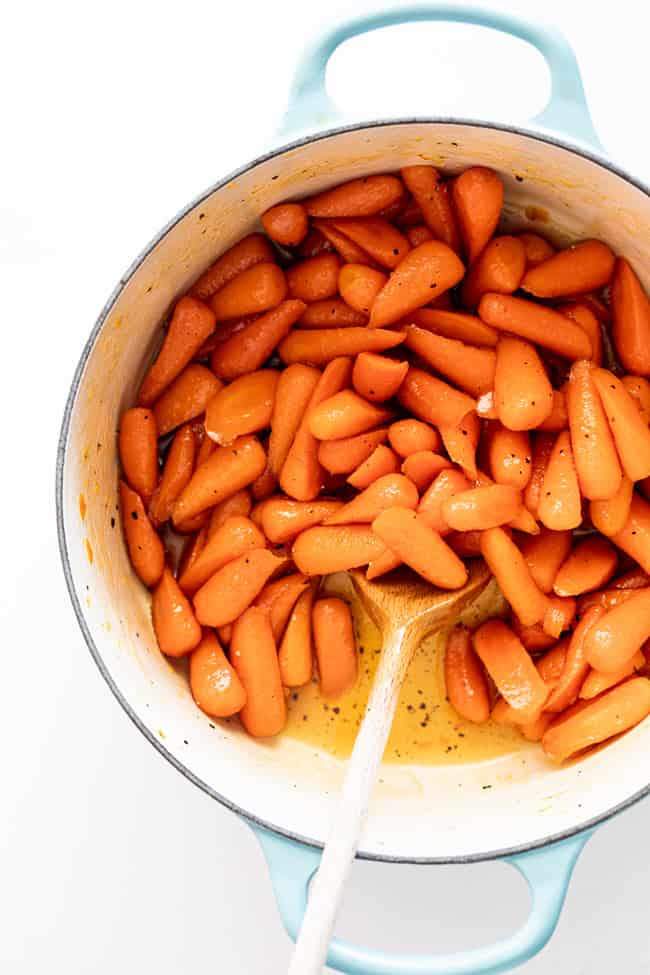 LOOKING FOR MORE SIDES Like This Glazed Carrots Recipe? TRY THESE!
Sides are arguably the best part of any meal especially with this meatloaf recipe! So, why settle for a boring 'ole weeknight dinner when you can jazz it up with one of these recipes?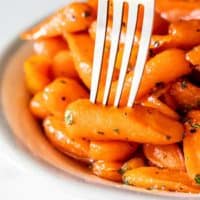 Honey Glazed Carrots
This Honey Glazed Carrots recipe is fuss-free, nutrient dense and made in less than 20 minutes! Coated with a honey, brown sugar and orange juice sweetened glaze, these carrots are anything but ordinary.
Print
Pin
Rate
Ingredients
l

lb

baby carrots

halved

1 1/2

tbsp

salted butter

3

tbsp

honey

3

tbsp

light brown sugar

packed

2

tsp

orange juice

1/4

tsp

vanilla extract

Salt and pepper to taste

Chopped parsley

for garnish
Instructions
Add carrots to a medium pot with 3 cups of water over medium high heat.  Allow water to come to a boil and cook until tender when pierced (about 8-10 minutes).  Drain water.

Next add butter, honey, brown sugar, orange juice and vanilla stirring to coat tender carrots in pot.

Cook for an additional 5-6 minutes, occasionally stirring to coat the carrots.  Once the carrots are glazed perfectly then season with salt and pepper to taste and sprinkle with parsley and serve.
Video
Notes
You can cut the carrots in different ways as well.  You can dice them into smaller pieces and glaze as well.
You can also play with the ratios of the brown sugar and honey to suit your sweetness level.  You can also replace honey with real maple syrup.
Nutrition
Calories:
121
kcal
|
Carbohydrates:
22
g
|
Protein:
1
g
|
Fat:
4
g
|
Saturated Fat:
3
g
|
Cholesterol:
11
mg
|
Sodium:
41
mg
|
Potassium:
12
mg
|
Sugar:
22
g
|
Vitamin A:
131
IU
|
Vitamin C:
2
mg
|
Calcium:
7
mg
|
Iron:
1
mg