Turn the classic Chicka Chicka Boom Boom Book into a fun kid's birthday party! With incredibly fun and inventive ideas, you can create the most amazing themed party based on this popular children's book! Want more ideas for kid birthday parties, check out my daughter's first birthday party!
How To Throw A Chicka Chicka Boom Boom Book Party!
I have shared my journey of becoming a mom so much on this blog that it is only natural that I share her next birthday party. Harmony just turned 2, and I seriously cannot believe it! I feel like I was just announcing I was pregnant, preparing her nursery and bringing her home from the hospital.
Last year, we planned a big blow out to celebrate her first birthday, and it was all about Hawaii! It was the place where I got married and where we had our babymoon. I can't wait to bring Harmony there herself especially since her middle name Leilani is Hawaiian as well.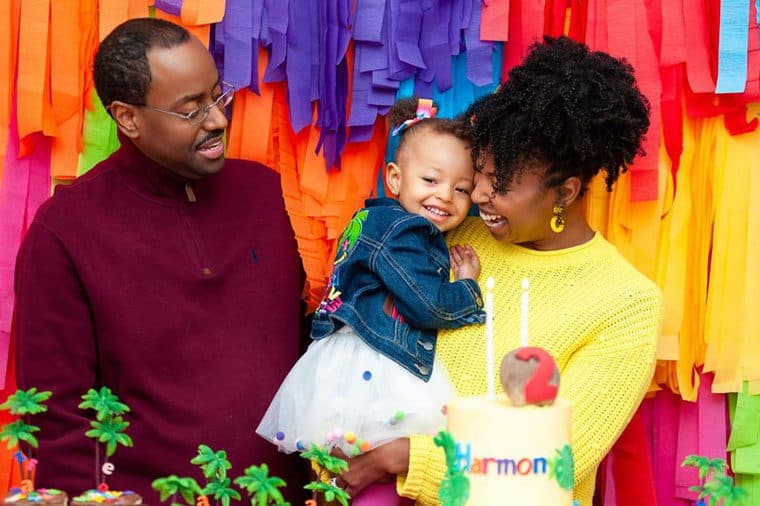 However this year, we decided that it shouldn't be about the adults and what we like and want. This year, we made it all about Harmony and selected a theme she would love. So here I am sharing some amazing tips for planning an epic 2nd Birthday Party!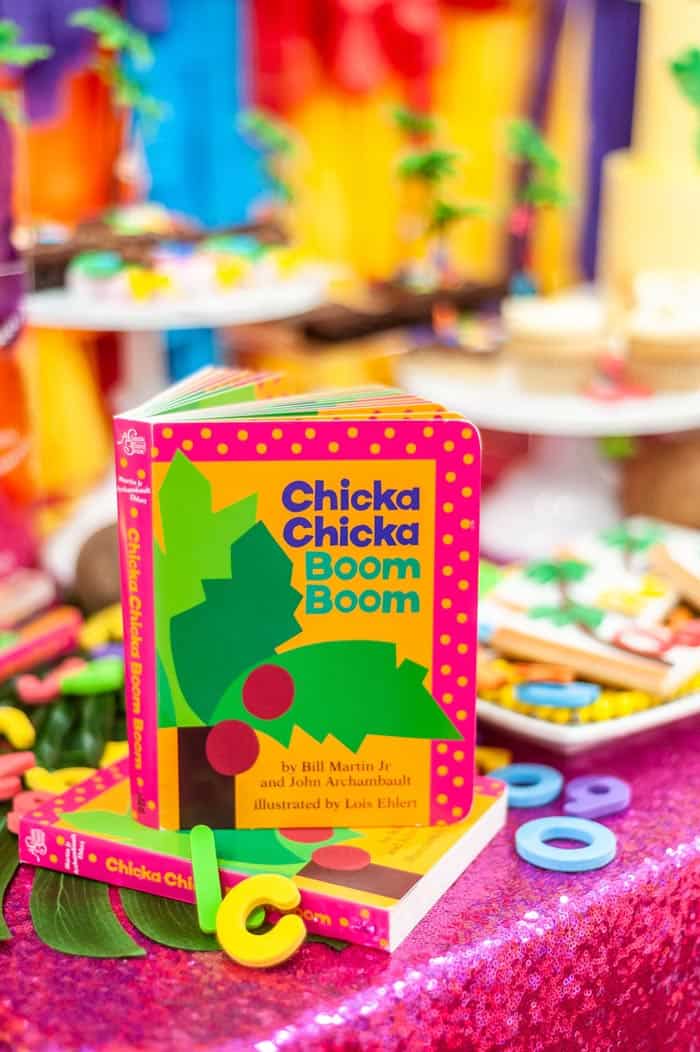 Select a Fantastic Theme Like Chicka Chicka Boom Boom!
Two year olds are very clear individuals. They start to truly become their own people with likes and plenty of dislikes. It was pretty clear early on in our planning that Harmony had some things she absolutely adored. Her absolute favorite things definitely included Chicka Chicka Boom Boom, a book that she seriously had my husband and I read a million times a day. We both know it by heart! This book is filled with bright colors, fun rhymes and silly talking alphabet letters. We knew that we could bring that joy to her party!!!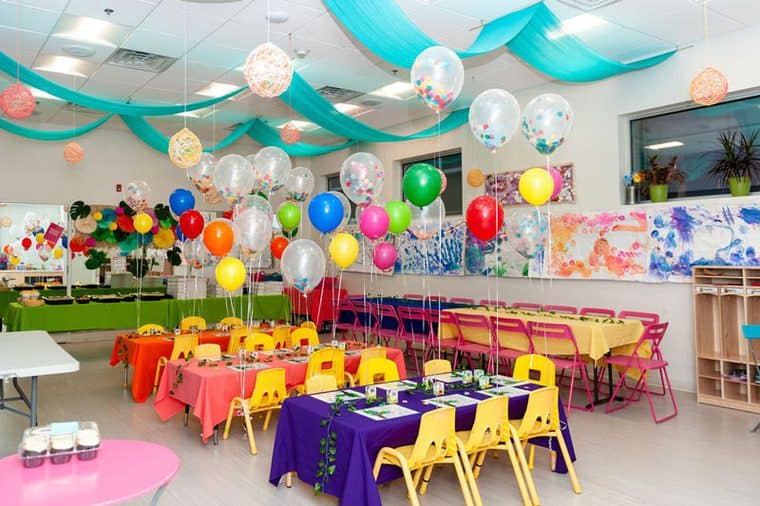 Grab a Party Planner!
If you are super busy like I am, you are going to need some help! Most don't know but in my former life, I was an event planner so if I had the time on my hands, I totally could have planned this party but we all know how much I travel and work so that was totally out of my hands. In walks Events With Ambiance.
Amber, the lead planner and stylist, worked with us on Harmony's first birthday party so we knew that we would be working with her again this year. She is incredibly organized, creative and truly calms you down in the midst of chaos or craziness. Also having a planner allows you to truly enjoy the party and not worry about the details at all.

Select a Fun Venue!
Last year, we had a super sophisticated location complete with chandeliers and the whole nine! This year, we went all kiddy fun and selected Bubbles Academy in Chicago. Bubbles has incredible music and creative movement classes and play areas for kids. They also had plenty of room to accommodate our large party of 75 guests.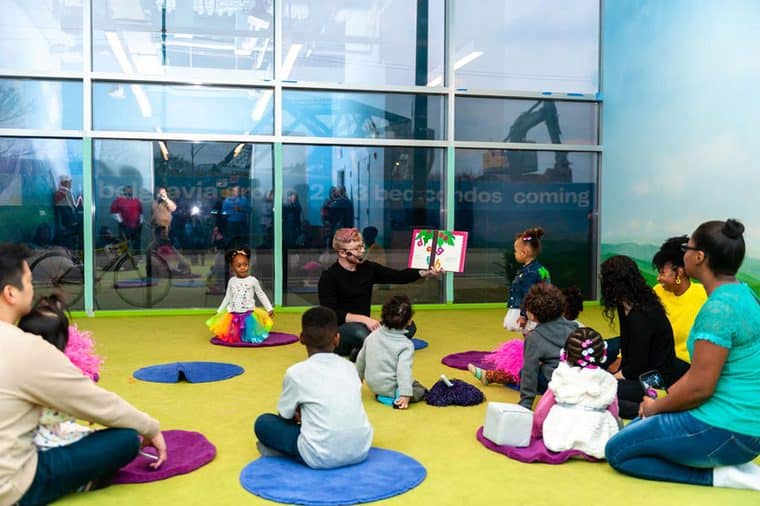 We decided to get a custom party package. This included a boogie bash activity at the beginning of the party for the over 20 kids complete with guitar music, singing, props like pom poms, toys and bubbles and a custom theme all about the alphabet. The leader of the party even read Chicka Chicka Boom Boom to the kids!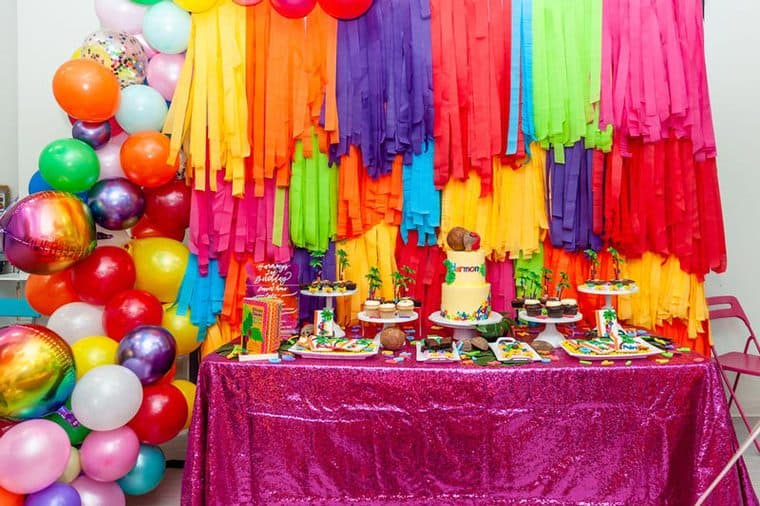 Hire Incredible Vendors
I believe in paying the very best vendors from cake and design to photography and outfits. We selected a dear friend Yvonne of Penthouse Sweets to handle all of the desserts. Her daughter also was hired to handle the backdrop and balloons and she did an incredible job!
For food, we went with a super popular pizza chain in Chicago, Lou Malnati's!
For these incredible photos, I used Nicee Martin again who provided the photos for Harmony's first birthday party.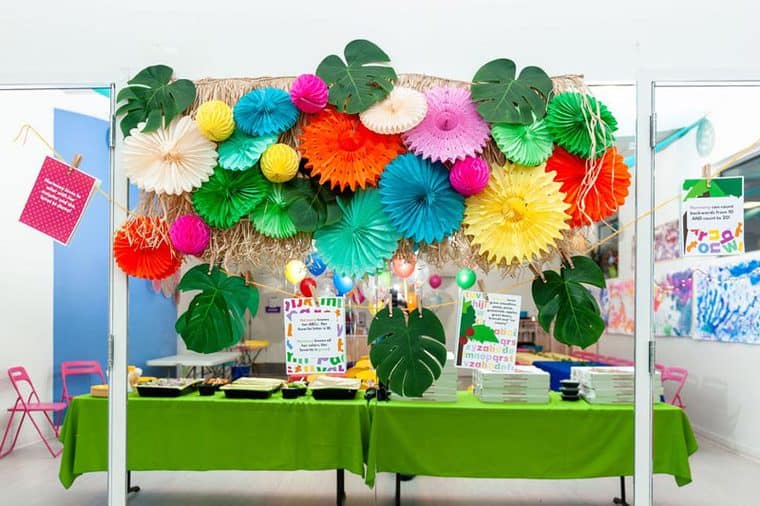 Make Sure Your Theme is Central Throughout The Party
Top to bottom, we made sure the Chicka Chicka Boom Boom theme was everywhere. It started with the invitation that I had made on Etsy. It was themed Chicka Chicka Boom Boom and rhymed just like the book. The theme put all of our guests in the right frame of mind for what to expect for attending the party!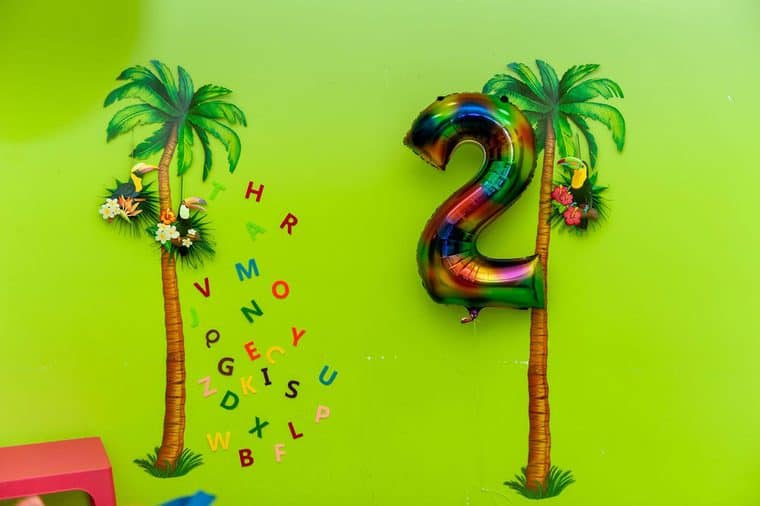 We used bright colors for all of the decor. At the entrance, we had a coconut tree with letters spilling down the sides along with a fun multicolored balloon with Harmony's age.
We truly incorporated the theme into Harmony's outfit. This was super fun to do. Harmony had a custom jacket and shirt made by Lola King Creations. The back had her name sewn down the sides of the coconut tree and alphabet letters everywhere in all colors.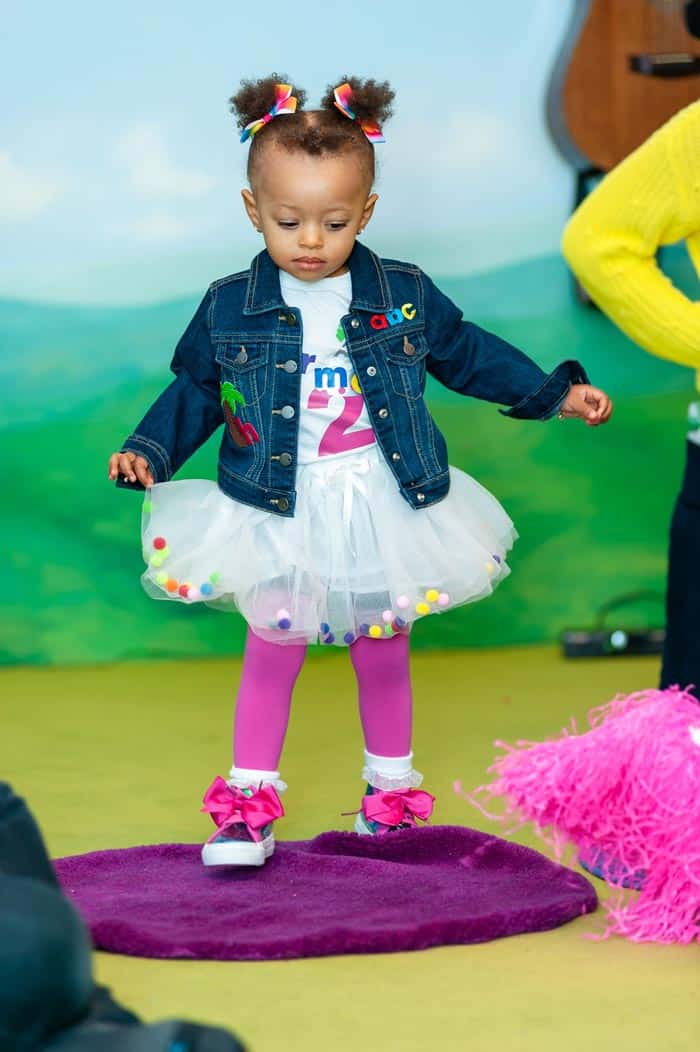 It was seriously fantastic!! She seriously nailed the theme in the best way. I paired her outfit with a fun white skirt with colorful balls in the netting, bright pink tights and these super fun sequin bow high top shoes. And the bows in her hair were just as far as the rest of her outfit!!!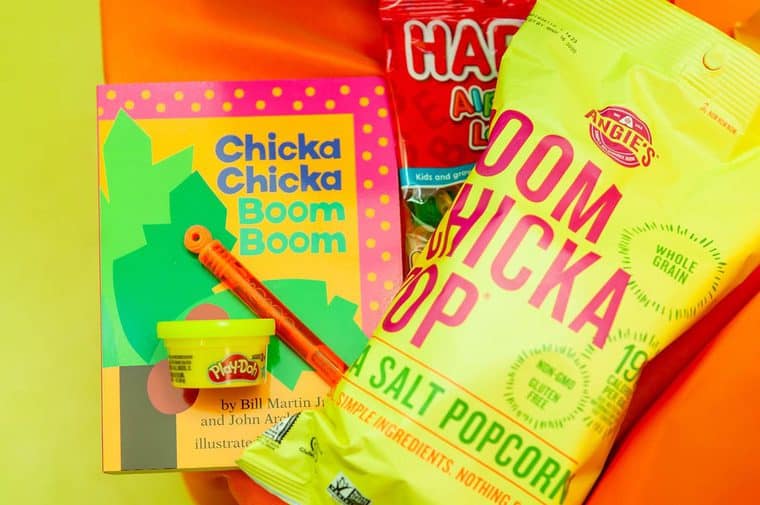 Gift Bags
The gift bags were a wonderful idea concept by Amber. We gave all of the super young kids copies of the Chicka Chicka Boom Boom book. We also gave everyone a pack of alphabet multicolored gummy bears (genius!) and Boom Chicka Popcorn! How cute is that??? We also gave away all of the balloons at the end of the party too!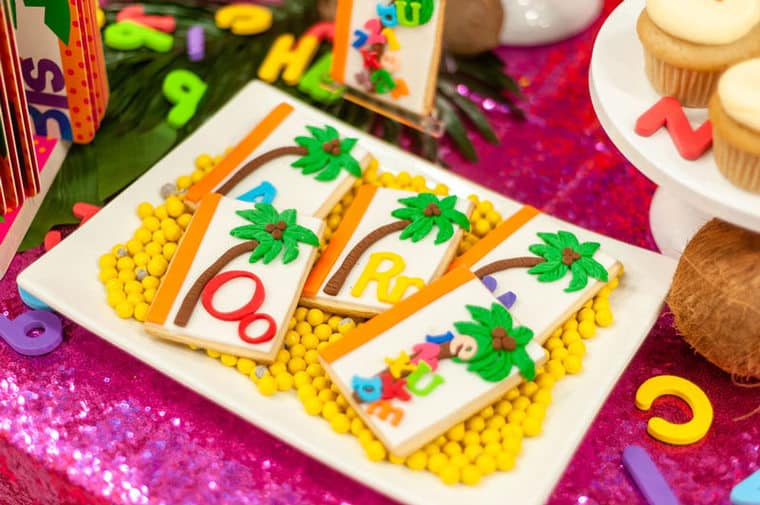 We seriously went all in on the decor and dessert table. It took the theme to a whole new level!! Yvonne created frosted sugar cookies with the letters of the alphabet hanging off coconut trees. She also made incredible cake pops with the same fun design.
My favorite element was the cake which had Harmony's name across it. Everything was set against a hot pink sequin table cloth with cracked open coconuts and large tree leaves set as garnish and decor to fill in for everything.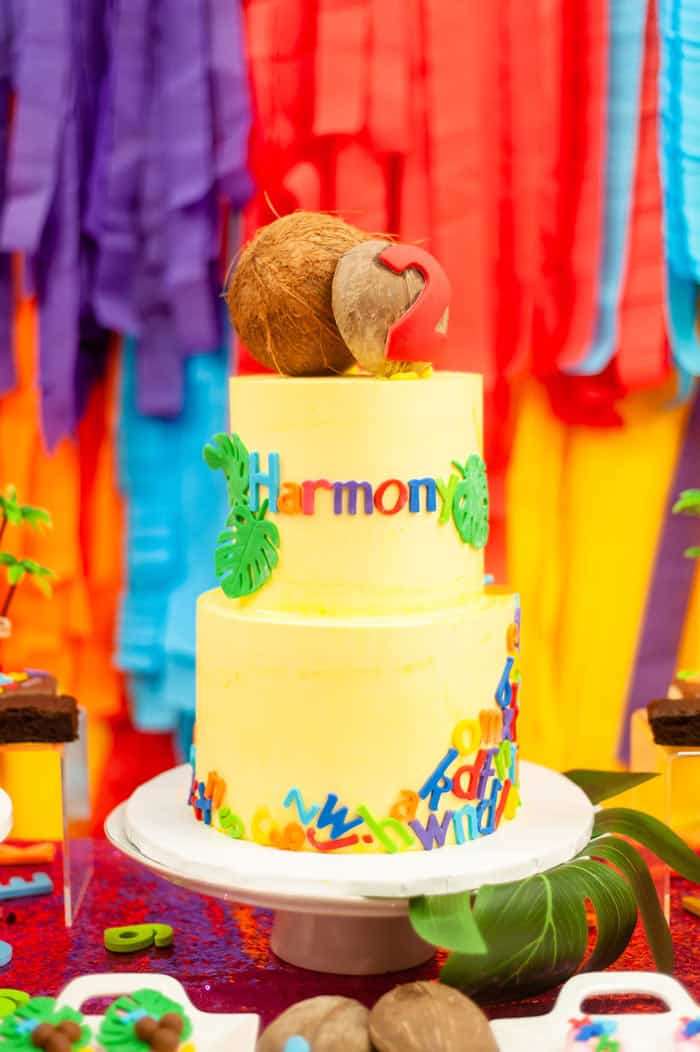 Finally the tables where everyone sat were draped in different table cloth colors and had centerpieces of coconut tree leaves stringing through the center of the table. Finally we had special placemats made with the alphabet on them in different colors that also were a gift for the kids to take home.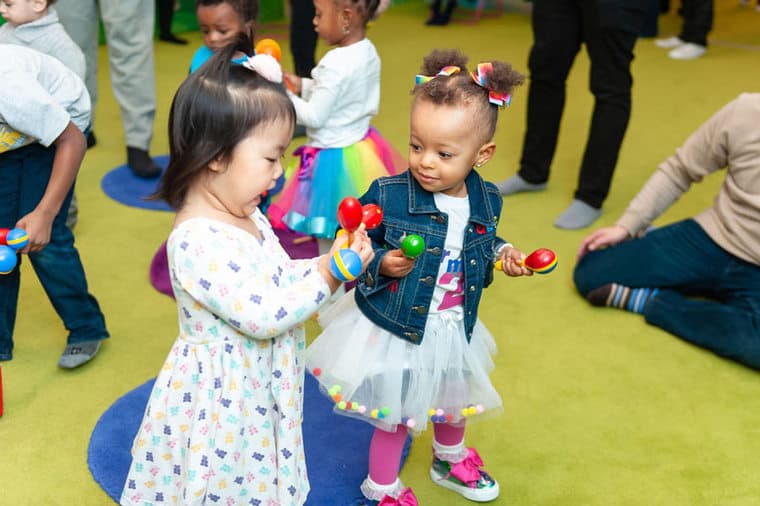 Be mindful of your guests!
In our invitations, we made sure to ask specifically if any of our guests had any food allergies. This has truly become a common thing with kids and definitely adults.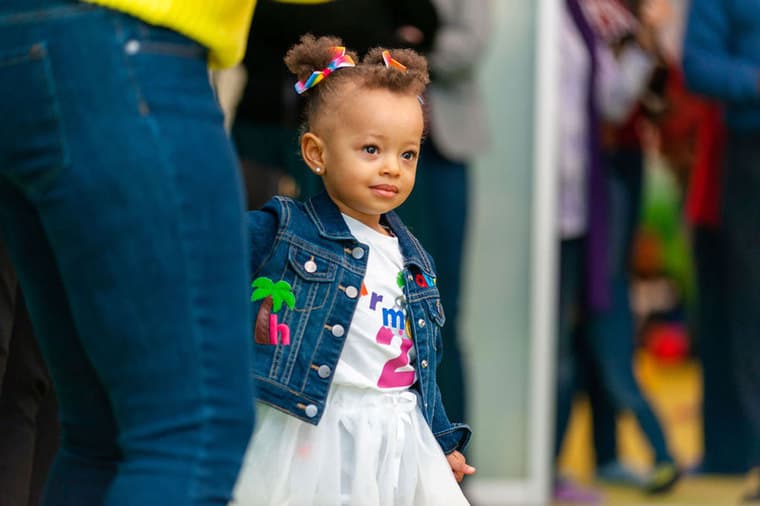 Harmony has a peanut allergy so we wanted to make sure. We had plenty of kids with nut allergies and egg allergies. Because of this, we made sure to select a nut free facility for the party and had a completely nut free menu. Also we included plenty of egg free items for those that had allergies including vegan cupcakes for them.
Vendors
Events : Events With Ambiance
Location: Bubbles Academy
Desserts: Penthouse Sweets
Backdrop and Balloon Installation: Balloons By Erin
Catering: Lou Malnati's
Photography: Nicee Martin
Harmony's Birthday Outfit: Lola King Creations