Y'all, I'm serving up this Summer's sultriest BBQ sauce! Made with fresh, tart cherries, smoky chipotle peppers, warm spices, and robust, sweet molasses, this Cherry Chipotle BBQ Sauce is everything you need in a delicious homemade barbecue sauce! If you love this, you will also love these BBQ Ribs, BBQ Wings and the ultimate cookout menu.
By Leidi Rodriguez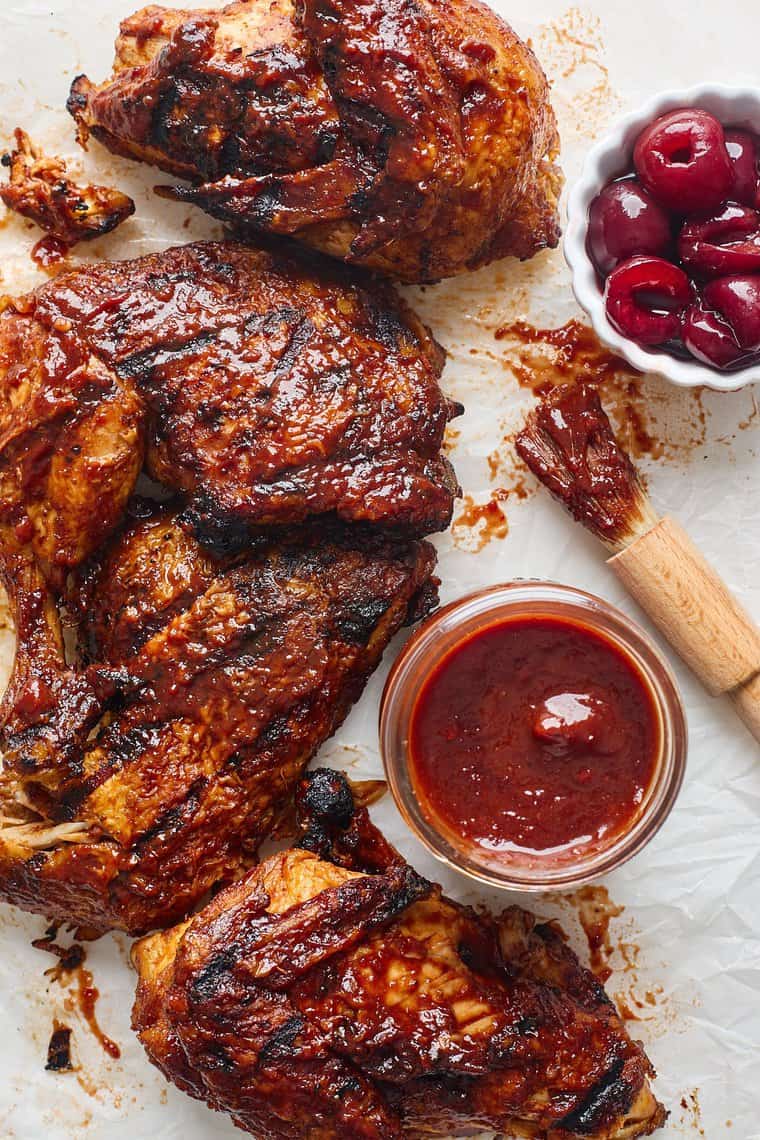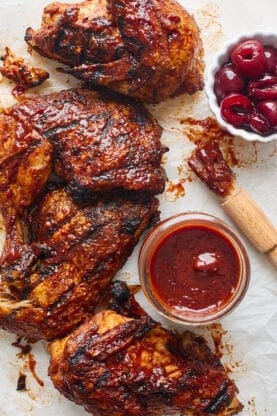 Cherry Chipotle BBQ Sauce Recipe
It's prime cherry season y'all! Cherries are hands down the best part of summer for me. Week after week during those hot Texas months I find myself spending way too much on hefty bags of this sweet-tart fruit.
Mostly, I just love to snack on plump cherries but, when I find that I have an excess amount, I'll whip up a cherry pie or cobbler. But this year I'm in the mood to switch things up a bit!
Homemade Cherry Chipotle Sauce is a great introduction into making your own bbq sauce at home! Simple, sweet, and smoky, this rich sauce is well-balanced and delicious.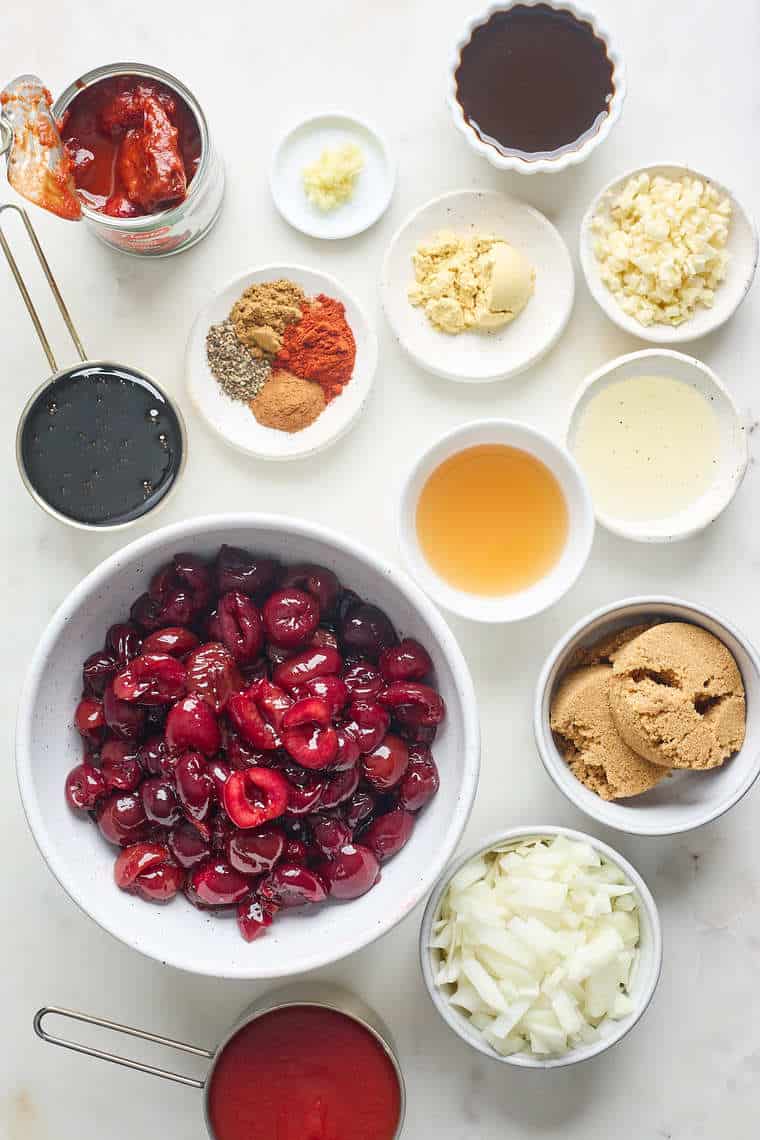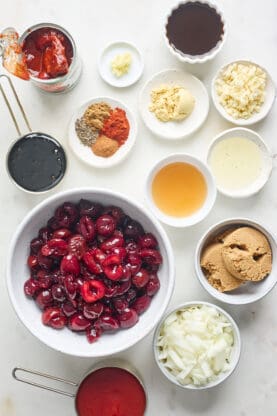 Ingredients
There's really not much to this recipe and (outside of the cherries) it's pretty inexpensive to make! The only thing you'll need to put much time into is thinking about what you're going to smother this stuff with.
Here are the pantry-staple items you'll need today to make this easy chipotle bbq sauce:
FRESH OR FROZEN CHERRIES
WHITE ONION
GARLIC
DARK BROWN SUGAR
MOLASSES
APPLE CIDER VINEGAR
CHIPOTLE PEPPERS IN ADOBO SAUCE
WORCESTERSHIRE SAUCE
TOMATO SAUCE
DRY MUSTARD
SMOKED PAPRIKA
CUMIN
CAYENNE PEPPER
LIQUID SMOKE (OPTIONAL)
How To Pick Fresh Cherries
Want to know how to pick the best, freshest cherries at the market? Look for bright green stems which is a big indicator for freshness. You'll want the cherries themselves to be firm, plump, and dense, with shiny skins and deeply saturated color. Avoid bruised or wrinkled cherries; they're most likely squishy and lacking in flavor. And you want tons of flavor in this cherry bbq sauce.
Is It Ok to Use Frozen Cherries?
Yes! I chose to use cherries simply because they are in season. Fresh cherries make a big difference in the flavor and freshness of this sauce. But, if they are not available to you, or you're looking for a more inexpensive option go ahead and use frozen cherries.
The frozen variety should be thoroughly thawed and drained before use. We don't want to add more moisture than necessary!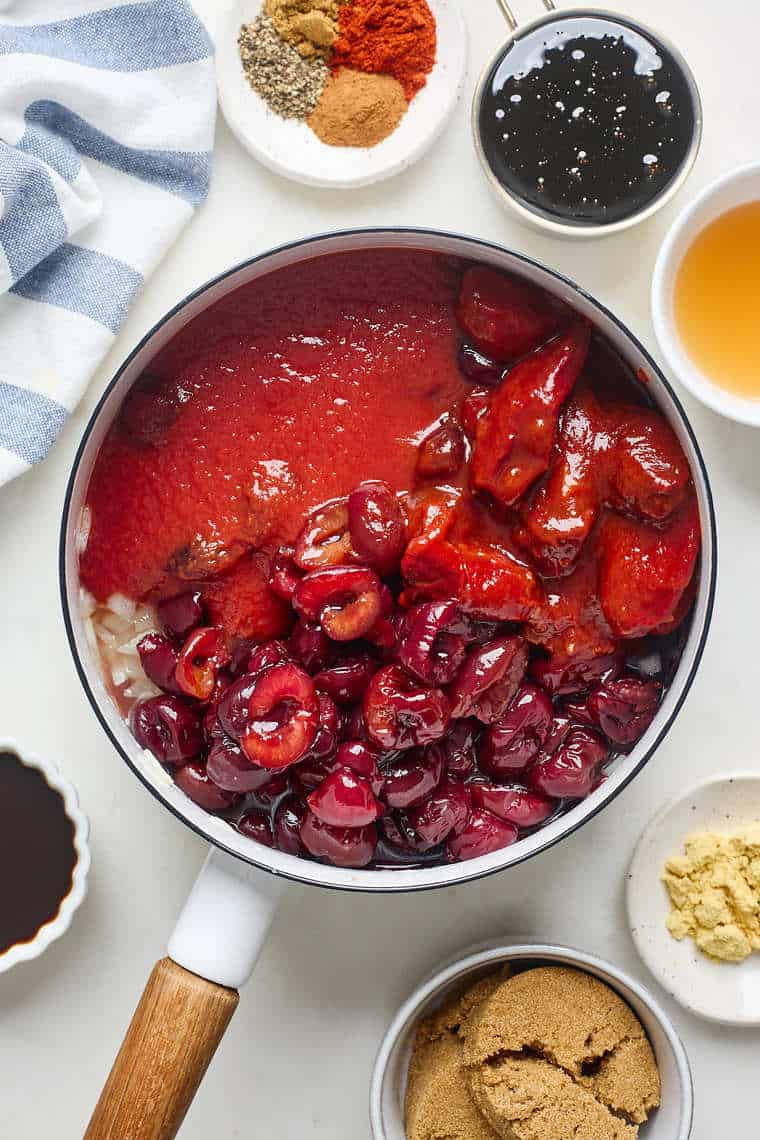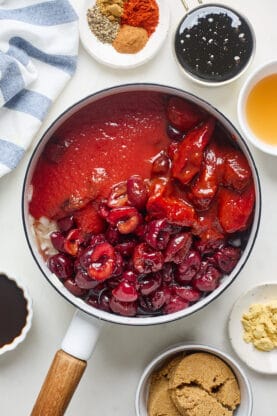 How To Make Homemade Barbecue Sauce
Okay, so at this point I'm sure you're asking "how the heck do I make bbq sauce?". Patience is a virtue and y'all are about to be rewarded! This chipotle barbecue sauce recipe requires a bit of time and a whole lot of love but, honestly, it's really not very hard to make.
All you gotta do is follow a few simple steps:
Pit and chop the cherries.

If using fresh cherries, you'll need to prep them for use. Be sure to properly clean them, remove their stems and pits, then chop them roughly. No need to be perfect. If using frozen cherries, you'll want to set them in a strainer over the sink until thoroughly defrosted.

Prep and measure your ingredients.

To make this recipe super easy, try pre chopping and measuring out all of your ingredients. It'll help keep you organized and speed things up a bit.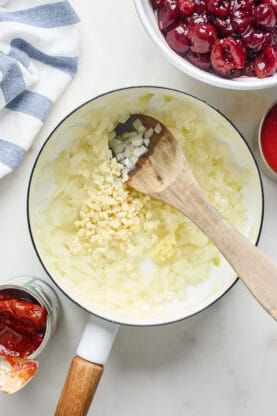 Saute the aromatics.

The onion, garlic, and ginger will need to cook first so they release all those amazing smells and flavors. Feel free to adjust the measurement of these ingredients (along with most of the others) to suit your own taste!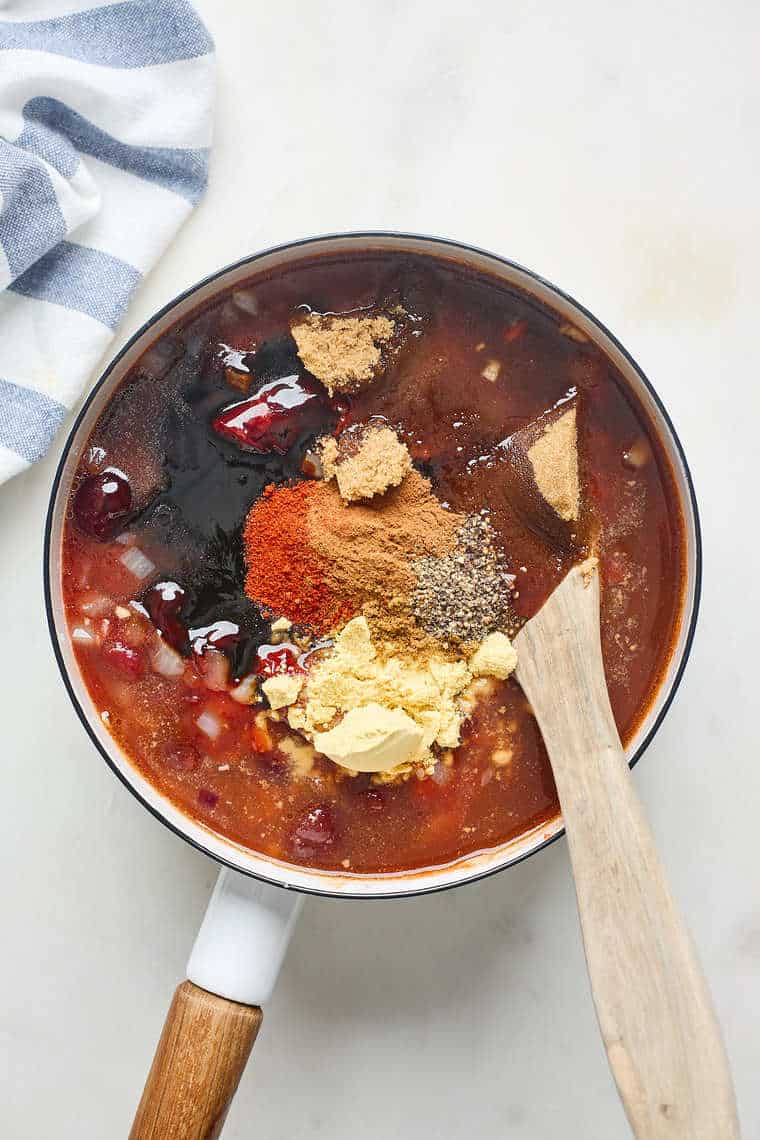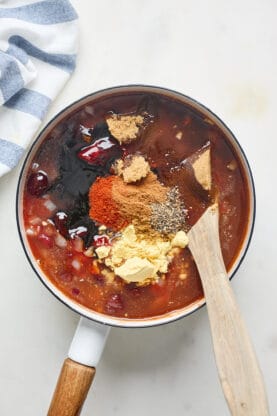 Simmer the sauce.

Developing flavor takes time! Allow the sauce to simmer for at least 30 minutes but, if you lower the heat, you could let it cook for a bit longer. Just note that as the sauce cooks it will reduce and thicken.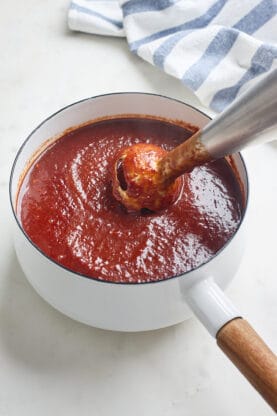 Blend and serve.

Once the sauce is dark, thick, and delicious go ahead and puree it until smooth, adding any additional liquid you might want or need. Don't forget to season to taste!
That's it y'all! This one-pot recipe is a breeze! So what're you waiting for?!
How To Store Homemade BBQ Sauce
To store homemade bbq sauce, you should cool it to room temperature and then transfer it into a large mason jar or a similar-sized airtight container. In a pinch, you can totally use a freezer-safe zip top bag.
How Long is BBQ Sauce Good For?
Cherry Chipotle BBQ Sauce can last for up to 2 weeks in the refrigerator. To extend its life, check the freezing instructions below!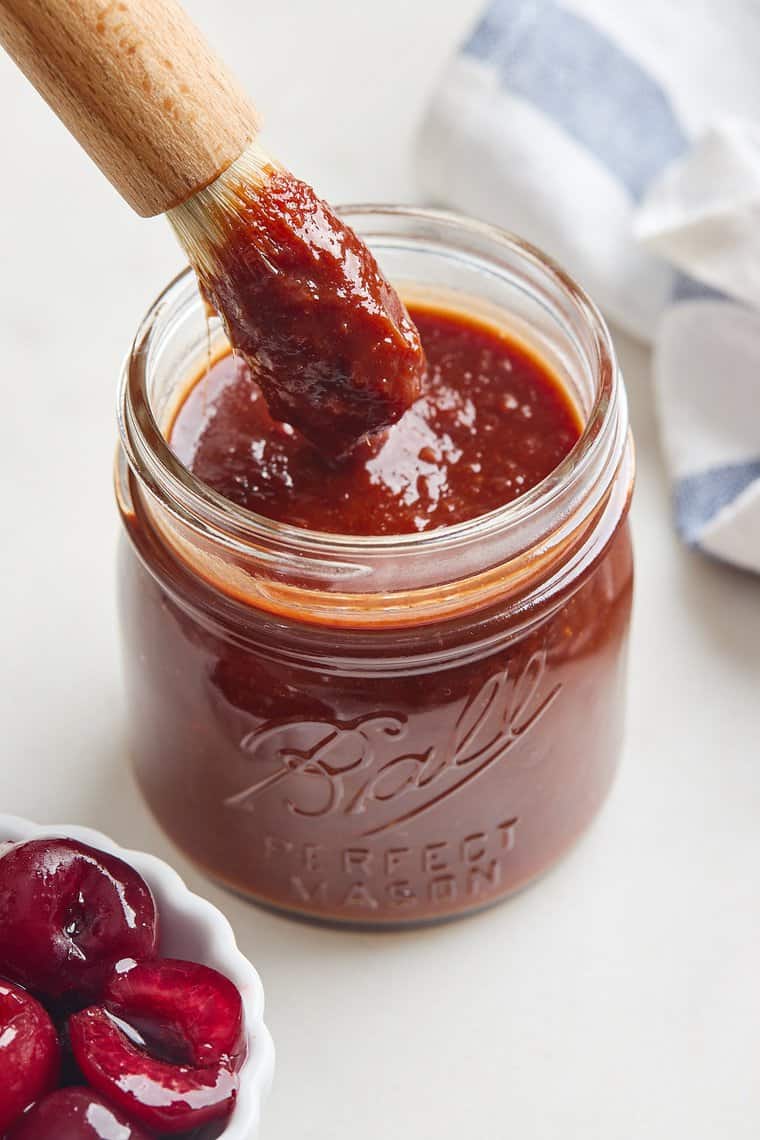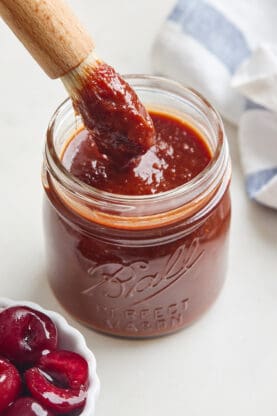 Can You Freeze BBQ Sauce?
You can absolutely freeze bbq sauce! Don't let a single drop of your homemade hard work go to waste! Freezing is a great way to keep bbq sauce fresh for a longer period of time. This is especially helpful when making large batches of sauce.
Simply allow your Cherry Chipotle BBQ Sauce to come to room temperature and place it into an airtight, freezer-safe container. Label the container, then tuck it away in the freezer for up to 6 months. [
To thaw, either let it sit in the fridge overnight or run the container under hot water until the sauce releases into a saucepan where you'll heat it up to your desired temperature.
FREEZING TIP: only freeze as much as you're going to use in one sitting, as you cannot refreeze a thawed BBQ sauce.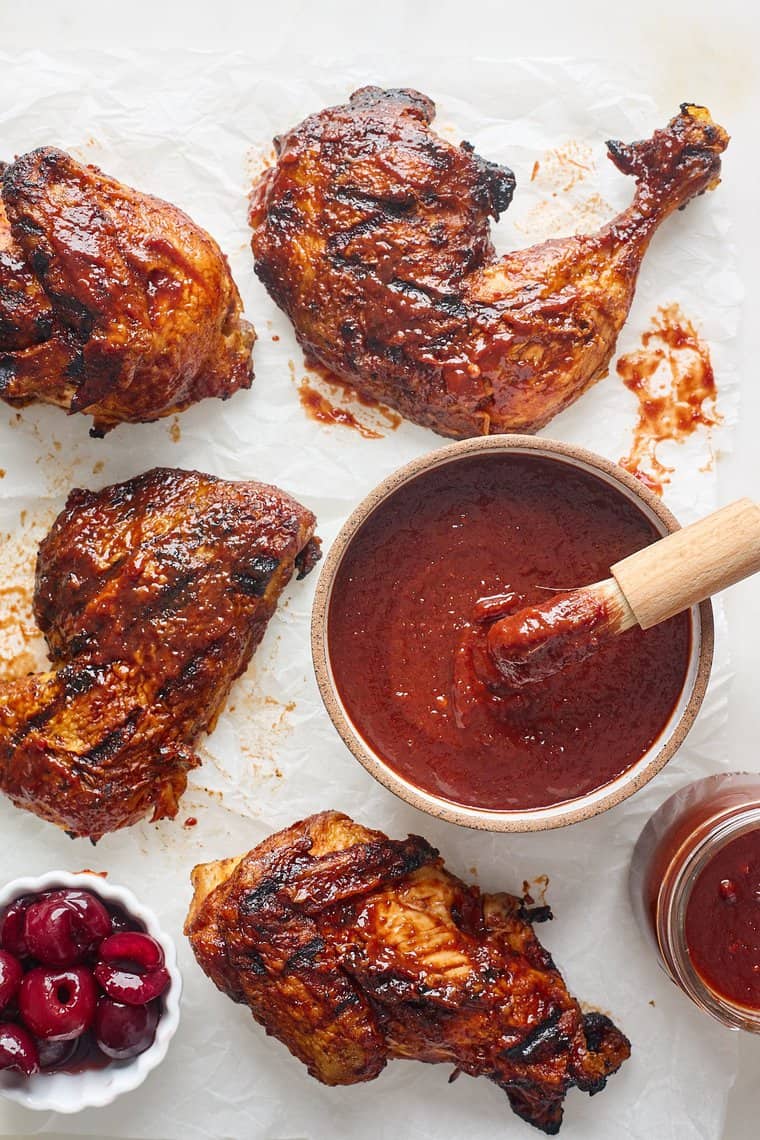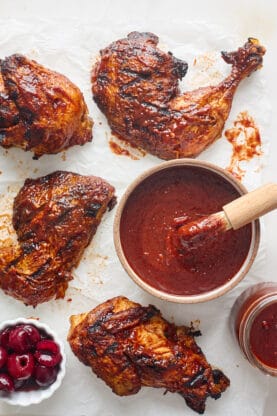 How to Serve It
BBQ sauce can be used in so many different ways! Try it as a topping for your favorite burger, glaze your brisket with it, or marinate your favorite cut of chicken in it. The possibilities are endless!
Still looking for a few suggestions? Pair this sauce with one of my classic BBQ recipes!
LOVE THIS RECIPE? TRY OUT A FEW MORE OF GRANDBABY CAKES' SIGNATURE SAUCES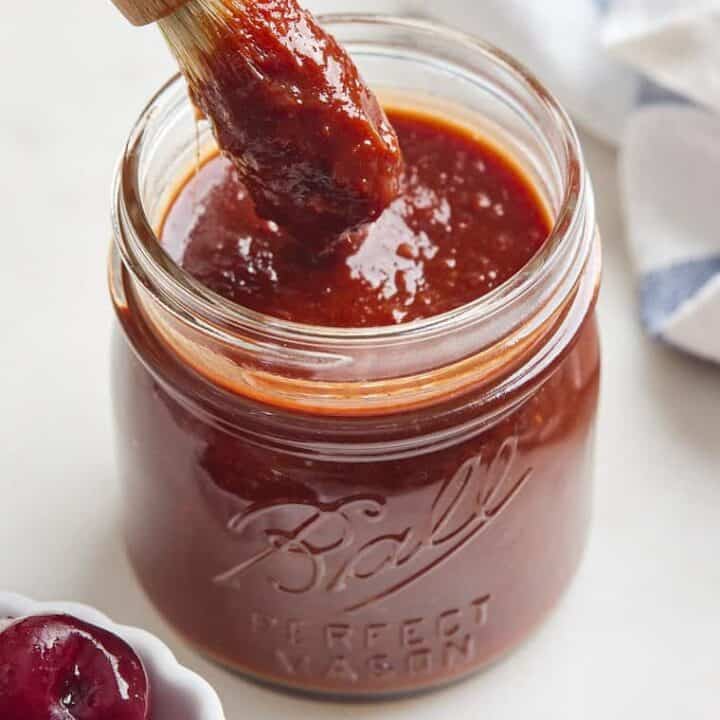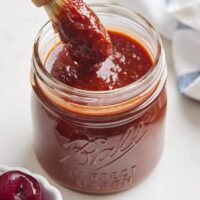 Cherry Chipotle BBQ Sauce
Y'all, I'm serving up this Summer's sultriest BBQ sauce! Made with fresh, tart cherries, smoky chipotle peppers, warm spices, and robust, sweet molasses, this Cherry Chipotle BBQ Sauce is everything you need in a delicious homemade sauce!
Print
Pin
Rate
Ingredients
2

tbsp

canola oil

1

large white onion

diced

kosher salt

4

garlic cloves

minced

1

tsp

grated ginger

8

oz

tomato sauce

7

oz

chipotle peppers in adobo sauce

2

lbs

cherries

pitted and chopped (see note below about using froze)

1/2

cup

dark brown sugar

1/2

cup

molasses

1/4

cup

apple cider vinegar

1/4

cup

worcestershire

1

tbsp

ground mustard

1

tsp

ground cumin

1

tsp

ground pepper

1

tsp

smoked paprika

1/2

tsp

ground cinnamon

1

tbsp

liquid smoke

optional
Instructions
Heat the canola oil in a large heavy bottomed pot over medium heat. To the pot, add the onion and a heavy pinch of salt. Saute, stirring frequently, until the onions are slightly browned and mostly translucent. Add the garlic and ginger and sauté another minute.

Add tomato sauce, chipotle peppers, and pitted cherries. Mix to combine and bring to a low boil.

Add the rest of the ingredients to the pot and stir to combine. Allow the sauce to simmer for at least thirty minutes, giving plenty of time for the cherry juices to release. Taste frequently and adjust sweetness to fit your preferences.

Use a stick immersion blender to puree the sauce in the pot until smooth, or carefully transfer to a blender in small batches. Simmer the pureed sauce for at least another ten minutes and season to taste. If the sauce is too thick for your liking, you can add a bit of water or broth to thin it out.

Serve immediately or store in airtight mason jars for later use.
Notes
NOTE: You can replace fresh cherries with 2 lbs frozen cherries, defrosted and drained
NOTE: Some cherries will be sweeter than others, likewise for the spiciness of chipotle peppers. Keep in mind once the sauce is pureed, the flavor will be much more cohesive. I wait until after that step to do most of my adjustments.
NOTE 2: Cherries and peppers will also vary in darkness of color, so your sauce will too.
Nutrition
Calories:
524
kcal
|
Carbohydrates:
115
g
|
Protein:
4
g
|
Fat:
9
g
|
Saturated Fat:
1
g
|
Polyunsaturated Fat:
2
g
|
Monounsaturated Fat:
5
g
|
Trans Fat:
1
g
|
Sodium:
1156
mg
|
Potassium:
1567
mg
|
Fiber:
12
g
|
Sugar:
96
g
|
Vitamin A:
3142
IU
|
Vitamin C:
25
mg
|
Calcium:
193
mg
|
Iron:
6
mg