Grilled Ribeye Steak Recipe with Tequila Barbecue Glaze – Easily learn how to grill ribeye steak made perfectly tender and flavorful with a sweet yet tangy ribeye marinade and glaze.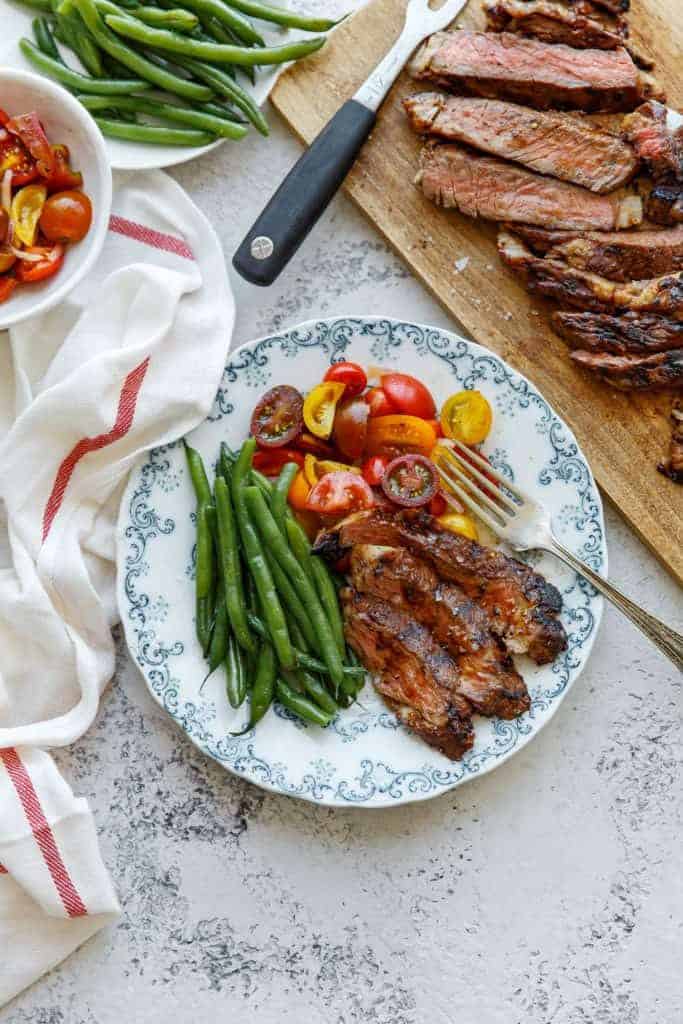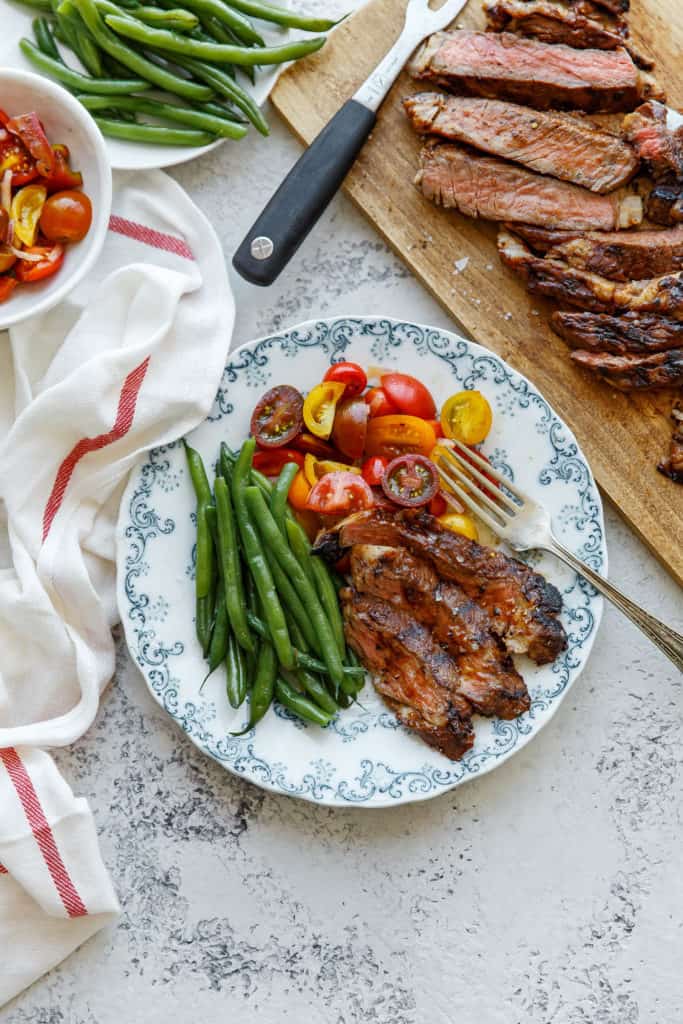 Disclosure: I collaborated with Beef. It's What's for Dinner. on behalf of the Beef Checkoff for this recipe post, but all opinions expressed here are my own. I am grateful for authentic partnerships like this.
Memorial Day is just around the corner, and I'm ready to grill all things! With Chicago finally getting the message on warmer weather, I simply can't resist getting outside to enjoy it while it lasts. Each year, my entire family loves to get together and grill. With so many of us, it can be difficult to determine what to make. We all have our unique tastes. To satisfy everyone, I begin masterminding new grill recipes filled with tons of flavor like this carne asada recipe or this marinated skirt steak recipe.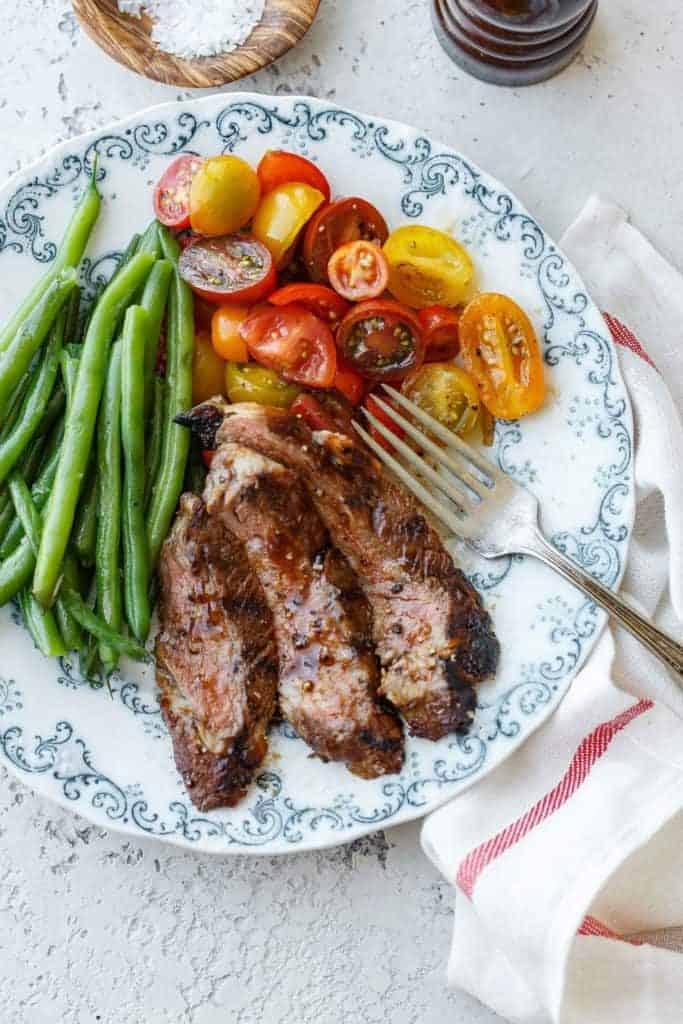 How To Cook Steak on the Grill
Beef is one of my all-time favorite proteins so I love thinking of exciting ways to make it new and fresh for my family. Not only is it incredibly delicious, it's nutrient-rich and raised with care and dedication by America's farmers and ranchers.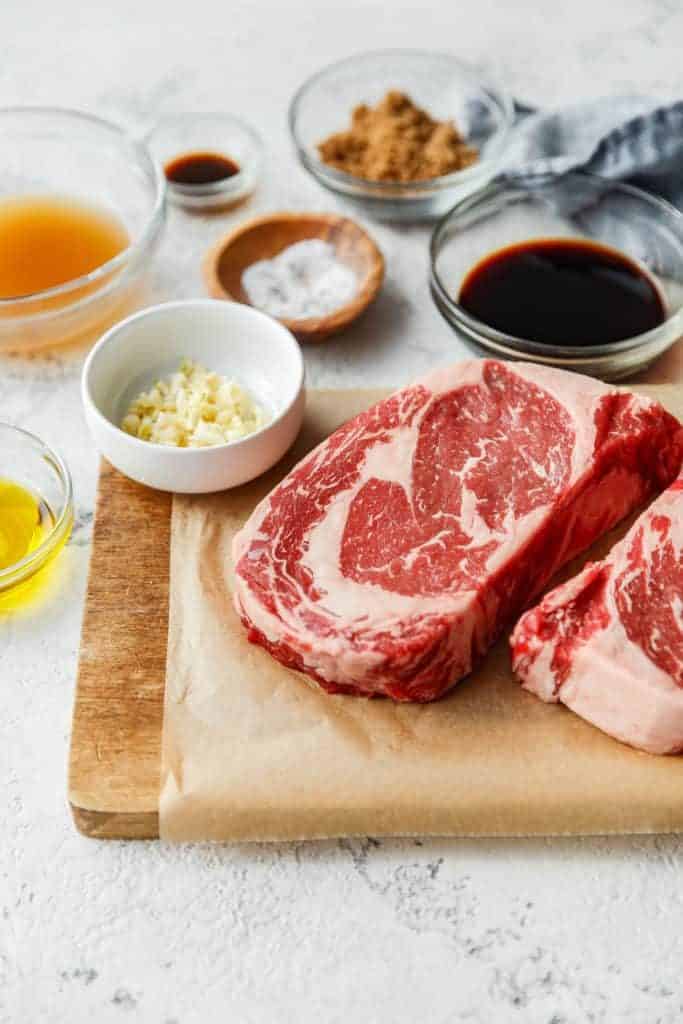 When you start with high-quality protein, like beef, you are guaranteed incredible results.
How to Make the Best Ribeye Steak Marinade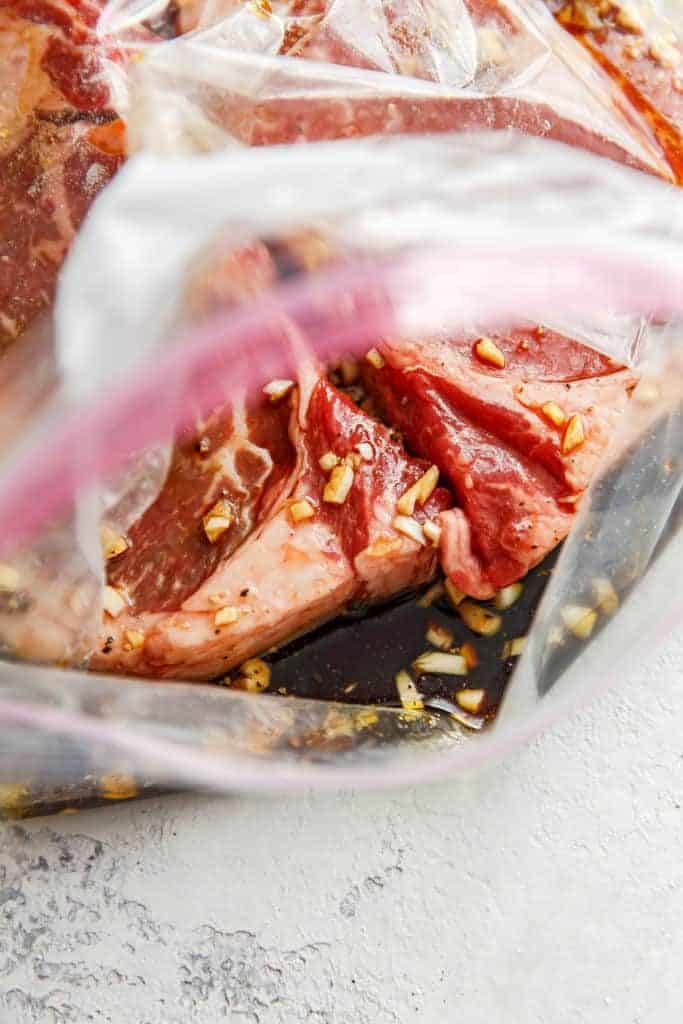 This Grilled Ribeye with Tequila Barbecue Glaze is perfection. The flavors are sensational and build on layers and layers of ingredients.
The recipe starts with a flavor building marinade. Packed with everything from soy sauce to brown sugar, the sweetness really gets its edge here. After letting the marinade do its magic, it imparts a tangy luscious essence to the beef.
How To Grill Ribeye Steak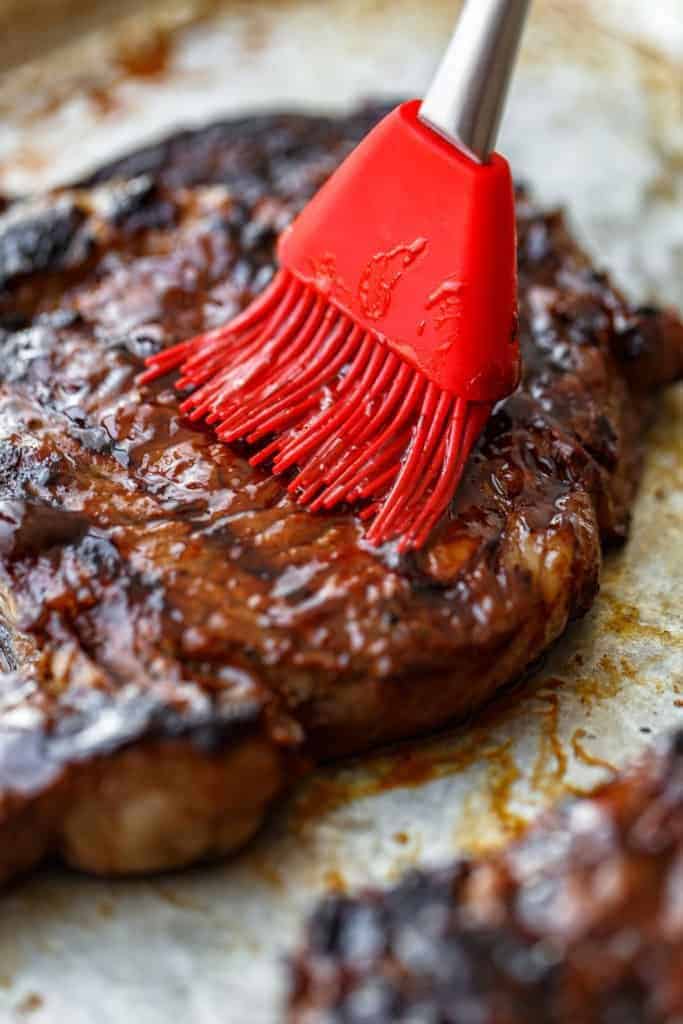 I opted to grill this steak, and while it tastes amazing on the grill during the summer, you can skillet cook or broil it and get just as much deliciousness anytime of the year. To determine the doneness of your Ribeye, insert an instant-read thermometer horizontally into the side of the steak. Remember to place the thermometer into the thickest part of the beef. It should not touch any bones, fat or the grill itself.
Adding More Flavor to this Grilled Ribeye Steak Recipe
All that's left is to add on a seasonal flare, like this Tequila BBQ Glaze, to guarantee that everyone will want a cut of delicious steak on their table this summer. The dark brown sugar specifically adds a stronger molasses flavor than the typical light brown sugar; its caramel undertones when added to your favorite barbecue sauce are to die for. To balance out the sweetness, I added the depth of a unique tequila flavor. Tequila really shines with all of these ingredients giving the sauce its own personality.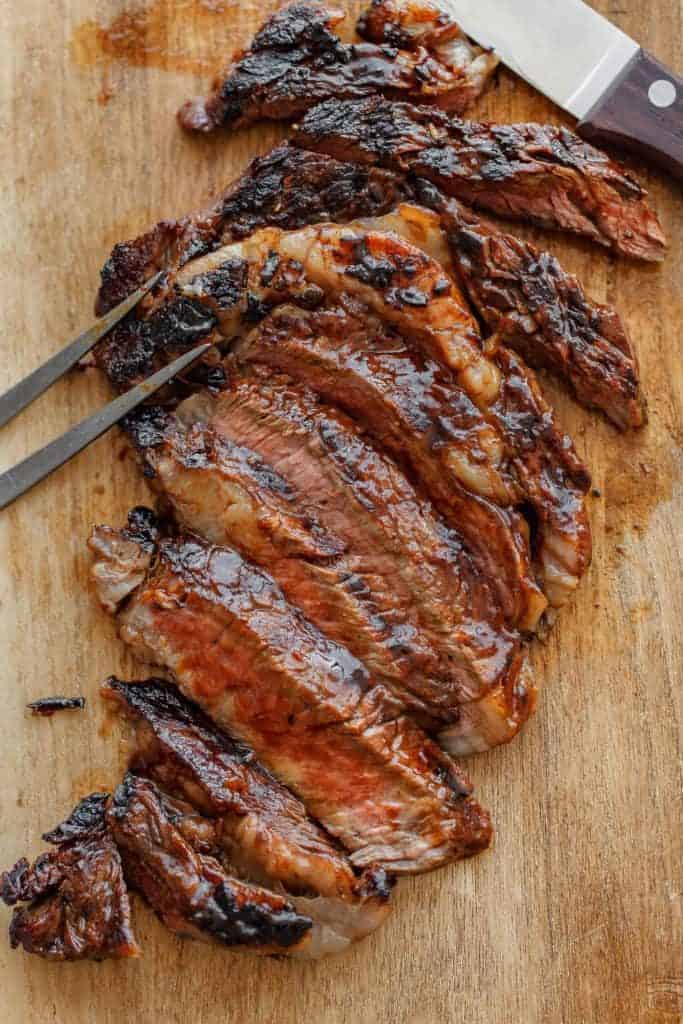 The tender, succulent grilled ribeye is the perfect match to stand up to these bold flavors. The final product is rich with decadent summer inspired taste! I'm pretty sure everyone at my family cookout will get a kick out of this recipe this year (if it isn't grilling season, feel free to check out this post on how to sear the perfect steak instead). If you are looking for more bold recipes and excitement, make sure you visit www.BeefItsWhatsForDinner.com for recipe and summer grilling inspiration.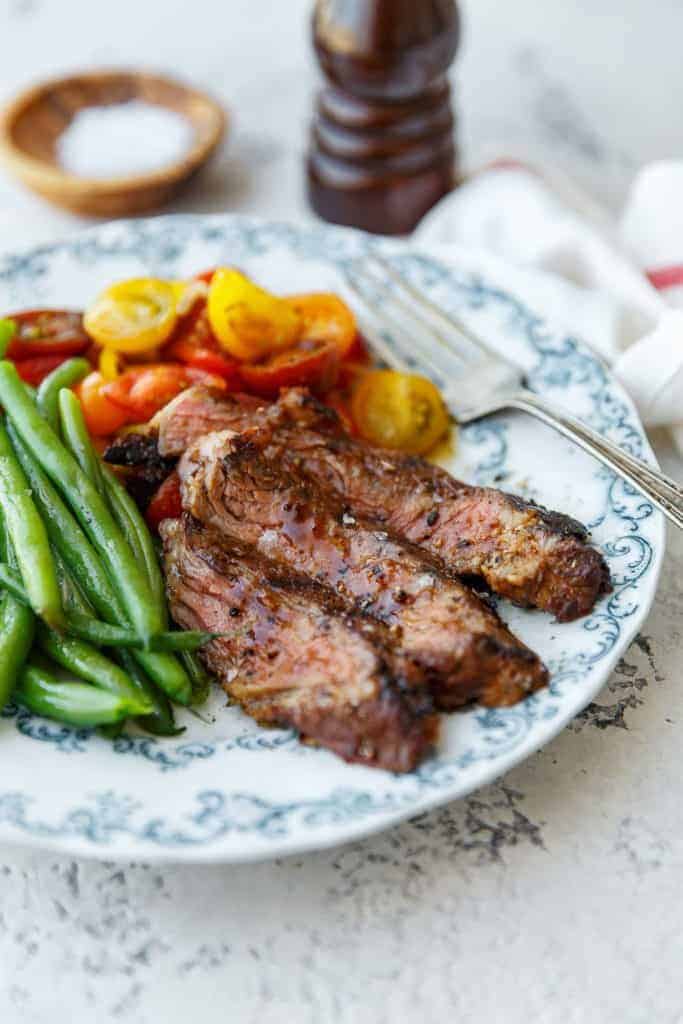 Grilled Ribeye Steak Recipe with Tequila Barbecue Glaze
Grilled Ribeye Steak Recipe with Tequila Barbecue Glaze - Easily learn how to grill ribeye steak made perfectly tender and flavorful with a sweet yet tangy ribeye marinade.
Author:
Jocelyn Delk Adams of Grandbaby Cakes
Ingredients
For the Ribeye Steak Marinade:
2 Ribeye Steaks, Boneless (1 pound each)
½ cup apple cider vinegar
¼ cup soy sauce
2 tablespoons extra virgin olive oil
2 tablespoons packed dark brown sugar
1 tablespoon minced garlic
1 teaspoon Worcestershire sauce
1 teaspoon seasoned salt
½ teaspoon black pepper
For the Tequila Barbecue Glaze:
1 cup barbecue sauce
2 tablespoons tequila
1 tablespoon soy sauce
½ teaspoon Worcestershire sauce
1 tablespoon packed dark brown sugar
¼ teaspoon garlic powder
¼ teaspoon smoked paprika
½ teaspoon seasoned salt
Instructions
For the Ribeye Steak Marinade:
Whisk together all ingredients and pour into a large freezer sized bag. Next add Ribeyes and marinade in the refrigerator for at least 6-8 hours.
For the Tequila Barbecue Glaze:
In a small sized pot, add barbecue sauce, tequila, soy sauce and Worcestershire sauce over medium heat.
Once the mixture begins to bubble, whisk in brown sugar, garlic powder, paprika, and salt and mix until combined.
How To Grill Ribeye:
Remove steaks from marinade and season with salt and ground black pepper. Place steaks on medium grill. Grill steaks for 3-5 minutes on each side depending on level of doneness you prefer and thickness of steaks. Next brush glaze on both sides of each steak and grill an additional minute on each side until glaze caramelizes. Transfer steaks to a plate and allow to rest for at least 5 minutes. Once rested, serve with additional glaze. For more information on grilling visit www.beefitswhatsfordinner.com/cooking/grilling.
.