These Divine Eggs are made perfectly with creamy Miracle Whip, tangy mustard and sweet relish this the BEST Classic Deviled Eggs recipe sure to impress. An Easter and holiday MUST! If you want more amazing appetizers, try my Creole Shrimp Egg Salad, Pimento Cheese, Tomato Tarts and Crab Cakes!
The BEST Divine Eggs Recipe
Picture this: you walk into a swanky cocktail hour hosted at a Southern Country Club. The women are sporting their finest pearls and their husbands are wearing freshly pressed suits. Fancy, huh? A line is starting to form at the bar where the drinks of choice are mint juleps and whiskey served neat. Across the room you've spotted an appetizer table filled with finger sandwiches, shrimp cocktail, pimento cheese and best of all, Deviled Eggs.
At this point in my strange fantasy, I beeline for the grub and I make it my mission to pile my plate high. I pop the first egg in my mouth and my taste buds begin to tingle, to sing and eventually, to beg for more.
The Deviled Eggs (or Divine Eggs) I'm dreaming of are creamy, spicy and tangy. With each one I tell myself it's the last but, it won't be. My Auntie Rose's Deviled Eggs are those eggs and I've yet to eat another that could compare. Don't believe it? Try this recipe and see for yourself! P.S. She was the one that made this bomb Cornbread Dressing!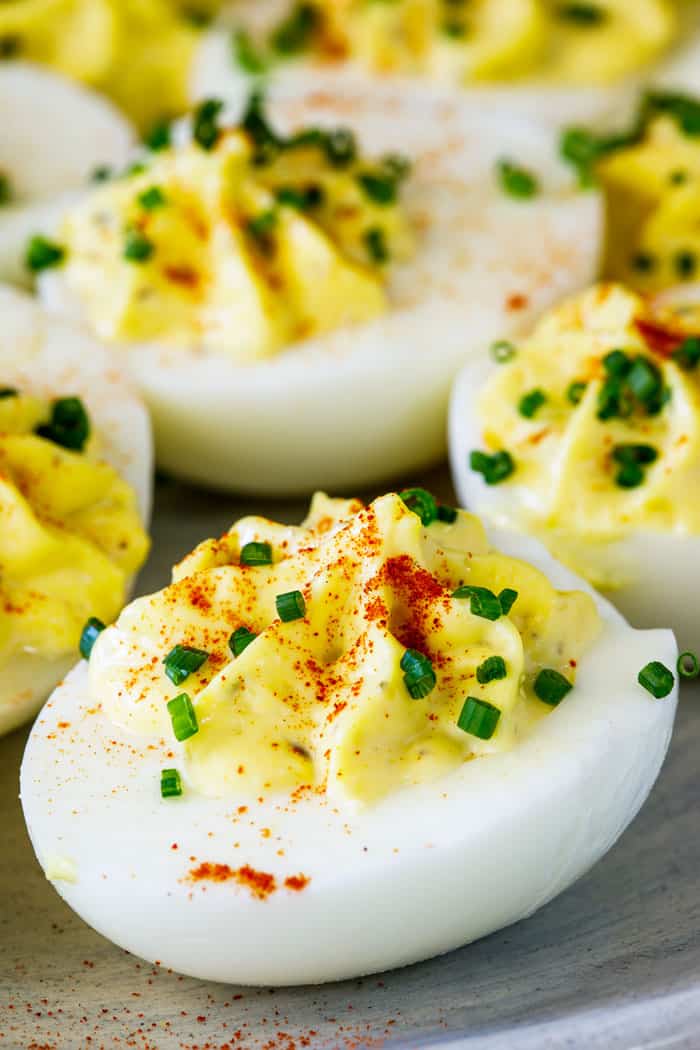 WHAT IS A DEVILED EGG?
Deviled Eggs, also known as stuffed eggs, Russian eggs, dressed eggs or "divine eggs", are hard-boiled chickens' eggs that have been shelled, cut in half, and filled. A Deviled Egg filling is made from the egg yolks mixed with typically mayonnaise and a few spices. These delectable bites are typically served on holidays or at parties as a cold appetizer or a side dish.
Although Divine Eggs have been around as far back as Ancient Rome, their name is a newer invention. The term "deviled egg" first surfaced in the 18th century. The word "deviled" was often used to describe food that was spicy or zesty. How crazy is that?
IS THERE A DIFFERENCE BETWEEN DEVILED EGGS AND DIVINE EGGS?
More often than not, there is little to no difference between Deviled Eggs and Divine Eggs. The term "angel" or "divine" in association to food is a Southern way of saying "light" or "diet". The use of these words is intended to signify a lower fat or cholesterol concentration.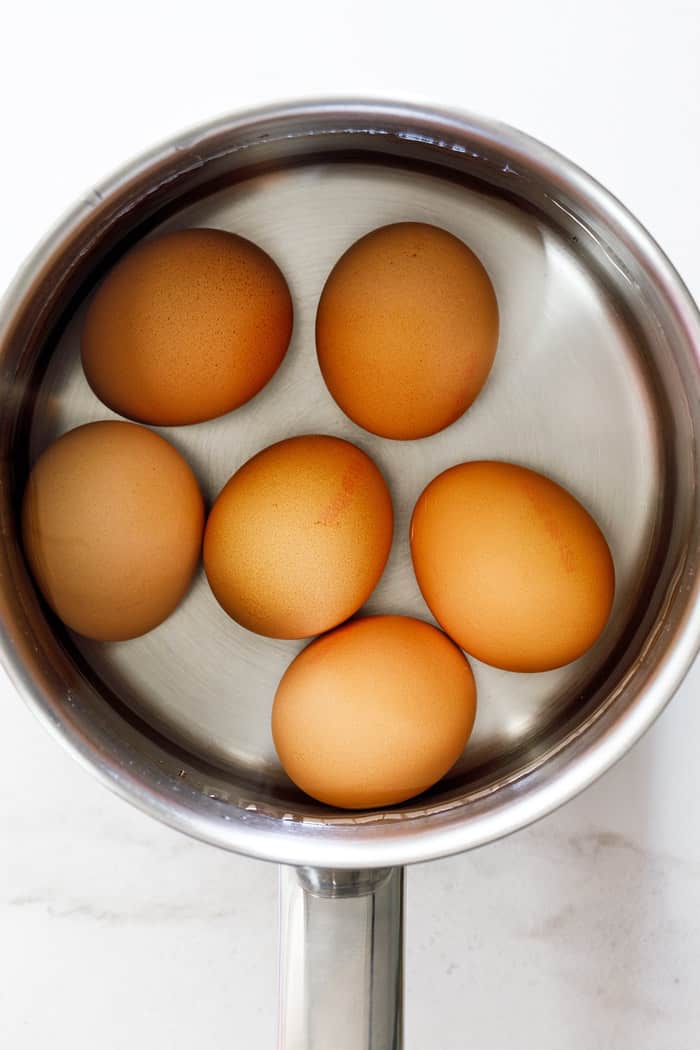 HOW TO MAKE DEVILED EGGS
If you know me, you know that I love to entertain! Any opportunity I get to cook way too much food and watch as people oooh, aaah and mmm through the spread is like heaven to me. These Divine Eggs are a staple in my appetizer selection; they're simple, delicious and a guaranteed hit.
Here's what makes these eggs absolutely divine (pun intended):
Miracle Whip
Using mayonnaise is totally acceptable and quite delicious but my auntie prefer Miracle Whip. We find that, unlike mayo, Miracle Whip has a sweet, spicy flavor that lends itself well to deviled eggs.
Apple Cider Vinegar
Apple Cider Vinegar has a slight fruitiness in addition to its acidity. Just a couple splashes adds a nice vinegary kick while enhancing the sweetness from the Miracle whip.
Yellow Mustard
Any deviled egg worth its dollar has got that sharp, spiciness that comes from mustard. Take it from someone who hates condiments, bright, acidic mustard is necessary and delicious.
Sweet Relish
Relish is delightfully sweet, a bit pickle-y and satisfyingly crisp. Adding in texture helps to break up the creaminess while layering in crazy amounts of flavor.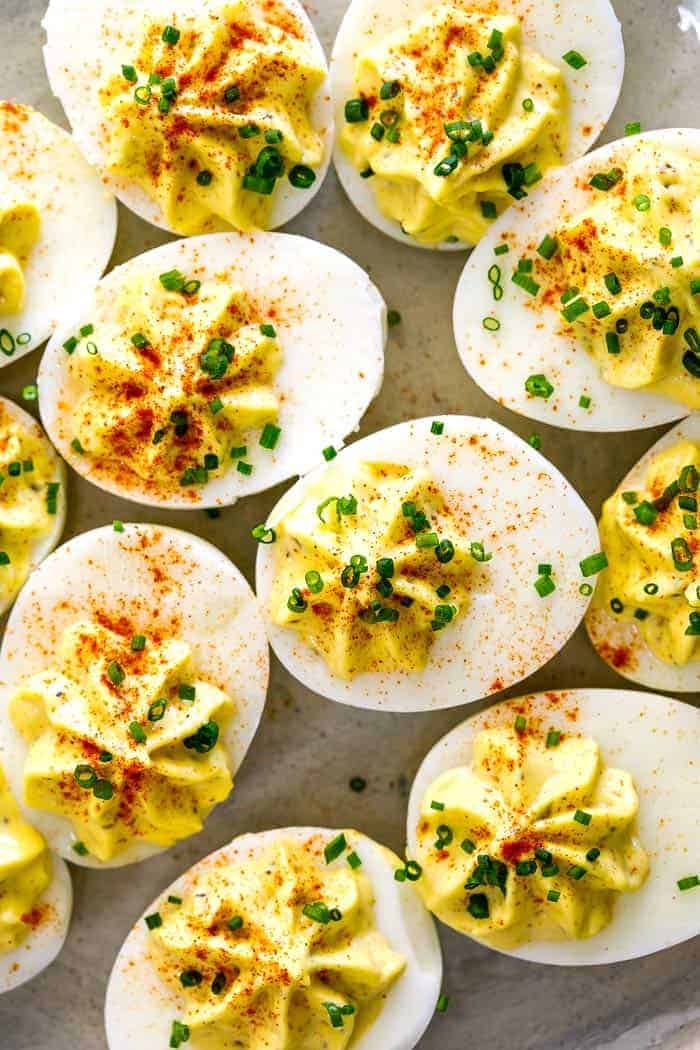 CAN I STORE AND EAT LEFTOVERS?
Because eggs are perishable, they should be kept chilled at all times. Once made, Deviled Eggs should only be served/left out for about two hours (an hour if being served in a warm climate).
Any leftover eggs can only be kept (refrigerated) for up to two days. Be sure to use an airtight container and closely examine the eggs before consuming.
Also if you are looking for what to serve these with for Easter, definitely check out my Honey Baked Ham!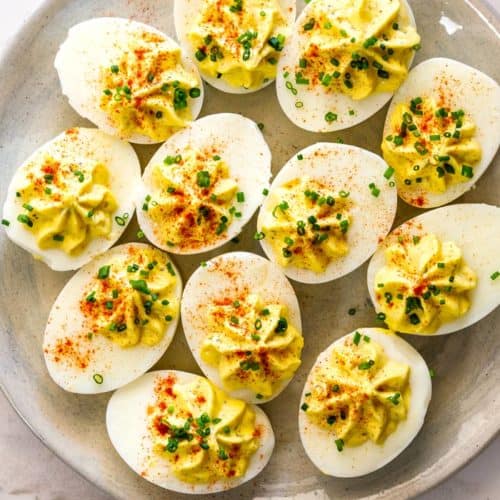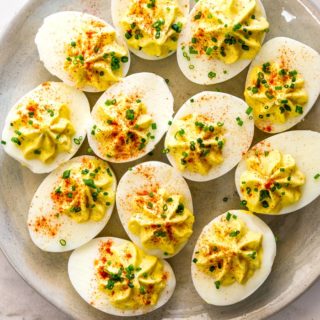 The BEST Deviled Eggs (Divine Eggs)
Learn how to master a crowd favorite by taking a page from my Auntie Rose's recipe book. Made with creamy Miracle Whip, tangy mustard and sweet relish, these Classic Deviled Eggs are sure to impress!
Print
Pin
Rate
Ingredients
6

Large eggs

1/4

tsp

Salt

table salt is even fine for this but adjust for your personal tastes

2 1/2

tbsp

Miracle Whip

1

tsp

Apple cider vinegar

we used Braggs

1

tsp

Yellow mustard

1/4

tsp

Granulated sugar

2

tbsp

Sweet Relish

We use Vlasic

A dash of black pepper

optional
Instructions
Use a separate pan or bowl and add ice and water for an ice bath.  This will be use later to cool the eggs after they have cooked. Select a pot that is large enough for the eggs to move freely while cooking, then place the eggs into the pot.

Place salt in the pan and enough water to cover the eggs (about 4-5 cups is what we used but it will depend on the size of your pot.

Turn on heat and bring water to a boil.

Once the water starts boiling, lower the heat until the water is no longer boiling.

Use an open tea strainer to lower the eggs into the hot water. Once the eggs have been placed into the water, turn the heat back up to boiling and boil for about 14 minutes.

After the timer goes off, take the eggs out of the water and place in the cold water that was prepared earlier.

Leave the eggs in the cold water until the eggs are completely cooled. Give it 10 to 15 minutes and check to make sure the eggs are completely cooled.

Carefully peel each of the eggs insuring no shells are left.

Place them on a plate, take a sharp knife and cup the eggs length wise (the long way) and remove the yolk from the center.

Next take the yolk and mash very well then add your Miracle Whip, vinegar, mustard and sugar and blend until smooth. Add the relish and pepper.

Next using a piping bag with a large star tip, add egg mixture and pipe into egg white. (OR you can use a small spoon to place the yolk mixture into the egg white).

Garnish with the paprika and chives and place them in the refrigerator in a covered dish.
Notes
The Divine eggs really taste better after they have sat in the refrigerator overnight.
An easy way to peel the eggs is under running water.
Nutrition
Calories:
38
kcal
|
Carbohydrates:
2
g
|
Protein:
3
g
|
Fat:
2
g
|
Saturated Fat:
1
g
|
Cholesterol:
82
mg
|
Sodium:
1245
mg
|
Potassium:
30
mg
|
Fiber:
1
g
|
Sugar:
1
g
|
Vitamin A:
149
IU
|
Calcium:
12
mg
|
Iron:
1
mg