This rustic Cheesy Tarragon Tomato Tart goes from prep to finish in less than 30 minutes! Made with buttery puff pastry, creamy cheddar and havarti cheese, fresh tarragon, and hot honey, this tart is the perfect Summer dinner or appetizer to showcase all those ripe, juicy tomatoes! If you love this, you will also love this Okra and Tomatoes, Heirloom Tomato Sandwich, Mini Tomato Tart recipe and Fried Green Tomatoes.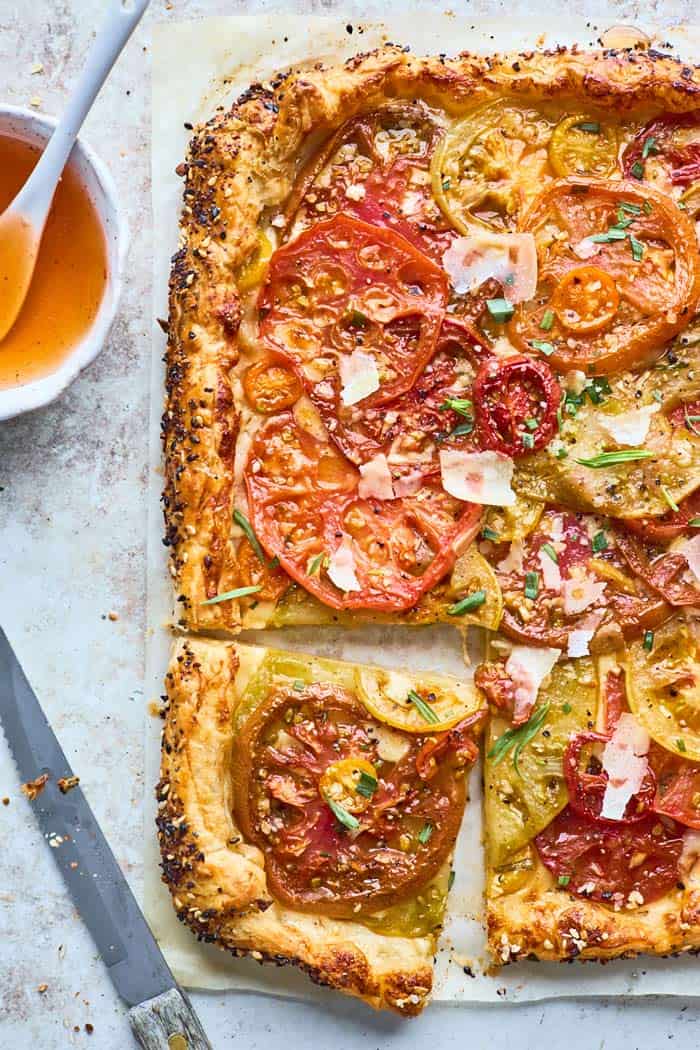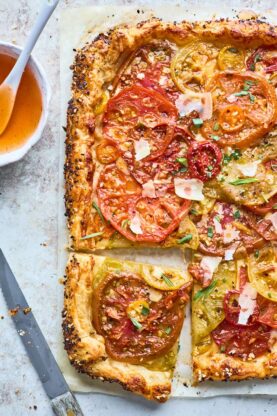 Hi there! My name is Leidi (pronounced lady) Rodriguez and I'm a writer, recipe developer, and executive assistant from Chicago, Illinois. For the last 3 years, I've had the pleasure of working alongside Jocelyn on the Grandbaby Cakes team. Today, I'm so so so excited to share my first recipe on the blog! But, before I do, I'd like for you all to get to know me a bit.
My two siblings and I (I'm the middle child *sigh*) grew up in Boston, MA. All three of us were raised by a strong, independent single mother: a woman I'm still proud to call my hero. Food was an integral part of our connection; it celebrated our love for one another, as well as our appreciation for our Puerto Rican roots.
After high school, I relocated to Austin, TX. where I fell in love with Southern food. Rich, smoky, over-the-top cuisine was on every corner, and I indulged in it all. Two years (and more BBQ than I can quantify) later, I moved to another incredible food mecca: Chicago. Here, I met Jocelyn and found my home with Grandbaby Cakes. Jocelyn and I share a love for Southern food, tradition, and family. You don't find that just anywhere.
Alright, that's enough. We'll get to know each other along the way but, for now, let's talk food! Today's Cheesy Tarragon Tomato Tart is a pretty solid representation of my taste: herby, sweet, tangy, buttery, crisp, bright, and cheesy. Each bite is a serious explosion of flavor! What do you say we make one together?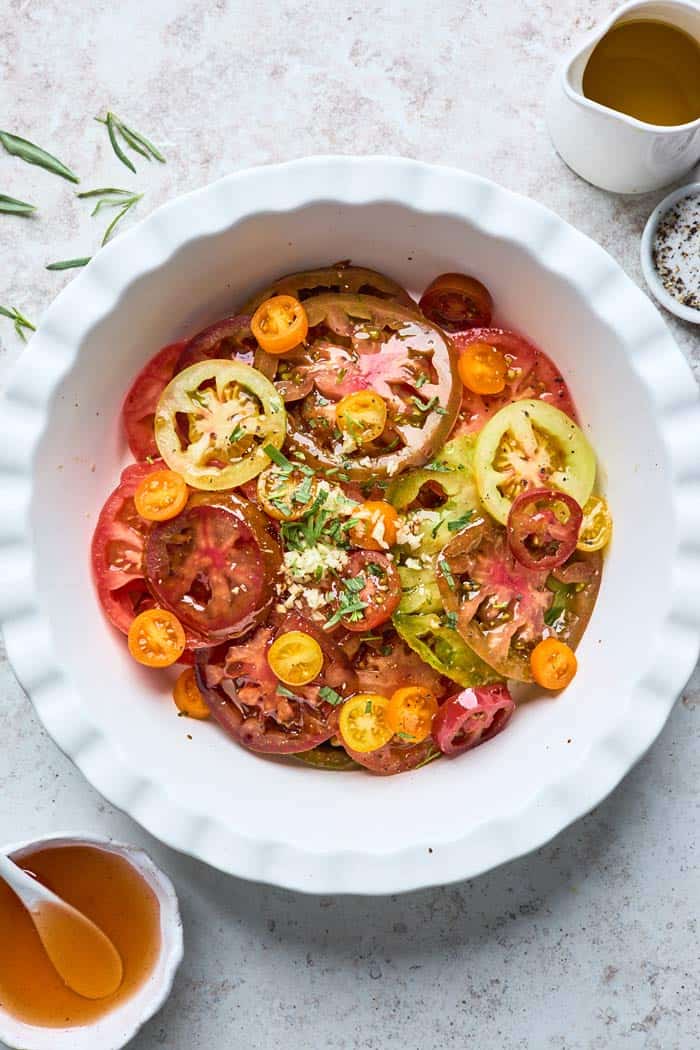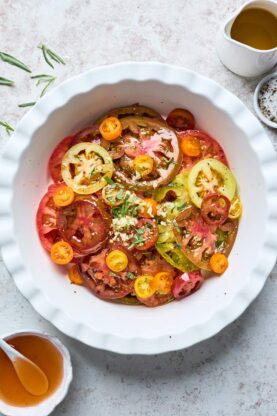 TOMATO TART INGREDIENTS
Tomato Tarts come in all shapes and sizes! As long as you've got a crust and a tomato filling, you've got a tart. I love the simplicity of this recipe, and utilizing fresh summer produce is my absolute favorite.
If you've never had a tomato tart before, or you're unsure about them, this recipe is going to rock your world.
HEIRLOOM TOMATOES- These colorful, juicy tomatoes are summer's best gift. There isn't a sandwich or salad that can't be made better with one of these. Heirlooms are best when their skin is taut and shiny, with no bruises or splits. Without squeezing, you should notice a slight give when you pick one up, and the bottom of the fruit should be nice and dark.
BALSAMIC VINEGAR- When paired with tomatoes, balsamic vinegar takes on new life. It's sharp, yet sweet flavor compliments the tomato's sweetness and layers in a pleasant acidity.
OlIVE OIL- I highly recommend investing in at least one good bottle of olive oil. With simple recipes like today's, an ingredient like this comes through a lot more. A light, buttery, and floral olive oil is gonna make a huge difference.
GARLIC- Garlic is my favorite ingredient. Roast it, poach it, fry it, or serve it raw, it's delicious. Grated garlic is more concentrated and flavorful. Add as much or as little as you'd like.
TARRAGON- Tangy and licorice-like, tarragon is subtle but pronounced. Fresh herbs offer brightness and tarragon's unique flavor heightens the experience. Basil, rosemary, or thyme will also work.
HOT HONEY- Spicy honey is my jam. If this isn't in your pantry, it needs to be. Perfectly sweet, perfectly spicy, and out of this world GOOD.
KOSHER SALT & BLACK PEPPER- I swear by kosher salt and loads of black pepper. You won't eat anything in my kitchen that doesn't include the two.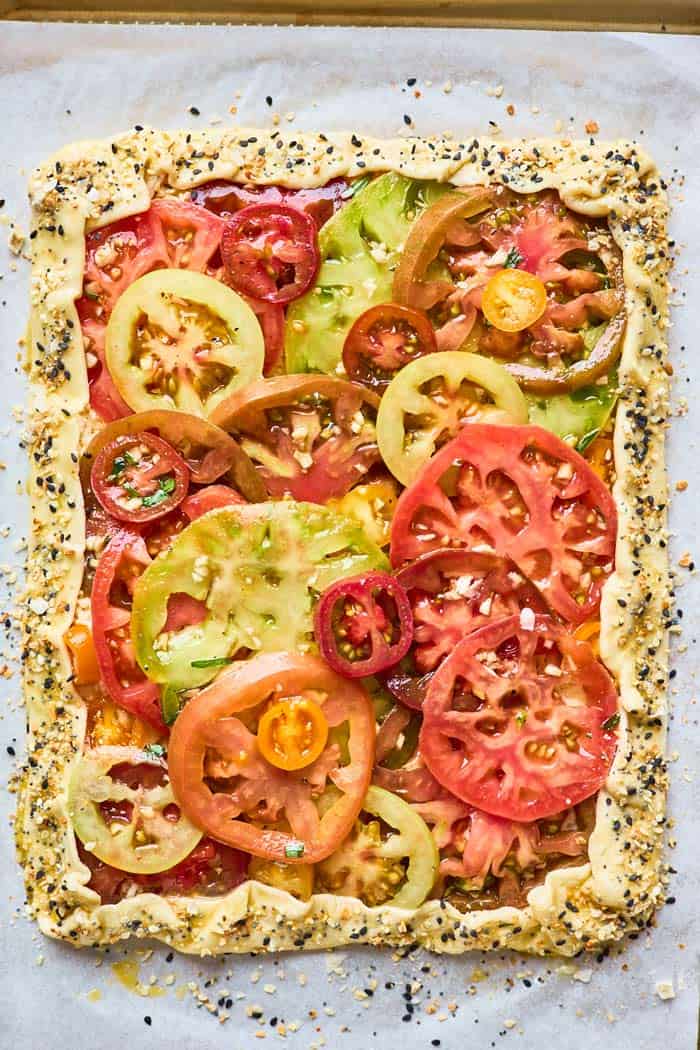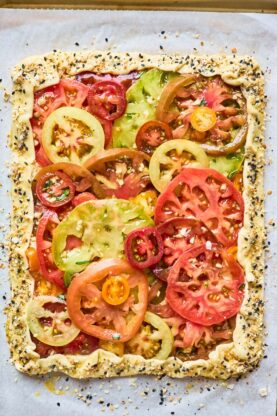 PUFF PASTRY- Keeping a spare box of puff pastry in the freezer is never a bad idea. These buttery, flaky sheets are an open canvas for all kinds of desserts, pizzas, and tarts.
SHARP WHITE CHEDDAR- When in doubt, cheddar cheese. Sharp, buttery, and creamy, white cheddar cuts through all the strong flavors and makes its own statement.
HAVARTI (OR GOUDA)- Slightly acidic, the taste is buttery and sweet. Gouda is a bit nuttier with a subtle sweetness. Both are complementary and beyond delicious.
EGG- This just helps to brown the edges and get the garlic salt/everything bagel spice to stick.
GARLIC SALT (OR EVERYTHING BAGEL SPICE)- I'm a crust girl. Pizza, pies, tarts: I'm the most excited about their base! Using a bit of spice on the edges makes for a bite you'll look forward to.
SHAVED PARMESAN- There's no such thing as too much cheese! Parmesan's salty, sour addition is what takes this recipe from "I'll have a slice or two" to "better put on my sweatpants and make a second one".
TIP: For a more visually appealing tart, choose a variety of heirloom tomato colors and sizes. Get creative with the design too!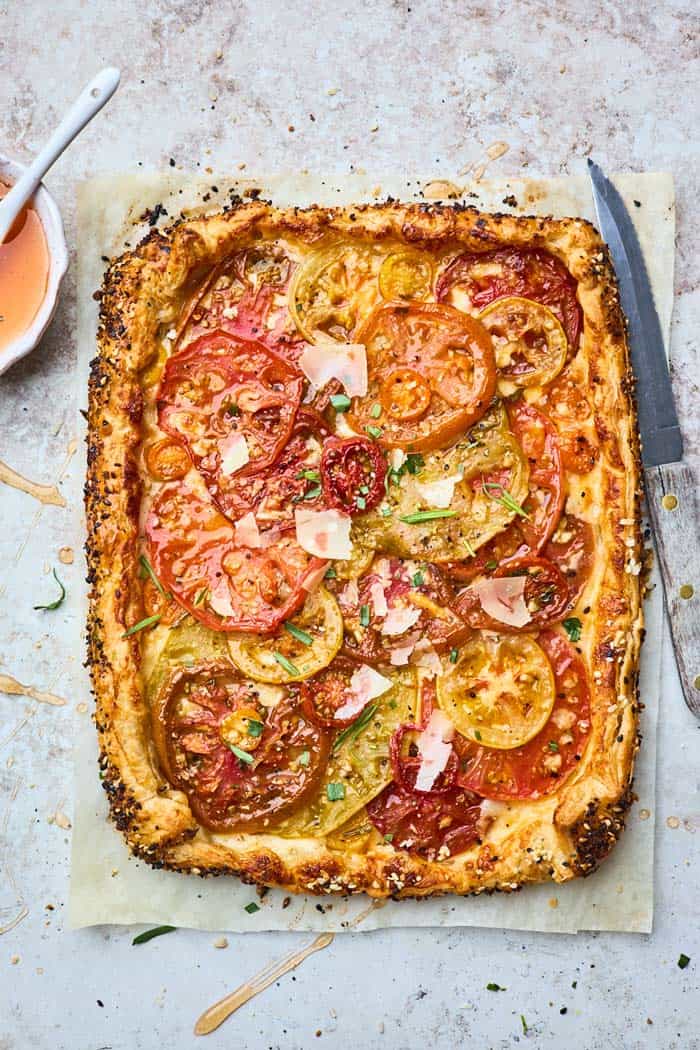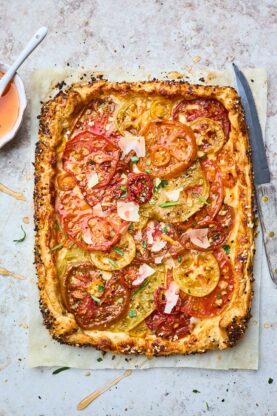 HOW TO MAKE A TOMATO TART
I'm all about an easy recipe. So, I keep an index of simple recipes like this one for weeknights or entertaining. You just can't go wrong with a tomato tart made in less than 30 minutes!
Here's how it's done:
Marinate the Tomatoes-

Your gonna want these tomatoes to be as flavorful as possible. As the oven preheats, marinate the tomatoes in seasoning, vinegar, fresh herbs, garlic, and honey. Ten minutes is enough to draw some moisture out of the tomatoes and infuse them with tons of flavor.
Prep the Puff-

Don't attempt to work the pastry without having defrosted it. Allow the sheet to sit out at room temperature for 30-40 minutes. Alternatively, you can defrost puff pastry in the microwave, just be sure to adhere to the package instructions. Stretch the dough very slightly to create a thinner layer, then lay it on a parchment paper-lined baking sheet.
Top, Bake, and Serve-

Puff pastry needs to be topped and baked immediately. You don't want it to melt! Top the pastry, making sure to carefully place the tomatoes rather than dumping them on. Use a pastry brush (or your fingers) to egg wash the edges, then sprinkle on the seasoning immediately. Once out of the oven, top with shaved parmesan, more tarragon, black pepper, and a HEAVY drizzle of hot honey (it's that good).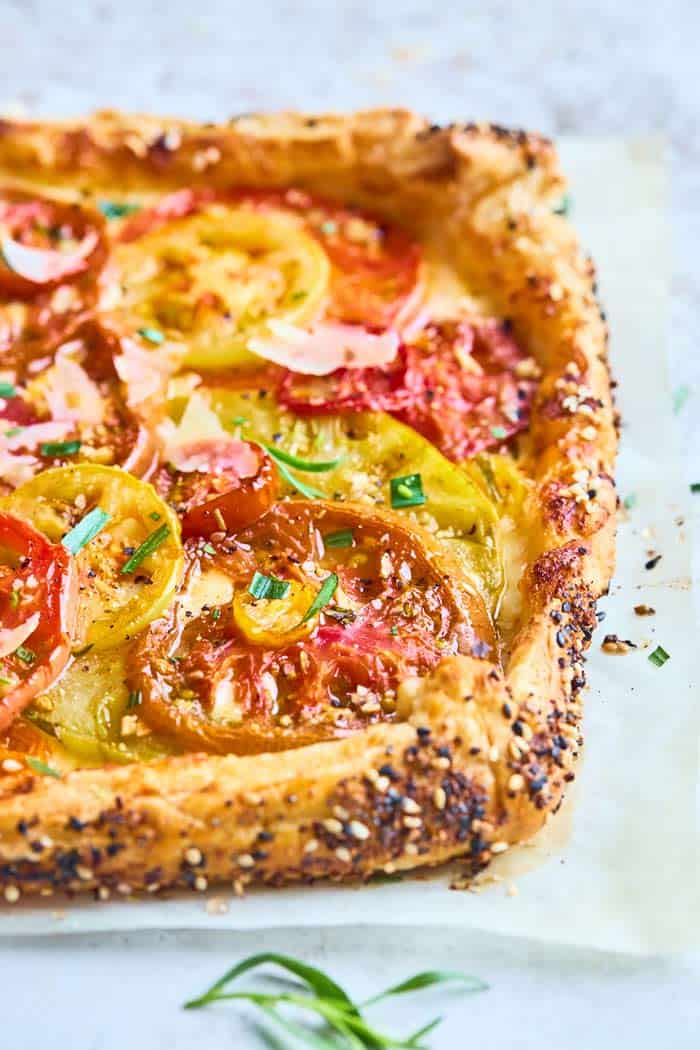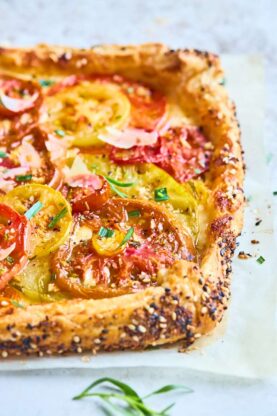 LEFTOVER STORAGE AND REHEATING
Don't let a single bite of this tart go to waste. It's too cheesy, too buttery, and too refreshing to let go. Before storing, allow the tart to come to room temperature. Either wrap the tart in aluminum foil or place it in an airtight container. Keep the tart in the refrigerator for up to 3 days.
To reheat, remove the tart from the fridge and allow it to come back to room temperature, about 10-15 minutes. Meanwhile, preheat the oven to 400 degrees and line a baking sheet with parchment paper. Place the desired portion on the sheet, then heat for 10 minutes or until warmed through and crisp.
I wouldn't recommend reheating this tart in the microwave. The result is often chewy and unpleasant.
MORE RECIPES TO COME!
Thank you all for taking the time and energy to read this post, and maybe even make this recipe. I hope that you fully enjoy every bite! Food is, and has always been, such a treasured part of my life. Sharing recipes with others brings me more joy than I thought possible.
From here on out, you'll be seeing a little more of me here on Grandbaby Cakes. I'll be popping in from time to time to share recipes developed in my very own kitchen. We're going on a ride and I'd love for you all to come along! Stay safe, stay healthy!
GRANDBABY CAKES' BEST TOMATO-FILLED RECIPES
If you loved this recipe, give a few more of GBC's tastiest tomato recipes some love: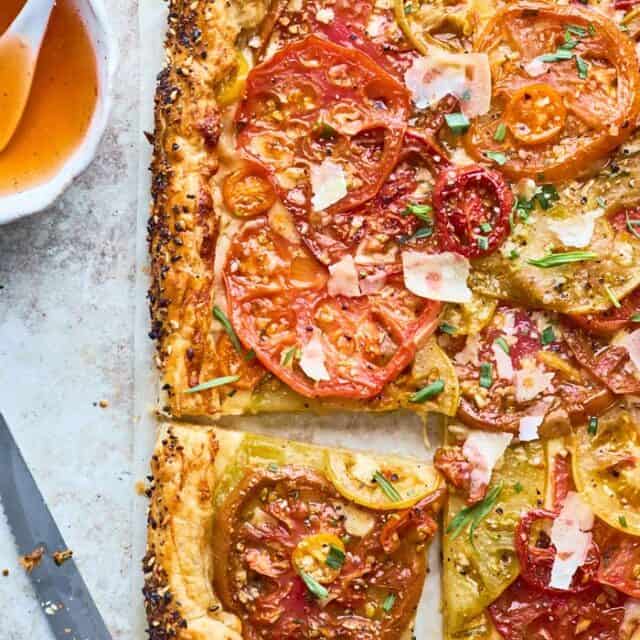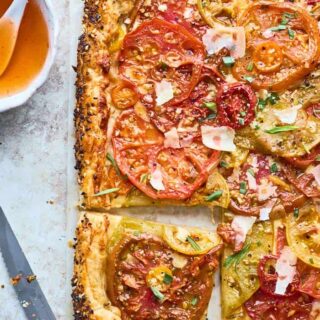 Tomato Tart
This rustic Cheesy Tarragon Tomato Tart goes from prep to finish in less than 30 minutes! Made with buttery puff pastry, creamy cheddar and havarti cheese, fresh tarragon, and hot honey, this tart is the perfect Summer dinner or appetizer to showcase all those ripe, juicy tomatoes!
Print
Pin
Rate
Ingredients
4

Heirloom Tomatoes (cored and sliced) or 2 cups Cherry Tomatoes

up to 6 tomatoes

2

tbsp

balsamic vinegar

1

tbsp

extra virgin olive oil

2

garlic cloves

grated or minced

2

tbsp

fresh tarragon

chopped and separated

1

tsp

hot honey

plus more for serving

kosher salt and black pepper

1

frozen puff pastry sheet

thawed

1

cup

sharp white cheddar cheese

shredded

1/2

cup

havarti or gouda cheese

shredded

1

large egg

beaten

garlic salt or everything bagel spice

for sprinkling

shaved parmesan cheese

for garnish
Instructions
Preheat the oven to 400 degrees. Line a baking sheet with parchment paper.

In a large bowl, combine the tomatoes, balsamic, olive oil, garlic, hot honey, and 1 tablespoon of tarragon. Season with salt and pepper, then set aside.

Lay the puff pastry sheet on a clean, lightly floured surface. Using a rolling pin, gently roll out the sheet to stretch slightly. Move the pastry sheet onto the parchment paper-lined pan.

Sprinkle the shredded cheddar and havarti (or gouda) over the surface of the pastry sheet, leaving about a ½ inch of space around the border. Layer the tomatoes on top of the cheese, pressing in slightly to adhere. Arrange the tomatoes in any order or design you'd like.

Fold the edges of the pastry inward to enclose the tomatoes. Brush the edges with beaten egg and sprinkle with either garlic salt or everything bagel spice.

Transfer to the oven and bake for 18-23 minutes or until the pastry is golden brown and the tomatoes burst.

Top with the remaining tablespoon of tarragon, shaved Parmesan, a heavy drizzle of hot honey, and freshly cracked black pepper. Serve and enjoy!
Nutrition
Calories:
646
kcal
|
Carbohydrates:
38
g
|
Protein:
22
g
|
Fat:
46
g
|
Saturated Fat:
18
g
|
Polyunsaturated Fat:
4
g
|
Monounsaturated Fat:
21
g
|
Trans Fat:
1
g
|
Cholesterol:
97
mg
|
Sodium:
577
mg
|
Potassium:
513
mg
|
Fiber:
3
g
|
Sugar:
7
g
|
Vitamin A:
1749
IU
|
Vitamin C:
19
mg
|
Calcium:
453
mg
|
Iron:
4
mg