This delightfully fluffy and easy Blueberry Pancakes recipe requires only 5 ingredients plus fresh blueberries!! Throw the mix away and make this effortless recipe for breakfast! If you love pancakes, definitely try this Blueberry Pancake Cobbler, Lemon Ricotta Pancakes, Pineapple Upside Down Pancakes, French Toast Pancakes , these Lemon Blueberry Biscuits or these perfect Classic Pancakes.
Perfectly Easy Blueberry Pancakes!!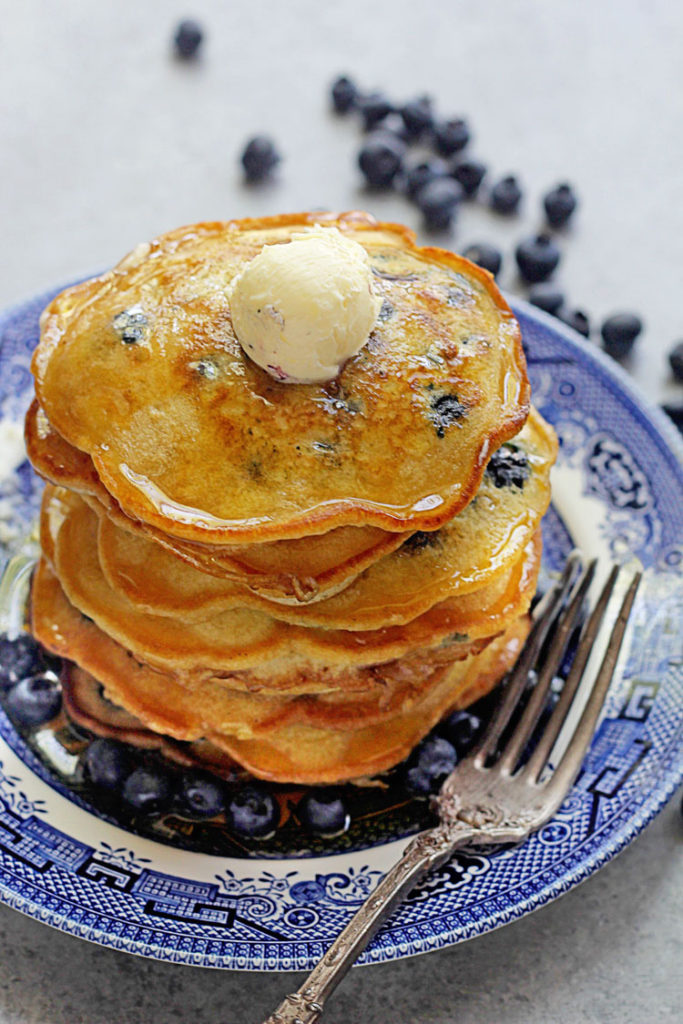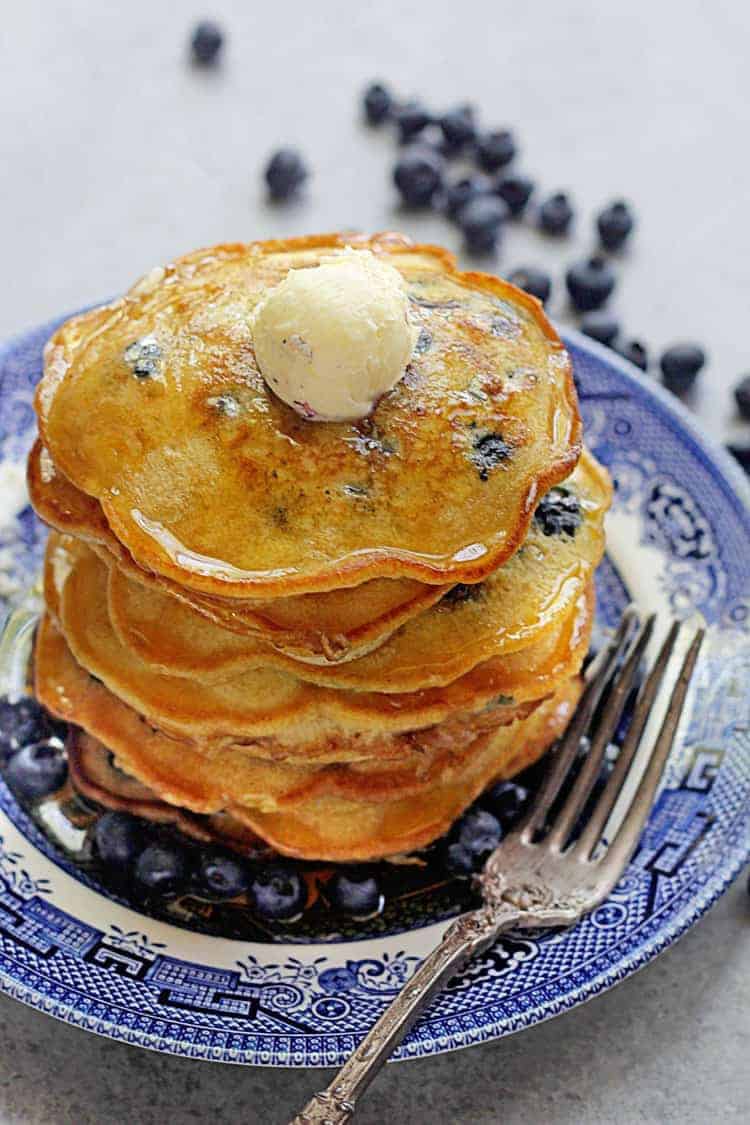 No matter how crazy and busy life gets, I still want to indulge in the little things and make special moments for my family and I. Whenever I'm home, a lovely breakfast with my husband makes me appreciate the little things. It makes me press pause and catch up on our lives. Here's where this amazing and easy blueberry pancake recipe comes in.
To make those special family moments, I sometimes rely on the simplest and most convenient recipes. When making blueberry pancakes, I could easily grab a box of pancake mix but why do that when I could make them with just five ingredients in a few minutes? My girl Phi of Sweetphi has made that possible with her cookbook Fast and Easy Five-Ingredient Recipes: A Cookbook for Busy People. This is the cookbook most of us busy folks have been waiting on.
Blueberry Buttermilk Pancakes Ingredients
Why is this blueberry pancake recipe so easy? The original recipe is composed of only five ingredients!
Flour
Sugar
Baking Soda
One Egg
Buttermilk
I decided to add one more ingredient: fresh blueberries. Honestly, pancakes are not very difficult to prepare in most cases. All you need to do is mix the ingredients and dip the pancake batter, once its prepared, on a griddle or in a skillet or pan and flip the pancakes on each side until they are golden brown.
What's easier than that? I love my addition of fresh blueberries to the original recipe. It gives the pancakes an added splash of blue color and will make anyone's mouth water if a stack of these piping hot blueberry pancakes were served in front of you.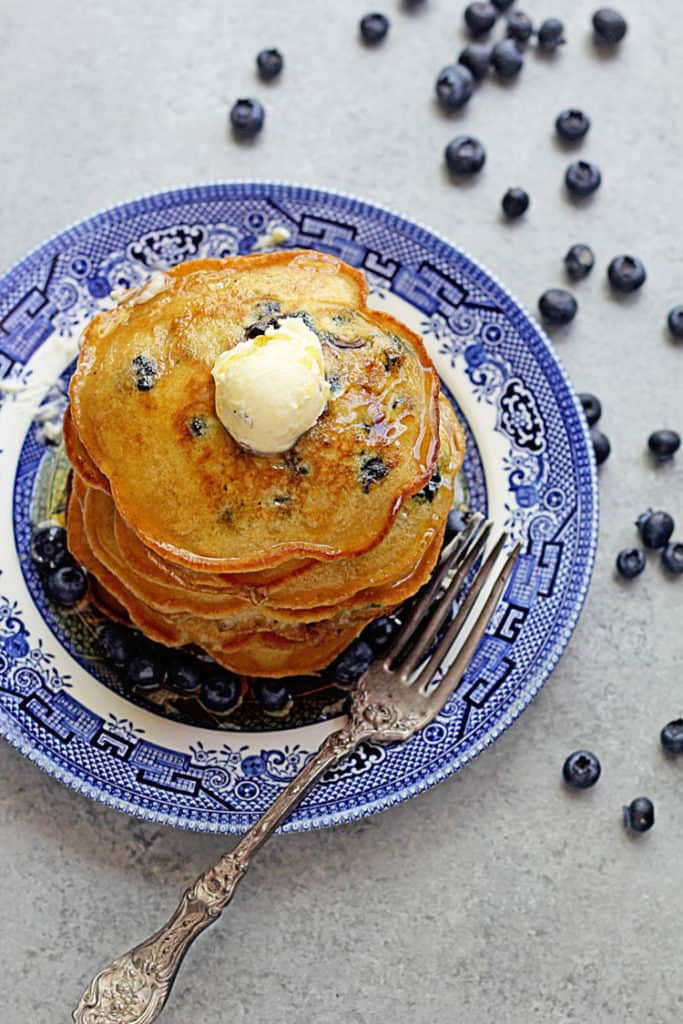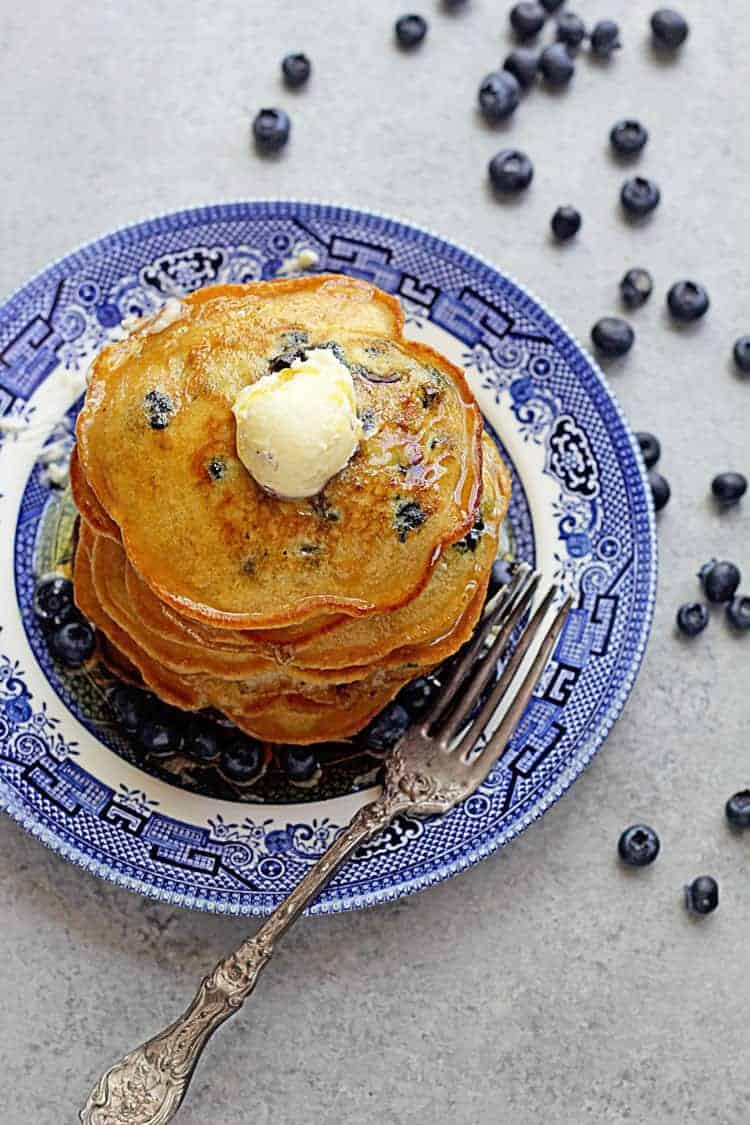 How To Make Blueberry Pancakes
The batter is light and fluffy, and the pancakes turn out the perfect texture.
Tip 1: Don't Overmix
One of the rules to making fantastic pancakes is making sure you don't overmix the batter. Lumps are totally fine!
Tip 2: Cook In Butter!
I love a nice golden brown exterior so I cooked mine in a little butter. They give a crisp outside crunch while the inside stays perfectly tender and fluffy. And who doesn't love butter!
I also love that hint of butter flavor it adds. These are absolutely sensational right off of the griddle with butter and pure maple syrup. I couldn't have asked for a better or faster breakfast.
My girl Phi has done me and so many others a true solid by writing this book, and I plan on using a ton more of her recipes in the future.
What To Pair with Blueberry Pancake Recipe
For more incredible breakfast ideas, check out these posts:
*Did you make this recipe? Please give it a star rating and leave comments below!*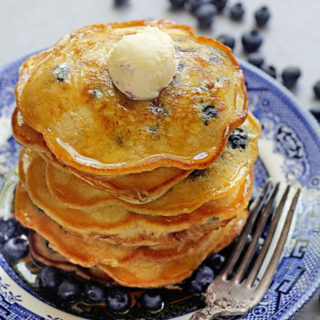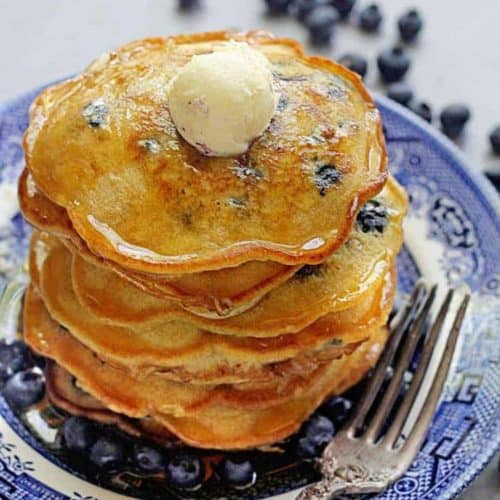 Easy Blueberry Pancake Recipe
This delightfully fluffy and easy Blueberry Pancakes recipe requires only 5 ingredients plus fresh blueberries!  Throw the mix away and make this effortless recipe for breakfast!  
Print
Pin
Rate
Ingredients
1

cup

all-purpose flour

¼

cup

granulated sugar

1 ½

teaspoons

baking soda

1

large

egg

1

cup

buttermilk

1/2-1

cup

fresh blueberries
Instructions
Heat a griddle or nonstick skillet over high heat.

In a bowl, combine the flour, sugar and baking soda and mix.

Make a well in the center (just indent with the back of your mixing spoon) and crack the egg into the well. Pour the buttermilk on top of the egg, stir from the center to break the egg yolk, and continue to stir until only a few small clumps are left (a few small clumps are okay; don't overmix).

Gently fold in the blueberries and set aside.

Spray the griddle with cookie spray (or use butter like I like to). With a 2 tablespoon cookie scoop or a spoon. Scoop about 2 tablespoons of pancake batter and pour onto the griddle. Cook for about 4 minutes on each side and then flip and cook for another 1 or 2 minutes.

Repeat until all pancakes are made, then serve warm.
Notes
Make sure you don't overmix the pancake batter.  Lumps are totally fine.
Nutrition
Calories:
113
kcal
|
Carbohydrates:
21
g
|
Protein:
3
g
|
Fat:
1
g
|
Cholesterol:
26
mg
|
Sodium:
246
mg
|
Potassium:
72
mg
|
Sugar:
8
g
|
Vitamin A:
85
IU
|
Vitamin C:
0.9
mg
|
Calcium:
40
mg
|
Iron:
0.9
mg