The most sensational Oreo Pancakes Recipe (or Cookies and Cream Pancakes) you have ever witnessed… or tasted! If you love this, you will also love these Fried Oreos and Oreo Cheesecake.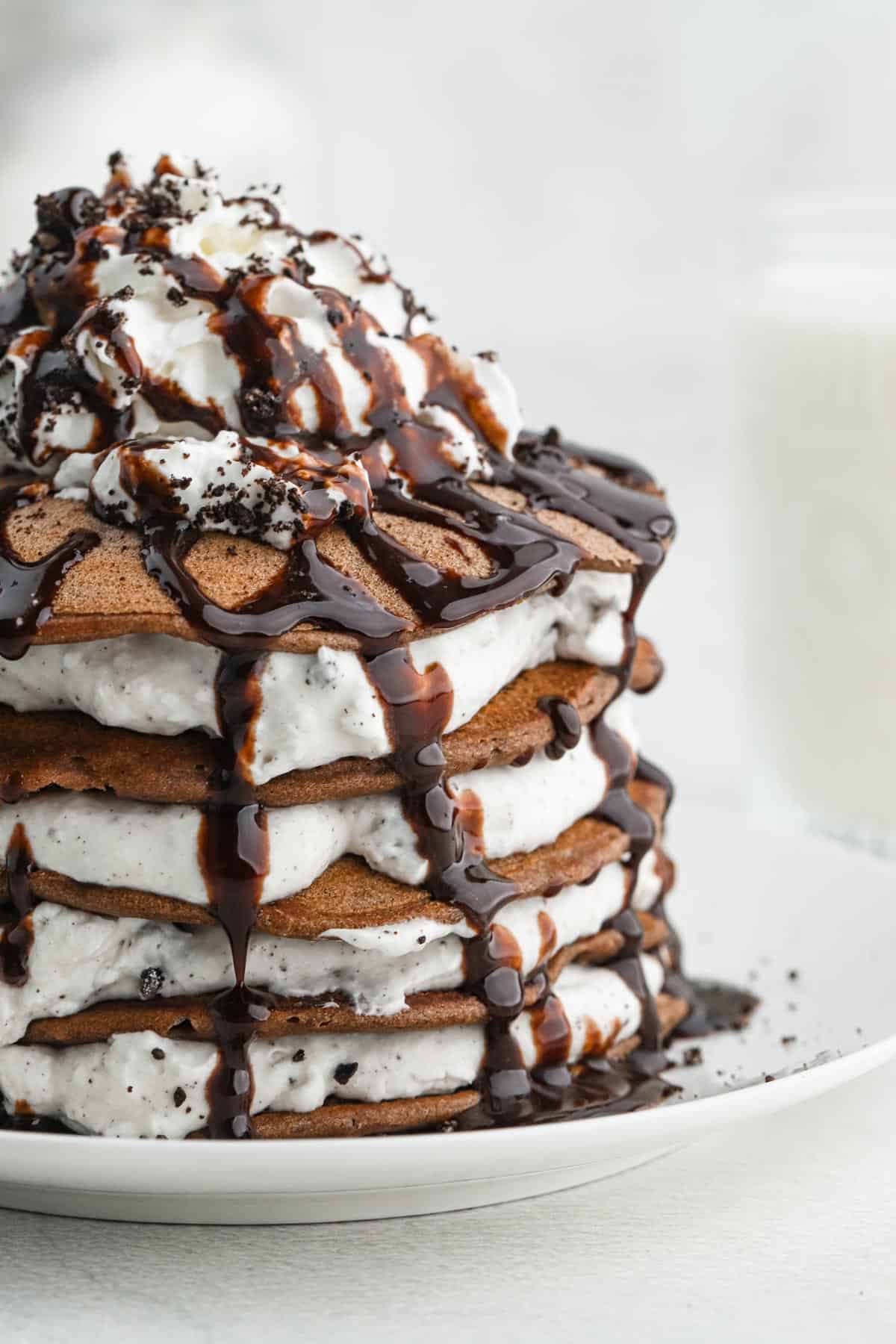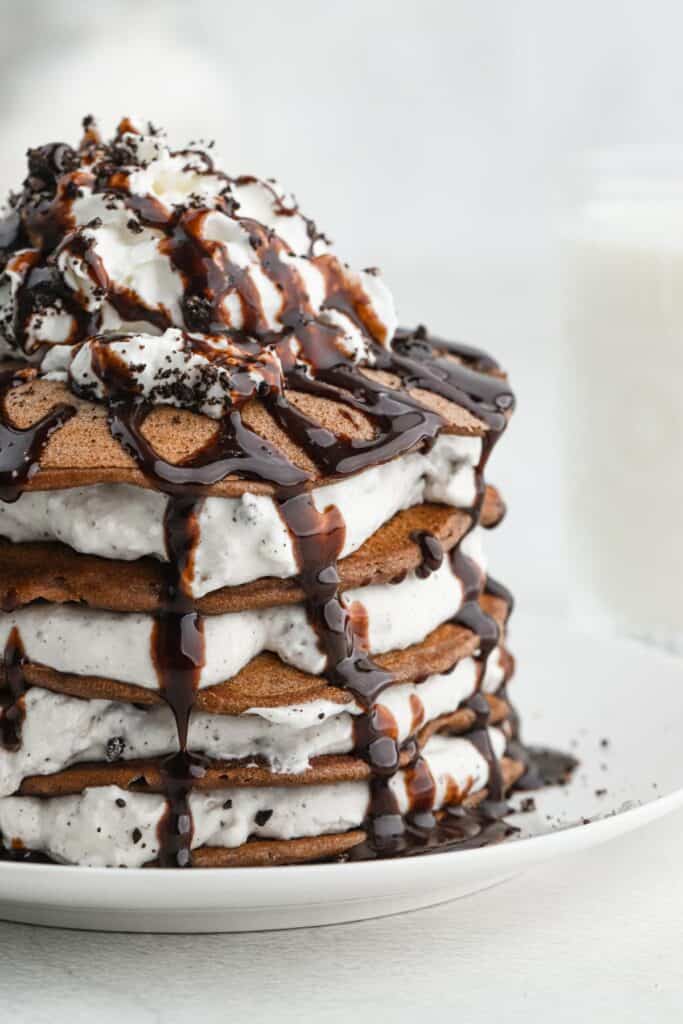 This weekend, I sensed an early mid-life crisis about to occur which was only cured by these Oreo pancakes. It started because I had a moment that I simply needed to accept. It was officially June, and in less than a week, I will be 33. In my house, we call that the "Jesus" year since it was the last year of his life.
The Jesus year is basically the year where you must reflect and really take a deep look at your life and see where you are heading. You ask yourself heavy questions like, "Am I on the right path?" and "Am I fulfilling my destiny?" Because I started quizzing myself a little early yesterday with these questions, I suffered from a tiny bit of anxiety. I'm not sure I am totally ready to have that conversation with myself just yet.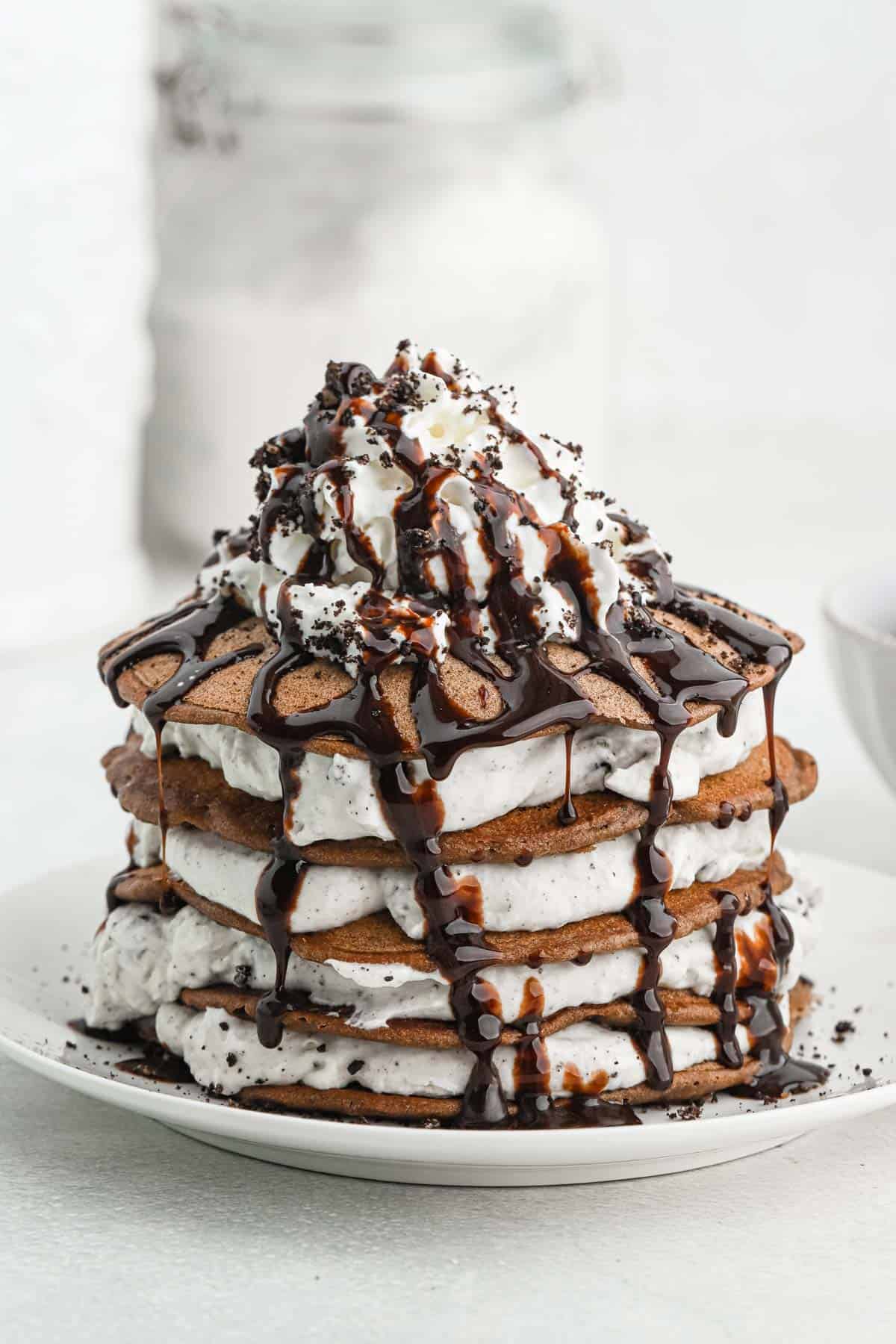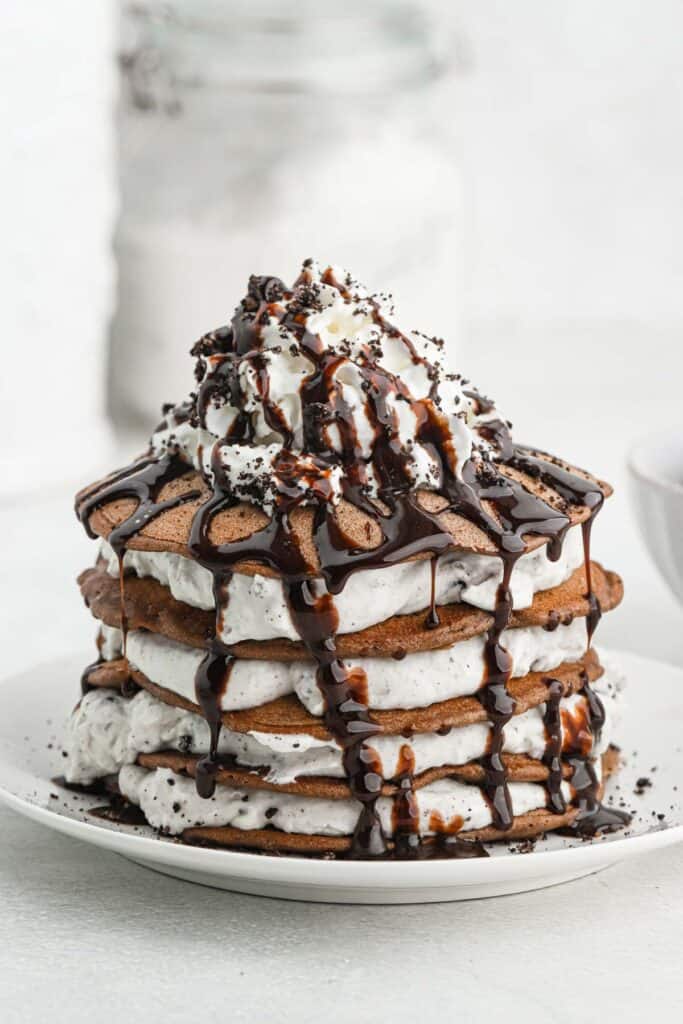 But I was instead ready to have oreo pancakes because I decided that 32 was a pretty decent year. Sure, I had some lows (some really terrible lows) but in true Gemini fashion, I am really happy and excited about all I was blessed and able to do in 32 years of life. I feel like I have joy and have realized some simple truths about the things that bring me that joy. I am not tied to money (though I would love to have more, just saying this for the universe) or things. I am happy that I get to do what I love everyday. I have an amazing husband and family that loves me and true friends that will go to the ends of the earth with me. I have taken risks this year when others have told me to play it safe, and I am living life on my own terms with no regrets. It simply doesn't get better than that.
I also realized that slowly but surely, I am making a difference in the lives of others. This meant the most to me. I am not leading a selfish life, and I believe in helping others. Reflecting on the great things I've accomplished made me realize just how incredibly blessed I truly am. I wouldn't trade a thing for that experience. So with that, I planned to celebrate 32 with extreme decadence which sparked this recipe.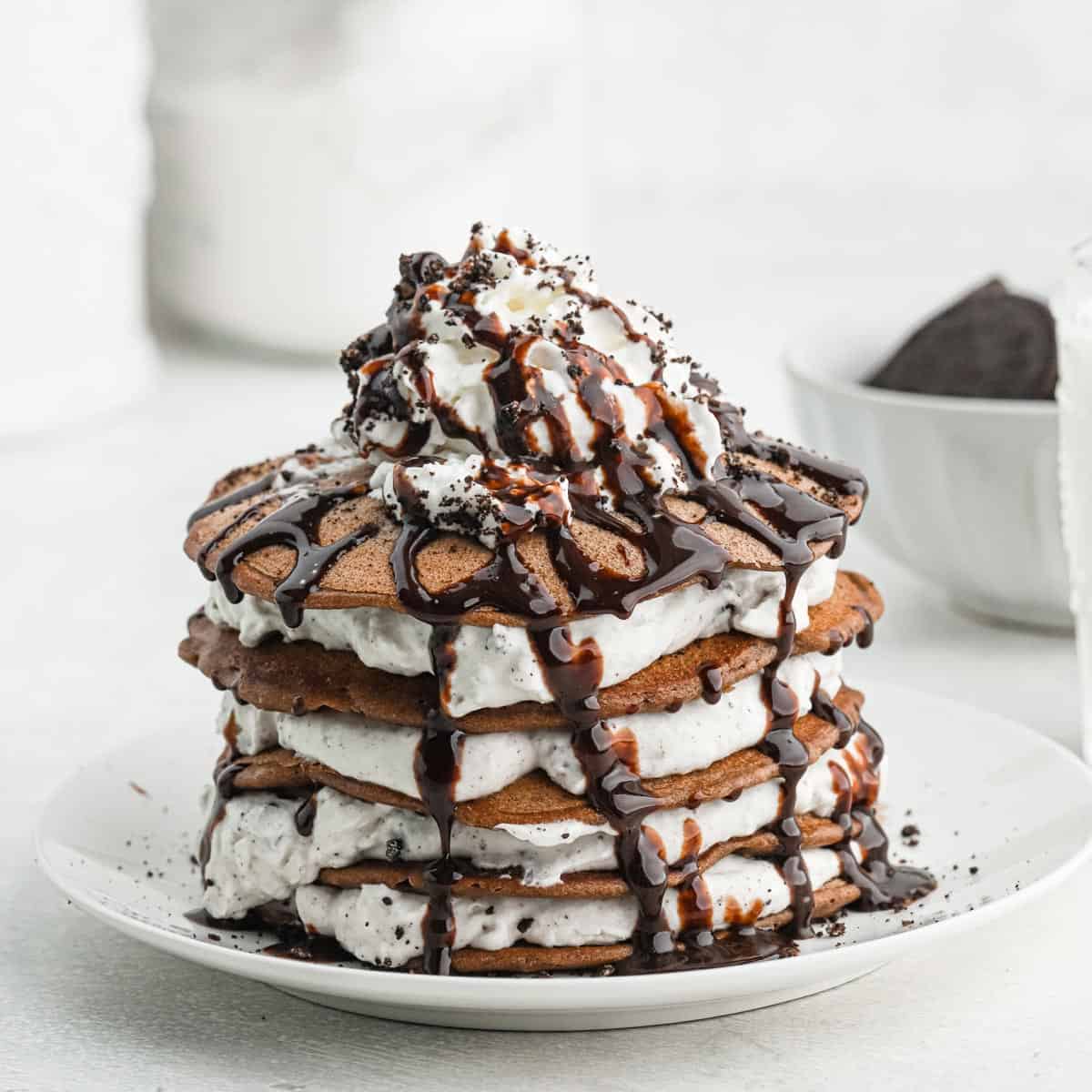 These Oreo pancakes (or Cookies and Cream pancakes if you will) are so incredible, and just the mark I want to leave as I walk into another year. They are fluffy with cookies and cream bits sprinkled throughout and a hint of cocoa powder which isn't too overwhelming in chocolate flavor. This makes this chocolate pancake recipe the perfect vehicle for sandwiching with Oreo whipped cream, chocolate sauce and bits of oreo cookies throughout! Yes!!! Biting into these made me happy. And because I am a giver, I am giving you the recipe so you can be happy too! It is better to give than to receive right??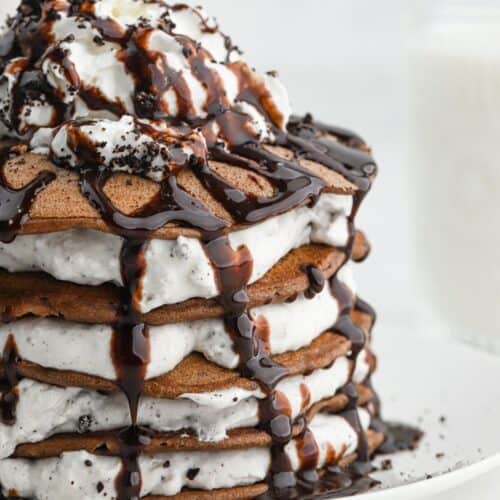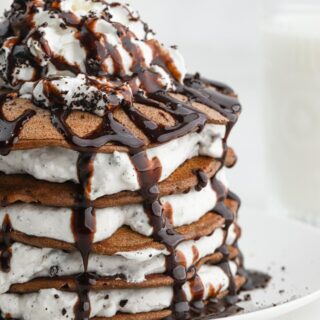 Oreo Pancakes (or Cookies and Cream Pancakes)
The most sensational Oreo Pancakes Recipe (or Cookies and Cream Pancakes) you have ever witnessed... or tasted!
Print
Pin
Rate
Ingredients
For the Pancakes:
1 1/3

cups

all-purpose flour

1 1/4

teaspoons

baking powder

4

tablespoons

granulated sugar

2

tablespoons

cocoa powder

2

large

eggs

3/4

cup

plus 4 tablespoons buttermilk or coconut milk

4

tablespoons

melted butter

1

teaspoon

pure vanilla extract

1/4

cup

Oreo cookies and cream

chopped
For the Whipped Cream:
1

cup

heavy cream

1

tablespoon

confectioner's sugar

1

teaspoon

cornstarch

1/4

cup

chopped Oreo cookies and cream

Chocolate Sauce and additional chopped Oreos for garnish
Instructions
For the Pancakes:
In a large bowl, add flour, baking powder, sugar and cocoa powder and whisk together until well mixed.

Next add in eggs, milk, melted butter, vanilla extract and chopped Oreos and whisk until batter just comes together and leave the lumps there. No need for a smooth batter.

Heat a griddle or non stick skillet over medium heat and melt extra butter.

Pour about 1/4 of a cup of batter onto the griddle surface in a circular pattern. Allow each pancake to sit until bubbles form and the bottom is browned and crisp.

Flip over the pancake and cook until browned and crisp on the other side.

Remove the pancake and place in a warm oven (about 225 degrees) and repeat the process until all pancakes are done.
For the Whipped Cream:
Add heavy cream to your mixer bowl and mix on high speed.

When peaks begin to appear, add in sugar and cornstarch and continue mixing.

Once stiff peaks begin to form, add in Oreos and turn off.
To Assemble Pancakes:
Add one pancake to serving plate then top with whipped cream, then add another pancake and top with whipped cream. Do this for as many pancakes as you would like then add chocolate sauce over the stack of pancakes and finish with whipped cream on the top pancake with chopped cookies and cream for garnish.
Video
Nutrition
Calories:
453
kcal
|
Carbohydrates:
44
g
|
Protein:
7
g
|
Fat:
27
g
|
Saturated Fat:
16
g
|
Cholesterol:
139
mg
|
Sodium:
200
mg
|
Potassium:
261
mg
|
Fiber:
1
g
|
Sugar:
16
g
|
Vitamin A:
955
IU
|
Vitamin C:
0.2
mg
|
Calcium:
114
mg
|
Iron:
3
mg