American and Mexican cuisines merge with the unique flavors of Elote Corn Dogs. Juicy sausages are fried in a honey-cornbread batter, then topped with grilled corn, lime crema, and cotija cheese. If you love this recipe, you need to try my Homemade Corn Dogs, Mexican Grilled Corn, Elote Dip, Hush Puppies, Corn Fritters, or Southern Fried Corn.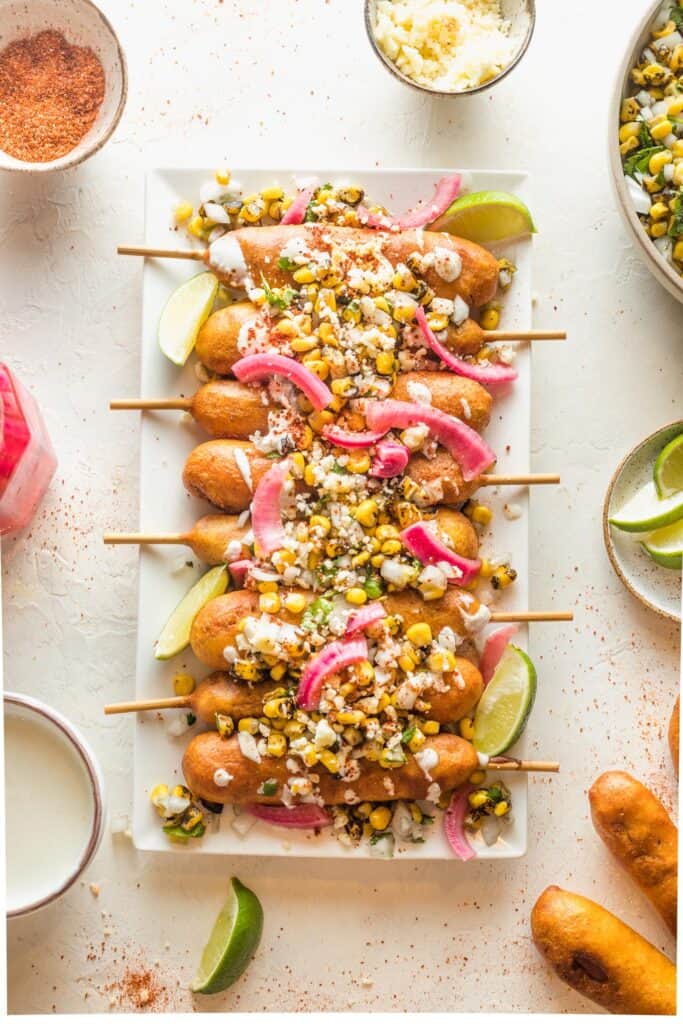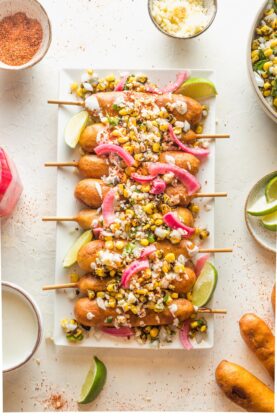 Mexican food has deep roots in America, ranging from authentic restaurants, street vendors, food trucks, and more. It seems like every day brings a new opportunity to try unique and delicious fusion recipes, and I am all about that!
This recipe combines the vibrant flavors of Mexico with an all-American favorite, showcasing comfort food like never before. I'll be making this recipe all summer long.
What Are Elote Corn Dogs?
Essentially, Elote Corn Dogs are a combination of Mexican street corn (elotes) and crispy corn dogs. Both of these recipes are quite flavor-intense, making for an unforgettable eating experience when they're served together!
Elotes are an extremely popular snack south of the border. Grilled corn is dipped in Mexican crema and topped with garnishes like chile-lime seasoning, cotija cheese, cilantro, and lime juice.
I decided to deconstruct elotes, then layer the mixture on top of my homemade corn dog recipe. It features premium Johnsonville sausages dipped in a sweet and slightly spicy cornmeal batter, then fried to golden-brown perfection.
Each bite of these Elote Corn Dogs provides distinct flavor and textural elements — crispy, creamy, tangy, savory, and spicy. I think you're really going to want to give this one a try!

Ingredients
Sausages

— I highly suggest good quality all-beef sausage brats for the best-tasting Elote Corn Dogs. However, just choose the variety (chicken, turkey, etc) and brand you enjoy most! One more thing to keep in mind is the sausages still need to fit in your pot once they are skewered

Buttermilk

— To provide lift and create a tender corn dog batter. If you don't have buttermilk, don't worry! Make a homemade version by adding a tablespoon of white vinegar to a 1-cup measuring container, then filling the rest with milk. Once it curdles, you're good to go!

Egg

— This will bind the batter together and add lift as well. Make sure your egg is at room temperature so it properly mixes with the other ingredients.

Honey

— I love adding honey to my corn dog batter because it lends the perfect touch of sweetness.

Cornmeal

— It's not a classic American corn dog recipe without cornmeal! Use the yellow variety and ensure it is finely ground for the best results.

Flour, sugar, baking powder, salt

— Staple ingredients to give the corn dog batter a light, tender texture and more flavor.

Paprika, cayenne

— Smoked paprika gives a char-grilled flavor that enhances the elotes incredibly well. I also like to add a dash of cayenne for just the right amount of heat.

Corn

— For traditionally-prepared elotes, use a grill. If you don't have one or are short on time, broil your corn! Mexican street corn is typically made with white corn, but you can use yellow or other in-season varieties.
White onion & cilantro

— Both typical Mexican garnishes, I mix cilantro and white onion with the corn kernels. You can thank me later!

Crema or sour cream

— If you can get your hands on Mexican crema, it is the ideal choice for elotes (check your local Mexican food market if you live near one). You can also use sour cream, but thin it out slightly with water or lime juice to match the consistency of Mexican crema.

Garlic powder

— Mixed with the crema, this creates a deliciously savory topping to drizzle all over the corn dogs.

Lime juice

— Used both for the aioli and as a garnish. Add as much or as little as you want, but I personally love mine tangy!

Garnishes

— These corn dogs wouldn't be complete without a sprinkle of cotija cheese, Tajin (chile-lime seasoning), pickled onions, and an extra squeeze of lime!
How to Make Elote Corn Dogs
HEAT THE OIL

– Heat oil in a deep-frying skillet over medium until it reaches 265 degrees F (

do you mean 365 degrees F?

).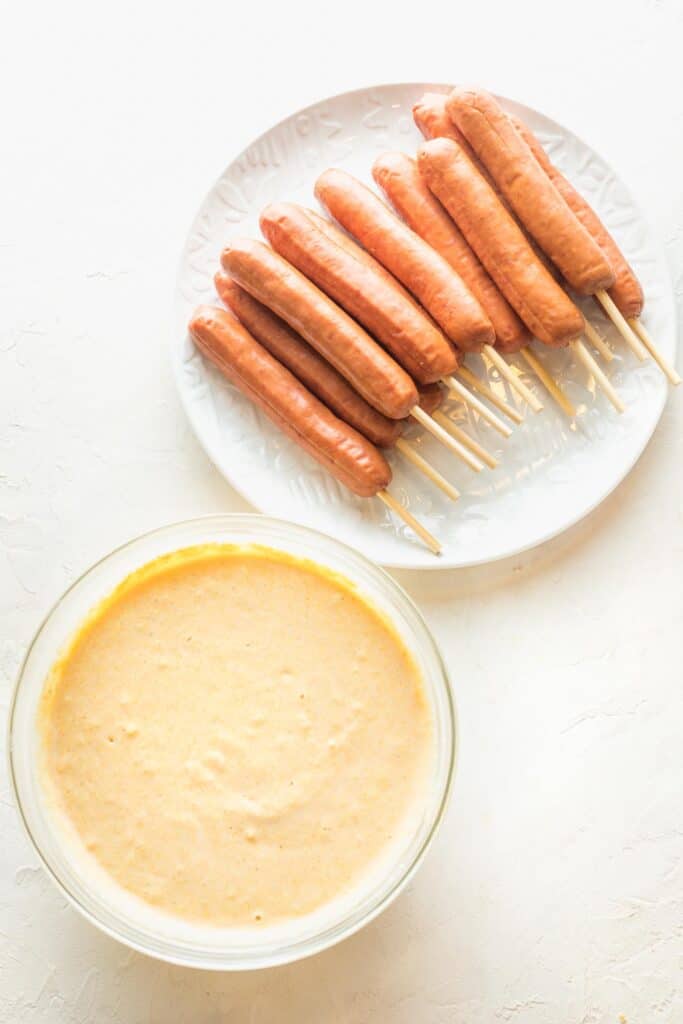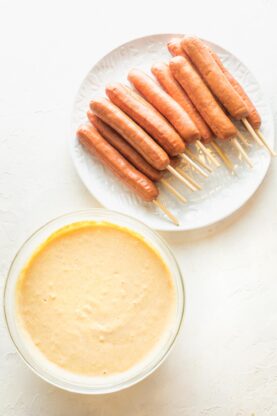 MAKE THE BATTER

– Combine the buttermilk, egg, and honey in a small bowl. In a separate bowl, whisk together the cornmeal, flour, sugar, baking powder, and salt. Mix the wet and dry ingredients until no lumps remain.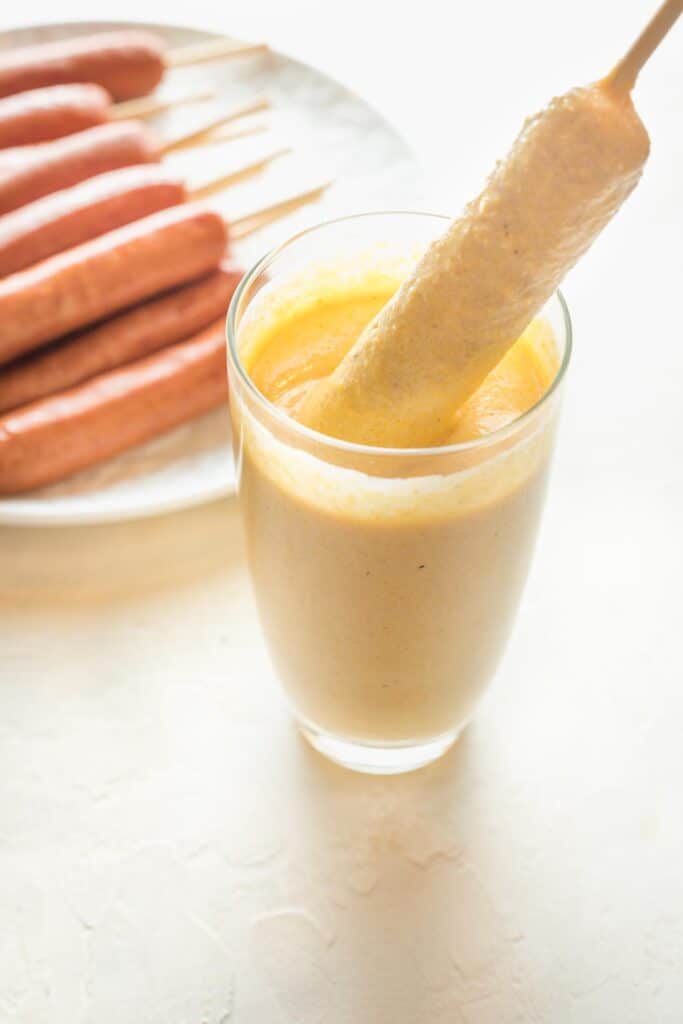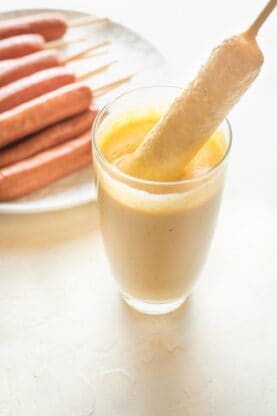 COOK THE CORN DOGS – Pierce the sausages with wooden skewers or popsicle sticks (these are great ones), then dip each one in the batter. Cook them in the hot oil for 3-4 minutes, or until they appear a light golden brown color. Drain the excess oil on a cooling rack.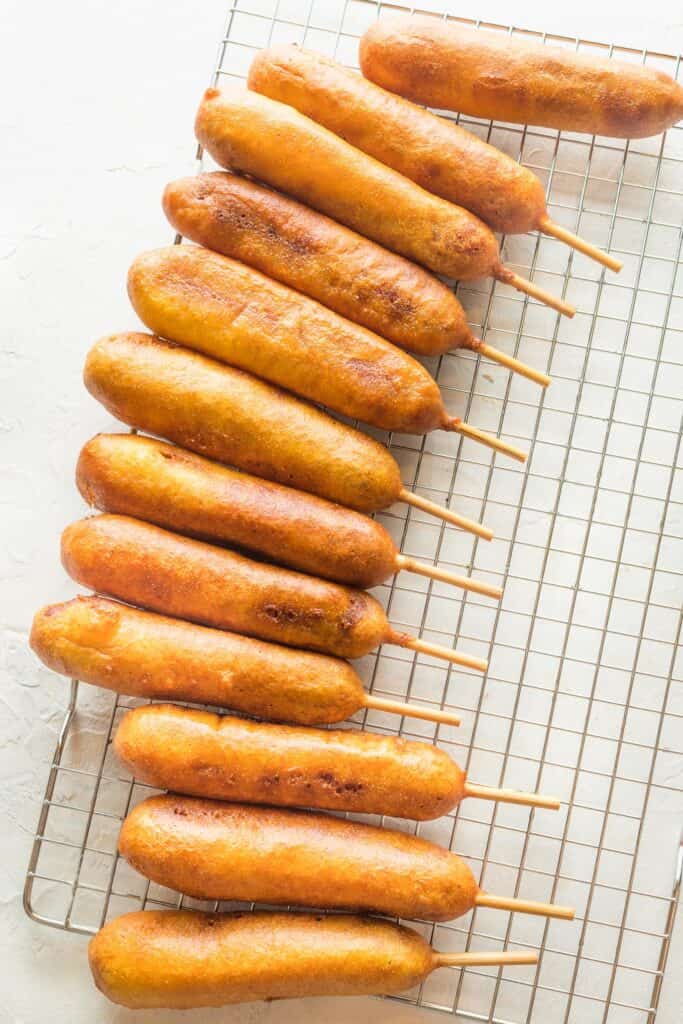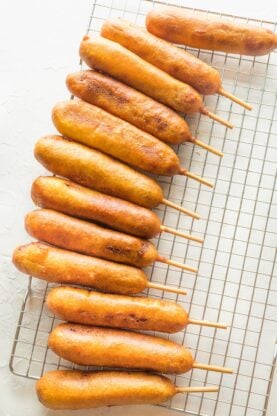 MAKE ELOTES

– Cut the corn kernels away from the grilled cobs, then add them to a bowl with the diced onion and cilantro. Season with salt and pepper to taste, then set the bowl aside.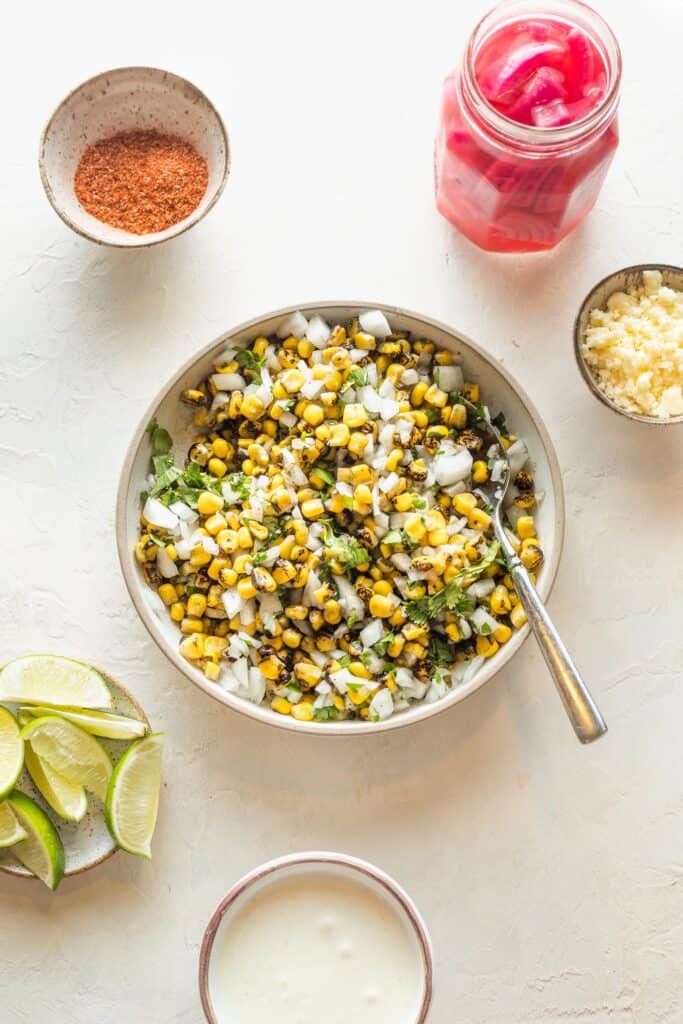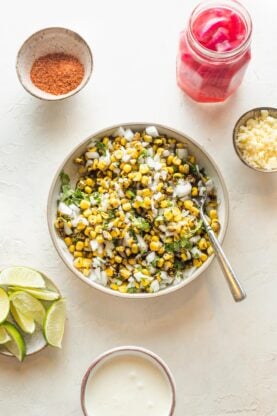 MIX THE CREMA

– Mix

sour cream, garlic powder, and lime juice

together until smooth and incorporated.

ASSEMBLE

– Top each corn dog with the grilled corn mixture, crumbled cotija cheese, a drizzle of chipotle aioli, Tajin, pickled onions, and extra lime wedges.
Serving Suggestions
Although Elote Corn Dogs are basically a meal of their own, you may also want to serve them with popular mains like Carne Asada, Birria Tacos, Chicken Enchiladas, or Chicken Pozole.
Recipe Variations
There are a wide variety of ways to make this recipe your own with countless customizations or substitutions if you're in a pinch!
Swap in different sausages — From cheesy and smoky to spicy, beer, or chorizo. You can even use any leftover batter to make mini corn dogs with cocktail sausages. Speaking of spice, try drizzling your favorite hot sauce on at the end.
If you can't find crema, use mayo, sour cream, or both. Mexican-style elotes are usually served with a combination of crema and mayo. No cotija cheese where you live? common substitutes include queso fresco, feta cheese, and parmesan.
Tips And Tricks
Everyone loves corn dogs with a crispy exterior and tender interior, right?! My best advice is to transfer the batter to a tall glass, then dip your sausages in. Make sure the sausages are completely covered. If there are air pockets or parts of the sausage peeking through, you'll end up with cracked corn dogs.
I always recommend using a deep-fry thermometer for the most consistent results. You don't want under or over-cooked corn dogs! Once they're fried, drain the corn dogs on a cooling rack to keep the outsides extra crispy.
As for elotes, the best flavor is achieved on a grill. If you have one, it's worth the extra effort!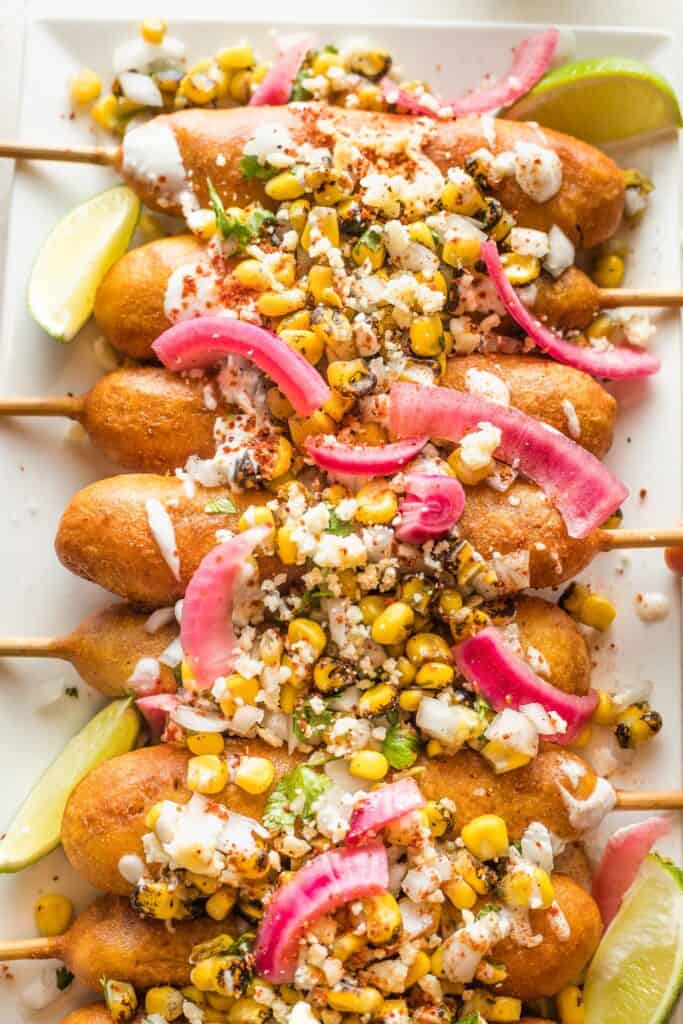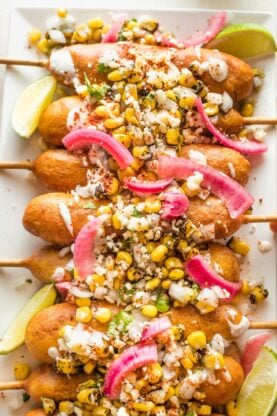 Leftovers
Once the corn dogs are made, they can be stored in airtight containers in the fridge for 4-5 days. Corn dogs are also freezer-friendly. Allow them to cool completely before transferring them to a freezer-safe bag or container. They will keep for about 2-3 months this way.
The corn mixture will also stay fresh for up to a week in the refrigerator. As for the chipotle aioli, it can stay chilled for 3-4 days.
Reheating
If frozen, thaw your corn dogs in the fridge overnight. Once thawed, heat them in the microwave for about 30 seconds, or until hot. They can also be warmed in an oven. Place the corn dogs on a baking sheet and cook them at 400 degrees F for about 10 minutes, rotating them halfway.
Make It Ahead of Time
The complete recipe shouldn't be made ahead of time, but there are a few components you can prepare in advance to speed up the cooking process.
Make the batter and aioli up to 2-3 days ahead of time. Grill the corn and keep it in the fridge for up to 4-5 days before making your Elote Corn Dogs.
Additional Corn-Filled Recipes
For more corn-infused recipes, might I suggest a few favorites from Grandbaby Cakes:
Frequently Asked Questions
Do I have to wait for the corn dog batter to chill?
No, you do not have to wait for the corn dog batter to chill. One of the best parts of this recipe is how quick and easy it is to make!
Which cornmeal works best for corn dogs?
Finely ground yellow cornmeal works best for corn dogs. Medium or coarse cornmeal (like for polenta) is too gritty and won't stick as well. It also takes longer to cook.
What is the best oil for frying corn dogs?
The best oil for frying corn dogs is one with a neutral flavor and high smoke point. My favorites include peanut, canola, and sunflower oil.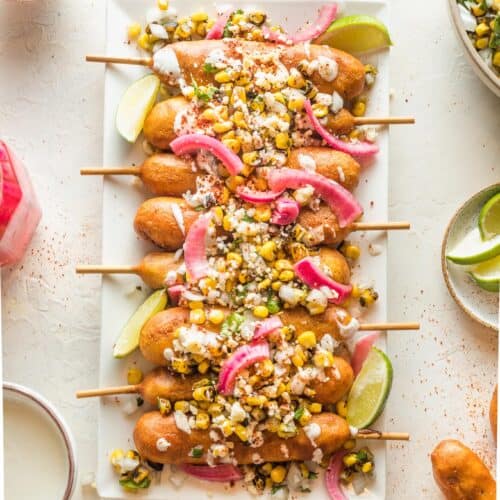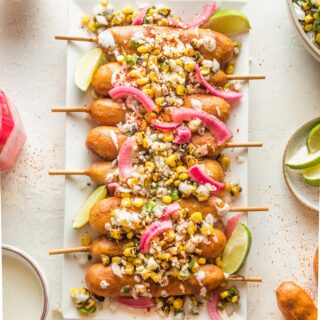 Elote Corn Dogs
American and Mexican cuisines merge with the unique flavors of Elote Corn Dogs. Juicy sausages are fried in a honey-cornbread batter, then topped with grilled corn, chipotle aioli, and cotija cheese.
Print
Pin
Rate
Ingredients
For the Corn Dogs
10

smoked beef brats

10

skewers

1 3/4

cup

buttermilk

1

large egg

2

tbsp

honey

1 1/4

cup

yellow cornmeal

1

cup

all purpose flour

1

tbsp

granulated sugar

2

tsp

baking powder

1/2

tsp

smoked paprika

1/2

tsp

cayenne pepper

1/2

tsp

salt

oil for frying
For the Elote Topping
4

corn ears

grilled or broiled

1/2

cup

white onion

finely chopped

1

tbsp

fresh cilantro

finely chopped

1/4

tsp

salt

1/2

cup

Mexican crema

or sour cream

1

tsp

garlic powder

2

tbsp

lime juice

crumbled cotija cheese

for garnish

tajin spice or sauce

for garnish

pickled onion

for garnish

lime slices

for garnish for serving
Instructions
For the Corn Dogs
Insert skewers into brats. Set aside on a plate.

Add buttermilk, egg, honey to a small bowl and combine.

Add cornmeal, flour, sugar, baking powder, smoked paprika, cayenne pepper and salt to a separate large bowl and whisk.

Add up to 5 inches of oil to a deep pot over medium heat and heat until it reaches at least 300F (340 is also good) (~5 minutes to heat up).

Stir the wet ingredients into the dry until combined then dip brats in batter. *Optional: You may also choose to pour batter into a cup and then dip sausages from the cup.

Drip off excess batter. Dip the corn dog first in the batter and swirl for a few seconds to help seal the batter. This helps to prevent sticking to the pan and keeps the batter from falling off. Then fry 2-3 minutes or until light and golden. I like to begin by twirling the corn dog consistently in the oil to make sure it is evenly coating and then dropping into the deep oil for the duration of the frying.

Repeat until everything is fried then drain on a cooling rack or paper towels then serve.
For the Elote Topping
(If you don't already have grilled corn) Turn the oven on for a low broil. Add 4 ears of corn and a small amount of water to an 8×8 pan. Place the pan on a bottom shelf in the oven. Cook on a low broil for ~15 minutes. Set aside.

Using a knife, remove the kernels. Add the corn kernels to a bowl with chopped onion and cilantro. Season with salt (if desired) and pepper and set aside.

Add crema, garlic powder, salt and lime juice to a medium sized bowl and whisked together until you can drizzle. Add more lime juice or another liquid until it reaches the consistency you like.

To Assemble, Top each corn dog with the corn mix, followed by a drizzle of sour cream, sprinkle of the corn mix, pickled onion, and crumbled cheese and finish with a sprinkle of tajin. Serve with lime wedge. Enjoy!