Learn how to make gravy from scratch with a basic roux! This easy, insanely flavorful and FOOLPROOF classic homemade brown gravy recipe is perfect for turkey, cornbread dressing, seafood dressing, mashed potatoes or just about anything else! Try this or my Giblet Gravy, Sawmill Gravy , Red Eye Gravy, or Turkey Gravy and serve over my favorite Garlic Mashed Potatoes and Sour Cream Mashed Potatoes or alongside Fried Chicken or Fried Pork Chops and Collard Greens for truly authentic Southern meal.
The Most Delicious Homemade Brown Gravy! Learn How to Make Gravy From Scratch!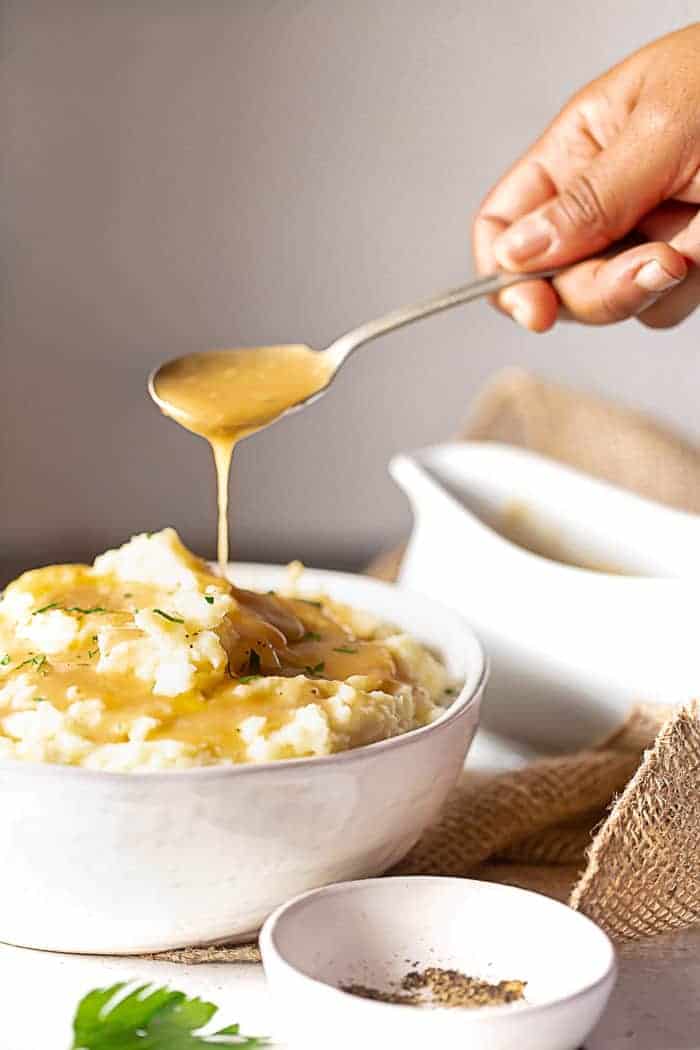 There are recipes that serve as the hallmarks of Southern Cuisine, Gravy is one of them.
The holiday season is officially upon us everyone! Time to carve the pumpkins, break out the cozy throw blankets and put on a little winter weight because the cider donuts are just too good to resist. I love taking family trips to apple orchards and plotting my annual contribution to holiday gatherings. Every year I break either break out a classic recipe or try out something new. Either way, there is one dish that I expect to be at the table regardless of who's volunteered to make it: gravy.
Gravy is the Thanksgiving and Friendsgiving All-Star, the sauce that brings it all together and the one thing that finds its way around the table more than a carousel at a carnival. If you're telling yourself that gravy can't be that good then you haven't had my family gravy. It's thick yet creamy, flavorful yet not too overpowering. You can pour it over your mashed potatoes or drizzle onto your turkey. Heck, you could pour it over the whole dang plate if you wanted to.
So today I'm spilling the family gravy secret because it's just too good to keep to myself. Buckle your seat belts, you're in for crazy gravy boat ride. Get it?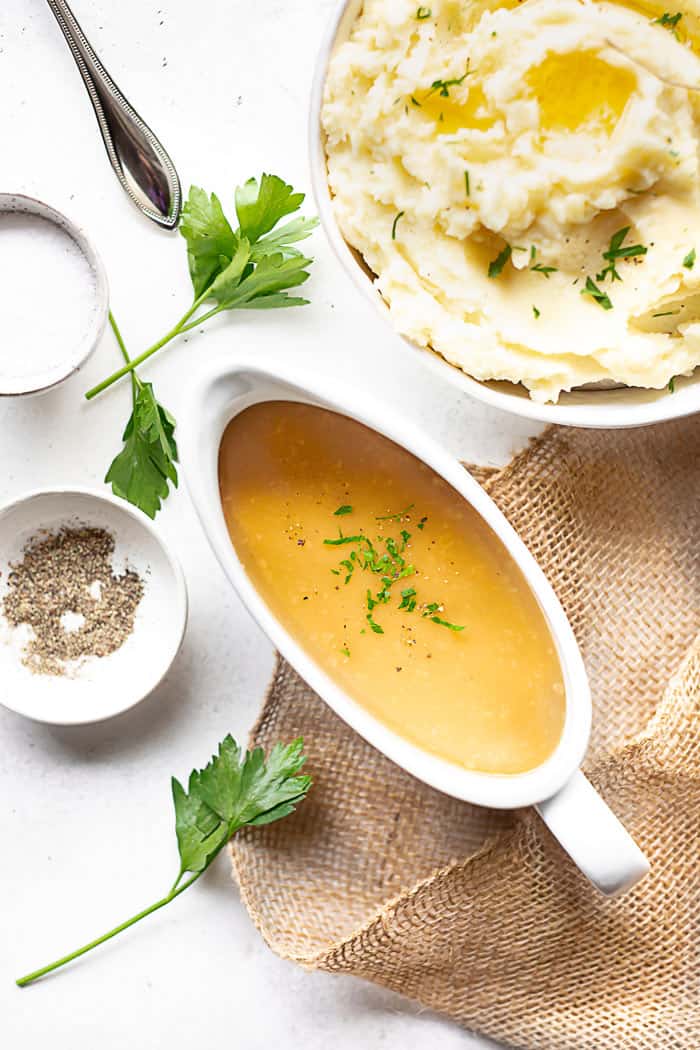 Homemade Gravy Recipe with a Southern Twist
Gravy to the South is like a zebra to its stripes. You truly can't have one without the other. Gravy is a sauce that is made from the juices of meats that run naturally during cooking and it's thickened with either flour or cornstarch.
There are endless versions of gravy that come from all around the world but no one does like the South does. I couldn't pinpoint where Southerners began their obsession but I know that it is alive and well. My household, as well as the one I grew up in, was no exception.
Gravy Ingredients
The key ingredients for the best brown gravy recipe are the following:
Drippings or butter
Flour
To add butter or dippings to flour and cook until browned is to create a roux. The roux serves as the base for your homemade gravy, and the process cannot be skipped. Most people will only brown up to a certain point but if you continue to brown without burning, you will add a deeply rich color and even more flavor.
For the stock, definitely think about making a homemade chicken stock. The recipe I linked to is useful for everything from my Aunt's cornbread dressing to soups and stocks.
One of the beauties of a recipe like this one is that you can really customize it to fit your preferences. Your gravy can be made simple or dressed to the nines. Get creative!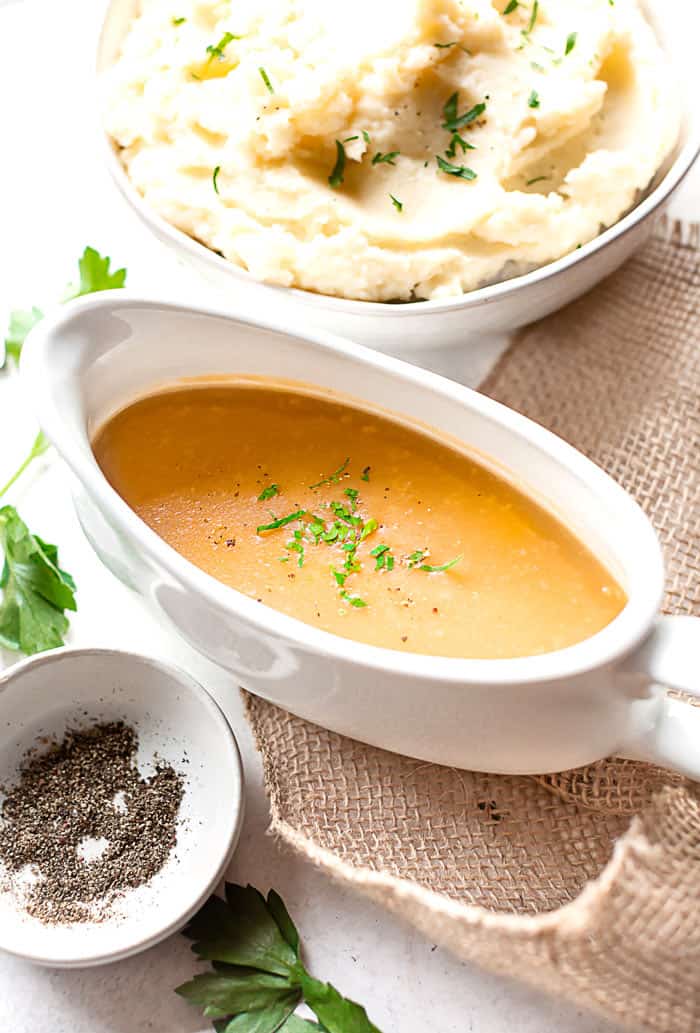 How to Customize Homemade Gravy
Infuse Your Gravy with Herbs
Adding rosemary, thyme or sage during the cooking process will infuse your gravy with a fresh, herby flavor. This is a great way to brighten up that same-old gravy. Strain out the gravy after cooking for a smoother texture.
Use Different Kinds of Meat
Each different kind of meat offers varying levels of heaviness along with different flavors. Try out chicken, turkey or beef and pick your favorite.
Pour a little bourbon into your gravy to add a smoky, boozy flavor that will be a hit with every adult present. Add in a couple tablespoons (more if you'd like a stronger flavor) after you've browned the flour to cook out the alcohol. The result a gravy no one will forget.The opportunities to make this recipe your own are endless so take advantage. You might even just whip up a new classic.
Tips for How to Make Gravy From Scratch & How to Make Gravy Easy!
Gravy is notoriously easy to make because it requires such few ingredients and not very much time. It is also notorious for being able to coat an overcooked turkey or disguise gummy mashed potatoes. Believe it or not, it can even make brussel sprouts more bearable to eat.
But in order to work its magic Gravy has to be made perfectly. So here's how you perfect it.
Taste Your Drippings
After brining, basting, and roasting, or any other method you've used to cook your meat, drippings can be burnt or salty. Just by giving them a taste before cooking your gravy will save you from a hot mess.
Whisk, Whisk It Good
Whisking thoroughly while adding the flour into the fat is essential. Add in your liquid very slowly and continue to whisk until the roux is completely incorporated and not lumpy. Just plan on doing a very intense wrist workout and you'll avoid a lumpy gravy that someone could possibly and probably will choke on.
Keep Your Gravy Warm
Gravy has a nasty habit of thickening as it cools which creates a pudding like texture and even a few lumps. Remember all that wrist work we did to avoid lumps? Let's not let that go to waste.
Transfer the brown gravy to a gravy boat or a thermos before serving. Heat it back up as needed.
I've officially given you all the gravy secrets I can without having some of my family come looking for me. Can't give it all away can I? Well, maybe next year. For now, I hope you enjoy copious amounts of gravy this holiday season and maybe even share a bit with loved ones.
If you love Homemade Gravy, you will love other recipes like this where gravy is a major ingredient:
Want To Grab The Products To Make This Recipe? Grab Them BELOW!
[show_shopthepost_widget id="4209723″]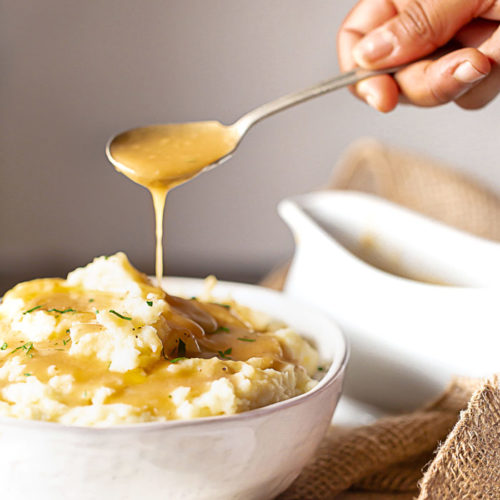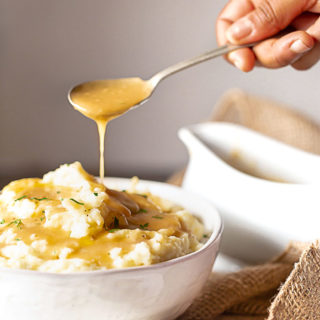 How to Make Gravy
Learn how to make gravy from scratch! This easy, insanely flavorful and FOOLPROOF classic homemade brown gravy recipe is perfect for turkey, mashed potatoes or just about anything else!
Print
Pin
Rate
Ingredients
2

tbsp

pan drippings or butter

2

tbsp

all-purpose flour

1

cup

chicken or turkey stock

Salt and pepper to taste
Instructions
Add fat to skillet over medium heat. 

Once heated, whisk in flour combining with fat and continue to whisk allowing it not to burn but to brown. This should take about 5 minutes or so or until it turns golden brown.

Whisk in stock and allow it to continue to cook over medium heat to thicken for about 7-8 minutes. Constantly stir to avoid sticking.

Season with salt and pepper and serve.
Notes
Whisking thoroughly while adding the flour into the fat is essential. Add in your liquid very slowly and continue to whisk until the roux is completely incorporated and not lumpy.
Nutrition
Calories:
69
kcal
|
Carbohydrates:
4
g
|
Protein:
2
g
|
Fat:
5
g
|
Saturated Fat:
3
g
|
Cholesterol:
14
mg
|
Sodium:
109
mg
|
Potassium:
50
mg
|
Fiber:
1
g
|
Sugar:
1
g
|
Vitamin A:
142
IU
|
Iron:
1
mg