This Southern Hummingbird Cake recipe is a deliciously moist cake filled with ripe banana, perfectly sweet pineapple and chopped pecans that's topped with an irresistibly rich cream cheese frosting! It tastes almost tropical! If you love desserts like these, definitely check out my Pineapple Coconut Cake, Banana Bread, Banana Cake, Pineapple Upside Down Cake and Pineapple Cupcakes!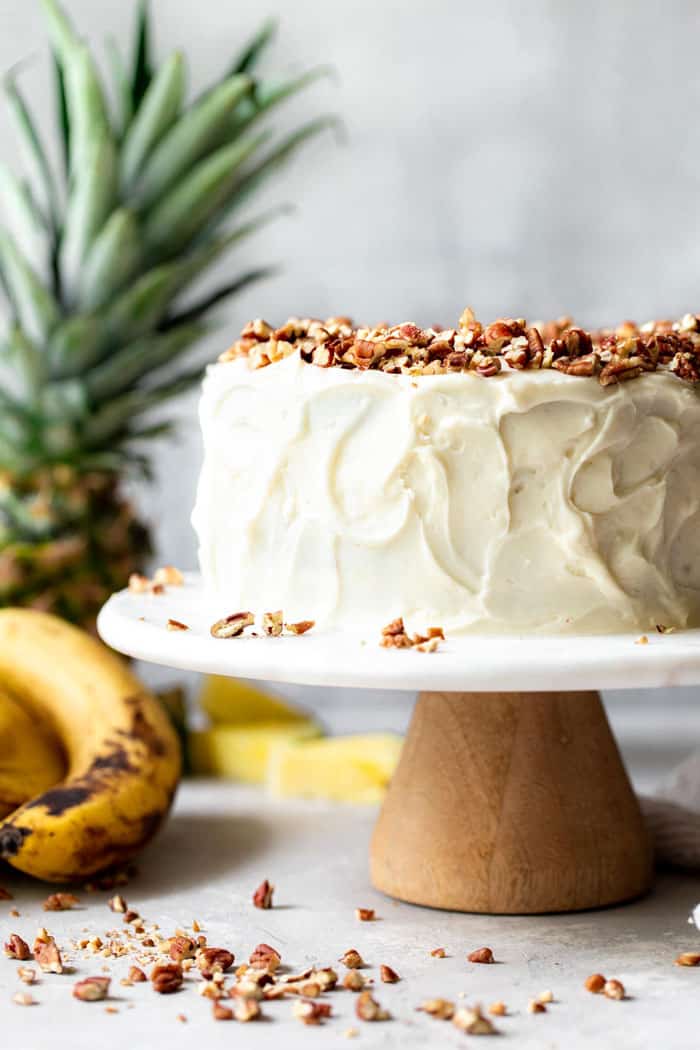 THE BEST HUMMINGBIRD CAKE RECIPE ONLINE!
Shh! Listen, do you hear that? The birds are chirping again! Now that I'm here in Dallas, Texas (OMG) a lot more, I'm experiencing the earliest Spring I've ever seen. Chicago's Winter months last for what seems like a lifetime. Ugh.
But that's all changed now! I woke this morning to the sound of mockingbirds singing outside of my window. And with a lovely melody and a lifted spirit, I made my way to the kitchen to start my Spring baking. I couldn't think of any other way to celebrate warmer weather and budding trees than with a Hummingbird Cake.
Filled with fruit, spice and everything nice, Hummingbird Cake is my idea of the perfect Springtime dessert. It's bright, airy, sweet and oh so good! Whether you're still stuck in a Wintery chill or basking in the sun, let's welcome in a little extra sunshine together!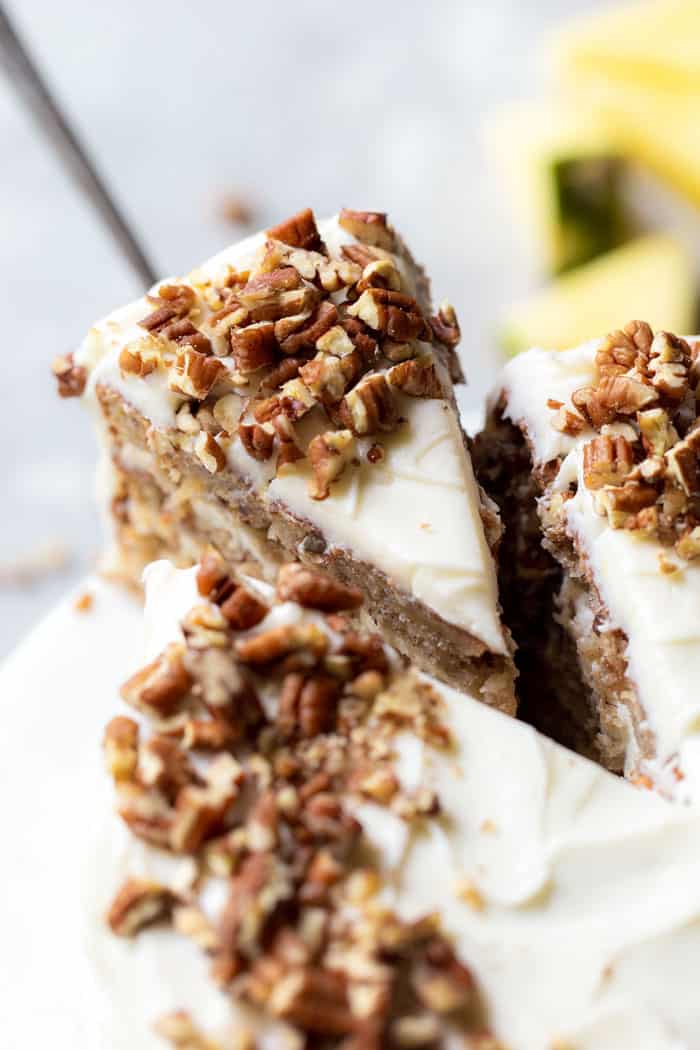 HISTORY OF HUMMINGBIRD CAKE
First and foremost, let's ask the most important question: what is a Hummingbird Cake? A Hummingbird Cake recipe is a dense, cinnamon-scented layer cake filled with tropical fruit. This lavish, aromatic cake is topped with a cream cheese frosting and chopped pecans. There are many variations that also include coconut, dried fruit and even shredded carrots.
The most popular version of this cake was submitted to Southern Living by Mrs. L.H. Wiggins of Greensboro, North Carolina in 1978. The recipe featured a three layered cake filled with crushed pineapple and bananas, then topped with a cream cheese frosting. Wiggins' recipe spread like wildfire and inspired home cooks all across the South to create their own rendition.
BONUS: Rumors of a "Doctor Bird Cake" that originated in Jamaica is incredibly similar to this cake. It was named after Jamaica's native swallow-tailed hummingbird. A connection between the two cakes has yet to be made.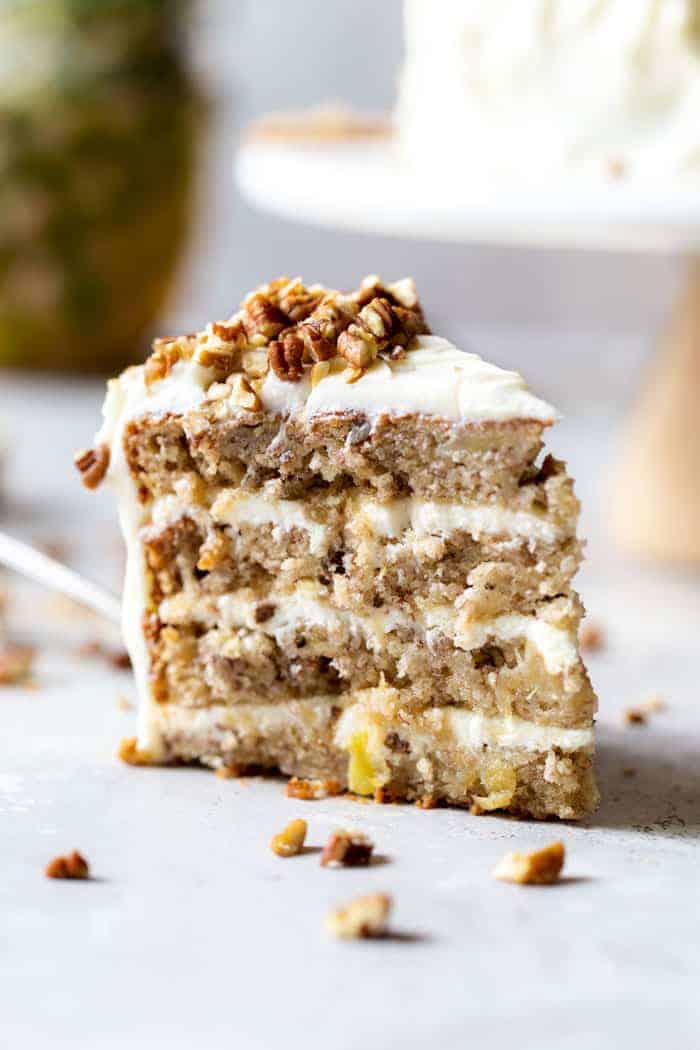 HOW TO MAKE HUMMINGBIRD CAKE RECIPE
I love making this cake on a Sunday afternoon. With my apron tied on tight, I measure, sift, whisk and bake while music bumps and my baby girl dances. There is something so restorative about these moments and it doesn't hurt that there's cake to be eaten.
This Hummingbird Cake recipe requires a few extra ingredients, a little more patience and a whole lot of love. Trust me, it's worth it.
Here's what you'll need this Sunday:
Cinnamon
Hummingbird Cake is intended to be quite aromatic. Cinnamon has a warm, woodsy and spiced flavor that creates a beautiful scent.
Crushed Pineapple
Pineapples are the balance between sweet and tart. The added moisture is welcome while the pops of juice are light and refreshing.
Mashed Bananas
Just like a banana bread, bananas layer in moisture and caramelized sweetness. I would suggest using overripe bananas (ones with a brown-spotted exterior) for a deeper flavor. Need to ripen your bananas quickly? Check out this tutorial.
Chopped Pecans
Pecans are rich, buttery tree nuts. I find that pecans have an almost maple-like flavor. Their addition layers in a crunchy yet smooth textural element.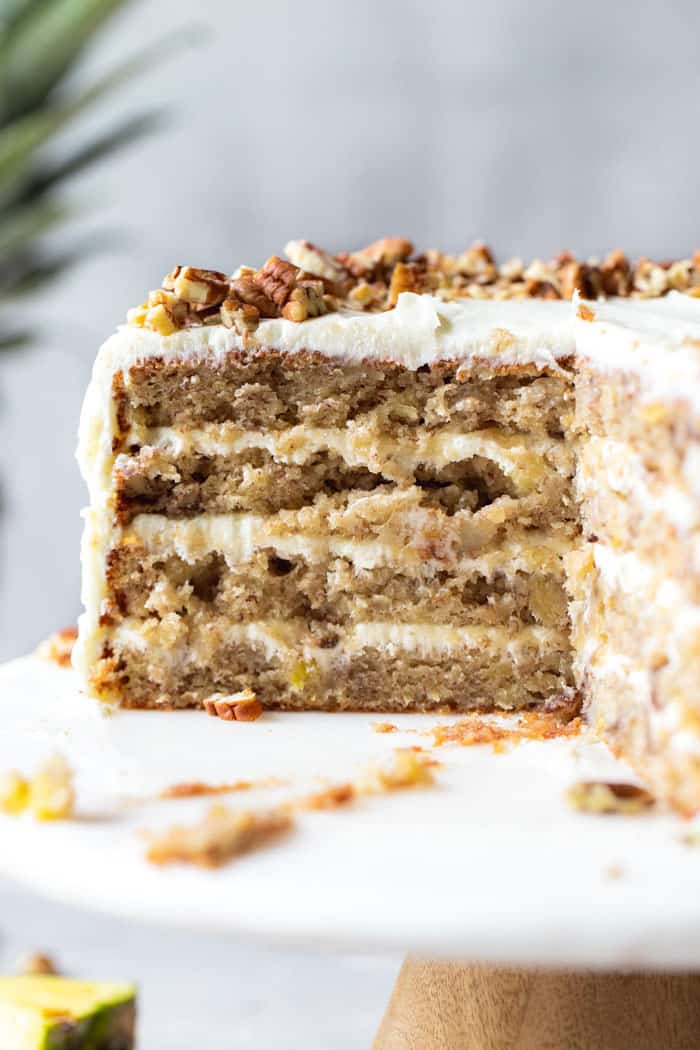 CAKE BAKING 101
I've been making cakes for as long as I can remember. I grew up in my Big Mama's kitchen with a wooden spoon in hand and a stool under my feet. We made every kind of cake imaginable about a million times over.
I've got tons of cake making tips, tricks and do-nots. I'm here to impart a little wisdom so you can make the best Hummingbird Cake ever!
Measure Properly
The difference between a well-balanced cake and an utter disaster can come down to a simple mis-measurement. Be patient and measure carefully.
When using measuring cups, use the "spoon & level" method. Simply use a spoon to scoop the ingredient into the measuring cup. Do not pack down or tap the measuring cup. Use the back of a knife to level off the excess.
Don't Over-mix, Don't Under-mix
Make sure you're mixing any cake batter just until the ingredients are combined. Over-mixing will knock out the air and replace it with gluten. That means tough, dense cake.
Bounce-Back Test
Yes, using a toothpick is always a good way to test a cake's doneness. But, I prefer a simple bounce-back test.
Remove the cake from the oven and gently (and carefully) press down on the cake with a finger. If your finger left a dent in the cake, it needs more time. But, if the cake bounces back, it's done!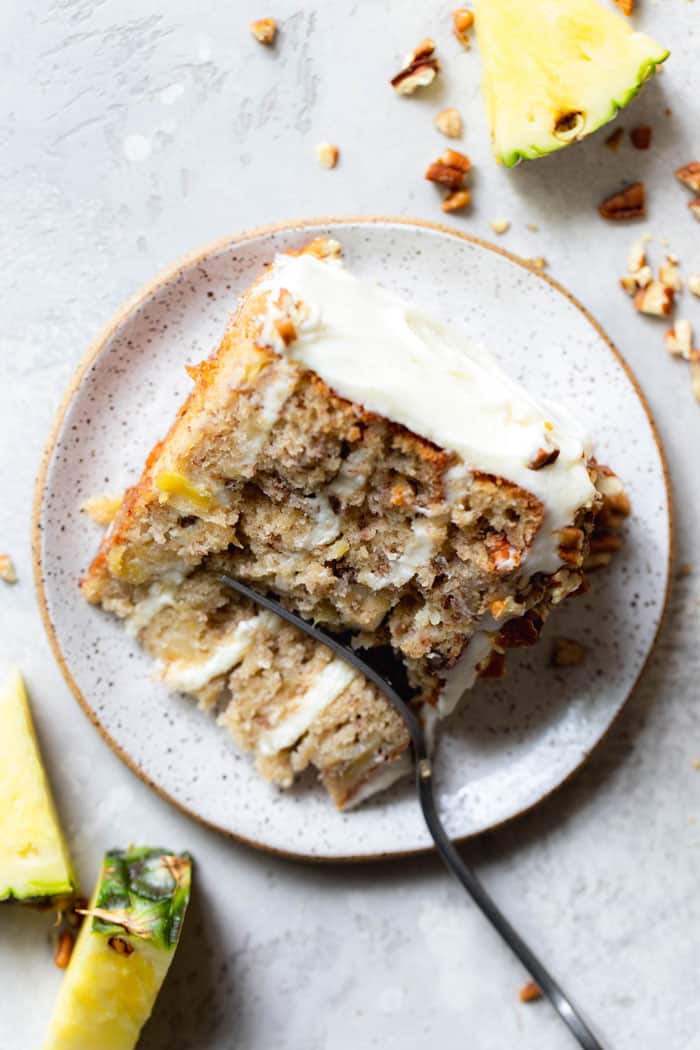 GRANDBABY CAKES' BEST CAKES
Want more Southern inspired goodness? Treat yourself to a few of Grandbaby Cakes' tastiest cake recipes!
STRAWBERRY PUNCH BOWL CAKE
HONEYBUN CAKE
KENTUCKY BUTTER CAKE
SOCK IT TO ME CAKE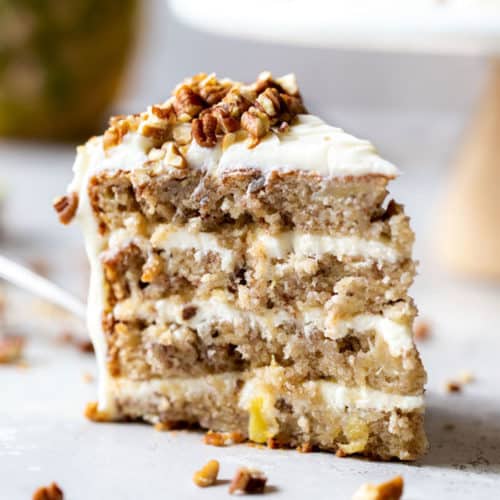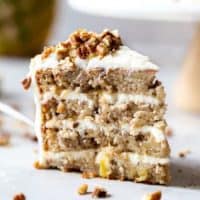 Hummingbird Cake Recipe
This Southern Hummingbird Cake recipe is a deliciously moist cake filled with ripe banana, perfectly sweet pineapple and chopped pecans that's topped with an irresistibly rich cream cheese frosting! 
Print
Pin
Rate
Ingredients
For the Cake
3

cups

all purpose flour

2

cups

granulated sugar

1

tsp

ground cinnamon

1

tsp

baking soda

1

tsp

salt

3

large eggs

beaten

1 1/4

cup

vegetable oil

2

tsp

vanilla extract

8

oz

crushed pineapple with juice

1 3/4

cup

ripe mashed bananas

about 4-5 bananas

1

cup

chopped pecans

if desired
For the Cream Cheese Frosting
1

cup

unsalted butter

room temperature

8

oz

cream cheese

room temperature

3 1/2

cups

confectioner's sugar

up to 4 cups if you want it stiffer

pinch of salt

2

tsp

pineapple juice

2

tsp

vanilla extract

1/4

cup

finely chopped pecans

for garnish if desired
Instructions
For the Cake
Preheat oven to 350 degrees. Prepare 2 9" inch round cake pans by spraying with non stick baking spray then lining each pan with parchment paper then lastly spraying the top of the parchment paper.

In a large bowl, add flour, sugar, cinnamon, baking soda and salt then whisk together until combined.

Next whisk in eggs, oil, vanilla, pineapple with juice, mashed bananas and pecans if using until completely combined. The final batter will be thick.

Evenly divide the batter into prepared cake pans and bake for 24-30 minutes or until a toothpick inserted into the center comes out clean.

After cooling for 10-15 minutes, remove cakes and allow them to cool to room temperature before frosting.
For the Frosting
Add butter and cream cheese to the bowl of your mixer and beat on high speed until it begins to thicken and fluff.

Next, slow down the mixer and carefully add in the confectioner's sugar. Once all sugar has incorporated, turn mixer back to high to continue whipping.

Add in pineapple juice and vanilla and continue whipping until it is smooth, light and a fluffy frosting.
To Assemble
Level the cakes, if necessary, and slice each cake into two layers making a total of four layers of cake (if desired or you can leave as two layers).

Add frosting between layers then frost entire cake with remaining frosting. Garnish with additional pecans if desired. Serve at room temperature.
Notes
If anyone in your family has a nut allergy, feel free to omit them completely from the recipe.  It will still taste amazing.
You can also avoid turning the cake into 4 layers by just leaving this a two layer cake if you desire as well.
For a stiffer frosting, go up to 4 cups of confectioner's sugar.  It won't be as loose in texture when icing your cake.
Nutrition
Calories:
444
kcal
|
Carbohydrates:
63
g
|
Protein:
4
g
|
Fat:
20
g
|
Saturated Fat:
10
g
|
Cholesterol:
61
mg
|
Sodium:
219
mg
|
Potassium:
164
mg
|
Fiber:
2
g
|
Sugar:
46
g
|
Vitamin A:
494
IU
|
Vitamin C:
3
mg
|
Calcium:
29
mg
|
Iron:
1
mg