This is the Best Pineapple Upside Down Cake recipe ever online (along with my Hummingbird Cake, Pineapple Sheet Cake, Pineapple Coconut Cake and Pineapple Rum Cake) ! It's a moist sponge cake caramelized to perfection with brown sugar pineapple rings and cherries!!
Perfect Pineapple Upside Down Cake Recipe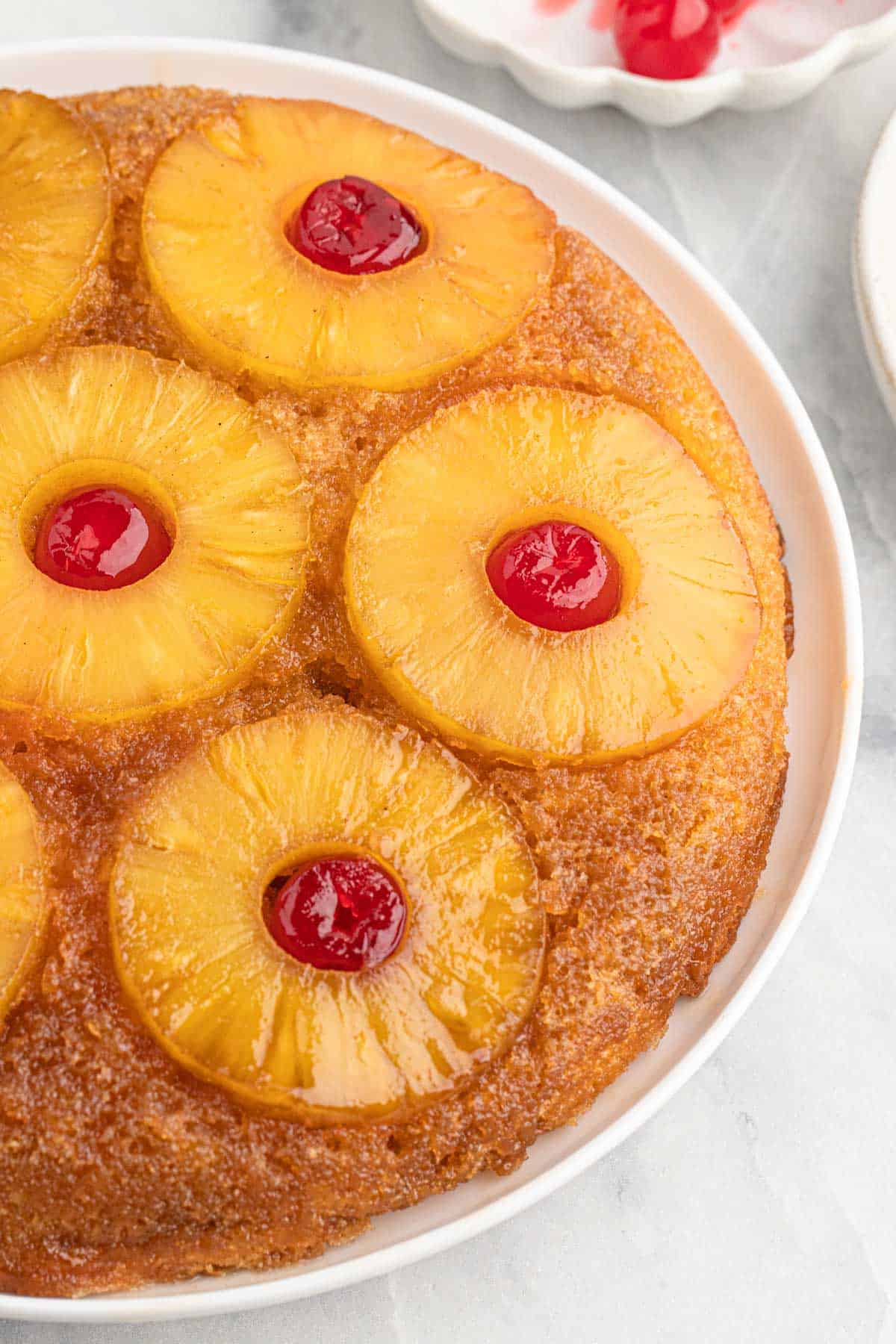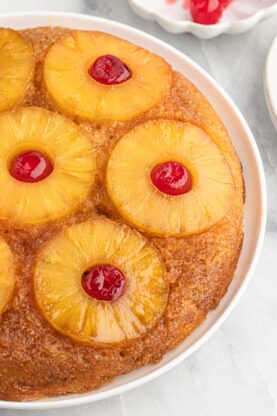 There aren't many things more traditional and lovely than a pineapple upside down cake. My recipe is an old one, but a wonderful one. This moist sponge cake topped by brown sugar sweetened pineapple rings and cherries is perfection.
What is a Pineapple Upside Down Cake?
Pineapple upside-down cake is a single layer yellow butter cake upturned after baking to reveal a gleaming mosaic of caramelized pineapple rings.
It was invented because several other convenience items were invented that gave the housewife time to make a cake pretty as well as delicious. The method of cooking a cake upside down, is a technique that was developed centuries ago when cakes were cooked in cast iron skillets. It was easy for a home baker to add fruit and sugar in the bottom of the pan, add a simple cake batter on top and put it over the fire to cook. Once done it was flipped over onto a plate, a natural way to show off the beautiful fruit and let its flavor run into the cake as well.
The idea to use pineapple came in 1911, when one of James Dole's engineers invented a machine that would cut his pineapple into rings. The convenient and visually appealing rings were soon used in this age old technique of the skillet cake. The maraschino cherry addition was simply used to create the necessary color contrast needed to take this cake above and beyond.
Why make it from scratch?
The pineapple upside down cake is possibly the perfect cake. Its ingredients are inexpensive, and are even often found in the everyday pantry. Preparation and baking times are always under an hour. You could make dessert for a last minute dinner party, make an unconventional birthday cake or fulfill a late night craving while barely lifting a finger. It's classic look and well-balanced flavors speak to everyone. A true crowd pleaser.
Now, you may not consider yourself to be classic. You find yourself out of the ordinary and you need your desserts to reflect that. So add your flare, introduce a new element and make this cake your own. Whether you add caramel, peaches or make them mini in size there are endless ways you can take this recipe and truly make it your own. So don't be afraid to.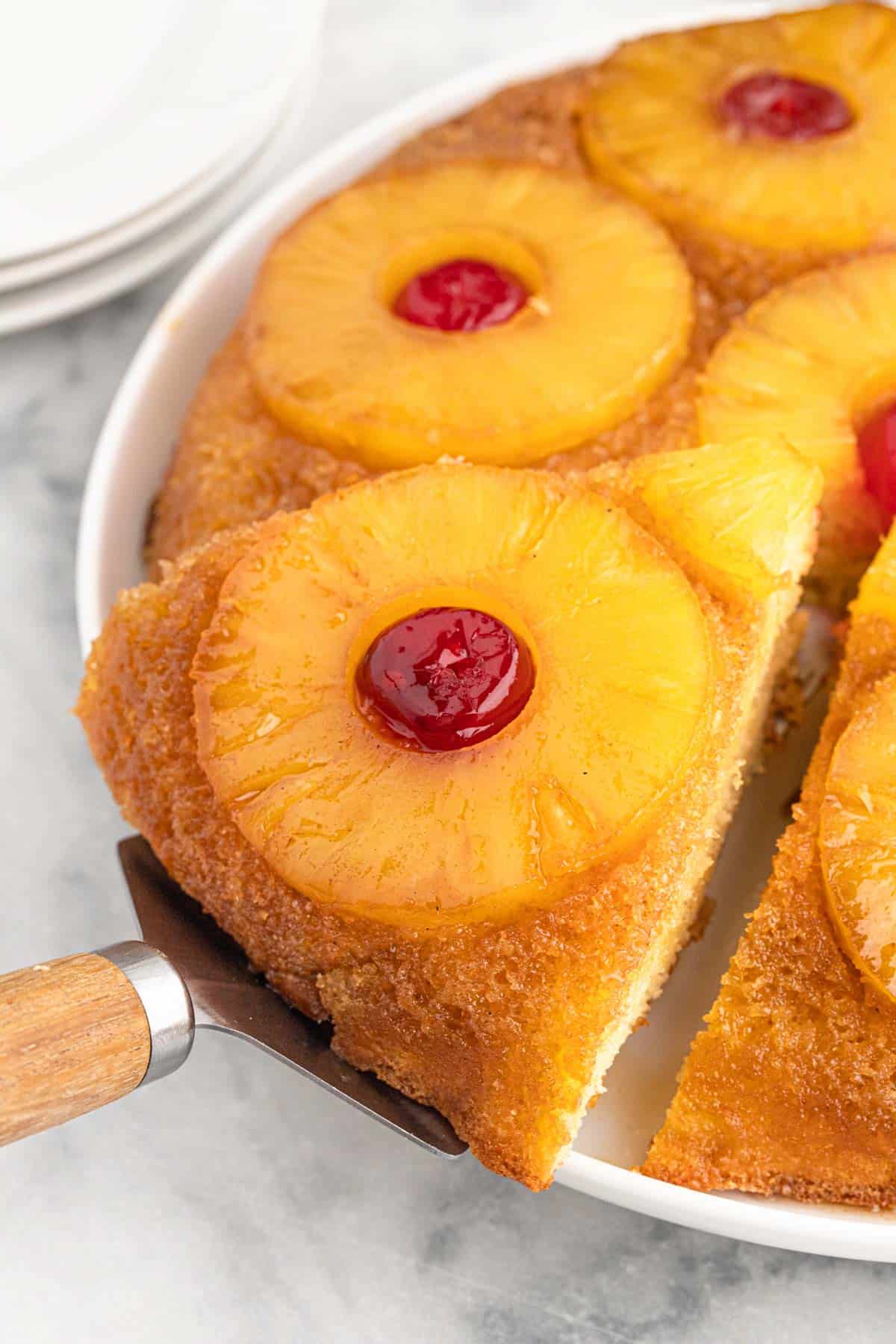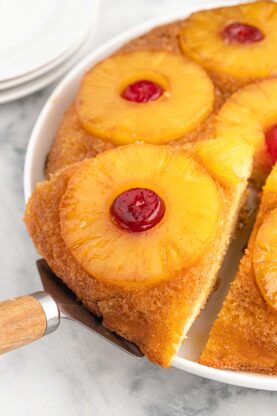 Tips for Making It
Using the right equipment is vital, it ensures that your cake cooks evenly and your flavors are consistently delicious. Personally, I love using my cast-iron because the flavors are truly unbeatable. It's crucial that your cast-iron is properly seasoned so that your cake does not stick to the bottom.
The heavy steel pan also keeps the butter from burning and the handle makes it easy to flip the cake upside down when it is done. So if you've got your grandmother's or mother's old skillet it's time to dust it off, season it and get to work.
Have you ever wanted to know how to make pineapple upside down cake? Well this recipe is here to teach you. I found it in one of my Big Mama's old handwritten recipe notebooks so I knew it would be amazing, and indeed it was. Whenever you see a cake made in a cast iron skillet, you know it has the goods.
Easy Pineapple Upside Down Cake Ingredients and Features
This cake starts with a light, yet moist sponge cake base with a hint of pineapple juice to really liven up the flavor. The juice also introduces added moisture that creates the melt in your mouth feeling you didn't even know you needed.
Adding that touch of pineapple makes for a balanced pineapple essence in every single bite you take. The base is really a pineapple cake recipe on a smaller scale.
The best part of any pineapple upside down cake is its bottom (or top once its turned over). I love using a cast iron skillet to really get that deep caramelization from butter and brown sugar. Add your pineapple rings and cherries (I actually leave these out due to a cherry allergy) and you have the most perfect cake.
You can use fresh pineapple for this but make sure to cut the pineapple slices thin enough so that they get tender during the bake. For ease, you can just used canned pineapples. They are also perfectly sized and evenly sized, and you can use the juice in the can for the juice in the recipe.
Once you flip the cake over (this cake comes out perfect each and every time), the buttered brown sugar sinks deep into the sponginess of the cake creating the most sensational taste ever. Each bite is filled with a rich, caramelized flavor that perfectly contrasts with the sweetness of the pineapple rings. The pineapple slices themselves are tender, fruity and wonderfully fragrant. Every slice is truly what makes this cake what it is: slightly tropical and excitingly nostalgic. While the cherries are primarily for aesthetics, they also offer a little pop of sweetness unlike any of part of the cake. I love to eat it when its fresh out of the oven and cooled just for a few minutes. When warm, this cake is truly perfection. You could even add a scoop of ice cream too! In fact, I insist on it.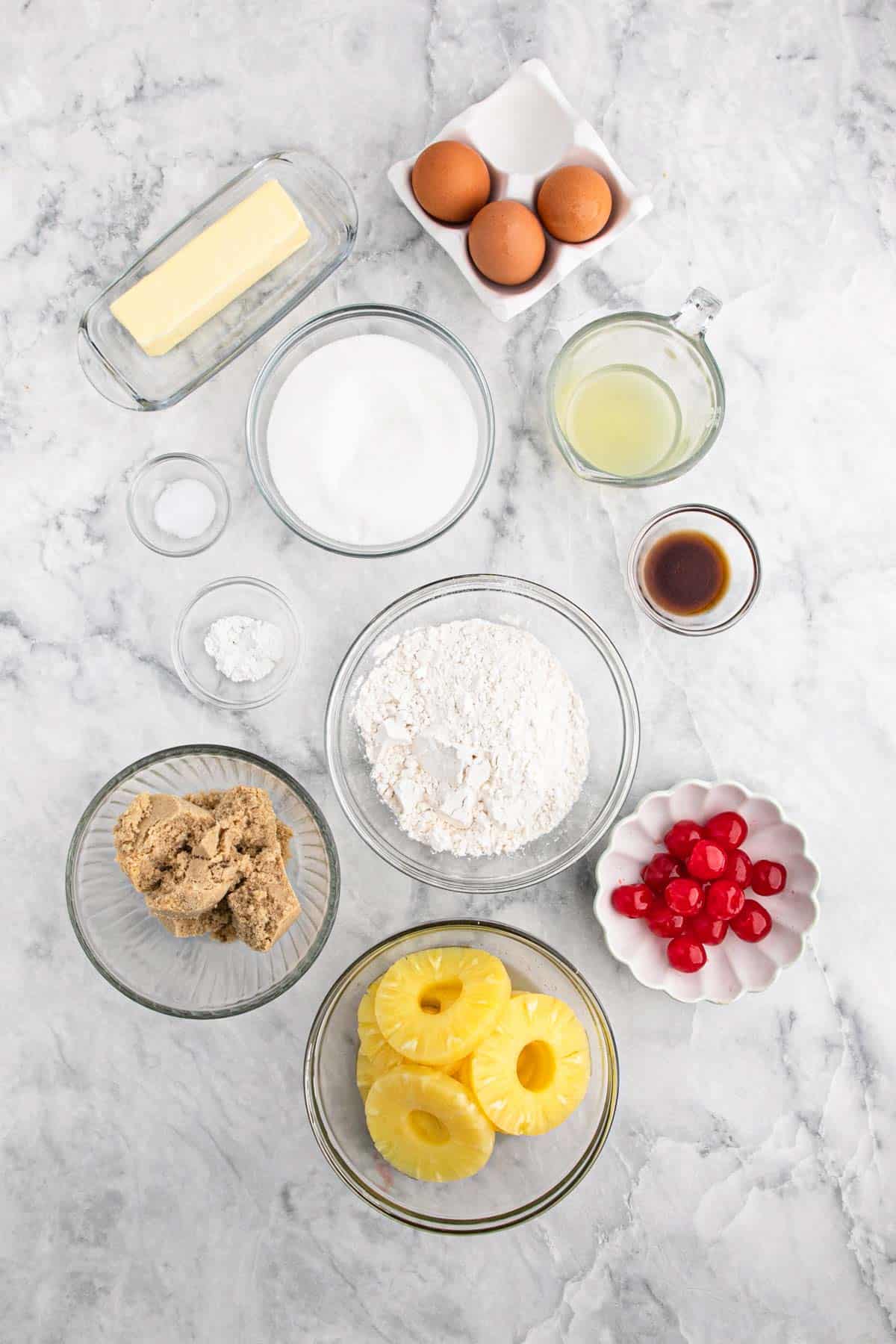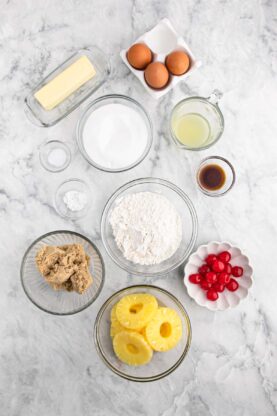 Pineapple Cake Recipe Alternatives
Check out the recipe below! And if you want more Pineapple Upside Down Cake inspiration check out these Pineapple Upside Down Pancakes.
Or these individual Pineapple Upside Down Hummingbird Cakes! Or even for summer grilling, I love to make these Pineapple Upside Down Milkshakes and these Grilled Pineapple Donut Sundaes. And if you want to go savory, try my Pineapple Honey Bourbon Grilled Catfish. It is serious eats.
If you are searching for more pineapple deliciousness, check out these recipes: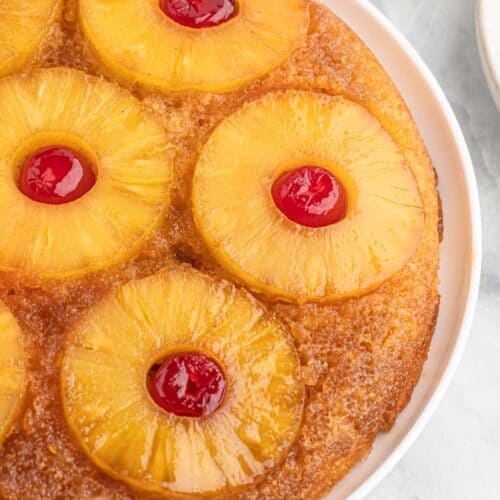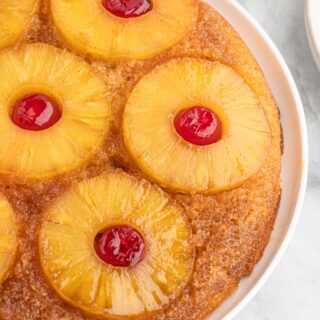 Pineapple Upside Down Cake
Pineapple Upside Down Cake Recipe - This is the best pineapple cake recipe online! It's a moist sponge cake caramelized to perfection with brown sugar pineapple rings and cherries.
Print
Pin
Rate
Ingredients
1

cup

all-purpose flour

1

cup

granulated sugar

1/4

tsp

salt

1

tsp

baking powder

2

tsps

pure vanilla extract

3

large eggs

1/4

cup

pineapple juice

1/2

cup

unsalted butter

3/4

cup

light brown sugar

6-7

fresh pineapple rings

or more to create design

maraschino cherries
Instructions
Preheat oven to 350 degrees.

For the cake batter: In a large bowl, whisk together flour, sugar, salt, baking powder, vanilla extract, eggs and pineapple juice until well mixed. Set aside.

Next melt butter to a 9 inch cast iron skillet over medium heat.

Once melted, whisk in brown sugar and cook for 1 minute.

Line the bottom of the butter and sugar mixture with 6 to 7 pineapple rings and cook over medium heat for an additional 2 minutes.

Pour cake batter on top of the pineapples.

Bake cake for 28-33 minutes or until toothpick inserted into center comes out clean.

Cool cake for 10 minutes then invert the cake onto a serving plate and serve.
Video
Nutrition
Calories:
390
kcal
|
Carbohydrates:
65
g
|
Protein:
4
g
|
Fat:
13
g
|
Saturated Fat:
7
g
|
Cholesterol:
91
mg
|
Sodium:
105
mg
|
Potassium:
192
mg
|
Sugar:
52
g
|
Vitamin A:
465
IU
|
Vitamin C:
4.8
mg
|
Calcium:
66
mg
|
Iron:
1.4
mg