This Pina Colada Smoothie recipe will transport you straight to the beach, with no plane ticket required. Made with just four simple ingredients – coconut milk, banana, pineapple, and a touch of optional honey – this creamy, dreamy pina colada smoothie is essentially a vacation in your hand. The banana and pineapple give it a sweet, fruity flavor, while the coconut milk adds that rich, tropical flair. Plus, it's made entirely with frozen fruit, which not only makes it a cinch to whip up but also ensures that each sip is thick, chilled, and utterly refreshing.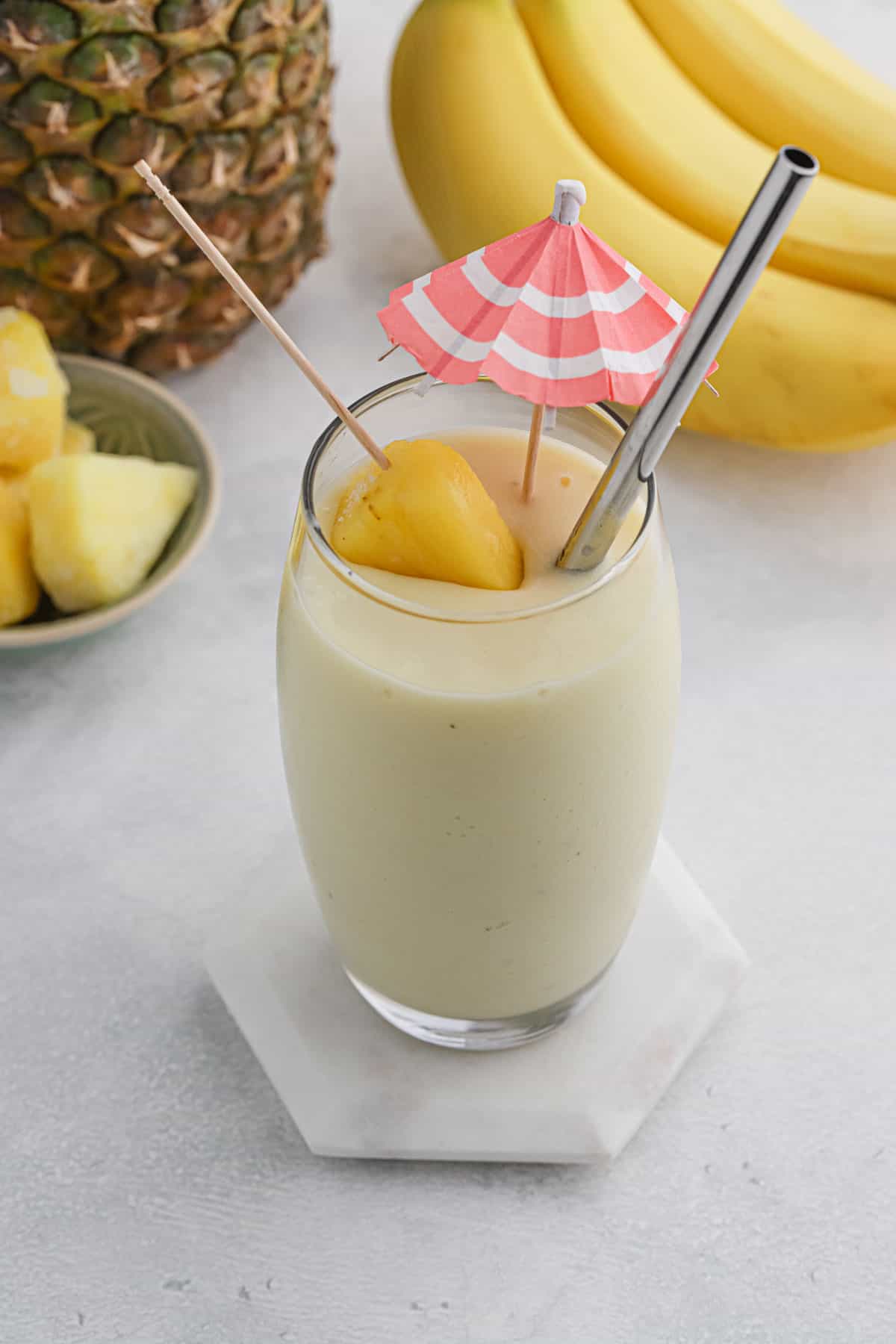 Whether you're starting your day with a burst of fruity goodness or looking for a midday pick-me-up, this Pina Colada Smoothie is like a mini-retreat to paradise. But don't just take my word for it. Try it yourself, then let me know what you think!
What is a Pina Colada?
When I close my eyes and picture myself sitting in my beach chair wearing an oversized sun hat, I also picture a very specific cocktail in hand: a Pina Colada.
A Pina Colada is a sweet cocktail traditionally made with rum, coconut cream or coconut milk, and pineapple juice. It's usually served blended or shaken with ice. The name Pina Colada literally translates from Spanish to mean "strained pineapple," referring to the freshly pressed and strained pineapple juice used in the drink.
Originating in Puerto Rico, the Pina Colada has been a beloved tropical cocktail since the mid-20th century. It was even declared the national drink of Puerto Rico in 1978. The drink is often garnished with a pineapple wedge or a maraschino cherry and served in a hurricane-style glass.
In this non-alcoholic smoothie or Pina Colada mocktail version, the rum is simply omitted, but the delightful combination of coconut and pineapple remains, creating a refreshing and tropical beverage that can be enjoyed at any time of the day.
Why I Love This Pina Colada Smoothie
Disappointing as it may be, it's not very acceptable to drink rum on a daily basis. The perfect solution is this Pina Colada Smoothie. That way I can enjoy my favorite vacation drink for a small dose of rejuvenation any day of the week!
It is refreshing, much lighter than your usual dessert, and perfect for summer. With each sip, you'll be transported to black sand beaches in Hawaii or five-star resorts in Jamaica.
Why You'll Love This Pineapple & Coconut Milk Smoothie
Tropical Escape: This Pina Colada Smoothie is like a mini-vacation in a glass. Each sip transports you to a tropical island, with the perfect blend of coconut and pineapple flavors.
Refreshingly Cool: Ideal for hot summer days or after a workout, this smoothie is incredibly refreshing and hydrating.
Nutrition-Packed: With the banana and pineapple, you're getting a good dose of essential vitamins and minerals such as Vitamin C and potassium, which support overall health.
Dairy-Free Indulgence: This smoothie uses coconut milk, making it a great dairy-free option. It's creamy and indulgent without the lactose.
Customizable Sweetness: With the option to add honey, you control the sweetness. Want it less sweet? Skip the honey. Need a little extra sweetness? Add a bit more. It's all up to your personal preference.
Ingredients to Make a Pina Colada Smoothie
Coconut milk: Use canned coconut milk or even coconut cream for the creamiest texture and most coconut flavor.
Banana: Ripe bananas naturally add sweetness but also helps give the smoothie a creamier texture making this pineapple coconut smoothie more like a milkshake.
Pineapple chunks: Use frozen pineapple to save some time but also to chill the smoothie without needing to add a bunch of ice. This keeps it from watering down the pineapple and banana flavor of this tropical smoothie.
Honey: It's completely optional, but you can add it for additional sweetness if you prefer. You can also use agave syrup or maple syrup.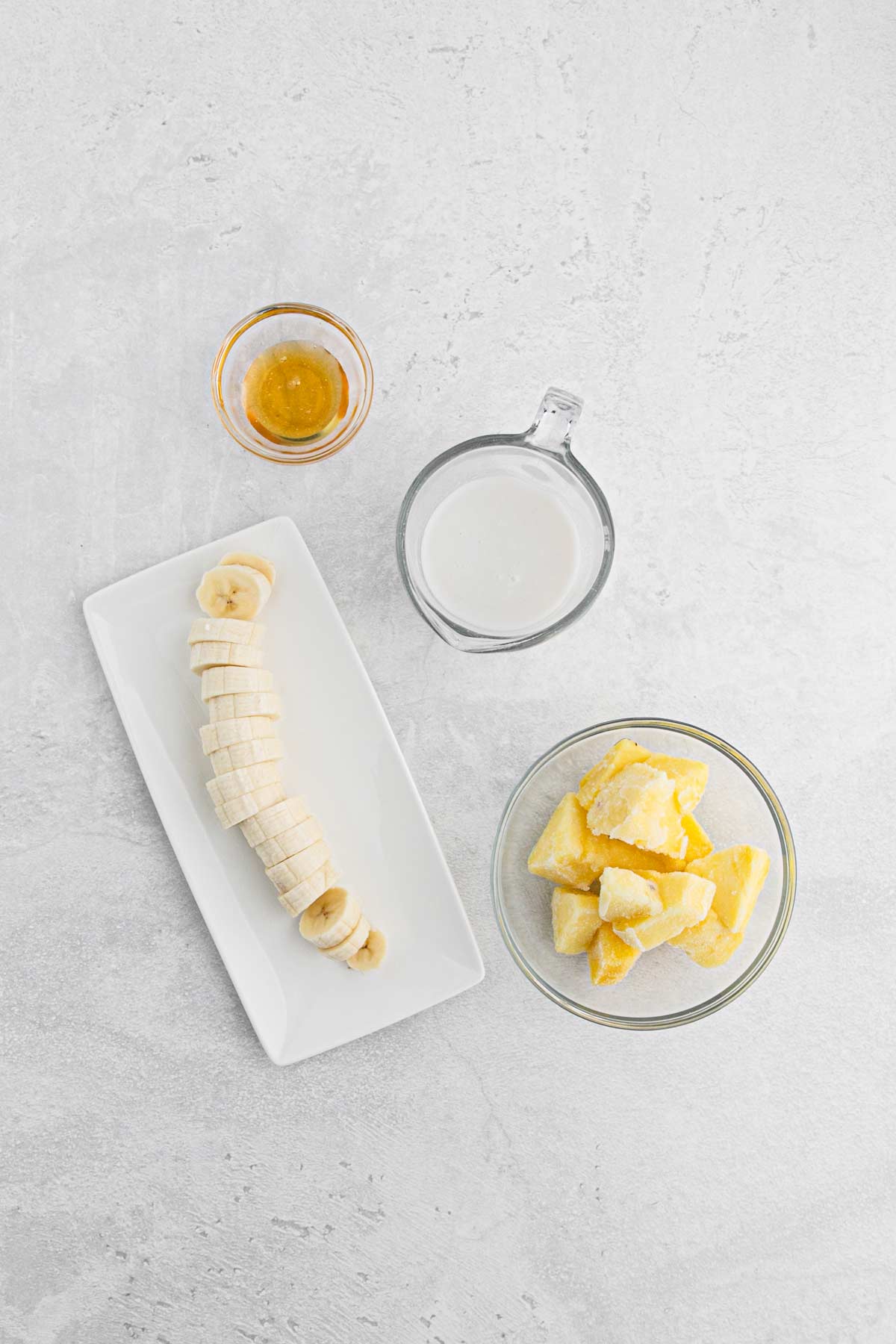 How to Make This Pina Colada Smoothie Recipe
Add the banana, pineapple chunks, and honey to the blender.
Pour the coconut milk on top.
Blend until it's completely smooth and creamy.
Serve it up and enjoy!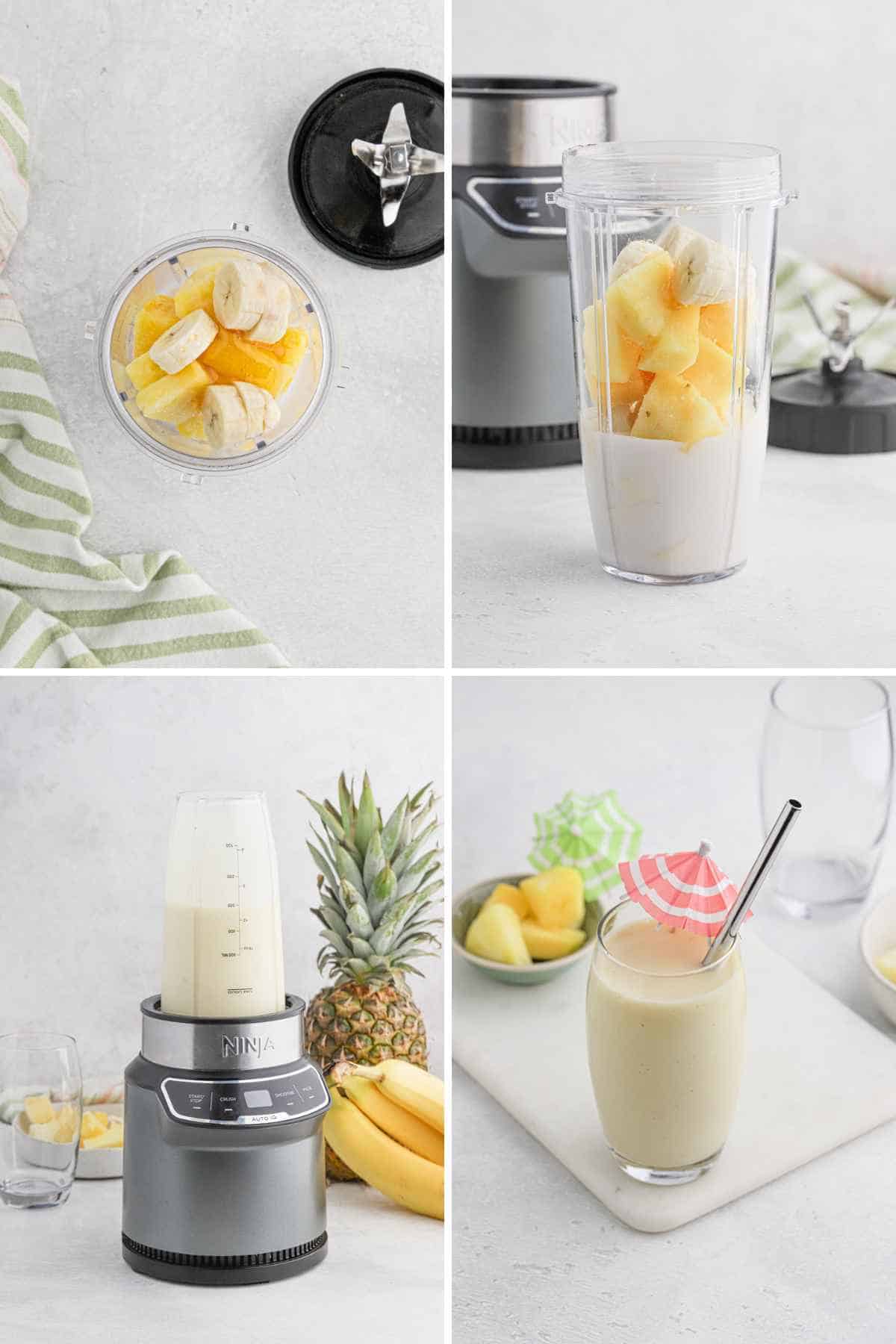 Tips for Making the Best Pineapple Coconut Smoothie
Use frozen fruit. Using frozen fruit in your pina colada will give it an ultra-creamy texture without any ice. I prefer using frozen pineapple since it's way easier than cutting up a pineapple, but you can also use frozen bananas.
Use a high-powered blender. It simply has more power to blend up smoothly. If you don't have one, you may find it's necessary to stop and scrape down the sides or maybe even add more liquid to get the blades moving.
Use High-Quality Ingredients: If you want your smoothie to taste great, you need to start with good ingredients. Opt for ripe fruit and good-quality coconut milk. If your fruits are ripe enough, you might not even need any additional sweeteners.
Prep Smoothie Packs: If you're often in a rush in the morning, prepare your pina colada smoothie ingredients in advance and freeze them in individual portions. When you're ready to make your smoothie, all you have to do is grab a pack, add your liquid, and blend.
Balance Your Ingredients: Smoothies are great for packing in a lot of nutritious ingredients, but remember to balance them so one flavor doesn't overpower the others. In this case, the sweetness of the pineapple and banana should balance the creaminess of the coconut milk.
Popular Substitutions & Additions
Add some protein. If you want to enjoy your pina colada smoothie for breakfast or as a heartier snack, you can add a scoop of your favorite protein powder. Try to stick with vanilla or a flavor that isn't overpowering.
Top with whipped cream. Whipped cream is always yummy on top of a pina colada and this smoothie is no exception. You can make your own whipped cream or opt for storebought!
Add some shredded coconut or coconut flakes for a more intense coconut flavor. Toasted coconut also makes a nice garnish on the top of the smoothie.
Strawberry pina colada: Add some frozen strawberries or strawberry puree to the blender along with the other fruit.
Fresh pineapple: You can use fresh pineapple instead if you prefer. I suggest using frozen bananas or adding ice to the smoothie in order to achieve a similar frozen consistency.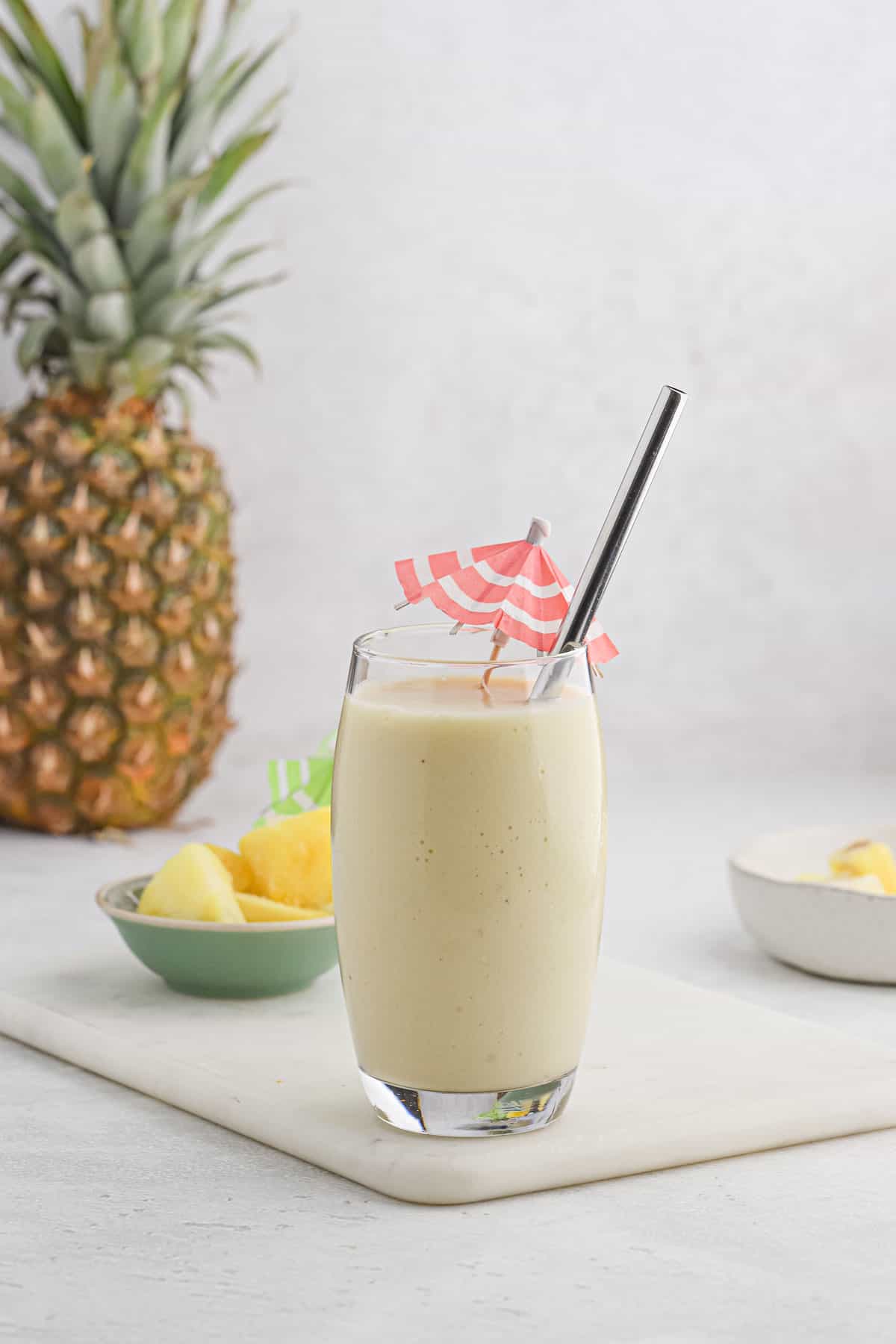 How to Store Leftover Smoothie
Store leftover any pina colada smoothie mixture in the fridge in a jar or airtight container.
How long will a pina colada smoothie last in the fridge?
When stored in the fridge as directed above it will last around 24 hours. The banana will start to get yucky, for lack of a better word and the smoothie will start to separate.
Can I freeze this pina colada smoothie?
Yes, you can! Store it in an airtight container for up to one month. When ready to enjoy again, allow it to thaw on the counter until slushy, and then blend it up again until smooth.
Frequently Asked Questions
Is there any alcohol in pina colada?
Yes, in most cases a pina colada contains rum! But this pina colada smoothie is made without any alcohol added so it can be enjoyed by anyone, including kids.
Can you use another milk?
You can but it's not recommended. 'The coconut milk adds the tropical coconut flavor traditionally found in a pina colada to this smoothie. You can replace it with another milk, but your smoothie will be missing the coconut component.
Can I use canned pineapple in this Pina Colada Smoothie?
Yes, you can. However, using frozen pineapple gives the smoothie a cooler, more refreshing taste and a thicker consistency. If you use canned pineapple, consider freezing the chunks first or adding a handful of ice to the blender.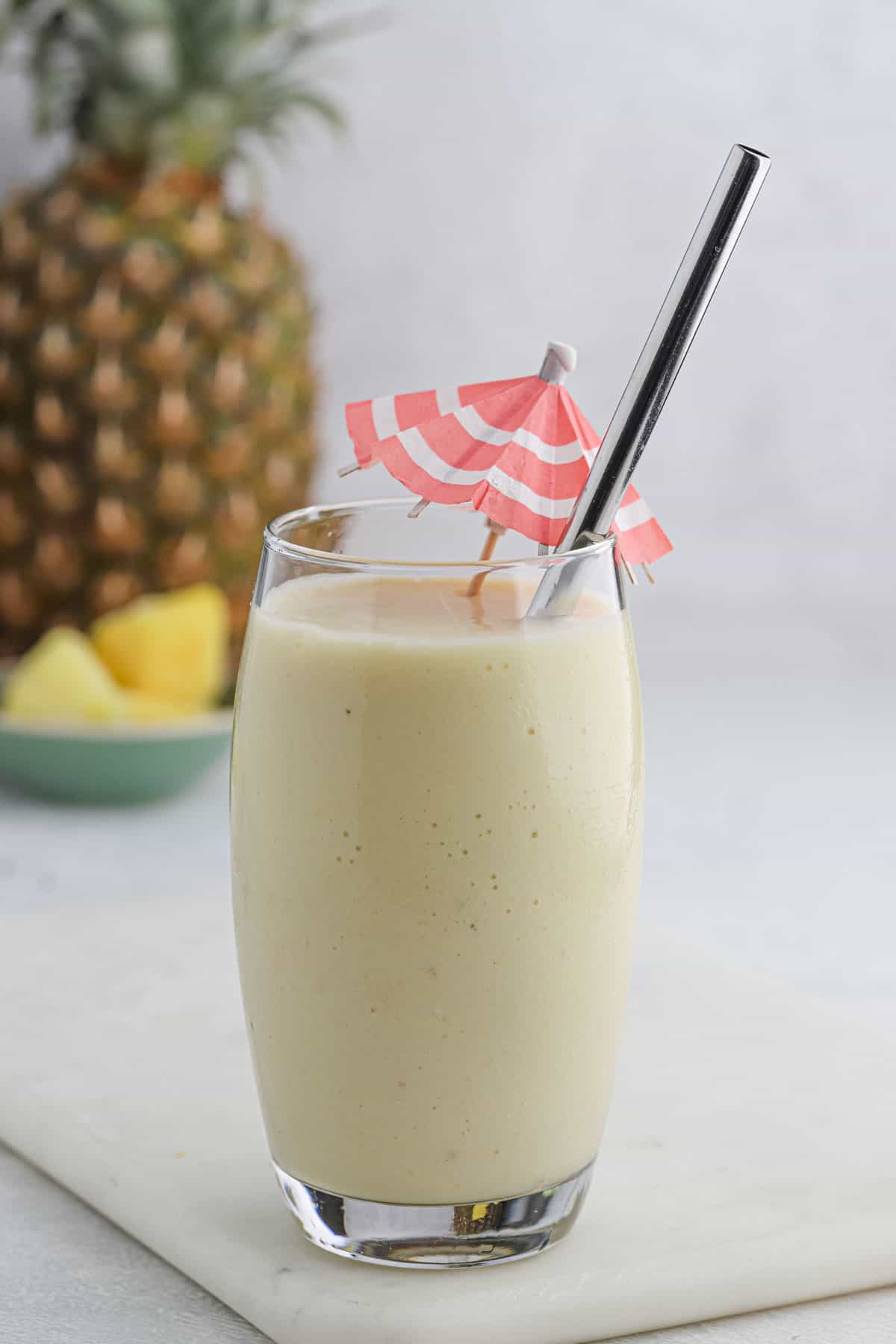 This Pina Colada Smoothie is more than just a delicious drink. It's a ticket to a tropical vacation right from your kitchen. Its creamy, refreshing flavor will leave you feeling energized and satisfied. Whether you're making it for breakfast, as a snack, or even as a healthier dessert, it's sure to become a go-to in your smoothie rotation. So grab your blender and get ready to enjoy a taste of the tropics. Enjoy!
More Easy Smoothie Recipes
If you like this pina colada smoothie recipe, then you'll love some of my other easy smoothie recipes.
Cranberry Orange Smoothie
*Did you make this recipe? Please give it a star rating and leave comments below!* Post a photo of how your version of the recipe came out on Instagram (using #grandbabycakes)!!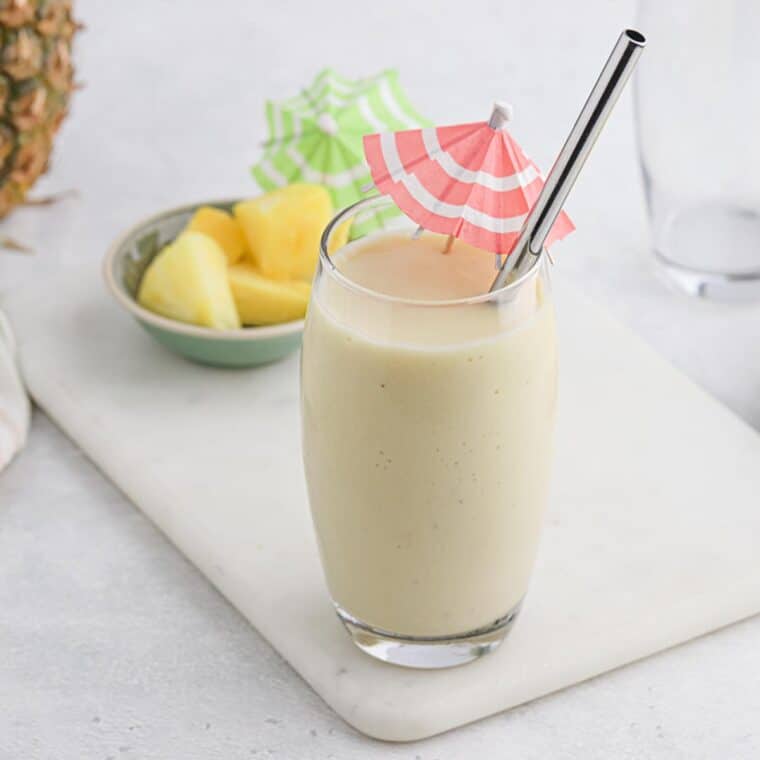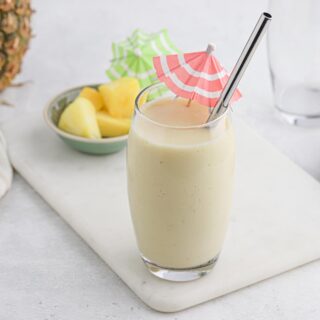 Pina Colada Smoothie
Pina Colada Smoothie creamy, tropical, & delicious! Made with coconut milk, fresh pineapple, and banana, a mocktail version perfect for any time of day!
Print
Pin
Rate
Ingredients
½

cup

coconut milk

1

medium banana

sliced

1

cup

frozen pineapple chunks

1-2

tbsp

honey

optional
Instructions
Add coconut milk a high performance blender.

Add banana, pineapple chunks and honey, if desired

Set blender to SMOOTHIE setting and blend until completely smooth and creamy
Notes
Use frozen fruit. It gives it an ultra creamy texture without any ice. I prefer using frozen pineapple since it's way easier than cutting up a pineapple but you can also use frozen bananas.
Use a high-powered blender. It simply has more power to blend up smooth. If you don't have one, you may find it's necessary to stop and scrape down the sides or maybe even add more liquid to get the blades moving.
Nutrition
Calories:
143
kcal
|
Carbohydrates:
10
g
|
Protein:
1
g
|
Fat:
12
g
|
Saturated Fat:
10
g
|
Sodium:
7
mg
|
Potassium:
124
mg
|
Sugar:
8
g
|
Vitamin C:
0.6
mg
|
Calcium:
10
mg
|
Iron:
1.9
mg