This Pinto Beans Recipe with Ham Hocks is a true Southern Comfort Food delicacy! Dried pinto beans are soaked then simmered with meaty ham hocks and flavors galore reaching tender thick perfection! This is truly the best country meal, just like Butter Beans or Black Eyed Peas, you will ever have! Serve with some Chicken Gizzards, Southern Cornbread or Corn Muffins and a pot of Collard Greens or Mustard Greens for a down home meal you will absolutely love.
A HUG THANK YOU to Aaron of The Hungry Hutch for taking over my site and sharing your recipe today!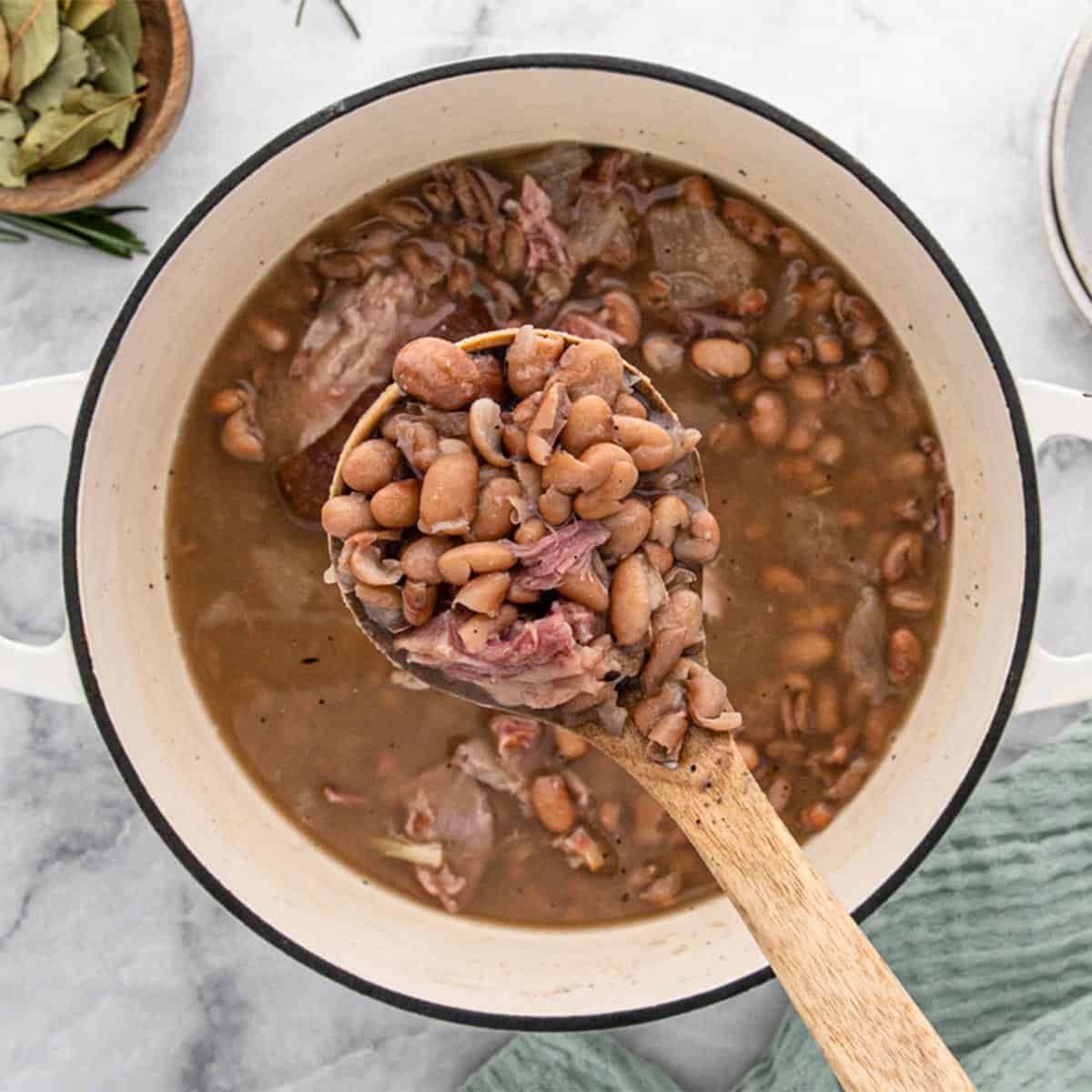 Hi, y'all! My name is Aaron Hutcherson, and I'm the blogger behind The Hungry Hutch. I grew up in the Midwest eating lots of soul food, which is the foundation of my cooking, but I'm also a culinary school graduate that loves to experiment with different flavors and ingredients. I like to share recipes that are simple to prepare and full of flavor, and this recipe for pinto beans with smoked ham hocks certainly fits the bill.
EASY PINTO BEAN RECIPE
Recently I've been thinking a lot about revisiting some of the foods from my childhood. One recent trip down memory lane led me to a big ole pot of pinto beans. (One of my favorite ways to eat them is spooned over a slice of cornbread and topped with some pickled relish. Yum!) I love them when they're cooked until nice and tender, with an almost creamy consistency.
Something that baffles me every time I think about it is that this isn't a recipe that I've incorporated into my regular repertoire of dishes—though it certainly deserves a spot. Yes, of course, I eat beans as a regular part of my diet, but for the vast majority of my adult life they've come from a can because I often forget to plan ahead for cooking dry beans. Now don't get me wrong, I love canned beans and use them a lot, but there's something about a long-simmered pot of pinto beans that warms my soul.
When cooking with dry beans, the first thing you always want to do is to pick through them. What you're looking for are any beans that are shriveled, super dark, or otherwise appear off. You should also be on the lookout for any small rocks or other inedible debris that might have found its way into the bag.
HOW LONG TO SOAK PINTO BEANS?
The next step is a nice, long soak—depending on who you ask. Soaking dried beans overnight tends to lead to a shorter cooking time and some claim that it makes them easier to digest.
However, in my research it seems that you can cook them without soaking them first if you wish, but be prepared for them to take longer to cook (various sources say it could take anywhere from a few extra minutes to a couple of hours).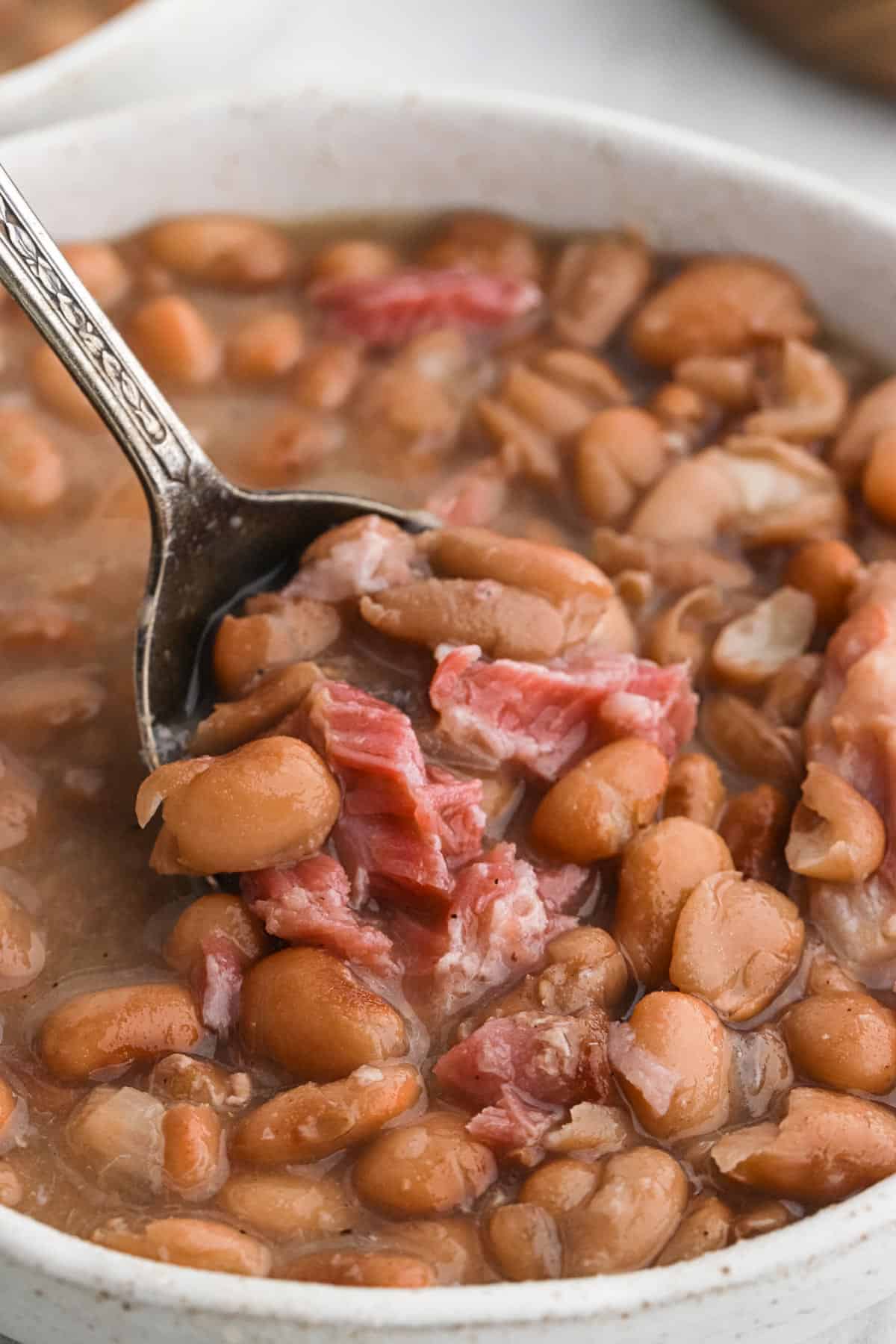 QUICK SOAK METHOD
I personally have only ever soaked dried beans first and that is what I recommend in my recipe below, but feel free to try it without soaking and let me know how it goes! If you do go the route of the soak, one lesson I've learned from experience is that you want to cover the dry beans in A LOT of water. The beans will absorb some of the liquid and plump up as they sit.
HOW TO COOK PINTO BEANS ON THE STOVE
Aside from soaking, the rest of the cooking process is a breeze. Throw the beans in a pot along with an onion, smoked ham hocks (the key ingredient), a couple of bay leaves (optional), and some liquid (I used a combo of chicken stock and water), and you're good to go.
The halved onion bulbs end up practically melting into the cooking liquid by the end of the cooking time, and the entire pot is full of flavor from the smoked ham hock and bay leaves. (I'm not entirely convinced that the bay leaves do a whole lot, but people much smarter than I say that they do, so I tend to include them anyway.)
TIPS FOR COOKING PINTO BEANS
Important Tip 1: One other note when cooking this pinto beans recipe is that anything more than a gentle simmer causes some of the beans to break down, adding body to the liquid and giving the dish a creamier texture. So you can decide for yourself what texture beans you want. The end result is my take on this Southern classic.
Important Tip 2: And one last note: though the smoked ham hock already adds a lot of flavor to the liquid, you'll want to be sure to pick the meat from the bones to stir into the beans themselves for you and your guests to enjoy the full flavor.
CROCK POT PINTO BEANS
I love to cook pinto beans the more traditional way: on the stove. But, occasionally, when I'm short on time or energy I will take a shortcut and bust out the slow cooker.
I won't lie, you will lose a bit of flavor this way but it's still gonna be delicious!
To make southern-style pinto beans in a crock pot, add all of the ingredients to the pot and stir until fully combined. Cook on low for 7-8 hours, or until the ham is tender and falling apart.
If you choose to not pre-soak the beans (which is cool if you're using a crock pot), increase the heat to high.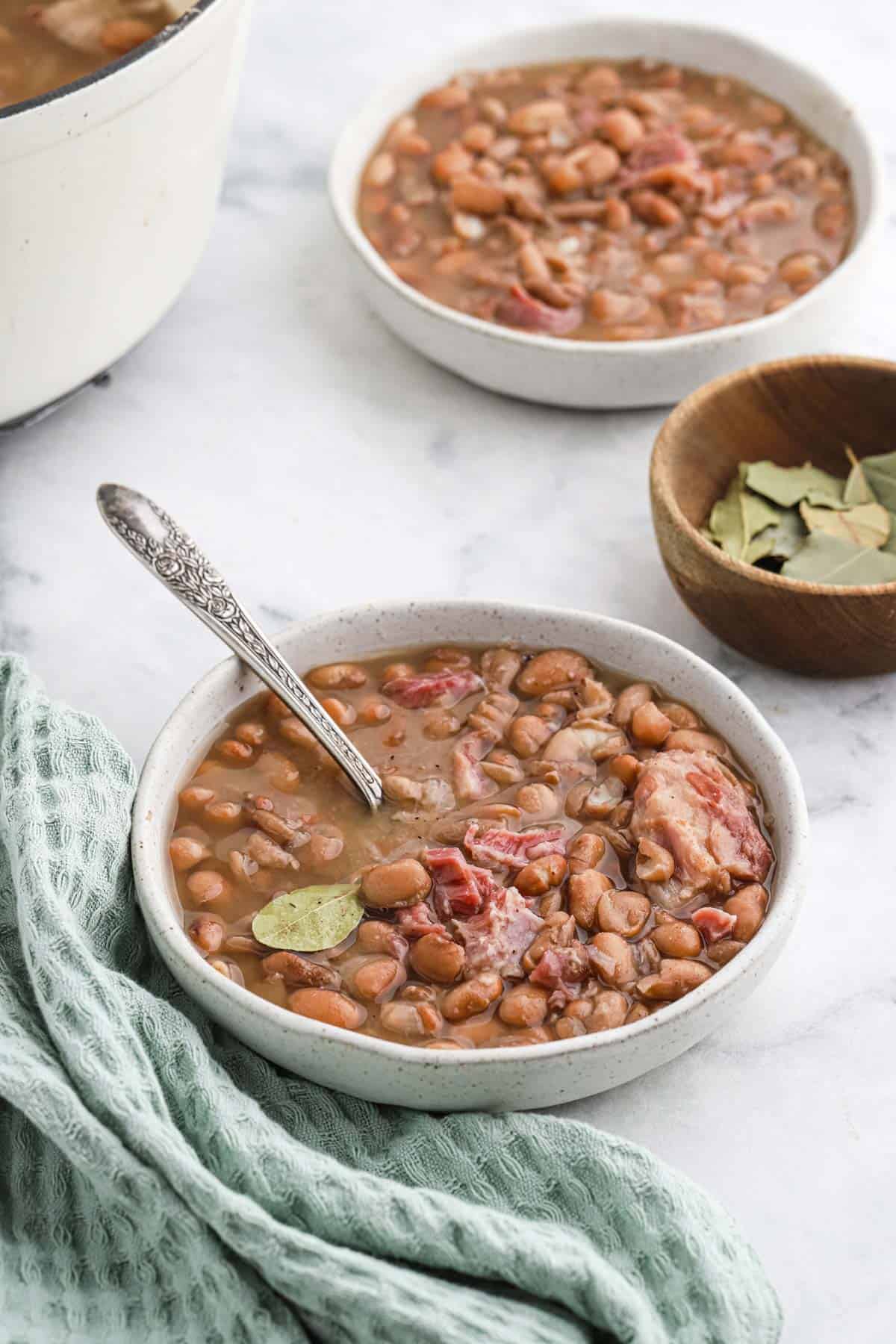 HOW TO SERVE PINTO BEANS
As I mentioned before, I grew up ladling these hearty, flavorful beans over the top of a tender-crumbed cornbread. To this day that's still my favorite way to serve up this recipe!
Try it for yourself by whipping up one of GBC's best cornbread recipes:
Alternatively, homemade pinto beans can be served over a bed of rice or amongst a spread of other classic southern dishes!
DON'T LIKE HAM HOCKS? PINTO BEAN RECIPE WITH SMOKED TURKEY
You can easily sub the ham hocks in this recipe for smoked turkey wings instead. Make sure they are nice and meaty. For more tips on using smoked turkey, check out my post on Mustard Greens. Happy eating!
OTHER BEAN RECIPES TO TRY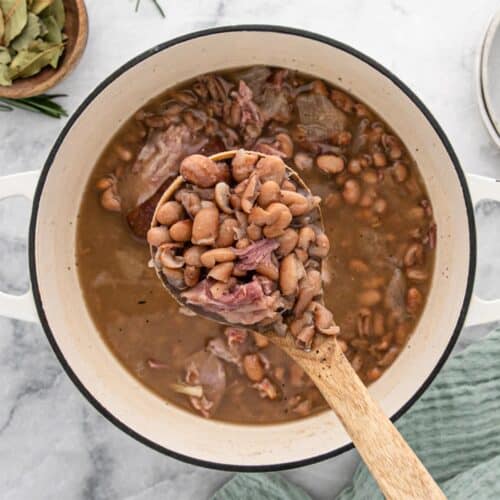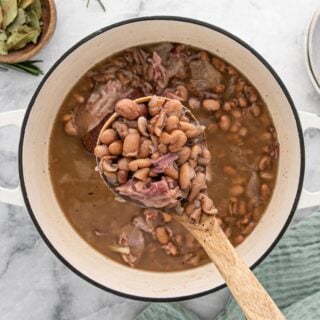 The BEST Southern Pinto Beans
This Pinto Beans Recipe with Ham Hocks is a true Southern Comfort Food delicacy. Dried pinto beans are soaked then simmered with meaty ham hocks and flavors galore reaching tender thick perfection. This is truly the best country meal you will ever have!
Print
Pin
Rate
Ingredients
1

(11 ounce) package pinto beans

picked through and soaked in lots of water overnight

1

quart

chicken stock

1

quart

water

1

onion

 halved or roughly chopped

2

halves smoked ham hock

(about ¾ pound total)

2

bay leaves

optional

1

tsp

black pepper

plus more to taste

1

tsp

garlic powder

plus more to taste

Salt to taste
Instructions
Add the soaked beans, chicken stock, water, onion, ham hocks, and bay leaves (if using) to a large stock pot.

Bring to a boil, reduce to a simmer, cover with a lid, and cook, stirring occasionally, until the beans are nice and tender, about 1 hour 30 minutes.

Season with pepper, garlic powder, and salt. Serve.
Notes
This recipe used the entire package of beans I purchased and makes a large quantity, but can be scaled for smaller amounts.
Also you can replace the ham hocks in this recipe with smoked turkey instead.
Nutrition
Calories:
79
kcal
|
Carbohydrates:
3
g
|
Protein:
6
g
|
Fat:
4
g
|
Saturated Fat:
2
g
|
Cholesterol:
20
mg
|
Sodium:
129
mg
|
Potassium:
135
mg
|
Fiber:
1
g
|
Sugar:
1
g
|
Vitamin C:
1
mg
|
Calcium:
8
mg
|
Iron:
1
mg