Forget the candy, this year I'm all about a dark, spooky and delicious Sangria Recipe! Made with a Red wine blend, tart dark cherry juice, rich pomegranate juice and crisp orange liqueur, this sangria is sweet, full-bodied and to-die-for! If you love this, you will also love this Sugar Cookie Martini, Chocolate Martini, Pomegranate Orange Martini and Coke Sangria!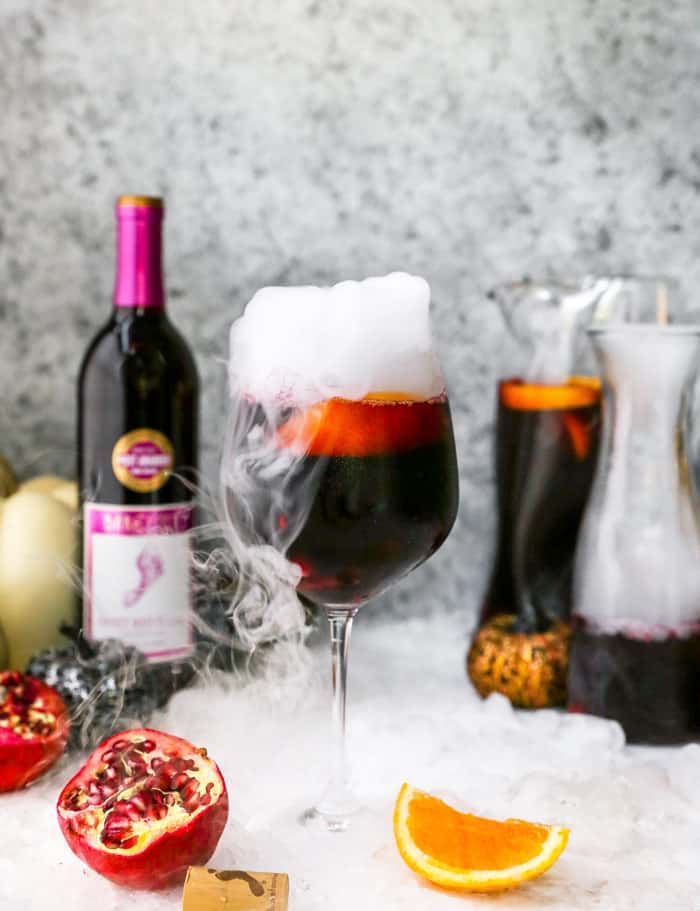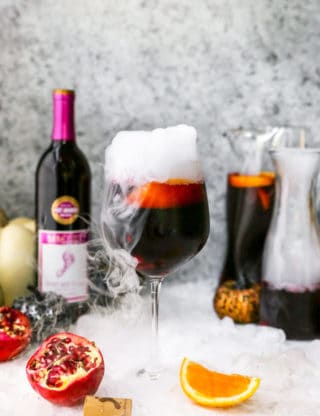 BOO! Happy Halloween! *cue The Nightmare Before Christmas soundtrack*
I've never been a huge fan of Halloween (I'm more of a Christmas girl) but I can always appreciate a good party. I love seeing folks get creative with their costumes and watching kids treck their way through the night in search of sweets. There's just something so fun and exciting about one night where everyone can be whatever they want to be!
This year, the fun is shaping out to be a bit different from what we're used to but that ain't gonna stop me. I plan on dressing my baby in her costume, taking the obligatory pictures and, once she's in bed, having a little turn-up of my own.
What better way is there to enjoy this one creepy-crawly night of the year then with a batch of this Bloody Sangria Recipe?

WHAT IS SANGRIA?
Sangria is a mixed alcoholic drink from Spain. The color, and flavor, of sangria depends on the wine. Red sangria is made with red wine, and white sangria with white wine. There are tons of regional variations of sangria, so the added ingredients will vary.
In addition to the wine, sangria also contains a combination of the ingredients below:
Fruit juice (orange, cranberry and pineapple are among the favorites)
Sweeteners (brown sugar, simple syrup etc.)
Liquor (brandy, cognac, rum or fruit liqueur)
Sparkling water or Club Soda
Fruit (sliced oranges, pitted cherries, chopped pineapple, apple chunks etc.)
WHAT IS THE BEST WINE FOR SANGRIA?
The best red wine for sangria is a dry, fruity wine with good acidity and low tannins. There are plenty of options that meet these requirements but I've got a favorite. Barefoot Cellars Sweet Red Blend is a delicious combination of Zinfandel, Pinot Noir, Barbera, Grenache and Petit Syrah. This wine is ripe and jammy with explosive flavors of raspberry, plum and cherry for a soft and smooth finish.
If you're not pulling up to grab a bottle of this bright, flavorful wine for your next sangria batch, you're doing it wrong!
HOW TO MAKE SANGRIA RECIPE
Alright, it's go-time y'all! Dust off the punch bowls, raid the liquor cabinet and let's get to work. In under 10 ingredients, you've got a party-worthy drink that even the undead are gonna want a taste of!
Here's what we're working with:
Sweet Red Blend makes for a rich, full-bodied sangria full of fruity flavor. If you can't get your hands on this specific bottle, I suggest using the Rich Red Blend, Red Moscato or Pinot Noir.
Orange Liqueur is crisp, smooth and bitter. Liqueur is a great way to balance flavor.
Pomegranate Juice can be sweet or sour but usually it's a lovely balance between the two. Pomegranates tart, juicy flavor compliments the richness of the wine.
Dark Cherry Juice is sweet, woody, rose-like and rich. Not only is its dark color perfect for Halloween but the depth of flavor is incredible.
Pitted Dark Cherries & Pomegranate Seeds soak up the liqueur and make for bursts of bright, fruity and boozy goodness. Feel free to add any additional fruit you've got on hand! Stick to dark fruits that compliment our spooky aesthetic. I love me some cherries in this recipe and also love it in this Cherries Jubilee if you want more cherry flavor.
Dry Ice is how we get our creepy, fun and visually stunning look. If you can't get your hands on some, experiment with other decorations. A bloody corn syrup or black sugar rim are great options!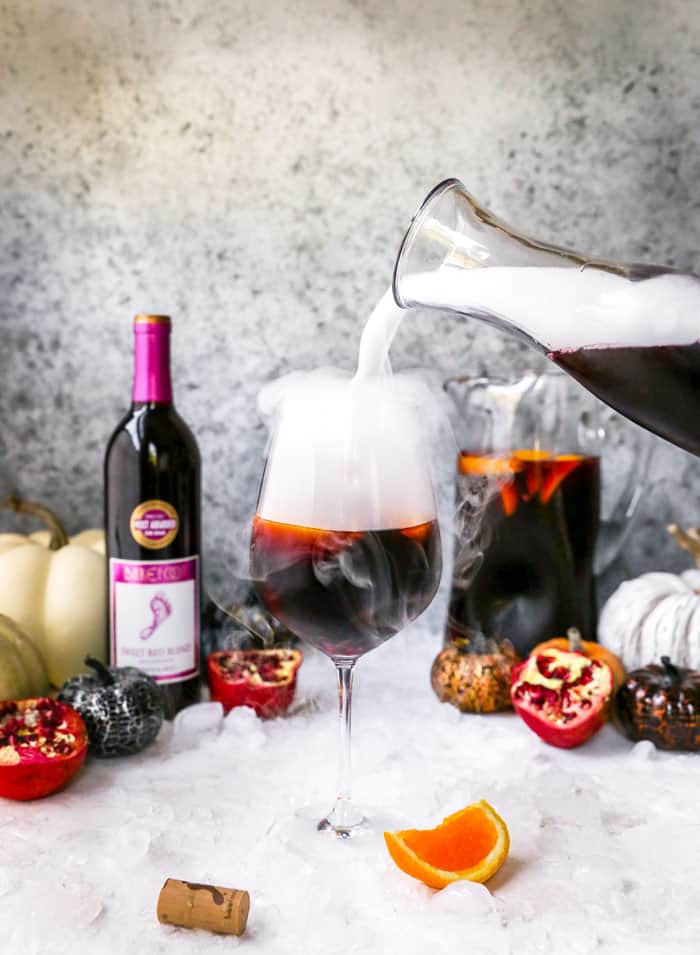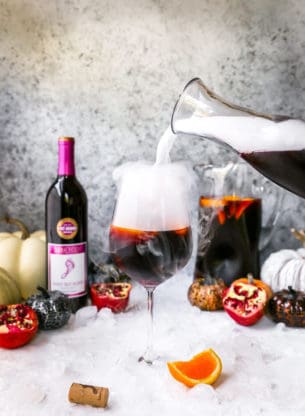 HOW LONG DOES SANGRIA KEEP FOR?
There are plenty of different opinions on the expiration of sangria. I can't speak to the validity of those opinions but I will give you my own. The fruit begins to decompose, especially the soft fruit, after about 3 days. Rancid fruit will turn the sangria bitter and unpleasant.
If you've still got quite a bit on hand after three days, I suggest removing the fruit by straining. The remaining sangria should last for up to a week. Toss if the wine has turned a brownish color, if the smell is off or if you detect astringent, chemical flavors.
GRANDBABY CAKES' SWEETEST SIPS
Don't let the party stop here! Keep the festivities going year-round by serving up a few of my BEST beverages.
Check 'em out: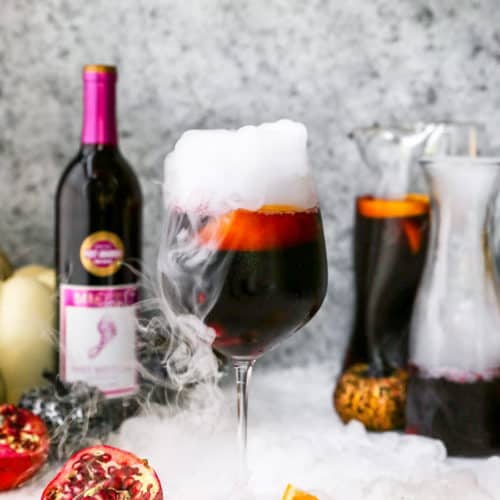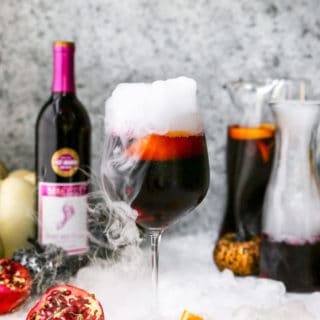 Sangria Recipe
Forget the candy, this year I'm all about a dark, spooky and delicious Bloody Sangria recipe! Made with a Sweet Red Blend wine, tart dark cherry juice, rich pomegranate juice and crisp orange liqueur, this sangria is sweet, full-bodied and to-die-for! Get it?
Print
Pin
Rate
Ingredients
750

ml

Barefoot Cellars Sweet Red Blend

1

cup

orange liqueur

1

cup

pomegranate juice

1

cup

tart cherry juice

1

cup

pitted dark cherries

frozen or fresh

1/2

cup

pomegranate seeds

Optional: dry ice

for serving
Instructions
Mix together pitted cherries, pomegranate seeds and orange liqueur in a large mixing bowl. Cover and refrigerate for an hour.

In a glass carafe or serving pitcher, stir together the wine, pomegranate juice and tart cherry juice.

Add the fruit and liqueur mixture into the carafe and stir. Place back into the refrigerator (covered) and let sit overnight.

Serve over ice individual glasses, in a large punch bowl or with spooky dry ice!
Notes
Feel free to experiment with other red wine blends and other fruit.
Nutrition
Calories:
178
kcal
|
Carbohydrates:
20
g
|
Protein:
1
g
|
Fat:
1
g
|
Saturated Fat:
1
g
|
Sodium:
9
mg
|
Potassium:
246
mg
|
Fiber:
1
g
|
Sugar:
16
g
|
Vitamin A:
9
IU
|
Vitamin C:
2
mg
|
Calcium:
12
mg
|
Iron:
1
mg