Nothing is quite as delicious or easy to make as frosty, spiked Tropical Wine Slushies! With a few sweet frozen fruits, a squeeze of floral honey, fresh lime juice and most importantly, Moscato, you've got the ultimate boozy Summer Beverage! If you love this, you will adore my Spiked Rainbow Sherbet Punch and Spiked Berry Rhubarb Punch.
Disclosure: I partnered with Barefoot Wine for this recipe post, but all opinions expressed here are my own. I am grateful for authentic partnerships like this.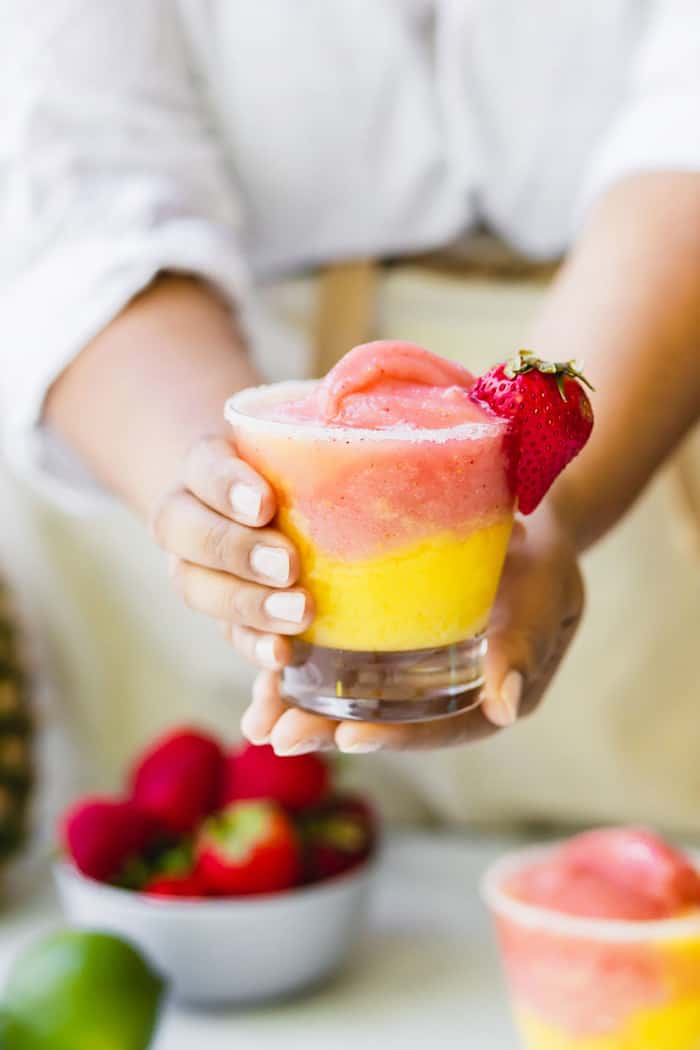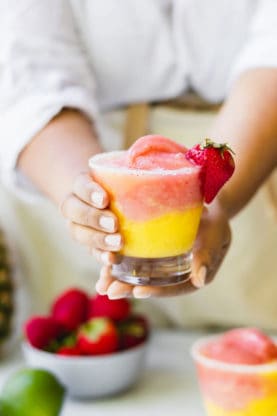 Let me paint a picture for you: it's a hot, humid and sunny Summer afternoon, and I'm posted up on the porch, drink in hand. There's a warm breeze that brings a bit, but not much, reprieve from the heat. I can feel the back of my thighs sticking to my seat but I'm unbothered. Wanna know why? With each icy cold sip of my cocktail I'm transported to tropical beaches on faraway islands.
The drink of choice? Tropical Wine Slushies! Made with Barefoot Wine-to-Go Moscato, a few lusciously sweet frozen fruits and a squeeze of fresh lime, this slush is the only drink you'll be reaching for this Summer. Each frozen sip is guaranteed to bring that vacation you've been craving straight to you!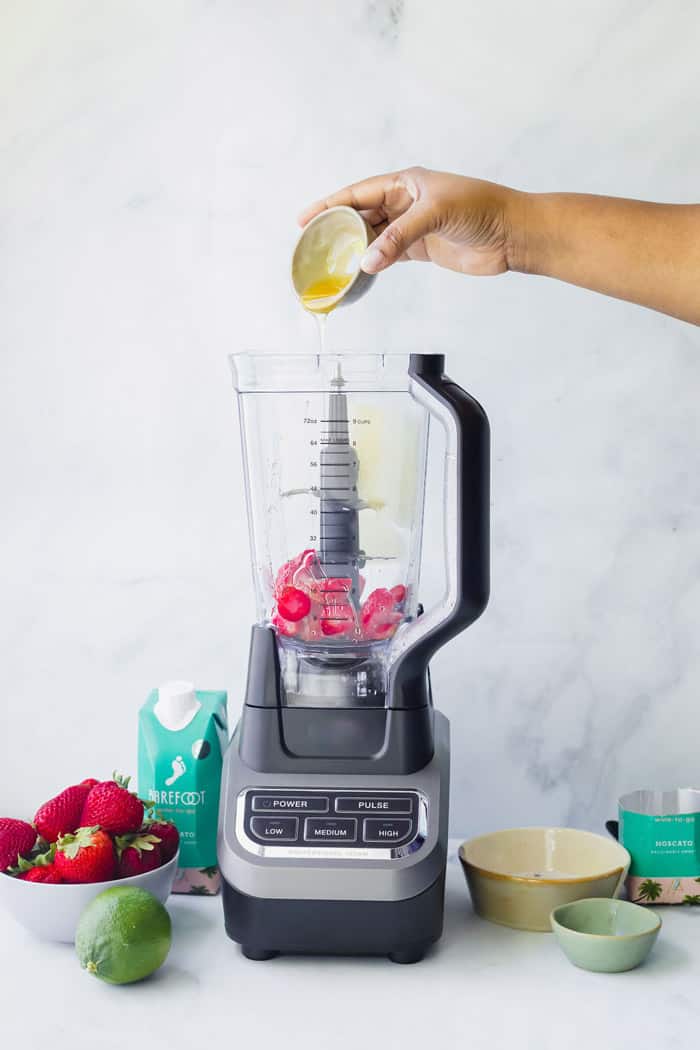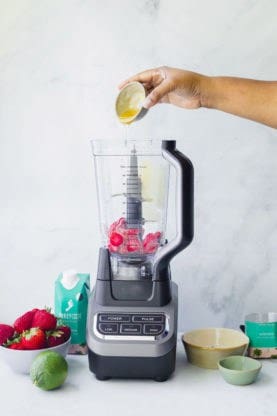 HOW TO MAKE WINE SLUSHIES
During the Summer months, I make it a point to keep a well-stocked freezer. Popsicles, ice cream and frozen fruit are essential to keeping cool and refreshed on the hottest of days. These frozen commodities are not only delicious on their own but make for quite the cocktail. And this spiked slushie? A positive product of my freezer-hoarding tendencies.
Here's what you'll need:
Barefoot Wine-to-Go Moscato
A crisp, refreshing blend of juicy peaches and sweet apricots, Barefoot Moscato combines fruity aromas with a bright citrus finish. The lush, tantalizing flavors of this moscato pairs seamlessly with the added frozen fruits.
Frozen Diced Mango
Mangoes are bright, floral and tropically sweet. Perfect addition to any Summer cocktail.
Frozen Diced Pineapple
Pineapples are a wonderful balance between sweet and tart. The added acidity helps to layer flavor while toning down sweetness.
Honey or Agave Nectar
Both are wonderfully sweet and slightly floral. Just a few squeezes adds a beautiful decadence and brights out the sweetness of the fruit.
Lime Juice
What's a Summer drink without a few squeezes of fresh lime? Bright citrus uplifts the entire beverage and makes you wanna smack those lips!
Frozen Strawberries
Sweet, juicy and vibrant, strawberries not only add incredible flavor but their color is drop-dead gorgeous.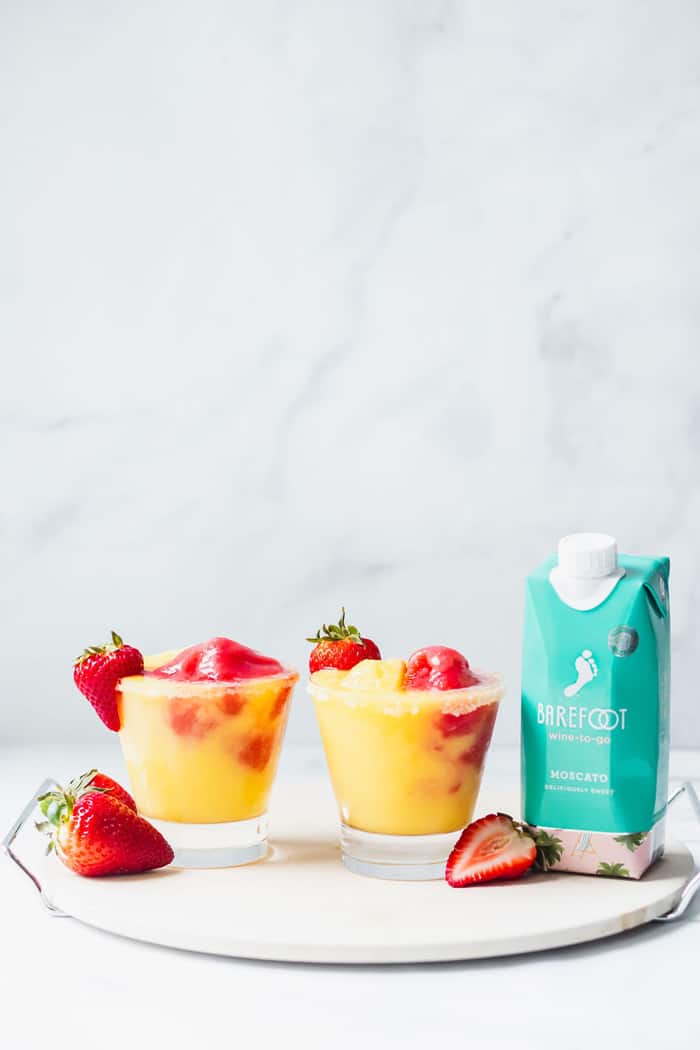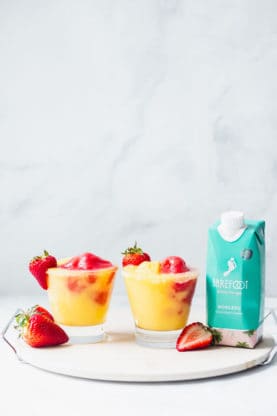 MAKE IT FAMILY FRIENDLY
Whether you're trying to include the whole family or not a fan of alcohol, this recipe can be easily adapted.
Non Alcoholic Tip: Replace the moscato with your favorite juice! I would recommend orange, peach, grape or any combination of these options.
MORE GRANDBABY CAKES SUMMERY SIPS
Feeling the heat? Cool down with one (or two) of Grandbaby Cakes' BEST warm-weather inspired cocktails!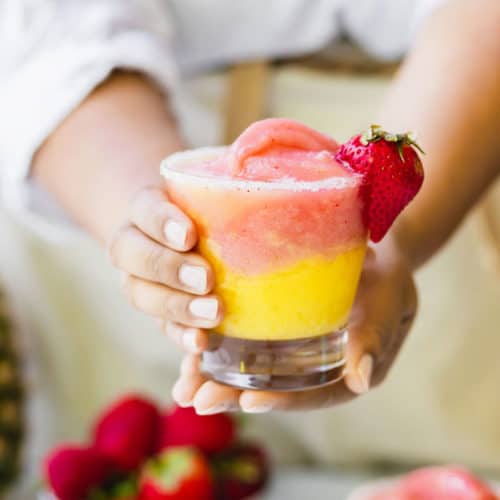 Ingredients
1/2

cup

frozen diced mango

1/2

cup

frozen diced pineapple

2

tbsp

honey or agave nectar

divided

2

tsp

lime juice

divided

1

cup

frozen strawberries

Garnish of fresh strawberries and pineapple

17

oz

Barefoot Wine To Go Moscato (1 container)

frozen overnight
Instructions
Remove Barefoot Wine-To-Go Moscato from the freezer and cut in half.

Add mango and pineapple to a heavy duty blender along with 1 tablespoon of honey, half of frozen Barefoot Wine-To-Go Moscato and 1 tsp of lime juice.

Blend on high until completely smooth and creamy. Pour mango pineapple slushy mixture into another container and set aside. Completely rinse out and clean the blender.

Next add strawberries to the blender along with remaining honey, Barefoot Wine-To-Go Moscato and lime juice and once again blend until completely smooth and creamy on high speed.

Spoon half mango and pineapple slushy into a glass followed by strawberry slushy creating clear definition in the glasses. Serve immediately.
Nutrition
Calories:
132
kcal
|
Carbohydrates:
19
g
|
Protein:
1
g
|
Fat:
1
g
|
Saturated Fat:
1
g
|
Sodium:
1
mg
|
Potassium:
90
mg
|
Fiber:
1
g
|
Sugar:
12
g
|
Vitamin A:
179
IU
|
Vitamin C:
31
mg
|
Calcium:
7
mg
|
Iron:
1
mg