Learn how to make the fudgiest Skillet Brownie for Two! This easy one bowl brownie recipe is so rich and indulgent that you might just find it too hard to share! If you love this, you will also love this Cosmic Brownies, Gluten free Brownie recipe, Turtle Brownies and Fudgy Brownies.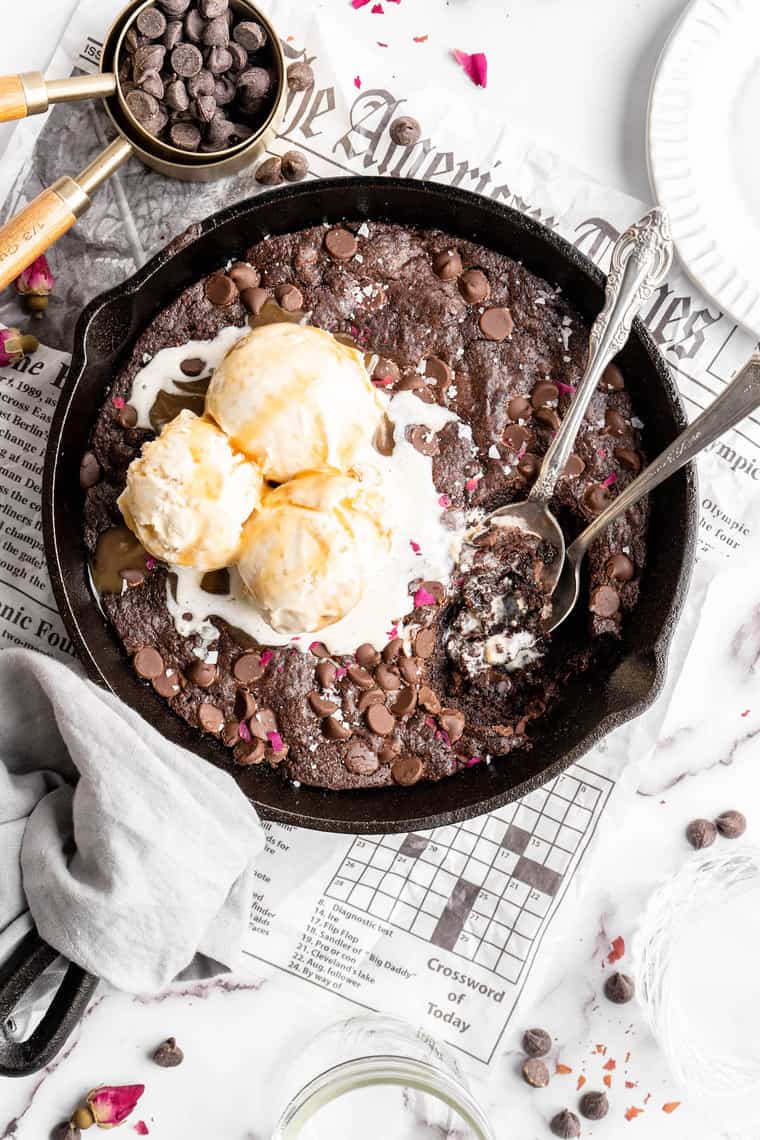 I'm a sucker for a simple recipe and a skillet brownie made in less than 30 minutes is just about as simple as it gets. At the end of night I almost always find myself shuffling to the kitchen to find sum'n sweet. You know, that little hit of sugar that brings the whole meal full circle.
Sometimes, when I'm being good, that little sweet is a piece of fruit or a hunk of dark chocolate. But, what I secretly really want is this skillet brownie served with lots of cold ice cream. There's just nothing better than a fudgy brownie served in a hot cast iron skillet!
This Skillet Brownie Recipe is sweet, decadent, and chewy. It's everything you need to crush that chocolate craving.
Today's recipe comes to us from renowned author and baker, also my homie, Dorothy Kern. Dorothy is one of the most trusted and widely read baking bloggers in the game! Her tried and true recipes are just as unique as they are delicious.
Dorothy's latest project, Crazy for Cookies, Brownies, and Bars: Super-Fast, Made-from-Scratch Sweets, Treats, and Desserts, is a complete guide to taking your dessert game in a whole new direction. Each recipe in this book is better than the one before it and Dorothy even includes instructions on baking large or small batches.
This book has been such a treat to bake through and I highly recommend getting your hands on a copy!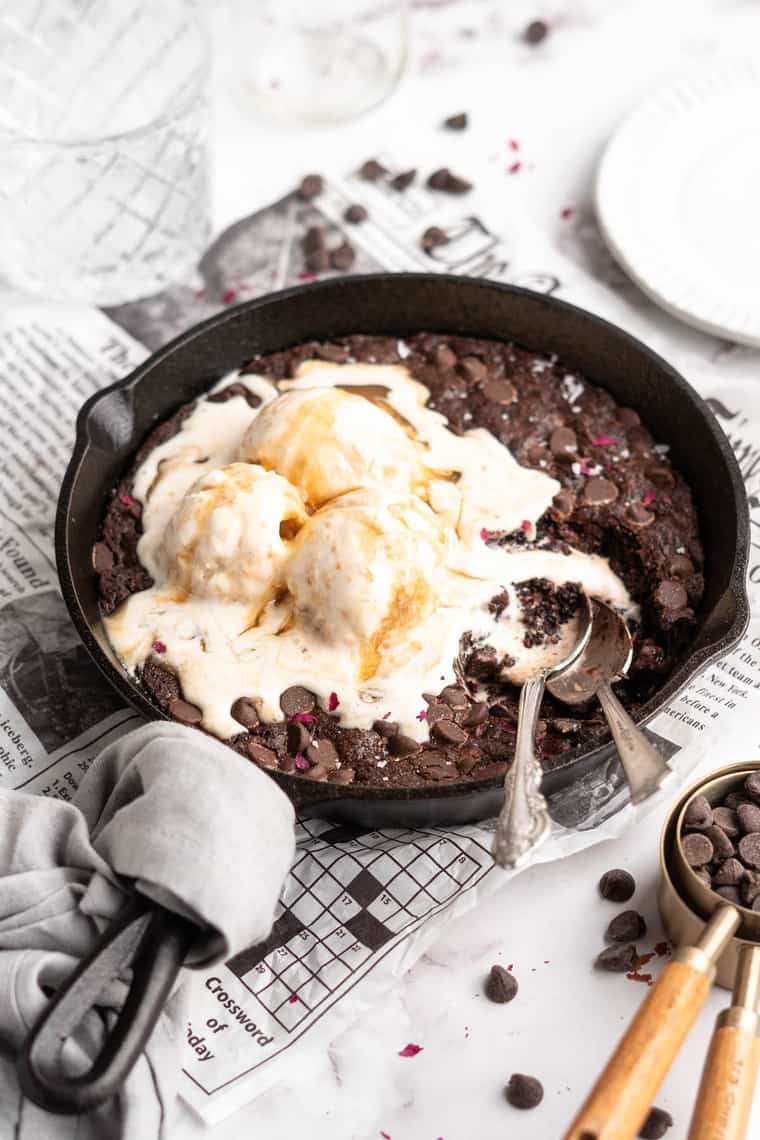 Skillet Brownie for Two
Committing to a giant skillet brownie when you're just looking for a nibble or having an evening alone with your sweetheart can be a bit much. This skillet brownie recipe for two solves that problem!
Not only is this recipe delicious and easy to make but it's also super cute. This little skillet filled with fudgy goodness is perfect to serve as a date night dessert or as a special treat for one. You deserve to indulge once in a while.

Chocolate Fudge Brownie Ingredients
This skillet brownie is made with less than 10 ingredients! Each one is a pantry staple item that y'all are almost guaranteed to already have sitting around.
Here's what you'll need:
ALL PURPOSE FLOUR
GRANULATED SUGAR
UNSWEETENED COCOA POWDER
SALT
VEGETABLE OIL
EGG
CHOCOLATE CHIPS
I highly recommend sifting your dry ingredients for a smoother, richer texture. High quality cocoa powder also goes a long way in enhancing the flavor of the brownies!
Kosher salt is best but sea salt will work in a pinch. Any neutral oil of your choice will suffice but be sure to use a room temperature egg! A quick 5 minute soak in warm water will quickly bring up the temperature of an egg.
Use any kind of chocolate chip or chunk you'd like! Even chopped up candy bars can be a great choice.
Recipe Additions
Personalize your skillet brownie by adding some of your favorite mixins. Nuts, m&ms, shredded coconut, marshmallows, and pretzels are all fair game! Raid the pantry and get creative! I'd love to hear what you came up with in the comments below.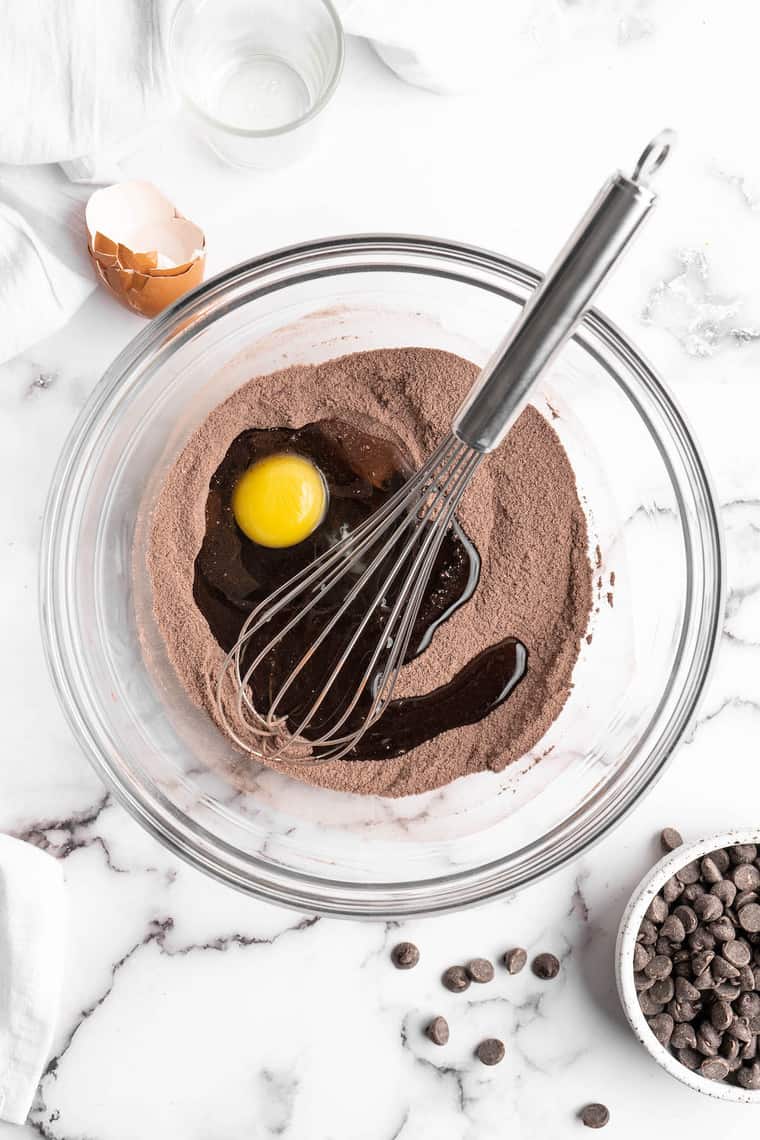 How To Make Brownies in a Cast Iron Skillet
The worst part about baking brownies is how long it takes. The torture of waiting for a pan of brownies to bake is straight up not a good time. A girl needs her chocolate ASAP!
This chocolate chip skillet brownie is made in only 30 minutes. You read that right y'all! It takes just about 10 minutes to pull together the batter (while you preheat the oven of course) and then another 17-22 minutes to bake it. That's the length of one sitcom episode! So kick back and maybe defrost some ice cream in the meantime.
Can I use A Different Pan?
Yes! If you don't have a cast iron skillet or don't care to use one, you can use a 5-6 inch cake pan or an 8×4 loaf pan. Keep in mind that the kind of pan you use will determine thickness, texture, and shape.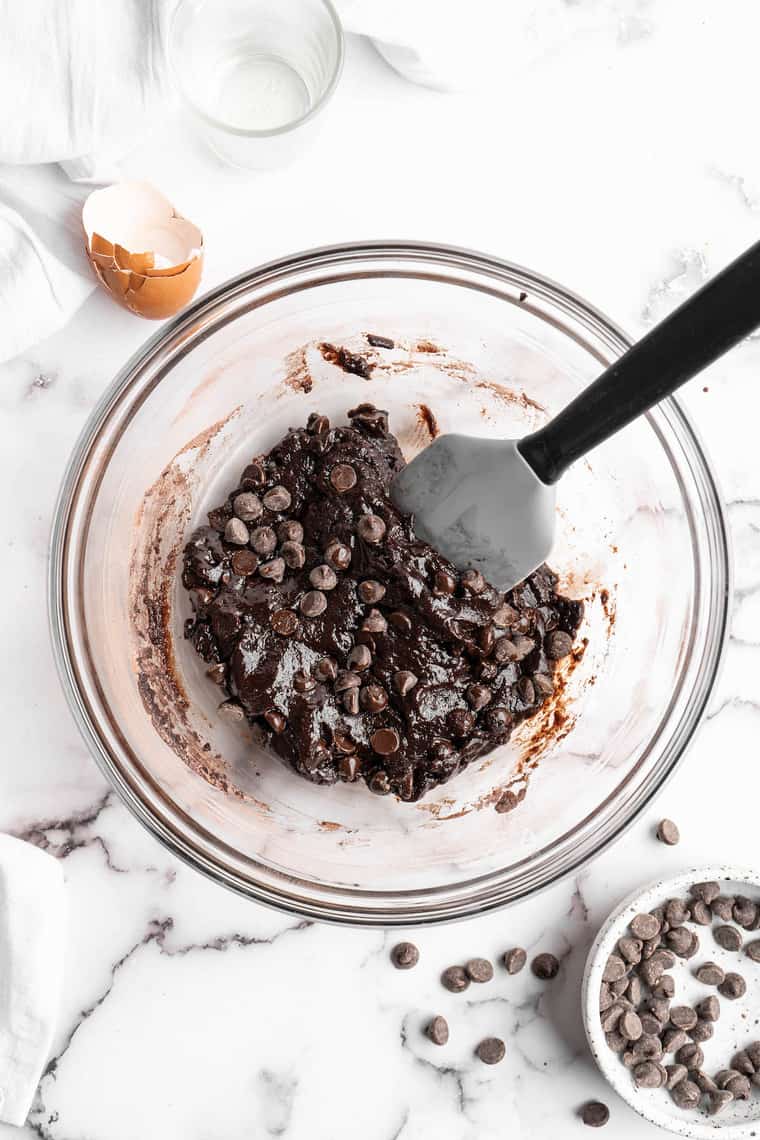 How to Serve
In my opinion, brownies are best served straight out of the oven with a heavy scoop of ice cream on top. Flavor of ice cream is totally up to you! My favorites are vanilla fudge swirl, coffee, and French vanilla.
The cool, creamy ice cream is a delightful contrast to the warm, fudgy brownie. You could also top your skillet brownie with whipped cream, fruit preserves or jams, a drizzle of caramel or nut butter!
How Long do they last?
In the event that you have leftover brownie that isn't smothered in melted ice cream, you can absolutely save it for later. Wrap leftovers in plastic wrap and keep it at room temperature for about 2 days.
GRANDBABY CAKES' BEST BROWNIE RECIPES
If you're as obsessed with this chocolatey dessert as I am, try out a few more of my favorite fudge-filled recipes: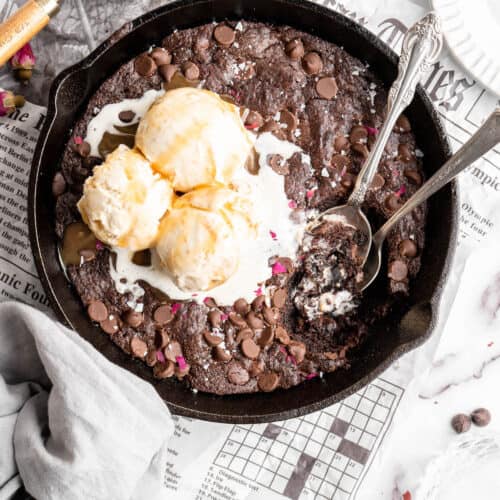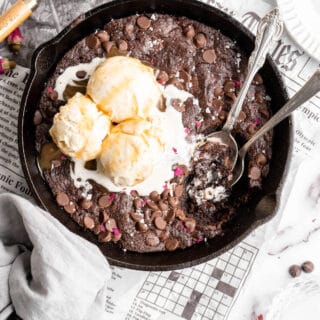 Skillet Brownie for Two
This fudgy, super easy easy, one bowl Skillet brownie recipe is so rich, chocolatey and indulgent that you might just find it too hard to share!
Print
Pin
Rate
Ingredients
5

tbsp

all purpose flour

6

tbsp

granulated sugar

3

tbsp

unsweetened cocoa powder

1/8

tsp

salt

3

tbsp

vegetable oil

1

large egg

1/3

cup

chocolate chips

plus more for sprinkling on top
Instructions
Preheat the oven to 350. Spray a 6 inch cast iron skillet with nonstick cooking spray. You can also use a 5 or 6 inch round cake pan or an 8×4 inch loaf pan.

Stir together the flour, sugar, cocoa powder, and salt in a medium bowl. Add the oil and egg and stir until thick and moist. Stir in the chocolate chips. Spread in the prepared pan and sprinkle with more chocolate chips if desired.

Bake for 17-22 minutes until the top just loses its glossy sheen. For more done brownies, wait until a toothpick comes out with just a few crumbs when inserted 1 inch from the edge of the pan.

Cool and then slice and serve or eat straight from the pan.
Notes
Omit the chocolate chips and add nuts or chopped candy to your liking.  We also love making these for parties.  
How Long do they last?
In the event that you have leftover brownie that isn't smothered in melted ice cream, you can absolutely save it for later. Wrap leftovers in plastic wrap and keep it at room temperature for about 2 days. 
Nutrition
Calories:
406
kcal
|
Carbohydrates:
75
g
|
Protein:
8
g
|
Fat:
10
g
|
Saturated Fat:
6
g
|
Polyunsaturated Fat:
1
g
|
Monounsaturated Fat:
1
g
|
Trans Fat:
1
g
|
Cholesterol:
86
mg
|
Sodium:
199
mg
|
Potassium:
165
mg
|
Fiber:
4
g
|
Sugar:
55
g
|
Vitamin A:
186
IU
|
Vitamin C:
1
mg
|
Calcium:
60
mg
|
Iron:
3
mg