This post may contain affiliate links. Please read my disclosure policy.
Today I'm sharing 15 Must Have Southern Cookbooks! Whether you're looking to learn more about Southern traditions and culture or relive your tastiest childhood memories of delicious authentic Southern recipes, you'll find these cookbooks as captivating to read as they are handy in the kitchen!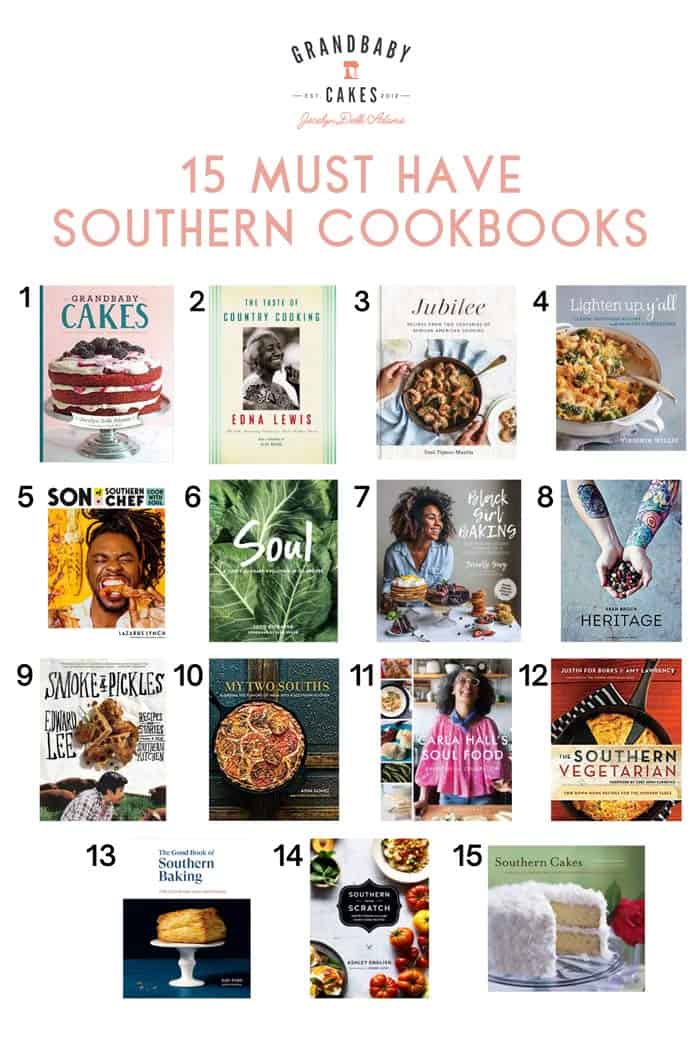 You can't NOT love Southern food. It doesn't matter where you're from or what you grew up eating, there's no resisting butter laden biscuits, fatty beans and greens, and BBQ'd bits of any kind.
Because my family grew up in the South, I know Southern food like the back of my hand and, yet, I am constantly learning. Over the years, I've built up quite the collection of Southern cookbooks. Take a walk around my home and you'll find stacks of books with cracked spines and oil-splattered pages.
I read cookbooks like history novels, indulging in the stories they tell through homemade confections. I curl up under the covers and flip pages, oohing and awing at the glorious photos and hoping for dreams filled with chess pies and braised meats. I guess you could call it a hobby of mine?
I own countless books but I can never seem to get enough, so I buy more and delve into new-age recipes and fusion-filled stories. Southern food is constantly evolving, moving towards something I crave to be a part of.
Today, I'm sharing a compilation of some of my most cherished Southern cookbooks: old ones brimming with tradition, new ones boasting bold flavor and some that are in between. I invite you to delve into one or two or all of these, there's something for everyone!
15 Must Have Southern Cookbooks
1. Grandbaby Cakes – Jocelyn Delk Adams
So you know I just had to include my book because I believe it is the quintessential Southern Cake Bible. It is filled with Southern memories of my Mississippi grandparents and their descendants. Along with these wonderful anecdotes and vintage images, are twists and modern takes on some of the South's most essential dessert recipes.
Do yourself a favor and indulge in copious amounts of my Mississippi Mudslide Cake, Mama's 7 Up Pound Cake, and the starlet herself, the Red Velvet Cake on the cover, you won't regret it!
2. The Taste of Country Cooking- Edna Lewis
If you had to just pick one book on this list, it should probably be this one. This iconic book is written by none other than the great Edna Lewis- a beloved Virginian home cook. Edna's recipes tell the story of a Southern woman in love with food, family and tradition.
Do yourself a favor and indulge in copious amounts of sage-flavored pork tenderloin, corn pudding, and fresh blackberry cobbler, you won't regret it! Get the book The Taste of Country Cooking- Edna Lewis.
3. Jubilee Recipes From Two Centuries of African American Cooking: A Cookbook
If there isn't already a Toni Tipton cookbook on your bookshelf, what are you doing? She is also a friend and a true revoluntionary in the space of celebrating African American cooks who have contributed so much but haven't received their shine. Toni's books aim to highlight the rich history of African-American cooking while offering up simple, classic recipes . This James Beard Award Winning Cookbook includes the incredible work of enslaved chefs, middle and upper class writers and many culinary trailblazers.
Not only does this book teach you everything you need to know about recipes like Bourbon Pecan Pie, this Gumbo, and Sweet Potato Biscuits, but it will teach who to thank for them.
4. Lighten Up, Y'all: Classic Southern Recipes Made Healthy and Wholesome- Virginia Willis
Virginia Willis is a friend and also a genius. She won the James Beard Award for writing this book that paints traditional Southern cooking in a brand new lighter light. After making just a few of the recipes, you'll find yourself quickly understanding that Southern food isn't all about recipes that clog your arteries. Each one of Virginia's recipes is easy to follow along with, as well as incredibly delicious!
My favorite recipe? The Hoppin John or even this Shrimp and Corn Chowder. I tried both at a dinner celebrating the book, and they were fantastic. Trust me, you're gonna want try them.
5. Son of a Southern Chef : Cook With Soul
A two-time Chopped champion, an internet personality, and the genius behind Son of a Southern Chef (the blog) plus a dear friend, Lazarus Lynch puts a unique spin on tons of traditional recipes. In this new-age book, Lazarus successfully challenges the boundaries of southern cooking and invites you to do the same.
Try out the Dulce de Leche Banana Pudding, it will rock your world people!
Southern cooking is based in tradition; recipes are kept sacred and passed down from generation to generation. Though there is incredible beauty in that, there is also something to be said about being gifted the liberation to explore. Chef Todd Richards is a believer in unique expansion; he's given himself (and readers) the freedom to add flair and fun to traditional recipes.
If you're interested in exploring a true culinary evolution, or if you're just in the mood from some dang-good Chicken Thighs and BBQ Beans, get this book.
7. Black Girl Baking: Wholesome Recipes Inspired by a Soulful Upbringing
I love a cookbook based in memory; each recipe tells the story of a childhood and paints the picture so clearly that I feel like I'm almost there. Food has a way of recalling a moment in the most romantic of ways. For Jerelle, baking has served as a form of connection, understanding and healing.
Through recipes like Strawberry Butter Rose Buns, Orange Peel Pound Cake, Plaited Dukkah Bread and Rosketti Cookies, readers are led through a sensual baking journey like none other. By retelling and reinventing food memories, Jerelle offers an escape into a world of her own creation.
Leave behind everyday life and get lost in the pages of Black Girl Baking: Wholesome Recipes Inspired by a Soulful Upbringing.
After giving this book an initial scan one thing was clear: Chef Sean Brock eats, sleeps and breathes Southern cooking. Having grown up in Appalachia and relocated to Charleston, Chef Brock understands the history of Southern food and the importance of sharing it. This book will teach you how to make flavorful dishes like Slow-Cooked Pork Shoulder with Tomato Gravy, Wild-Ramp and Crab-Stuffed Hush Puppies and Apple-Sorghum Stack Cake. Need I say more? Run and grab the book here.
9. Smoke & Pickles – Edward Lee
If you're looking for a taste of the New South, look no further. Lee's food is all about the fusion of cultures that makes cities like Atlanta so irresistible. Filled with fascinating stories, hilarious anecdotes and more unique recipes than anyone could hope for, this book is refreshingly perfect.
I highly recommend Lee's Oxtail Stew with Lima Beans and Braised Brisket with a Bourbon-Peach Glaze! To die for!
10. My Two Souths: Blending the Flavors of India Into a Southern Kitchen
The South is arguably one of the most diverse places in the world. Over the years, a melting pot of culture and cuisine has made its home in cities like Atlanta, New Orleans, Austin, and Charleston.
A product of both a Southern Indian and Southern American upbringing, Asha Gomez celebrates her unique roots by fusing together the flavors of her childhood. Her singular recipes are rooted in her love for the Deep-South as well as the comforting aromas of Indian spice.
Check out Asha's stellar Kerala Chicken and Waffles or indulge in her vibrant Black Cardamom Smothered Pork Chops. You can find both right here!
11. Carla Hall's Soul Food: Everyday and Celebration- Carla Hall
Before Grandbaby Cakes was even an embryo of an idea, I was obsessed with the Food Network. I devoured shows like Barefoot Contessa, Chopped and, most of all, Top Chef. Carla Hall, a fan favorite on Top Chef, is someone I'm so very lucky to call a friend and colleague.
This recipe book is Carla's ode to the South: a love story, a celebration and an exploration all in one. You'll be salivating for the tasty, playful, and fun twists on southern food classics that run through this book.
Go for the Banana Pudding, Shortcut Deviled Eggs with Bread and Butter Pickles or the Spoon Bread Dressing, you won't be disappointed!
12. The Southern Vegetarian- Justin Fox & Amy Lawrence
The Southern Vegetarian Cookbook: 100 Down-Home Recipes for the Modern Table is not only my all-time favorite vegetarian cookbook, but also one of my go-to Southern cookbooks. Lots of folks assume that southern fare only caters to carnivores, but that's not the case at all! Each page of this book is full of vegetarian versions of your favorite southern comfort foods including The Chubby Vegetarian Gumbo, Vegan Sloppy Joes and Chicken-Fried Portobello with Mushroom and Shallot Gravy. The recipes are so hearty and delicious that this book belongs on the shelf of meat-eaters and vegetarians alike!
13. The Good Book of Southern Baking: A Revival of Biscuits, Cakes and Cornbread- Kelly Fields
One of my favorite restaurants in the WHOLE WORLD is Willa Jean in New Orleans, LA. From their sinful griddled banana bread to their sweet-salty bbq shrimp toast, every bite had at Willa Jean is an unforgettable experience.
Celebrated pastry chef Kelly Fields has spent decades perfecting biscuits, cornbread, butterscotch pudding, peach pie, hummingbird cake, and just about every other Southern temptation in the book. Her restaurant, Willa Jean, is a testament to her hard work but her cookbook is the storytelling of its conception.
With more than 100 recipes, this recipe is truly the new bible for Southern baking!
14. Southern From Scratch- Ashley English
I love a good recipe but I also understand the importance of being able to work with what ya got. There's a freedom in being able to strut into the kitchen, take a gander and create something fresh, exciting and delicious. Ashley's cookbook will teach you how to make the most of fresh ingredients on hand as well as anything you might find in your pantry.
Go ahead, take a chance and create vibrant, inventive, and flavorful dishes like you never have before!
15. Southern Cakes: Sweet and Irresistible Recipes for Everyday Celebrations- Nancie McDermott
There is simply no such thing as a Southern celebration, gathering or afternoon tea that doesn't include a cake. The Southern obsession with all things buttery, sugar-ladened, moist and frosted is just about as deep as the south itself.
Nancie McDermott's recipes capture the spirit of the South using classic cake recipes we know and love: Mississippi Mud, Butter Pound, Sock It To Me, and many more. Even the most seasoned of Southerners can learn something new from this book.
Whether you're looking for new tricks or dipping a toe into the immense ocean of Southern pastry, this book belongs in your kitchen.
Bonus Book!
My new cookbook Everyday Grand! It is filled with Southern inspired favorites with unique and modern twists. The book is all about celebrating every moment in your life, and enjoying life to the fullest!