This post may contain affiliate links. Please read my disclosure policy.
Perfectly buttery, rich, soft and flavorful with the perfect texture, this Southern Tea Cakes Recipe (or tea cake cookies recipe) is the BEST one online!!  They are the perfect cross between the chewiness of my Chewy Chocolate Chip Cookies or Gluten Free Chocolate Chip Cookies and the crispness of this Shortbread Cookie Recipe , you will feel like you are right in the South after making and serving these, not to mention eating them.  Serve them with Southern Sweet Tea and truly enjoy this southern delicacy.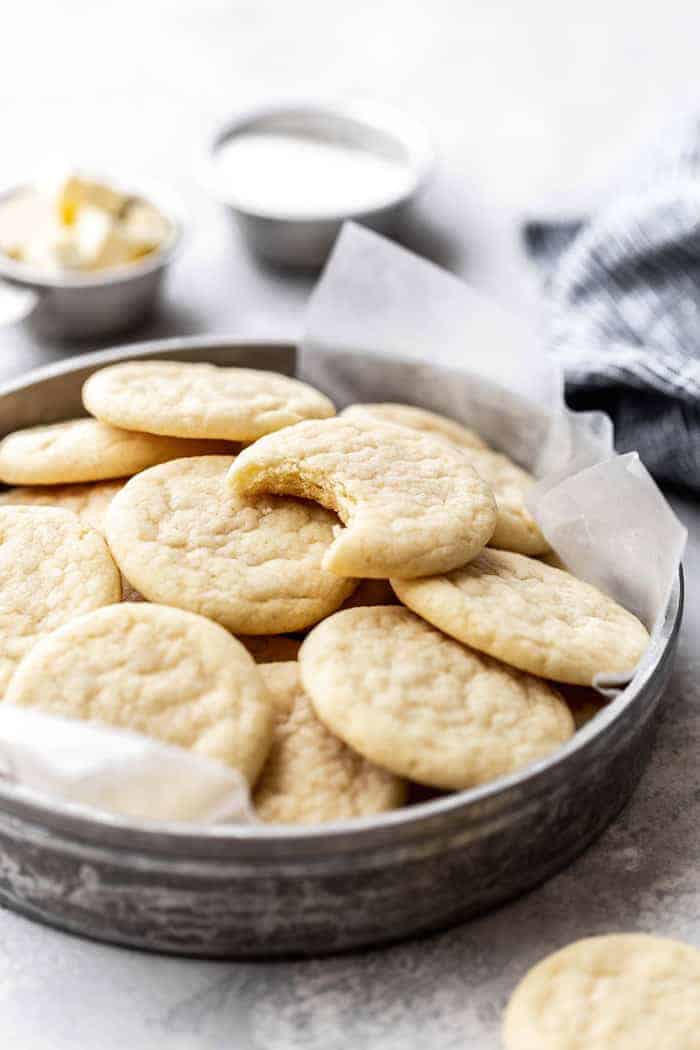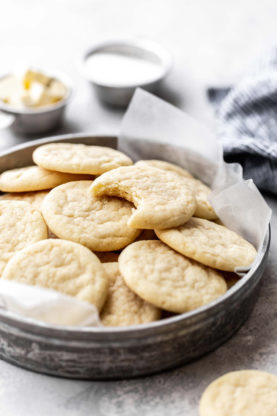 How to Make Tea Cakes
The traditions of southern tea cakes recipe making in my family vary.  On my dad's side of the family, southern tea cake cookies were made with molasses.  On my mom's side, they wouldn't dream of adding molasses.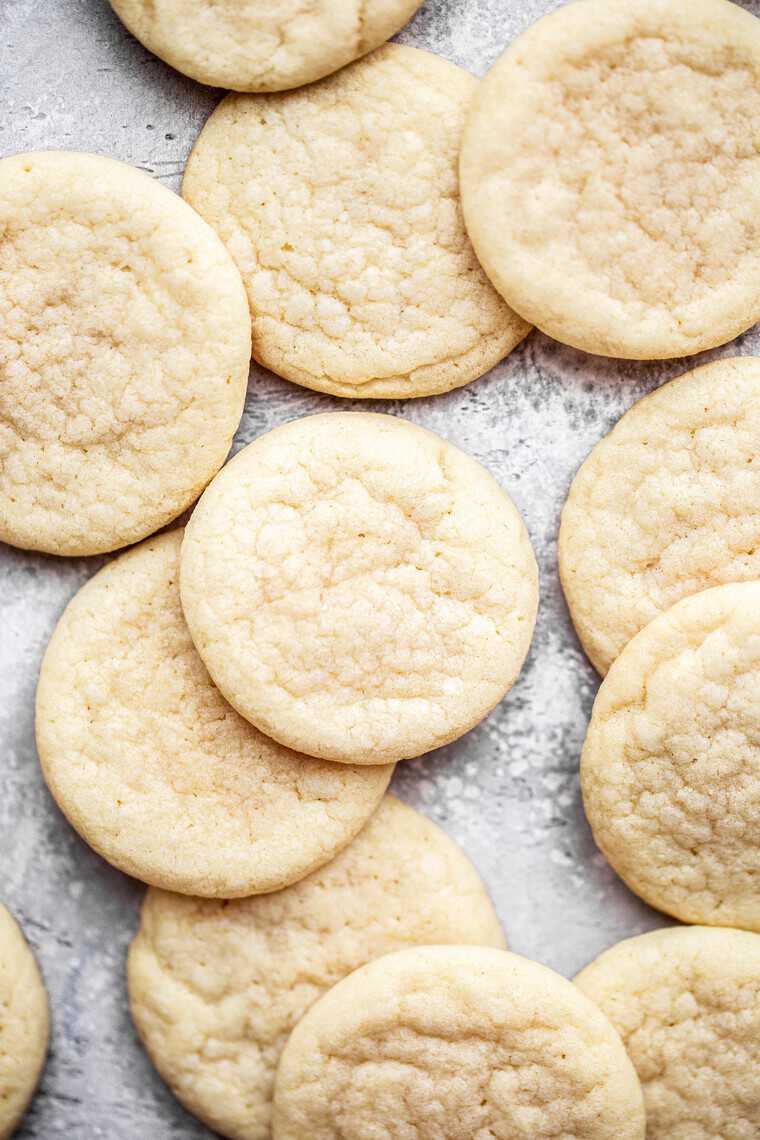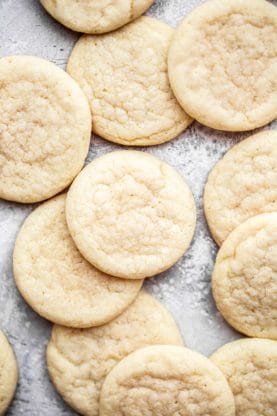 The funny thing is that both sides reside in Mississippi though in different regions.  You would actually think they lived states or even worlds apart based on the differences between their upbringings.  I find it interesting how a couple hours drive can completely alter what is acceptable food ingredient protocol in traditional southern baking.
Regardless of which southern tea cakes recipe one prefers, no one in the South can deny the crucial role tea cakes play in their heritage.  They are almost part of a religious experience.  My parents both describe in great detail the remembrances of southern tea cake cookies prepared by their mothers and grandmothers and even great grand mothers for special occasions or just regular days.  But what makes a southern tea cake so darn special?
What are Tea Cakes?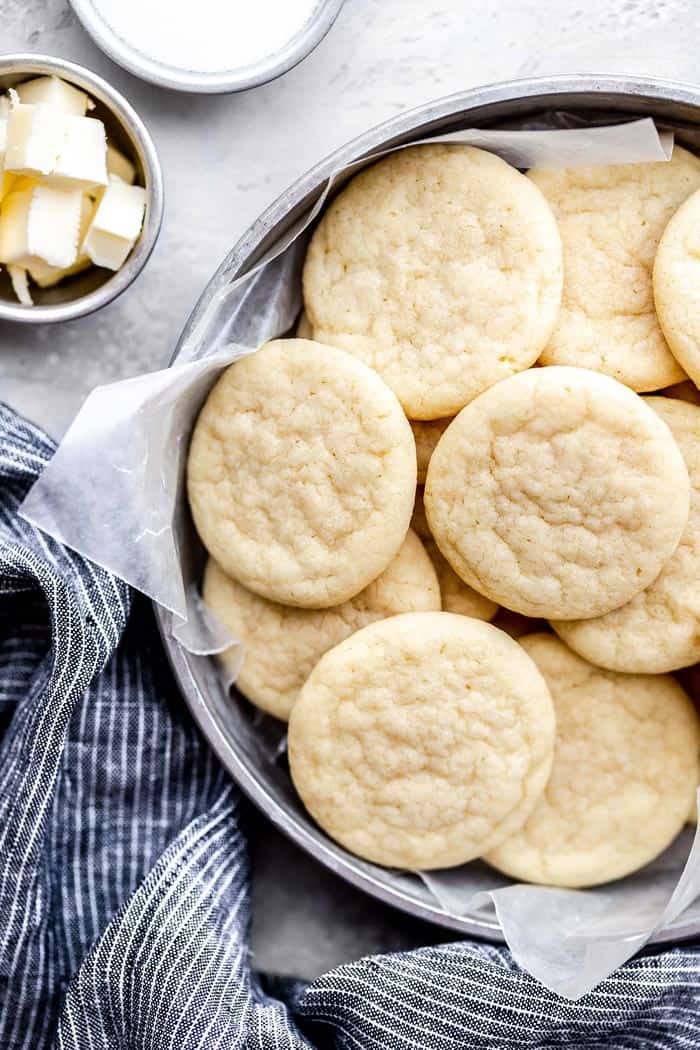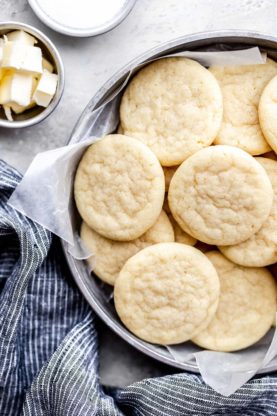 Southern Tea Cakes have an incredibly powerful and colorful history within the African American community. Culinary historians say the cookie may have been slaves' version of the English tea cake. With very little supplies, enslaved Africans took what was available and made their own version. Tea cakes became a comfort food and then a special treat during the holidays. With many families migrating North at the end of slavery, many foods of the South by slaves were left behind. Families wanted to begin new traditions and leave behind reminders of oppression. But fortunately, the Southern Tea Cakes recipe were a tradition that continued through the years.
How Are Old Fashioned Tea Cakes Different From Russian Tea Cakes?
A Traditional Southern tea cakes recipe makes simple cookies with more of a cake like taste.  They have been pared-down ingredient list which results in a simple flavor. The term "tea cake" comes from the fact that the cookie lends itself to being paired with a cup of hot tea. Ideal, but not necessary. Don't be surprised if you find these cookies to be a tad on the bland side. They're not meant to be as flavorful as the layered and deliciously flavored cookies we're used to. That does not make them any less than incredibly tasty. Some say tea cakes remind them of sugar cookies but they remind me more of a pound cake in cookie-biscuit form.
Russian Tea Cakes are usually much thicker and rounder in look and most times have been coated in confectioner's sugar.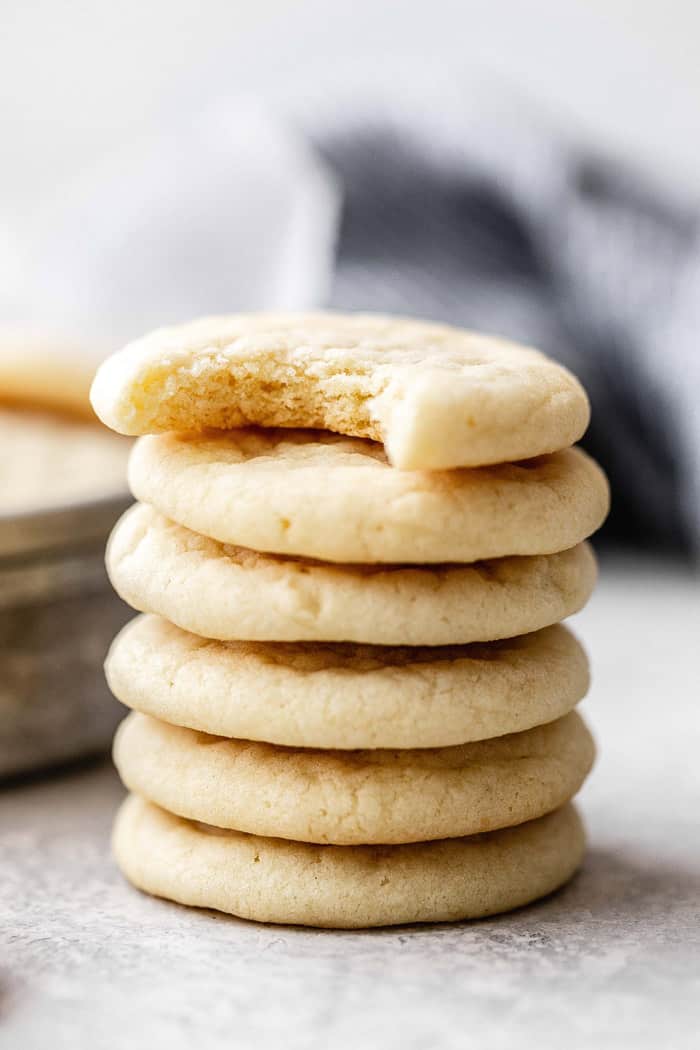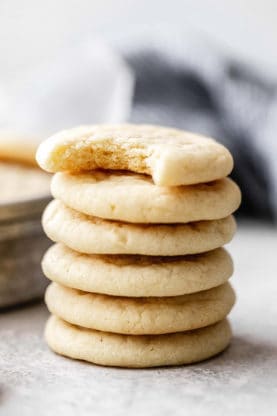 These look like simple butter cookies (which is why they are sometimes called tea cake cookies) but they have a bit more of a cake consistency. To me, they are just plain fabulous.  They are the best of both worlds.  
They are buttery, rich, subtly sweet, and soft. Their bottoms are light golden brown and barely crisp, while the edges are slightly chewy. Am I making you hungry yet? Everything you love about dessert is rolled into this recipe, and you won't believe how simple it is to make that happen.
The recipe ingredients are the same as typical butter cookies but the ratios produce something slightly different. I think they are somewhat similar to my Butter Ricotta Cookies recipe in terms of flavor but they are very unique if you have never tasted them. All the ingredients are ones you can typically find in the everyday pantry; making these cookies both accessible and hassle free. I encourage you to also take this recipe and turn it into your own. While these cookies are delicious on their own, they also create the perfect canvas for additional flavor. I've tried so many different versions of Southern Tea cakes that use "a secret family recipe" and each one has tasted wonderful. There's just no way you can go wrong.  If you want to dress up my recipe, feel free to add cinnamon, nutmeg, or even lemon zest; but, before you do, I recommend trying the recipe in its traditional form. Then you can build it up just the way you'd like!
How to Make Tea Cakes with Molasses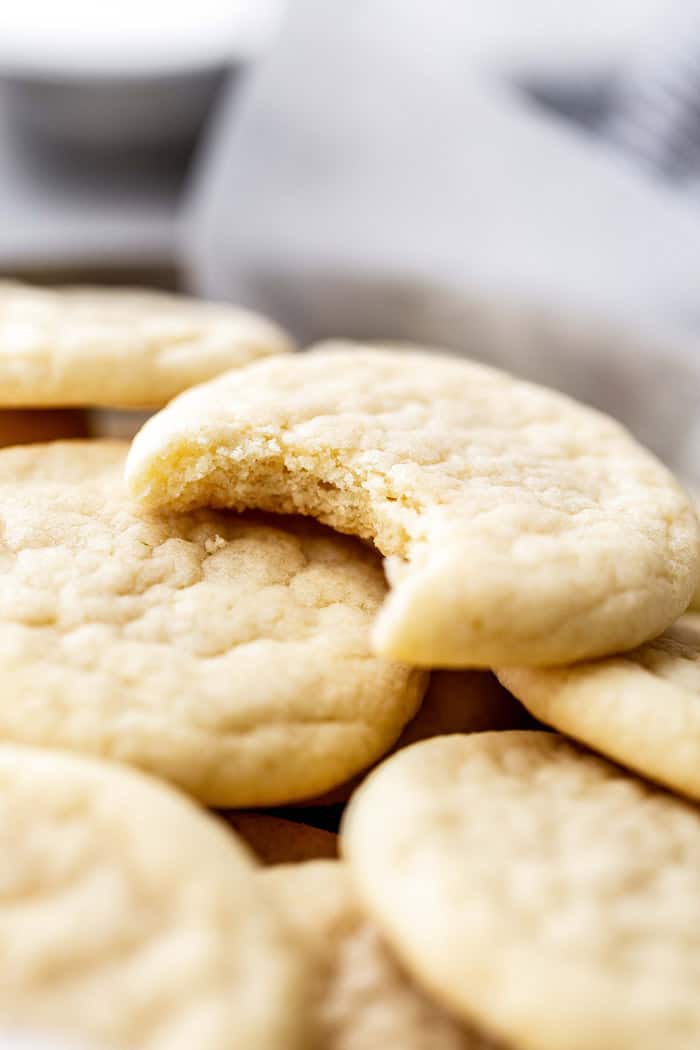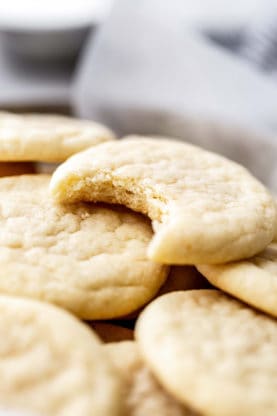 This vintage recipe is one of my favorites because the texture is how the originals were made.  They also remind me of the wonderful somewhat chewy texture of these brownie cookies too.
Because my dad's family made tea cakes with molasses, you can easily replace a lot of the granulated sugar in this recipe to add the molasses flavor to this.  It will also darken the cookie mixture.
Tips For The Perfect Cookie Dough
For this dough, I begin by whisking together all of the dry ingredients.  By doing this upfront, you will be able to fully incorporate these well mixed ingredients right into your dough.
As you begin mixing this dough with the remaining ingredients, you will notice that the dough for tea cakes is a bit thick.  This can make this a little harder to work with since it isn't as pliable.  However it still needs to go into the refrigerator to firm up further.  About an hour is necessary.
Once you begin baking the tea cakes after the recipe is firm, you will only need to use the warmth of your hands to take just about a tablespoon of dough and flatten it some.  It will become much more workable and pliable.
—-
These are very similar to the ones I grew up eating time and time again. I plan on passing this recipe down for years to come because I believe in the importance of traditions.They truly shape who we are in a way that most things can't. They end up defining our ideals. Now that I am a mother, I continually think about the things I am choosing to pass down to my daughter. Recipes carry stories with them; they are easily preserved and capable of nurturing beautiful family moments. I simply can't wait to one day hear their memories of the special occasions and times we have shared with these traditional Southern treats.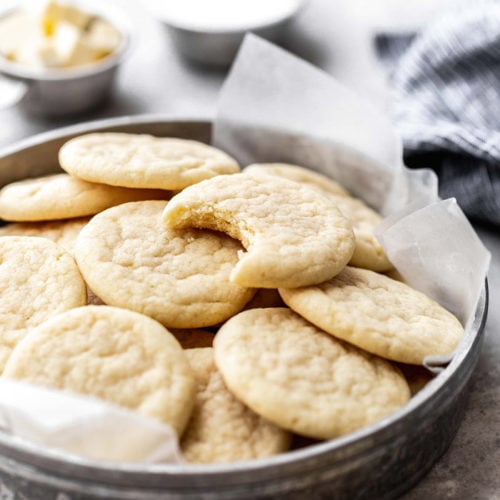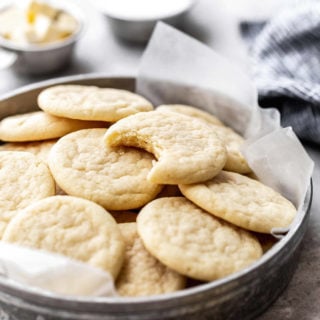 Southern Tea Cakes
The best (and easiest) Southern Tea Cakes Recipe (or tea cake cookies recipe) is here! You will feel like you are right in the South after making and serving these, not to mention eating them.
Print
Pin
Rate
Ingredients
1

stick

unsalted butter

room temperature

3/4

cup

granulated sugar

1

large

egg at room temperature

2

teaspoons

pure vanilla extract

1 1/2

cup

all-purpose flour

1/4

teaspoon

salt

1/4

teaspoon

baking soda
Instructions
In a medium sized bowl, whisk together the flour, salt and baking soda and set aside.

In the bowl of your mixer, add butter and sugar and mix together on high speed until fluffy and smooth (about 4-5 minutes).

Turn mixer to medium speed and add in one egg and vanilla extract and beat until well incorporated.

Lastly, turn mixer to slow speed and add in flour mixture in intervals of three beating after each addition to incorporate.

After dough is well mixed, turn off mixer and remove dough from mixer and add to a ziploc bag and place in your refrigerator for at least one hour to firm up dough.

Once dough is firm, remove from fridge and preheat your oven to 325 degrees.

Line your cookie sheet with parchment paper.

Taking a measuring tablespoon, scoop out cookie dough the size of the tablespoon and roll into a ball. Using your thumb, gently press the center to flatten a bit and place on the tray.

Do the same for the rest of the dough leaving at least an 1 1/2 inches between each dough ball.

Bake for 9-11 minutes until golden brown on the edges and remove from the oven.

Cool for 5-10 minutes and serve.
Notes
Remember to make sure your ingredients are room temperature.   They will incorporate much better and create a wonderful well mixed dough.
Nutrition
Calories:
180
kcal
|
Carbohydrates:
24
g
|
Protein:
2
g
|
Fat:
8
g
|
Saturated Fat:
4
g
|
Cholesterol:
35
mg
|
Sodium:
78
mg
|
Potassium:
22
mg
|
Sugar:
12
g
|
Vitamin A:
260
IU
|
Calcium:
7
mg
|
Iron:
0.8
mg