This Old Fashioned Lemon Tea Cake recipe has been served as a treat for generations of Southerners! Made with simple, pantry-staple ingredients and baked to chewy, buttery perfection, these lemon tea cakes are perfect for a mid-afternoon snack break! And the added burst of citrusy goodness? It's the ultimate, unexpected delight! If you love these, you will love my classic Lemon Crinkle Cookies, Tea Cakes, Shortbread Cookies or Ricotta Cookies.
Photos from The Kitchn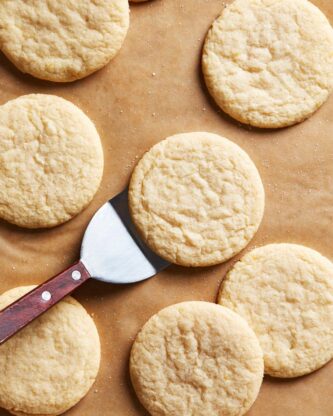 My grandmother's favorite cookie to bake was a Tea Cake, and this is a wonderful lemon tea cake recipe twist. Uniquely Southern and filled simple ingredients, Big Mama's never failed to WOW. She made these for everything from entertaining guests and church social functions to holiday gatherings, like Christmas. The beauty of this recipe is in its ease and adaptability. Couldn't we all use a little more of that these days?
This year, we've all collectively dealt with more curveballs than I thought possible. Each day of 2020 brings something new and, most of the time, stressful. But, there's another side to all the craziness, a new normal. So many of us have gotten back into the kitchen, learned a new skill or dedicated ourselves to spending quality time with family and friends.
Before quarantine, we all led such busy lives and, without realizing it, we neglected the everyday moments that passed us by. By slowing down, evaluating our lives and refocusing, we've done something incredibly important: invested in ourselves.
This Lemon Tea Cake recipe represents the ability to fluctuate, to adjust and to find simplicity. These tea cakes can be made as a drop cookie or rolled out and decorated to your heart's desire. Personally, I like to make it my grandmother's way, a simple drop. It remains perfectly chewy yet cakey, buttery and simply delicious.
As you wait for your tea cakes to cool and set, put on the tea kettle, listen for the gentle whistle and pour yourself a hot cup. Dip, dunk or nibble your tea cakes and remind yourself that moments of ease and peace are right at your fingertips. May the rest of 2020 bring you as much joy as this recipe has brought me.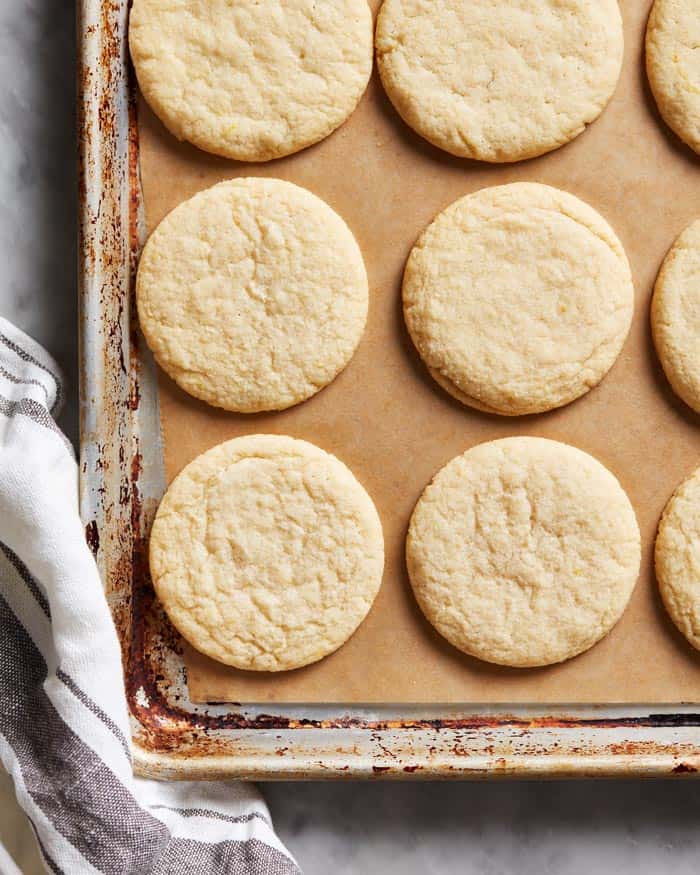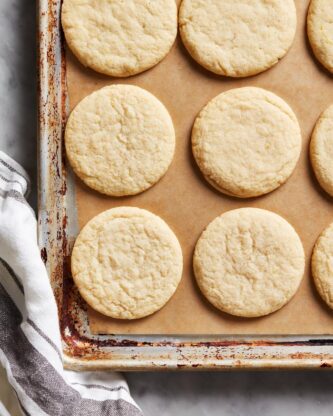 HOW TO MAKE LEMON TEA CAKE RECIPE
The texture of the tea cake is hard to describe; it's almost a sugar cookie but not quite. They could even be described as a cookie-biscuit combination.
Each tea cake is buttery, rich, subtly sweet, and soft. Their bottoms are light golden brown and barely crisp, while the edges are slightly chewy. A perfect cookie.
Here's what you'll need to make it happen:
Unsalted Butter is what makes these tea cakes incredibly buttery and melt-in-your-mouth delicious! As with most other recipes, I recommend using a high-quality butter, especially since we're using a good amount of it here.
Granulated Sugar serves as our sweetener. Cane sugar works just as well!
Egg binds our dough and adds a bit of color as well. For best results, use a room temperature large egg.
Vanilla Extract introduces a bit of complexity by adding in a pretty aroma and enhancing flavor.
Lemon Juice & Zest are both bright, zippy and wonderfully citrusey! I chose to use both in order to get maximum lemon-ey goodness. If you're not a lemon fan, lime or orange will also work beautifully!
AP Flour should be properly measured and sifted for this recipe.
Salt should be of the kosher variety. If using sea salt, I'd recommend halving the amount.
Baking Soda is our rising agent. Be sure it is fresh and active before use.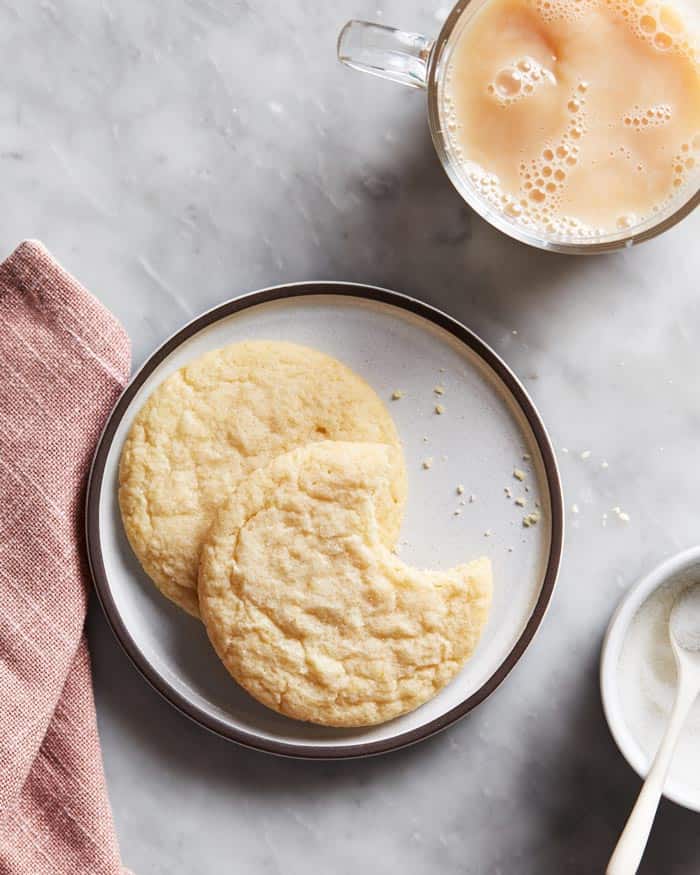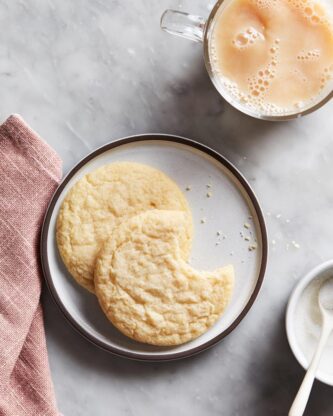 QUICK BAKING NOTE
As you begin to form the dough, you'll notice it's a bit thicker than most other cookie doughs. However, it's still necessary to refrigerate the dough to firm up a bit more. This lemon tea cake recipe contains a good amount of butter that melts while baking; when the butter melts, the cookies spread out. So, in this case, the firmer the dough the better. We don't want our cakes to melt into butter puddles.
Once ready to bake, the warmth of your hands will help to loosen the dough and allow you to gently flatten it some. As the tea cakes bake, the smell that fills the kitchen is heavenly. I mean, is there anything better than the smell of lemon, sugar, butter and vanilla all co-mingling?
JAZZ 'EM UP!
If you'd like to dress up this recipe, I recommend playing around with spice. Cinnamon, nutmeg and cardamom are incredible additions. Try using a different citrus or playing with the use of extracts. But before you do, try this recipe in its traditional form (it's worth it).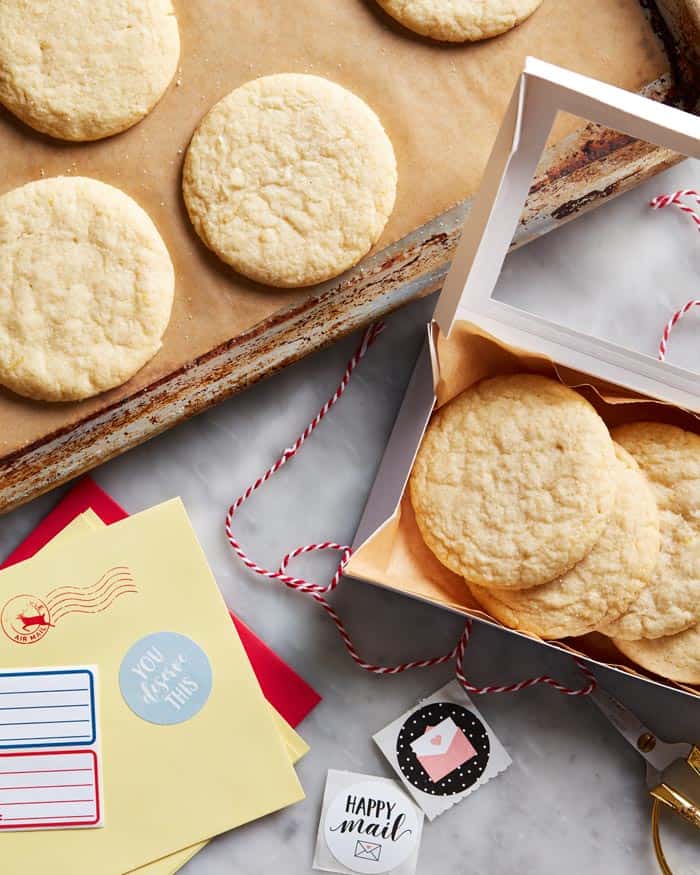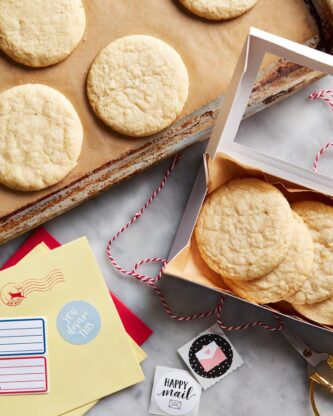 LEFTOVER LEMON TEA CAKE STORAGE
Lemon Tea Cakes are best eaten fresh! But, if you find yourself with a few leftovers, I suggest storing them in an airtight container or cookie jar at room temperature. If properly stored, tea cakes will keep for 2-3 days.
TIP: Depending on the size of your rolled dough, this recipe will make about 18-24 tea cakes. If you don't think they will be eaten in time, I recommend either halving the recipe or freezing half of the dough. To freeze, roll the dough into a small log and tightly wrap it in plastic wrap, then place in a freezer-safe bag.
When ready to bake, either allow the dough to defrost overnight in the refrigerator or defrost for an hour at room temperature. Slice, bake and serve!
GRANDBABY CAKES' BEST COOKIE RECIPES
Everyone needs a go-to cookie recipe in their repertoire! Whether you're a chewy chocolate chip gal or an oatmeal raisin fella, there's a cookie out there waiting for you. Find your perfect fit by experimenting with a few of my FAVORITE cookie recipes!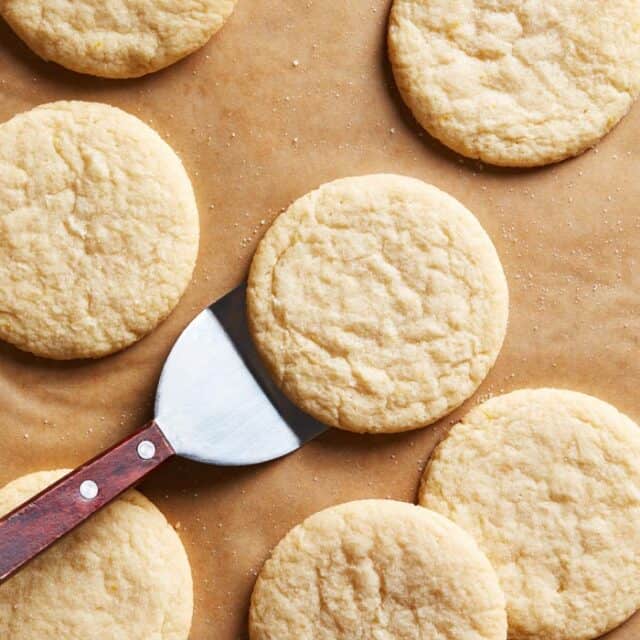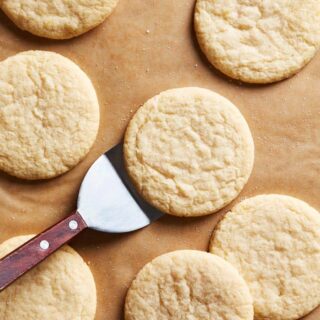 Lemon Tea Cake Recipe
Made with simple, pantry ingredients and baked to chewy, buttery citrusy perfection, this lemon tea cake recipe is perfect for lovely taste of the South!
Print
Pin
Rate
Ingredients
8

tbsp

unsalted butter

1 stick

1

large egg

1

medium lemon

1 1/2

cup

all purpose flour

1/4

tsp

kosher salt

1/4

tsp

baking soda

3/4

cup

granulated sugar

1

tsp

vanilla extract
Instructions
Place 1 stick unsalted butter in the bowl of a stand mixer (or a large bowl if mixing by hand or with an electric hand mixer). Let the butter and 1 large egg sit out at room temperature until the butter is softened.

Finely grate the zest of 1 medium lemon, then juice the lemon until you have 1 teaspoon juice. Place 1 1/2 cups all-purpose flour, 1/4 teaspoon kosher salt, and 1/4 teaspoon baking soda in a medium bowl and whisk to combine.

Add 3/4 cup granulated sugar to the butter and beat with the paddle attachment on medium-high speed until fluffy and smooth, 3 to 4 minutes. Add the egg, lemon zest, lemon juice, and 1 teaspoon vanilla extract, and beat on medium speed until well incorporated. Reduce the mixer speed to low and add the flour mixture in 3 additions, beating well after each addition to incorporate.

Cover and bowl and refrigerate at least 1 or up to 3 hours to firm up the dough.

Arrange a rack in the middle of the oven and heat the oven to 325ºF. Line 2 baking sheets with parchment paper.

Scoop out tablespoon portions of the dough and roll each portion into a ball. Using your thumb, gently press the center of each ball to flatten slightly. Place on the baking sheets, up to 12 per baking sheet with at least 1 1/2 inches between each dough ball.

Bake one sheet at a time until golden brown around the edges, 9 to 11 minutes. Let cool for 5 to 10 minutes before serving.
Notes
Store the cookies in an airtight container at room temperature up to 1 week.
Nutrition
Calories:
136
kcal
|
Carbohydrates:
19
g
|
Protein:
2
g
|
Fat:
6
g
|
Saturated Fat:
4
g
|
Trans Fat:
1
g
|
Cholesterol:
25
mg
|
Sodium:
59
mg
|
Potassium:
28
mg
|
Fiber:
1
g
|
Sugar:
10
g
|
Vitamin A:
191
IU
|
Vitamin C:
4
mg
|
Calcium:
7
mg
|
Iron:
1
mg