Homemade Turtle Candy is a quick, irresistible, no-bake treat! Made with chewy rich caramel, buttery pecans and creamy milk chocolate, these decadent homemade turtles make for the perfect salty-sweet gift or shared family confection! If you love these, you will also love this Peanut Brittle, Bourbon Balls, Turtle Brownies , Turtle Cookies and Pralines!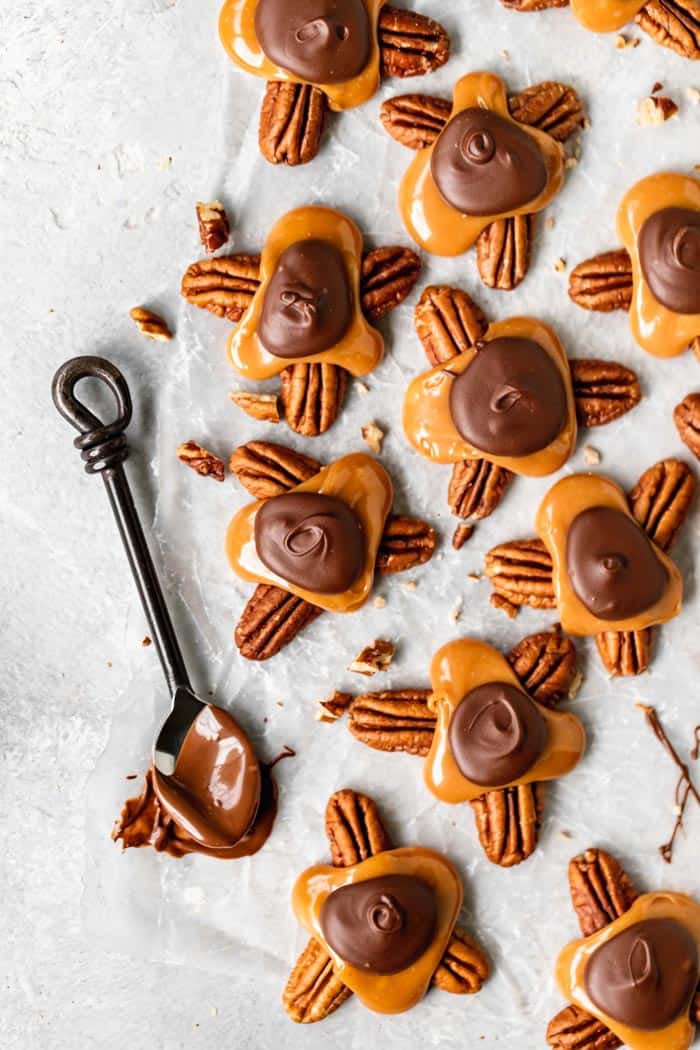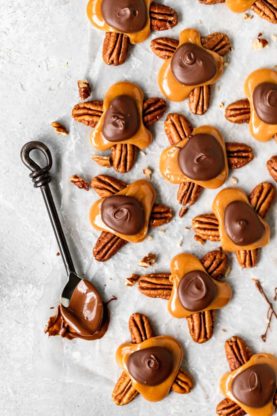 Growing up, there was never much candy in our home. Instead of the occasional Laffy Taffy or handful of M&Ms, we had leftover peach cobblers or blueberry buckles. Don't get me wrong, there were always Halloween hauls and Christmas stocking goodies (which I hoarded for as long as I could) but that was the extent of my candy connoisseur career. Hard to believe, I know!
These days, things haven't changed much. I still don't eat much candy, unless there are Turtles around. Crunchy, buttery, salty and sweet, Turtle Candies are my go-to homemade confection!
Y'all, I could eat about a dozen of these in one sitting. Soon enough, you'll be in the same boat.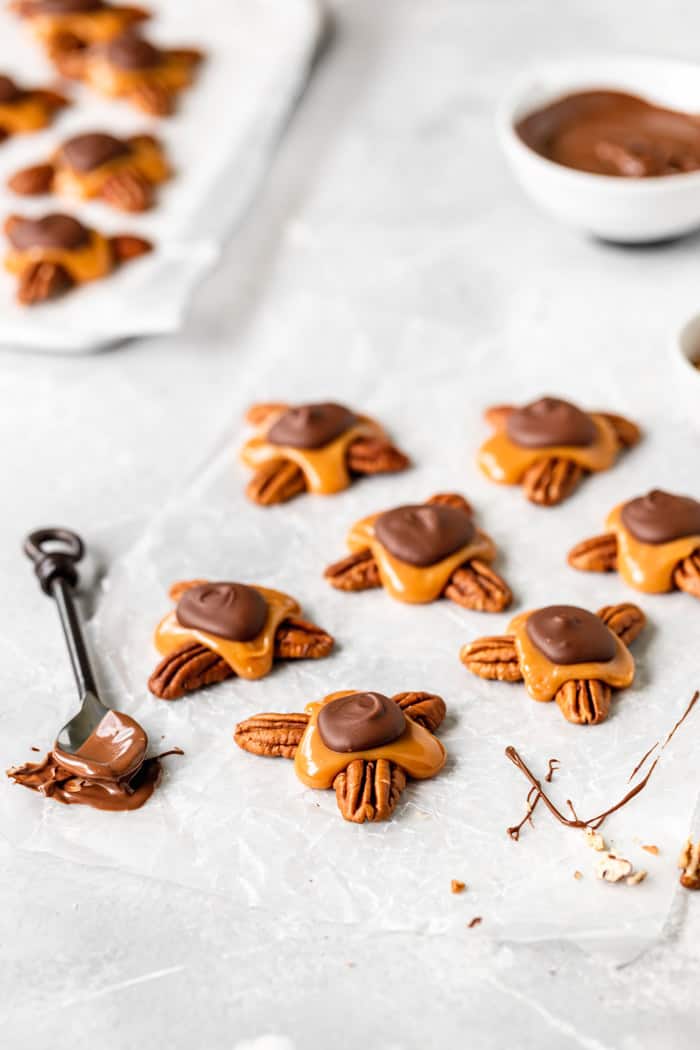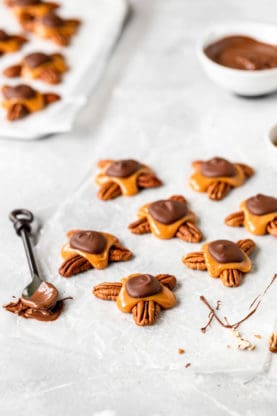 SO, WHY ARE THEY CALLED TURTLES?
It was in 1916, in the Windy City of Chicago, that George DeMet brought the turtle to life! Made with rich milk chocolate, buttery caramel and nutty pecans, Turtles became a quick-hit with DeMet's customers. With its round and slightly bumpy shape, pecans imitated the look of a real turtle which made for a fun, exciting new variety of candy.
Today, over a 100 years later, DeMet's Turtles sell over 81 million candy products a year! We're talking about 7,000 tons of chocolate and 13,000 tons of nuts, crazy right? Folks just can't seem to get enough of these rascally reptiles.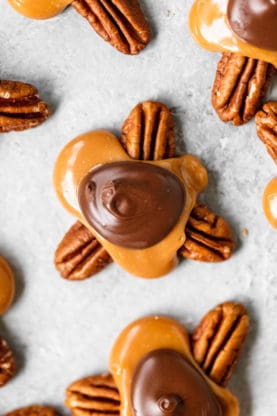 HOW TO MAKE TURTLE CANDY
Made with less than 5 ingredients, these Turtle Candies make for the perfect night-cap, midday treat or potluck offering. During the holidays, I make a few batches of these bad boys and offer them up in goodie bags to loved ones. I mean, who doesn't like a sweet treat made from the heart?
Here's what you'll need:
Caramels– any store-bought caramels will work but I chose to use Werther's Chewy Caramels. Smooth and chewy, these caramels make for an incredibly sticky-sweet bite!
Evaporated Milk– evaporated milk is unsweetened milk thickened and concentrated by the evaporation of water content. Its addition gives body and richness to our caramel while also offering up a bit of extra sweetness.
Pecan Halves– these can totally be made using cashew, peanuts or even almonds! You won't get that classic turtle look but this can be a great opportunity to use what you've got on hand.
Milk Chocolate Chips– because there are so few ingredients, it's important to use high-quality chocolate. I chose to use Guittard Milk Chocolate Chunks for the ultimate creamy, chocolatey goodness. Lindt, Ghiradelli and Baker's are also great options!
Flaky Sea Salt (Optional)– I like to finish off Turtles with a light sprinkle of Maldon Flaky Sea Salt. Not only does sea salt look fancy but, dang, that salty bite is crazy good!
TIP: Want to take these to the next level? Toast your pecans! Taking this extra steps adds a deep, roasted flavor that can't be beat. Just place the pecans on a cookie sheet and bake at 350 degrees for about 10 minutes. Allow to completely cool before shaping and spooning on the caramel.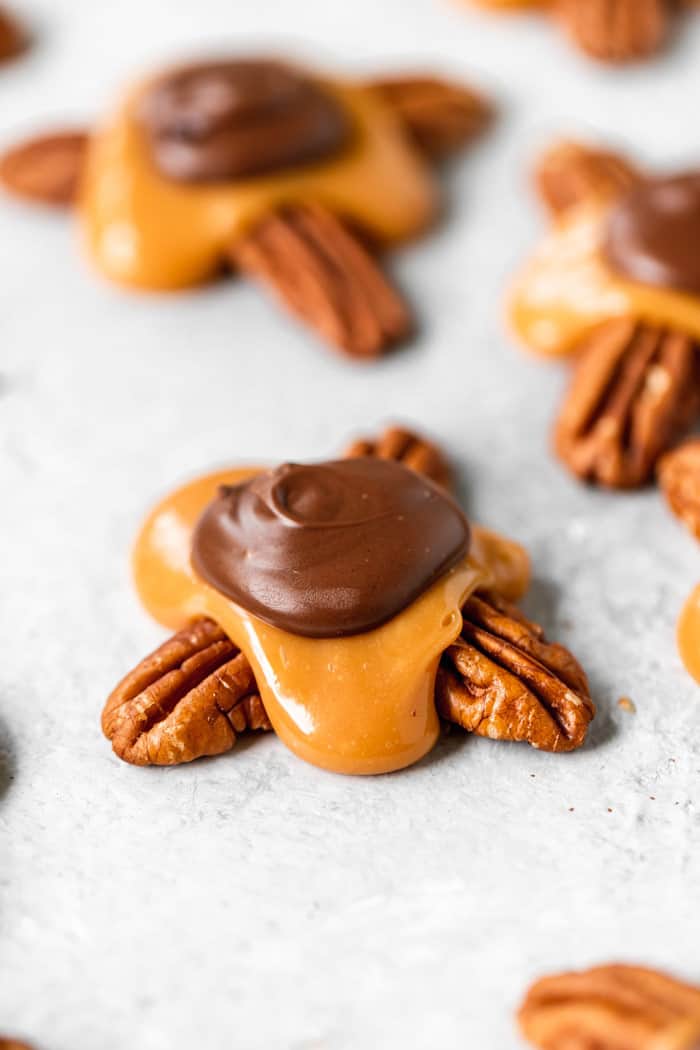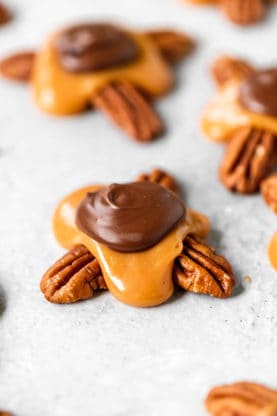 GRANDBABY CAKES' BEST CANDY-INSPIRED RECIPES
To be honest, I've never been a huge candy-girl. I'll take a massive slice of homemade pound cake over a Snicker's bar any day. But, as a baker, I love taking inspiration from sweets and turning them into something of my own!
Here are a few of my FAVORITE spins on a few candy classics: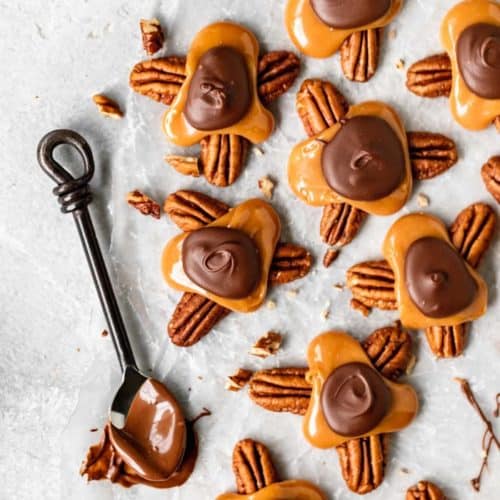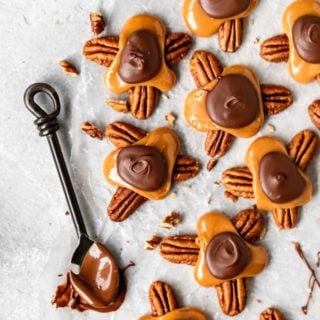 Turtle Candy
Made with chewy rich caramel, buttery pecans and creamy milk chocolate, this decadent homemade turtle candy make for the perfect salty-sweet gift or shared family confection!
Print
Pin
Rate
Ingredients
1/2

lb

caramels

2

tbsp

evaporated milk

1

cup

pecan halves

6

oz

milk chocolate chips

(basically half of a 11.5 oz package)
Instructions
Melt caramels and milk together in a double boiler over hot water and continue to stir until combined (about 10 minutes).

Place nuts on wax or parchment paper paper in groupings of 3. Spoon the completed caramel over the nuts, leaving the nut tips exposed. Let set for 30 minutes.

Next melt chocolate over hot water as well or in the microwave then cool until room temperature. Spread over caramels and let set.
Notes
Feel free to replace chocolate with dark and nuts with another nut of your choice.
Nutrition
Calories:
69
kcal
|
Carbohydrates:
8
g
|
Protein:
1
g
|
Fat:
4
g
|
Saturated Fat:
1
g
|
Cholesterol:
1
mg
|
Sodium:
24
mg
|
Potassium:
43
mg
|
Fiber:
1
g
|
Sugar:
6
g
|
Vitamin A:
9
IU
|
Vitamin C:
1
mg
|
Calcium:
19
mg
|
Iron:
1
mg