Get in the fall baking mood with these sensational pumpkin cupcakes with candy corn buttercream tops using McCormick's Color From Nature Food Colors.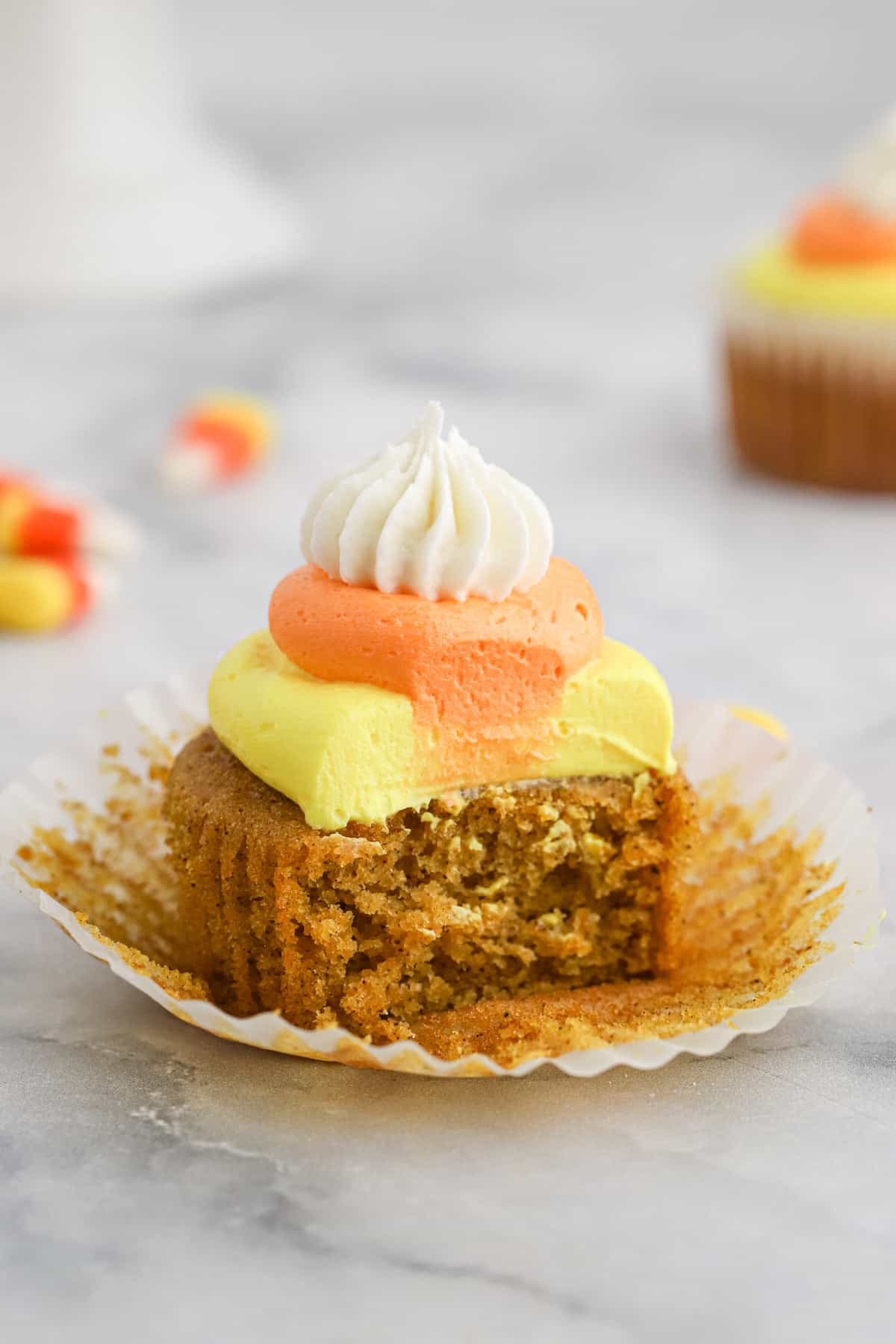 Fall baking makes my heart sing. I simply could not wait to make my first pumpkin flavored dessert. So glad it ended up being these super cute and fun pumpkin cupcakes with a candy corn colored buttercream topping. They are perfect for the entire fall season and also a little fun for Halloween baking too!
The pumpkin flavored cupcake is just how I love a cupcake to taste: moist, light and so flavorful. I added two different sugars as well because I thought the addition of brown sugar would really add a beautiful molasses note to this recipe. The McCormick ground cinnamon and nutmeg really elevate the cupcakes and bring out those wonderful autumn flavors.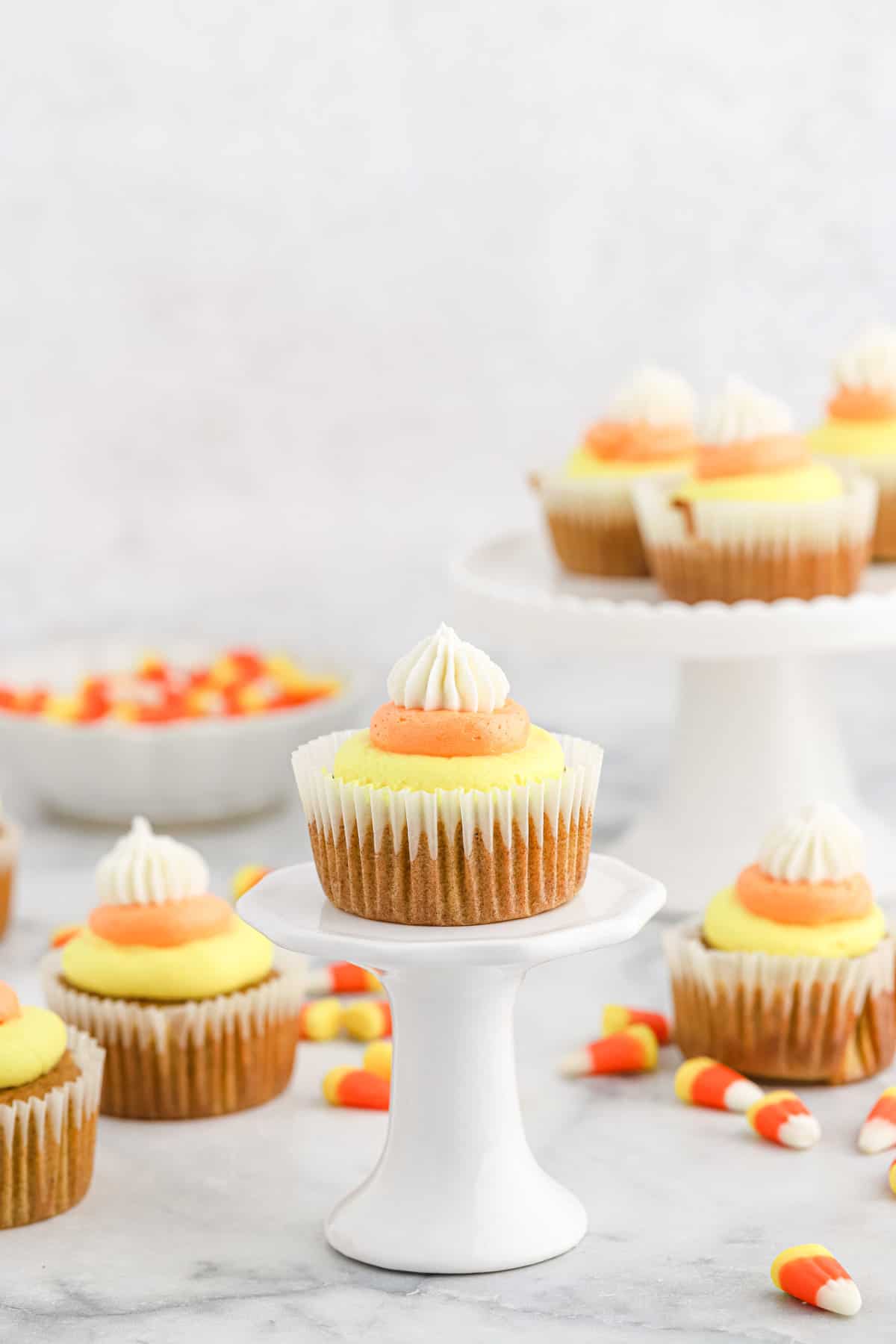 Because the cupcakes really speak for themselves, a simple and delicious buttercream was the perfect way to top them. This is my fave American buttercream recipe. It is so easy to pull together, and it has the perfect amount of sweetness. It is also amazing for piping on cupcakes.
I thought it would be so fun to use McCormick's Color From Nature Food Colors. I'm so in love with this product. One question I receive a ton from my readers is asking for artificial food coloring alternatives, and now I can say look no further than this option. The beautiful colors are made from plants, vegetables and seeds and can be used in all of your non-baking needs.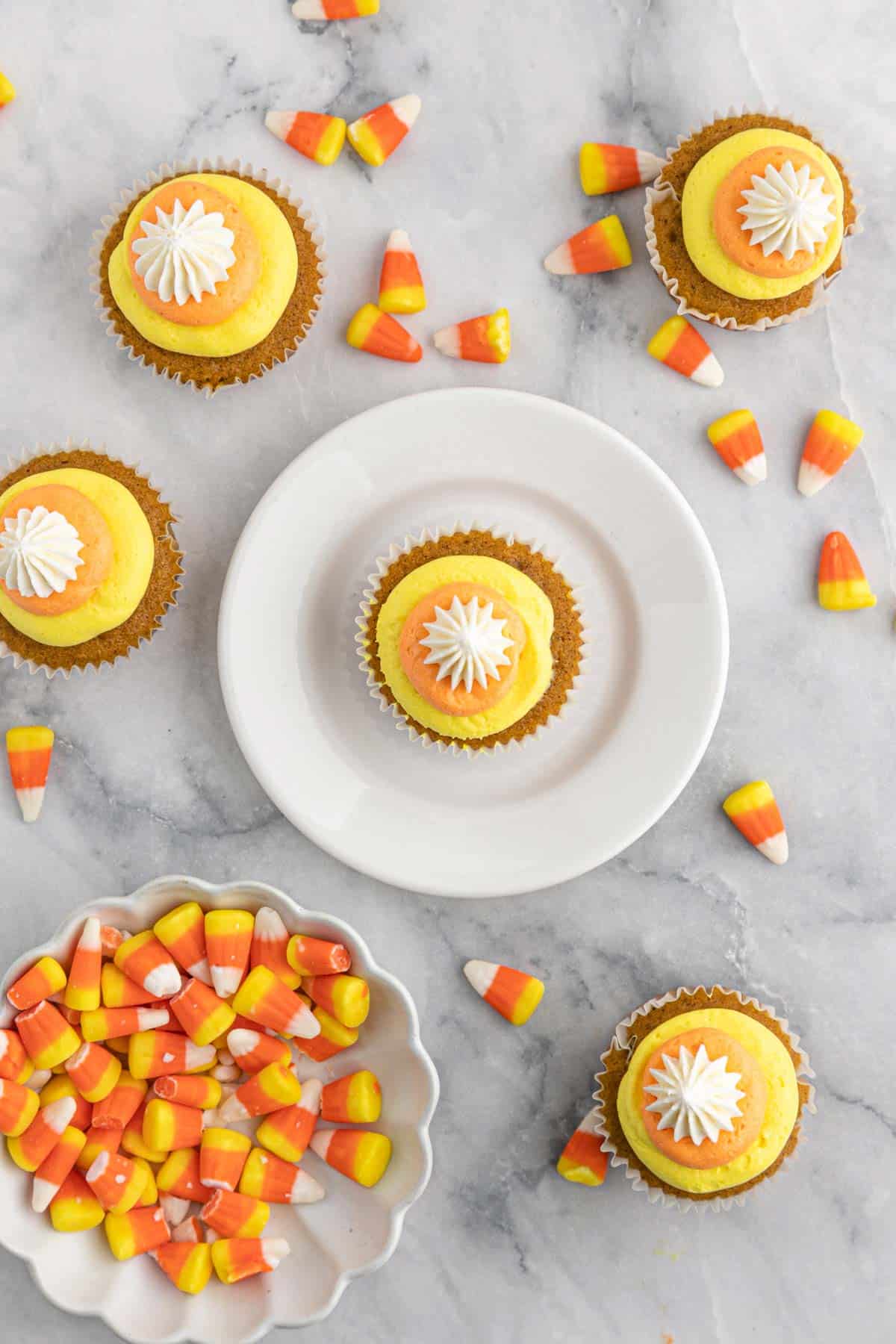 The colors are perfectly vibrant and warm, and the packaging provides exact measuring quantities so you can create the colors of your dreams. I created two different colors: Pumpkin and Sunflower. The sunflower color is already provided but the pumpkin is created by adding both the berry and sunflower colors together. The pumpkin color is so perfect!!!! Both that and leaving some of the buttercream white left me with the three distinct colors I needed to pull off the candy corn visual atop these beautiful cupcakes.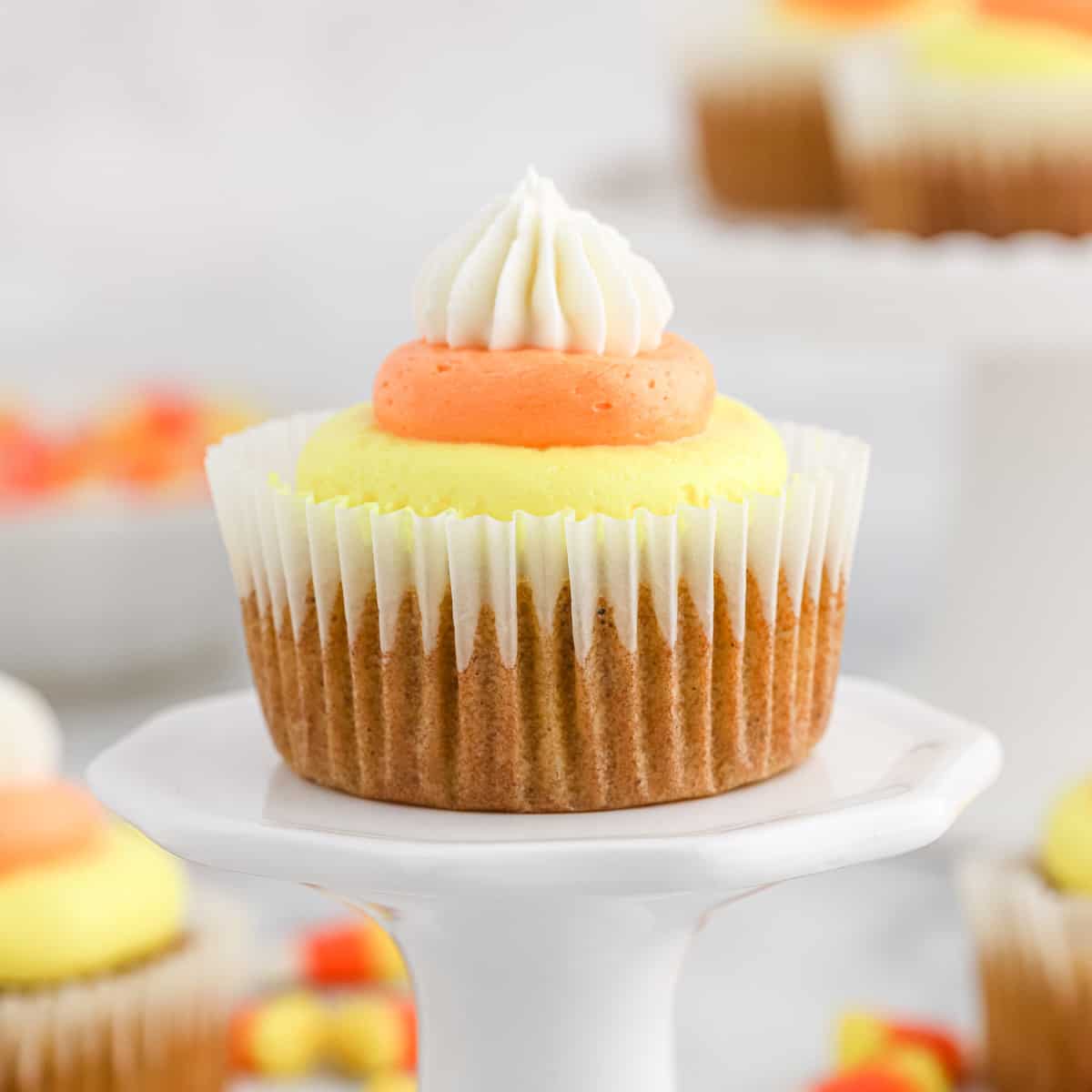 I could not have been happier with how cute these cupcakes turned out. And boy oh boy are they absolutely delicious. I seriously could not stop eating them. And with swimsuit season coming to an end, I decided not to feel too guilty about it.

Pumpkin Cupcakes with Candy Corn Buttercream
Get in the fall baking mood with these sensational pumpkin cupcakes with candy corn buttercream tops using McCormick's Color From Nature Food Colors.
Author:
Jocelyn Delk Adams of Grandbaby Cakes
Ingredients
For the Cupcakes:
2 large eggs, room temperature
½ cup granulated sugar
¼ cup light brown sugar, packed
½ cup vegetable oil
¼ cup hot water
1 cup pumpkin puree
1 cup sifted all-purpose flour
1 teaspoon baking powder
½ teaspoon baking soda
1 teaspoon McCormick ground cinnamon
¼ teaspoon McCormick ground nutmeg
½ teaspoon salt
For the Buttercream:
1 cup unsalted butter, room temperature
Pinch of salt
3 cups confectioners' sugar
2 tablespoons heavy cream
1 teaspoon vanilla extract
McCormick Color From Nature Assorted food color
Instructions
For the Cupcakes:
Begin by preheating your oven to 350 degrees and adding 16-18 cupcake liners to two 12 muffin pans.
In the mixer bowl, add eggs and both granulated and brown sugar and beat for 3 minutes on high speed.
Next pour in oil, hot water, and pumpkin and mix until incorporated. Scrape sides of bowl as needed.
Turn your mixer to the slowest speed and carefully add flour, baking powder, baking soda, cinnamon, nutmeg, and salt. Mix until just combined.
Using an ice cream scooper, scoop cake batter into each cupcake liner filling only ⅔s of the way.
Bake for 16-20 minutes or until a toothpick inserted into the center comes out barely clean.
Allow the cupcakes to cool in the pans for 10 minutes then remove the cupcakes from the pans and place them on a cooling rack to cool completely.
For the Buttercream:
In your stand mixer, add butter and salt at medium low speed.
Next turn the mixer down to low and slowly add powdered sugar in small portions until all is added then turn the speed to medium high to combine.
Add heavy cream and vanilla extract and mix until nice and fluffy.
Evenly separate the buttercream into three different bowls leaving one bowl plain.
Color one bowl using the sunflower color and set aside.
Color another bowl pumpkin by using both the berry and sunflower colors.
To pipe cupcakes, start by piping one wide ring on top of cupcakes using round tip with the sunflower color then follow up on top of ring with pumpkin color with round tip and finish piping one dollop of plain color with star tip on top and serve.
This post was sponsored by McCormick®. All opinions are 100% mine.