Learn how to make a buttery, brown sugar hinted Pecan Pralines recipe right in the comfort of your own home. These sweet, salty and slightly chewy nut candies are a classic Southern treat that anyone can enjoy! Give these away for the holidays along with my Divinity Candy, Peanut Brittle, Bourbon Balls, Turtle Candies, Peppermint Bark, Shortbread Cookies, Ginger Cookies, and Cranberry Orange Party Mix.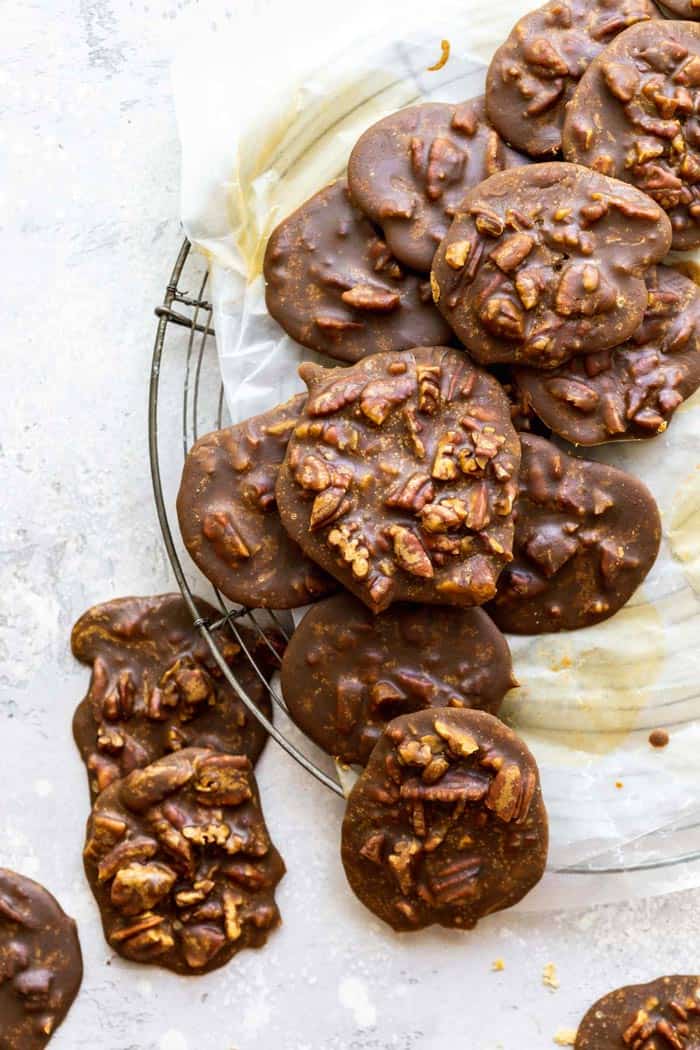 Delicious Classic Pralines Recipe!
Alright y'all, 'tis the season for SGGA (Severe Gift Giving Anxiety). I may have totally just made that up but it's a real thing. Or at least it is for me. Every year the holiday season rolls around and instantly my brain is flooded with thoughts about gifts. Who am I getting gifts for? What should I get? What's my budget?
Fortunately, I've got a solution that I can count on year after year: Pralines. These crunchy, delectable treats make for a personalized gift that no one will forget. I grew up eating these candies at almost every holiday gathering. There always seemed to be a bowl of pralines moving around the room for all to enjoy. This childhood treat is one that I continue to not only enjoy myself but one that I've chosen to share with my family, friends and coworkers every chance I get.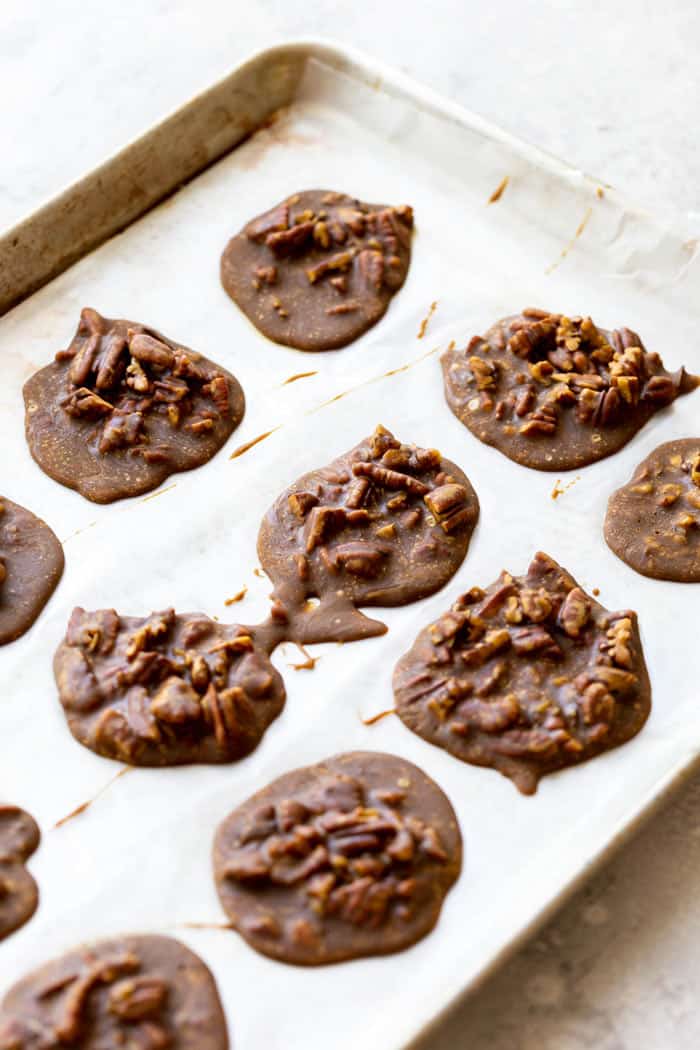 What Are Pralines?
For a Southerner, Pralines are a common treat made for holiday festivities. Born in France and transplanted to Louisiana, today's modern version of the praline has become a Southern staple that you can find almost anywhere. But where did these little bites of delight come from?
Clement Lassange, a chef who worked at the Château de Vaux-le-Vic for Maréchal du Plessis-Praslin, a sugar industrialist, was the inventor of the praline. He coated almonds in sugar which were said to be used as gifts.
The praline came to America with the French settlers who came to Louisiana, but the recipe was changed to use local ingredients such as the pecan and brown sugar. Soon enough, the New Orleans version of Pralines became famous and the recipes became abundant.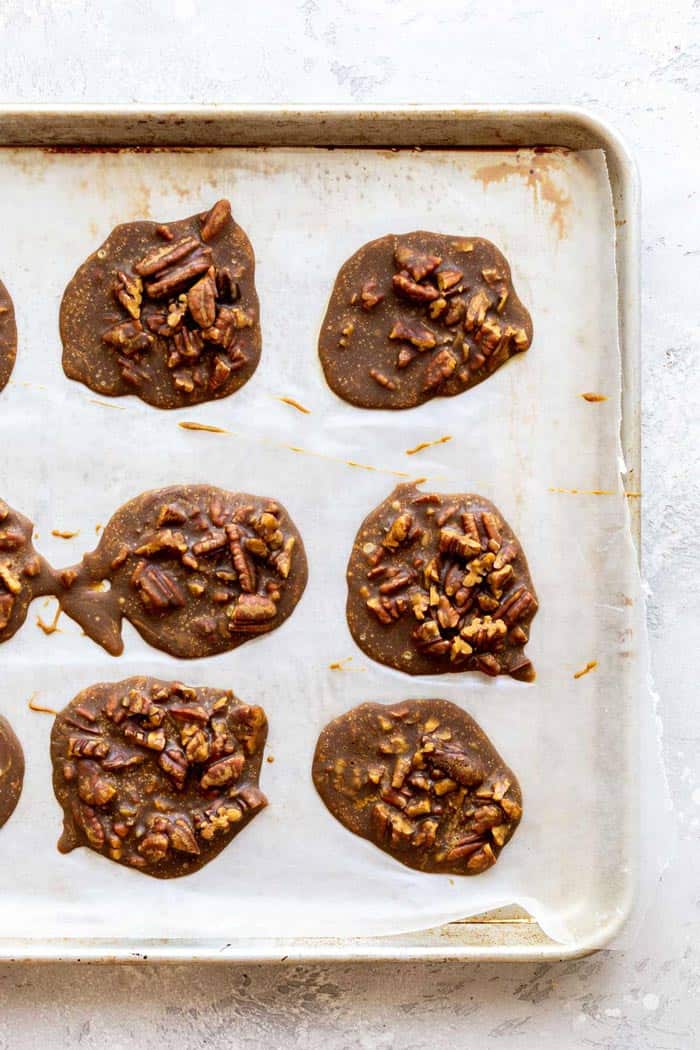 Today's recipe comes from my good friend Toni Tipton Martin's latest and greatest cookbook Jubilee. Filled with more than 100 recipes that highlight the true history of African American cooking, Toni's latest work is phenomenal. Through recipes and stories Jubilee takes you on a culinary journey through the culturally diverse roots of the South and beyond.
This Praline recipe is a celebration of a history I am proud to be a part of and am even prouder to share with you.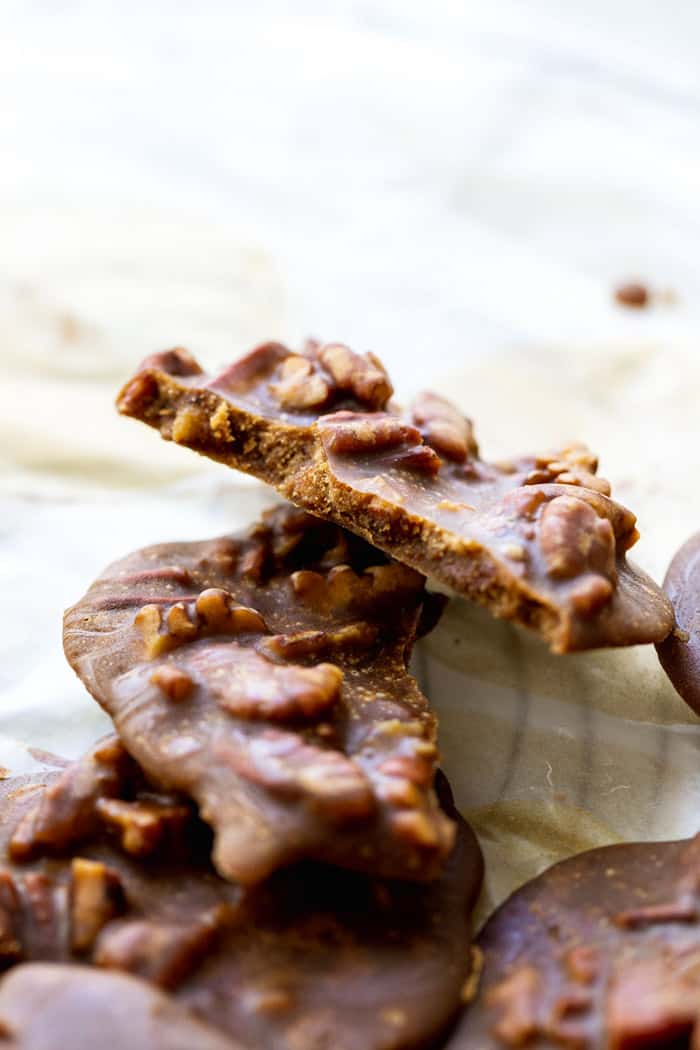 How To Make Pralines
Wondering what the heck pralines are? Well, let me tell ya. Pralines are a classic candy made from brown sugar and pecans. They're crunchy from the nuts, slightly fudgey with an added crumbly texture that somehow seems to melt in your mouth. Pralines are wonderfully complex and simple all at the same time.
The most difficult part about making pralines is securing that complex texture I just described to you. Stick with me and I'll make sure you get it right.
Be Aware of Your Environment
Excess moisture in the air can contribute to the texture of your pralines. Humid air will almost always prevent your pralines from properly hardening. Be sure that you're working in a cool, dry area.
How Long Are You Working Your Candies?
Beat your candies too little and they'll be soft and runny. Go too hard and they'll be so crumbly that they fall apart at your touch. I wish I had a magic tip that would give you the perfect pralines time and time again but I don't.
The secret here is practice. Trial, error and patience will teach you everything you need to know about making pralines.
But if you find that your pralines are hardening before you can scoop them out of the pan, it's not the end of the world. Add a teaspoon of hot water at a time and stir until your candy loosens up again.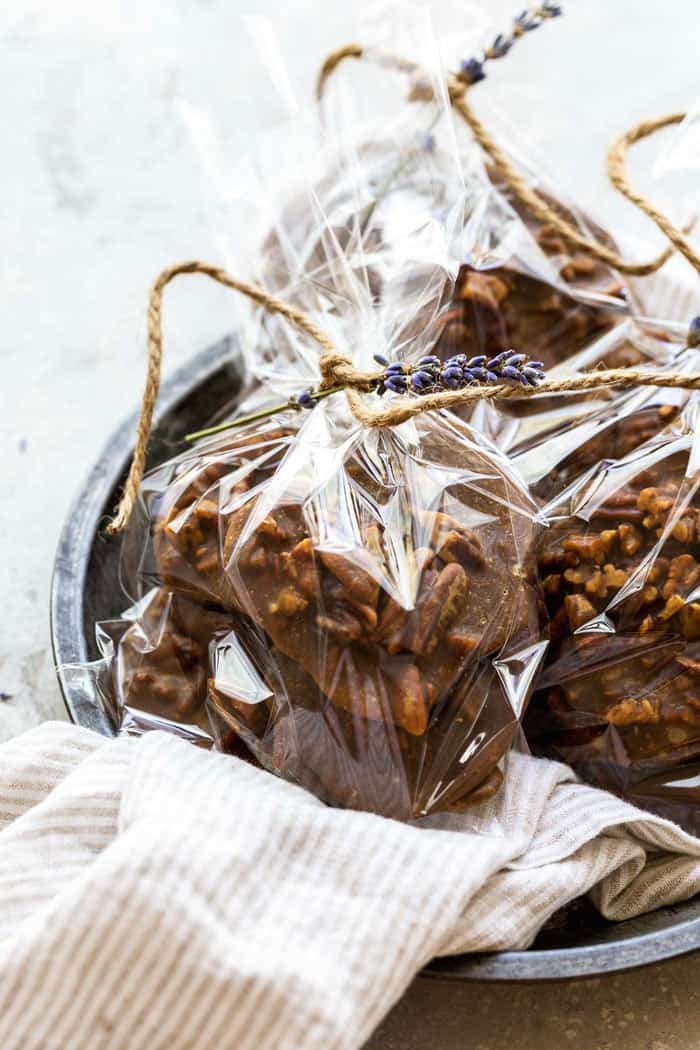 Holiday Gifting Pecan Pralines!
Not only are pralines absolutely delicious but they make for one of the cutest and most thoughtful gifts. You can easily double or triple this recipe and once cooled, distribute the pralines into small cellophane bags. Tie up the bags with festive bows or even leftover twine from Thanksgiving.
In addition to pralines, I love to also give the following during the holiday season:
Giving someone a homemade edible gift is endearing and magical. Making a loved one feel special lasts much longer than any expensive gift.
Add Ins for Praline Recipe
I love how simple these pralines are. Using very few ingredients allows the pecans to shine in the way I know they were meant to. But if you'd like to spice things up, I'm here for it.
Add some flare by mixing bourbon or rum into your liquid mixture or tossing your pralines in cinnamon and chili powder while they're still sticky. You can drizzle on chocolate, use almond extract instead of vanilla or even coat them in toasted coconut.
Make your pralines a personal statement or customize them for those you plan on giving them too!
If You Love New Orleans Pralines, You Will Love These Recipes Too!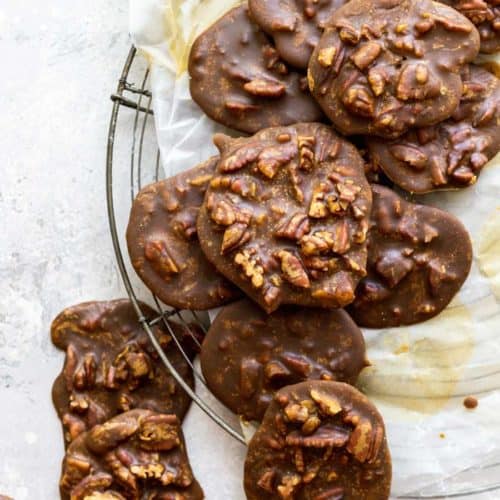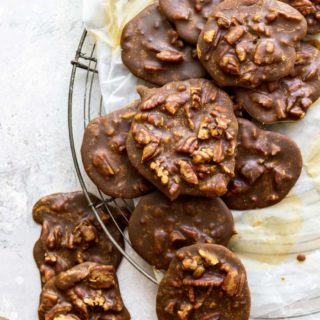 Pralines Recipe
Learn how to make buttery, brown sugar hinted Pecan Pralines right in the comfort of your own home. These sweet, salty and slightly chewy nut candies are a classic Southern treat that anyone can enjoy!
Print
Pin
Rate
Ingredients
1 1/2

cups

packed brown sugar

1 1/2

cups

granulated sugar

3

tbsp

molasses

or dark corn syrup

1

cup

heavy whipping cream

4

tbsp

butter

2

cups

pecans

toasted and coarsely chopped

Pinch of salt

1

tsp

vanilla extract
Instructions
Line a baking sheet with parchment or wax paper.

In a heavy bottomed medium saucepan, stir together the brown sugar, granulated sugar, molasses, and cream over medium high heat. Stir with a wooden spoon until the sugar dissolves.

Bring to a boil and continue to cook for about 5 minutes, until the mixture begins to thicken and form a soft ball when a small amount is dropped from a spoon into a bowl of cold water, about 5 minutes. (Or using a candy thermometer; the temperature needs to reach 240F.) . Be very careful through this process, as the mixture is very hot and can burn severely.

Remove the pan from the heat and use a wooden spoon to stir in the butter, pecans, salt and vanilla. Continue to stir vigorously until thick, 2 to 3 minutes. Working quickly, spoon heaping tablespoons of the mixture onto the lined baking sheet. Allow the pralines to cool completely. Store in an airtight container.
Notes
If you prefer flat pralines, replace cream with 1 cup of milk.  Also you can replace molasses with dark corn syrup and keep the cream for thicker chewier pralines.
Nutrition
Calories:
216
kcal
|
Carbohydrates:
29
g
|
Protein:
1
g
|
Fat:
12
g
|
Saturated Fat:
4
g
|
Cholesterol:
19
mg
|
Sodium:
25
mg
|
Potassium:
96
mg
|
Fiber:
1
g
|
Sugar:
28
g
|
Vitamin A:
209
IU
|
Vitamin C:
1
mg
|
Calcium:
29
mg
|
Iron:
1
mg
If y