Today we are making Divinity Candy, ya'll! There's something undeniably nostalgic about divinity for Southerns. Once a staple in the South, it's become a rare gem that you'd be hard-pressed to find on store shelves these days. But why search high and low when you can recreate this classic right at home? This divinity candy recipe produces a heavenly confection with a melt-in-your-mouth texture and a sweet, creamy essence of pure maple syrup. If you've been itching to try something different, this is your recipe!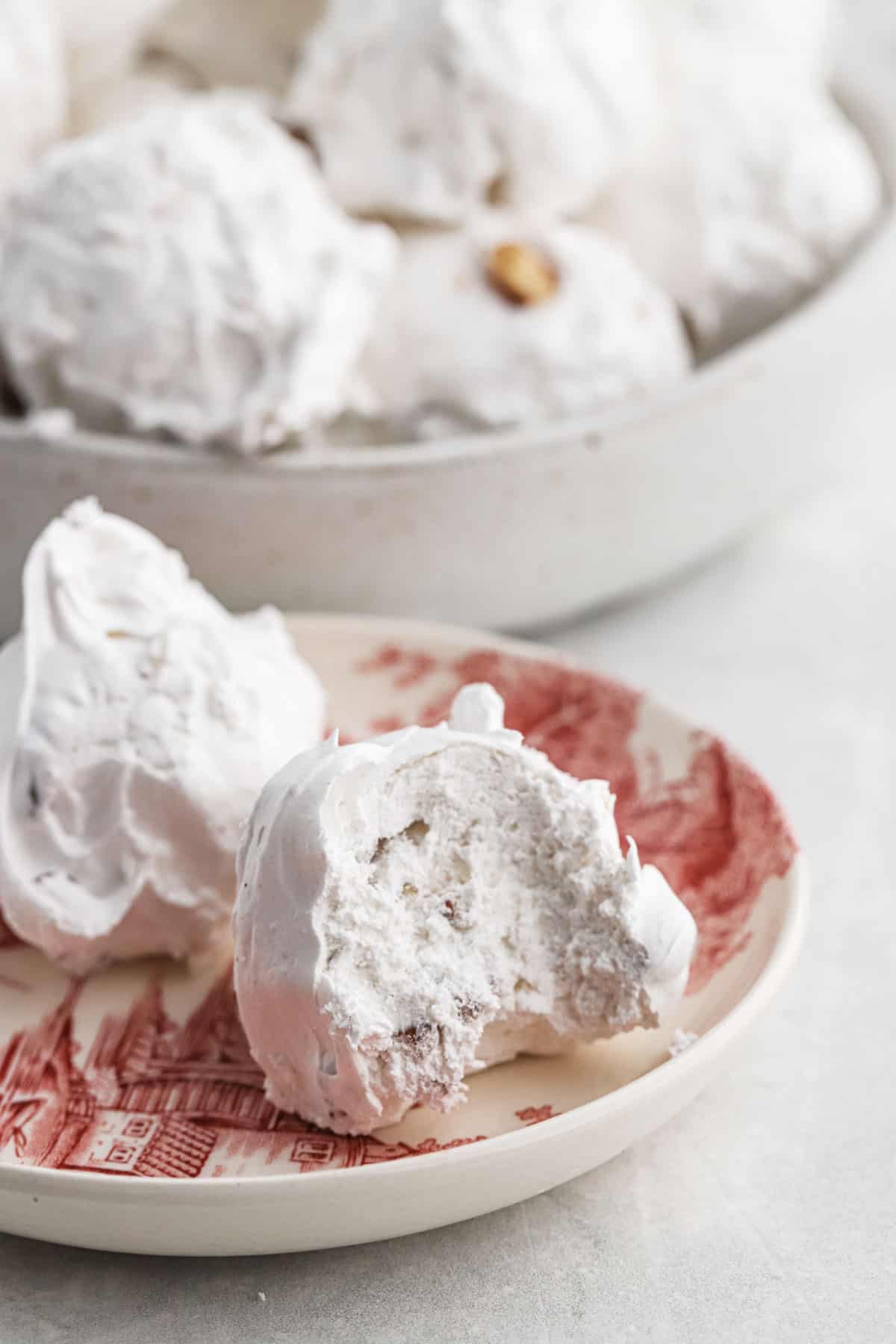 Ah, divinity candy—a nostalgic bite of the South that's sweet, airy, and just heavenly. If you've never tasted divinity before, think of it as a cloud of sweetness melting in your mouth. And this particular version? Well, it's a classic. Infused with rich maple syrup and studded with toasted pecans, this treat harks back to old-fashioned kitchens where the scent of sugar and syrup would waft through the air. Perfect for holidays, gift-giving, or just when you're in the mood to indulge in some Southern charm.
Why you'll love this old-fashioned divinity candy
Melt-in-Your-Mouth Texture: Each bite of this candy is airy, light, and just melts on the tongue, reminding you of classic Southern confections from yesteryears.
Nutty Crunch: The addition of toasted pecans adds a delightful crunch and nutty flavor to the sweet marshmallow goodness. It's the perfect balance of textures that'll keep you coming back for more!
No Artificial Additives: Unlike store-bought candies, you know exactly what's in this homemade divinity. No preservatives, no artificial flavors – just pure, wholesome ingredients.
Maple Syrup: The addition of maple syrup lends a subtle earthy and warm sweetness that takes this candy to a whole new level of deliciousness. It's the secret ingredient!
Easy Homemade Gift: Wrapped in a little cellophane or placed in a decorative tin, these divinty candies make the perfect gift, showing off your culinary skills and offering a personal touch.
Ingredients to make homemade divinity
Confectioner's Sugar: The key ingredient for any divinity recipe! This fine, powdered sugar adds a delicate sweetness and a smooth texture to the candy, giving it that signature melt-in-your-mouth quality.
Large Egg Whites: Make sure they're at room temperature to achieve the perfect consistency. They will act as the base for these fluffy marshmallow treats.
Granulated Sugar: A portion of this regular sugar is used in cooking the syrup, while the remaining amount is added to the egg whites for that ideal sweetness and fluffy texture.
Cream of Tartar: This powder stabilizes the whipped egg whites, helping them reach soft peaks and maintaining their airy structure.
Light Corn Syrup: Make sure you don't use dark corn syrup, as it will change the look and taste of the candy. Light corn syrup enhances the candy's smoothness and prevents crystallization, resulting in a glossy appearance and addictive chewiness.
Water: Used to dissolve the sugar and create the syrup base.
Fine Sea Salt: A pinch of salt brings out the flavors, balancing the sweetness and adding depth to the candy.
Vanilla Extract: The classic flavor of vanilla lends its warm, aromatic essence to this old fashioned divinity recipe, making it even more irresistible.
Maple Syrup: Maple syrup infuses these candies with its unique, rich sweetness, elevating them to heavenly heights.
Toasted Pecans (chopped): These nutty gems bring a lovely crunch to the candy, perfectly complementing the soft marshmallow-like texture.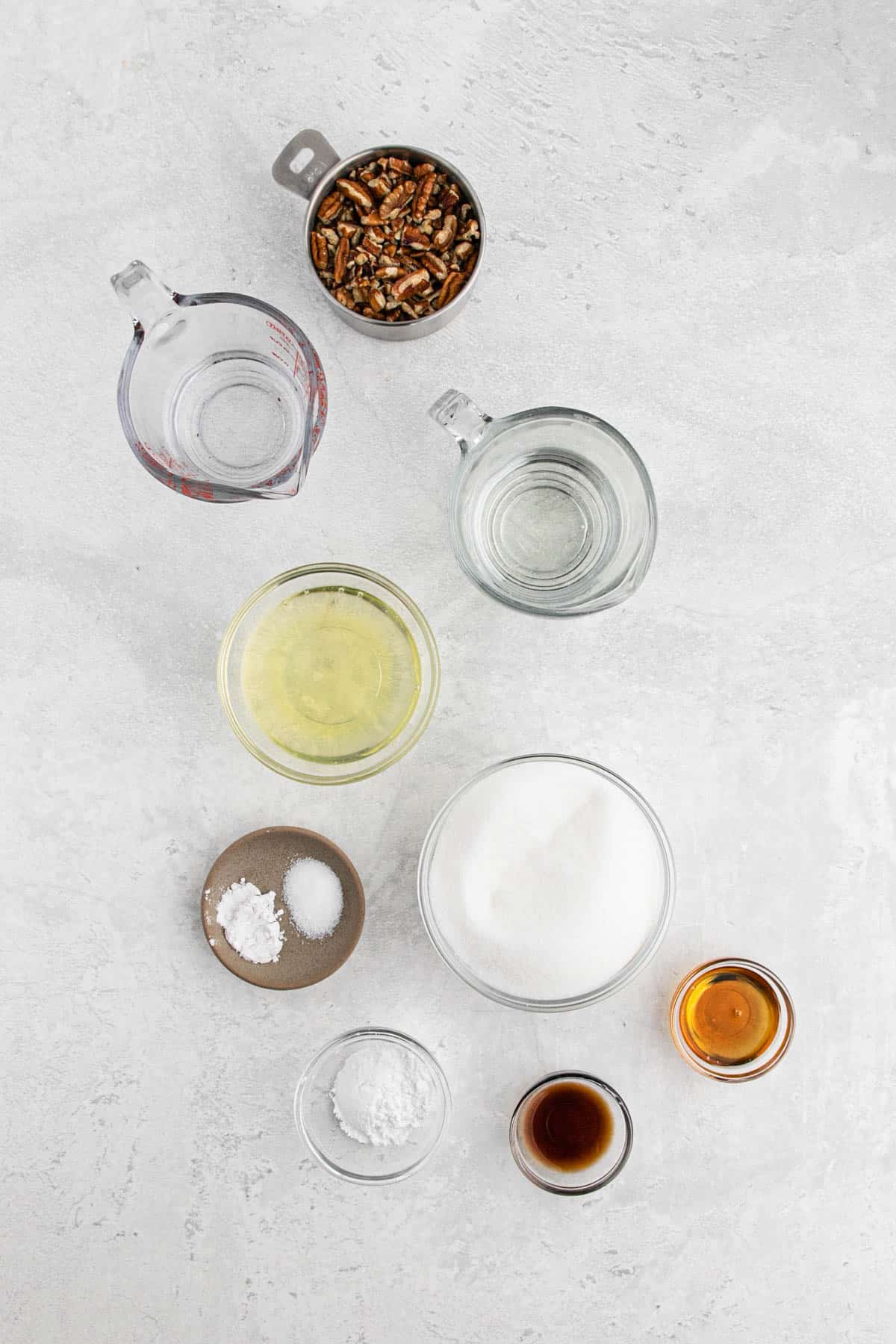 How to make Old-fashioned divinity
Place egg whites in the bowl of a stand mixer fitted with the whisk attachment. Set aside.
In a heavy-bottomed medium saucepan, place sugar, corn syrup, and water. Stir gently together until all sugar has been hydrated, careful not to slosh the mixture on the sides of the pot. Cook.
Whip egg whites. Once foamy, add cream of tartar. Slowly add the remaining sugar, then increase speed until the mixture thickens and becomes white in color.
Slowly add hot syrup into the bowl while whipping egg whites, careful to aim right between the whisk and sides of the bowl.
Add salt, vanilla, and maple. Continue whisking on high until the mixture looks like a marshmallow and starts to lose its shine.
Reduce speed and add cooled pecans and continue whisking for another minute. The mixture should be extremely white and fluffy with a dull sheen and should fall off the whisk into thick ribbons.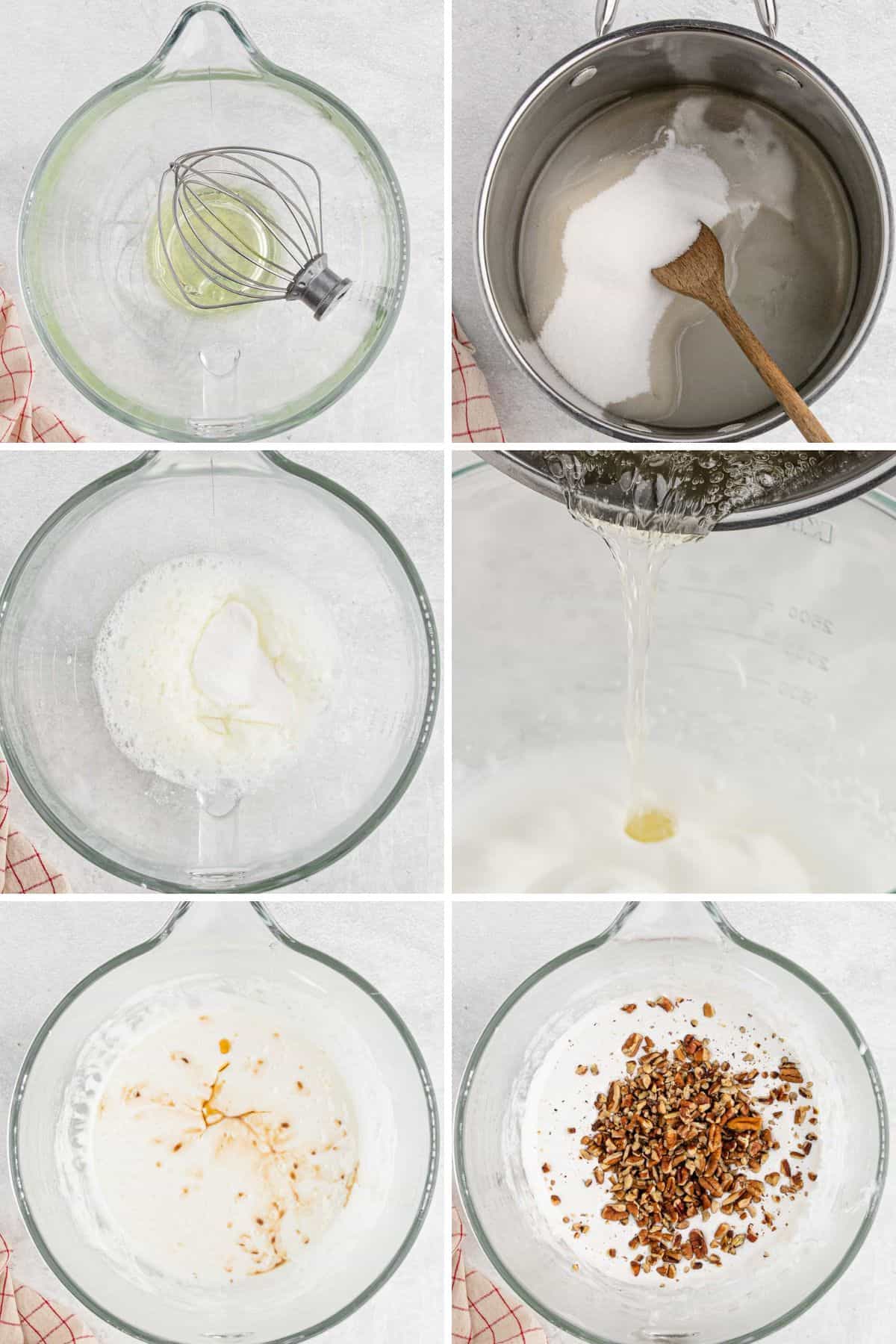 Make Your Divinity Balls
Grab your prepared sheet pan.
Quickly scoop tablespoon-size portions of divinity and drop the mixture onto the prepared sheet pan.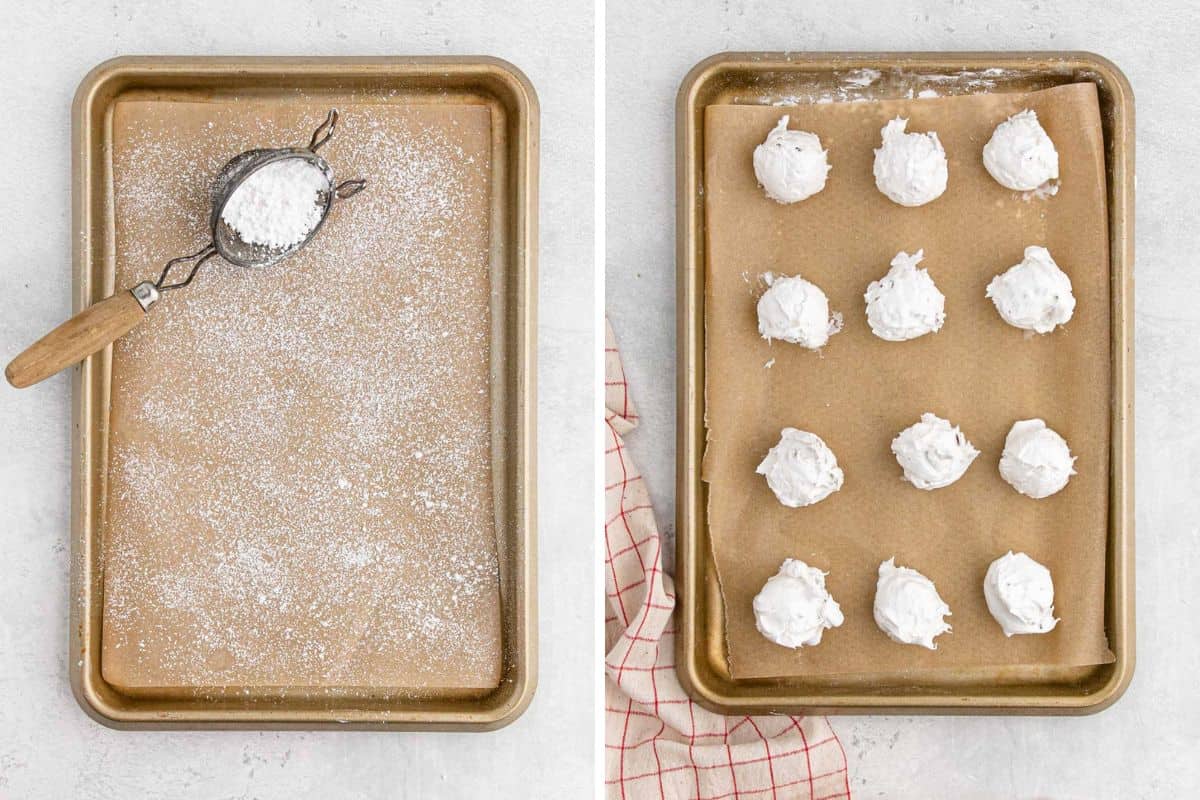 Let the mixture set in a cool, dry space for 4 hours.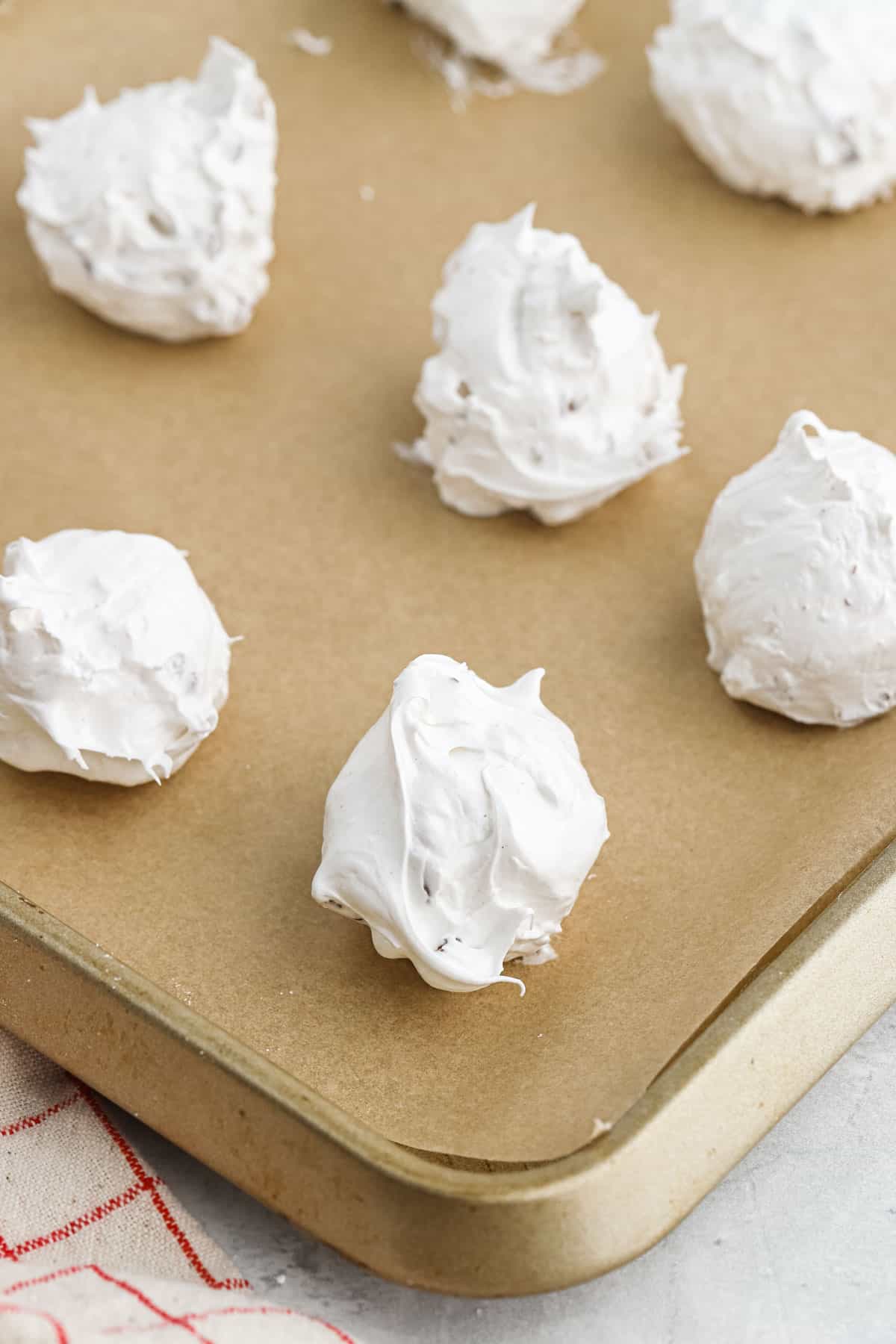 Tips for making the best divinity candy
Use high-quality ingredients: Start with fresh, pure maple syrup, and ensure that other ingredients like sugar and egg whites are of excellent quality to enhance the candy's flavor.
Invest in a candy thermometer: Precise temperature control is crucial for making divinity. A good candy thermometer will help you heat the syrup to the correct temperature and achieve the right consistency. I'm talking about the critical "soft ball" stage that gives divinity its characteristic texture.
Avoid stirring during boiling: Once the syrup starts boiling, resist the temptation to stir it. Stirring can cause crystallization and lead to grainy candy. While the syrup is boiling, periodically brush down the sides of the saucepan with a pastry brush dipped in water. This prevents sugar crystals from forming on the sides, which can cause crystallization in the whole batch.
Pour the syrup in a thin stream: When adding the hot syrup to the whipped egg whites, pour it in a thin, steady stream while continuously beating the egg whites. This ensures even incorporation and a smoother texture.
Avoid overbeating: Be cautious not to overbeat the mixture after adding the syrup. Overbeating can result in a grainy texture rather than the desired smoothness.
Popular substitutions & additions
Ingredient Substitutions:
Flavored Syrups: While maple divinity is traditionally made with pure maple syrup, you can substitute it with other flavored syrups like caramel, butterscotch, or even chocolate syrup for a different twist.
Nuts: Instead of the classic pecans or walnuts, you can use other nuts like almonds, hazelnuts, pistachios, or macadamia nuts.
Extracts: While maple extract can intensify the maple flavor, you can experiment with other extracts like almond, vanilla, or coconut to add a unique taste to the candy.
Sugar: The sweetness of divinity can be adjusted by using different types of sugar. For a richer flavor, try using brown sugar or even muscovado sugar.
Aquafaba: For a vegan version, replace the egg whites with aquafaba (chickpea brine) and whip it to stiff peaks. Keep in mind that the taste and texture might differ slightly from the traditional version.
Spices: Besides extracts, you can add spices like cinnamon, nutmeg, or even a pinch of sea salt to enhance the overall flavor profile.
Divinity Candy Additions:
Dried fruits: Incorporate chopped dried fruits like cranberries, apricots, or cherries for added texture and a burst of flavor.
Mini chocolate chips: Stir in some mini chocolate chips for a delightful chocolatey twist to the classic maple divinity.
Shredded coconut: Fold in some sweetened or unsweetened shredded coconut for a tropical touch and extra chewiness.
Candied ginger: Finely chop candied ginger and mix it into the candy for a zesty, spicy kick.
Citrus zest: Add a hint of citrusy goodness by grating some lemon, orange, or lime zest into the mixture.
Crushed peppermint: During the holiday season, sprinkle crushed candy canes or peppermint candies on top of the divinity after piping it onto the pan.
Espresso powder: Mix in a small amount of espresso powder to give your maple divinity a subtle coffee flavor.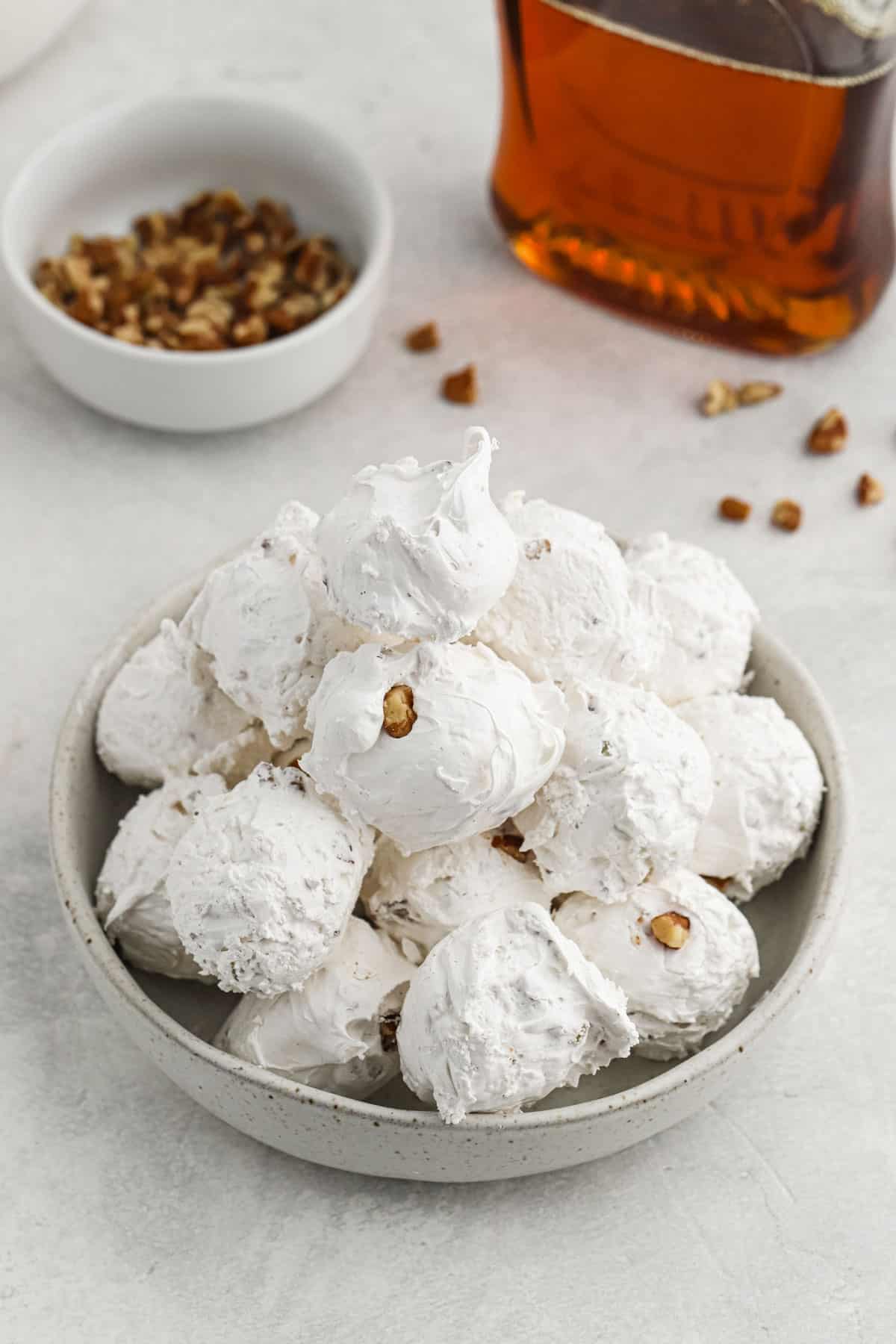 What to serve with divinity candy
Maple divinity is a sweet and delicate candy that pairs well with various accompaniments to balance its flavor and texture. Here's a list of delightful treats to serve with maple divinity:
Hot beverages like coffee, tea, or rich hot chocolate.
Dark chocolate is a great treat to slightly counteract the sweetness with a touch of bitter chocolate.
A nice array of cheeses, nuts, and fresh fruits.
How to store divinity
Once your divinity has completely cooled, simply store it in an airtight container at room temperature. It will stay fresh and delicious for up to 4 days.
How long will maple divinity last in the fridge?
To properly store it in the fridge, you'll want the candy to cool completely. In an airtight container, you can layer the candies between parchment paper or wax paper, or wrap them individually to avoid sticking. When stored properly divinity can last 1-2 weeks in the fridge.
Can I freeze divinity candy?
Freezing divinity is not recommended as it can alter the texture. It has a delicate structure, and freezing it could cause the sugar to crystallize and become grainy. Additionally, the moisture from the freezer can lead to the candy becoming sticky and losing its fluffy consistency.
Frequently asked questions
What is the difference between fudge and divinity?
Fudge and maple divinity are both sweet treats with notable differences. Fudge is made from sugar, butter, and milk, usually flavored with chocolate or other ingredients like nuts or fruits. It is cooked to a soft and creamy consistency. Alternatively, maple divinity is flavored mainly with pure maple syrup and contains sugar and egg whites. It is boiled to a higher temperature and mixed with whipped egg whites, resulting in a fluffy and airy texture. Fudge is smooth and dense, while maple divinity is delicate and melts in the mouth with a distinct maple flavor. The choice between the two depends on personal tastes and preferences for texture and flavor.
Why is my divinity not fluffy?
If your divinity is not fluffy, there could be a few reasons. Ensure the syrup is boiled to the right temperature (around 250°F or 120°C) and whip the egg whites to stiff peaks before adding the hot syrup. Beat the mixture until it thickens and holds its shape without overmixing it. Be cautious of humidity and moisture, as they can affect the candy's texture. Avoid stirring while boiling and use a wet pastry brush to prevent sugar crystals from forming.
What is the difference between divinity candy and nougat?
Divinity candy and nougat differ in their ingredients, preparation, and textures. Divinity is made from sugar, corn syrup or maple syrup, and egg whites, resulting in a light and fluffy texture. Nougat, on the other hand, is made from sugar, honey or glucose syrup, and egg whites, producing a chewy and dense texture. Divinity has a sweet and creamy flavor with hints of vanilla, while nougat offers a sweet and nutty taste.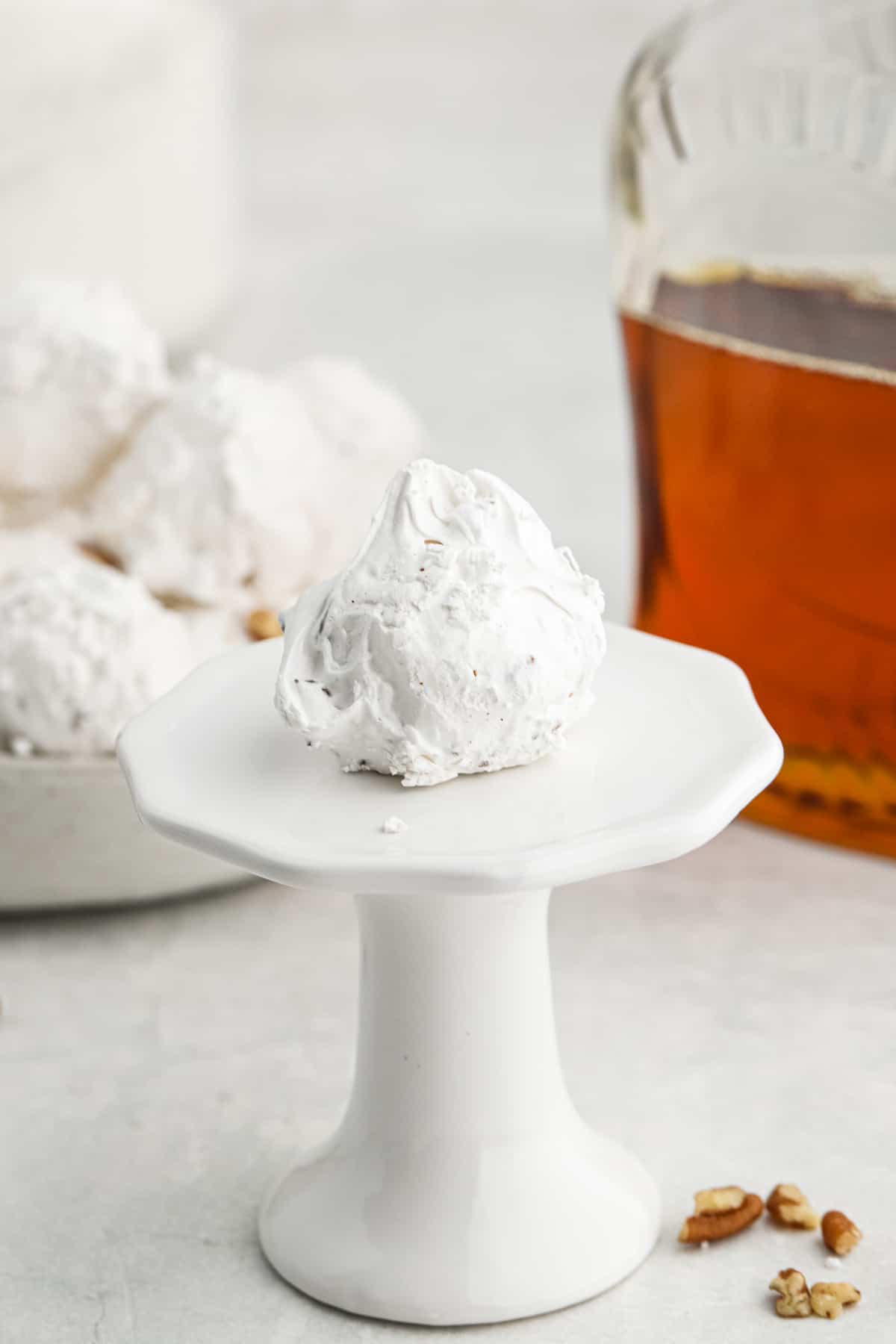 More Candy and Treat Recipes
*Did you make this recipe? Please give it a star rating and leave comments below!* Post a photo of how your version of the recipe came out on Instagram (using #grandbabycakes)!!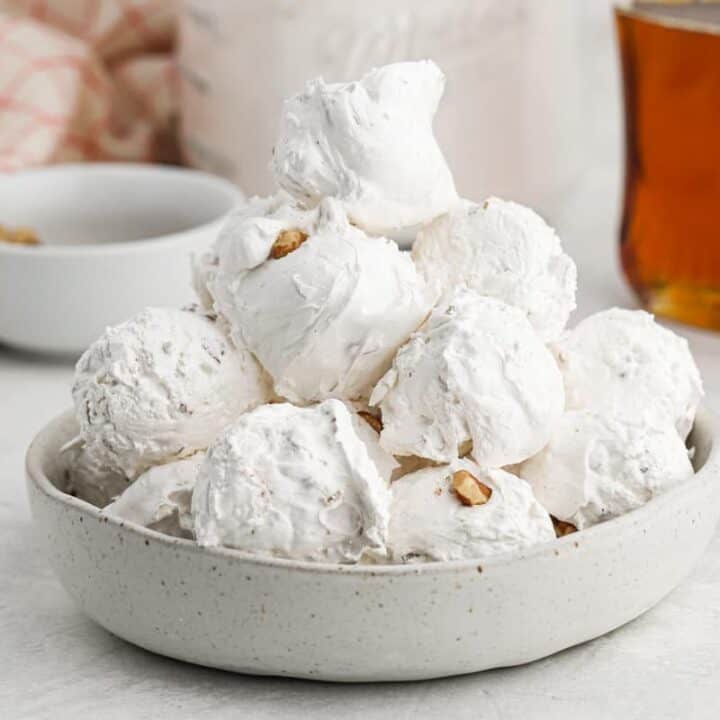 Divinity Candy
This old-fashioned divinity candy is a Southern classic! With its airy texture and marshmallow-like chew, it's a novelty candy that everyone loves!
Print
Pin
Rate
Ingredients
1

tablespoon

Confectioner's sugar

2

large

Egg whites

room temperature

2

cups

Granulated sugar

divided

½

teaspoon

Cream of tartar

½

cup

Light corn syrup

¼

cup

Water

½

teaspoon

Fine sea salt

1

teaspoon

Vanilla extract

1

tablespoon

Maple syrup

1

cup

Chopped pecans

toasted
Instructions
Prepare sheet pan with parchment paper and sift confectioners' sugar over surface. Gather either two tablespoons or a #60 disher in a small bowl in preparation for scooping.

Place egg whites in the bowl of a stand mixer fitted with the whisk attachment. Set aside.

In a heavy-bottomed medium saucepan, place 1 ¾ cup sugar, corn syrup, and water. Stir gently together until all sugar has been hydrated, careful not to slosh mixture on sides of pot.

Cook on medium-high heat until mixture reaches 260F, about 8-10 minutes.

Meanwhile, when your syrup reaches about 230F, whip egg whites on medium-high speed for about 1 minute. Once foamy, add cream of tartar. Slowly add remaining ¼ cup of sugar, then increase speed to high until mixture thickens and becomes white in color. The goal is to reach soft peaks in your egg whites and have your syrup reach 260F at the same time.

Carefully pour syrup into bowl with whipping egg whites, careful to aim right between the whisk and sides of the bowl. Add salt, vanilla, and maple.

Continue whisking on high until mixture looks like marshmallow and starts to lose its shine. Reduce speed and add cooled pecans and continue whisking for another minute. Mixture should be extremely white and fluffy with a dull sheen and should fall off the whisk into thick ribbons and take time to absorb back into the rest of the mixture. If it absorbs quickly, continue whisking.

Add hot water to the bowl with your disher or spoons. Quickly scoop tablespoon-size portions of divinity onto prepared sheet pan, continuing to dip in hot water in between every couple scoops. Mixture will set up as you scoop.

Let mixture set in cool, dry space for 4 hours. Divinity can be stored in an airtight container for 4 days.
Notes
Note: Egg whites whip up best when free from fat, so ensure your mixing bowl and whisk are super clean (no traces of oil) and carefully separate the eggs making sure not to get any trace of yolk in the whites.
Nutrition
Serving:
5
g
|
Calories:
69
kcal
|
Carbohydrates:
14
g
|
Protein:
0.4
g
|
Fat:
2
g
|
Saturated Fat:
0.2
g
|
Polyunsaturated Fat:
1
g
|
Monounsaturated Fat:
1
g
|
Sodium:
33
mg
|
Potassium:
21
mg
|
Fiber:
0.2
g
|
Sugar:
13
g
|
Vitamin A:
1
IU
|
Vitamin C:
0.03
mg
|
Calcium:
3
mg
|
Iron:
0.1
mg