This Chocolate Pound Cake recipe is the most decadent, moist and delicious chocolate cake EVER! When paired with a silky ganache glaze hinted with peppermint flavor, this will become your favorite recipe for the holiday season or all year round!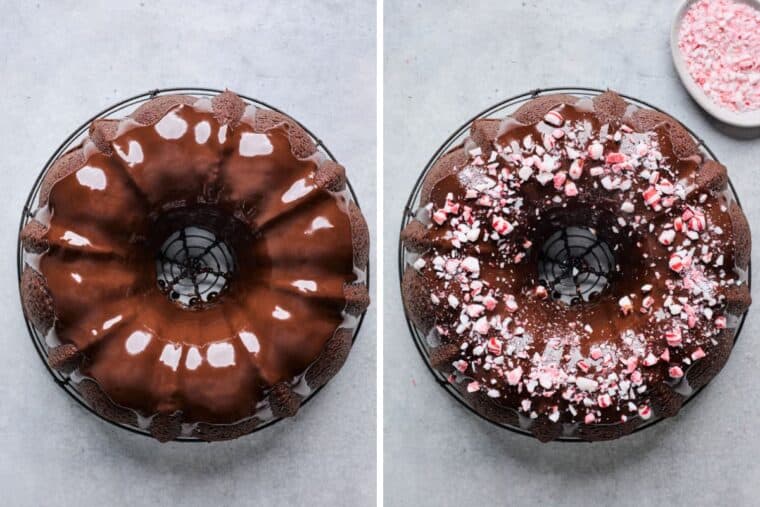 The Most Decadent Chocolate Pound Cake!
Decadent, rich and oh so heavenly, I love indulging in all things chocolate during the
holiday season. If there is a time to truly relish in all things sweet, it's definitely
right now. Growing up, I couldn't wait for the holiday season to begin. I would anxiously
await putting up the tree and baking cookies and pound cakes just to leave treats for Santa,
specifically chocolate pound cake.
The combination of chocolate and mint have been used for desserts for many years. That
combination is the inspiration for this recipe. I knew my chocolate pound cake recipe was a hit, but I wanted to add something new to it and give it a holiday twist. I saw candy canes attached to my Christmas tree and envisioned this new Christmas cake.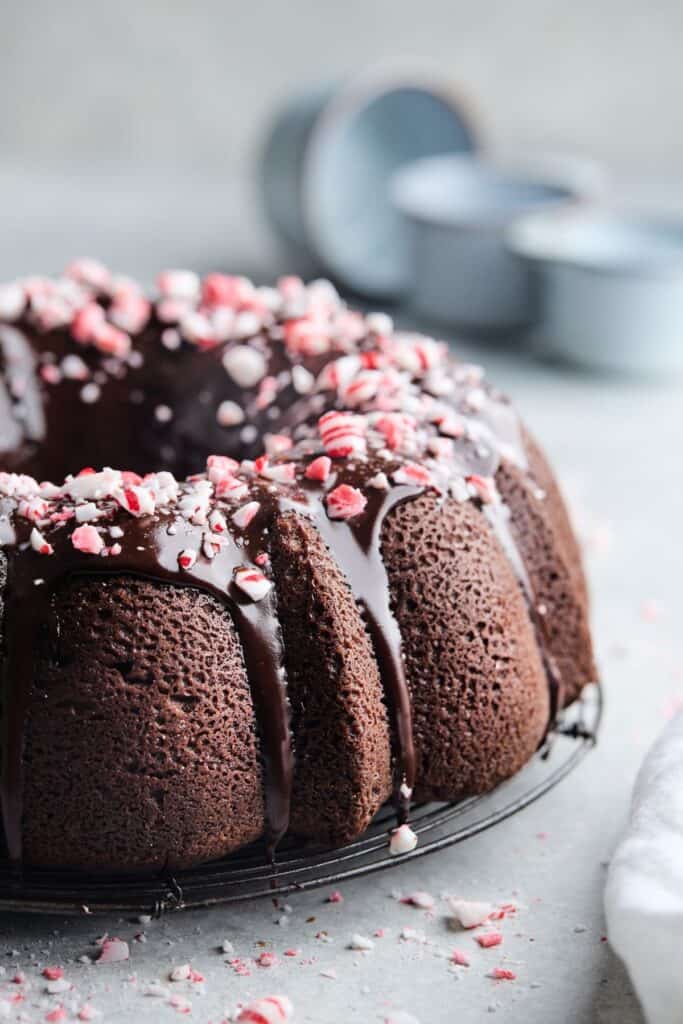 Chocolate Pound Cake Recipe Ingredients
This cake gets its signature rich chocolate flavor and incredible moistness from the following ingredients:
Semisweet Chocolate Chips
Butter
Cocoa Powder
Instant Coffee
Buttermilk
Vanilla
Having both semisweet chocolate chips and cocoa powder in this recipe provides such a wonderful chocolate intensity that any chocolate lover would adore! The addition of instant coffee amps up that intensity even more. If you love all things mocha, you will truly appreciate this additional flavor.
I adore the flavor that butter gives to cakes. There is nothing like it! I try to add it whenever possible. Use the best butter you can because it truly makes a difference.
Finally the keys that make this cake super moist is buttermilk. I love using buttermilk in cake batters. It coats the crumb perfectly and adds that rich acid tang. I add vanilla as a classic ingredient as well. This cake can be baked all year round as a classic chocolate cake or you can add the peppermint glaze to make it special for the holiday season.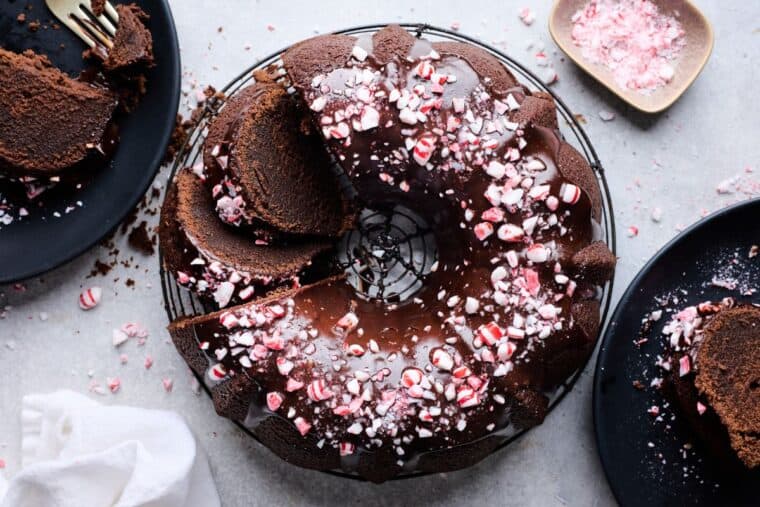 In my family, baking has always been a gesture of love especially during this time of year.
I love getting in the kitchen with my mother and aunt and baking up something special we can give away. However this ultimate chocolate pound cake with peppermint ganache glaze is one that we definitely love to savor ourselves.
WHY MAKE THIS ULTIMATE CHOCOLATE POUND CAKE WITH PEPPERMINT GANACHE GLAZE?
This is truly the ultimate chocolate pound cake. With its layers of mouthwatering flavor in every single bite, you might find yourself humming after each fork full. The moistness is truly something special (not a dry crumb to be found in this chocolate pound cake!). It also gets a wonderful hint of additional flavor from McCormick pure vanilla extract. It shines through in every possible slice balancing all of the exquisite chocolate essence.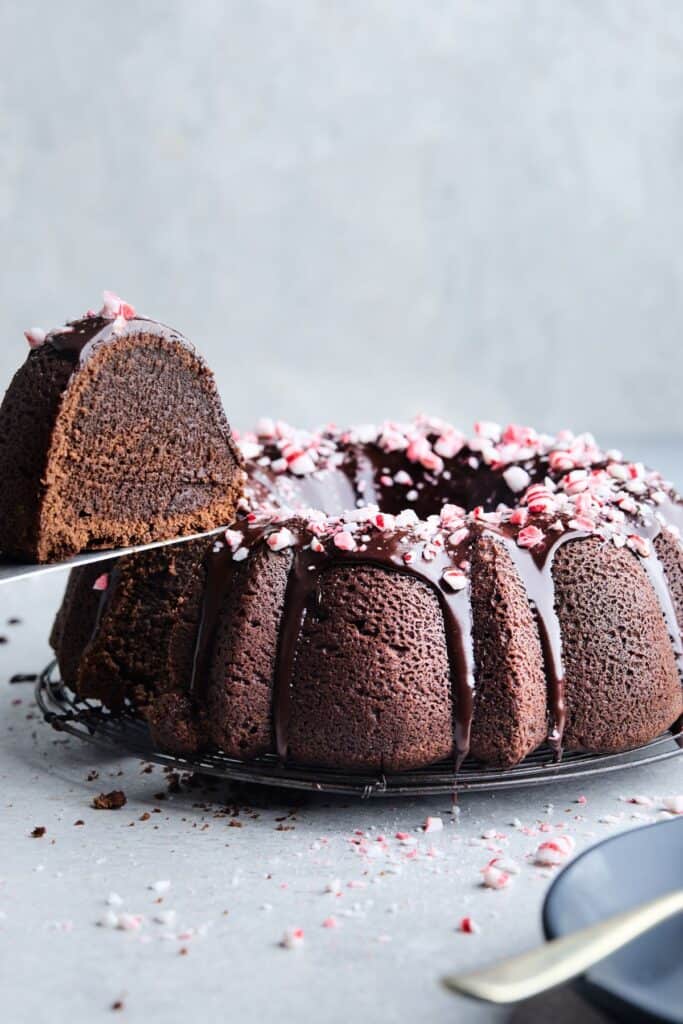 PEPPERMINT GANACHE GLAZE
If you want to just serve this cake on its own, you totally can because it is so perfect on its own. However since it's the holiday season, a peppermint ganache glaze was totally necessary. It is glossy and perfectly delicious.
The addition of McCormick pure peppermint extract is what makes it so glorious. The peppermint essence shines through and pulls at every appetite string. Because of the quality of the flavor, a little goes a long way here so you don't need to add too much to have a major impact on taste. This peppermint ganache glaze is truly remarkable.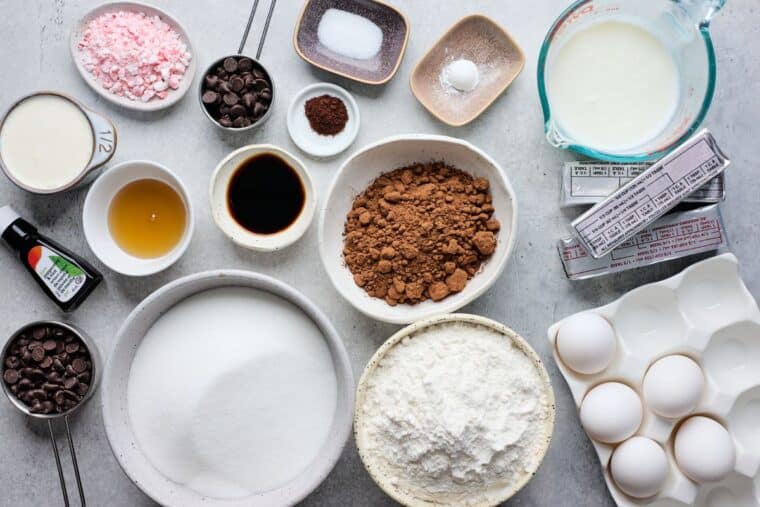 If you love chocolate and peppermint flavors, definitely try this Mint Chocolate Cake, Peppermint Chocolate Pie, Peppermint Brownies, Chocolate Cupcakes with Peppermint Buttercream, Chocolate Peppermint Cheesecake and Peppermint French Silk Pie.
If you want more pound cake recipes like my sour cream pound cake recipe or my lemon pound cake recipe or even my amazing fruit cake, 7 up pound cake or cream cheese pound cake, click HERE 
*Did you make this recipe? Please give it a star rating and leave comments below!*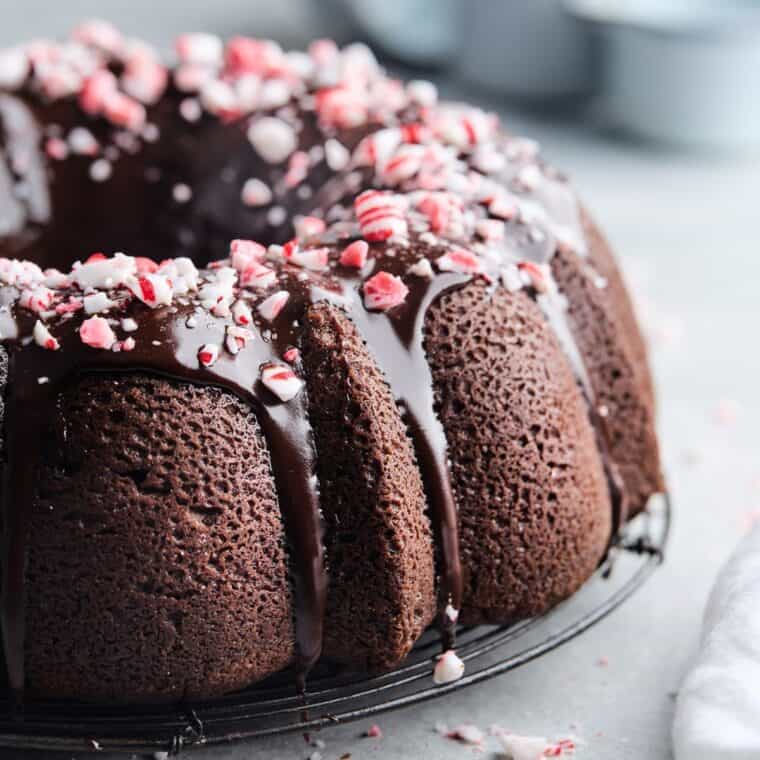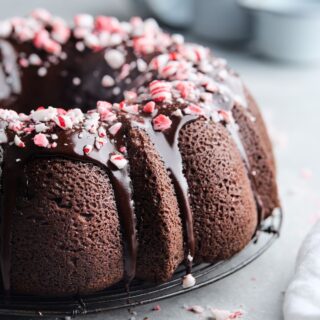 Chocolate Pound Cake with Peppermint Ganache Glaze
This Chocolate Peppermint Bundt Cake uses my chocolate pound cake and pairs it with a peppermint chocolate ganache and is topped with crushed peppermint!
Print
Pin
Rate
Ingredients
For the Cake:
¼

cup

semisweet chocolate chips

1 ½

cups

unsalted butter, room temperature

3 sticks

2 ¾

cups

granulated sugar

5

large

eggs

room temperature

2 ¼

cups

sifted all-purpose flour

¾

cup

unsweetened cocoa powder

½

teaspoon

instant coffee powder

½

teaspoon

baking powder

½

teaspoon

salt

1 ⅓

cups

buttermilk

room temperature

1

tablespoon

pure vanilla extract
For the Glaze:
½

cup

heavy cream

2

teaspoons

corn syrup

½

cup

semisweet chocolate chips

⅛- ¼

teaspoon

Pure Peppermint Extract

Crushed holiday peppermint for garnish
Instructions
For the Cake:
Preheat your oven to 325°F. Liberally prepare a 12-cup Bundt pan with the nonstick method of your choice.

Pour the chocolate chips into a medium microwave-safe bowl. Microwave on high for 15 seconds at a time, stirring after each heating interval, until the chocolate is melted.

In the bowl of your stand mixer fitted with the whisk attachment, beat the butter for 2 minutes on high speed. Slowly add the granulated sugar. Cream together for an additional 5 minutes, until very pale yellow and fluffy. Add the eggs 1 at a time, combining well after each addition and scraping down the sides and bottom of the bowl as needed.

Turn your mixer down to its lowest speed and slowly add the flour in 2 batches. Be careful not to overbeat. Add the cocoa powder, coffee powder, baking powder, and salt. Lastly, add the melted chocolate, buttermilk, and vanilla extract. Make sure the chocolate cools slightly so as to not curdle the buttermilk. Scrape down the sides and bottom of the bowl and mix the batter until just combined. Be careful to not overmix.

Pour the batter into the prepared pan and bake for 70 to 80 minutes, or until a toothpick inserted into the center of the cake comes out clean. Check frequently to ensure you do not overbake this cake.

Let the cake cool in the pan on a wire rack for 10 minutes, then invert onto a serving plate. Let cool to room temperature. Lightly cover the cake with foil or plastic wrap so it does not dry out.
For the Glaze:
In a small saucepan, add heavy cream and corn syrup and heat over medium heat until hot.

Remove from heat then stir in chocolate. Continue to whisk until smooth then add in peppermint extract and allow to cool and thicken.

Drizzle over cooled cake and let set. Garnish with crushed peppermint candy and serve.
Notes
Be sure to check the full post above for more tips, ingredient swaps, storage info, and much more!
Don't Over Mix the Cake Batter. Once you add the flour to the mixture the gluten will begin to form and mixing intensifies this process. You want to mix just until all the ingredients come together and no more.

Watch the Cake Closely. Ovens are different. Some have hot spots and some don't cook at the proper temperature. As a note, you can always check your oven temperature by using an oven thermometer inside. Just make sure you don't bake for too long as that will dry out the cake as well.

Cool in the Pan. The cake will be very tender when you remove it from the oven. Letting it cool for 10 minutes in the pan gives it a bit of time to set up so it doesn't break when it's inverted.

Wait to Add the Ganache. Make sure you allow the cake to cool completely before you pour the ganache over the top. If the cake is warm it may slide right off.
Enjoy Any Time. Feel free to omit the peppermint flavors in this cake to make all year round.  
Nutrition
Calories:
474
kcal
|
Carbohydrates:
56
g
|
Protein:
6
g
|
Fat:
26
g
|
Saturated Fat:
15
g
|
Cholesterol:
116
mg
|
Sodium:
124
mg
|
Potassium:
199
mg
|
Fiber:
2
g
|
Sugar:
39
g
|
Vitamin A:
760
IU
|
Calcium:
60
mg
|
Iron:
2.2
mg