You will never want to celebrate your birthday without this Chocolate Birthday Cake Recipe! Imagine soft, moist chocolate cake covered with creamy, chocolate frosting. Open your eyes to the decadence and deliciousness that is this chocolate birthday cake with chocolate frosting almost as delicious as my Caramel Cake! If you want even more chocolate cake or happy cake, try my Funfetti Crumble Cake, Black Forest Cake, Chocolate Cheesecake, German Chocolate Cake, Devil's Food Cake, Baileys Chocolate Bundt Cake, or Chocolate Cake Recipe with Blackberry Buttercream!

The Ultimate Chocolate Birthday Cake!
My husband is responsible for the recipe behind this Chocolate Birthday Cake. More than a decade ago, back when he and I were just dating, I asked him what kind of cake he wanted me to bake for him for his birthday.
He told me he loves chocolate cake with chocolate frosting. I initially thought how simple can you get because I figured he would ask me for some extravagant and other worldly cake concept, but I was pleasantly surprised at the request.
So, I made him the chocolate cake with chocolate frosting, and I surprised him at his apartment while screaming Happy Birthday! I was always great at surprises and this one took the… umm cake? This is one tradition that has stuck around. I make this cake for my husband for his birthday almost every year.
Why This Chocolate Birthday Cake is the best!!!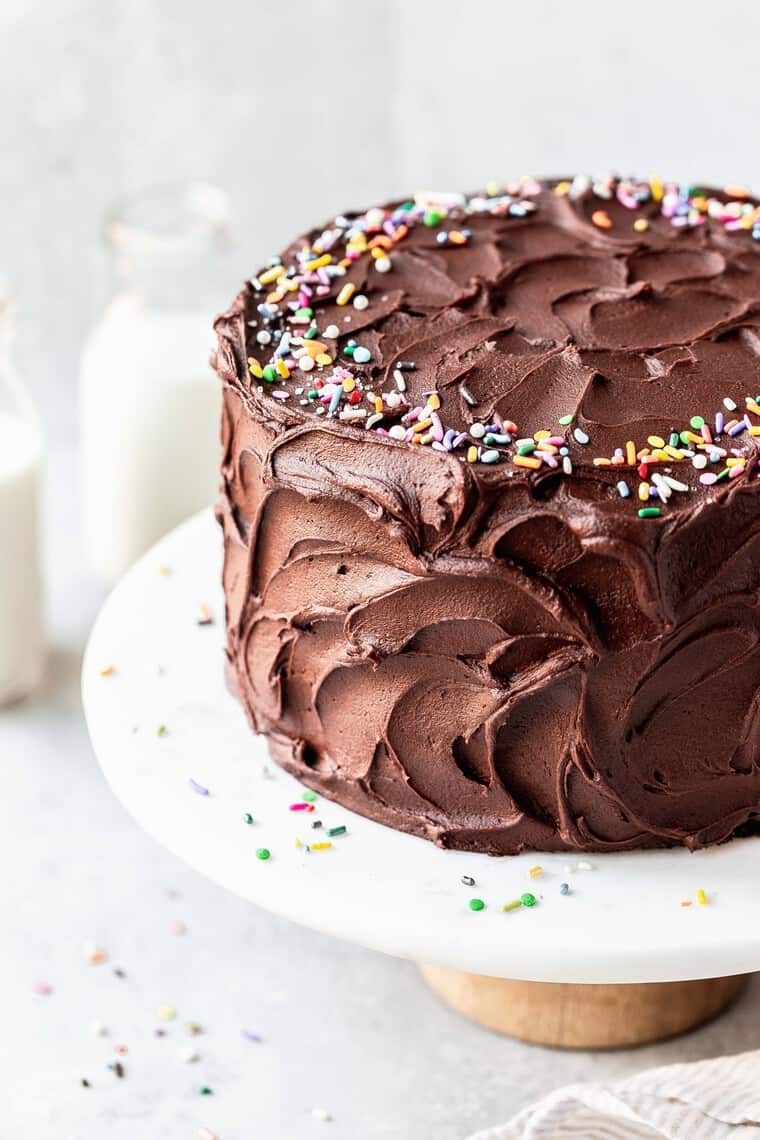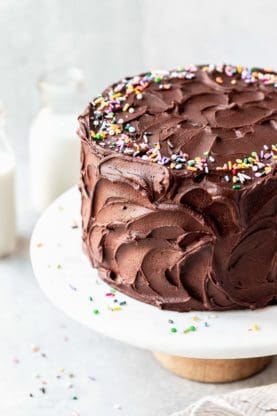 I was raised to think that food was the way to a man's heart, and I think this cake might be the ticket. It is my auntie Rose's chocolate cake recipe, and it is quite delicious. It is everything a chocolate layer cake should be:
Filled with chocolate flavor
Incredibly fudgy
The perfect texture
Insanely moist
I could eat this cake everyday but I think my thighs are seriously protesting that very thought. I'm glad I only make this cake once a year for the hubby.
CHOCOLATE FROSTING (HOW TO MAKE CHOCOLATE FROSTING)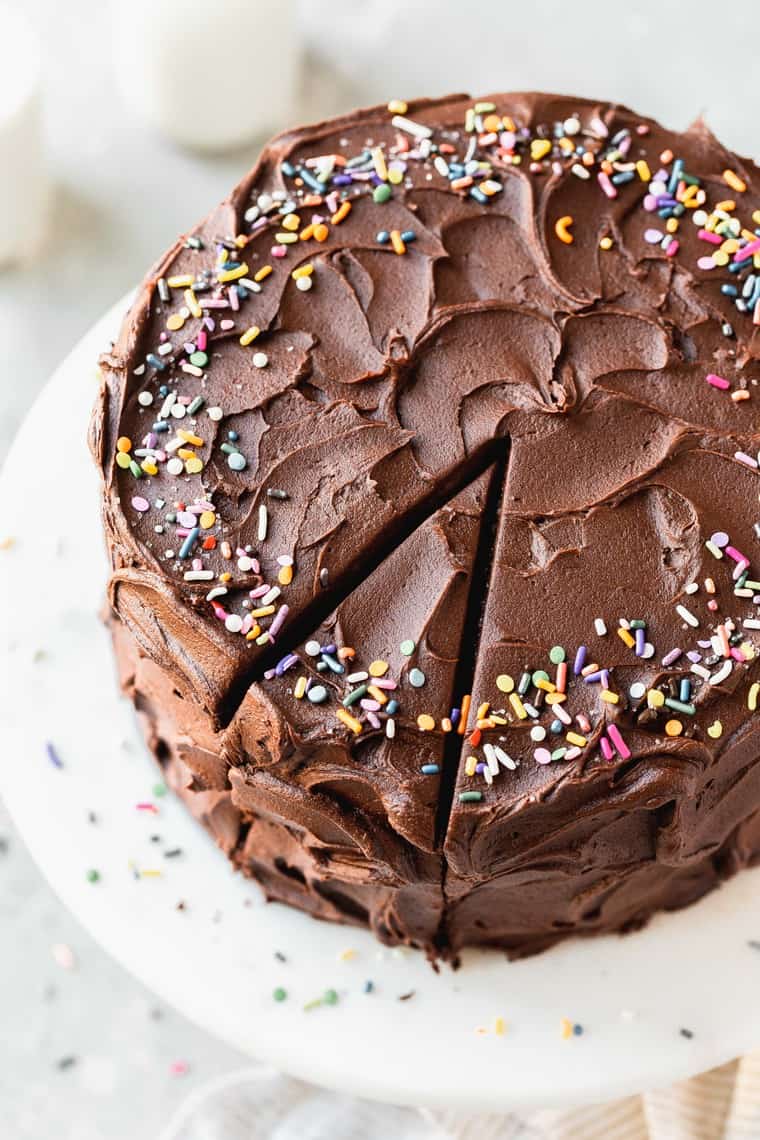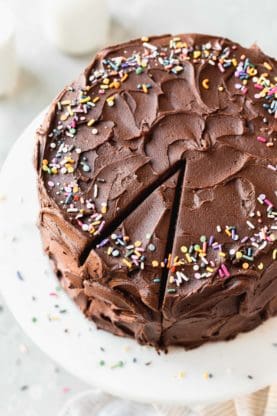 Chocolate frosting from scratch or homemade chocolate frosting is not a difficult feat. I know it may seem to be easier to visit your local grocery store and simply purchase a can of chocolate frosting, but in the long run, it's better to make it from scratch because:
No preservatives (There aren't any unwanted preservatives in homemade chocolate frosting)
It's actually quicker to make it from scratch (The time it takes you to go to the grocery store and back, you could have mixed the ingredients to create your own chocolate frosting)
Ingredients are more fresh
You get to lick the bowl once you're done!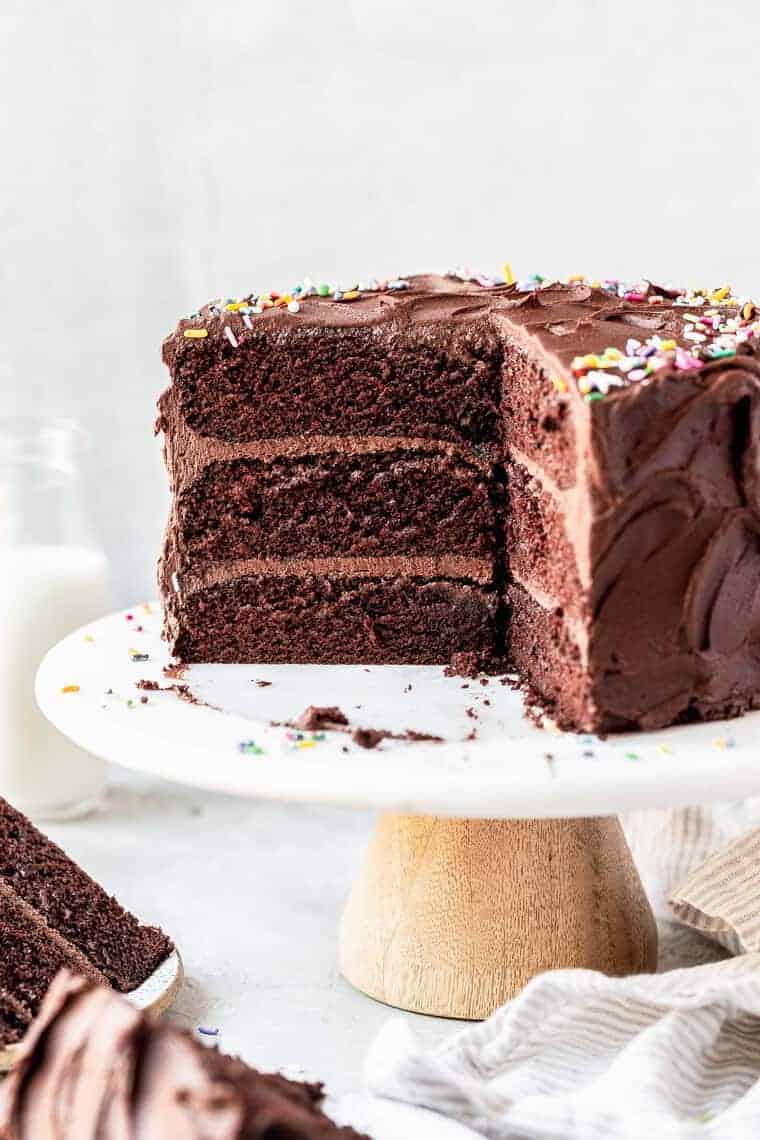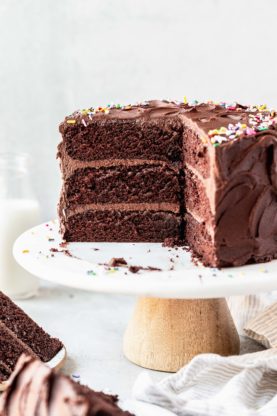 The secret to making an outstanding homemade chocolate frosting is to make it fluffy. The key to fluffy frosting is to continue to mix the ingredients (butter, confectioner's sugar, cocoa powder, milk and vanilla extract) on a high speed. This will ensure your chocolate frosting is fluffy.
How to Decorate Your Birthday Cake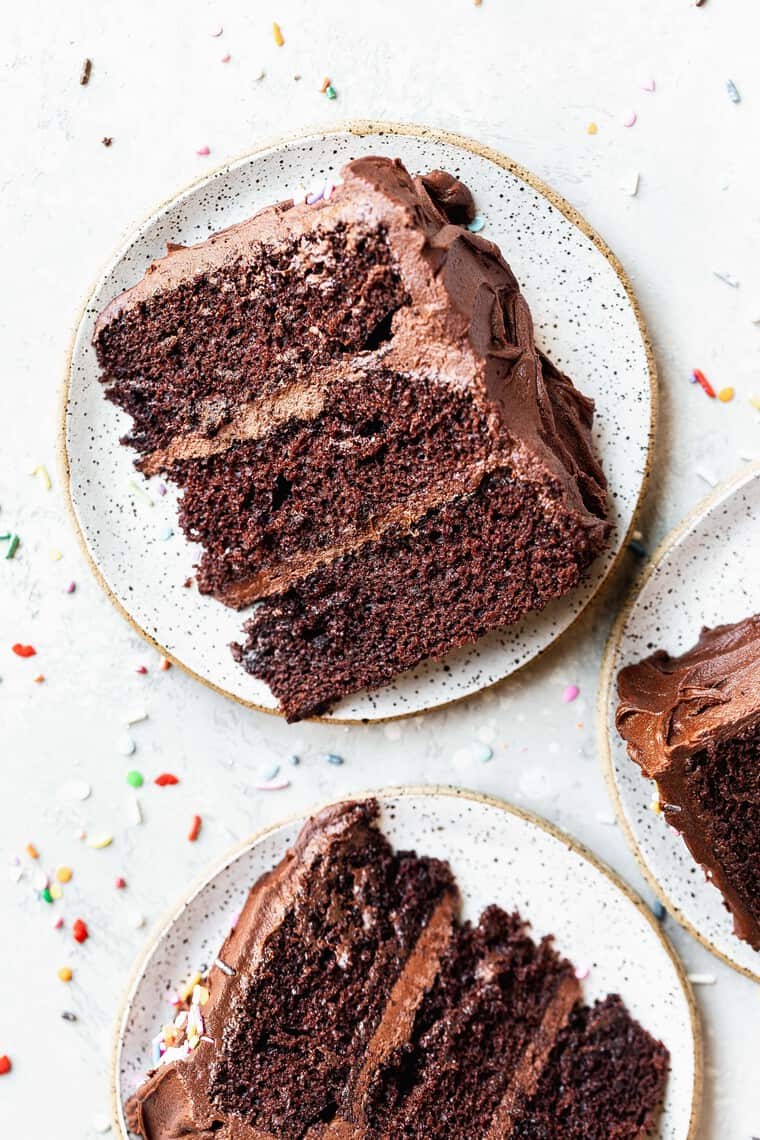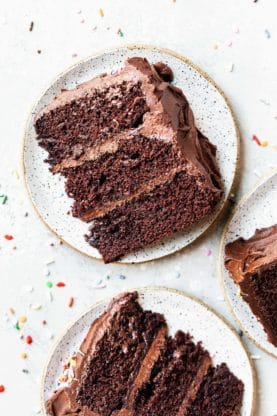 Now that you have your chocolate cake and chocolate frosting done, your chocolate birthday cake is not complete without sprinkles, candles and other birthday cake toppers.
If you don't know what a topper is, a birthday cake topper is any decoration to go on top of a cake. Some other examples of cake toppers are:
Sparklers
Edible prints with cartoon and comic book characters
Flowers
Whatever topper you decide, your cake is complete. Get ready to surprise the birthday boy or girl!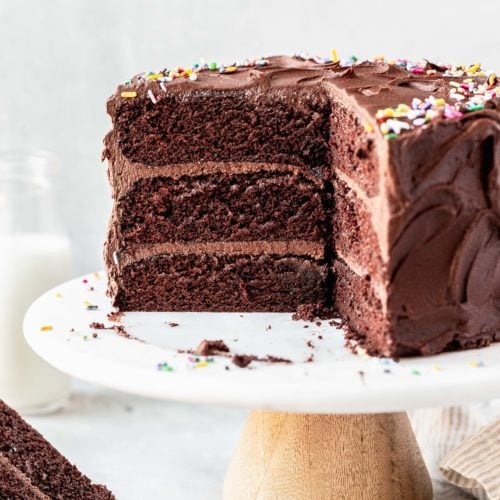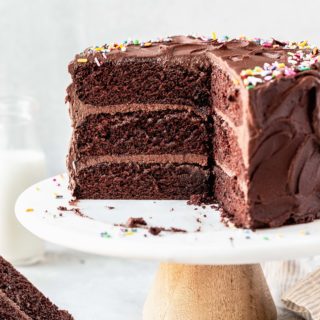 Chocolate Birthday Cake
Soft, moist, decadent chocolate cake covered with creamy, delicious chocolate frosting...that perfectly describes this chocolate birthday cake!
Print
Pin
Rate
Ingredients
For the Cake:
2

large

eggs

room temperature

2

cups

granulated sugar

1/2

cup

cocoa powder

1

teaspoon

instant coffee powder

1/2

teaspoon

salt

1

cup

hot water

2 ½

cups

all-purpose flour

2

teaspoons

baking soda

1

teaspoon

baking powder

1

cup

vegetable oil

1

cup

buttermilk

1

tablespoon

pure vanilla extract
For the Frosting:
1 1/2

cups

unsalted butter

3 sticks

6

cups

confectioner's sugar

3/4

cup

cocoa powder

1

tablespoon

pure vanilla extract

1/4

cup

milk
Instructions
For the Cake:
Preheat oven to 350 degrees and spray 3 9 inch round pans with non-stick baking spray.

Add eggs and sugar to bowl of your stand mixer and beat on high speed for 2-3 minutes.

While mixture beats, add cocoa powder, instant coffee powder and salt to hot water. Add to eggs and sugar.

Next slow down mixer and add flour, baking soda, and baking powder then add vegetable oil, buttermilk and vanilla extract to the mixer and beat until just combined. Batter will be sort of thin but this is normal.

Evenly add cake batter to all three pans and bake for 22-25 minutes or until a toothpick inserted in the center comes out clean.

Allow to rest for 10 minutes before removing from pans to cool completely.
For the Frosting:
Add butter, confectioner's sugar and cocoa powder to bowl of mixer and mix on high speed until smooth.

Lastly add in vanilla extract and milk until frosting is fluffy and smooth.

Frost each layer of cake with frosting then frost the entire cake and serve.
Nutrition
Calories:
730
kcal
|
Carbohydrates:
120
g
|
Protein:
6
g
|
Fat:
27
g
|
Saturated Fat:
17
g
|
Cholesterol:
94
mg
|
Sodium:
322
mg
|
Potassium:
252
mg
|
Fiber:
3
g
|
Sugar:
93
g
|
Vitamin A:
790
IU
|
Calcium:
70
mg
|
Iron:
2.7
mg