This Classic German Chocolate Cake Recipe is made with layers of decadent, moist chocolate cake and frosted with rich buttery coconut-pecan frosting and indulgent chocolate buttercream. This cake is sure to impress for the holidays, a birthday or any celebration! If you love chocolate cakes, definitely check out my Flourless Chocolate Cake, Black Forest Cake, Chocolate Birthday Cake, Devil's Food Cake, Chocolate Bundt Cake, a perfect Chocolate Pound Cake and then the BEST Chocolate Cake recipe with Blackberry Buttercream.
Disclosure: I partnered with Land O'Lakes for this German Chocolate Cake recipe post, but all opinions expressed here are my own. I am grateful for authentic partnerships like this.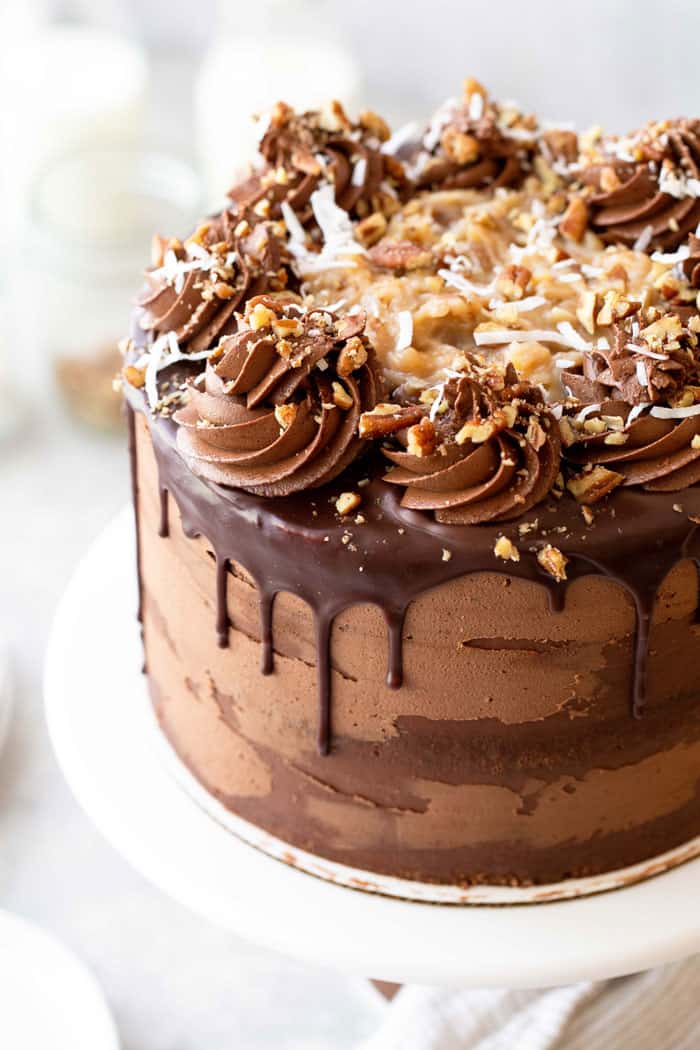 The BEST German Chocolate Cake Recipe Online!
It is finally time that I share my mama's German Chocolate Cake recipe with you. She makes it only once a year for the holidays, and it is for a very special guy: my daddy. This is my daddy's absolute favorite cake, and he indulges in the entire cake from Christmas until New Year's. My mama has been making it for years using Land O Lakes® Butter because she says it is truly the best. The quality is like nothing else, and it makes her cakes taste unforgettable.
Growing up, there always seemed to be a cake around. We baked them to celebrate birthdays and promotions or for cookouts and holiday desserts. Sometimes we made cakes simply because a moment called for it. However, this is a special occasion cake for us. We only pull it out for the most important celebrations because it is indeed "special". I'm excited to share it with you today.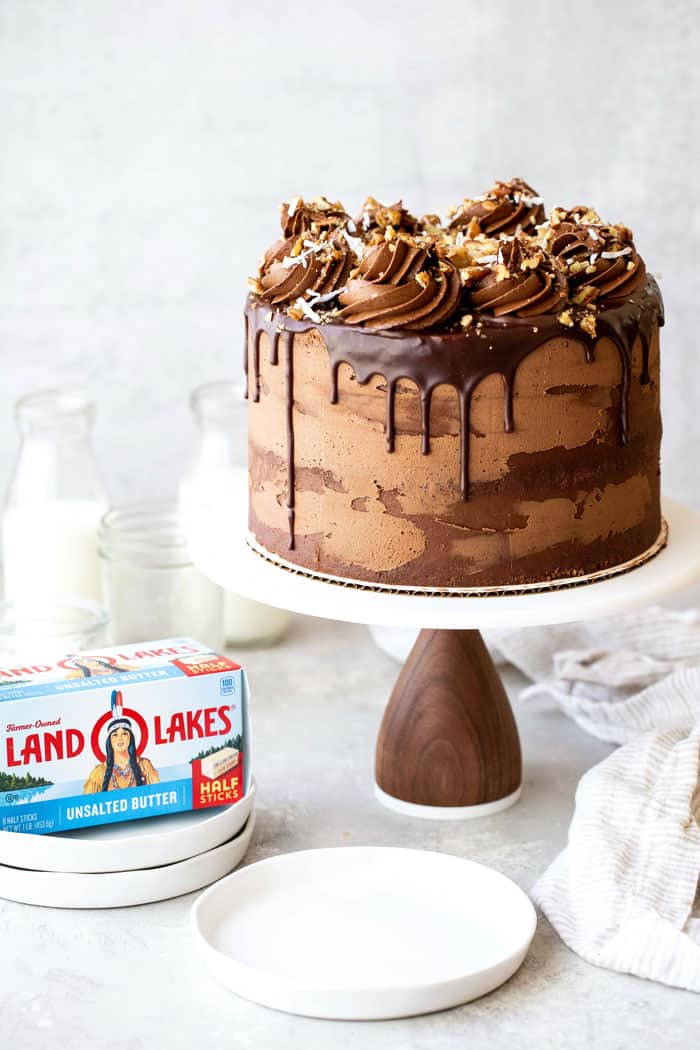 What Is German Chocolate Cake?
If you haven't had a slice of German Chocolate heaven, you are missing out!
German Chocolate Cake is a layered chocolate cake that is both filled and topped with a coconut-pecan frosting. The filling and/or topping is usually a buttery custard made with egg yolks and evaporated milk. Depending on the baker's preference, these cakes can also be frosted with an additional chocolate icing.
This cake is decadent, nutty and somehow just a tad tropical because of the coconut. Each bite is rich yet perfectly balanced. In other words, you need to have some. A second slice wouldn't hurt either.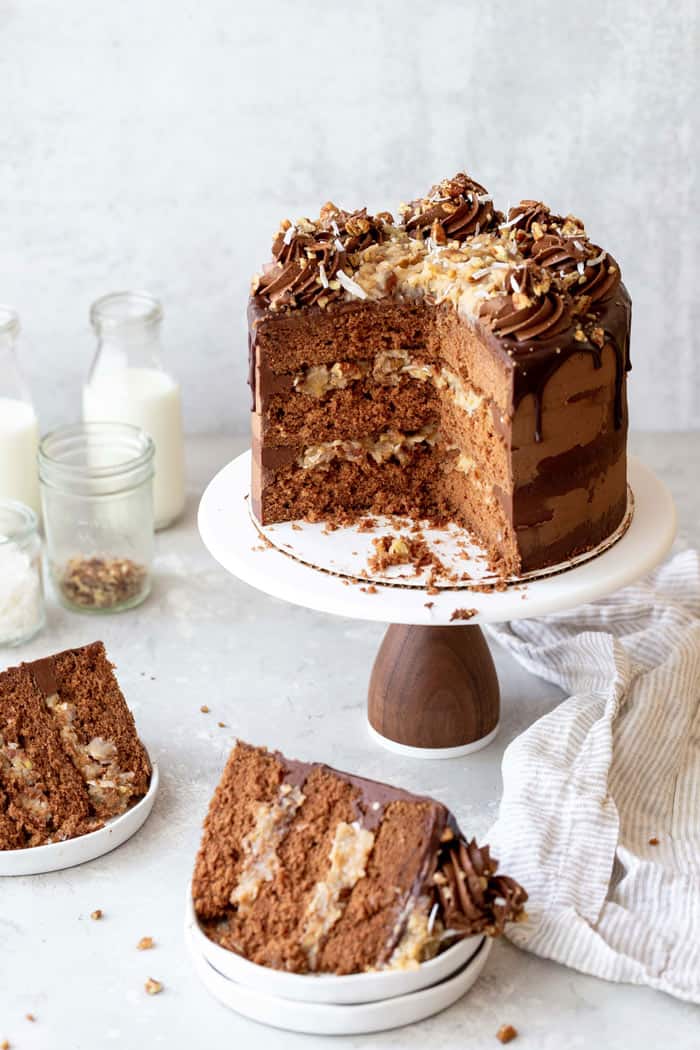 Where Does German Chocolate Cake Come From?
This year marks the 62nd anniversary of the German Chocolate Cake! In 1852, Sam German invented a style of sweet baking chocolate for a chocolate company. The company named the chocolate after Sam, but it didn't become popular until 1957 when a Dallas, Texas, resident sent in her recipe for the now legendary cake to a local newspaper.
The recipe became so famous that the sales of German's chocolate shot up through the roof! Newspapers across the country reprinted the recipe and soon the cake took on a life of its own.
Oh! I should probably also mention that Sam German was American. Sorry Germans, can't take credit for this one!
German Chocolate Cake Recipe Ingredients
Now, I wouldn't say that this recipe is simple or quick (there are more than a few ingredients and it isn't made in under an hour). But I wouldn't say it is a difficult recipe either. Shall we call it moderate level?
There are very few ways that you could mess this recipe up, but I would highly recommend using the secret ingredient. What's the secret ingredient you ask? Land O Lakes® Unsalted Butter.
Land O Lakes® Unsalted Butter has no added salt which means you get the pure, creamy taste the best butter is known for without losing flavor. When baking, your choice of butter determines the texture and flavor of your food. My go-to choice is always Land O Lakes® Butter because of their attention to detail when it comes to quality. They never disappoint!
Take my word for it, you'll want to get your hands on this ingredient. Do it for the sake of the cake, people!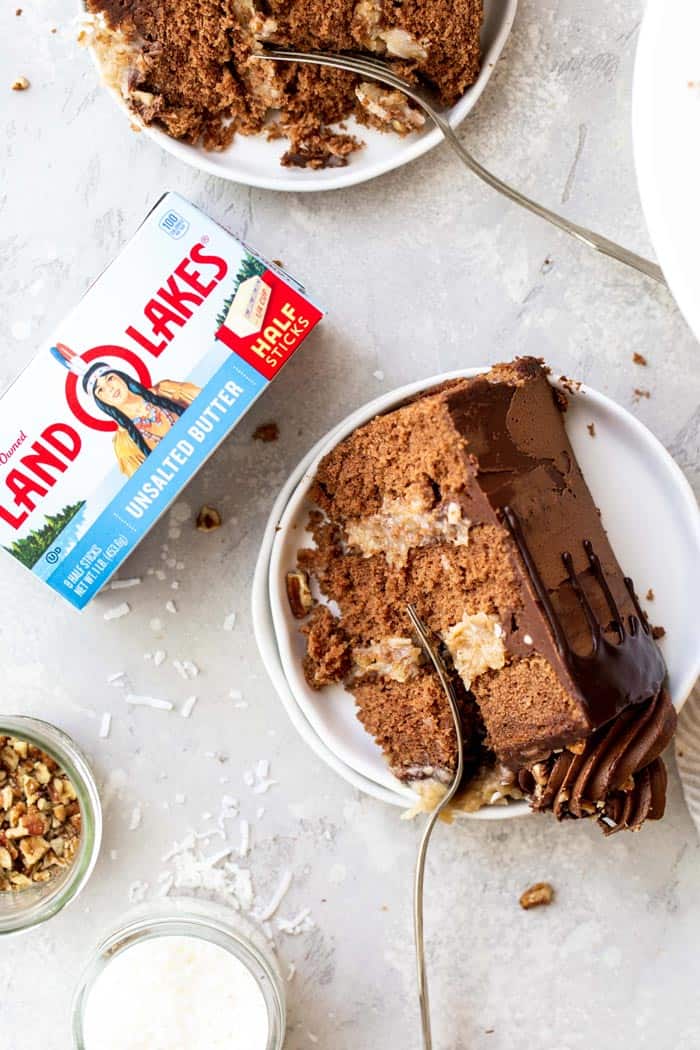 How To Make German Chocolate Cake
You could have ten different slices of German Chocolate Cake made by ten different bakers and you'll find that each one has its own unique flair. This is a classic cake, but classic doesn't have to mean basic.
Here are some crucial tips for making your cake as amazing as possible!
Bake two layers first so you don't overcrowd your oven. Place the other batter-filled pan in the refrigerator, then bake that final layer separately. You want to bake all of your layers on the same oven rack to ensure uniform baking.

When separating your eggs, make sure you do a thorough job of separating yolks from whites. If you get yolk in your whites, they won't whip as perfectly!

Air is crucial for this cake! While this cake does have some leavening in it, the beating of your fat (butter) and sugar are a crucial step. Make sure you don't rush this as it adds air to your cake, providing additional lift. The mixed butter and sugar should be light and insanely fluffy. Beating the egg whites also adds air and creates a super fluffy cake.

German Chocolate Cake Recipe Swaps and Adjustments!
Here are a few ways you can make the cake super special. I hope you like these ideas!!
Not a Pecan Fan? Swap 'em.
Pecans are not the be all, end all. Walnuts or hazelnuts can be delicious alternatives, and they provide a fun twist on this classic cake. If you want to take it a step further, lightly toast your nuts to bring out their natural caramel notes.
Customize the flavor of your cake by using chocolate that fits your preference. Use darker chocolate for a more bitter, richer flavor. Go milkier for a cake that is sweeter and a bit lighter. You could even combine two chocolates to find your own perfect balance. Go crazy! I've even seen people make this cake with white chocolate, and it is gorgeous!!
Extracts are your friend! Experiment with them and surprise your taste buds. Try butterscotch, coffee, maple or even orange extracts. Introducing a new flavor to your recipe will take it to the next level.
Tips for German Chocolate Cake Frosting
What makes this cake so special is the frosting, right? We have all had chocolate cake, but THIS is what truly makes this a German chocolate cake. When making the custard, make sure you watch it carefully.
You will want to stir and be patient because you have added eggs and you don't want them to scramble. You want this to come together perfectly!!
Feel free to also adjust the amount of coconut and pecans you add to this frosting to your liking. You can also make more if you want to frost the entire cake. The chocolate frosting offsets the coconut pecan frosting for aesthetics and a different texture and flavor.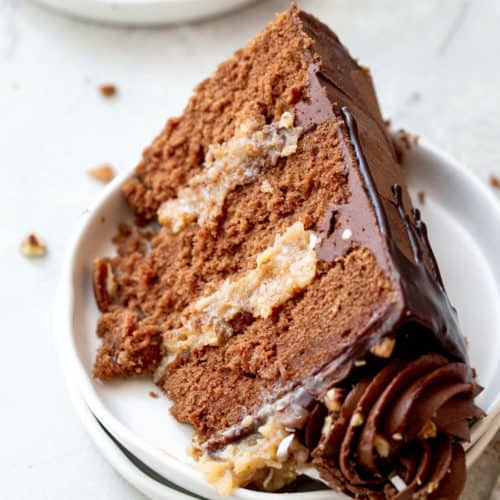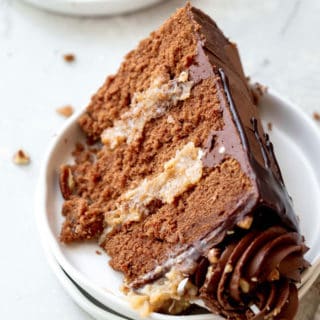 German Chocolate Cake Recipe
This Classic German Chocolate Cake Recipe is made with layers of decadent, moist chocolate cake and frosted with rich buttery coconut-pecan frosting and indulgent chocolate buttercream. This cake is sure to impress for the holidays, a birthday or any celebration!
Print
Pin
Rate
Ingredients
For the Cake
4

oz

baking chocolate

chopped

1/2

cup

boiling water

1

cup

Land O Lakes® Unsalted Butter

room temperature

1 1/2

cup

granulated sugar

1/2

cup

light brown sugar

4

large eggs

separated (egg yolks in one bowl and egg whites beaten until stiff peaks in another bowl)

2 1/2

cups

cake flour

sifted

1

tsp

baking soda

1

tsp

salt

1

cup

buttermilk

room temperature

1

tbsp

vanilla extract
For the Icing
1

cup

evaporated milk

1

cup

brown sugar

packed

3

egg yolks

1/2

cup

Land O Lakes® Unsalted Butter

1/2

tsp

salt

1

tsp

vanilla extract

1 1/3

cup

flaked coconut

1

cup

chopped pecans
OPTIONAL: For the Chocolate Frosting
1 1/2

cups

Land O Lakes® Unsalted Butter

6

cups

confectioner's sugar

3/4

cup

cocoa powder

1

tbsp

vanilla extract

1/4

cup

milk
OPTIONAL: For the Ganache
1/2

cup

heavy whipping cream

1/2

cup

bittersweet chocolate
Instructions
For the Cake
Begin by heating the oven to 350°F. Spray the bottoms and sides of three 8-inch with non stick baking spray. Line with parchment paper if preferred.

In a bowl, add chopped chocolate to boiling water and whisk until smooth then set aside to cool.

To the bowl of your stand mixer, add butter and both sugars and beat on medium high speed until light and fluffy.

Next add egg yolks, one at a time, then add in cooled chocolate and mix until incorporated.

Slow down your mixer to low speed.  Whisk together flour, baking soda and salt then add to bowl in increments until smooth.

Next add buttermilk and vanilla extract and mix until smooth.  Finally using a spatula, carefully fold previously separated stiff egg whites into batter. 

Divide batter evenly into cake pans and bake 35-40 minutes or until a toothpick inserted into the center comes out clean.

Cool layers in pans for 10 minutes then remove and allow layers to cool to room temperature.
For the Icing
In a large saucepan, whisk together evaporated milk, sugar, yolks, butter, salt and vanilla until combined.  Begin cooking over medium heat for about 14-17 minutes, stirring frequently, until thick and bubbly.

Stir in coconut and pecans then cool for about 30 minutes but continue to stir occasionally until mixture is very spreadable. 
For the Chocolate Frosting
Find the full instructions for the frosting HERE
For the Ganache
Bring the heavy cream to a boil on the stovetop then pour it over the chocolate. Mix until smooth and allow it to cool to room temperature to thicken before adding to the cake.
To Assemble
Place 1 cake layer, rounded side down, on a cake plate; using a metal spatula, spread 1/3 of the filling over the layer. Add second layer, rounded side down; spread with 1/3 of the filling. Add third layer, rounded side up; spread with remaining filling. Optional: Ice sides of cake with chocolate frosting and add drip of ganache if you desire and serve.
Video
Notes
The chocolate frosting and ganache are totally optional.  The classic way to ice this cake is with just using the coconut nut frosting while leaving the outsides of the cake bare.
Nutrition
Calories:
700
kcal
|
Carbohydrates:
81
g
|
Protein:
7
g
|
Fat:
42
g
|
Saturated Fat:
24
g
|
Cholesterol:
135
mg
|
Sodium:
261
mg
|
Potassium:
270
mg
|
Fiber:
4
g
|
Sugar:
64
g
|
Vitamin A:
985
IU
|
Vitamin C:
1
mg
|
Calcium:
95
mg
|
Iron:
2
mg