This Easy Air Fryer Fried Chicken is low-carb! Made with salty pork panko crumbs, smoky hot sauce, seasoned salt, and hearty chicken, this keto chicken is crispy, juicy and absolutely irresistible!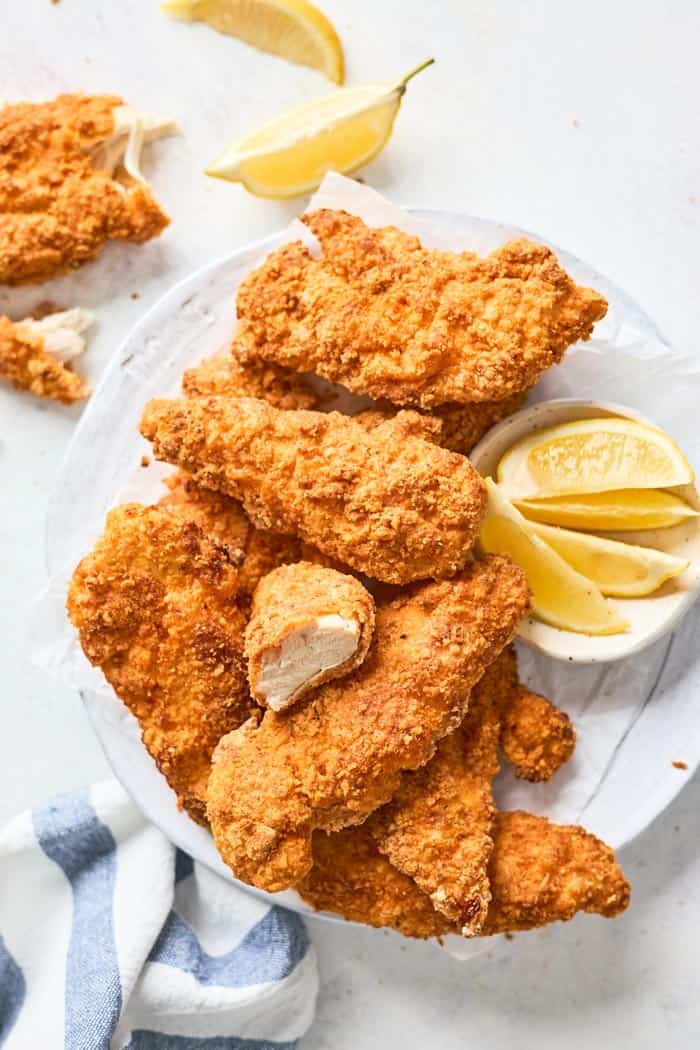 I am by no means on a Keto diet, but I am seriously addicted to my air fryer. I mean, isn't everyone? If you don't own one of these magical gadgets, run and get one. From reheating takeout French fries to fried cookie dough bites, air fryers can truly do it all.
When I first got my hands on one of these bad boys, I spent weeks testing its capability. I air fried everything possible, including these chicken tenders. And y'all, I might never go back to traditional fried chicken again (I would never, but you get the point).
This Keto Air Fryer Fried Chicken is crisp on the outside, yet moist and tender on the inside. Each bite of juicy, lightly-coated tender is bursting with flavor! Although this recipe is going out to all my keto folk, trust that these tenders will please just about anyone.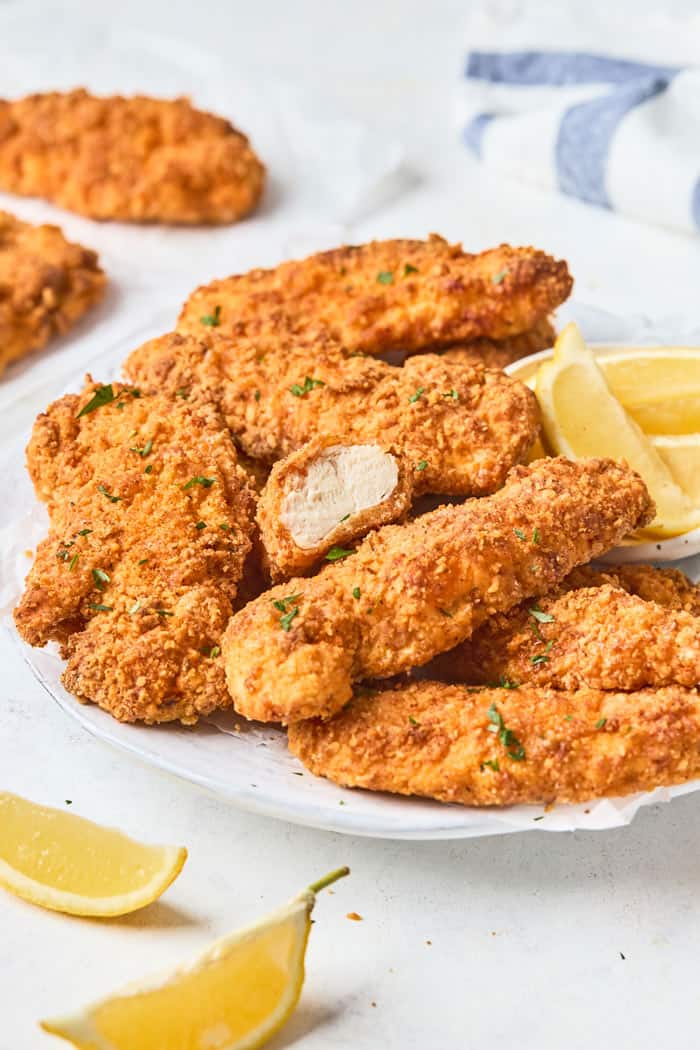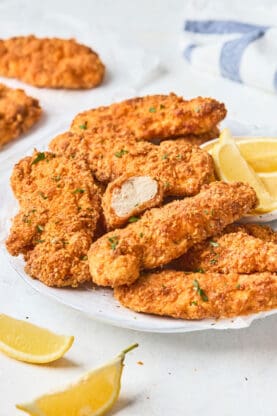 Perks and Highlights of The Best Air Fryer Fried Chicken
Cuisine Inspiration: Soul Food with a Healthy Twist
Primary Cooking Method: Air Frying
Dietary Info: Keto, Low-Carb, Gluten-Free
Key Flavor: Crispy, Savory Goodness
Skill Level: Easy to Intermediate
Special Perks:
Guilt-Free Indulgence: Who says comfort food can't be part of your keto journey? Indulge in that crispy, savory goodness without a second thought with these carb-conscious wonders!
Pork Panko Magic: Ever heard of pork panko? It's about to become your new best friend. Bye-bye, carbs; hello, crunchy perfection! These crumbs up the flavor while keeping things keto-friendly.
Air Fryer Alchemy: The air fryer isn't just a trendy kitchen gadget—it's a way to achieve the crispy, golden texture you adore, but with significantly less oil. It's like culinary sorcery, minus the hassle. I love using the air fryer for recipes like this and my salmon.
Perfect for Picky Eaters: Good luck finding someone who doesn't fall for this chicken! It's a crowd-pleaser, even for the most discerning little eaters or skeptical guests.
Adaptable & Adventurous: Feeling adventurous? This recipe is your canvas. Spice things up, or down, season according to your mood, maybe add a dash of cayenne or a sprinkle of parmesan. This chicken is all about you!
So, are you ready to be the trendsetter in your foodie circle, serving up soulful, keto-compliant, finger-licking goodness that respects your wellness goals? Strap on that apron, summon your inner chef, and let's turn "what's for dinner?" into an anticipation-filled drumroll!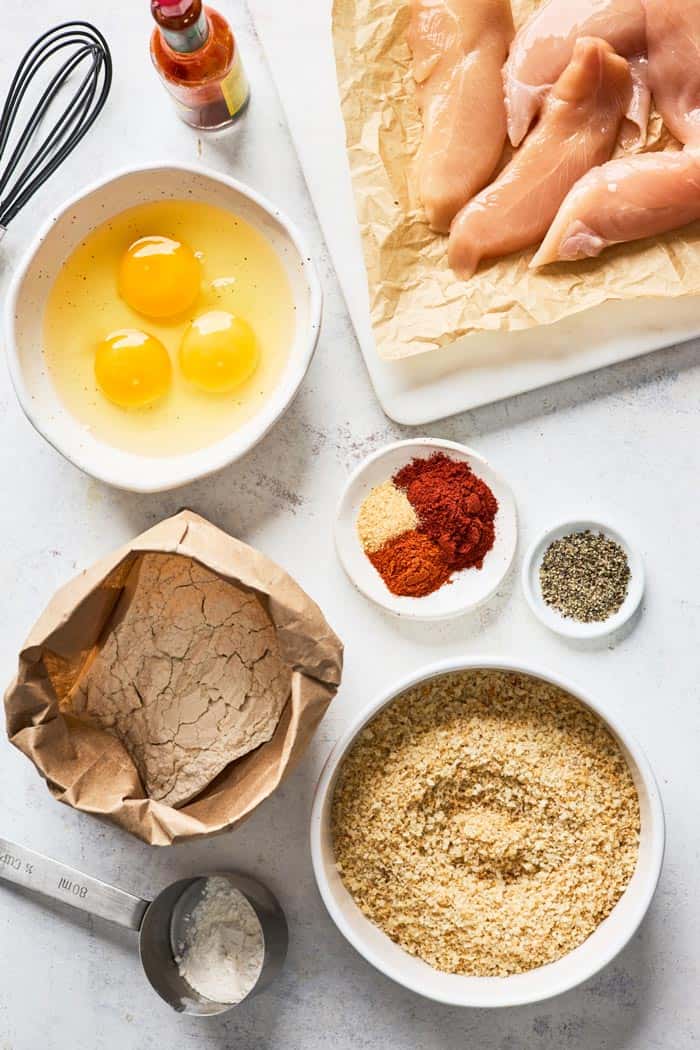 Ingredients
Okay, so I've talked the talk and now it's time to walk the walk! Let me tell you what makes these tenders all that and a bag of chips.
Chicken Parts Here you can use chicken wings, chicken legs or like here, chicken tenders. Totally up to you.
Eggs help to bind the flour coating to the tender. I also added some seasoning to the eggs to create more depth of flavor.
Hot Sauce is my jam! I keep all kinds of hot sauce on hand, but my favorite to use is a Louisiana-style variety. Use whatever you've got!
Worchestershire Sauce is a condiment made from a base of vinegar and flavored with anchovies, molasses, tamarind, onion, garlic and a few other secret seasonings. The flavor is sweet and smokey with a slight tang.
Almond Flour is high in Vitamin E and other essential antioxidants, making it a powerhouse ingredient in healthy baking. Almond flour is nutty and tender, with a slight sweetness. Oat flour can be used in its place.
Pork Panko Crumbs are flakey, crispy, and made exclusively from finely ground pork rinds.
Seasoned Salt is a great way to add in lots of good flavor without needing a million and one spices. Lawry's is my go-to!
Paprika is smoky, sweet, and vibrant. Because of its versatility, I use paprika in most of my recipes. Smoked or Sweet Paprika is also great!
Cayenne Pepper is what gives these tenders a subtle kick, which I absolutely love. If you're not a fan of heat, feel free to adjust the measurement or omit it completely.
Black Pepper should always be freshly cracked, increasing flavor and aroma. We're looking for bright, peppery notes.
Garlic Powder adds a sweet, roasted garlic flavor. Onion powder could also work here.
Corn Meal is available on a spectrum of grind sizes. The texture of the corn grain chosen will determine the texture of the breading. I prefer to use a stone-ground variety for a more textured bite but I recommend that you explore and find your own personal preference.
Vegetable Oil is a neutral, high-heat oil. Canola, safflower, peanut, or grapeseed are all great choices.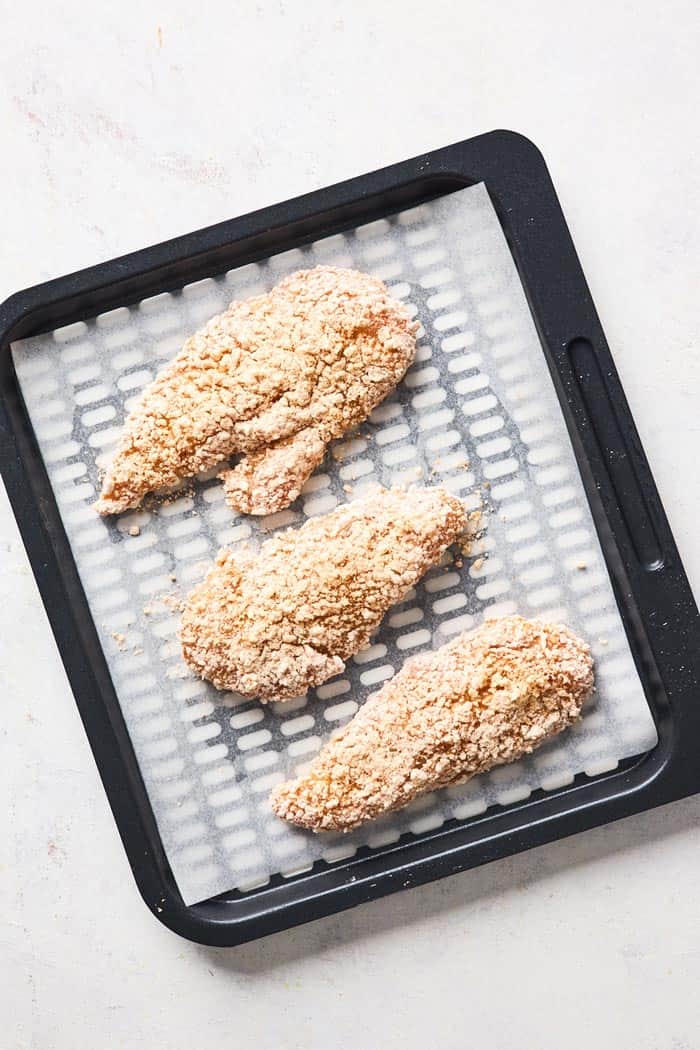 How to Make Air Fried Chicken
These Air fryer fried chicken should be illegal! So crispy, so crunchy, and so dang flavorful! The best part? These tenders are made in 3 simple steps.
Here's how it's done:
Set Up the Workstation-

The best way to approach this recipe is by being prepared. Before heating up the air fryer and busting out the condiments, take time to set up a workstation. On a clean, clutter-free counter, line up a plate and 2 bowls. Place the tenders on the plate, then mix up the egg mixture in one bowl and the seasoned flour in the other. Designate one "wet hand" and one "dry hand". Working one tender at a time, dip each tender into the flour, then into the egg wash, and back into the flour one last time.

Air Fry the Chicken-

Once you've allowed the tenders to rest for about 10 minutes, preheat the air fryer to 400 degrees. Line the air fryer tray with parchment paper, spray the chicken with non-stick spray.

Cook, Cool, and Serve-

Cook the chicken for 20-25 minutes, or until the internal temperature reaches 165 degrees. Allow the tenders to cool for at least 5 minutes! You'll lose all the moisture if you try busting them open too early.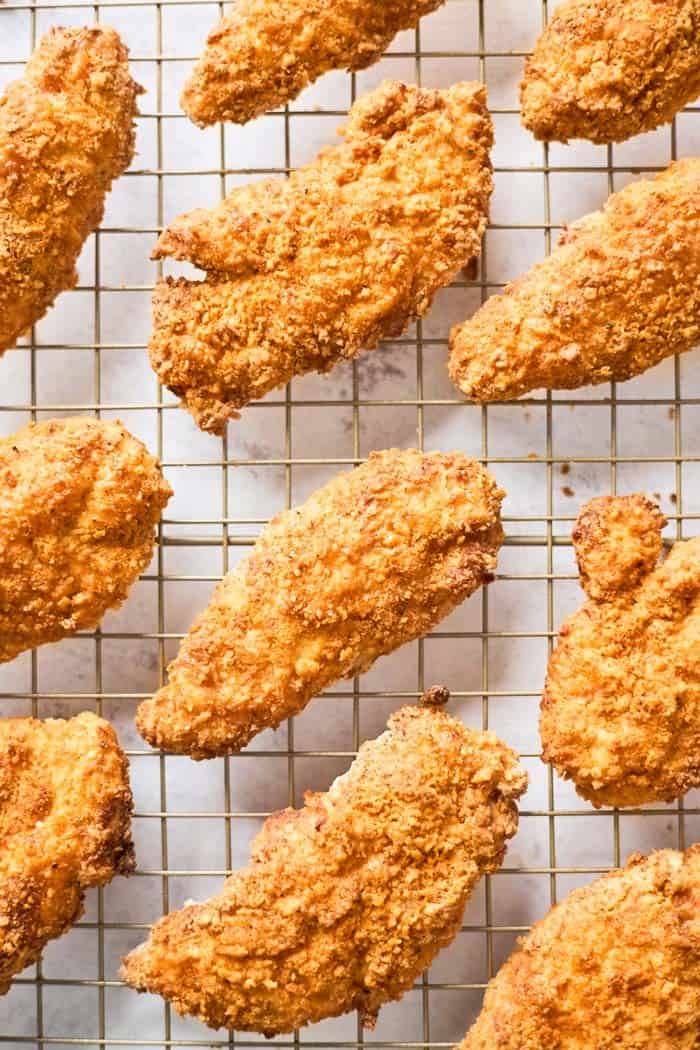 Leftover Storage and Reheating
Allow the leftovers to cool completely, then line an airtight container with paper towels and carefully transfer the chicken. The paper towels will absorb any condensation and keep the chicken crisp. Leftover fried chicken will keep in the fridge for 3-4 days.
To Reheat: Let the chicken sit out at room temperature for at least 30 minutes. In the meantime, preheat the air fryer to 375 degrees. Arrange the chicken in a single layer on the tray and cook for about 4 minutes, flipping once to ensure even cooking.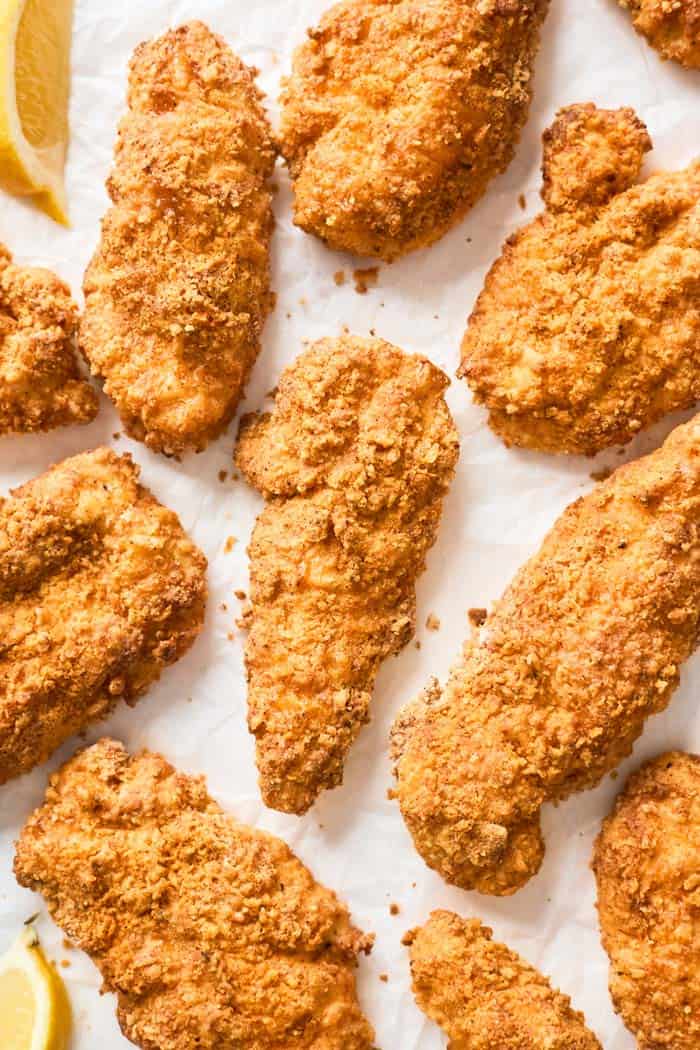 My Favorite Fried Chicken Recipes
Girls gotta have balance! So, when I'm craving the real deal, I bust out one of my finger-lick-worthy fried chicken recipes.
Check 'em out: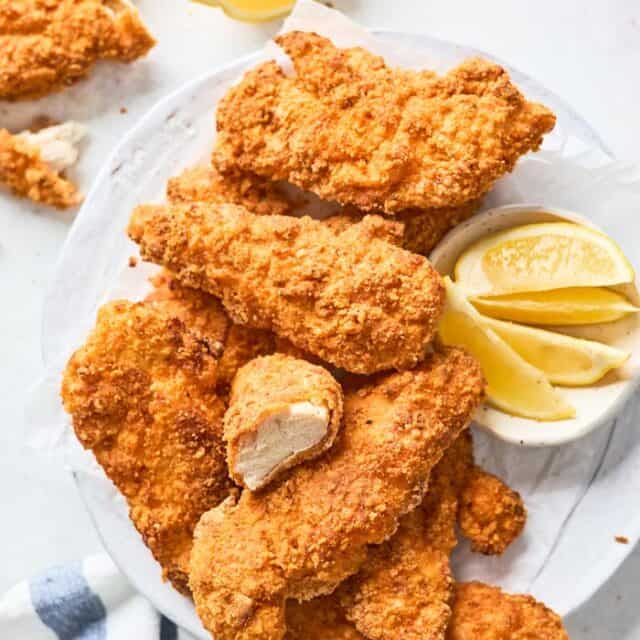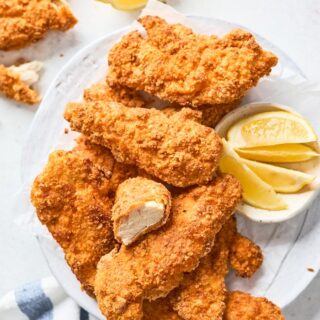 Keto Air Fryer Fried Chicken
This Easy Air Fryer Fried Chicken is keto!  Made with pork crumbs, hot sauce, and seasoned salt, this low-carb recipe is crispy, juicy and irresistible! 
Print
Pin
Rate
Ingredients
3

large eggs

beaten

1

tsp

hot sauce

1

tsp

worchestershire

1 1/4

cup

almond flour

1 1/4

cup

unseasoned pork panko crumbs

seasoned salt to taste

(remember that the panko crumbs have some salt depending on what brand you use)- start at 1 tsp and mix in and taste the flour mixture and keep adjusting until you get to the desired amount

2

tsp

paprika

1 1/2

tsp

black pepper

1/2

tsp

garlic powder

1/4

tsp

cayenne pepper

up to 1/2 tsp or more if you want more spice

1

lb

bone in chicken legs and wings

or boneless chicken tenders

non stick cooking spray

lemon wedges for garnish and serving

optional
Instructions
In a medium sized bowl, whisk together eggs, hot sauce and worcestershire and set aside.

Next add flour, unseasoned pork panko crumbs, seasoned salt to taste, paprika, black pepper, garlic powder, and cayenne pepper to a paper bag and shake to mix well.

Dip each chicken piece into flour mixture and then egg wash coating both sides then dip back into seasoned flour thoroughly coating each piece. Then add piece to a parchment lined baking sheet to rest.

Finish coating all chicken and let sit for 10-15 minutes until coating has set.

While coating sets, set the air fryer to 400 degrees. Add floured chicken to a non stick sprayed parchment lined tray in the air fryer and liberally spray the tops of chicken with non stick spray.

Airfry for 20-25 minutes turning as needed or until chicken is cooked throughout. Serve with lemon wedges and sprinkle lemon on chicken if you wish.
Nutrition
Calories:
146
kcal
|
Carbohydrates:
3
g
|
Protein:
9
g
|
Fat:
11
g
|
Saturated Fat:
2
g
|
Polyunsaturated Fat:
1
g
|
Monounsaturated Fat:
2
g
|
Trans Fat:
0.02
g
|
Cholesterol:
64
mg
|
Sodium:
103
mg
|
Potassium:
77
mg
|
Fiber:
1
g
|
Sugar:
1
g
|
Vitamin A:
265
IU
|
Vitamin C:
0.4
mg
|
Calcium:
36
mg
|
Iron:
1
mg