If you are searching for the Best Bread Pudding, look no further! The Best bread pudding recipe has soaked bread in a rich creamy warm spiced custard filled with brandy and dried cranberries that's baked then topped with a warm indulgent cream sauce. Make it for Christmas, Thanksgiving, Mardi Gras, or any other holiday occasion you can think of! If you enjoy this bread pudding, you need to try my Bananas Foster Bread Pudding, Peach Cobbler Bread Pudding, or Sticky Toffee Gingerbread Bread Pudding.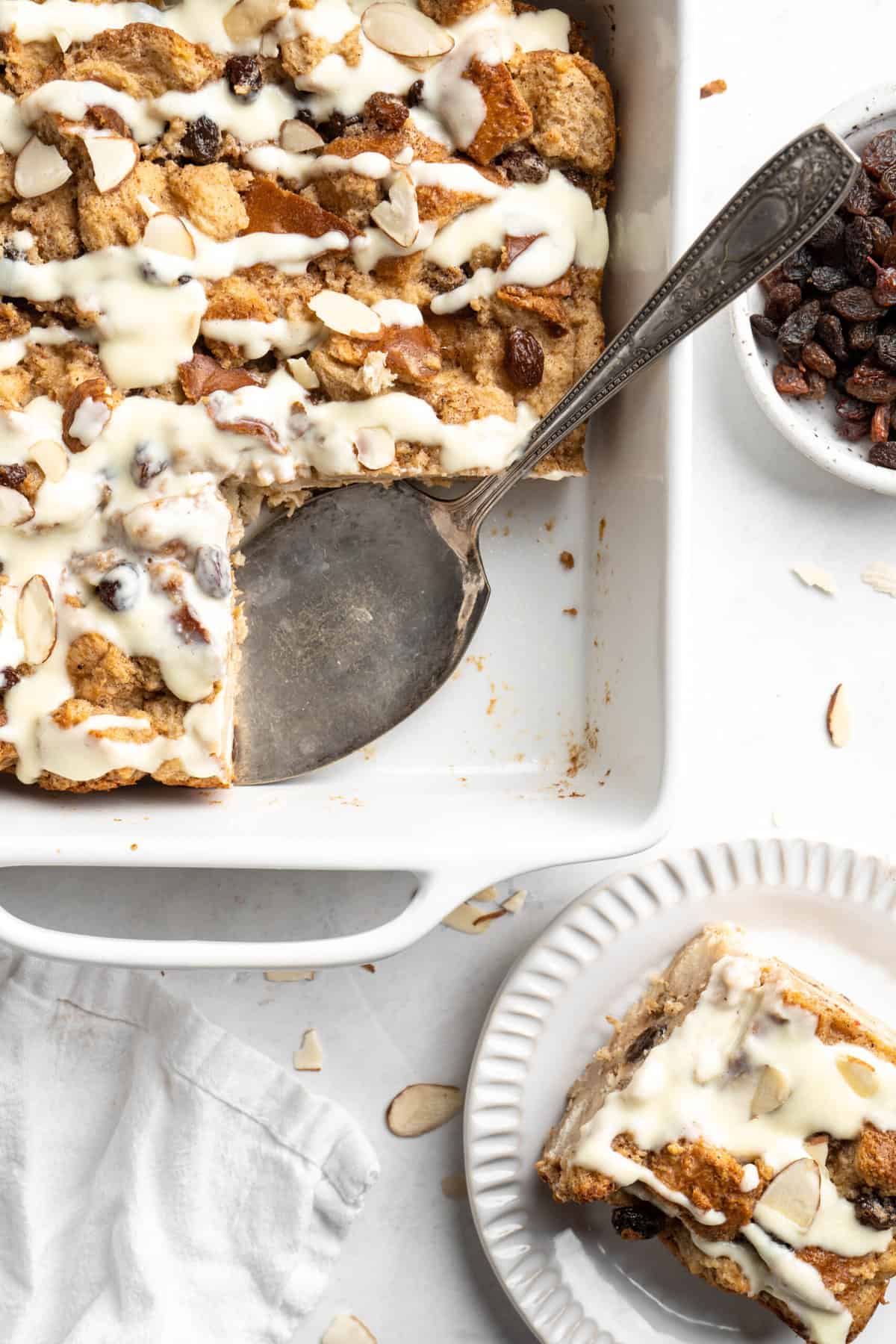 I don't know about y'all, but I could eat bread pudding every single day of the year! It's the best dish to make for breakfast or brunch, a decadent dessert, or a delicious addition to any holiday feast.
It can be prepared in any number of ways, but everyone will fall head-over-heels for this one. It's sweet, moist, lightly spiced, and downright addicting!
So if you have any stale bread kicking around, you know what this means. You now have the star ingredient to make the Best Bread Pudding Recipe!
What Is Bread Pudding?
Bread pudding is a world-renowned dish that is served in pretty much every country around the globe. Most recipes involve stale bread baked in a custard made of eggs, milk, and cream.
I decided to make this recipe more festive by including brandy, dried cranberries, cinnamon, and nutmeg. Once the bread has soaked up all the flavors, it's packed into a baking dish and cooked to perfection.
The secret to making the best bread pudding is in the sauce. While caramel is a very popular option, there's nothing quite like my rich cream sauce.
Serve this recipe for breakfast, dessert, or an indulgent snack when hunger strikes!
What Is The History?
Bread pudding originated in Europe as early as the 11th century, but it wasn't always so decadent! In fact, it was initially known as a "poor man's pudding" since it was made with a simple mix of stale bread, water, spices, and some sugar.
When settlers brought their recipes to the Americas, bread pudding exploded in popularity, especially in states like Louisiana. Nowadays, this dish is one of the most decadent, rich, and creamy dessert staples of southern cuisine.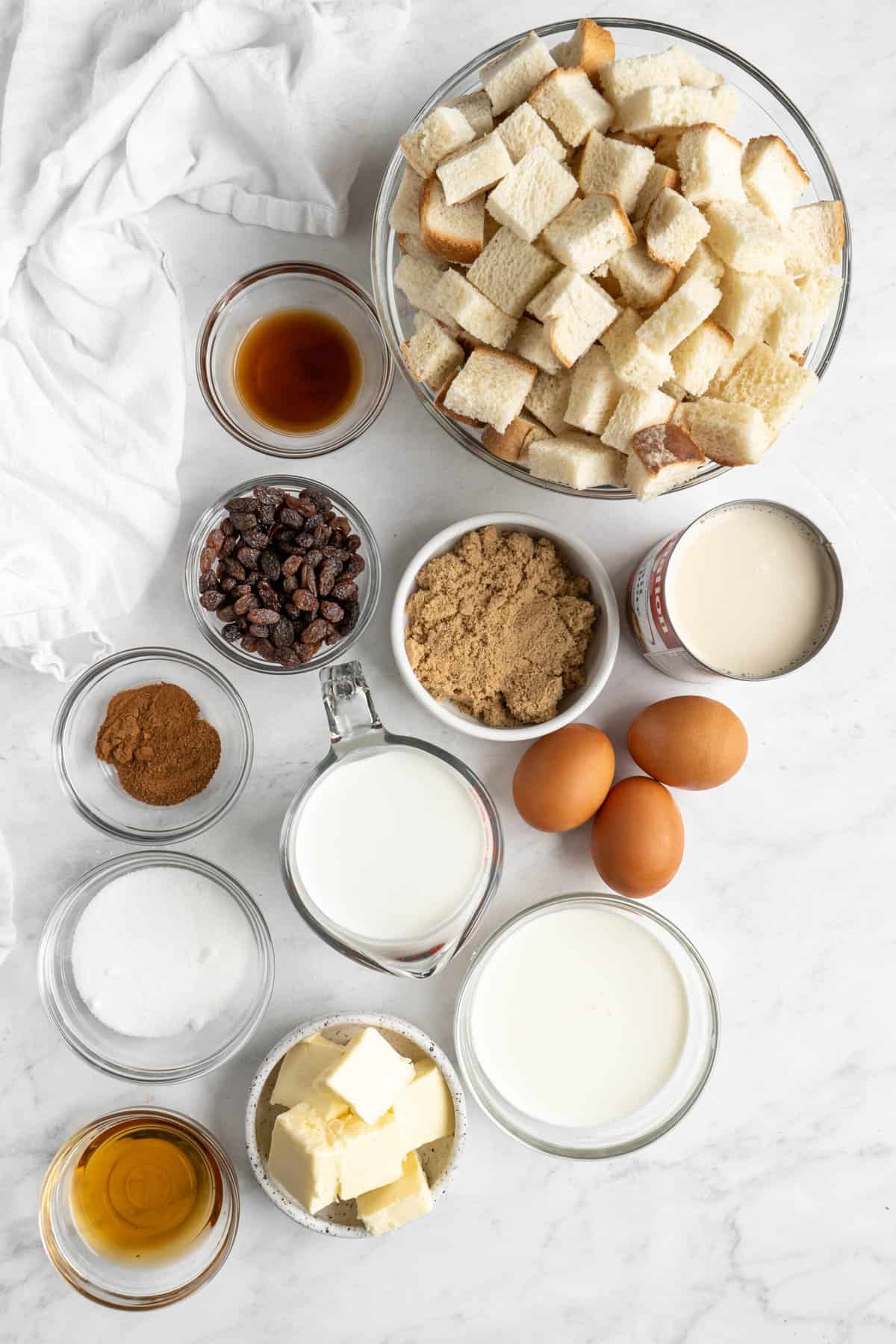 Ingredients
Stale bread — I can't stress enough how important it is to use good quality bread! I usually choose French bread for its crisp crust and chewy inside, but challah, brioche, panettone, or croissant work well too. Whatever kind you go for, make sure it's at least 1-2 days old to prevent soggy bread pudding.
Evaporated milk & whipping cream — The combination of evaporated milk and heavy whipping cream soaks into the bread cubes, creating a tender texture and ultra-creamy flavor.
Butter — I like to make the custard for my bread pudding even more dreamy with the addition of butter. Use unsalted butter to control the flavor.
Granulated & light brown sugar — I prefer a combination of regular sugar and light brown sugar to give my bread pudding depth and complexity. Paired with warming spices like cinnamon and nutmeg, this is one festive recipe!

Eggs — Used in both the bread pudding sauce and filling to act as a binder and add richness. Make sure the eggs are at room temperature to prevent curdling.

Cranberries — I love the little bursts of tartness dried cranberries add throughout this dish. If you don't have any, replace them with raisins, candied fruit, or fresh fruit like apples.
Brandy — Add brandy for a grown-up style bread pudding. You can also try bourbon, other types of whiskey, or nothing at all for a kid-friendly version.
Vanilla — Because vanilla makes everything better. I use it in both the bread pudding and the cream sauce.
Cinnamon & nutmeg — For all of the sweet and warming elements required to make a holiday-inspired bread pudding. You can swap in other spices like mace or allspice.
Half-and-half — I use half-and-half cream in the serving sauce. If you're looking for a decadent recipe, do not skip the cream!
How to Make The Best Bread Pudding
Dry the Bread – Preheat your oven to 350 degrees F. If your bread isn't stale, spread the cubes out on a baking sheet. Bake until the bread appears golden and hard, which will prevent a mushy end result.
Make the Custard – Combine the evaporated milk and whipping cream in a bowl. In a stand mixer, beat the butter and sugar until light and fluffy. Add in the eggs, brandy, vanilla, and spices, then mix everything together.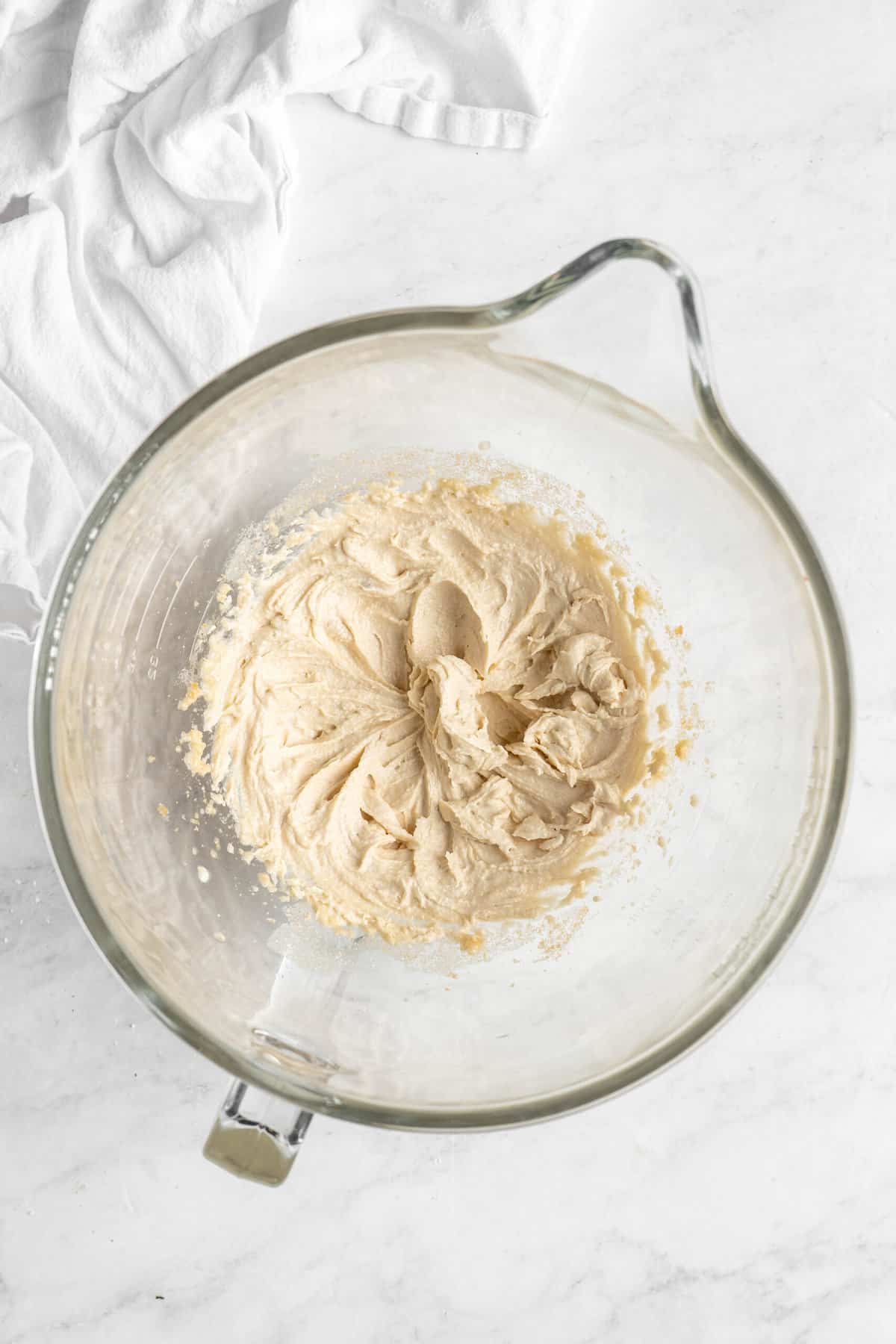 Soak the Bread – Add the bread cubes to the bowl of milk, coating them well. Once the liquid has been mostly absorbed, pour in the butter mixture and combine once more. Transfer the mixture to a greased baking dish.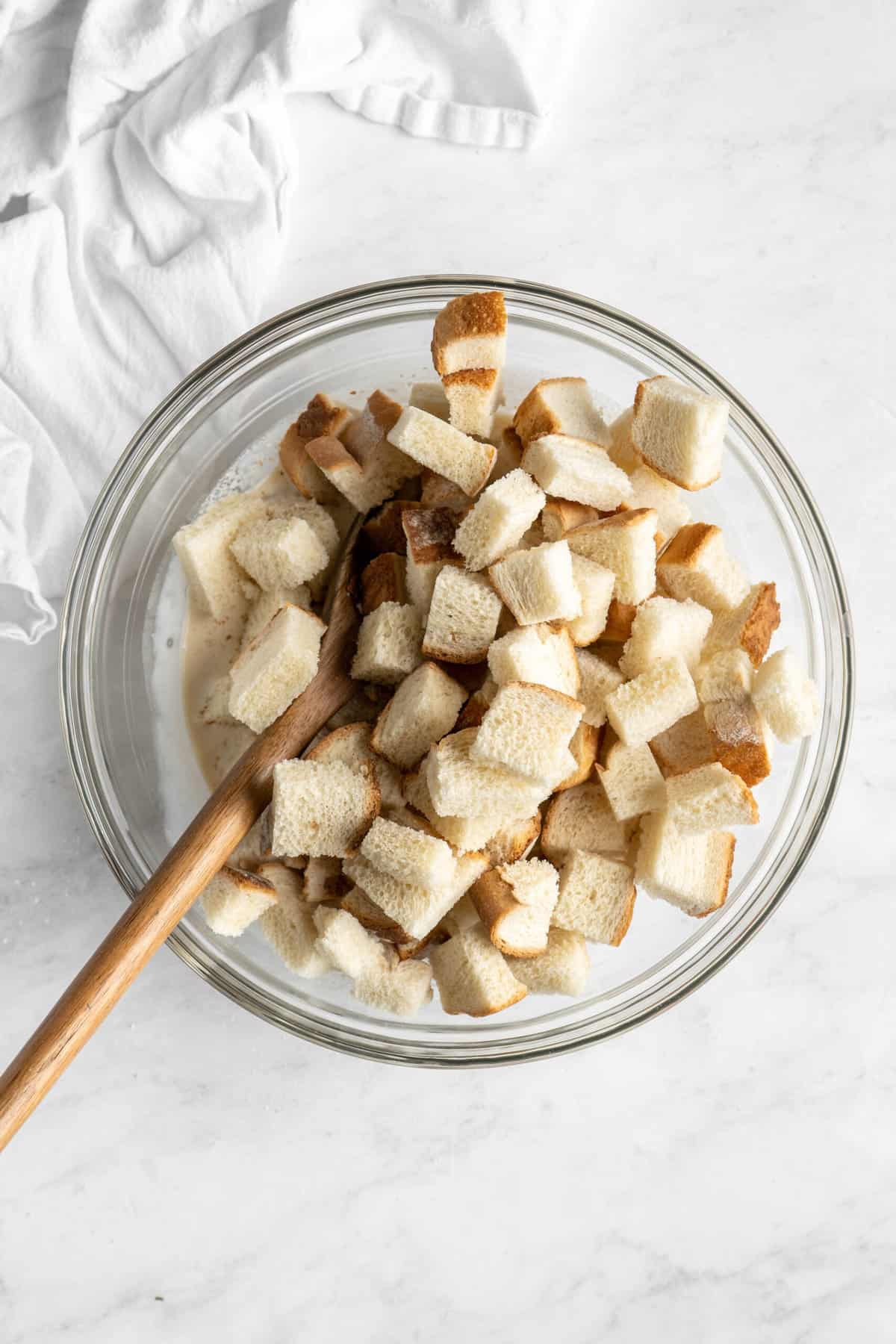 Bake the Pudding – Bake the bread pudding until a toothpick inserted into the center comes out clean. Allow it to cool for 15 minutes before serving.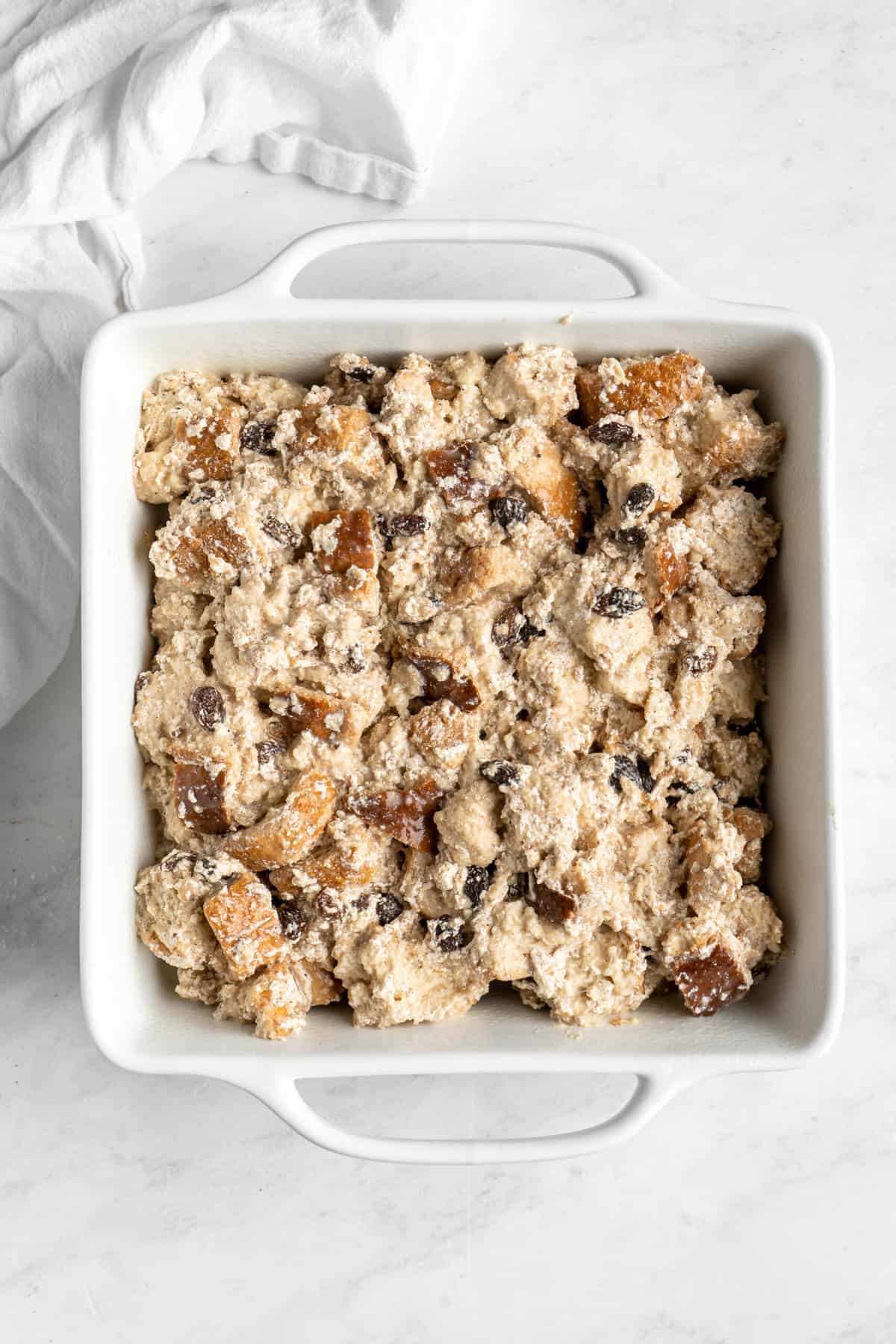 Start the Sauce – In the meantime, heat the half-and-half cream and sugar in a saucepan over medium. Whisk together until the sugar is dissolved and the mixture begins bubbling. Remove the saucepan from heat and stir in the vanilla.
Add the Eggs – Add a dash of the cream mixture to the egg yolks to temper them and get them up to temperature. Repeat this process a few more times, then continue adding the rest of the liquid while whisking constantly until the cream sauce is smooth.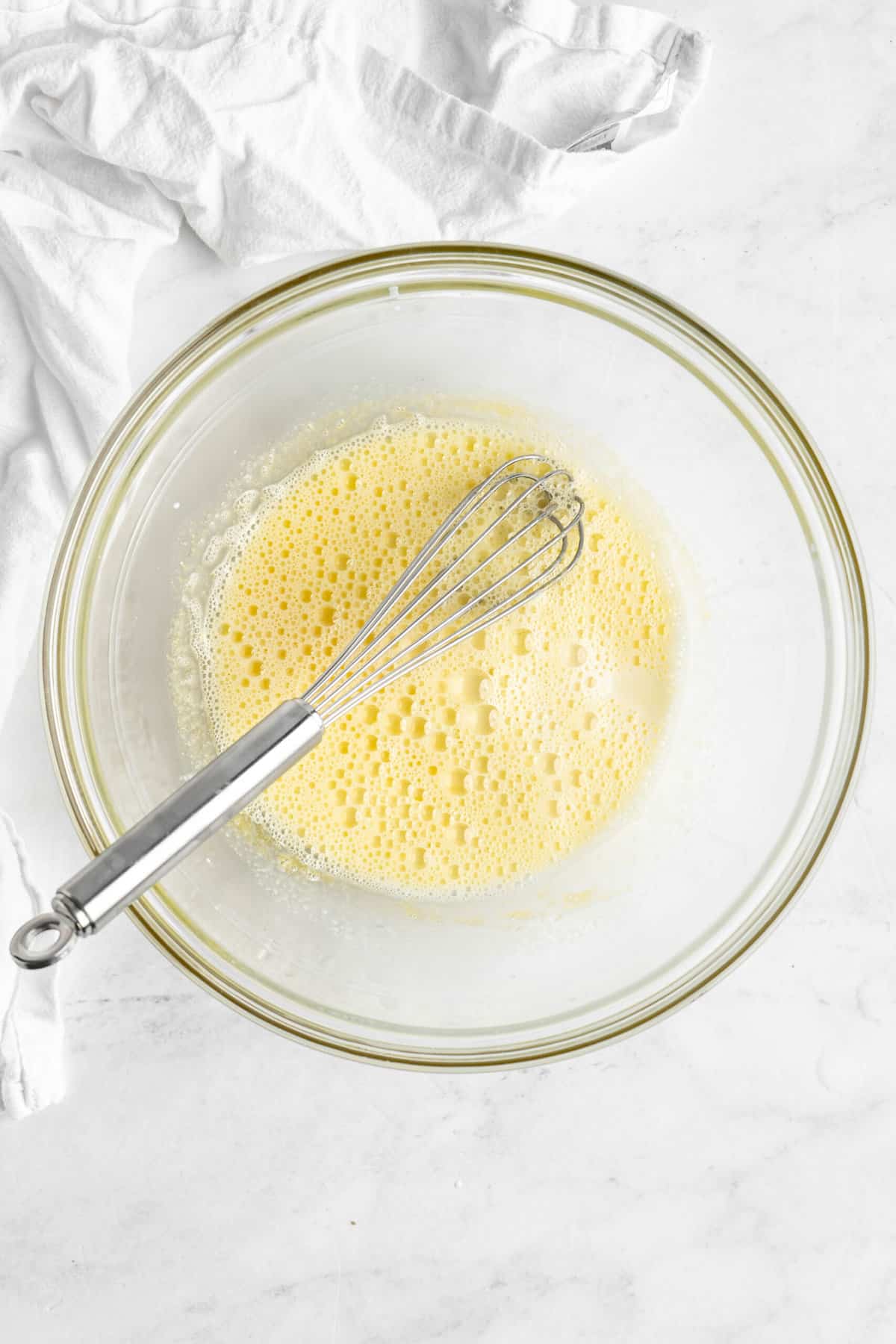 Simmer the Sauce – Transfer all of the cream sauce back into the saucepan and cook it over low heat while continuously whisking. You'll know it's ready when it coats the back of a spoon. Serve immediately over the cooled bread pudding.
Recipe Variations
I could go on and on about all of the ways to make this recipe super unique. I mean, just using different types of bread like challah or banana bread creates an entirely different recipe!
You can swap out cranberries with other dried fruits like raisins, currants, cherries, or apricots. Nuts are also a popular addition to bread pudding. Try pecans, walnuts, or hazelnuts for a crunchy texture.
Serve your bread pudding with Caramel Sauce, Chocolate Ganache, Apple Butter, Vanilla Ice Cream, or Whipped Cream for more mouthwatering options.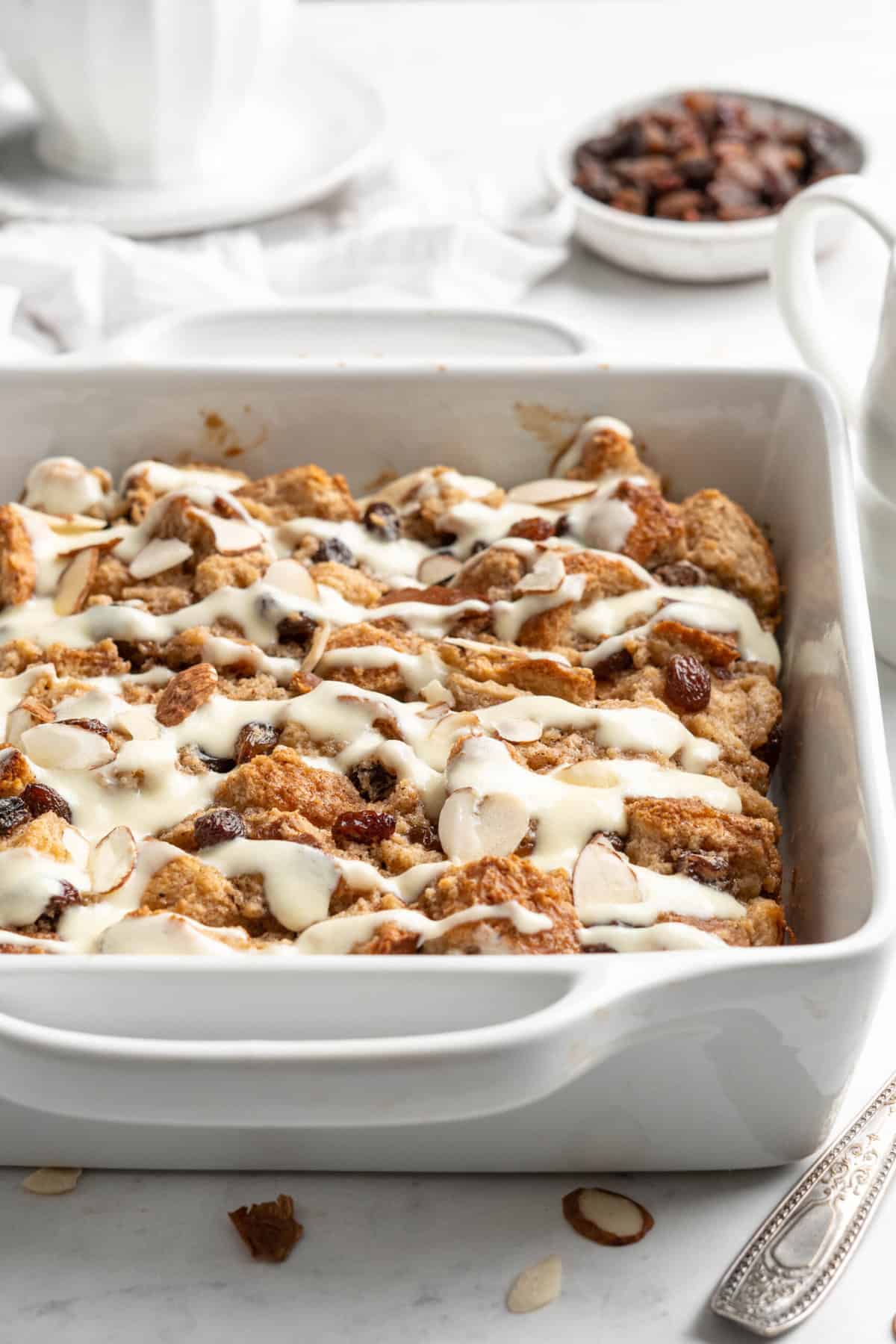 Tips And Tricks
Choose the highest quality bread you can find for the best results. My go-to is usually French bread, but Italian bread works well too. Good quality bread holds up better and doesn't turn out as soggy — No one likes soggy bread!
As for the sauce, it's important to go slow. If you heat it too quickly, you run the risk of it breaking or curdling. If it does, try blending the sauce to save it.
What To Do With Leftovers
You'll be happy to know this stores well in the refrigerator! Once it's completely cooled, transfer it to an airtight container and it will last for 4-5 days. Make sure to store the sauce separately so the bread doesn't turn to mush.
If you don't finish this recipe within the week, it can be frozen for up to 3 months. Again, don't freeze it if it's covered in sauce. Otherwise, store the leftovers in a freezer-safe bag or container.
Reheating
You can definitely eat bread pudding cold, but it's just so much better when it's warmed up again! For the best flavor and texture, heat it in the oven for about 10-12 minutes at 350 degrees F.
To keep it moist, bake it covered with aluminum foil. For a crispier version, heat it uncovered for 1-2 minutes towards the end of baking.
If you're in a hurry, you can always reheat a slice in the microwave for 30 seconds at a time, or until it's heated through.
Make It Ahead of Time
There are two options when it comes to prepping this recipe ahead of time. The first is assembling the entire dish and keeping it in the fridge overnight, or until you're ready to bake it. The second is cooking the entire dish, then quickly reheating it when it's time to serve.
Of course, serving freshly made bread pudding is always my top choice, but do whatever is most convenient for you.
One quick note to remember is the longer you soak the bread, the softer it will be. It's all personal preference, but just keep that in mind when you're preparing this recipe.
Similar Recipes
For more dessert-style breakfasts, try some of my TASTY French toast recipes: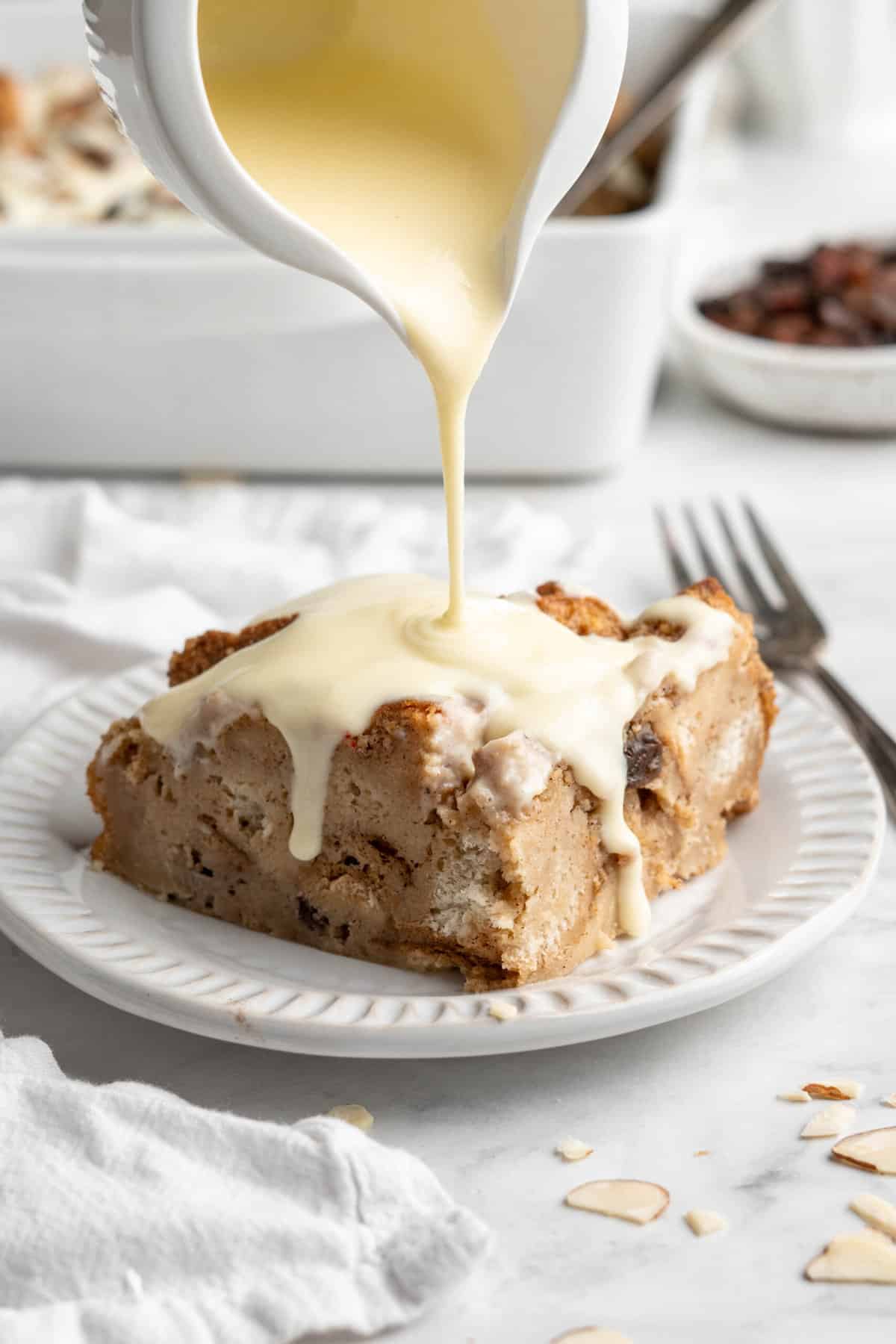 Frequently Asked Questions
Does it need to be refrigerated?
Yes, bread pudding needs to be refrigerated. Since this recipe contains dairy, eggs, and sugar, it could trigger microbial growth. Don't leave it out for more than two hours.
Why is my pudding mushy?
The most common reason for mushy bread pudding is that your bread isn't stale enough. While the texture isn't necessarily ideal, it should still taste good.
Should it be covered while baking?
It isn't necessary to cover bread pudding while baking it. However, if you notice the top is starting to burn before it's cooked all the way through, cover it with tin foil to slow the burning process. Some sources claim it is best to bake bread pudding in a water bath to help prevent it from burning or drying out, but I don't find it necessary for this recipe.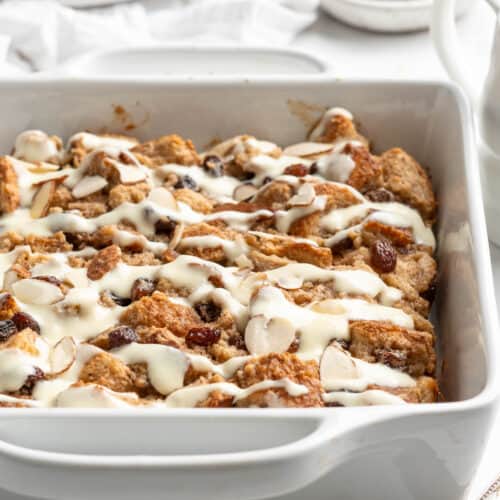 Best Bread Pudding
If you are searching for the Best Bread Pudding, look no further! This recipe is festive, moist, sweet, and indulgent. Make it for Christmas, Thanksgiving, Mardi Gras, or any other holiday occasion you can think of!
Print
Pin
Rate
Ingredients
For the Bread Pudding
10

slices

stale bread or see note below about baking

cut into cubes

12

oz

evaporated milk

1/2

cup

heavy whipping cream

1/2

cup

unsalted butter

room temperature

1/2

cup

granulated sugar

1/2

cup

packed light brown sugar

3

large

eggs

beaten

2

tbsp

brandy

1

tbsp

vanilla extract

1

tsp

ground cinnamon

1

tsp

ground nutmeg

1/2

cup

dried cranberries or raisins
For the Easy Cream Sauce
1/4

cup

granulated sugar

3

large egg yolks

whisked well

1

cup

half and half

1

tsp

vanilla extract
Instructions
For the Bread Pudding
Preheat your oven to 350. Grease a 8×8 baking sheet then set aside.

If bread isn't dried out and already stale, add the bread to a baking sheet and bake for about 8 minutes until golden then set aside.

In a mixing bowl, combine milk and whipping cream and set aside.

In your stand mixer, mix butter for about 1 minute then add in both sugars and mix on medium high speed until light and fluffy, about 2-3 minutes.

Next add in eggs, brandy, vanilla, cinnamon, and nutmeg and mix until well combined then set aside.

Next take bread cubes and add to the milk mixture and toss and fold until coated and liquid has mostly been absorbed into the bread.

Then add the butter mixture to the bread and toss again then add in the cranberries and make sure everything is tossed together well.

Pour the entire bread pudding into the greased pan and bake for 30-35 minutes or until a toothpick inserted into the center comes out clean. Cool for 15 minutes then serve.
For the Cream Sauce
Add half of the sugar to the whisked eggs and half of the sugar to the half and half mixture. Add the half and half mixture to a medium saucepan or small pot over medium heat. Whisk until the sugar has dissolved and it begins to bubble.

Remove from heat and stir in the vanilla.

Add a tiny bit of cream mix to the whisked eggs mixture to temper them and get them up to temperature. Do this 2 more times (about 1 tablespoon at a time) then continue adding in all of the liquid and whisk constantly to prevent scrambling until it is smooth.

Pour all of the liquid back in the saucepan and cook on low whisking constantly.

Once the sauce can coat the back of a spoon (about 10 minutes), serve.
Notes
If your bread isn't stale, spread the cubes out on a baking sheet. Bake until the bread appears golden and hard, which will prevent a mushy end result.
Nutrition
Calories:
354
kcal
|
Carbohydrates:
42
g
|
Protein:
8
g
|
Fat:
17
g
|
Saturated Fat:
10
g
|
Polyunsaturated Fat:
1
g
|
Monounsaturated Fat:
5
g
|
Trans Fat:
0.3
g
|
Cholesterol:
129
mg
|
Sodium:
180
mg
|
Potassium:
204
mg
|
Fiber:
1
g
|
Sugar:
31
g
|
Vitamin A:
691
IU
|
Vitamin C:
1
mg
|
Calcium:
164
mg
|
Iron:
1
mg