Piled high with Mini Pancakes, French Toast, Breakfast Burrito Pinwheels, Mini Quiches, hearty breakfast meats like bacon, and loads of fresh toppings, this Ultimate Breakfast Board is perfect for serving a crowd! Versatile and unique, this board is made for entertainment!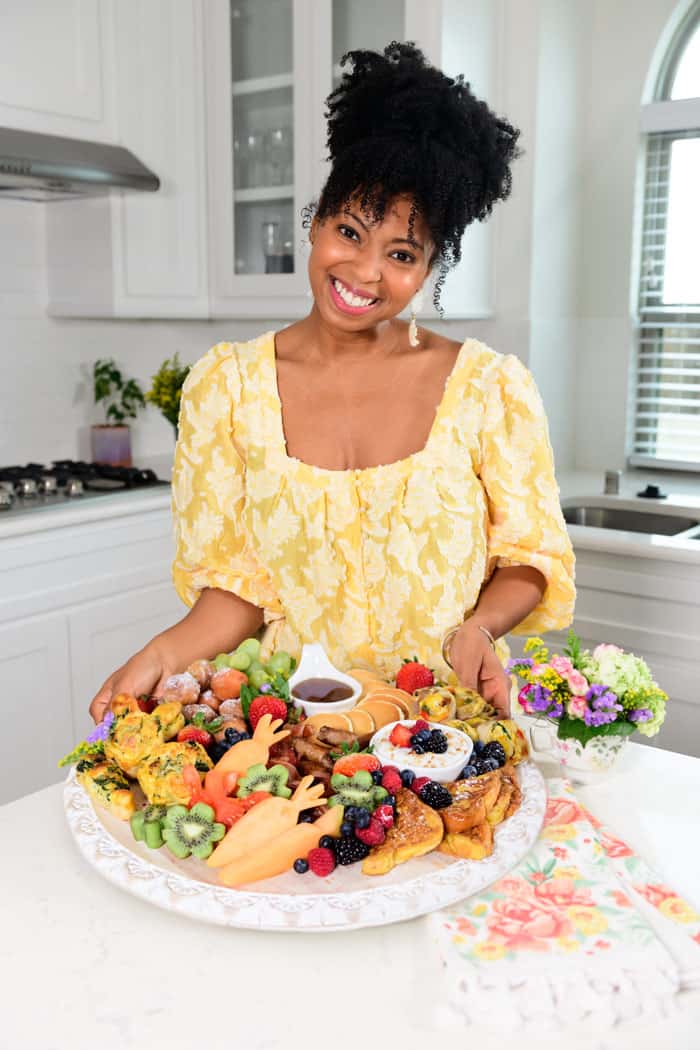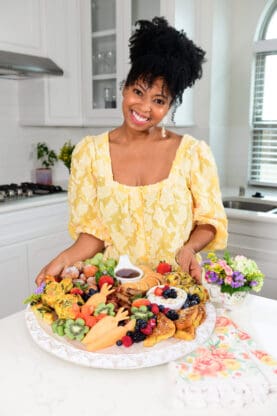 I rarely entertain guests for breakfast! Outside of the holidays, the occasion to dish out a huge spread before eleven AM is uncommon. But, when the rare moment does pop up (or I'm just in the mood for it), I'm more than ready.
A Breakfast Board is great for breakfast, brunch, or dinner! Fun to put together, visually stunning, and delicious, these boards are a home-entertainer's dream. Today's easy board has become my go-to for fuss-free breakfast entertaining or fun family brunches!
INGREDIENTS FOR A BREAKFAST BOARD OR BRUNCH BOARD
The beauty of any kind of board is that it's completely customizable! From start to finish this project is yours to play with. Layer your favorite breakfast and brunch treats to create a personalized board.
When building my own, I chose to include a variety of sweet and savory items. The result was a well-balanced, something-for-everyone board that I was so proud to serve!
Here's what I included:
Mini Pancakes

French Toast

Mini Spring Quiches

Mini Egg Burrito Pinwheels

Bacon (turkey or pork)

Sausage (veggie, pork, or chicken)

Fresh Fruit (berries, grapes, bananas, and kiwi)

Donut Holes

Parfaits (yogurt and granola)

Maple syrup, Honey, and Whipped Cream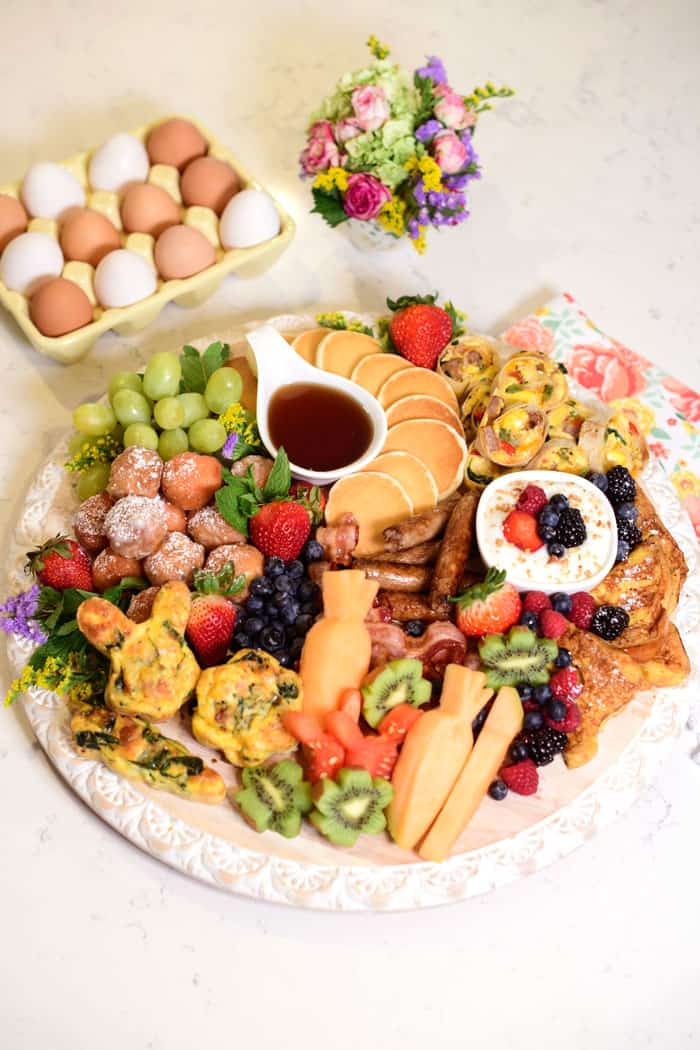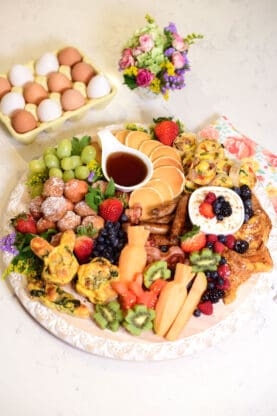 ADDITIONAL TOPPING IDEAS
If you're not sure where to start on toppings, I get it. There are an endless amount of possibilities and it can be overwhelming!
But, as always, I got your back. Here are few ideas to get you started:
Nut Butter

Chocolate Chips

Hot Sauce

Butter

Powdered Sugar

Jam or Jelly

Avocado (sliced)

Toasted Coconut

Whipped Cream
TIP: Don't forget the drinks! What's a brunch without something to sip on? Orange, apple or grapefruit juice, champagne/Prosecco, coffee, and tea are all perfect accompaniments to this board.
HOW TO BUILD A BREAKFAST BOARD
Setting up a brunch board couldn't be easier! When entertaining overnight guests or treating the family to a weekend treat, I turn to boards like these for a guaranteed fun, delicious breakfast.
For a an epic, quick-to-be-devoured board, follow the steps below:
Set up:

Grab a large cheese board or serving platter, 1-2 syrup pourers, and a few small bowls or ramekins for toppings.
Cook the Quiches and Pinwheels:

Both of these items take the longest to prepare, so they should be cooked first. Once done, follow the instructions below to keep them nice and warm.
Prep the Pancakes and French Toast:

If you've got an electric griddle on hand, now is it's time to shine! Whip up your batter, set up a French toast station, and cook them simultaneously until you've reached your desired amount. Keep watch! It can be tricky to multitask but leaving these unattended will result in some too-burnt-to-eat food for sure.
Cook the Bacon and Sausage:

Once the majority of my ingredients have been prepared, it's time to get moving! I throw some bacon and sausage on the cast iron and use their cooking time to prepare my fresh items. Rinse the fruit, pour the condiments, set out plates, utensils, and cups, then start maneuvering my pieces around the board.
Create your Board:

This is the fun part! Take everything you've prepared and use that serving plate as a canvas. Mix and match, play with colors, and make something exclusive and drool-worthy. Serve and watch that board slowly disappear!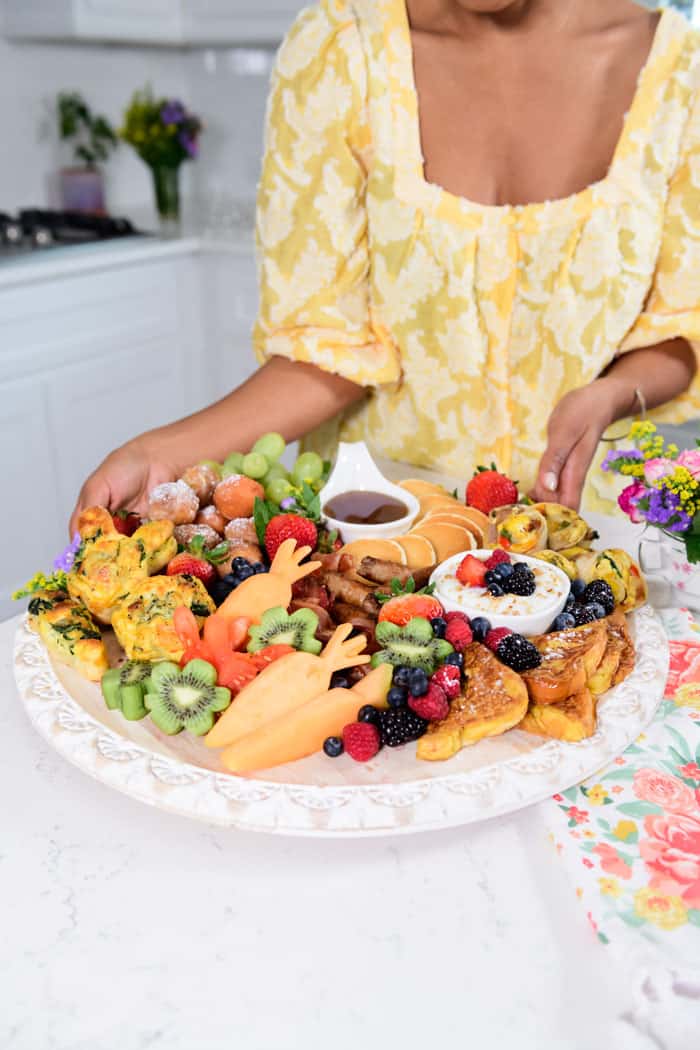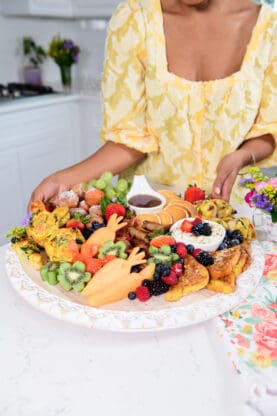 HOW DO I KEEP THE FOOD HOT?
Timing is everything! Items like fruit, yogurt, granola, donuts, and even quiches can be arranged on the board ahead of time. Hot components like pancakes, French toast, pinwheels, bacon, and sausage, should be cooked simultaneously and kept warm in the oven.
To do so, line a baking sheet with parchment paper and preheat the oven to 200 degrees. As the food finishes, transfer it to the baking sheet in the oven until ready to serve. As soon as all the food is cooked move it onto the board (in any arrangement you'd like) and serve immediately.
OTHER GREAT GRANDBABY CAKES BREAKFAST & BRUNCH RECIPES
Looking to take your breakfast game to a whole new level? I got you! Plain pancakes are a thing of the past.
Switch things up and try out a few of my ICONIC breakfast and brunch recipes: