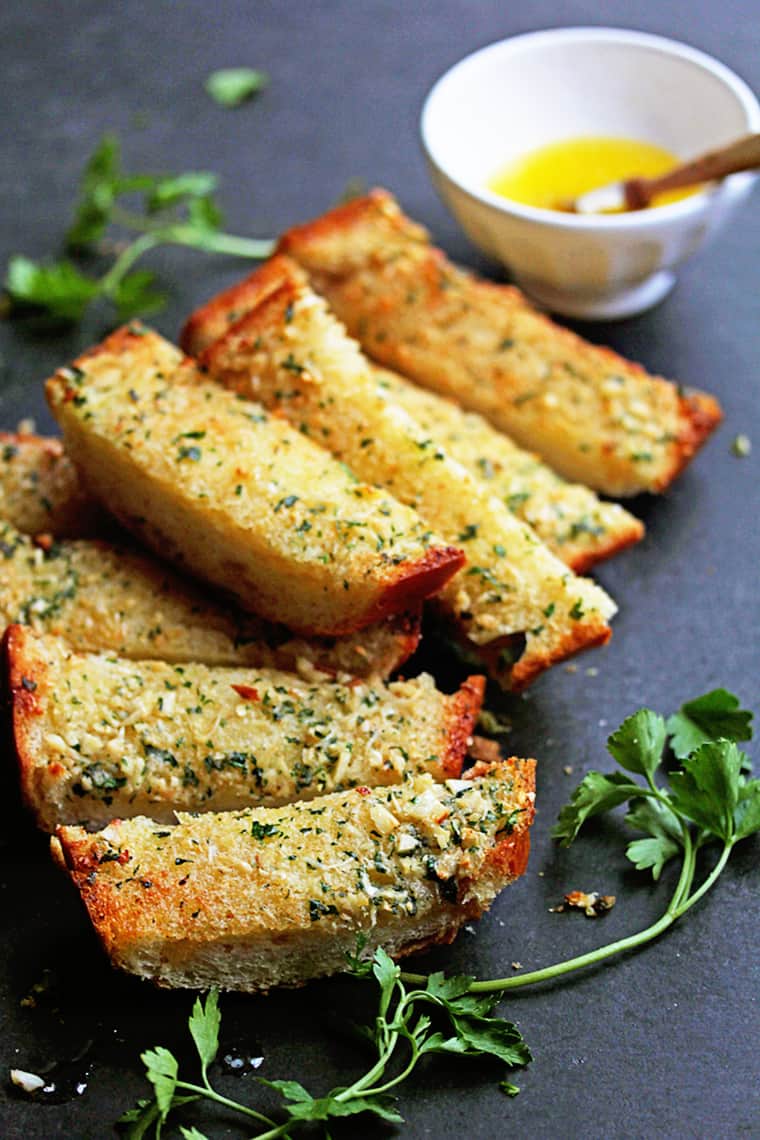 I didn't grow up eating homemade garlic bread. My mom was just too busy for that. Between a 9 to 5 (sometimes 9 to 6 or 7) job, a husband and two demanding kids in numerous activities, she was spread pretty thin. Looking back, I seriously have no idea how she was able to cook dinner for us at least 5 times a week!
I guess she just managed to make things convenient so they worked for her. If garlic bread was served, it was served from a frozen box labeled Texas Toast alongside her famous spaghetti at dinner time. Then one day, something happened. Our local grocery store started selling homemade garlic bread in their bakery section.
My mom decided to try it out and brought home a sliced loaf that looked really delicious even in non-baked form. She popped it in the oven as she was finishing her famous spaghetti and something magical occurred at dinner. I was totally changed! Texas Toast was kicked to the curb.
I had no idea homemade garlic bread could be so delicious and easy to make. You could say I became a bit obsessed with it. I probably asked my mom to buy this bread at least once or twice a week. Sometimes I would deceptively place it in the shopping cart behind bigger items so it would make it to the checkout counter.
After eating factory produced garlic bread for so long, the taste of fresh bread topped with butter, minced garlic, olive oil and parsley was divine and a real eye opener.
Ingredients
All you need to make this buttery garlic bread recipe is a few simple pantry-staple ingredients. Of course, you could add a few personal touches like red pepper flakes, fresh herbs, or even a few salty anchovies. Okay, maybe not the anchovies but whatever floats your boat!
Here's what I'm using today:
BUTTER

– I use salted since it is already super flavorful and cuts down on the ingredients you need to add.

MINCED GARLIC-

go ahead and grab a bulb of garlic to chop your own.

GARLIC POWDER-

the powder blends in easily with the spread making sure you get a taste of garlic in each bite of your bread that the minced garlic doesn't reach.

CHOPPED PARSLEY-

adds color and flavor but you can use just about any fresh or dried herb you'd like. Even an Italian seasoning mix will work!

OLIVE OIL-

use a high quality oil for the best flavor.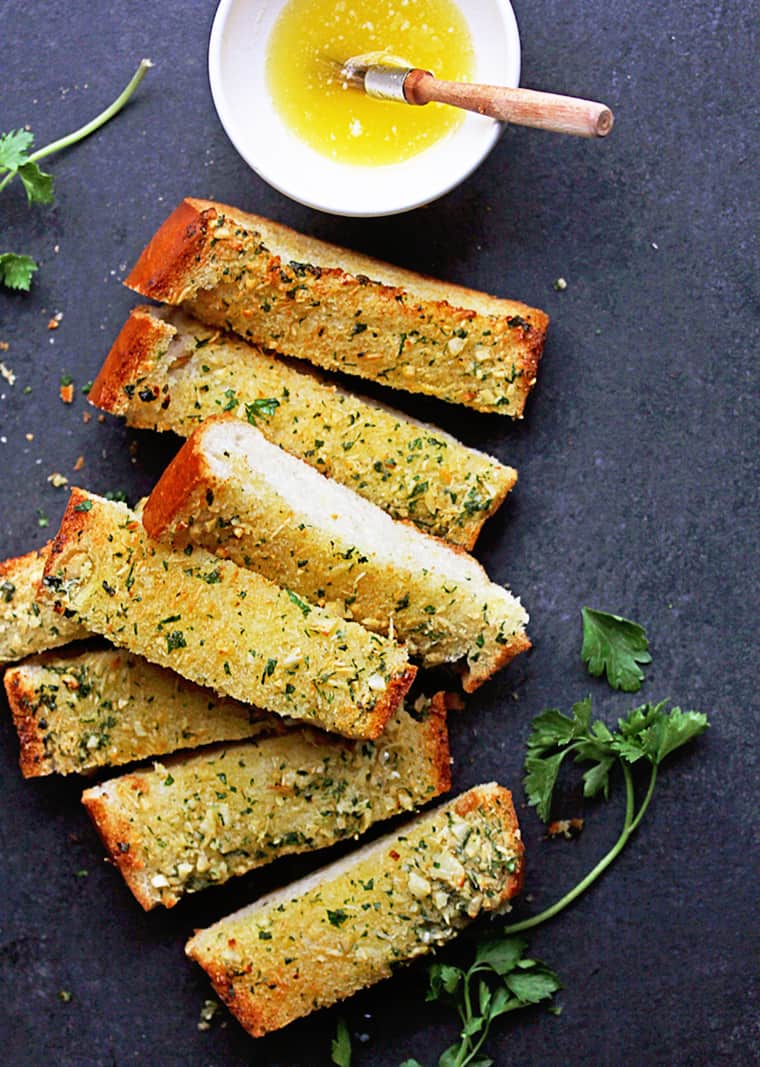 Tips
BUTTER TIP: For the butter, I like to go for a french style butter that has more fat because it is creamier and more decadent in taste.
WHY GARLIC AND GARLIC POWDER?: Fresh garlic and herbs are essential for this to taste even better. For those who are wondering about the garlic powder in addition to the minced garlic, I find that the taste allows for more garlic in each and every bite.
MINCED GARLIC TIP: Do not, I repeat, do not use the already packaged minced garlic in the grocery store. The bottles have additional chemicals and aren't as fresh. Make sure you take the tip to grab fresh garlic and mince it yourself. It makes a world of difference in taste and you shouldn't shortcut for a recipe that relies on garlic as the key ingredient!
What Is the Best Bread to Use for Garlic Bread
For the best result, use quality baked bread. I love to grab a fresh baguette from the bakery section at my grocery store. You can either go for French or Italian baked bread but fresh is key!
Make it With Sliced Bread
If you don't have anything fancy, don't sweat it. You can easily take the garlic bread spread and slather it on any bread you have lying around. White or wheat sandwich bread will work. Just be sure to toast the slices for only a few minutes since they're much thinner than a baguette or an Italian loaf.
Texas Toast Garlic Bread
Most grocery stores will carry Texas Toast sliced bread which is basically just thicker white bread. It's slightly sweeter too. You can use this garlic spread recipe on Texas toast for a delicious switch up.
How To Make It
Homemade Garlic Bread is probably the easiest thing you can make! All you need is a handful of ingredients and about 30 minutes, most of which isn't even active cooking time.
First off, you'll need to preheat the oven to 400 degrees. A high temperature will make for that gorgeous golden brown on the top of the garlic bread. A slightly crisp bite doesn't hurt either.
Next, you gotta mince the garlic for the spread. You could also grate it for a more pungent flavor. Whip up all the spread ingredients until everything is well combined.
Keep in mind, the parmesan cheese is optional but I think it adds the perfect salty, cheesy touch.
Finally, I slice up the bread, smother it with the garlic butter spread, and bake it to perfection as I finish my famous spaghetti – which of course is my mom's recipe.
Cheesy Bread
I've added parmesan to this recipe but if that's not enough you can totally sprinkle on an extra layer of cheese. Take about a cup or so of shredded mozzarella or your favorite cheese and layer it over the top of the garlic spread before baking.
For those golden-brown bubbles, turn the broiler on for the last minute or two of baking! Watch it carefully though.
Vegan Garlic Bread
Y'all, I'm lactose intolerant so I can appreciate a dairy-free swap every now and then. This recipe can easily be made vegan. All you gotta do is replace the butter with your favorite vegan margarine or butter substitute. I love Earth Balance.
How To Serve
This bread is seriously fantastic served with my Italian pot roast recipe, this brown butter pasta, this chicken piccata recipe, this stuffed shells recipe or my lentil meatballs and spaghetti recipe.
If you adore stuffed shells, check out my Chicken Stuffed Shells. Next level!
If you love a classic, try my amazing Spaghetti and Meatballs.
Also check out these Garlic Cheese Breadsticks!!!! They are so wonderful for a cheesy twist on the classic.
*Did you make this recipe? Please give it a star rating and leave comments below!*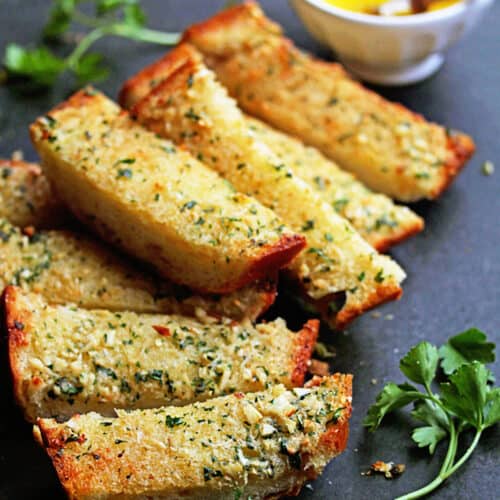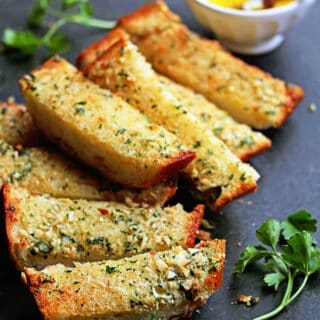 Garlic Bread Recipe (How to Make Garlic Bread)
Garlic Bread Recipe (How to Make Garlic Bread) - Buttery, garlicky, crunchy and addictive! I will teach you how to make the easiest homemade garlic bread recipe with a delicious garlic bread spread from scratch.
Print
Pin
Rate
Ingredients
baguette

1/2

cup

salted butter

room temperature (1 stick)

4

tsp

minced garlic

1

tsp

garlic powder

2

tsp

chopped parsley

1/2

tsp

olive oil

1/2

cup

parmesan

optional
Instructions
Preheat oven to 400 degrees.

Cut bread roll in half lengthwise.

In a medium sized bowl, whisk together butter, minced garlic, garlic powder, parsley, olive oil and parmesan cheese if using until well combined.

Liberally spread garlic butter mixture on each half of bread.

Bake bread for 10-14 minutes or until bread is crisp and top is golden brown.

Cut bread into slices and serve.
Video
Notes
If you want to brown the top even more, turn your broiler on for 1-2 minutes but watch carefully so your bread doesn't burn!!
Nutrition
Calories:
384
kcal
|
Carbohydrates:
32
g
|
Protein:
6
g
|
Fat:
25
g
|
Saturated Fat:
15
g
|
Cholesterol:
61
mg
|
Sodium:
586
mg
|
Potassium:
89
mg
|
Fiber:
1
g
|
Vitamin A:
710
IU
|
Vitamin C:
0.9
mg
|
Calcium:
61
mg
|
Iron:
1.9
mg