What's better than a fluffy, tender biscuit fresh from the oven? How about one that's also basted in rich, melted butter as it bakes? That's exactly what you'll get with this recipe for Butter Swim Biscuits. It's an uncomplicated buttermilk biscuit recipe that yields exceptional results: biscuits so buttery and flavorful, they'll have you coming back for seconds… and maybe even thirds.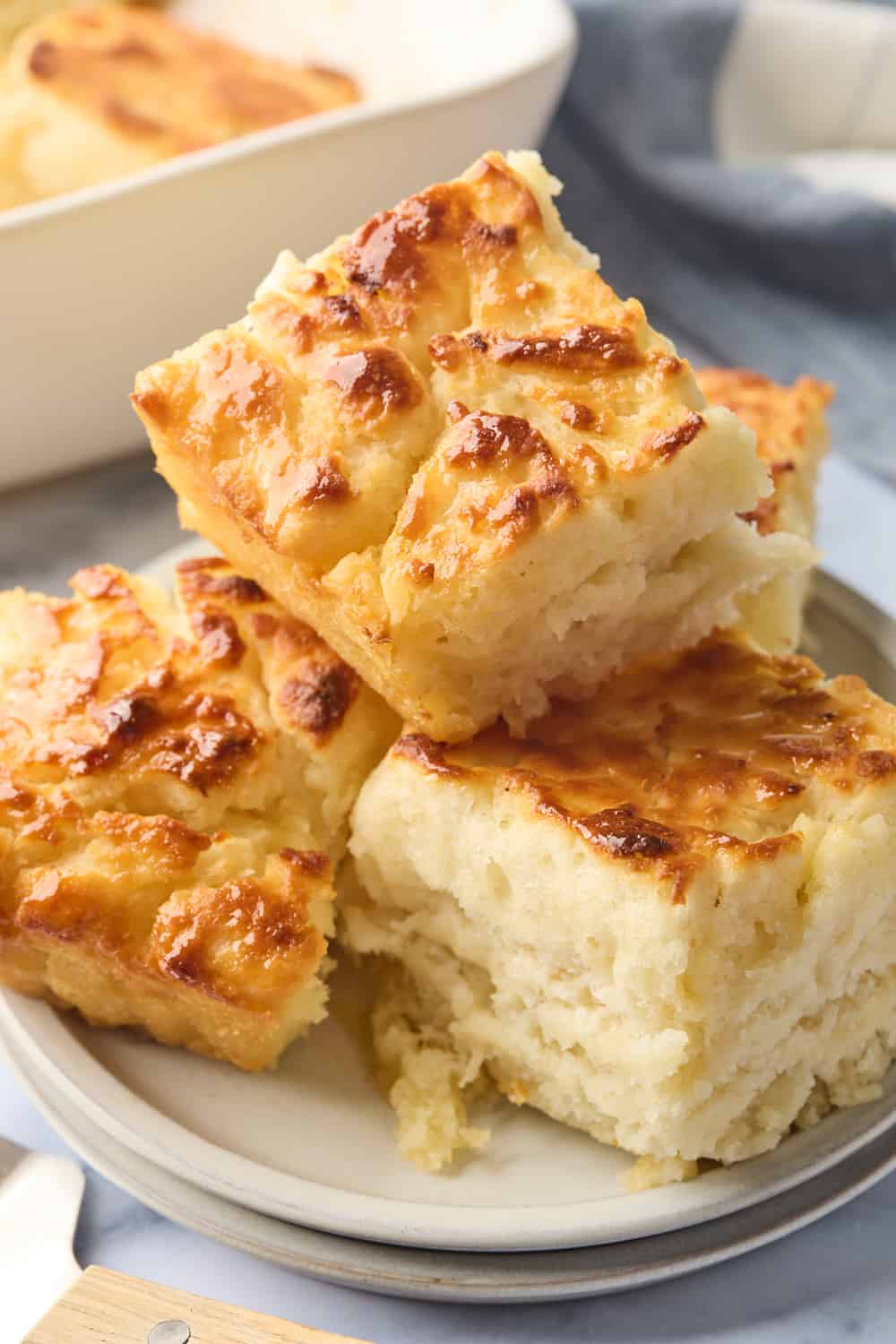 This recipe comes from my lovely friend Erika Council's first cookbook, Still We Rise: A Love Letter to the Southern Biscuit. Erika knows biscuits better than anyone I know. She owns the renowned Bomb Biscuit Company in Atlanta, and also is the granddaughter of renowned soul food chef Mildred "Mama Dip" Council. For years, I asked her if she was finally going to write a cookbook, and I was beyond excited when I received word that this book would be coming out. Her talent is immense, and these biscuits are quite special!
Why you'll love this Quick & easy butter swim Biscuit Recipe
Quick and Easy: With just a few simple steps, you can have homemade butter swim biscuits ready to serve in less than 30 minutes. Perfect for busy mornings or last-minute cravings.
Buttery Goodness: These biscuits are made with a generous amount of melted butter, giving them a rich and indulgent flavor that will leave you wanting more.
Minimal Ingredients: This recipe calls for pantry staples, such as flour, salt, baking powder, sugar, and buttermilk. You don't need any fancy or hard-to-find ingredients to create these delicious biscuits.
Perfectly Tender and Fluffy: The butter and buttermilk in the recipe make these biscuits incredibly tender and fluffy. They're soft and moist on the inside, with a deliciously crispy top.
Foolproof Method For Making Homemade Biscuits: These Butter Swim Biscuits are the perfect recipe for anyone who feels a little intimidated by biscuit making. The method is simple and straightforward, and it ensures success every time. The hot butter helps to 'sear' the bottom of the biscuits, giving them a great texture and flavor.
Ingredients to make Butter Swim Biscuits
Unsalted Butter: You'll use this butter in a unique way – it's melted in the baking dish to create a buttery pool for the biscuit dough to bake in.
All-Purpose Flour: The primary dry ingredient in these biscuits, flour provides structure.
Salt: Necessary to bring out the flavors in the biscuits.
Baking Powder: This is our main leavening agent, helping the biscuits rise to fluffy perfection.
Sugar: A small amount is used to slightly sweeten the biscuits.
Full-fat Buttermilk: The acidity in buttermilk reacts with the baking powder to help lift the biscuits. It also adds a nice tang and richness to the flavor. Room temperature is best as it integrates better with the other ingredients.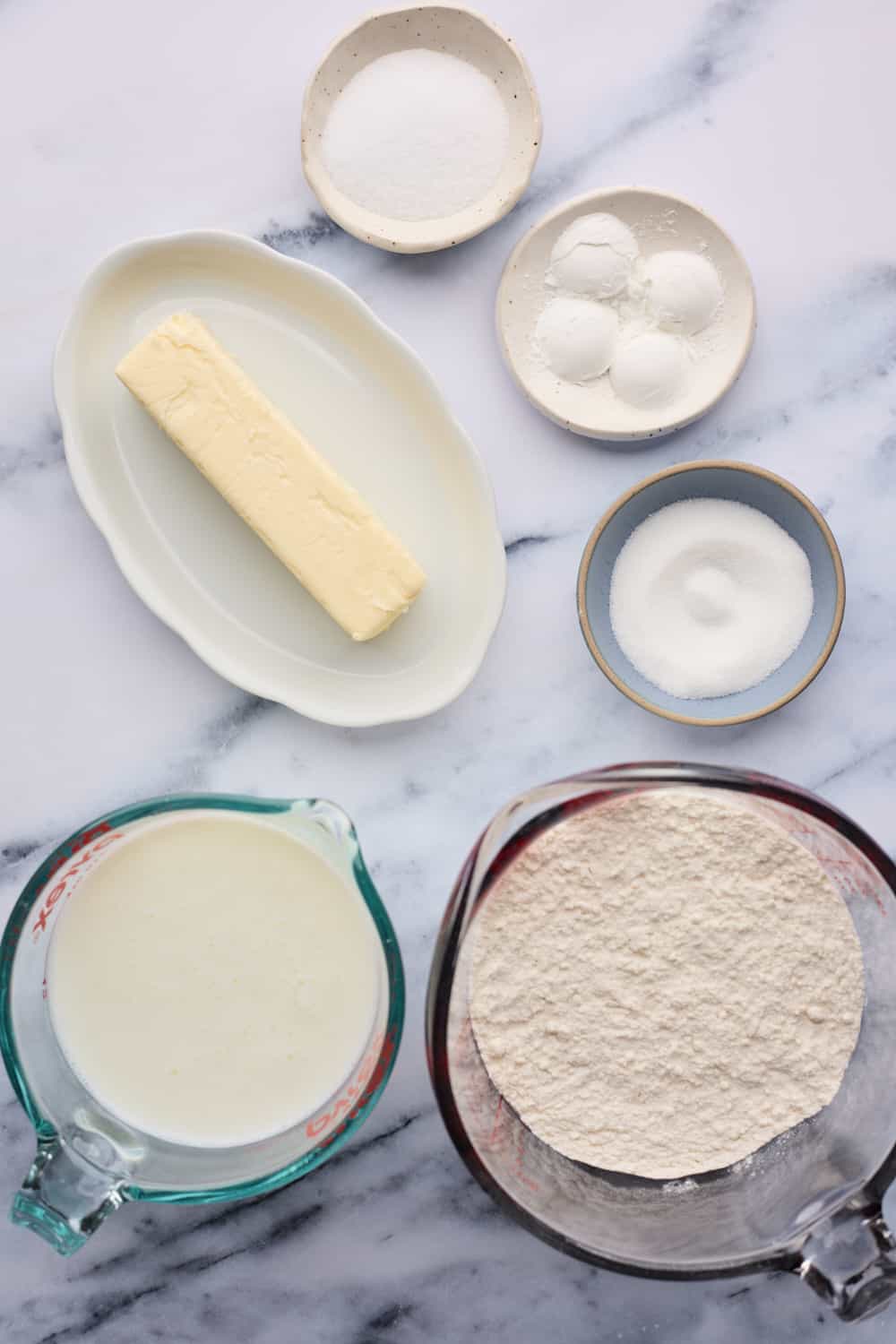 How to make Butter Swim Biscuits
In a large bowl, mix the flour, salt, baking powder, and sugar.
Add the buttermilk and stir until just combined.
Pour the batter on top of the hot butter.
Use a spatula or knife to spread the dough.
Run the knife through the dough.
Cut 9, 3-inch squares.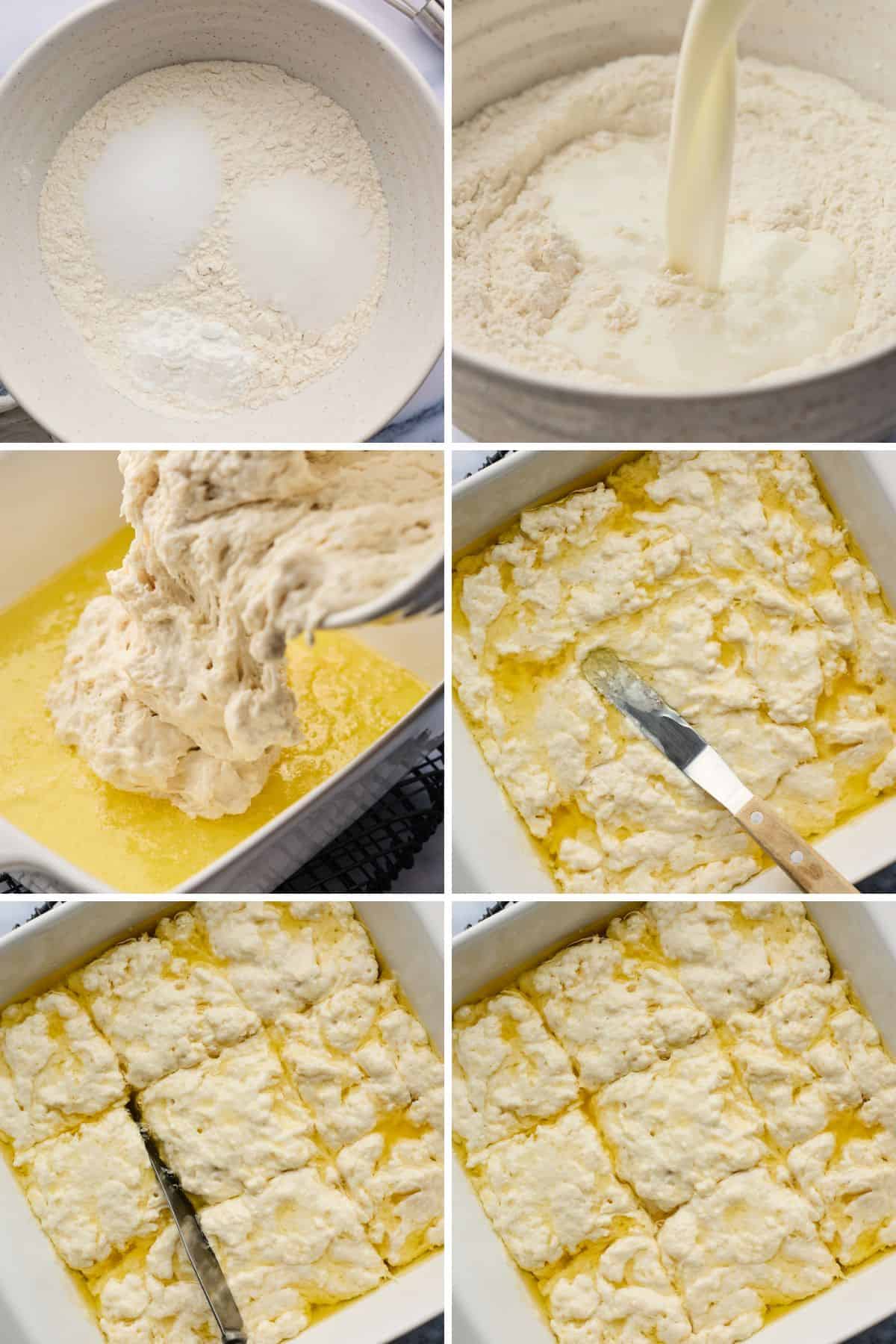 Tips for making the best Butter Swim Biscuits
Be Gentle: When mixing the dough, be gentle and avoid over-mixing. You want to stir until everything just comes together. Overmixing can make your biscuits tough.
Use Room Temperature Buttermilk: Cold buttermilk can re-solidify the butter. Room temperature buttermilk blends more smoothly into the dough.
Hot Oven, Hot Dish: Preheating the dish with the butter in the oven helps to kickstart the cooking process and get those perfect, crisp edges.
Square It Up: Cutting the dough into squares in the dish before baking ensures that each biscuit has plenty of that delicious melted butter on all sides.
Rotate for Even Browning: Halfway through the baking time, rotate your pan for even baking and browning.
Popular substitutions & additions
Make your own buttermilk: If you don't have buttermilk on hand, you can easily make your own. Simply add 2 tablespoons of lemon juice or white vinegar to a liquid measuring cup, then pour in enough milk (whole milk preferably, but any kind will do) to reach the 2-cup line. Stir it together, then let it sit for about 5-10 minutes. It will curdle slightly, creating a buttermilk substitute that works perfectly in this recipe.
Dairy-Free: If you need a dairy-free option, you can use plant-based butter and substitute the buttermilk with a dairy-free milk mixed with 2 tablespoons of vinegar or lemon juice.
Gluten-Free: Use a gluten-free flour blend in place of all-purpose flour if needed. Just be sure it contains xanthan gum, which helps with structure and texture.
Herbs & Cheese: For a flavorful twist, try adding some fresh or dried herbs like rosemary, thyme, or chives to the dough. You could also mix in some grated cheddar or Parmesan cheese.
Honey Butter: Top your warm biscuits with some honey butter for an indulgent treat. Just mix equal parts honey and soft butter, then spread on the warm biscuits.
What to serve with these quick butter swim biscuits
These Butter Swim Biscuits are incredibly versatile and can be served with various dishes. Here are a few serving ideas to get you started:
How to Store & Reheat Butter Swim Biscuits
Once they're fully cooled, store any leftover butter swim biscuits in an airtight container at room temperature for up to 2 days. To reheat them, you can use your oven or toaster oven. Set the oven to 350°F and warm the biscuits for about 5-10 minutes or until heated through.
How Long Will Butter Swim Biscuits Last in the Fridge?
While these biscuits are best enjoyed fresh, they can be kept in the refrigerator for up to a week. Again, be sure they're stored in an airtight container to prevent them from drying out.
Can I Freeze Butter Swim Biscuits?
Absolutely! These biscuits freeze well. Once they're fully cooled, place them in a freezer-safe airtight container or a zip-top freezer bag. They should maintain their quality for up to 3 months in the freezer. To reheat, you can either let them thaw at room temperature, or you can heat them directly from frozen in a 350°F oven for about 15-20 minutes.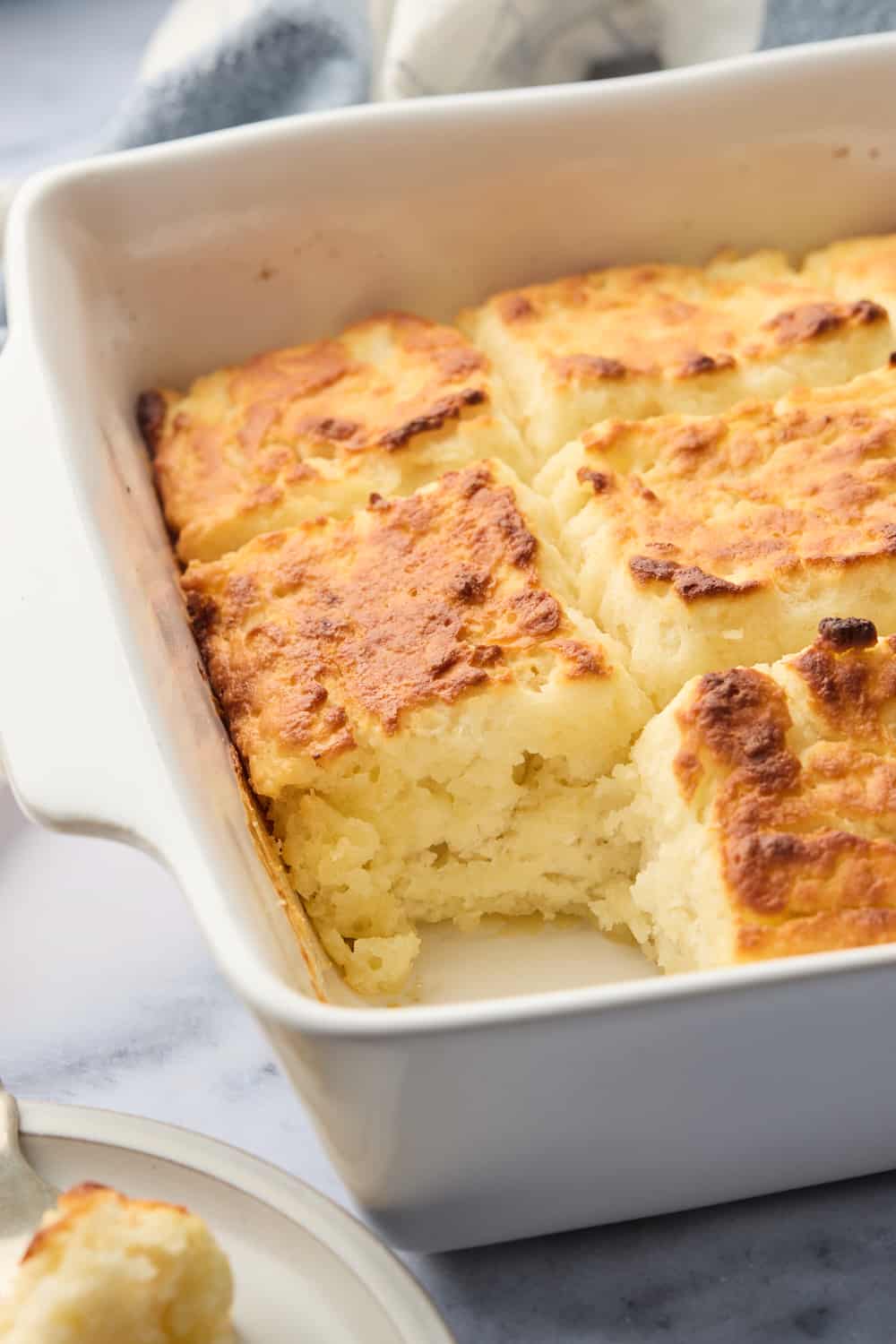 Frequently asked questions
Why are my biscuits not rising?
There could be a few reasons for this. It could be that your baking powder is old and not active anymore, or that your oven isn't hot enough. Make sure to check the expiration date on your baking powder and preheat your oven properly for the best results.
Can I use self-rising flour instead of all-purpose flour and baking powder?
Yes, you can replace the all-purpose flour with self-rising flour. However, keep in mind that self-rising flour already comes with leavening agents, so adjust the baking powder as necessary.
Can I use salted butter instead of unsalted butter?
You can, but keep in mind that salted butter contains salt in varying amounts depending on the brand, and this could affect the overall saltiness of your biscuits. If you only have salted butter on hand and wish to use it, you may want to reduce the additional salt added to the recipe.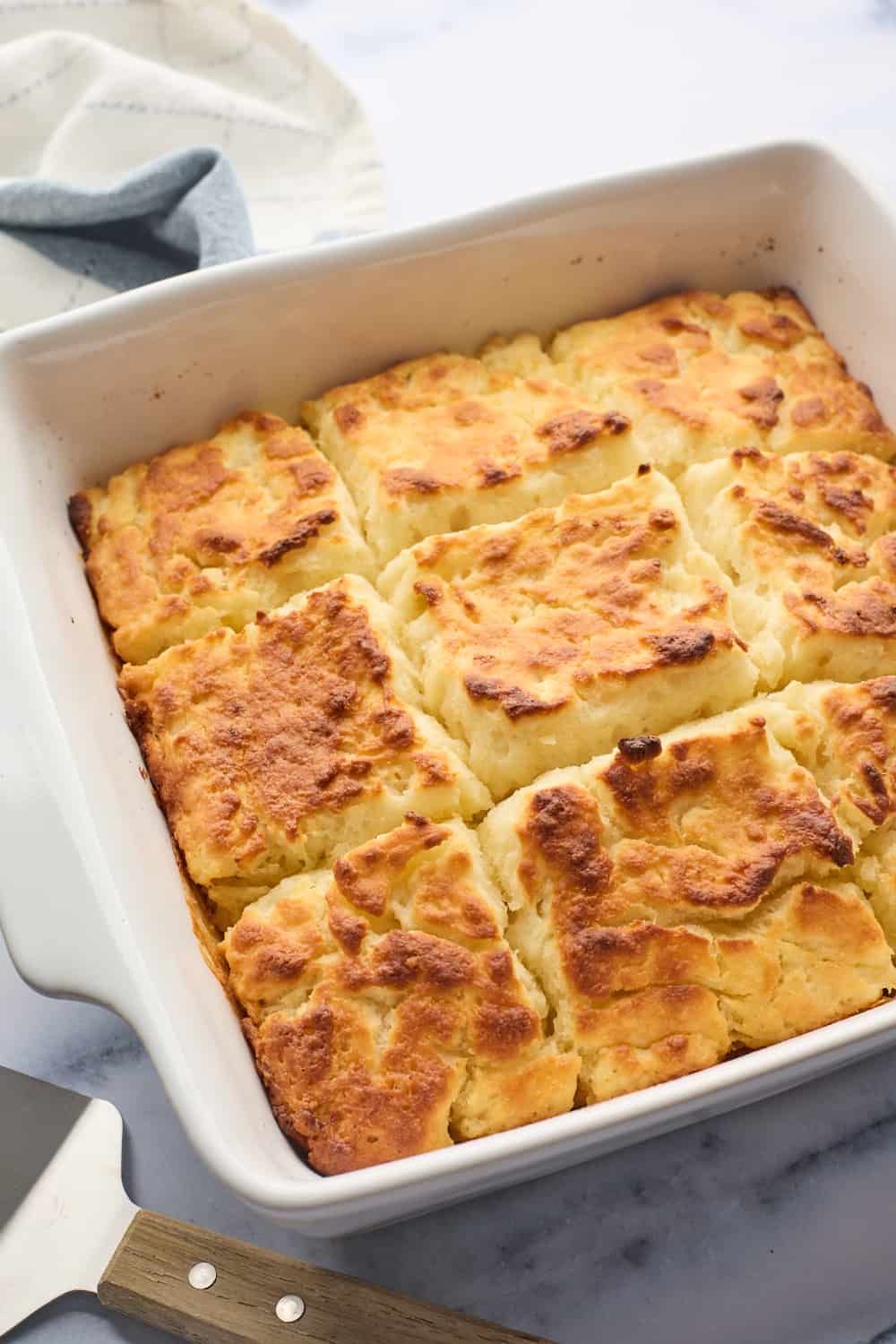 You've just baked your way through a classic comfort food recipe that will definitely win over any crowd. Whether you serve these butter swim biscuits for breakfast with a side of jam, or as a dinner side to mop up that last bit of gravy, they are sure to be a hit. Remember, this recipe is as forgiving as it is delicious, making it perfect for beginners and seasoned bakers alike. Now, all that's left is to call everyone to the table, serve up these golden, buttery beauties, and watch them disappear.
More Biscuit recipes
*Did you make this recipe? Please give it a star rating and leave comments below!* Post a photo of how your version of the recipe came out on Instagram (using #grandbabycakes)!!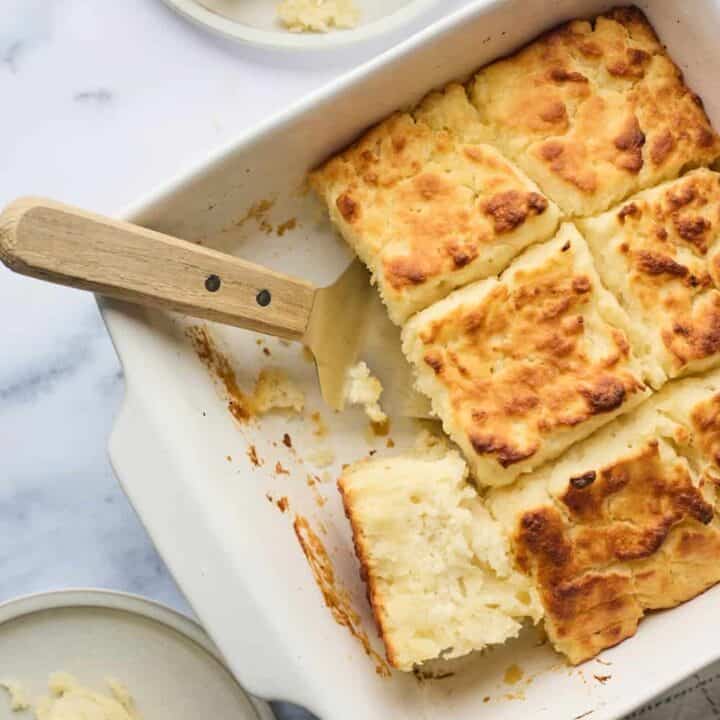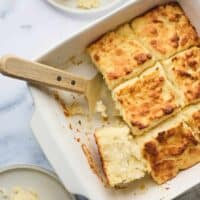 Butter Swim Biscuits
This easy butter swim biscuit recipe is everything a buttermilk biscuit should be, tangy, buttery, salty and most importantly easy to make!
Print
Pin
Rate
Ingredients
1

stick

unsalted butter

2 1/2

cups

all-purpose flour

2

teaspoons

salt

4

teaspoons

baking powder

1

tablespoon

sugar

2

cups

full-fat buttermilk

room temperature
Instructions
Place the oven rack in the middle of the oven and preheat to 450F. Add the butter to a 9 x 9-inch casserole dish and place inside the oven while its preheating.

In a large bowl mix the flour, salt, baking powder and sugar. Add the buttermilk and stir until just combined.

Remove the casserole dish from the oven and pour the batter on top of the hot butter. Use a spatula or knife to spread the dough. Run the knife through the dough cutting 9, 3 inch squares.

Bake for 20-25 minutes rotating the pan once halfway through cooking until the thopof the biscuits are golden brown. Serve immediately.
Nutrition
Serving:
1
biscuit
|
Calories:
256
kcal
|
Carbohydrates:
31
g
|
Protein:
5
g
|
Fat:
12
g
|
Saturated Fat:
8
g
|
Polyunsaturated Fat:
1
g
|
Monounsaturated Fat:
3
g
|
Trans Fat:
0.4
g
|
Cholesterol:
33
mg
|
Sodium:
1797
mg
|
Potassium:
113
mg
|
Fiber:
1
g
|
Sugar:
4
g
|
Vitamin A:
402
IU
|
Calcium:
175
mg
|
Iron:
2
mg