If you thought traditional mashed potatoes were the epitome of flavor and smoothness, wait until you try my sinfully delicious Cream Cheese Mashed Potatoes! They're bursting with richness, and so creamy they'll slide right off your fork. Plus, they have a sweet, mellow, and slightly nutty goodness that only perfectly roasted garlic can bring to the table. These cream cheese mashed potatoes are simply perfect for those who love cheese, garlic, and potatoes in equal measure!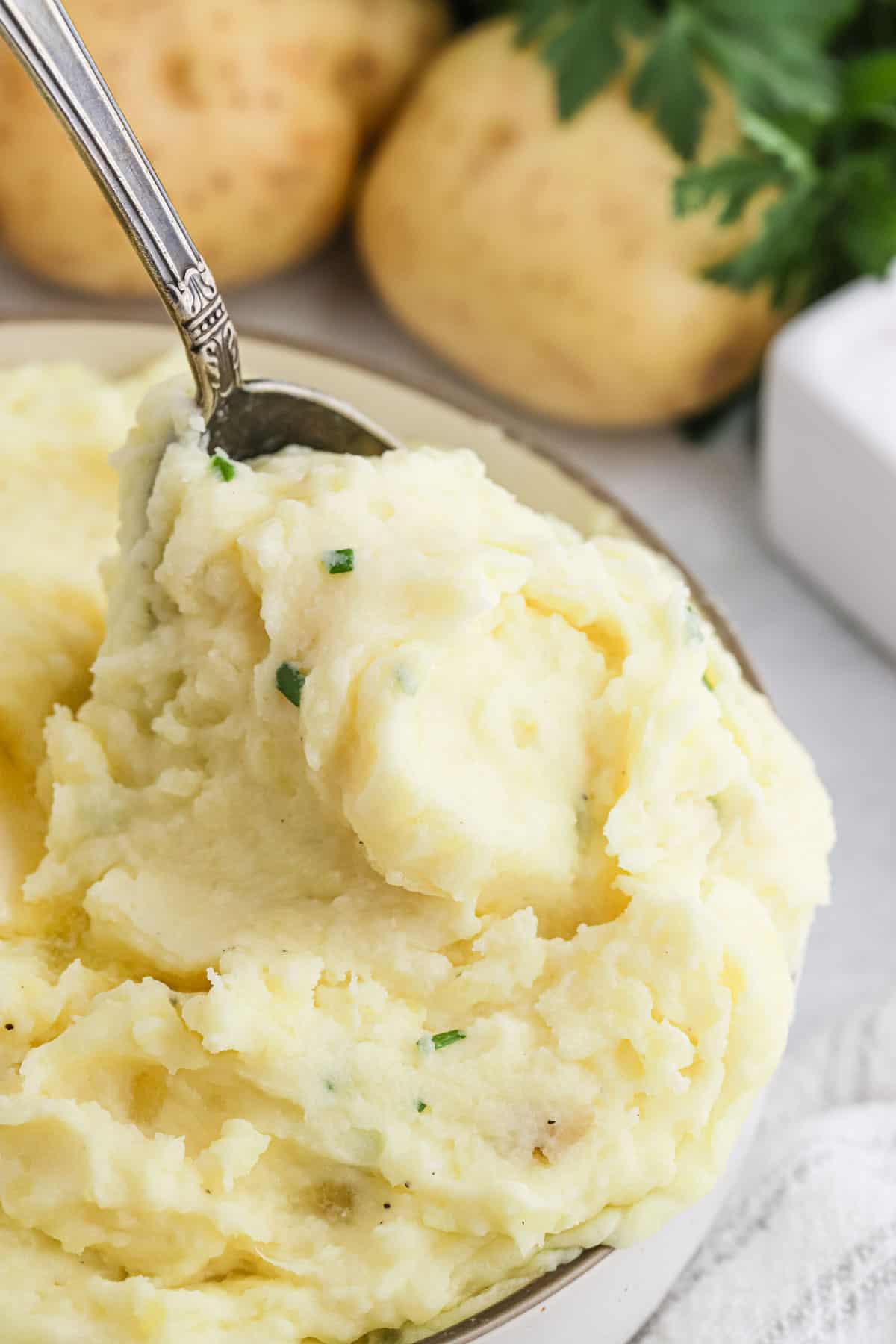 Now, let's address the elephant in the room: these cream cheese mashed potatoes are not for the faint of heart—or those counting calories! They are unapologetically decadent, so much so that they'll make you forget all about keeping things light and healthy, for a little while at least. So, when a hard day calls for a side dish that's hearty and comforting, this cream cheese mashed potato recipe has got your back!
The Heart & Soul Of This Cream Cheese Mashed Potatoes Recipe
Cuisine Inspiration: American
Primary Cooking Method: Boiling and Baking
Dietary Info: Gluten-Free, Vegetarian
Key Flavor: Garlicky and Rich
Skill Level: Intermediate
Sweet Spots
Creamy Consistency: The addition of cream cheese elevates the dish by giving it a smooth, velvety texture.
Roasted Garlic Flavor: The process of roasting garlic brings out a natural sweetness and mellowness, which complements the potatoes wonderfully.
Versatile Side Dish: This dish pairs well with a wide array of mains, from grilled meats to vegetarian entrees, making it a versatile addition to any meal.
One-Pot Recipe: All the ingredients come together in a single pot, streamlining your cooking process and minimizing cleanup.
Ingredients to make Cream Cheese Mashed Potatoes
Garlic: I'm a fool for all things garlic! When roasted, it becomes soft and slightly sweet, complementing the creaminess of the mashed potatoes.
Olive Oil: Used to drizzle over the garlic before roasting. It brings out the garlic's richness.
Yukon Gold Potatoes: A buttery and slightly waxy variety of potatoes. Their smooth texture and rich flavor make them perfect for mashing.
Unsalted Butter: This is a classic ingredient for making mashed potatoes. It adds a rich, velvety texture and a buttery flavor that's hard to match.
Cream Cheese: My secret weapon! It adds a tangy richness to the potatoes, giving them that distinctive, ultra-creamy texture.
Half and Half: That blend of equal parts milk and cream makes the mashed potatoes even more smooth and velvety.
Onion Powder: Adds a subtle onion flavor without overpowering the other ingredients.
Kosher Salt: It's essential for seasoning and bringing out the best in the spuds!
Black Pepper: Gives a gentle kick and a touch of spiciness.
Minced Chives: These green herbs add a pop of color and a mild oniony flavor, making them the perfect garnish for our creamy cheese mashed potatoes!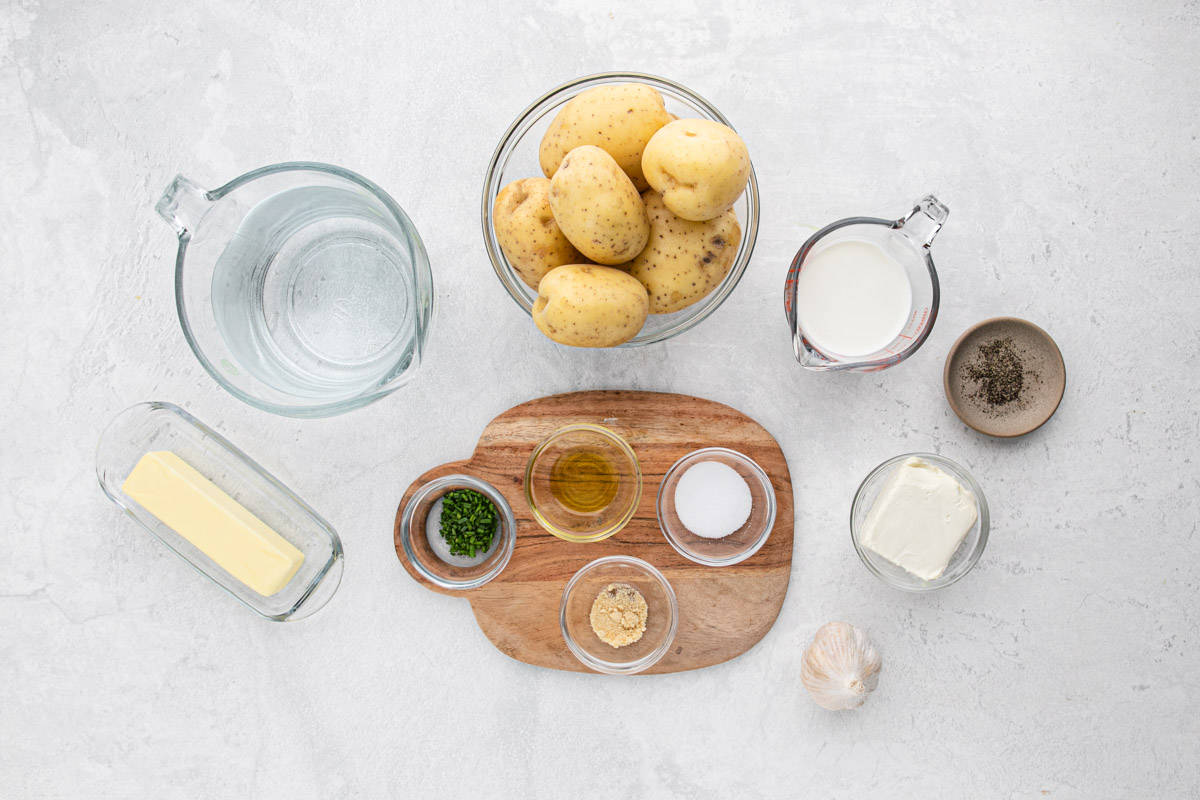 How to make Cream Cheese Mashed Potatoes
When it comes to making mashed potatoes at home, there's not much to it! This recipe does add a tiny, tiny extra step with roasting the garlic, but it's so worth it, and really, the oven does the work here!
First, Roast Your Garlic!
Slice the top of the garlic head so all cloves are showing.
Add garlic to a large piece of foil and drizzle with olive oil.
Wrap the garlic completely and place it on a baking sheet.
Bake until garlic is fragrant, tender, and lightly browned.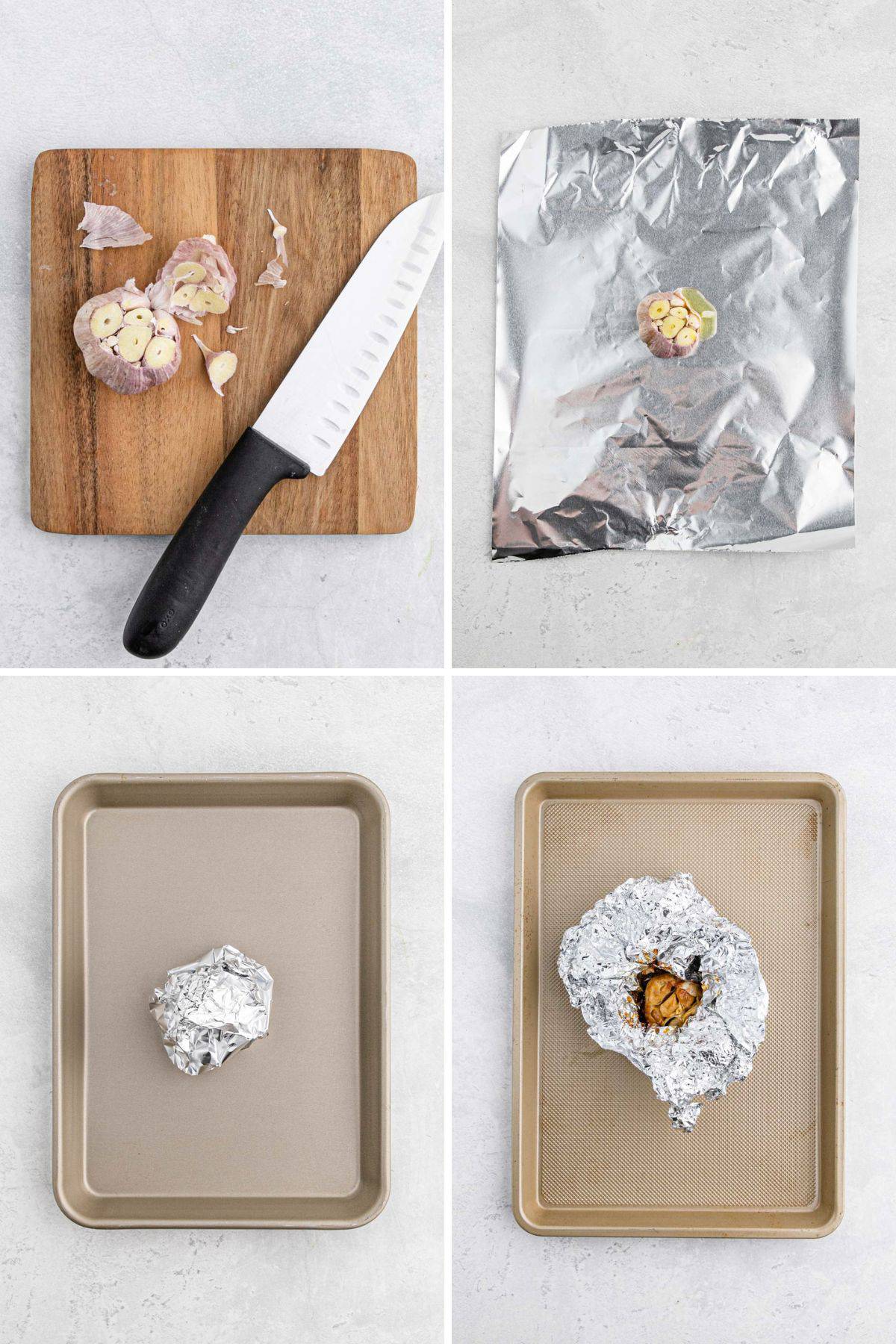 Start on your mashed potatoes
To a stockpot, add water, potatoes, salt, and bring to a boil.
Cook until tender when pierced with a fork. Then, drain and rinse potatoes.
Mash potatoes with potato masher or sturdy whisk. Add in roasted garlic, butter, cream cheese, onion powder, remaining salt, and pepper.
Stir while slowly adding in half and half.
Stir in chives.
Serve immediatly with a knob of butter on top.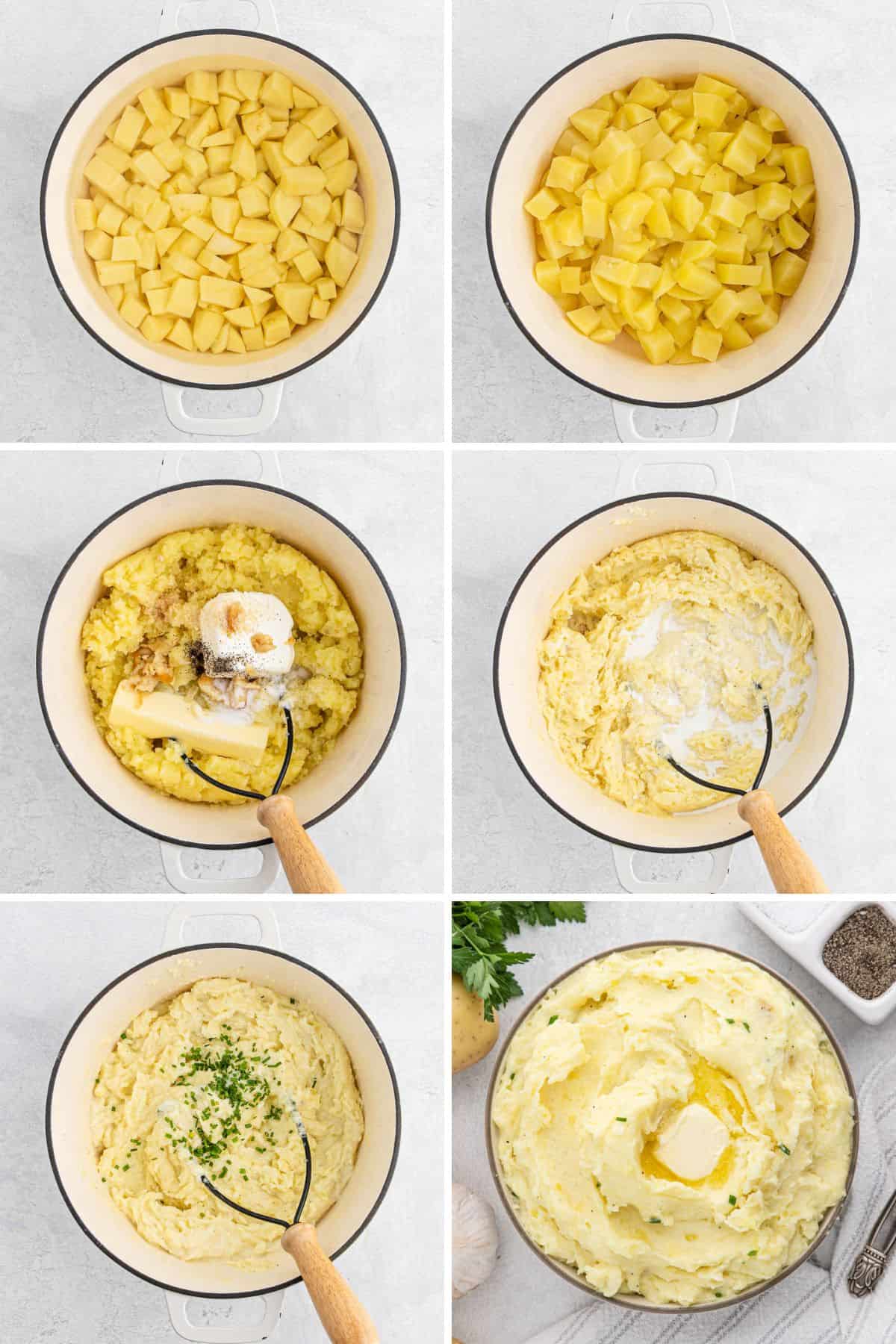 Tips for making the best mashed potatoes with cream cheese
Don't Over Mash: The key to velvety smooth mashed potatoes lies in mashing just enough to achieve the right consistency. Over mashing can lead to a gluey texture.
Watch the Cooking Time: Keep an eye on the clock and test your potatoes for doneness around the 8-minute mark. A fork should easily pierce the potato without resistance. Cooking them for too long can make them watery, yuck!
Use Room Temp Ingredients: When adding your butter, cream cheese, and half and half, make sure they're at room temperature. They'll mix better with the potatoes, thus avoiding lumps.
Don't Start With Boiling Water: Start with cold water when boiling your spuds. This ensures even cooking from the outside in, so your potatoes become tender throughout without becoming waterlogged.
Popular substitutions & additions
Turn it into a Casserole: Once you've made your mashed potatoes, transfer them to a baking dish, sprinkle with breadcrumbs and grated cheese, then bake until golden brown on top. Best casserole ever!
Flavored Cream Cheese: Instead of using plain cream cheese, opt for a flavored variety like chive, garlic, or even jalapeño for some heat.
Bacon Bits: If you're in the mood for a cream cheese mashed potatoes recipe with smoky and meaty flavors, stir in some crispy bacon bits just before serving. Yum!
More Roasted Garlic: If one head of garlic isn't enough for you, try mixing in another head of roasted garlic. This will give the mashed potatoes a deeper, more pungent garlic-y flavor.
Caramelized Onions: Slow-cook some thinly sliced onions in butter until they're golden. Then, fold them into your mashed potatoes for a rich, sweet addition.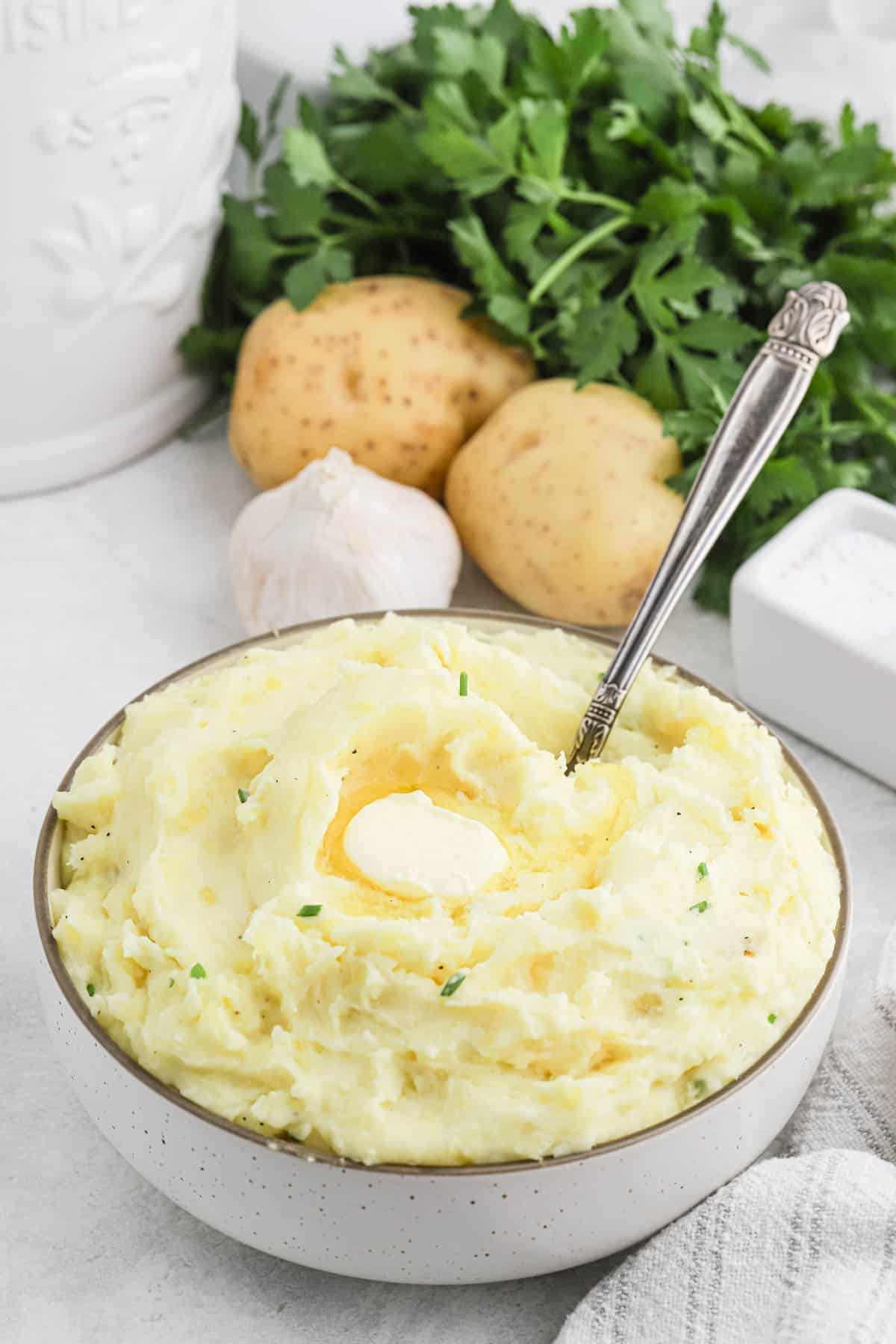 What to serve with
How to store & reheat
Once your garlic cream cheese mashed potatoes have cooled to room temperature, transfer them to an airtight container and pop it in the fridge.
To reheat the mashed potatoes, simply place them in a pot over low heat, stirring occasionally. If they seem a bit dry, you can add a splash of milk or a pat of butter to bring back that creamy consistency.
How long will they last in the fridge?
They will last in the fridge for up to 3-4 days. However, it's always a good idea to give them a sniff and a quick taste before reheating, to ensure they're still fresh. Trust your senses!
Can I freeze mashed potatoes?
Yes, you can freeze these mashed potatoes! Portion them into individual servings or as one large batch in freezer-safe bags or containers, removing as much air as possible. When you're ready to enjoy them again, thaw in the fridge overnight before and reheat. They can remain frozen for up to 2 months.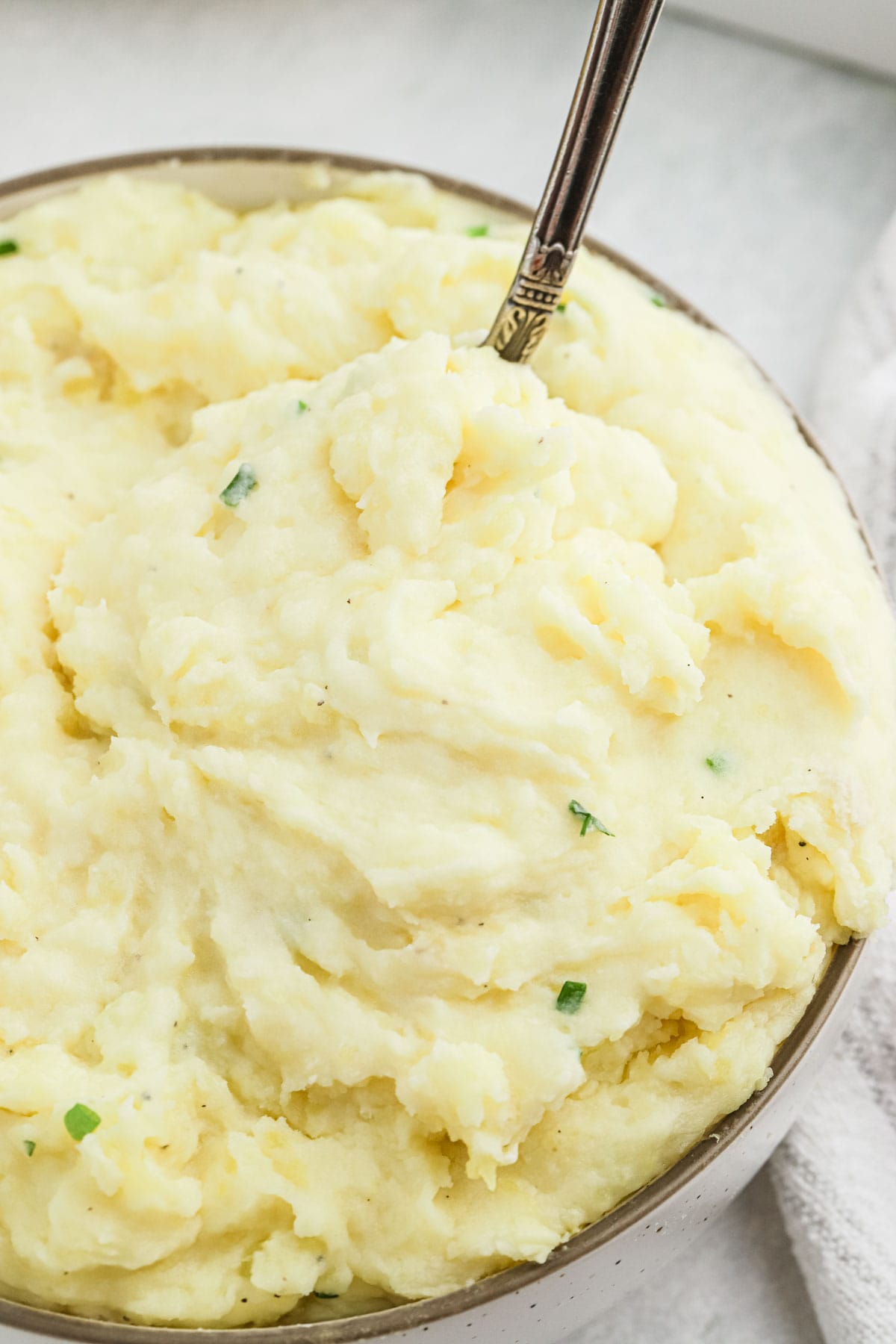 Frequently asked questions
Can I substitute cream cheese for sour cream?
Absolutely! If you're looking for a slightly tangier taste, you can replace the cream cheese with sour cream. Just remember, sour cream is a bit lighter in texture than cream cheese, so you might want to adjust the quantity based on your desired consistency.
My mashed potatoes came out gluey. How can I fix them?
Gluey mashed potatoes often result from over-mashing or using a food processor. One way to fix this situation is by turning them into a Potatoes au Gratin dish! Layer the gluey mashed potatoes with some grated cheese, sprinkle some herbs, and bake until golden and bubbly.
Can I use leftover cream cheese mashed potatoes in other dishes?
Of course! Leftover mashed potatoes can be incorporated into dishes like potato pancakes, and shepherd's pie, or even used as a topping for a savory pie. They are incredibly versatile!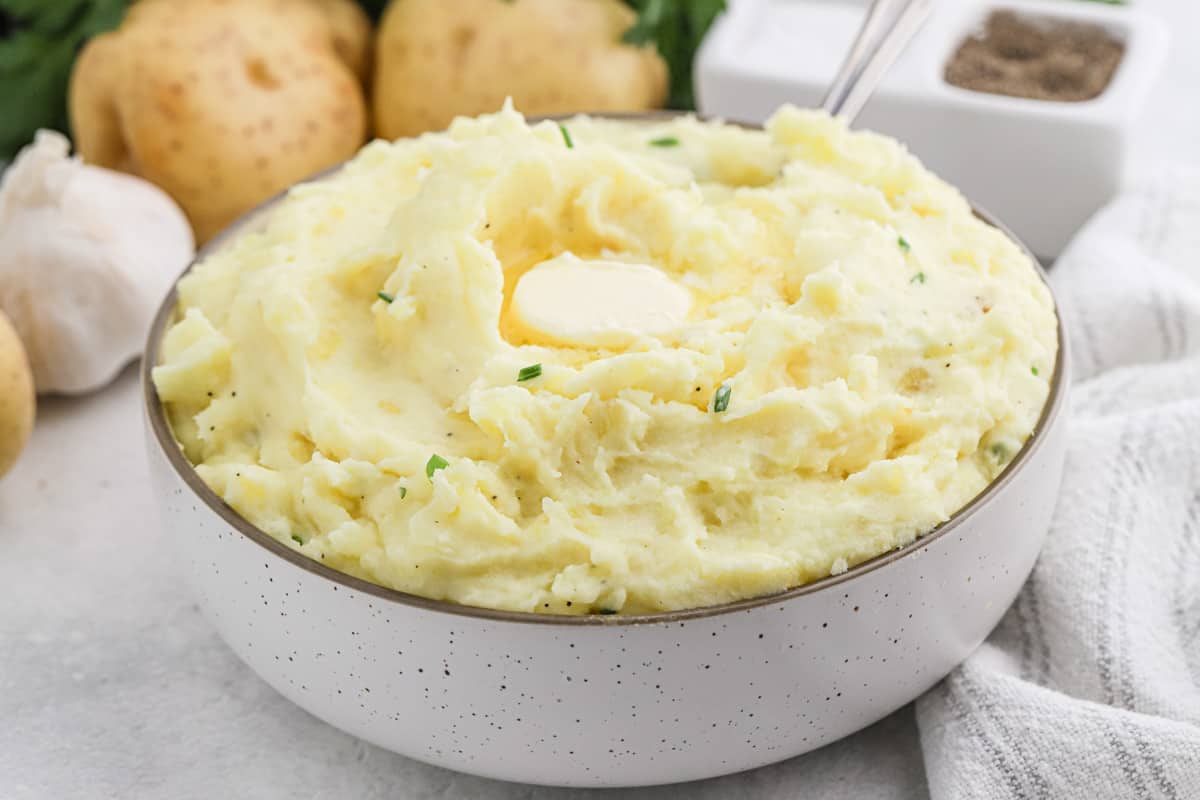 There are days for salads and detoxes, but today? Today's the day for a little indulgence! Rich, creamy, and oh-so-delicious, these Cream Cheese Mashed Potatoes are one of the best comfort foods out there with a cheesy twist. They are a great choice for holidays, family gatherings, or just when you're in the mood for something extra special. So, grab that pot, some Yukon Golds, and a brick of cream cheese, and try this recipe out!
More Mashed Potato Recipes
*Did you make this recipe? Please give it a star rating and leave comments below!* Post a photo of how your version of the recipe came out on Instagram (using #grandbabycakes)!!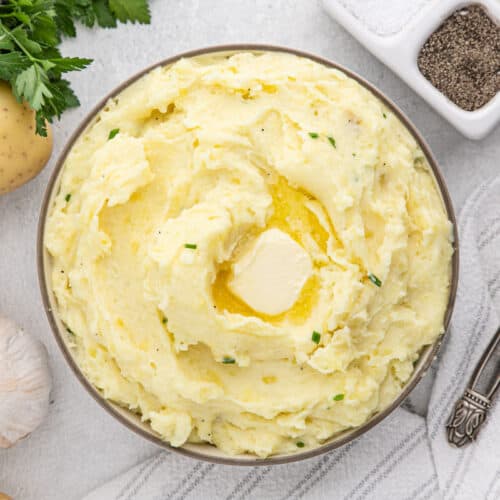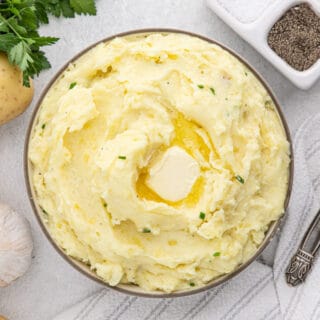 Cream Cheese Mashed Potatoes
Cream cheese mashed potatoes are so good you'll be licking the plate! Made with roasted garlic, Yukon potatoes and cream cheese for a creamy smooth finish.
Print
Pin
Rate
Ingredients
1

garlic head

1

teaspoon

olive oil

4

quarts

water

2

pounds

Yukon gold potatoes

peel, diced, rinsed

8

tablespoons

unsalted butter

softened

4

ounces

cream cheese

softened

½

cup

half and half

½

teaspoon

onion powder

1

tablespoon

+ 2 teaspoons kosher salt

divided

¼

teaspoon

black pepper

1

tablespoon

minced chives
Instructions
Preheat oven to 400F.

Slice top ½ inch of garlic head so all cloves are showing. Add garlic to large piece of foil and drizzle with olive oil, then wrap completely. Place garlic on baking sheet and bake for about 50 minutes, or until garlic is fragrant, tender, and lightly browned.

To a large stockpot, add water, potatoes, and 1 tablespoon salt and bring to a boil. Cook for about 8-10 minutes, or until tender when pierced with a fork. Drain and rinse potatoes.

Mash potatoes with potato masher or sturdy whisk.

Add in roasted garlic, butter, cream cheese, onion powder, remaining salt, and pepper and stir while slowly adding in half and half. Do not add all the liquid at once.

Taste for additional seasoning, stir in chives, and serve immediately.
Notes
Mind Your Mashing: Aim for a lush texture by mashing just to the point of creaminess. Excessive mashing could make them sticky.
Timing is Everything: Test your spuds for softness around the 8-minute timeframe. You'll want a fork to slide through with zero fuss. Overcooking risks a soggy result.
Opt for Even Temperatures: Use butter, cream cheese, and half and half at room temperature for a smoother blend and lump-free consistency.
Begin with Cold Water: Initiate the boiling process with cold water to promote uniform tenderness from surface to center.
Nutrition
Calories:
350
kcal
|
Carbohydrates:
29
g
|
Protein:
5
g
|
Fat:
25
g
|
Saturated Fat:
15
g
|
Polyunsaturated Fat:
1
g
|
Monounsaturated Fat:
7
g
|
Trans Fat:
1
g
|
Cholesterol:
66
mg
|
Sodium:
1277
mg
|
Potassium:
699
mg
|
Fiber:
3
g
|
Sugar:
3
g
|
Vitamin A:
817
IU
|
Vitamin C:
30
mg
|
Calcium:
85
mg
|
Iron:
1
mg