Decadent, robust and unique, Sawmill Gravy is the answer to your weekend breakfast or brunch dilemma. Made with smoky pork sausage, smooth cream and flavorful chicken stock, this rich Southern-style sausage gravy is nothing short of a dream!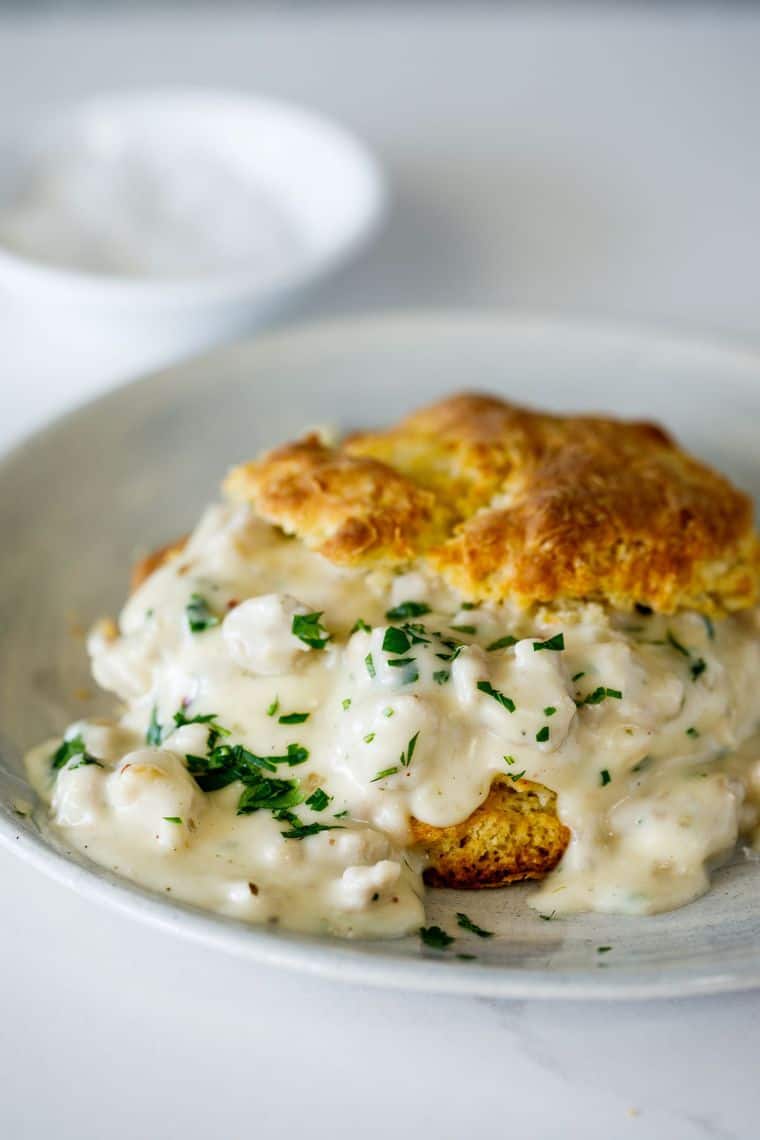 When I'm not tucked away in the kitchen, mixing batters and folding doughs, I'm most likely on an adventure. I am obsessed with travel! One of my absolute favorite places to visit is Atlanta, Georgia because, well, the South does it best. Georgia is known for its sweet, juicy peaches and their propensity for rich Southern fare: literally, heaven to me.
Today's recipe is brought to us by one of Atlanta's best restaurants ever: Buttermilk Kitchen. Sawmill Gravy is one of the many offerings at this iconic neighborhood joint. I swear to you, I never miss out on an opportunity to scarf down a plate of their biscuits and gravy.
Sausage gravy can be made in a lot of different ways. Some people use flour and milk while others use evaporated milk. Then there are those who add cheese to the mix. There is a serious art to making sausage gravy and, let me tell you, Buttermilk Kitchen's recipe is a Picasso.
C'mon y'all, let's take a little trip down South!
The Heart and Soul of the Best Sawmill Gravy Recipe
Cuisine Inspiration: Southern Comfort
Primary Cooking Method: Simmering
Dietary Info: Contains Gluten, Dairy
Key Flavor: Savory Richness
Skill Level: Easy
Sweet Highlights:
Flavorful Foundations: This gravy builds its robust taste from the simplest ingredients.
Biscuits' Best Friend: Pour it over biscuits, and watch them get cozy!
Comfort Food Supreme: Nothing says "home" like the creamy texture of sawmill gravy.
Versatile Joy: It's not just for breakfast—dinner's calling, and it wants some gravy!
Memory Maker: Each spoonful is a trip down memory lane, perfect for family gatherings.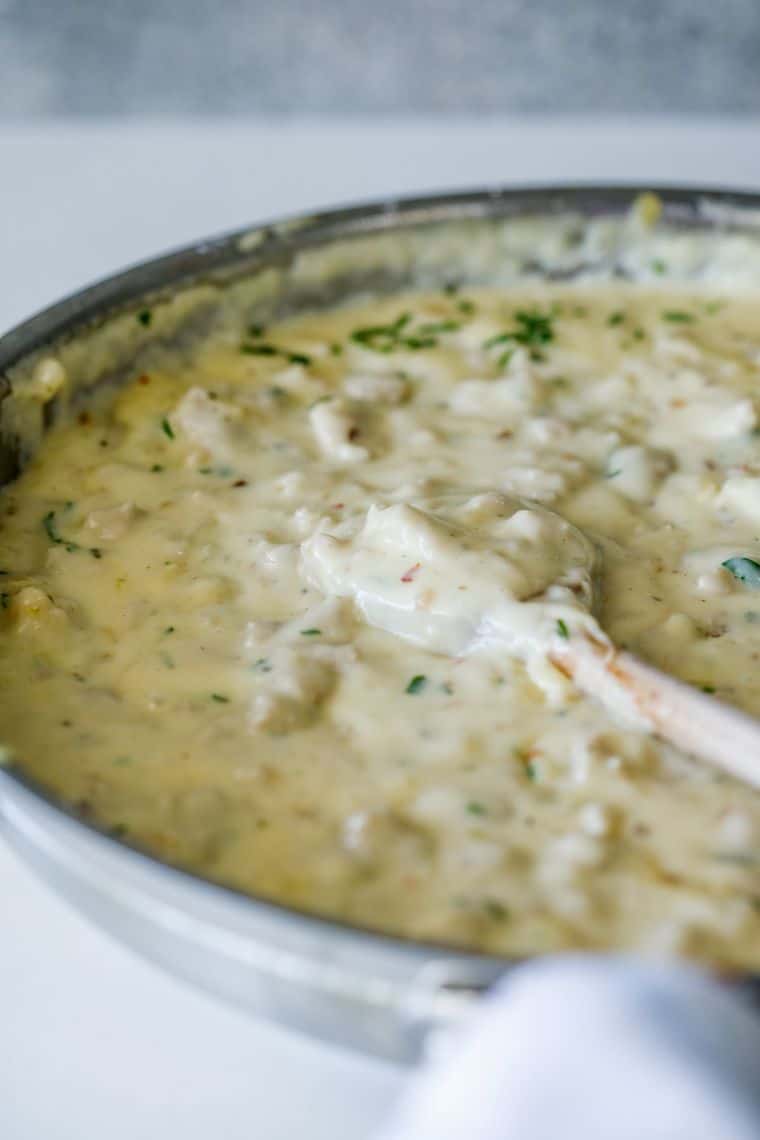 Ingredients
You won't get far on a Southern breakfast table without gravy! Hearty and robust, gravy has a way of soothing the soul and filling the belly like no other. Buttermilk Kitchen's Sawmill Gravy is smoky, peppery, and unique; it's become my go-to recipe and will continue to be for years to come.
Here's what you'll need to make gravy gold:
Minced Onion & Garlic

– both add depth, aroma, and a slight sweetness. Because this gravy is quite thick and chunky, there's no need to worry about mincing super finely.

Unsalted Butter

– it's imported to use unsalted butter in this recipe. Using salted butter will only add unwanted sodium and make for a salty gravy.

Red Chili Flakes

– don't have any on hand? Try using a couple dashes of cayenne instead. Not a fan of heat? Use a bit of sweet paprika.

Ground Pork Country Sausage

– I highly recommend investing in freshly ground, high-quality sausage. Meat is the shining star in this gravy, so the quality of the pork will really determine the outcome.

Chicken Stock

– stock adds body to the gravy without being too rich or overwhelming. Vegetable stock will work as well.

Heavy Cream

– cream adds smooth, sweet richness. *mouth watering*

All-Purpose Flour

– flour works as a thickener here. I wouldn't suggest using anything other than all-purpose.

Ground Nutmeg

– if possible, grate the nutmeg yourself. It's worth it.

Tabasco

– no tabasco on hand? Use your favorite hot sauce. Just a few dashes adds a great kick!

Kosher Salt & Fresh Cracked Pepper

– there's no other option for salt and

pepper. Trust me.
You definitely want to serve these over biscuits! Here are some of my faves!
How to Make Sawmill Gravy
Start the Flavor Party: Preheat a 4 to 6-quart saucepan over medium heat. Melt that butter and toss in the onion, cooking until it's slightly amber (about 2-3 minutes).
Spice It Up: Time for garlic and red chili flakes to join the fun! Keep everything partying in the pan for another 1-2 minutes.
Sausage, Please: Add the sausage and a pinch of salt, breaking it up with a wooden spoon and cooking for 5 more minutes.
Flour Power: Gradually sprinkle in the flour while giving everything a good stir. Keep it up until the flour is fully part of the mix (1-2 minutes).
Stock Up: Slowly pour in the stock while stirring, then crank the heat up to high. Cook it until the sauce boils and gets all thick and bubbly.
Creamy Dreamy: Stir in the cream and season with nutmeg, Tabasco, and pepper. Bring it to another boil while you stir like a whirlwind!
Patience Is a Virtue: Remove the pan from the heat and let it cool slightly (around 5 minutes). It'll thicken upon standing.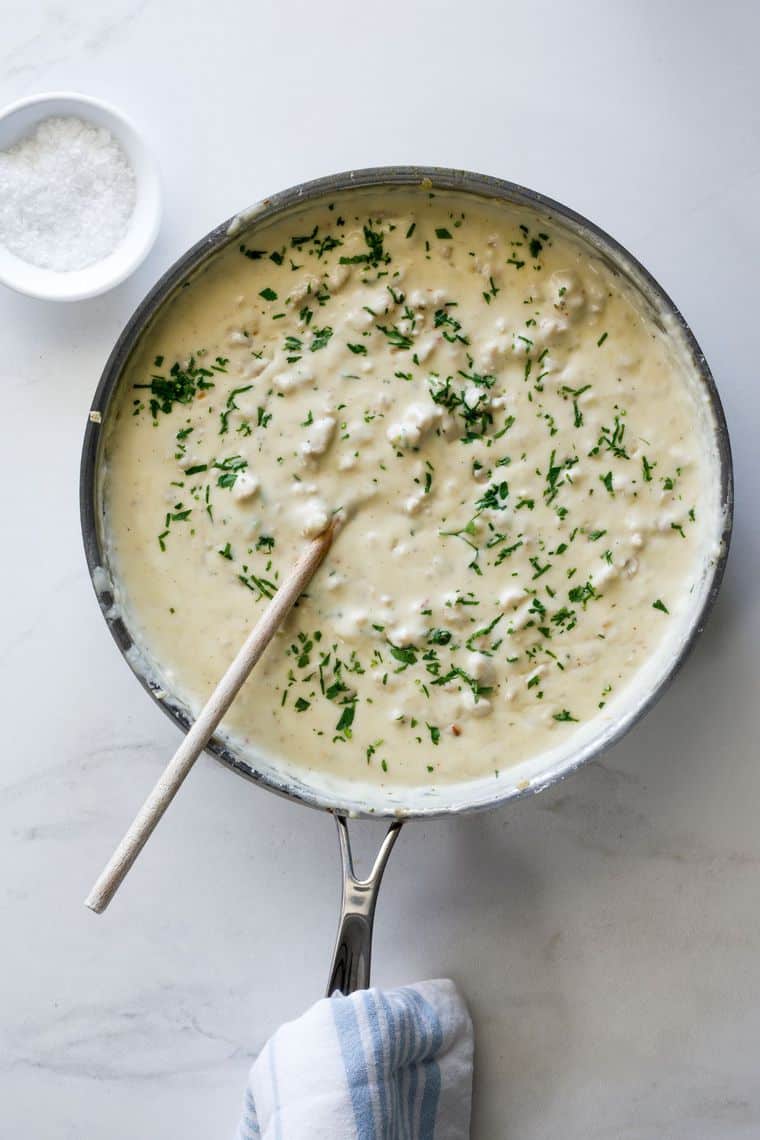 What is Sawmill Gravy?
Sawmill gravy has a neat little background if you ask me. Many decades ago, lumberjacks vigorously working in the forests near sawmills needed hearty, filling foods to keep them satisfied throughout the workday. In comes this rich, dense gravy amongst the logging camps named after the very tool they used the most" sawmills!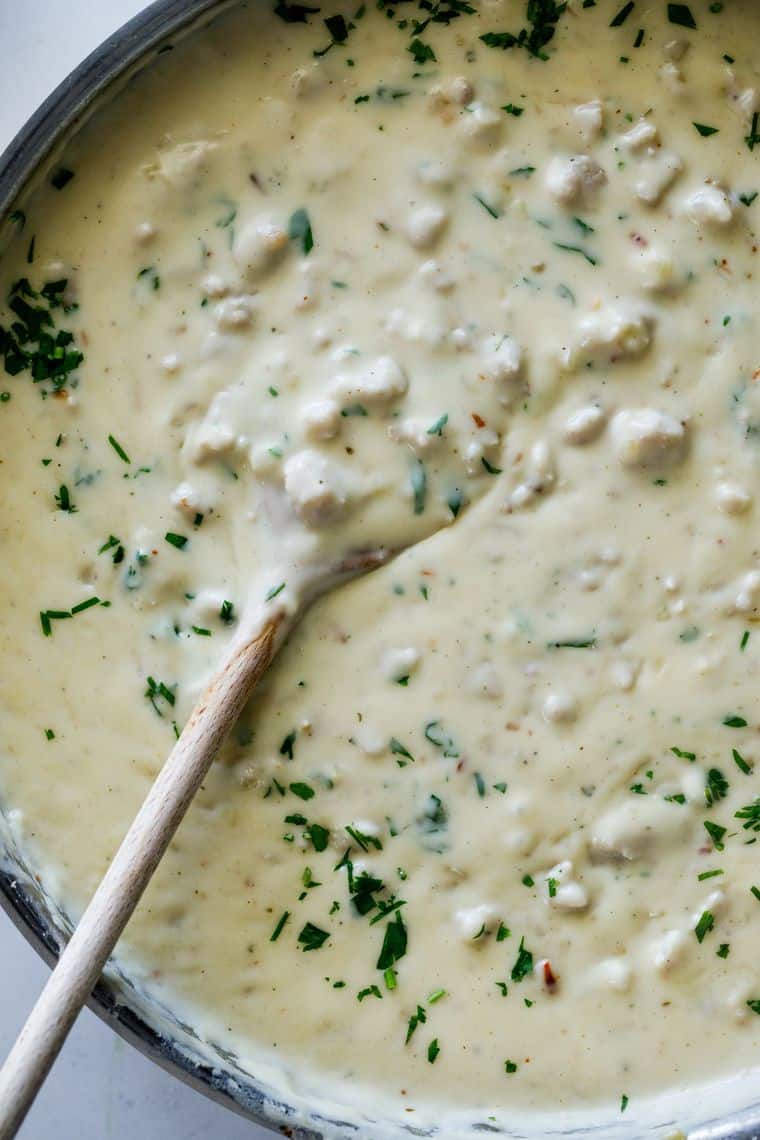 For starters, you can easily see the difference between brown gravy and sawmill gravy in the color variations and content. Classic brown gravy tends to be a darker color and can have a much more thin, clear, glazed-over consistency. Sawmill gravy on the other hand is much lighter and has a thicker texture due to added meats or heavy creams. In terms of taste, both are fantastic, but for biscuits or country-fried steaks, sawmill gravy takes the cake!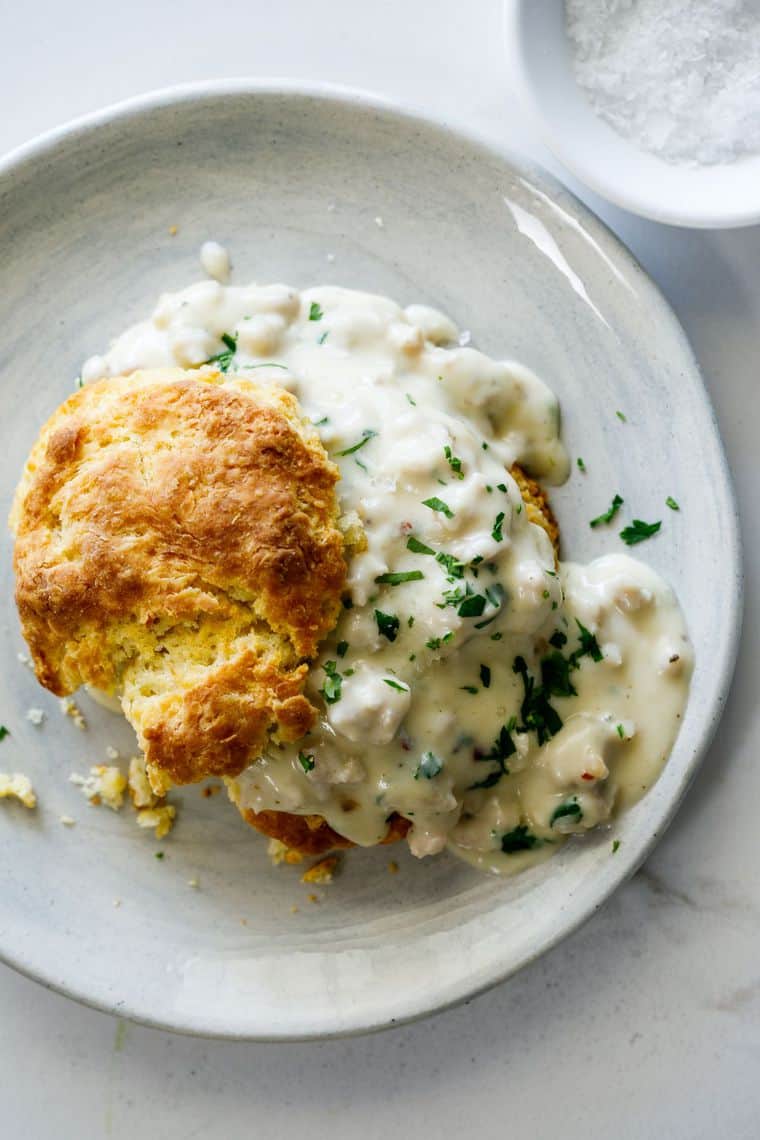 How to Store and Reheat
It can be hard to make the perfect amount of gravy, I always seem to end up with way too much or too little. The proportion of biscuit to gravy is always going to depend on personal preference. Some folks love their biscuits drenched in richness while others like a more balanced ratio. Either way, it's likely that you'll have leftovers.
What do you do with leftover gravy? Because gravy is perishable it will only keep in the refrigerator for about 2 weeks. If you'd like to extend its life, you can freeze the gravy in an airtight container or freezer bag for up to 3 months.
To reheat: I highly recommend using the stovetop rather than the microwave. If frozen, allow the gravy to defrost at room temperature for a few hours or in the fridge overnight. Pour the gravy into a deep skillet or saucepan, turn up the burner to medium heat, and warm until it becomes bubbly and hot. If the gravy seems too thick, add a small amount of milk and stir. Serve and enjoy!
Favorite Gravy Recipes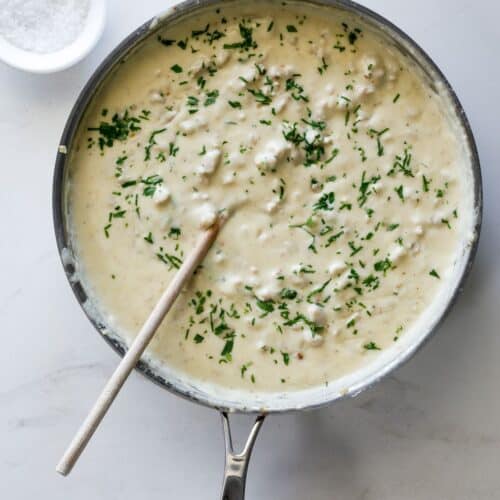 Sawmill Gravy
Made with smoky pork sausage, cream and flavorful chicken stock, this rich Southern Sawmill Gravy is decadent, rich and perfect for your morning biscuits! 
Print
Pin
Rate
Ingredients
1/4

cup

minced onion

4

tbsp

unsalted butter

1

tsp

minced garlic

1

tsp

red chili flakes

3/4

lb

high quality ground country sausage

mild Pine Street Market was used

1

tbsp

kosher salt

1 1/3

cup

all purpose flour

5

cups

chicken stock

2

cups

heavy cream

1/2

tsp

ground nutmeg

4

dashes

Tabasco sauce

2

tsp

freshly ground black pepper
Instructions
Preheat a 4 to 6 quart saucepan over medium heat and begin cooking onion in butter. Once the onion is slightly amber, 2-3 minutes, add garlic and red chili flakes, continue to brown for 1-2 more minutes and then add the sausage and salt. Stir, breaking up sausage with a wooden spoon for another 5 minutes.

Gradually sprinkle in the flour while stirring. Once flour is incorporated, 1-2 minutes, slowly add stock while stirring. Increase heat to high and continue cooking until sauce comes to a boil and starts to thicken. Add cream and season with nutmeg, Tabasco, and pepper. Bring mixture up to a boil again while stirring. Remove from heat and cool slightly, about 5 minutes, to thicken.
Notes
To serve with the biscuits, griddle the biscuit in butter then pour gravy over it and serve.
Nutrition
Calories:
416
kcal
|
Carbohydrates:
19
g
|
Protein:
11
g
|
Fat:
33
g
|
Saturated Fat:
17
g
|
Cholesterol:
106
mg
|
Sodium:
1109
mg
|
Potassium:
279
mg
|
Fiber:
1
g
|
Sugar:
2
g
|
Vitamin A:
926
IU
|
Vitamin C:
1
mg
|
Calcium:
43
mg
|
Iron:
1
mg