Once you've had a dollop of my Sour Cream Mashed Potatoes there's no going back! These silky smooth, tangy potatoes are perfect for all your weeknight dinner and celebration needs and serve with turkey gravy! If you love these, you will also love these Garlic Mashed Potatoes, Mashed Sweet Potatoes and Smashed Potatoes.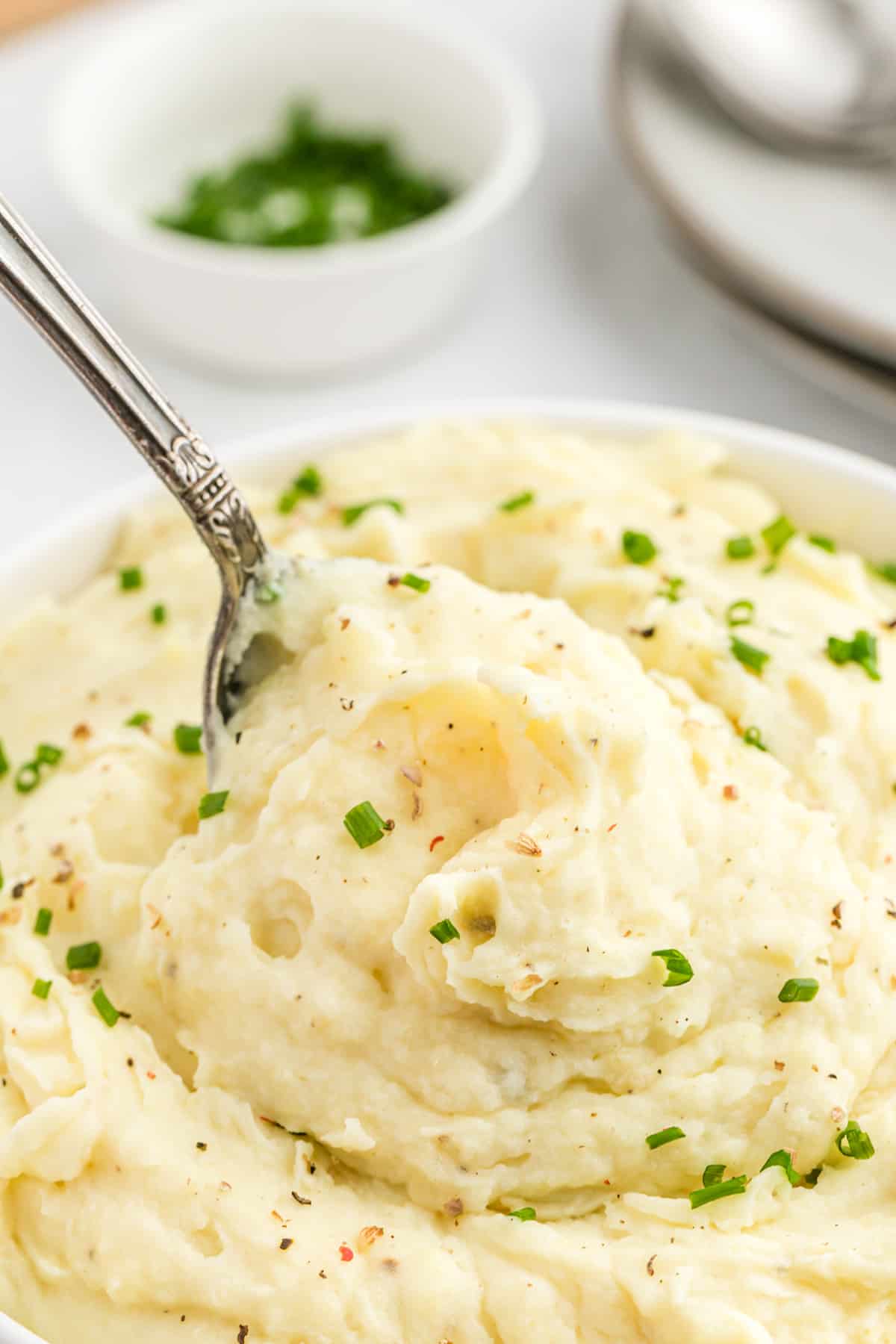 If you're a fan of baked potatoes with lots of sour cream, I think you're really gonna like this recipe! Sour Cream Mashed Potatoes are a simple side made with buttery Yukon potatoes, tangy sour cream, and sweet-smoky roasted garlic. They only take about 30 minutes to pull together after you've roasted the garlic, which is a hands-free task anyhow.
These rich and fairly dense potatoes melt in your mouth with every bite! The tang from the sour cream adds the perfect amount of richness. All in all, these mashed potatoes are beyond delicious and pair well with just about anything you serve them with!
Ingredients
Made with less than 10 ingredients, this sour cream mashed potatoes recipe is a breeze to make!
This is what we're working with:
GARLIC

has a powerful, pungent flavor that mellows out and becomes a bit nutty after having been roasted.
OLIVE OIL

coats the garlic cloves and helps them to get nice and tender in the oven.
YUKON GOLD POTATOES

are sweet and buttery. I prefer to peel the skins for a smoother texture but you're welcome to keep them on!
BUTTER

is vital to any mashed potato recipe; it's smooth, buttery, and makes for the creamiest potatoes ever!
HALF AND HALF

adds a silkiness to the potatoes without making them too thick or gummy.
SOUR CREAM

is a great addition to mashed potatoes because it adds richness and creaminess balanced with a subtle tangy flavor. It also gives these creamy mashed potatoes a thicker consistency compared to adding just milk or stock.
ONION POWDER

adds a concentrated, punchy onion taste. It compliments the tartness of the sour cream super well.
SALT + PEPPER

should be added to taste. Kosher salt and freshly ground black o pepper work best.


How To Make Sour Cream Mashed Potatoes
There are 5 simple steps to making the perfect roasted garlic mashed potatoes with sour cream. Nothing complicated but it's worth breaking things down to set y'all up for success!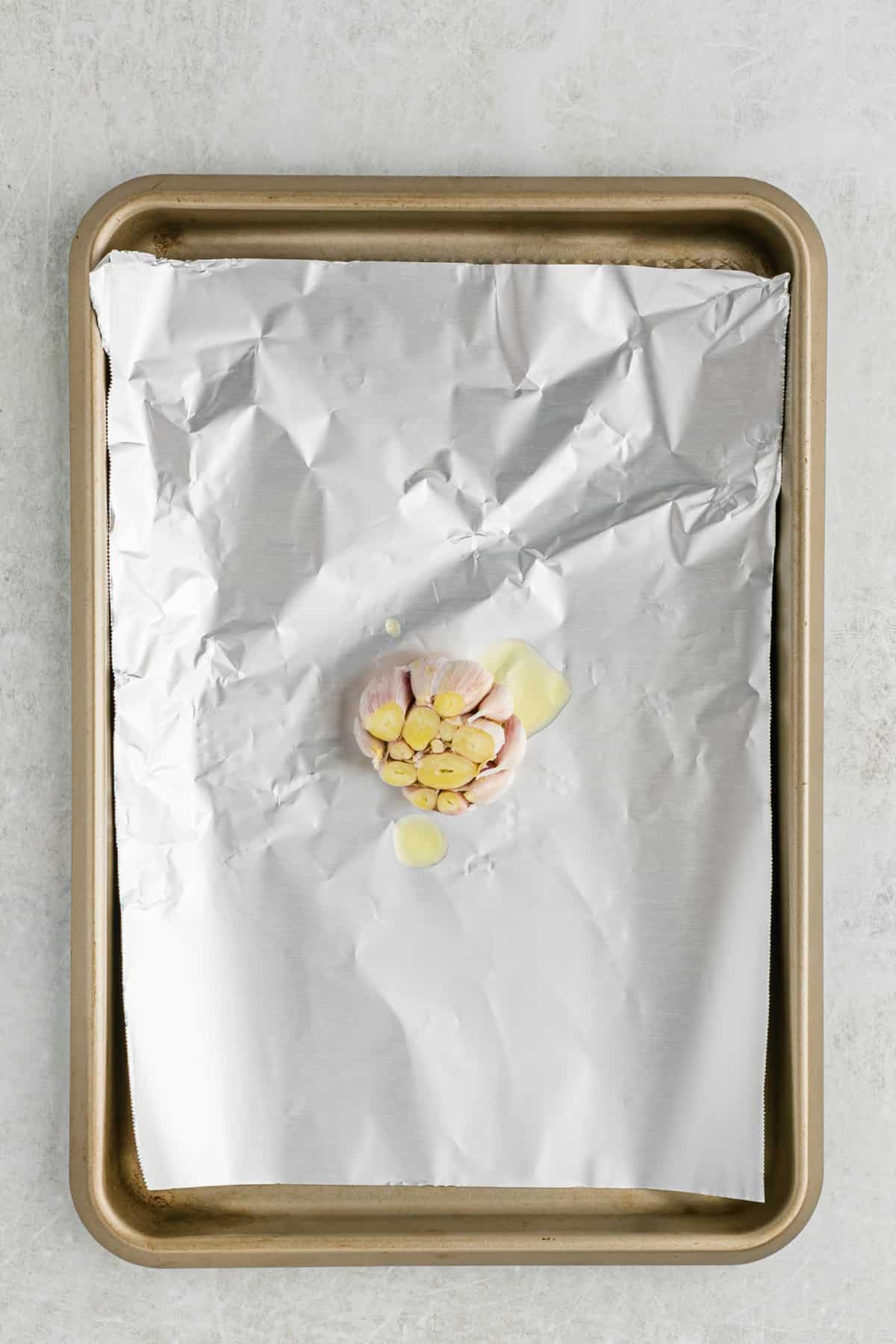 ROAST THE GARLIC.

Adding roasted garlic to these mashed potatoes makes all the difference. The sweet, caramelized cloves introduce such a full, complex flavor to the potatoes. To roast the garlic head, slice the top of it off to reveal the flesh of all of the cloves. Drizzle some olive oil over the top of the head and wrap it in heavy duty foil. Roast the garlic in the oven for 45-60 minutes, or until completely tender.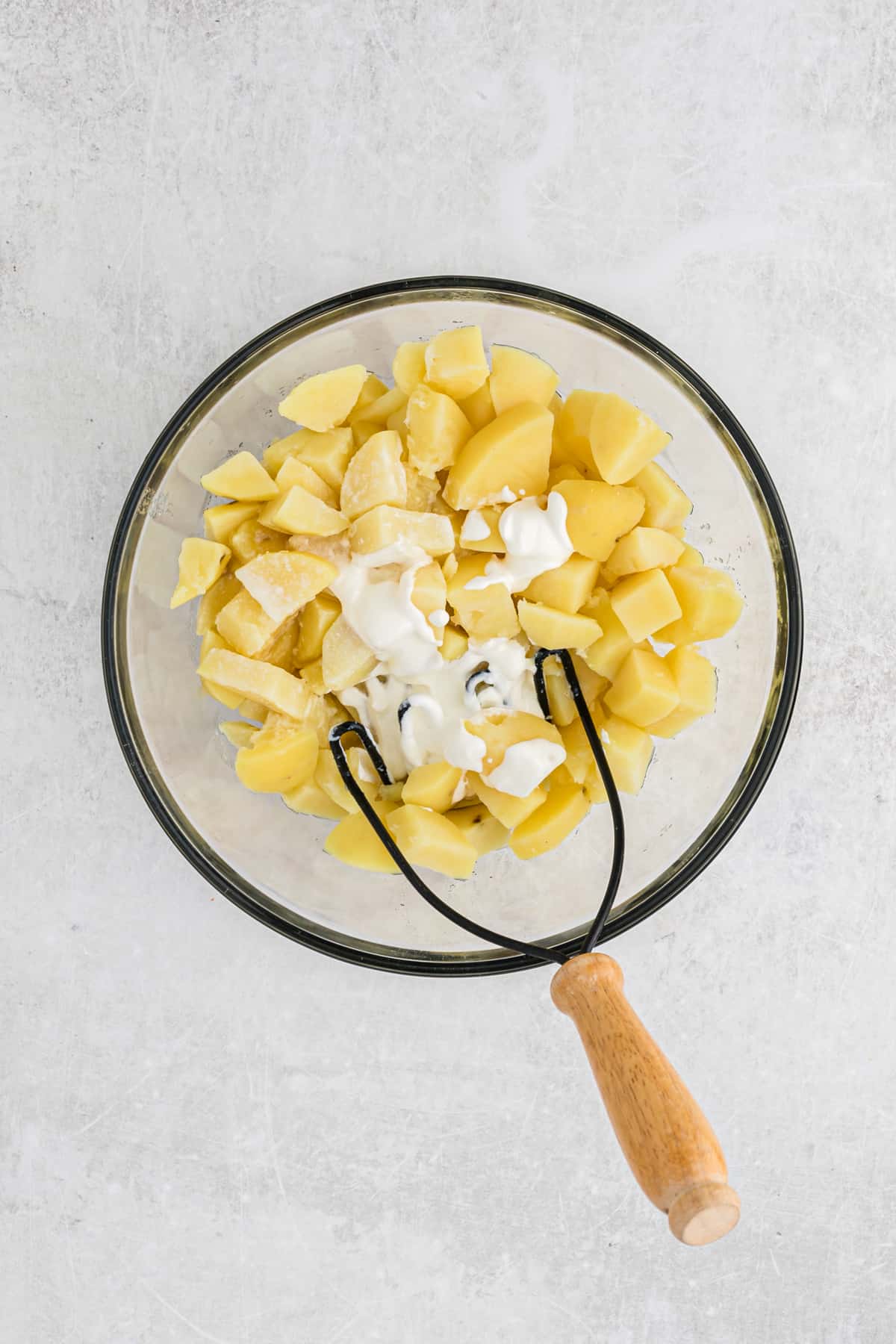 BOIL THE POTATOES.

Once the garlic is out of the oven and set aside to cool for a bit, it's time to boil the water. Add lots of salt to the water and carefully get the potatoes in there. Start testing for doneness with a fork at the 15 minute mark. Once the utensil easily pierces the potato, drain the pot and rinse the starch off with warm water.
MAKE SOME GARLIC LIQUID.

I find that the easiest way to ensure that the half and half, butter, and garlic are all well-combined is to warm them up in a saucepan set over medium heat. The garlic is mashed into the liquid to create a smooth, flavorful liquid.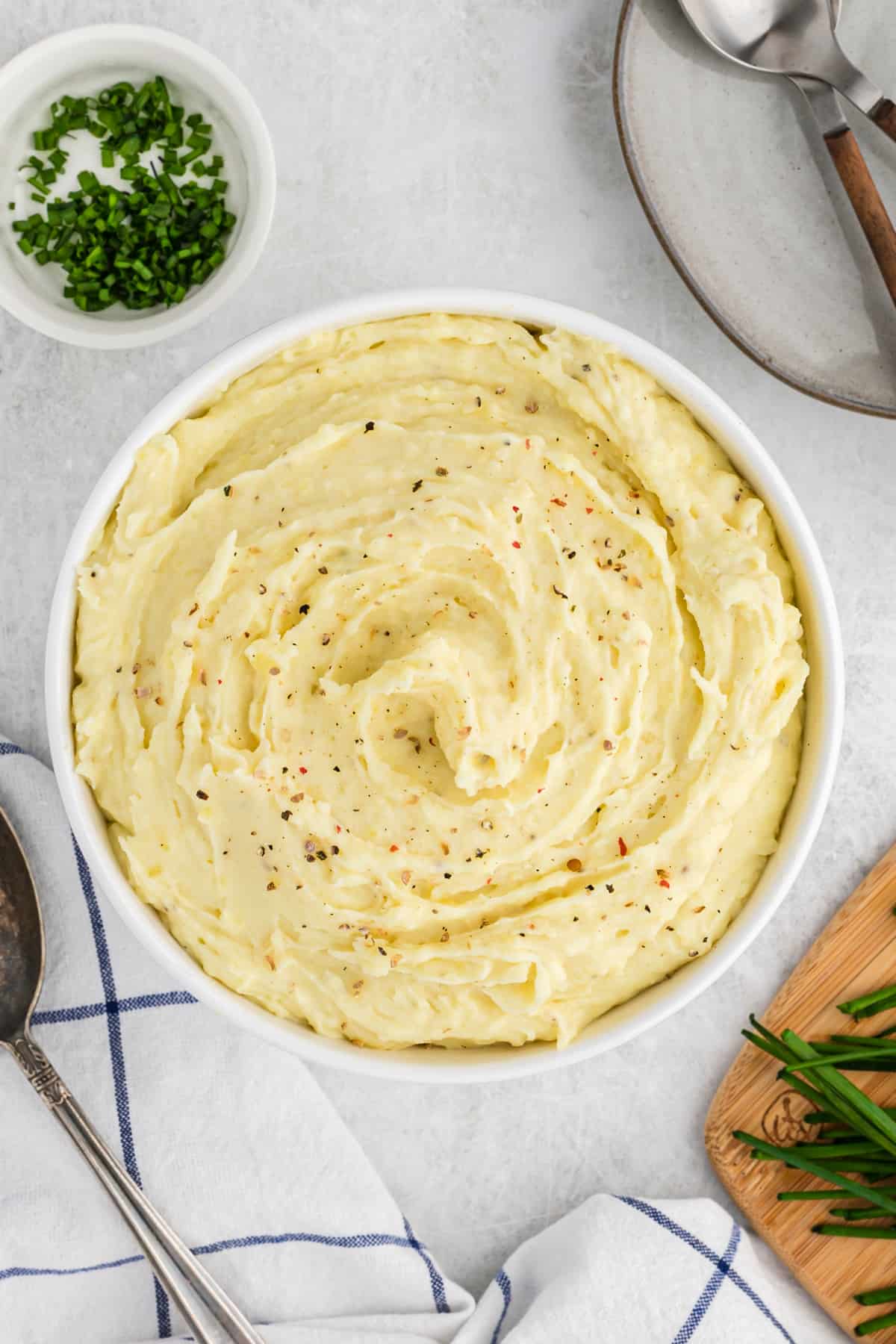 ADD THE LIQUID + SOUR CREAM.

Pour the garlic cream mixture into the potatoes in two increments. Same goes for the sour cream. Mash in between additions until the potatoes reach your desired consistency.
SEASON + SERVE.

Before it's all said and done you need to taste the mashed potatoes and season them with onion powder, salt, and pepper. Give everything one last final whisk and serve while nice and hot!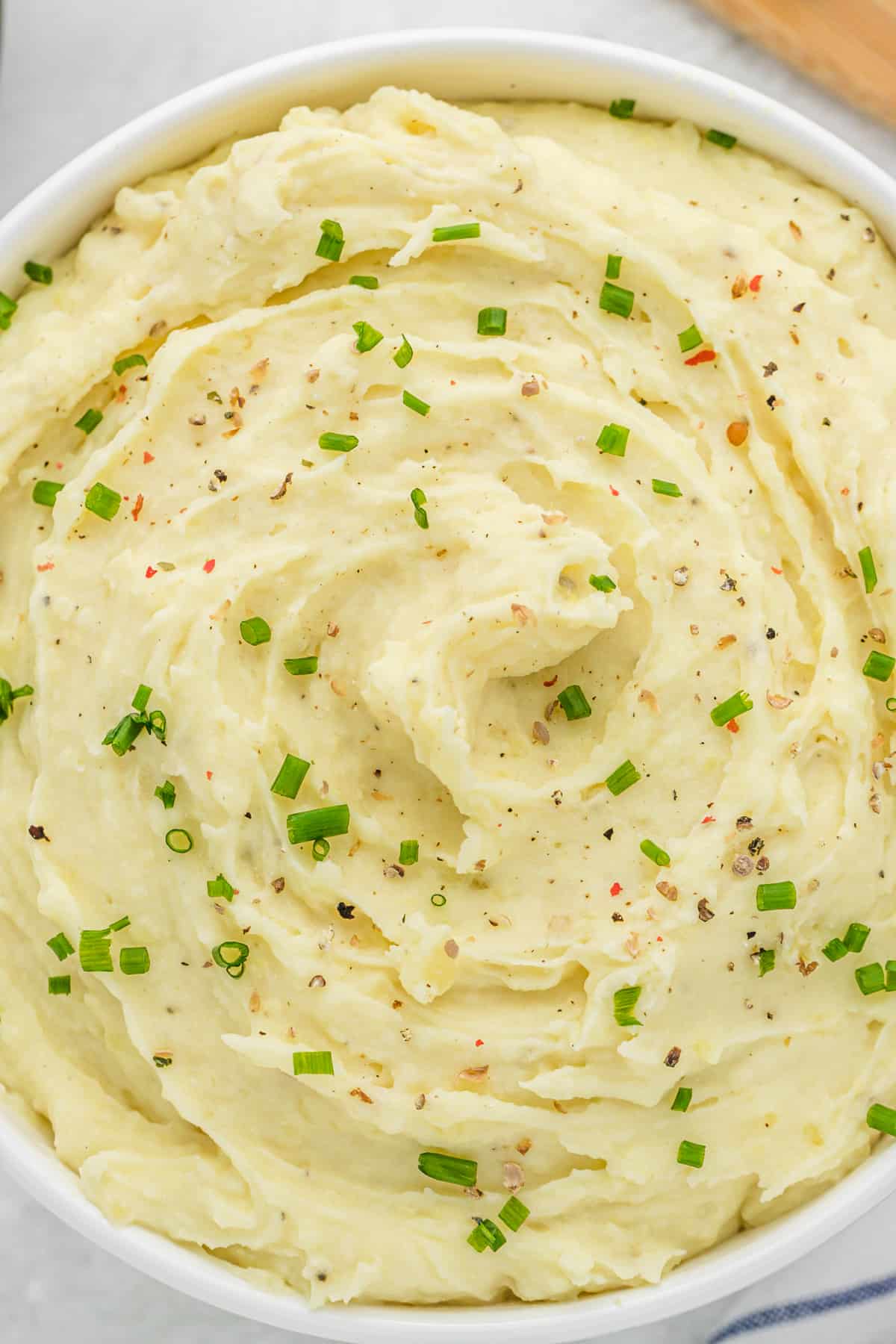 What To Serve Them With
These soft, fluffy potatoes can be served as a side to anything from ribeye steak to roast chicken dinners! You can also add some nice gravies like this sawmill gravy or classic gravy.
Here are a few of my accompaniment suggestions:
Add some steamed vegetables, a nice salad, and some dinner rolls to the mix and you've got a celebration worthy spread!
How To Store Leftovers
Leftover sour cream mashed potatoes should be completely cooled and stored in an airtight container within two hours of cooking. The potatoes will keep in the refrigerator for up to 4 days.
Can I freeze mashed potatoes? Yes! A mashed potato recipe that is made with butter and heavy cream will freeze well. To freeze, transfer the completely cooled potatoes to a large gallon Ziplock bag, then seal. Keep frozen for up to 6 months.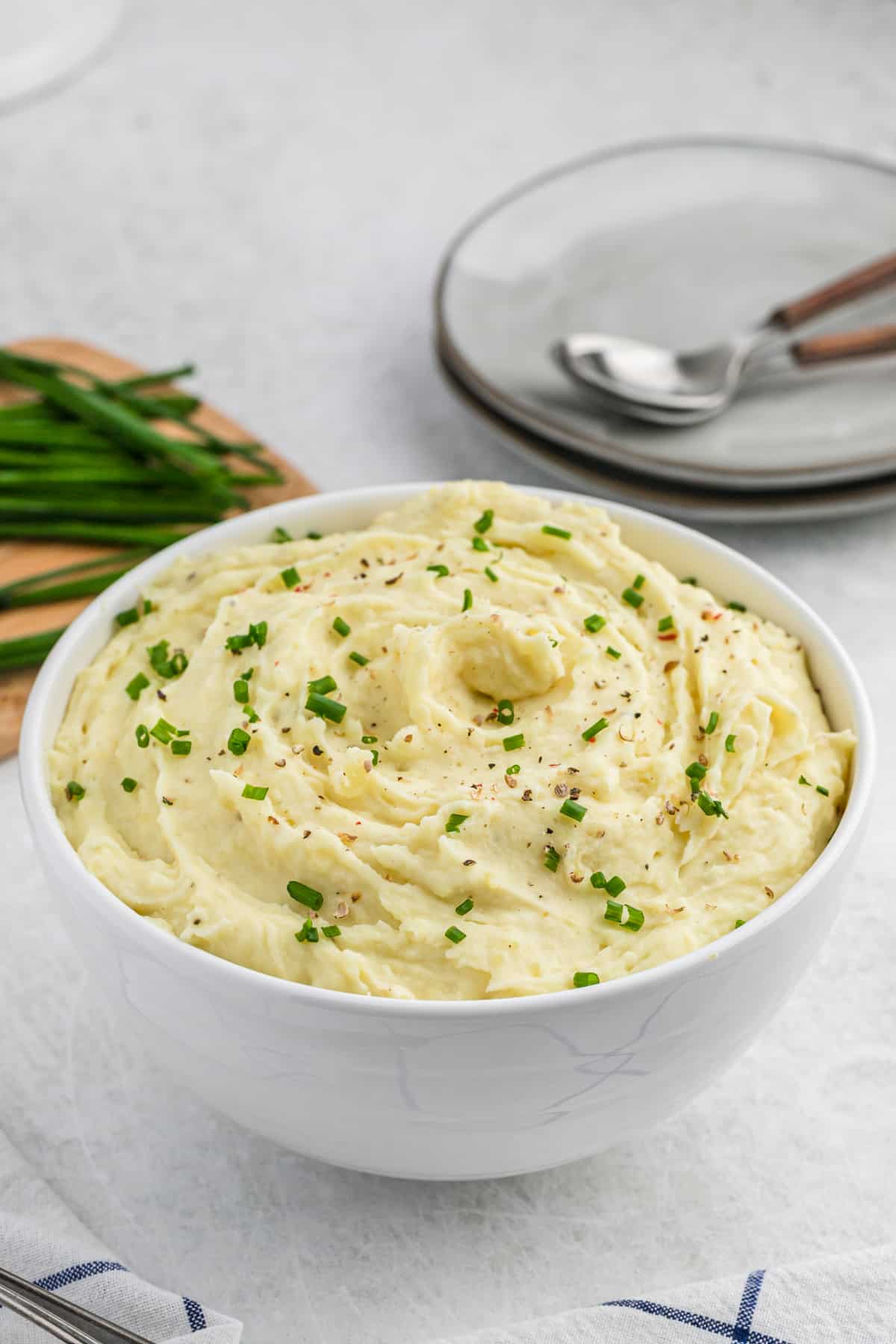 Can You Reheat?
There are several ways to reheat leftover mashed potatoes with sour cream but my preferred method is on the stovetop.
To reheat leftovers on a stovetop: transfer mashed potatoes to a large saucepan, then add a splash of heavy cream, milk, or chicken stock. Warm over medium-low heat, stirring often, until completely reheated. Add additional liquid as needed to achieve desired consistency.
Alternatively, you could place the potatoes in a microwave safe bowl, then cover tightly with plastic wrap. Use a sharp knife or fork to poke a few holes in the plastic. Microwave on high for 3-4 minutes, stirring as needed, until heated all the way through.
More of My Best Potato Recipes
Over at GBC we're putting the spunkiest spin on spuds! Try out a few of our favorite potato mashes, bakes, and so much more: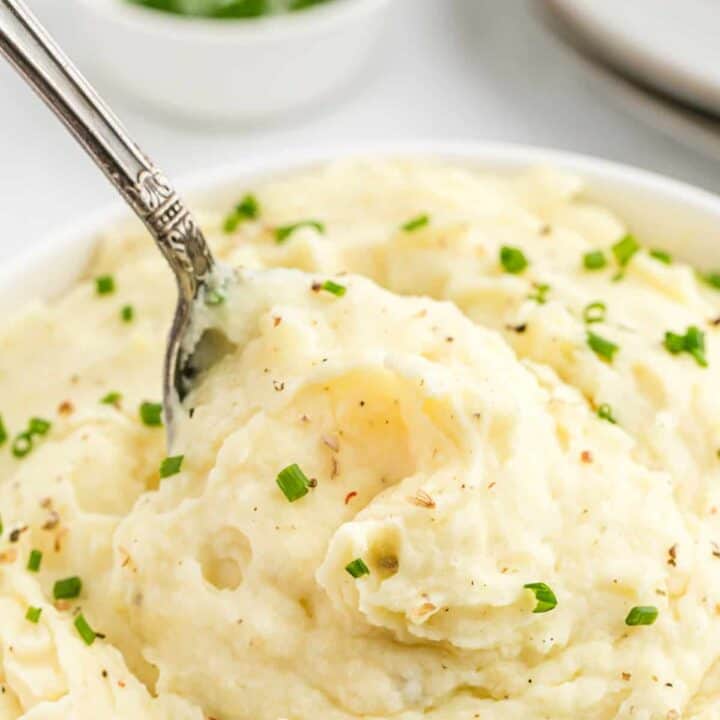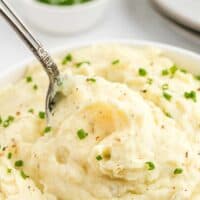 Sour Cream Mashed Potatoes
These Sour Cream Mashed Potatoes are silky smooth, tangy and buttery potatoes which are perfect for all your weeknight dinner and celebration needs!
Print
Pin
Rate
Ingredients
1

head of garlic

1

tsp

extra virgin olive oil

4

quarts

water

2

lbs

yukon gold potatoes

peeled, diced and rinsed in cold water

1/3

cup

unsalted butter

room temperature

1/2

cup

sour cream

1/2

cup

half and half

room temperature

1/2

tsp

onion powder

Kosher salt and pepper to taste
Instructions
Slice off the top of garlic head so that all cloves are showing. Add garlic to a large piece of foil. Drizzle with olive oil then completely wrap it up.

Add garlic to a baking sheet and bake for about 50-60 minutes or until garlic is completely tender.

Next add water to a very large pot along with some salt to taste for potatoes and bring to a boil. Once water is boiling, add potatoes and cook for about 20 minutes or until potatoes are completely tender when pierced with a knife or fork. Drain potatoes then rinse potatoes in warm water to remove starch.

Add half in half, roasted garlic and butter to a medium sized pot over medium heat. Once butter has melted and liquid is warmed through, mash garlic in the liquid.

Add half the garlic liquid to potatoes, along with half the sour cream, then mix and mash to combine. Continue to slowly add the rest of the liquid and sour cream, mashing along the way until the potatoes reach the consistency you prefer. DO NOT DUMP ALL LIQUID INTO POTATOES AT ONCE.

Finally season with garlic powder, salt and pepper and serve.
Video
Notes
Don't add your liquid all at once
Your potatoes aren't capable of soaking in all the liquid in one go and if you try to force them to you will end up with wet mashed potatoes. Yuck. Add your liquid in small increments and thank me later. Do taste your potatoes along the way
Mashed potatoes tend to need a lot of salt because of all the starch and fat being used. It's very easy to under or over season your potatoes if you aren't proactive about tasting as you go. Season, stir, taste and repeat.
Nutrition
Calories:
278
kcal
|
Carbohydrates:
28
g
|
Protein:
4
g
|
Fat:
17
g
|
Saturated Fat:
10
g
|
Polyunsaturated Fat:
1
g
|
Monounsaturated Fat:
5
g
|
Trans Fat:
0.4
g
|
Cholesterol:
45
mg
|
Sodium:
60
mg
|
Potassium:
694
mg
|
Fiber:
3
g
|
Sugar:
3
g
|
Vitamin A:
509
IU
|
Vitamin C:
30
mg
|
Calcium:
83
mg
|
Iron:
1
mg