This New Orleans style Dirty Rice recipe is made perfectly with fragrant rice, hearty browned meat, seasoned vegetables and Creole and Cajun spices making it the best you will ever taste! The result is a spicy, well-seasoned rice dish that screams Cajun deliciousness! If you want more rice dishes like this, try this Red Rice, Rice and Peas or Jollof Rice recipe!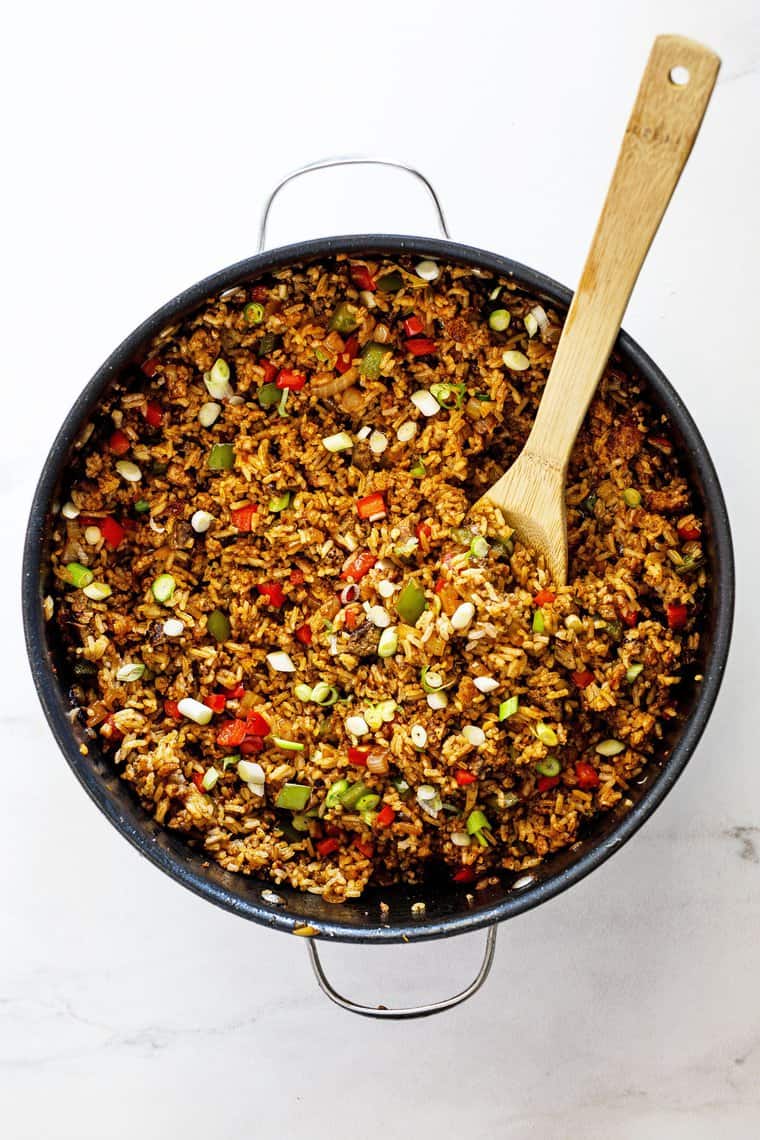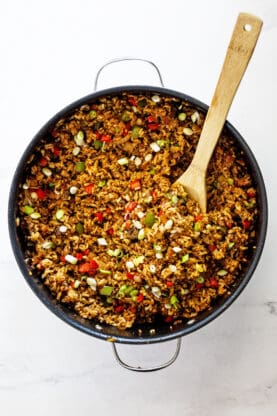 SAUSAGE DIRTY RICE RECIPE
Call me crazy but, my past lives must consist of Creole women. Seriously, I can feel it in my bones and maybe, in my stomach too. Cajun cooking is something I grew up eating but I still find myself discovering new recipes and new ways to use Creole spices. Recent trips to Louisiana have only strengthened my love for the flavorful, unique cuisine.
Lately, I've been a bit obsessed with Southern rice dishes; they're easy, inexpensive and some of the best food I've ever had. My favorite? Dirty Rice. It's rich, hearty, decadent and so dang tasty!
What do you say we take a trip down South tonight?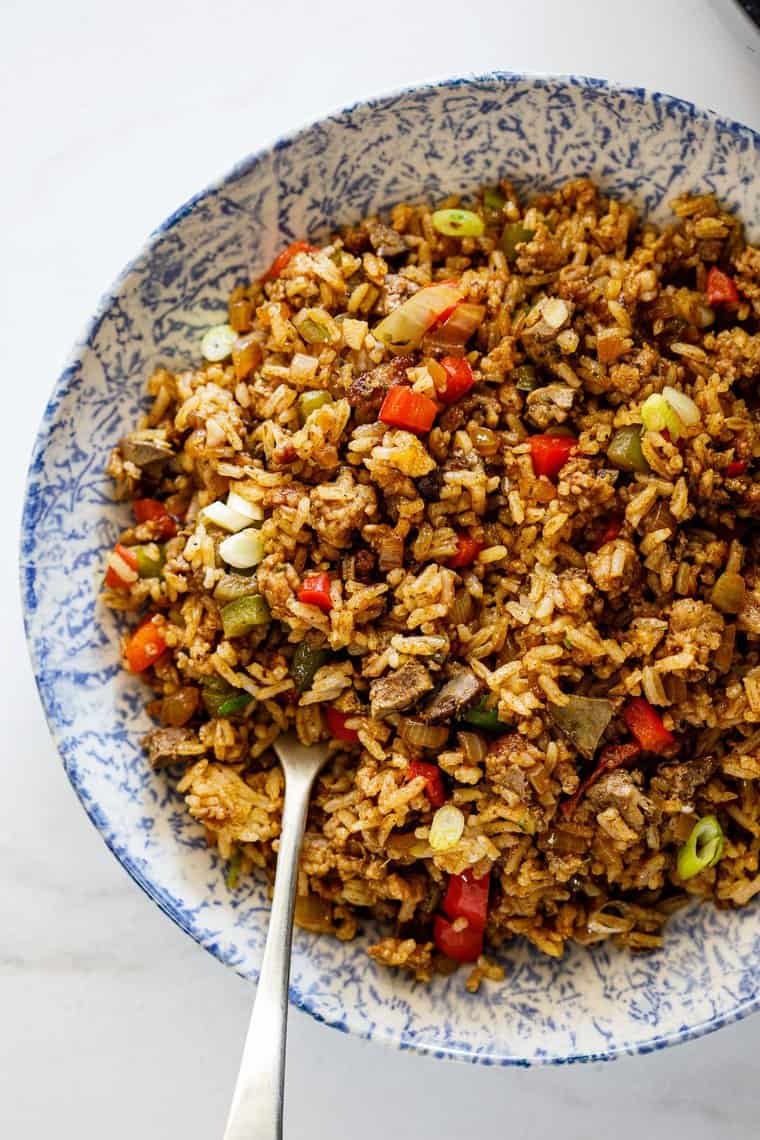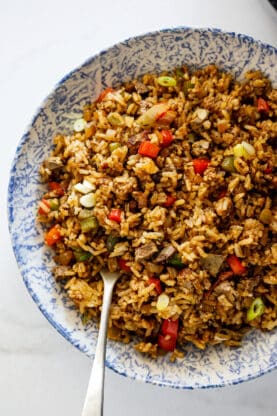 WHAT IS DIRTY RICE?
Most Cajun cuisine was born from the need to feed many mouths with very little money. Because of Southern Louisiana's abundant rice crop, rice dishes such as Jambalaya, Red Rice and Dirty Rice were invented. Rice is hearty, easy to flavor and satisfying, all at a low cost.
Dirty Rice is a staple dish in homes across South Louisiana and beyond. Traditionally, Dirty Rice is made by blending together white rice, finely chopped, browned meat, seasoned vegetables and spices. The result is a spicy, well-seasoned rice dish unlike anything you've ever had!
DIRTY RICE VS CAJUN RICE
Whether it's called Cajun Rice, Rice Dressing or Dirty Rice, they're all the same. Over the years, the use of the word "dirty" was frowned upon at many popular Cajun and Creole restaurants. So, folks came up with alternate titles that would entice customers.
Though there are various versions of this recipe that have traveled across the South, they all come from the same base recipe.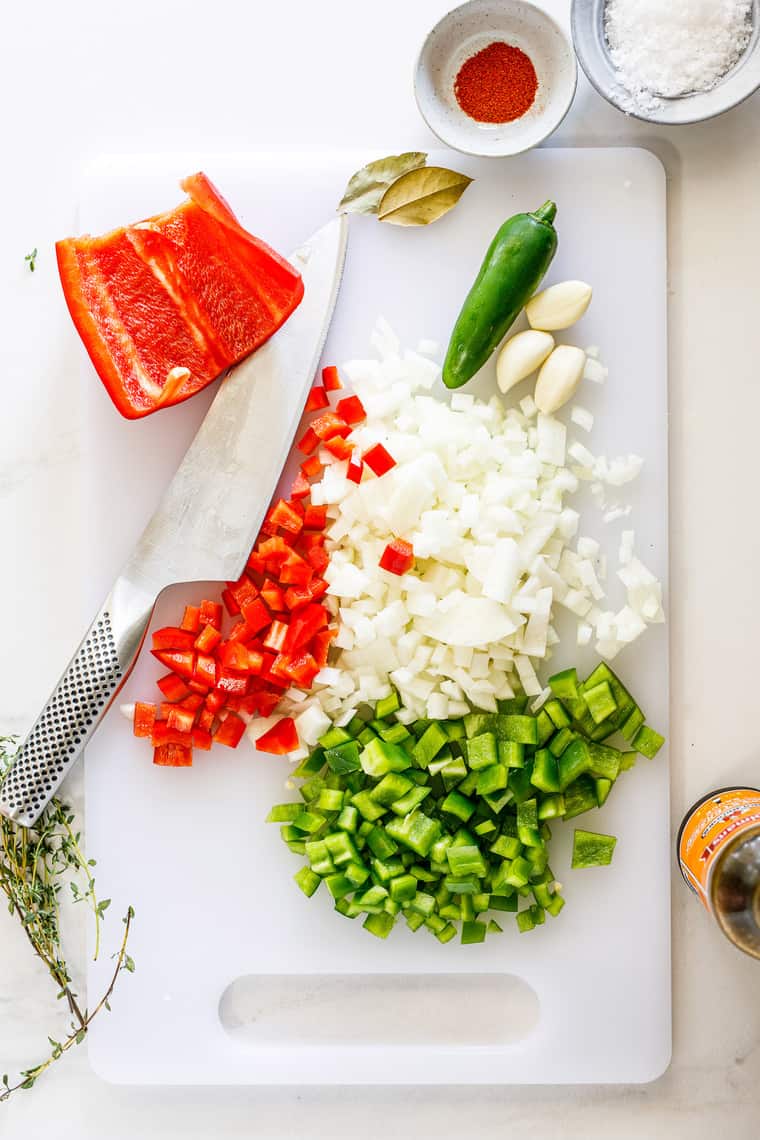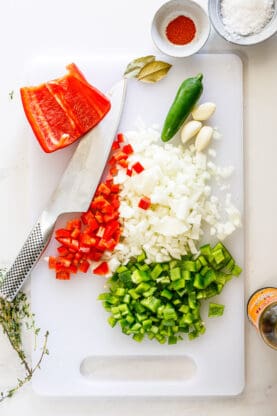 INGREDIENTS FOR DIRTY RICE
This recipe is one of my faves, and it comes from Tanya Holland of Brown Sugar Kitchen. This one has so much incredible flavor that it is undeniably delicious. Dirty Rice is a simple food made with even simpler ingredients. This is by no means a visually appealing or complex dish but it sure is outstandingly delicious.
If you're unfamiliar with this dish, or just curious, let me break a few things down for you!
BASMATI RICE
Any standard long or medium grain white rice will work with this recipe. But, I find that basmati provides a nutty, unique and slightly floral flavor. Its texture is softer than most other varieties which makes for a lighter, fluffier result.
CHICKEN LIVERS
If you've never had chicken livers, it can be a little daunting to try. Livers carry a rich flavor similar to that of any other dark cut of chicken. Their uniqueness comes from a pleasant gaminess that is in no way overwhelming. Plus, they're quite cheap!
PORK SAUSAGE
Pork sausage has a high concentration of fat making for a smokier dish. The added spices in the sausage layer have an incredible amount of flavor that compliments our added spices.
BELL PEPPERS, ONION, GARLIC
This is the Holy Trinity of cooking! Any dish worth its dollar is loaded with pungent, sweet and spicy peppers, onion and garlic. Just these three ingredients add in more flavor than you might think possible.
WORCESTERSHIRE SAUCE
Worcestershire sauce is a condiment made from a base of vinegar and flavored with anchovies, molasses, tamarind, onion, garlic and a few other secret seasonings. The flavor is sweet and smokey with a slight tang. Do I need to say anymore?
TIP: If you are not a fan of chicken livers, you can substitute in chunks of chicken thighs, beef or even mushrooms. Almost any kind of protein or meaty veggie will work. Experiment and see what you like best!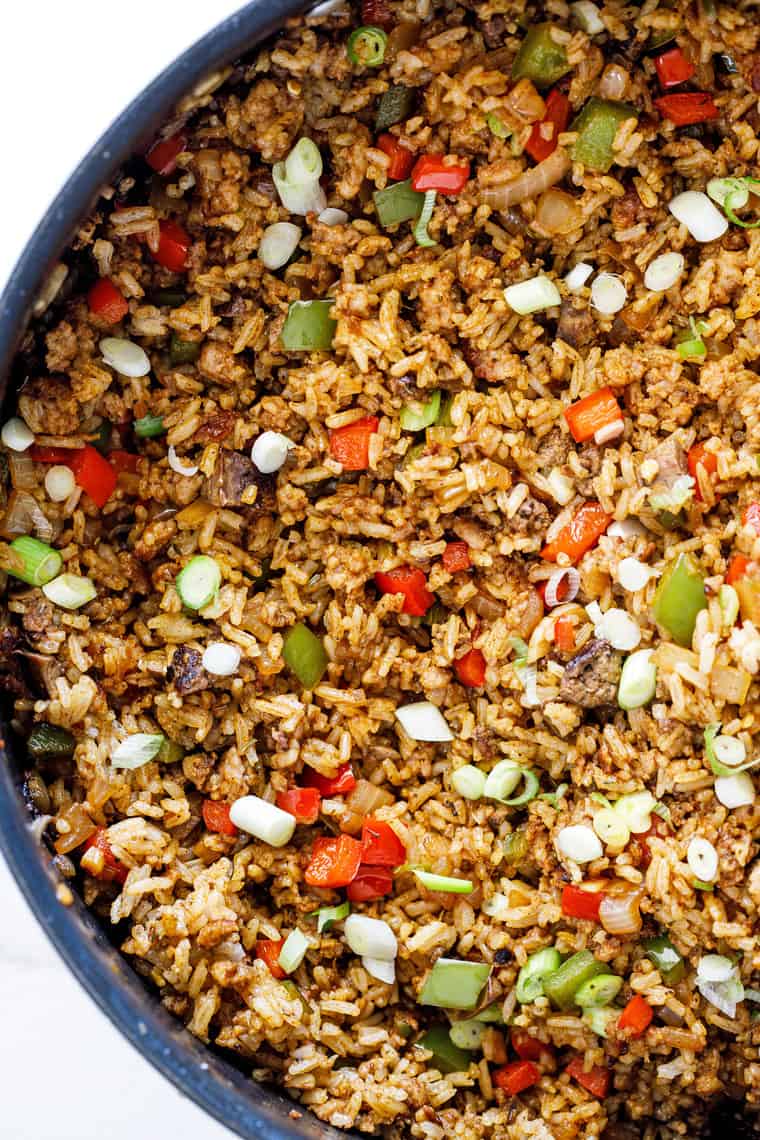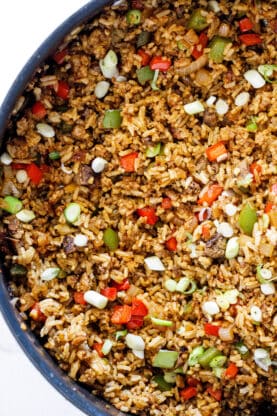 HOW TO MAKE CAJUN DIRTY RICE
My family and I have churned out more dirty rice dinners than you can imagine. It's a simple, easy to make recipe that everyone from picky toddlers to purest grandparents will enjoy!
Here's how it's made:
Prep the ingredients.

I find that this recipe is easiest to make when you're well-prepared. Before even heating up the pan, go ahead and chop your veggies, measure out the spices, and set out any tools you might need.

Rinse the rice.

I know most of y'all don't rinse your rice and I'm here to tell you that you absolutely should! Soaking/rinsing helps to remove surface starch from the grains, which can make them gummy as they cook. Adding in this extra step ensures fluffy, tender rice.

Cook the meat.

As you cook the rice, sauté the sausage and chicken livers together until the meat is no longer pink. Use a large spoon or spatula to chop up the sausage as it cooks.

Sauté your veggies.

Once the meat is cooked and set aside, cook your veggies in the same pan. You'll know they're done once they're soft and the onions are pretty much translucent.

Combine, cook, and serve.

Chop up those cooked chicken livers into small dice, then add the meat and rice to the pan. Stir in the rest of your spice, cover, and cook until the flavors are well-blended and the rice has picked up some color.
VEGETARIAN DIRTY RICE
Make this recipe vegetarian (and vegan) friendly by replacing the meat with mushrooms. Simply wash and roughly chop your favorite mushroom variety and saute in olive oil until browned. Browning is where that meaty, earthy flavor will come through. Bon appetit!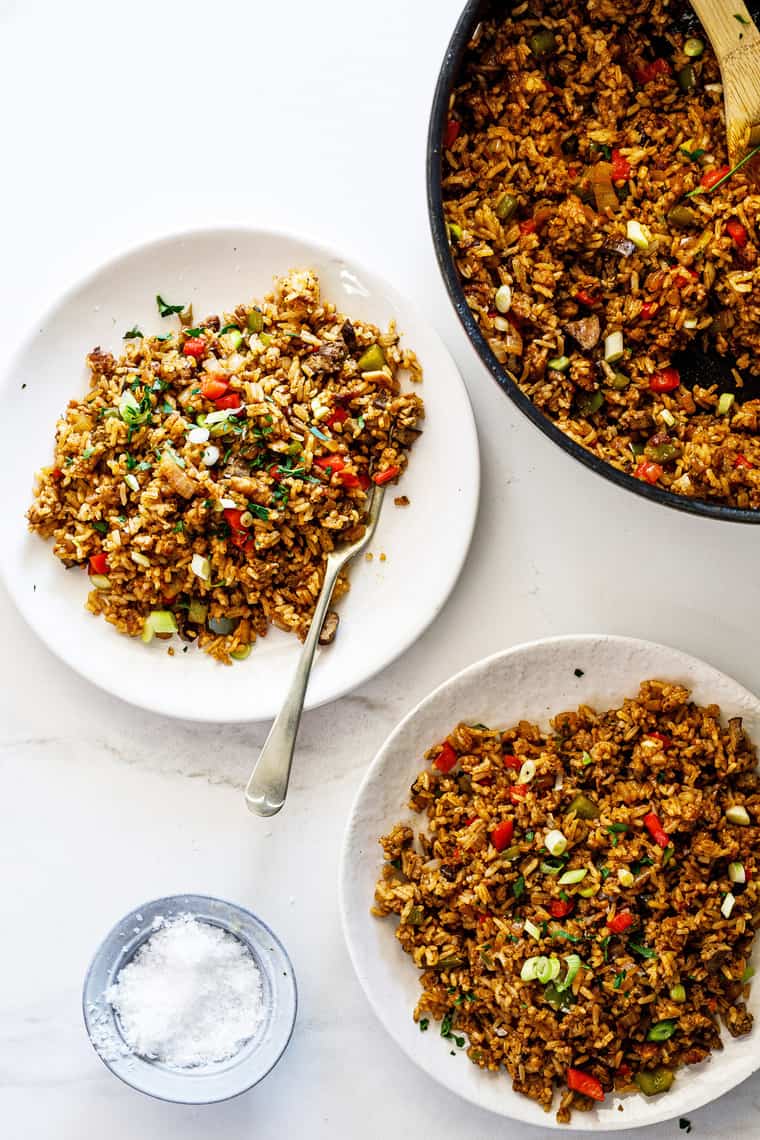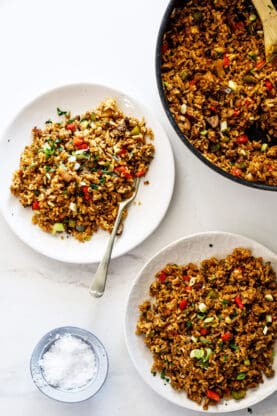 WHAT DO I SERVE WITH IT?
Because Dirty Rice is already protein rich, I typically serve it as a main dish. If I'm looking to fill up the meal, I will add a side dish of roasted vegetables or an additional lean protein. A blackened fish, chicken or shrimp compliment the rice perfectly.
Still looking for some inspiration? Here are a few Grandbaby Cakes recipes to get you started:
GRANDBABY CAKES BEST RICE RECIPES
We've all got rice sitting in the pantry, so let's make use of it! Turn that boring 'ole rice into something fabulous this week.
Try out some of my FAVORITE rice recipes ever: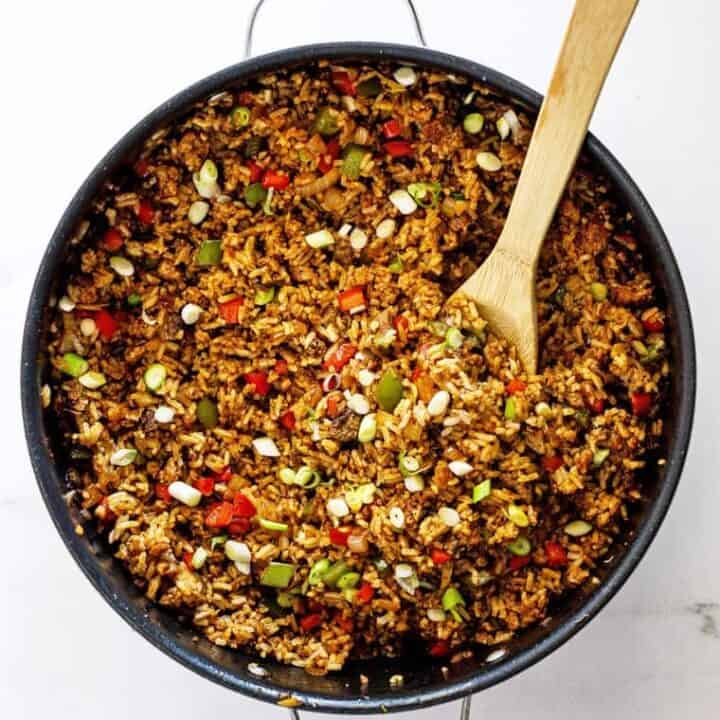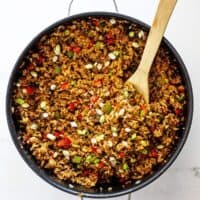 Dirty Rice Recipe
Looking for this week's star dinner? Look no further. Made with fragrant rice, hearty meat and Creole spices, Dirty Rice is filling and beyond flavorful!
Print
Pin
Rate
Ingredients
1 1/2

cup

basmati rice

2

tbsp

vegetable oil

8

oz

chicken livers

trimmed

1

lb

bulk pork sausage

1

onion

finely chopped

1

green bell pepper

diced

1

red bell pepper

diced

1

tbsp

minced garlic

1

tbsp

chopped jalapeno chile

1/4

cup

worchestershire sauce

2

bay leaves

1

tbsp

chopped fresh thyme

2

tsp

freshly ground black pepper

1

tsp

kosher salt

1/2

tsp

paprika

pinch of cayenne pepper

4

green onions

white and green parts, chopped
Instructions
In a large bowl, cover the rice with 2 to 3 inches of cold water. Stir the rice with your hand and drain. Repeat five or six times, until the water runs clear.

Transfer the washed rice to a medium heavy bottomed pot. Add enough fresh cold water to cover the rice by about 1 inch. Bring to a boil, reduce to a simmer, cover and cook until the rice is tender, about 20 minutes. Do not overcook.

In a large saute pan, heat the oil over medium high heat until shimmering. Add the livers and sausage and cook, stirring occasionally and breaking up the sausage with the back of a spoon, until the meat is no longer pink, 7 to 8 minutes.

With a slotted spoon, transfer the livers and sausage to a small bowl.  Add the onion, green and red bell peppers, garlic and jalapeno to the pan, and cook over medium high heat until the vegetables are soft, Stirring occasionally until 10 minutes.

Meanwhile chop the chicken livers into small dice. Return them to a saute pan, along with the sausage, worcestershire sauce, and the cooked rice. Stir until the rice is fully incorporated. Stir in the bay leaves, thyme, black pepper, salt, paprika, cayenne and green onions. Partially cover the pan, reduce the heat to low and cook until the flavors are well blended, about 15 minutes. S Remove bay leaves, discard and serve immediately.
Notes
If you are not a fan of chicken livers, you can substitute in chunks of chicken thighs, beef or even mushrooms. Almost any kind of protein or meaty veggie will work. Experiment and see what you like best!
Nutrition
Calories:
444
kcal
|
Carbohydrates:
39
g
|
Protein:
19
g
|
Fat:
23
g
|
Saturated Fat:
9
g
|
Cholesterol:
158
mg
|
Sodium:
869
mg
|
Potassium:
486
mg
|
Fiber:
2
g
|
Sugar:
3
g
|
Vitamin A:
4461
IU
|
Vitamin C:
50
mg
|
Calcium:
49
mg
|
Iron:
5
mg